This one-week Colorado itinerary for families is an excellent way to spend your summer vacation! From the beautiful red rock scenery of Colorado Springs to the rushing rapids of the Colorado River right outside Glenwood Springs, there are so many ways to appreciate Colorado in the summer. On this one-week Colorado itinerary for families, we've compiled a list of possible things to do and see on your Colorado road trip, starting and ending our itinerary in Denver for the most accuracy. Of course, feel free to swap out, add, or amend anything you'd like – this is simply a guide to help you plan. Here's our One-Week Colorado Itinerary For Families: Excellent for This Summer!
Day 1: Land in Denver, Drive to Colorado Springs
Start your one-week Colorado itinerary for families by landing at Denver International Airport. Serviced by major U.S. airlines such as Delta, JetBlue, United, American, etc., there are multiple flights in and out every day. From there, you can drive straight to Colorado Springs, known for its beautiful scenery, countless parks, and outdoor adventures. If you plan to stick around Denver for a bit, don't forget to book your tickets to these family-friendly Denver attractions!
On your 7-day Colorado road trip with kids, it's an ideal place to make your home base because you won't be far from Denver, Pikes Peak, and other fantastic places we'll get into later on this itinerary. Though you can always feel free to spend more time here, we recommend two nights in Colorado Springs when you're planning a week-long vacation in Colorado.
Look here for a stay in Colorado Springs with VRBO!
Day 2: Pikes Peak, Cheyenne Mountain Zoo, Garden of the Gods, Downtown Colorado Springs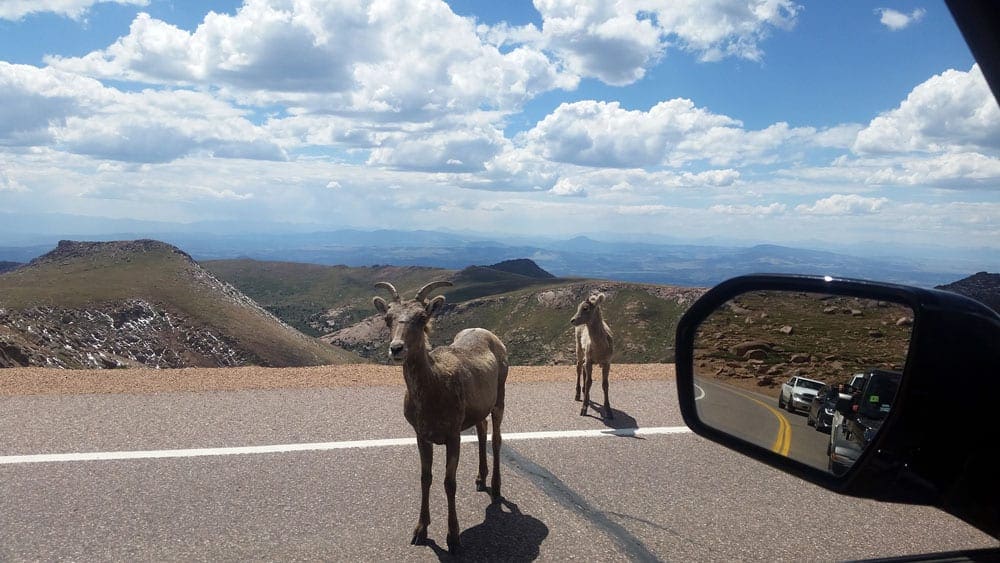 Explore the best things to do in Colorado Springs with kids on the second day of your one-week Colorado itinerary for families. First, head to Pikes Peak, the second-highest peak in Colorado and one of the most popular tourist destinations. The Pikes Peak Summit Highway offers panoramic views and stops along the way to enjoy a picnic lunch. After, drive toward Colorado Springs to visit Garden of the Gods, a nature center with breathtaking rock formations. Kids will love climbing on them! For dinner, head downtown to restaurants like Jack Quinn's Irish Pub & Restaurant. 
Ready to book your tour to Pikes Peak and Garden of the Gods? Book now using Viator.
If you have an extra day in Colorado Springs, animal lovers can't miss the Cheyenne Mountain Zoo. Nestled in the mountainside just a few miles south of downtown Colorado Springs, this zoological park will impress all ages. With lions, elephants, hippos, and more for kids to see, the entire family will have a ton of fun touring the dynamic exhibits, from  "Encounter Africa" to "Water's Edge: Africa". Once you're done seeing the animals, there are other fun activities for kids. Try riding the Historic Carousel or Mountaineer Sky Ride! Wear comfortable shoes because the property is huge, but there's also a shuttle.
Then, check out these 12 Adventurous Things To Do in Colorado Springs Kids Will Love!
Where to Stay in Colorado Springs with Kids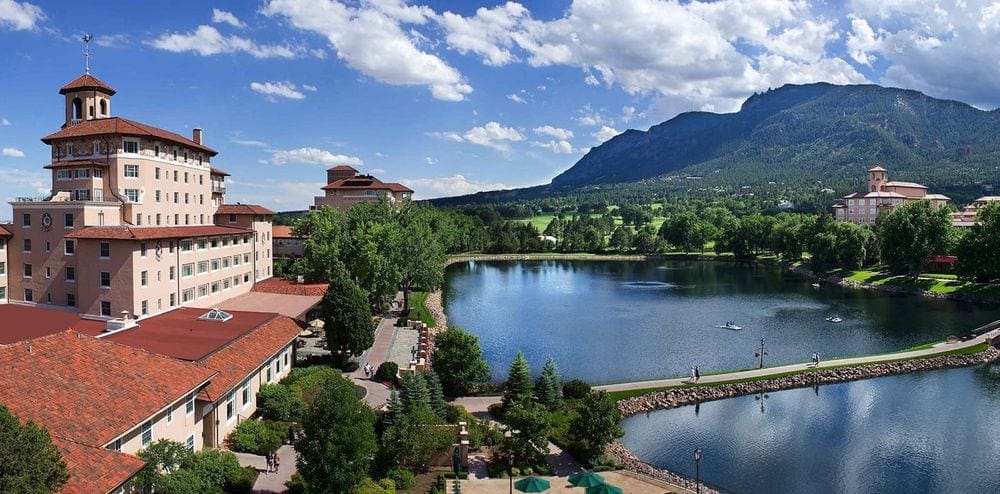 Planning a trip to Colorado with kids and looking for the best hotels in Colorado Springs for families? To stay on the beautiful shores of Cheyenne Lake, book the iconic Broadmoor, which has summer activities for all ages. For a homier feel, try the Cheyenne Mountain Colorado Springs, A Dolce Resort, located on a private lake. Want to stay inside a private country club near the best sights in town? You'll like the Garden of the Gods Resort and Club. Of course, kids will love the indoor water park at the Great Wolf Lodge Colorado Springs!
Read our 7 Hotels in Colorado Springs that Families Will Love for more suggestions on where to stay!
Day 3: Cave of the Winds, Then Head to Aspen
A Colorado road trip with kids should include a stop at Cave Of The Winds Mountain Park. West of Colorado Springs, near the Manitou Cliff Dwellings, this multi-complex has a cave, a cafe, a challenge course, and more adventures for all ages. Families can see the cave on a standard, hour-long Discovery Tour. Or, take a creepier Haunted Lantern Tour to explore dark tunnels, curving passageways, and spooky stairs.
Other activities include a challenge course, zip-lining, and even fun aerial rides. From there, drive to Glenwood Springs, a scenic town set in the Rocky Mountains. If you have time to stop along the way during your 7-day Colorado road trip with kids, you can visit Aspen, which is around an hour away.
For more travel planning, consult our list of Fantastic Colorado Summer Vacation Ideas Your Family Will Love!
Optional: Stop in Aspen
During your Colorado trip with kids, you may want to make a stop in Aspen. Famous for its luxury resorts, high-end restaurants, and upscale boutiques, there are plenty of things to do in Aspen with kids during the summer. Go white water rafting with Rafting Aspen or Aspen White Water to take in amazing views and get an adrenaline rush.
Then, take advantage of the gorgeous weather and soak up the sun by hiking to the Maroon Bells. It's one of the most photographed spots in Colorado! For more beautiful scenery, drive Independence Pass through the Continental Divide. Or, ride the Silver Queen Gondola for an aerial view. End your day with dinner in downtown Aspen. Families love options like White House Tavern and Ajax Tavern. Or, French Alpine Bistro – Crêperie du Village for sweet and savory crepes. 
Please note: The Aspen rafting companies travel to Glenwood Springs and put-in on both the Colorado River and Roaring Fork River. They both run through Glenwood Springs and the Roaring Fork ends (confluences) into the Colorado River. Families may decide to opt for other activities in Aspen and book their rafting experience while in Glenwood Springs instead.
Day 4: Glenwood Caverns Adventure Park
Depending on how long you stay in Aspen, the next stop on your Colorado road trip with kids should be Glenwood Springs. Famous for its Glenwood Hot Springs, this all-year-round destination offers lots of family fun. Here is also where you'll find the Glenwood Caverns Adventure Park, accessible via a scenic gondola ride up Iron Mountain. There's an adventure park with kiddie rides for all ages, games like laser tags, plus two caves to explore. Book an early time slot for The Fairy Caves Tour, which lasts about 40 minutes, and involves minimal walking.
Then, after a long day of exploring, there's nothing like soaking your muscles at the Iron Mountain Hot Springs to appreciate Colorado's natural beauty! Please note, however, that this is best for adults and late teens. Families with younger children can enjoy the nearby heated freshwater pool. Certainly, on your trip to Colorado with kids, this will be a huge hit.
Day 5: Water Rafting on the Colorado River, Glenwood Hot Springs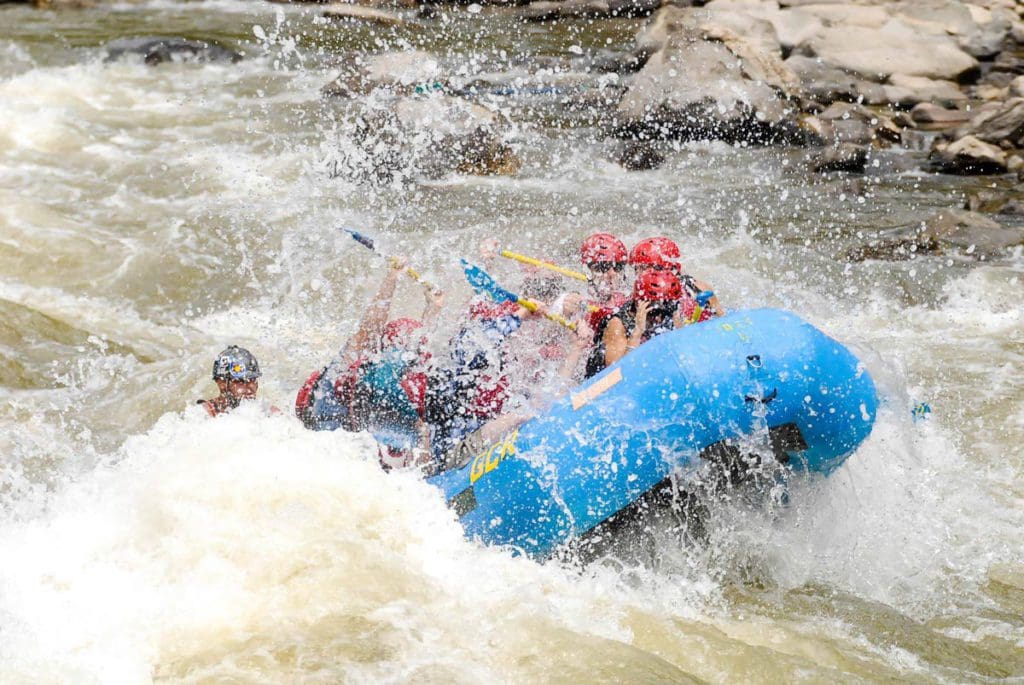 Glenwood Springs is one of the best vacation spots in Colorado for outdoor enthusiasts. On the fifth day of your one-week Colorado itinerary for families, head to the Colorado River to go water rafting! There are multiple tour companies to book an excursion rafting the Colorado River, taking you through Glenwood Canyon and then through Glenwood Springs, including Glenwood Adventure Company; Glenwood Canyon Rafting; and Whitewater Rafting LLC. Another great company for families is Defiance Rafting, which offers a half-day rafting tour for beginners and more advanced adventurers.
Once you're done with rafting, enjoy more fun in the water at Glenwood Hot Springs, featuring the world's largest mineral hot springs pool. Families will love the Shoshone Chutes at the Glenwood Hot Springs Pool (an adventure river), the diving board, and a few other slides for kids to have fun.
Reserve this popular half-day trip by Defiance Rafting on Viator today!
Where to Stay in Glenwood Springs with Kids
Glenwood Springs offers plenty of accommodations for a one-week Colorado itinerary for families. For a hotel stay, book a room at the Glenwood Hot Springs Lodge or The Hotel Glenwood Springs. The Hotel Colorado is another great option. A lot of families also opt for rentals from Airbnb or Vrbo. Regardless of which you choose, you'll love staying in Glenwood Springs on your Colorado trip with kids.
Day 6: Rocky Mountain National Park, Estes Park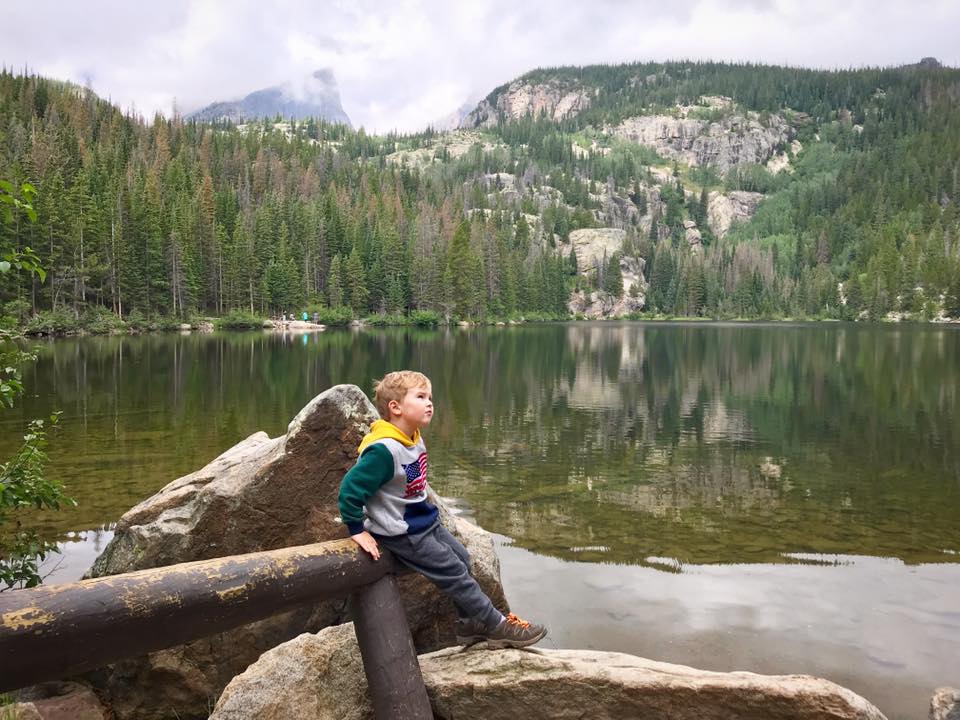 Rocky Mountain National Park is an outdoor playground with so many things to do in the summer. As you drive back to Denver, take a detour to this lush green paradise around three and a half hours from Glenwood Springs. Reaching around 70-80 degrees, it's abundant in elk, moose, bighorn sheep, coyotes, and deer. Cruise through trees, rivers, and alpine wildflowers on scenic drives like Trail Ridge Road and Old Fall River Road. Or, hike the Bear Lake Trail, the Alberta Falls Trail, and the Lily Lake Loop. Certainly, this is one of the best vacation spots in Colorado for families!
Then, make your way back to Estes Park, a cute mountain town nearby. Fans of The Shining can visit The Stanley Hotel where it was filmed to stay or enjoy dinner! It is a fun stop when planning a week vacation in Colorado with kids!
Where to Stay Near Rocky Mountain National Park with Kids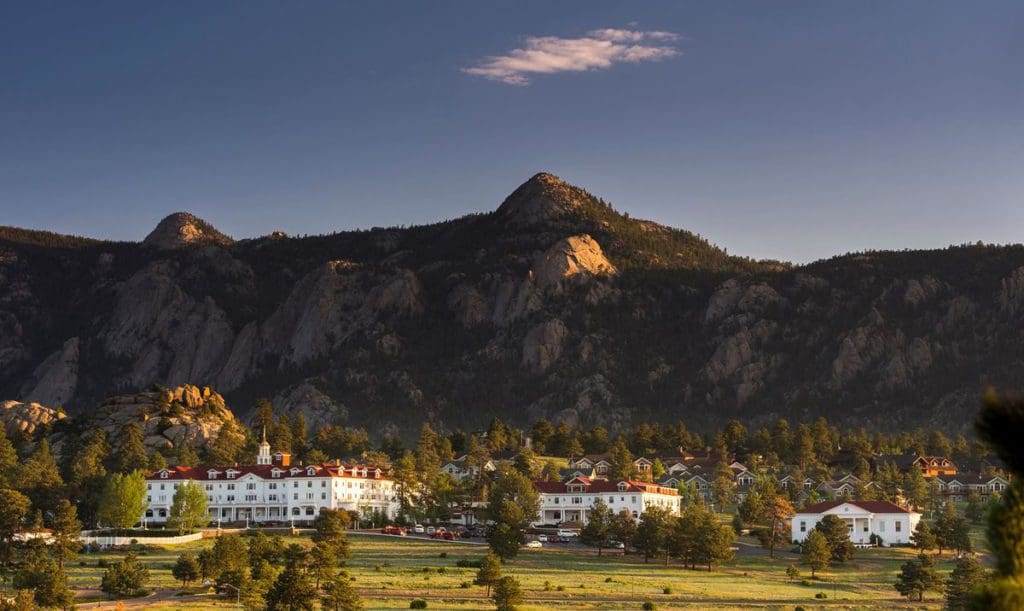 Families looking for somewhere to stay near Rocky Mountain National Park during their Colorado trip with kids can try The Stanley Hotel. For a more rugged, adventurous vacation, there's also Estes Park Center -YMCA of the Rockies, which offers both lodge-style accommodations and yurts/campground options. Families can also choose to stay in an RV park or book various cabin rentals in the area. 
Here are the top-rated Vrbo stays near Rocky Mountain National Park!
Visiting Colorado in the winter instead? Read our review of an Exciting Colorado Getaway for Families: Snow Mountain Ranch -YMCA of the Rockies!
Day 7: Drive Back to Denver, Red Rocks Amphitheatre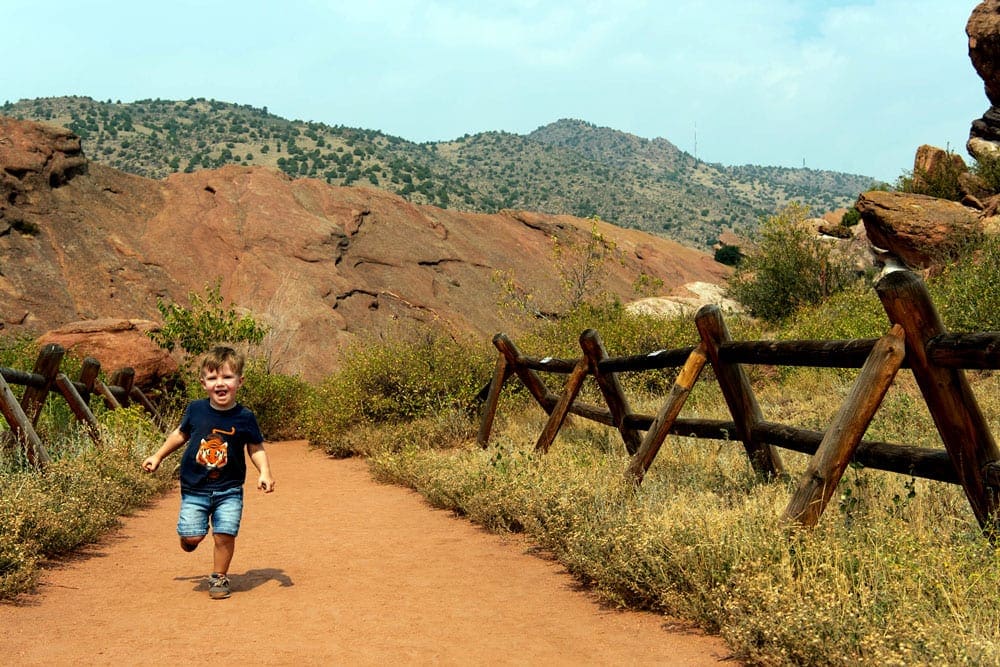 On the last day of your one-week Colorado itinerary for families, drive back to Denver. You'll most likely depart from here, so it's a great way to explore anything you've missed. In Morrison outside of Denver, you can visit Red Rocks Amphitheatre, a famous outdoor venue for concerts and other events, situated in the foothills of the scenic Colorado Mountains. There are some easy trails for families providing spectacular views, and a variety of events too. Nearby, families can also venture to Dinosaur Ridge, where you can touch dinosaur bones!
Families can also spend the day in Denver exploring all the best things to do with kids. Visit the Children's Museum of Denver at Marsico Campus, Meow Wolf Denver, the Downtown Aquarium, the Denver Zoo, or the Denver Museum of Nature & Science! With more time, head to the Butterfly Pavilion in Westminster (just north of the city and en route from Rock Mountain National Park to Denver), where you can hold a tarantula named Rosie. Regardless of which ones you choose to see, this is sure to be a wonderful end to planning a week vacation in Colorado with kids.
Research these Red Rocks Amphitheatre Tours and Activities through Viator today!
Purchase CityPass Denver here for discounted entry to the Children's Museum of Denver, the Downtown Aquarium, the Denver Zoo, and the Denver Museum of Nature & Science!
Where To Stay In Denver With Kids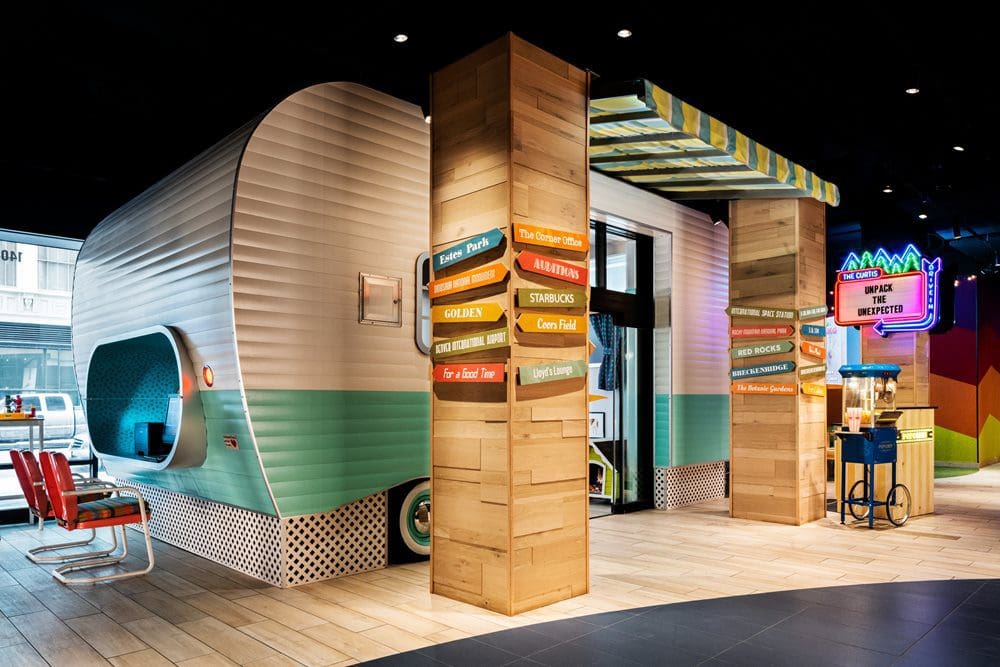 There are so many places to stay in Denver during your 7-day Colorado road trip with kids. Kids will love the rooftop pool at the Westin Denver Downtown. And, they'll also be impressed by the camping experience at the Ritz-Carlton, Denver. Kids who want a uniquely themed room can't miss The Curtis Hotel, with accommodations inspired by Barbie, Ghost Busters, and even I Love Lucy.
Other great options include the Four Seasons Hotel Denver, the Hotel Clio (formerly JW Marriott Denver Cherry Creek), and the Crawford Hotel. If you plan to stay an extra few days, check out the Gaylord Rockies Resort & Convention Center, just a few miles outside of Denver in Aurora. Kids will love the on-site water park with a lazy river and multiple pools! Find more hotels in Denver by reading about the 13 Best Denver Hotels For Families With Kids.
For more unique themed hotels in and around Colorado, read our list featuring the Best Themed Hotels On The West Coast For Families!
Happy Travels!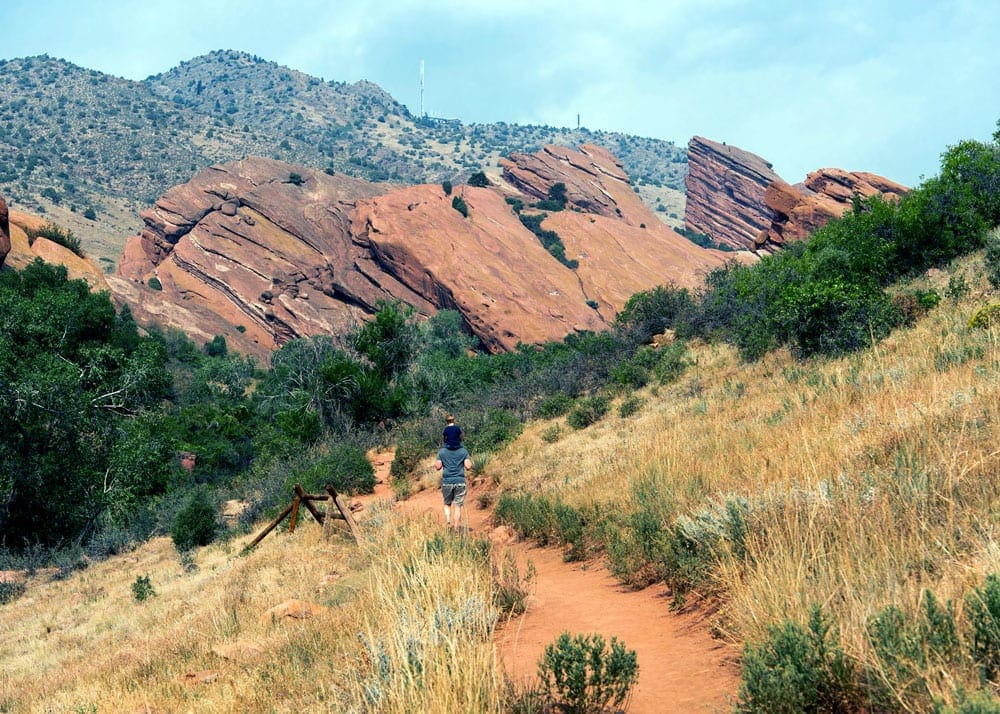 We hope you found this One-Week Colorado Itinerary For Families: Excellent for This Summer helpful in planning a week vacation in Colorado with kids! From Denver to Colorado Springs, Estes Park, Aspen, and more, your next Colorado road trip with kids will be a fantastic one. Enjoy Colorado with your kids!
*Due to the COVID-19 pandemic, some of the attractions, accommodations, or things to do on this list may be closed. Please ensure availability before making your decision.
*This post may contain affiliate links that may earn us a small commission, at no additional cost to you. Affiliate links in no way inform the hotels, sights, products, or other recommendations included in our articles. All opinions and recommendations expressed here are compiled from submissions submitted by the generous members of our Families Who Love To Travel community.
READ NEXT: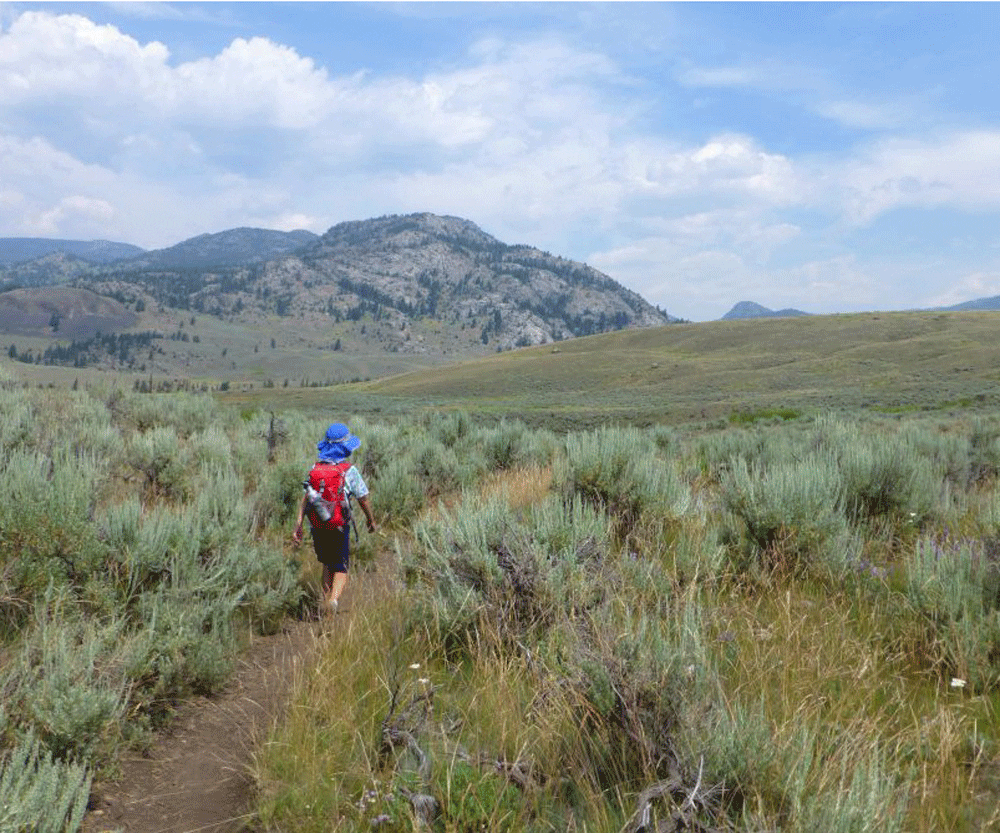 Everyone knows that Yellowstone National Park makes for a classic family vacation. Strolling the boardwalks...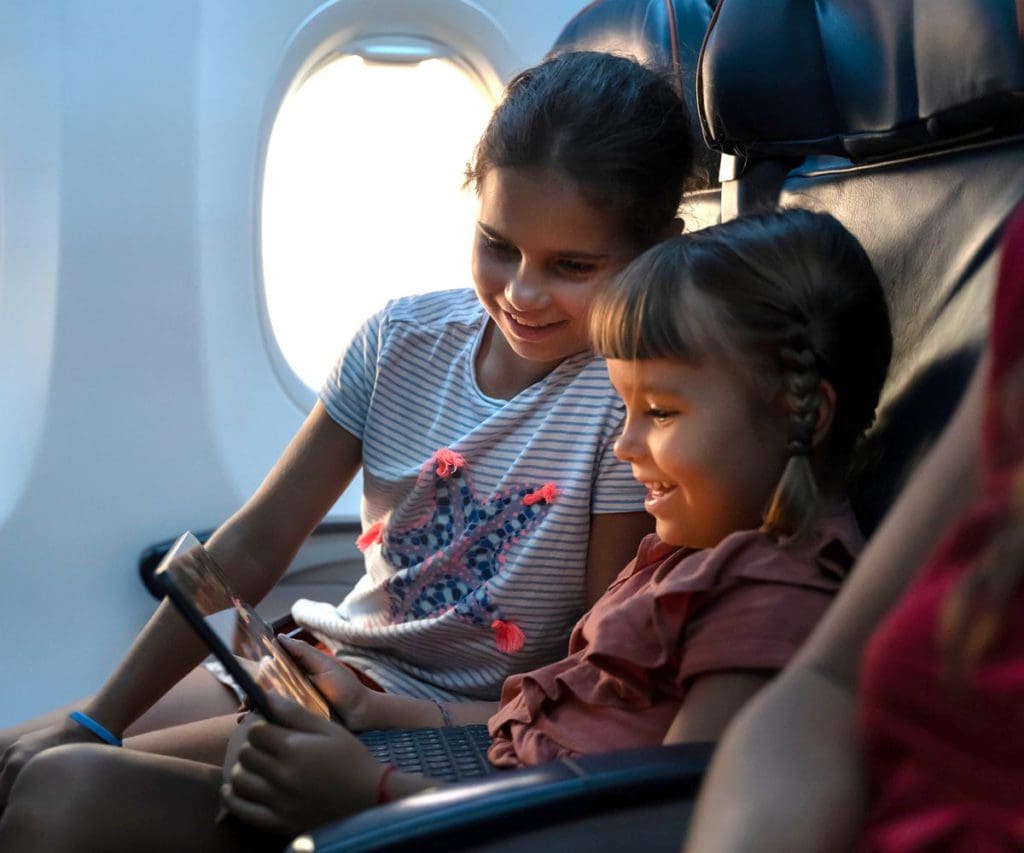 As parents, we're always looking for fun ways to keep our kids entertained while traveling....