A one-week itinerary in Costa Rica with young kids is filled with natural splendors, exciting excursions, and tranquil relaxation. No wonder it's such an incredible vacation destination for families! When I began researching where to go and what to do, I felt overwhelmed. Even though Costa Rica is a relatively small country, there was absolutely no way to do everything unless I had months. So, I picked two places to stay and focused on exploring them. Since my four and six-year-old daughters were excited to have a beach vacation and visit the rainforest, I landed on an itinerary that allowed us to split our time between Playa Panama (on the northern Pacific coast in the Guanacaste region) and La Fortuna (a town near the base of Arenal volcano). Keep reading to learn where we stayed, ate, and more on our Exciting One-Week Itinerary In Costa Rica With Young Kids! 
What's the Best Time of Year to Visit Costa Rica with Young Kids?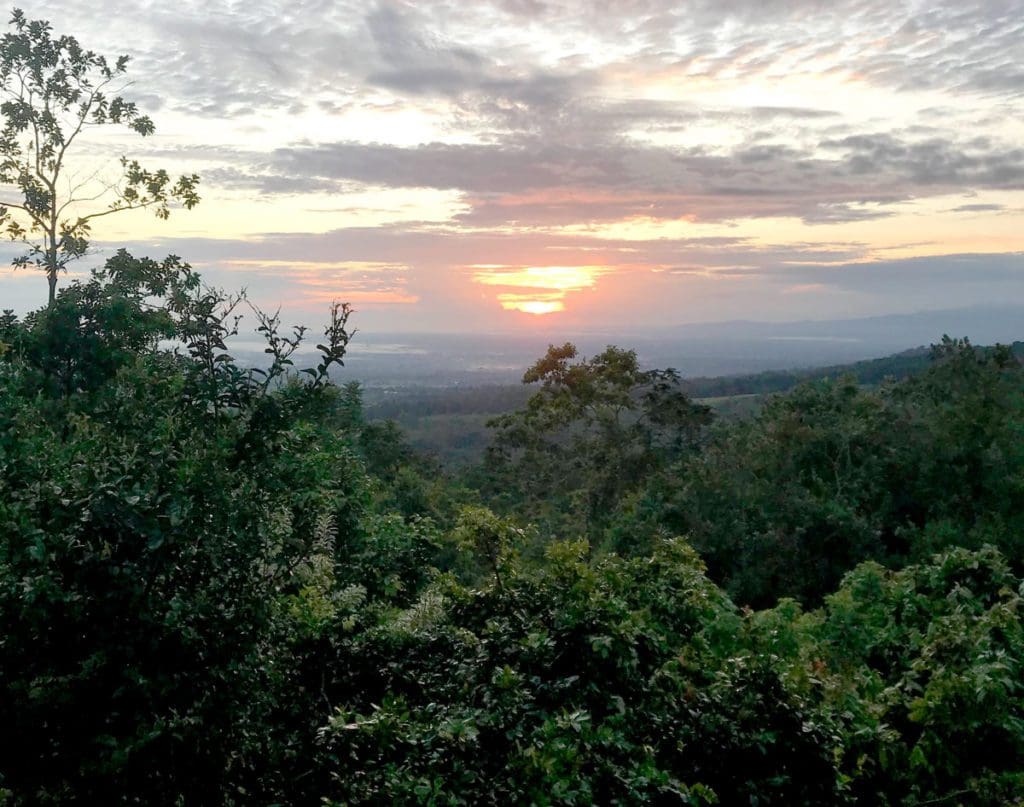 Planning a one-week itinerary in Costa Rica with young kids is all about timing. Our vacation was in September, during the heart of the rainy season. During our trip, we had almost no issues with the weather. While it did rain at some point just about every day, the mornings and afternoons were usually warm and sunny, then rainy in the late afternoon (or at night). Sometimes for an hour, sometimes longer. However, since the weather is less than ideal, you'll find fewer tourists and cheaper accommodation prices. The Guanacaste region is typically very hot and dry and brown. However, during the rainy season, everything is wonderfully lush and green (which is why it's often called "the green season"). You can also do all the activities you normally would; you just have to get an early start on the day, which is easy to do with younger kids!
RELATED: 15 Amazing Things to Do in Costa Rica with Kids
Is it Safe to Visit Costa Rica with Young Kids?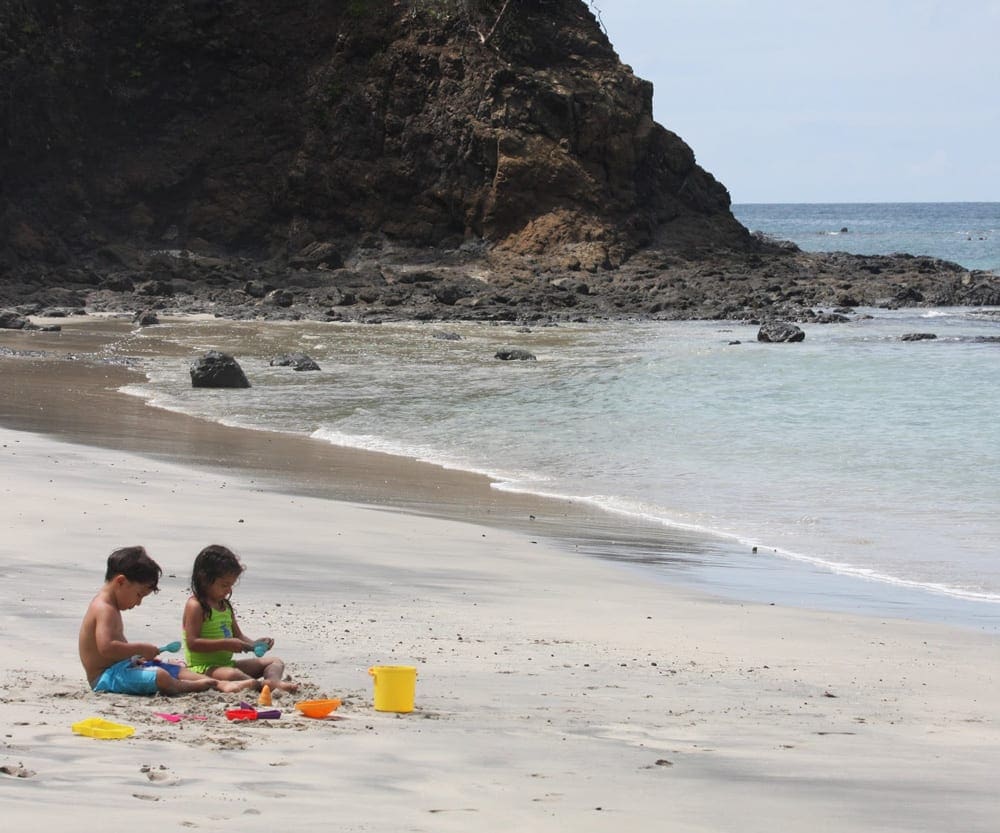 In general, we felt exceptionally safe in Costa Rica. There is very little crime and as long as you use a little common sense, you should be just fine. They also take Covid very seriously. Employees wore masks at every restaurant, shop, and hotel we visited. There are hand washing or hand sanitizing stations in front of nearly every store and restaurant. Plus, they will require you to use them before entering. And every restaurant we ate at had some form of outdoor dining available. While we were there, vaccinated adults (and their children) weren't required to purchase travel insurance.
But everyone had to test negative within 72 hours of our flight departure to get on the plane. There are clinics all over Costa Rica that provide rapid tests within three hours. Instead, we opted to buy a six-pack of antigen tests before coming to Costa Rica from Emed.com. We did our testing the morning before our flight in the privacy of our hotel room. Using your phone or computer, a proctor oversees your test. Once you test negative, they email you the necessary data and time-stamped paperwork you need to exit the country. Over-the-counter tests will not work, because they don't have that time-stamp.
Credit Card Information, Tipping, & Currency Exchanges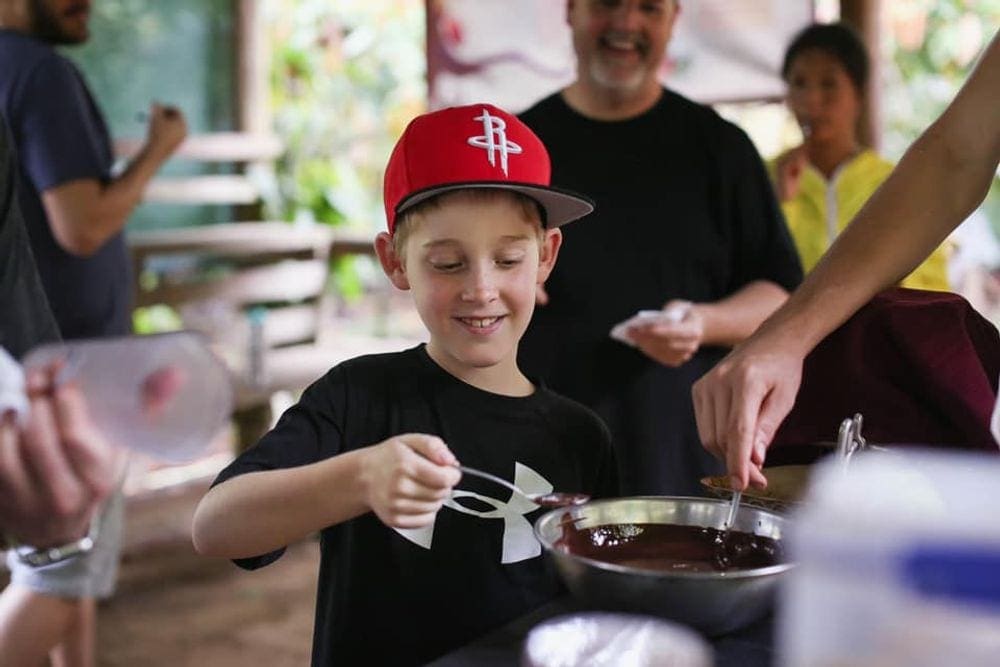 In Costa Rica, we used our credit card (which has no foreign transaction fees) for the vast majority of our purchases. Credit cards are accepted at basically all restaurants, shops, and hotels. The only times we needed cash were when we paid for parking, bought things off a beach or from roadside vendors, and for tipping. You can use US dollars for all of those things, but you'll get a lousy exchange rate. If your bank allows you to exchange money, it's a good idea to get some colóns before arrival. You can also take them out from an ATM or exchange them at the airport, but you'll likely pay a fee.
In terms of tipping, there's a service fee automatically included at all restaurants. So, there's no need to tip there (although we often left a couple of bucks if we had good service). We usually tipped the valet, bellhop, and anyone else who helped us at our hotel a few dollars as well. And if you get a guided tour, tipping $5-$25 per guide depending on the quality and length of the tour is pretty standard. You can tip in dollars or colóns, as both are widely accepted. If you're using your credit card or paying with cash and you have colóns, always opt to get the price in colóns. This way, you'll get a better exchange rate.
How to Rent a Car in Costa Rica with Young Kids
On our one-week itinerary in Costa Rica with young kids, we took an early flight from LAX to Daniel Oduber Quirós International Airport in Liberia. After doing lots of research, I opted to book through Vamos Rent-A-Car, because they were incredibly transparent with their fees. If you look at prices on third-party car rental sites, quotes don't include Costa Rica's mandatory liability insurance and semi-mandatory CDW insurance. I heard many horror stories about people getting quoted one price and then having to pay hundreds of dollars more in hidden fees at the counter. Vamos clearly lists all their fees in their quote. Then, will allow you to opt out of paying the CDW insurance if you bring a physical letter from your credit card company stating that they cover it. However, you'll have to pay a larger deposit. Adobe Rent-A-Car is also incredibly upfront about all of its fees. 
Our small SUV with automatic transmission and 4WD from Vamos was in good shape and cost $285 for the week. Vamos also includes one free child's car seat (additional car seats cost extra), a free cooler, and a free cell phone (with extremely limited data and minutes). We opted to pay an additional fee a day to get unlimited data and minutes on the cell phone, and relied heavily on the phone's Waze navigation to help us get around. It also worked as a mobile hot spot. If your cell company has coverage in Costa Rica or your phone is unlocked and you purchase a cheap Costa Rican sim card, you can skip this added expense. We had zero issues with Vamos and I'd book with them again if we go back to Costa Rica.
Where We Stayed in Costa Rica with Young Kids
After getting our rental car, it was an easy 30-minute drive to our hotel, El Mangroove Autograph Edition. It's a small, but chic and luxurious all-suite hotel with an incredibly attentive and kind staff. I also had five free night certificates I received as a Marriott Bonvoy credit card sign-up bonus. Our "Nesto Suite" had two incredibly comfortable queen-sized beds, a massive walk-in shower, and an attached screened-in living room. It was basically a private lanai with a couch, rocking chair, and a view of the mangrove trees. It was perfect for relaxing in after my wife and I put the kids to bed. Our resort fee included a plethora of complimentary benefits, including: valet service, high-speed Wi-Fi throughout the property, a small gym, access to the steam room and spa relaxation area, kayaks, snorkeling gear, bikes, and stand-up paddleboards, yoga classes, and the Guppie Kids Club (ages 4-12).
Family-Friendly Amenities At El Mangroove
At El Mangroove, we utilized the Guppie Club (you can make block reservations). Because of Covid precautions, our kids had the club to themselves. They had a blast doing arts and crafts projects with the wonderfully sweet staff. The on-site kids' club allows parents to visit the spa, go for a long walk on the beach, or just go back to your hotel room for some adult time. It's a wonderful service and our kids loved going.
RELATED: Best Costa Rica Resorts & Lodges For A Family Vacation (All-Inclusive Included)
Day 1: Playa Panama
After getting settled in our room, we walked a few hundred feet down to Playa Panama. This fairly uncrowded public beach has soft sand and a warm ocean. Its location within the Gulf of Papagayo means the waves are gentle and perfect for kids to swim in. We strolled up and down the beach and saw hundreds of hermit crabs and mouthless crabs. Then, we rinsed off and went for a swim in the hotel's lovely and lengthy pool, which offers incredible views of the Gulf. Afterward, we grabbed a bite to eat at Matiss, the more casual of El Mangroove's two on-site restaurants. As far as food goes, we didn't eat many meals at the resort. Mostly, because we were out and about, and because it's considerably cheaper to frequent non-resort restaurants.
I had never had Costa Rican food before the trip. It was much more interesting than people made it out to be. Yes, there's a lot of rice and beans, but also lots of fresh local produce and some amazing locally caught seafood. Our kids are pretty adventurous eaters (they begged for octopus and ate the eyes out of the whole fish we got). If you or your kids are not, many places have burgers, pasta, chicken nuggets, pizza, and traditional American breakfast staples. So, whether you want to eat like a local or eat like you're at home, you won't go hungry. And no matter what your budget is, you can have some incredible meals while you're using this one-week itinerary in Costa Rica with kids.  
Day 2: Llanos De Cortes And Las Pumas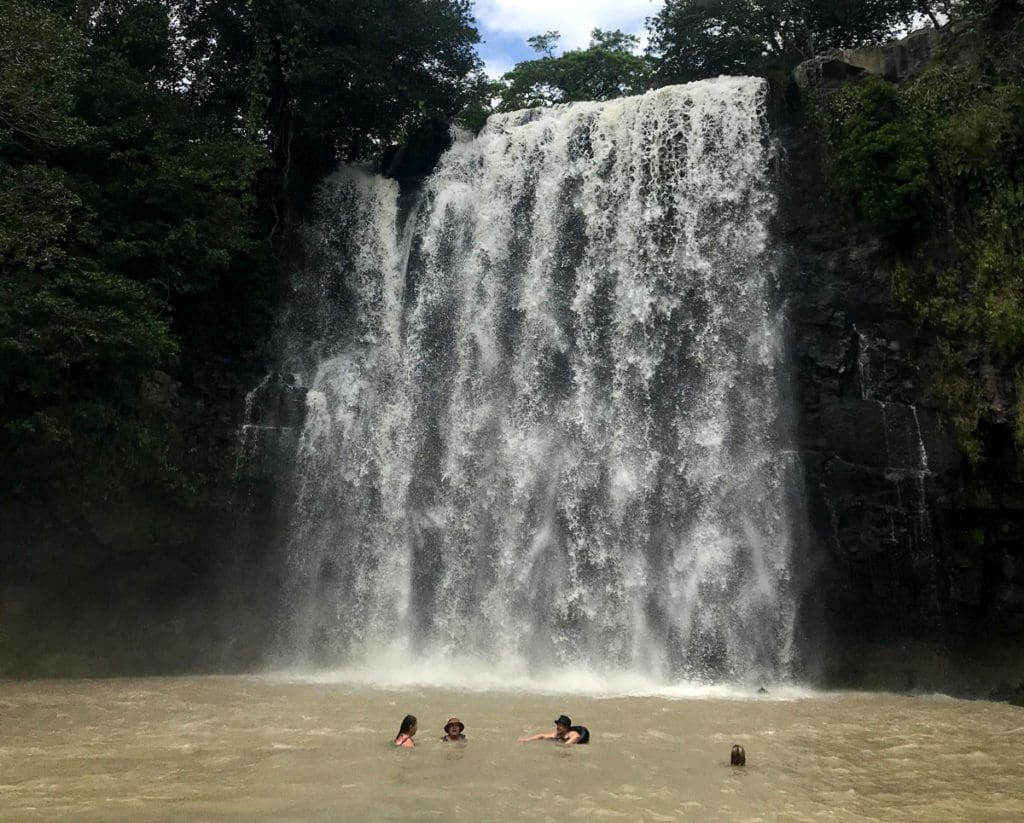 On our second day, we woke up early and were delighted to see a howler monkey in the tree outside our hotel room. Then, we drove about ten minutes to Playa Hermosa, a beach town just south of Playa Panama. We grabbed breakfast at Soda Hermosa. Sodas are small cafes or cafeterias that serve typical Costa Rican food at reasonable prices. Afterward, we drove another ten minutes to do some grocery shopping in Playa del Coco, a touristy, but artsy beach town south of Playa Hermosa. Someone suggested The Auto Mercado to me. If you prefer to save a little money and eat fresh local food, just go to any ordinary grocery store that you see locals shopping in. Or, hit a roadside fruit stand. We bought two kilos of rambutans for 2,000 Colóns (about $3.20) and they were the perfect snack for our day trips.
After stocking up on snacks and beer, we drove about an hour east to the Llanos De Cortes Waterfall. From the parking lot, it's a somewhat muddy five-to-ten-minute walk down to the spectacular waterfall, where you can swim near the falls or in the calmer area just downstream. We brought floaties for both our kids and they had a blast swimming in the falls for about an hour, before they got cold and we decided to take off.
After Visiting Llanos De Cortes Waterfall
Afterward, we drove another 15 minutes east to Las Pumas Rescue Center. Here, we saw a jaguar, puma, ocelot, jaguarundi, spider monkeys, sloths, and a handful of other animals. But they were all in large enclosures, not in the wild. And while we appreciated that Las Pumas rehabilitates the animals and then releases them back into the wild, the visit was a bit underwhelming.
Afterward some time at the hotel, we drove about five minutes to the Hacienda Blu Beach Lounge & Grill. We ordered an enormous seafood platter full of grilled octopus, jumbo prawns, mahi-mahi, tuna, a whole fried snapper, plus veggies and salad, all over a bed of rice. It was, without a doubt, the best meal we had on our entire trip! Certainly, day two is an exciting part of our one-week itinerary in Costa Rica with kids!
Day 3: Playa Conchal
On day three, we borrowed snorkeling gear from the hotel, then drove over an hour south to the little town of Brasilito. From here, an easy ten-minute walk south takes you to Playa Conchal, a uniquely colored beach made up entirely of crushed shells. The Caribbean coast is apparently much better for snorkeling than the Pacific, but if you're in Guanacaste and don't feel like paying for a pricy private snorkeling tour, Playa Conchal is one of the best places to go. On the day we went, the waves were especially choppy and the visibility was awful, making it impossible to see anything. My kids still had a great time swimming in the ocean in their floaties and rolling along with the waves. They also loved eating the shaved ice I bought them from a beach vendor while watching some enormous iguanas make themselves at home on someone else's towel.
After an inexpensive and filling lunch at Soda Brasilito, we started to drive back to El Mangroove and got caught in a torrential downpour. It was the one time during our trip when it rained earlier than 4 PM. It poured so hard, that we could barely see while driving home. Once we made it back to the hotel, whatever disappointment I felt quickly disappeared as my kids smiled once they got to go swimming at the pool. One activity in the morning and then pool time in the afternoon seemed to be the perfect balance for our vacation. That night, we had another really good dinner at La Casita Del Marisco in Playa Hermosa. What it lacked in décor, it made up for in delicious and reasonably priced fresh fish, beautiful ocean views, and a visit from a howler monkey in the tree right next door.
Day 4: La Fortuna & Río Chollín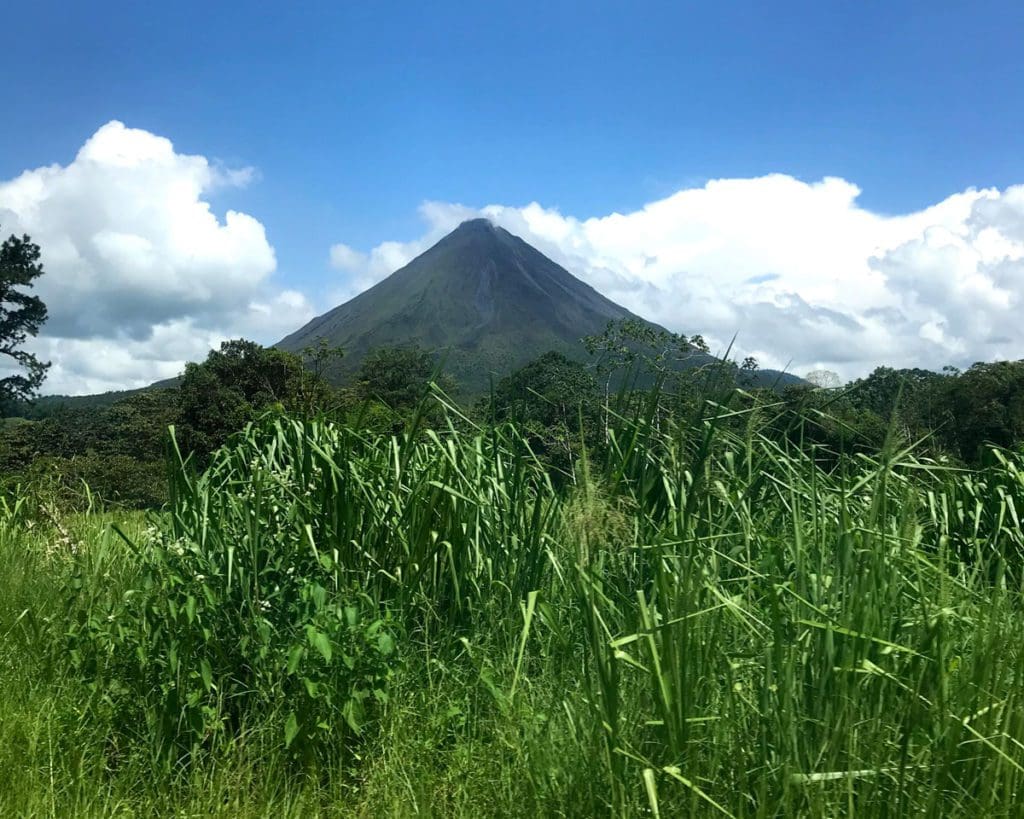 My 6-year-old and I woke up early and went for an impromptu sunrise walk on the beach. When we got back to our hotel room, the whole family finished packing up. Then, we started our 160 km drive to La Fortuna (a little over three hours plus an hour to stop for lunch). I hadn't realized it, but the Llanos De Cortes Waterfall we visited on our second day was actually on the way to La Fortuna. If I could do the trip over again, I would've visited it on the way there, skipped Las Pumas Rescue Center altogether, and probably done an extra day in La Fortuna. Instead, we broke up our drive by stopping for lunch at Café & Macadamia, which had mini pizzas for the kids, an excellent Casado con tilapia, and spectacular views of Arenal Lake.
But as beautiful as the lake was, our first glimpse of the Arenal Volcano was nothing short of breath-taking. And then as we got close to the volcano, we saw a band of coatis (a Central American cousin of the raccoon) crossing the street! What a fun treat during our one-week itinerary in Costa Rica with kids.
Where We Stayed in La Fortuna
On the outskirts of La Fortuna, up a steep gravel road a couple of hundred meters from the La Fortuna Waterfall parking lot, we rented a two-bedroom villa at Arenal Waterfall Lodge. The hotel was significantly more rustic than El Mangroove. And if you can't live without reliable Wi-Fi, hate dated décor, or get upset if your lodgings are a bit rundown, then this is not the place for you. We got a clean and massive two-bedroom, two-bathroom villa. It included a full kitchen, tons of privacy, and a huge outdoor patio. Plus, a private plunge pool and beautiful views of the valley below. Finally, we also had a free breakfast at the hotel's modest onsite restaurant.
After dropping off our stuff, we drove back through La Fortuna towards Arenal. We stopped near the Tabacón Hot Springs Resort & Spa. Instead of paying for our family to visit the Tabacón Hot Springs, we walked a couple of hundred meters down to Río Chollín, a river frequented by locals and backpackers, fed by the thermal waters of Arenal. This natural hot spring is in the middle of the jungle and it's as rustic as it is relaxing and beautiful. We found a semi-private wading pool off to the side of the river and plopped down in it. We loved the bathtub-warm water as it flowed over rocks around us. And while I'm sure it's not nearly as romantic as one of La Fortuna's many hot spring spas, it was the perfect way to start our adventure there (and a helluva lot cheaper!)
RELATED: Best Costa Rica Resorts & Lodges For A Family Vacation (All-Inclusive Included)
Day 5: Mistico Hanging Bridges
We woke up early and caught the sunrise from our patio. We saw many toucans and other birds. Then, we drove to the Mistico Hanging Bridges. They recommend making an advanced reservation, but I called the morning of and they told me it wasn't necessary. You can hire a private guide for an additional fee. However, we did the 3 km self-guided tour through the rainforest and across six massive suspension bridges on our own. It was an incredible way to experience the flora and fauna of the rainforest. Along the way, we saw several spider monkeys, snakes, a glass frog, and lots of insects. Both my kids got a huge adrenaline rush from crossing the bridges and were ecstatic when the spiders threw leaves at them. This was one of our favorite activities of our whole trip. Make sure to bring bug spray! 
Afterward, we did some souvenir shopping in La Fortuna and had a delicious lunch at La Caribeña. We enjoyed a whole tilapia (deep-fried to perfection), ceviche, deep-fried plantains, a local microbrew, and a couple of agua frescas! Though we intended to get a guided tour at the Bogarin Trail, the best place to see wild sloths in La Fortuna, my kids wanted to go to the La Fortuna Waterfall instead. Unfortunately, the moment we got out of our car, we heard thunder and decided not to get caught in the impending storm. Instead, we went back to the villa and my kids splashed around in the plunge pool. That night, we had a wonderful dinner at Restaurante Tiquicia. Up till this point, we had been eating mostly seafood, but tried their steak (which was fantastic), chicharrones, and the best casado we had anywhere in Costa Rica.
Day 6: La Fortuna Waterfall and Tubing The Rio Celeste
Day six of our one-week itinerary in Costa Rica with young kids started with a splash. We woke up early again, grabbed breakfast, and drove down to La Fortuna Waterfall. It opens at 7 AM and we were there by 7:15 —the first customers to arrive. We hiked down 500 steps to the waterfall and went for a swim, but the water was rough and rocky there. So, we moved slightly downstream and had a much more enjoyable swim. We had the river to ourselves for about an hour before the hordes of other guests started arriving. Then it was back up the 500 steps, where we dried off and hopped into the car. I wish we had had one more day in La Fortuna, but it was time for us to head back to El Mangroove in Guanacaste.
On the way back, we stopped at the Rio Celeste. Here, we had arranged a two-hour private tubing tour with La Carreta Tours. There were small rapids (level 1 and 1.5) that were exciting enough that my kids had perma-smiles plastered to their faces. But, not so extreme that they were ever too scared. There were also calm spots to appreciate the turquoise water, go for a quick swim, and do some cannonballs into the river. Our guides were great and the tour ended with a plate of fresh fruit, which our kids happily wolfed down. This was another of their favorite things we did in Costa Rica! Driving back, policemen stopped us at a checkpoint and demanded to see my passport. I'm mentioning this because technically you're supposed to keep your passport on you at all times, so just remember that!
Day 7: Free Day
I arrived in Costa Rica with a rough itinerary. I wanted to give my family the flexibility to change our plans depending on the weather and how we were feeling. With that in mind, I left the last full day of our vacation totally blank in case there was something we didn't get a chance to do earlier. (Or something we wanted to do again.) But after six days of adventures, we opted to mostly just hang out at El Mangroove. We went to Coco Viquez, a good cafeteria-style soda in Playa Panama that serves massive portions. Afterward, we went back to the hotel and borrowed a kayak and stand-up paddleboard. My wife put our four-year-old on the kayak with her and I put my six-year-old on the paddleboard. We spent a delightful morning cruising around the calm bay!
Our one-week itinerary in Costa Rica with young kids continued in the afternoon. We spent it at the pool. And, we took advantage of the Guppie Club again. My kids begged to go back! That was fine with mom and dad! That evening we went back to Hacienda Blu again for an early dinner. But some incredibly pesky flies prevented it from being as enjoyable as our first visit there. We still managed to salvage the evening by racing back to El Mangroove. Here, we grabbed ice cream sundaes from the hotel. Then, we enjoyed the most spectacular sunset of our entire trip. Afterward, we let the kids go night swimming in the pool, which they thought was exciting. It was the perfect cap on our last night in Costa Rica. 
Day 8 – Departure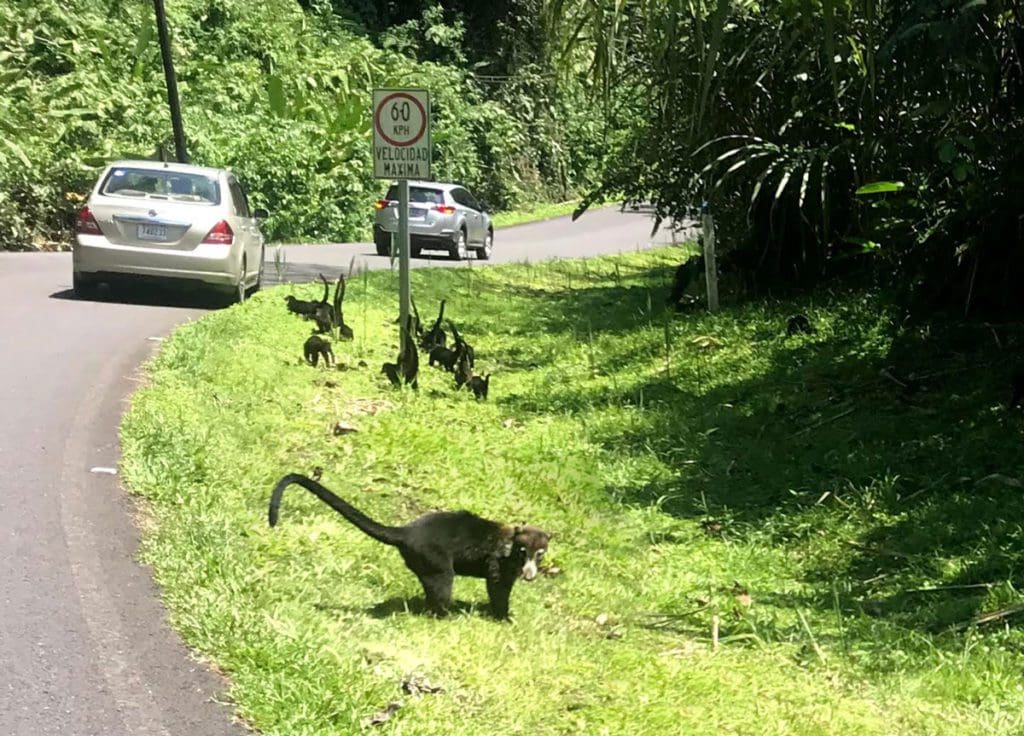 El Mangroove's check-out time is noon and our flight wasn't until three. So, we did some more pool and beach time before packing up and checking out. The concierge, who had gotten to know both my girls, gave them each really cute bracelets as going away presents. On our way back to drop off our car rental, we had a cheap but delicious cafeteria lunch at El Jardin Liberia. We also did some last-minute souvenir shopping at their massive gift shop. After dropping the rental car off at Vamos with no issues, we took the shuttle back to the airport. Cruising through security in about ten minutes, we bought some more souvenirs, then boarded our return flight back to Los Angeles.
Would I Recommend Costa Rica With Young Kids?
Yes! Overall, we had an amazing family trip. We loved the natural splendor of Costa Rica, the wildlife, and all the outdoor adventures. My kids' favorite activities included swimming beneath waterfalls, the Mistico Bridges, and tubing the Rio Celeste. They also just really loved getting to hang out at the pool every day! But that's one of the best things about a Costa Rican vacation—you really can do it all! Enjoy an adrenaline-pumping activity in the morning, relax by the pool in the afternoon; eat some amazingly fresh local seafood for dinner as you watch the sunset, and sip a cocktail. Then, go to bed and do it all over again! And I'm sure we will because my kids have already asked when will we get to go back. Hopefully, this one-week itinerary in Costa Rica with kids helps you have a great experience too!
Want local tips and personalized advice for your trip to Costa Rica? Connect with Jorge from Go Ask A Local!  He's a local guide based near Arenal who works all over the country and offers trip planning consultations.
Happy Travels!
We hope you liked this Exciting One-Week Itinerary In Costa Rica With Young Kids by our contributor Nate Federman! Whether you're visiting for a week, a few days, or even longer, your kids will love this rugged Central American country. Enjoy Costa Rica with your family!
*Due to the COVID-19 pandemic, some of the attractions, accommodations, or things to do on this list may be closed. Please ensure availability before making your decision.
*This post may contain affiliate links that may earn us a small commission, at no additional cost to you. Affiliate links in no way inform the hotels, sights, products, or other recommendations included in our articles. All opinions and recommendations expressed here are compiled from submissions submitted by the generous members of our Families Who Love To Travel community.
READ NEXT:
For a fairly quaint island, St. Lucia is jam-packed with kid-friendly activities. With stretches of...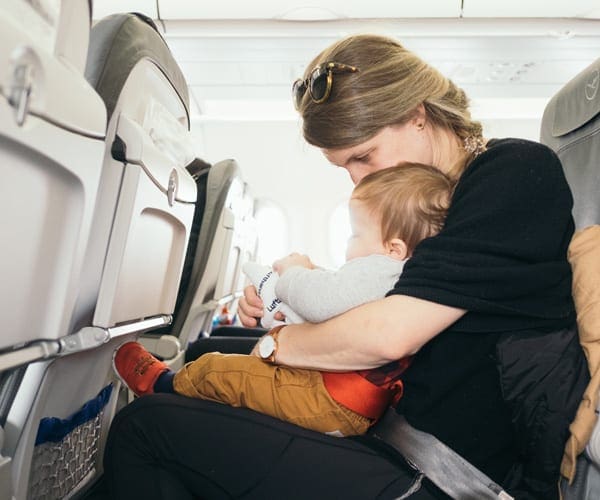 Families Who Love To Travel contributor Meghan Oaks provides her 10 best tips for your...