By Sarah Dmitriev
When choosing a cruise, there are certain criteria to look for: duration of cruise, number of days at sea, ports of call, and activities on board. This past winter break, we decided to try out a cruise and with so many to choose from it was definitely a tough decision. We decided our most important criteria was the ports of call (we wanted to go to places we haven't been to) and activities aboard the ship. We had heard so many good things about the Royal Caribbean's Oasis class of ships (the largest ships in the world). So we decided on the Harmony of the Seas. This was a 7 day cruise, stopping at St. Maarten, Puerto Rico, and Labadee, Haiti.
Things to Do
We were worried that our girls would get bored during the three days at sea, but we were pleasantly surprised by the amount of activities they had available for kids. Our kids loved the pool deck that included several waterslides, a wave runner, and sprinklers. For children under 3, they had a separate area just for them which was a nice worry-free zone. On the same deck, there was a mini golf course, a basketball court, and an area for teens to hang out.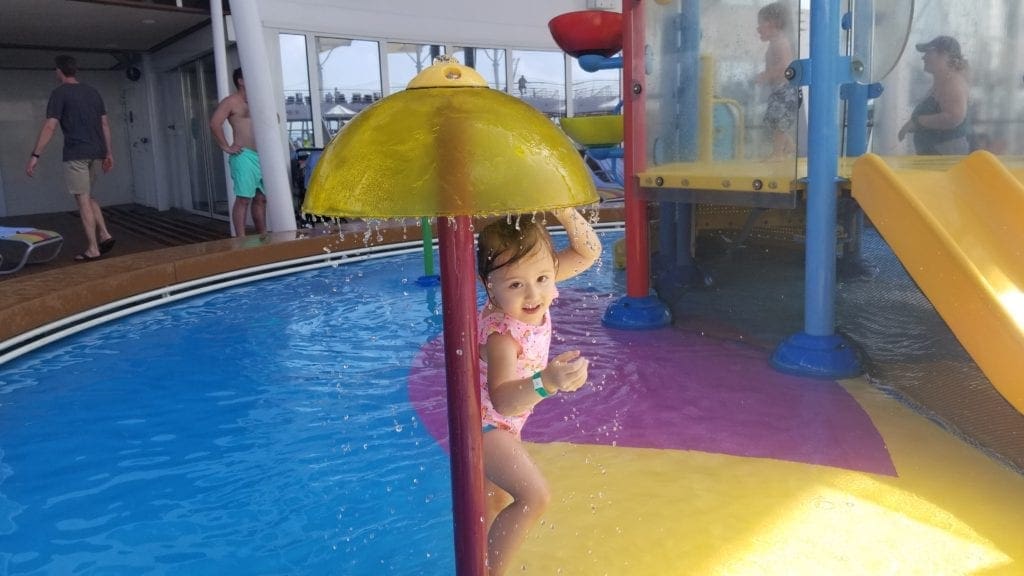 One of our kids' favorite areas of the ship was the boardwalk. This was a Coney Island-style area with a carousel, climbing wall, arcade, rock climbing, and Starbucks for the grownups. The carousel was definitely a highlight, which our kids rode every night. The rock wall was pretty cool as well. This is for ages 6 and up. I would say it may be a little too challenging for those under 8, but still worth a try. Also in this area, during the days at sea, the ship's staff offered balloon art and face painting. Although the face painting was cute, I would recommended only if you don't plan on going to the pool afterwards.
Another favorite area of the ship was Central Park, which was essentially a whole deck with a park-like atmosphere, trees included. It was really nice to have a natural forest-like environment when you are in the middle of the ocean!
The cruise also offered a great kids club, which had a flexible schedule and cute activities for the kids. For kids under 3, they had a babysitting service for a minimal charge of $8/hr. For this service, you have to make an appointment in advance, so this is important to do in the beginning of your trip. This option was great for us to have date night to go see the live comedy shows and restaurants they have available aboard the ship.
On-Board Entertainment
There was also some amazing entertainment aboard, from acrobatic water shows to ice dancing shows to Broadway-style shows. It's really important to book these shows as soon as you get on the ship, as they sell out fast. I would say the water show and ice skating shows are a must for families. The Broadway show is more of a great date night option since they are usually less kid-friendly.
Dining
Onboard the Harmony, there are 18 free and extra fee dining options including Italian, American, Asian and Mexican cuisine.

Our favorite meal of the day was breakfast, in the main dining rooms they offered an a la carte menu as well as a buffet which included a massive selection of breakfast items. Our girls were really fond of the waffle station with a variety of toppings to choose from (fruit, Nutella, whip cream, etc.). My husband and I preferred the lighter fare, egg white omelets, oatmeal and their muesli was excellent.

For lunch, there were several options: the windjammer marketplace which offered a salad bar, sandwiches, pasta, and classic American fare. The food was good here but we found it to get a bit to busy, its best to go for an early or late lunch. There are also several other smaller cafes around the ship offering lunch items. As for dinner at the main dining room they offered a 3 course meal changing the menu every night. Its important to note you should make a reservation for the main dining room or there can be a wait.

The food for dinner in the main dining room was okay, we weren't super impressed.
Additional Dining Options
They also offer 7 extra fee restaurants for dinner including a hibachi, Johnny Rockets, a Taqueria and Tequila bar, Chops Grille (a NY style steakhouse), 150 Central Park (a wine pairing restaurant), Jamie's Italian (from celebrity chef Jamie Oliver) and Wonderland (an Alice in Wonderland-themed restaurant using molecular gastronomy to create an innovative menu). I would say the Hibachi, Johnny Rockets, and Jamie's Italian were the most kid friendly while the others are great date night options while the kids are enjoying the kids club.
Accommodations
There are over 2,700 staterooms on the Harmony of various sizes and accommodations. You can choose to have a balcony, which view you would like, etc. We found our room to be very comfortable and perfectly accommodated our family of 5. We especially loved our stateroom attendant who was always available if we needed anything and he also created towel animal creations every night that our girls adored.
Ports of Call
And finally, one of the most important parts of the cruise, the ports of call. Our girls loved all the ports, especially Labadee and Puerto Rico.
Labadee is a private area owned by Royal Caribbean in Haiti. It is an absolutely stunning area with beautiful beaches. I highly recommend reserving a cabana. These need to be reserved right after you book your cruise, as these book up the quickest. With the cabana, you get butler service. They also have beach lounger rentals as well as other rental options.
In Puerto Rico, our girls just loved exploring the island and learning about the culture. They especially loved touring the fort, Castillo San Cristobal in the heart of old San Juan. For a fee of $7/ person you can freely tour the fort. Our girls loved going to the top of the fort, where it overlooks the water and where they had cannons with cannon balls on display. We also had time to walk around the city and try some local ice cream which was delicious!
So?
Overall, this cruise was a great option for a family vacation. There was plenty of activities for the kids to provide nonstop fun.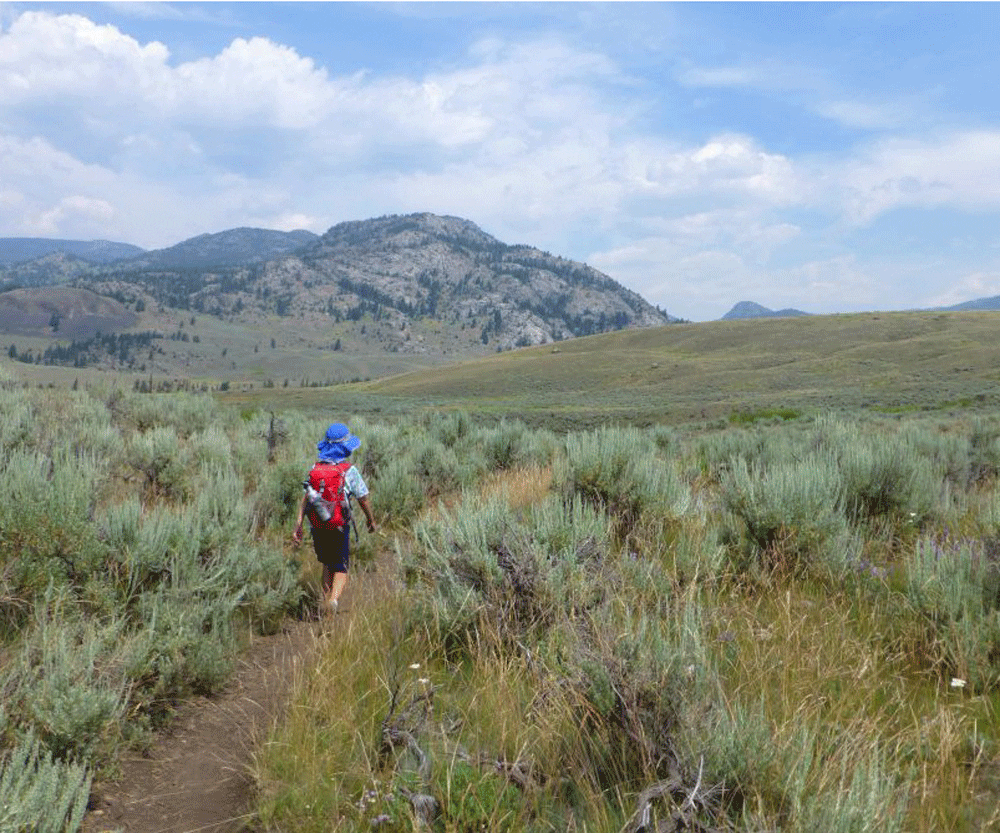 Everyone knows that Yellowstone National Park makes for a classic family vacation. Strolling the boardwalks...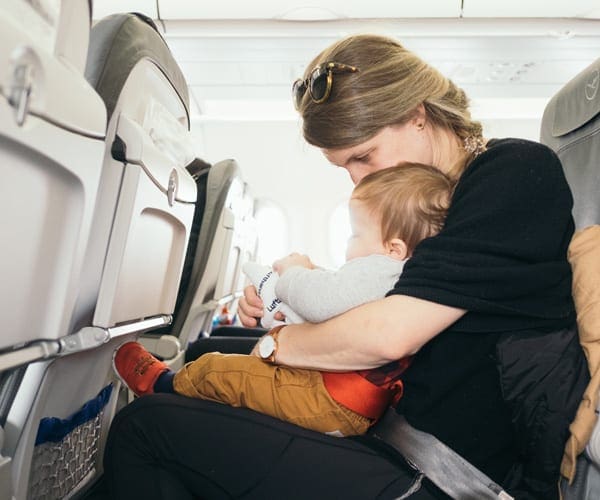 Families Who Love To Travel contributor Meghan Oaks provides her 10 best tips for your...