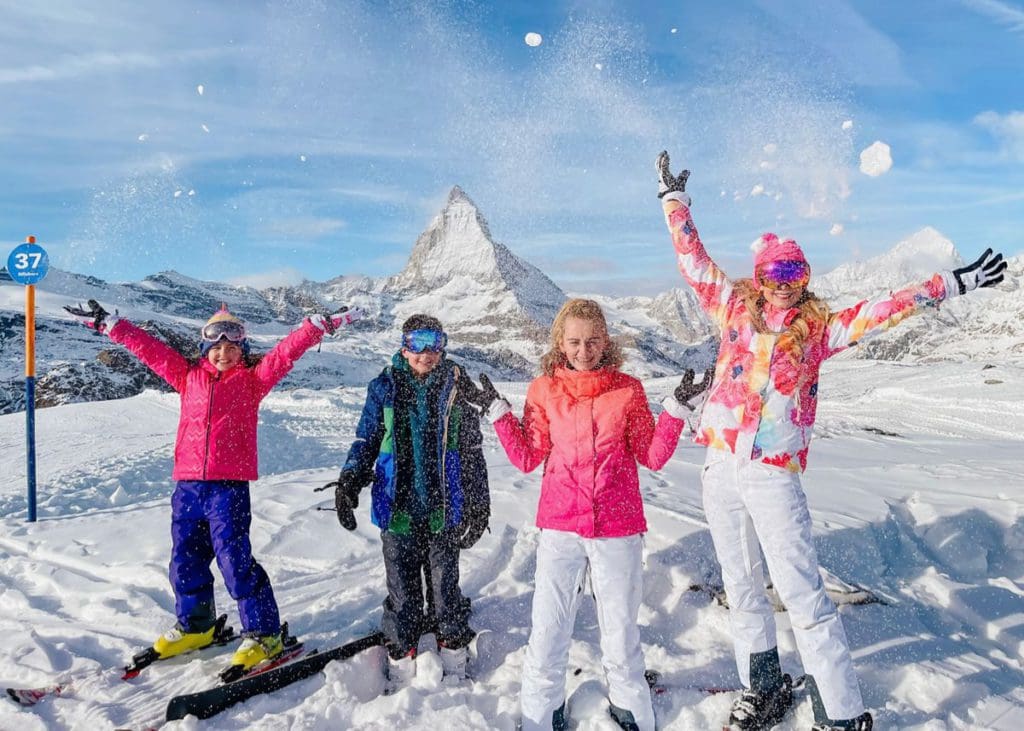 Do you love to ski and hope to pass your love of skiing on to your kids, but find it cost-prohibitive to plan a family ski trip on a budget? Skiing is a beloved winter hobby and a fantastic activity to enjoy as a family. Skiing, however, is easily considered an expensive sport for individuals, but multiply that cost for families, and you have an extremely pricey pastime. Between lift ticket costs, rental equipment fees, lodging or transportation, and possibly splurging on ski lessons, skiing can be cost-prohibitive to any family. Fortunately, there are ways to ski on a budget in a way that won't cut into your fun on the slopes. Let's explore the most economical ways to ski as a family!
Buy a Season Ski Pass to Help Plan a Family Ski Trip on a Budget
One of the most economical ways to ski is to buy a season pass. Whether local or looking for a cheaper ski vacation option, plan in advance and purchase your season ski pass early. Though the initial price is a shock to your budget, the cost per ski day is the most economical way to ski the season if you plan on skiing for more than four days.
For example, a lift ticket costs about $200/day to ski at Park City in Utah. The Epic Pass costs $858. Within just 4-5 days of skiing, you have made up the cost of the pass. Plus, this Epic Pass provides access to many different ski resorts. This makes it possible to have a few cheap ski vacations in various locations in one season using this pass. Planning ahead is key. Many season passes are available for purchase in the spring, and purchase ability expires around Thanksgiving.
First session skiing with kids? Use these Tips for Skiing with Kids for the First Time.
Kids Ski Free Programs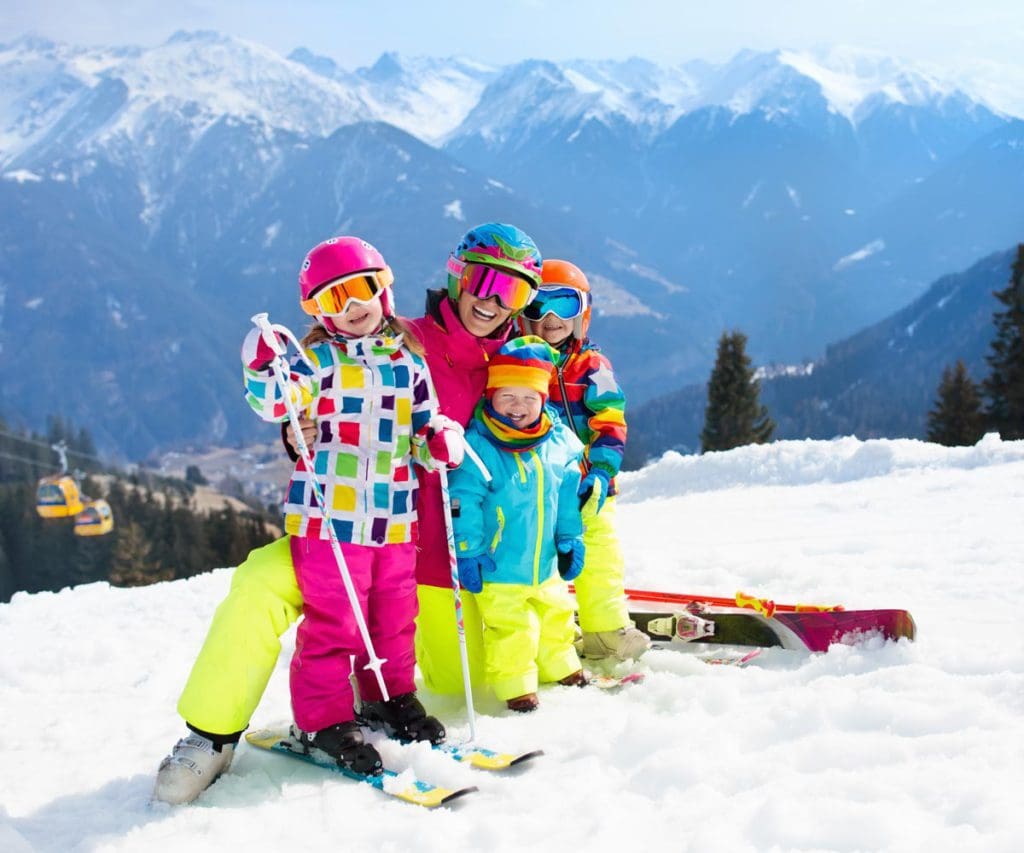 When you plan a ski trip on a budget, look for kids ski free options! Many ski resorts have discounted programs for kids, or even kids ski-free programs! Search these resorts that offer kids ski-free options for the youngest members of your family, often those five and under. Some resorts provide limited free passes for older kids as well. For example, Vail resorts offer kids in grades kindergarten through 5th grade the Epic SchoolKids program, where each student can get free kids' lift tickets for the season. These Epic Schoolkids passes vary from Colorado and Utah to Whistler and Washington state, but are certainly worth checking out when planning a cheap ski vacation. It's undoubtedly easier to ski on a budget when kids ski for free!
Discount Ski Programs for a Family Ski Trip on a Budget
Another great option for families planning a ski trip on a budget is a ski passport. Many states, including Utah, Colorado, Idaho, and New York, to name a few, have ski passports for kids making skiing more affordable for school-age kids. Depending on the state and the passport, it may cover students between the 3rd and 6th grades. Discover where your 3rd to 6th graders can ski for free or for a small processing fee at some stellar ski resorts for the 2022-2023 ski season using a ski passport. Colorado has a passport program starting at $59, making a cheap ski vacation with kids possible in Colorado as well. Another great option is a Colorado Gems Card which offers discounted ticket options for smaller, lesser-known ski resorts in Colorado.
Here's Your Family's Guide To Skiing in Big Sky, Montana, With Kids!
Other Discounted Tickets
If you're wondering how to plan a ski trip on a budget, there are many other discounted ticket options for same-day ticket purchases. If you find yourself at the ticket counter on the first day of your ski vacation with kids, ask for discounts such as AAA, military, student/college, and senior discounts. You can also ask family and friends who have season passes if they have a discount associated with their passes.
Then, be sure to check out Liftopia for lift ticket deals, but often they are already sold out. Also, many kids only last 3-4 hours on the ski slopes. With this in mind, maybe a half-day ticket would be a great budget-friendly option for your family. Hit the snow in the afternoon and ski until the lifts close. This will still give you plenty of time for hot chocolate and snuggles by the fire at the end of the evening!
Ski Equipment for a Family Ski Trip on a Budget
The most economical way to ski is locally because you can bring your own gear. But, should you be flying to your ski destination, I suggest renting from a local ski shop. Baggage fees can be costly to check in ski equipment, and carrying a large ski bag through the airport is cumbersome. Bring your own boots, though, so you can have comfort for your feet on the slopes. Find a local ski shop, clip coupons, and check Groupon for any deals on rental equipment. Ski shops that are away from the ski base area are more price-friendly when skiing on a budget.
If renting equipment, especially for kids, check out seasonal ski rental programs in the area. Many offer a full kids' ski set-up with boots, skis, and poles for $100+ for the entire season. And best of all, if your kid has a growth spurt during the season, you can swap out sizes as many times as needed at no extra cost! Christy Sports is a great company to rent from, with more than 60 locations near various ski resorts. Be sure to check out seasonal equipment rentals early on, as the program is unavailable after Thanksgiving in some areas.
Snow Gear
Pack all the hats, gloves, base layers, jackets, and snow pants your family needs. Making these purchases at a ski resort can be costly. Plan ahead and buy what you need for your ski vacation in the off-season, as it is the most economical way to purchase ski gear. Search bargain shops like Sierra or shop sales at Columbia and Lands End for any snow gear you need before your ski vacation. Be sure you don't forget the other essentials like ski goggles and a helmet. If you're wondering how to pack and plan a ski trip on a budget, read this Ultimate Ski Trip Packing List For Families This Winter. This way you can find some of the best prices and you won't forget anything for your ski vacation with kids!
How to Save on Hotels When Skiing as a Family on a Budget
Lodging is a significant part of the budget when planning a cheap ski vacation. When planning a ski trip on a budget, many trip details require planning ahead to get the best deals, but hotel pricing is very dynamic, and you may find great deals if you book last minute. You may find discounts or weekend packages based on occupancy and the dates you choose to travel. These deals are most often accessed through major chains such as Marriott, Hilton, or Four Seasons mountain resorts.
Another option would be to book a package deal through the resort. By rolling flight, lodging, and lift passes into one price, you may be able to save. Check out all of the ski packages available at your ski destination by using Ski.com or Snow Ventures. Snow Pak has a comprehensive list of ski resorts all around the world, which offers links to book ski packages, research the resort to see if kids ski free, as well as providing important information about each resort, like trail maps and snow conditions. It's a resource that will help you tremendously when finding the most economical way to ski and planning a ski trip on a budget.
Other Lodging Options
Of course, searching for hotel accommodations at the last minute can also be risky. If you prefer, find a Vrbo or Airbnb near the slopes. This way, you can save by bringing food, cooking meals, and eating in. Relax in a larger space than a hotel room after a long day on your skis; maybe you can even find one with a cozy fireplace to snuggle up with the kids to read bedtime stories. This can also be an economical way to save during a ski vacation.
Another creative option to save on lodging for families planning cheap ski vacations is a Home Exchange. Maybe you have a Vrbo to trade, a week at a timeshare, or your private residence to exchange for your time at a place located near your preferred ski resort. You could have an even exchange and not pay anything for lodging, an ideal situation when skiing on a budget!
Plan your family ski trip to one of the ​Best Ski Resorts In America For Families Of All Ages!
More Tips for Planning a Family Ski Trip on a Budget
Your next cheap ski vacation could be closer than you think if you follow these tips for planning a family ski trip on a budget. Keep reading if you're curious about airline miles, credit card points, and more!
Seek Shuttles
Ski-in/Ski-out lodging is the most convenient for families. However, when planning a cheap ski vacation, price trumps convenience. Find accommodation farther away from the base mountain lifts and seek out the shuttle services. Most resorts have free shuttles that serve the area and bring you right to the base lift areas. Save on your lodging costs by trekking to the shuttle stop, waiting a short time, and shuttling directly to the mountain. A shuttle can also save you on any parking costs that could be incurred for convenient base parking. Be sure to check out the shuttle maps and be aware of which color or route number you are on to get back to the home base of your ski vacation. And a foldable wagon to pull all of your ski equipment can make using the shuttle more comfortable for everyone.
Use Airline Miles or Credit Card Points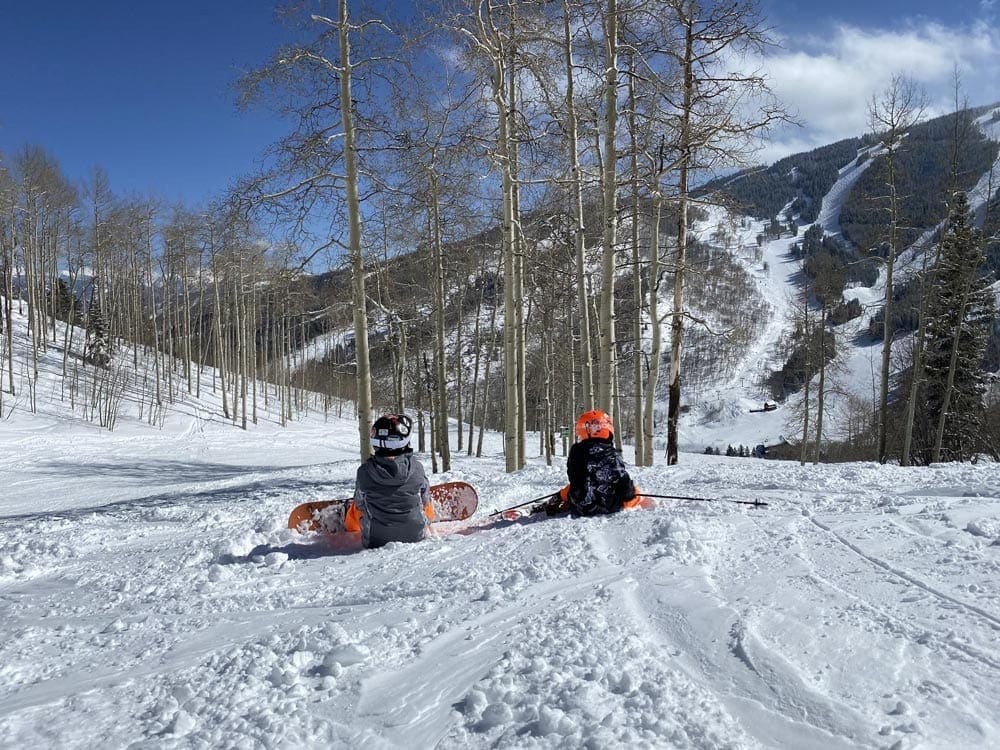 If you are a seasoned traveler, you know how to leverage credit card points for airline miles to save on your vacations. Use your knowledge when planning the most economical way to ski. If you're new to the idea of using credit card points to travel, here are some tips on What Families Need To Know About Travel Rewards Credit Cards. If you have airline miles, use them to buy your flight tickets. And remember to sign up for mileage on the airline of your choice, so you get credited for the flight you take. This can help save money on future trips you will take. For further savings, airlines like Southwest often offer deals with a qualifying companion pass, and budget airlines like Frontier offer Kids Fly Free days.
Planning your trip during off-peak times is also a valuable way to save on airline prices. The time between Thanksgiving and Christmas and right after the New Year is a very economical time to travel. Many people don't travel after the holidays, so these are great times to find cheaper rates on flights as well as places to stay.
Bring Your Own Apres Ski for a Family Ski Trip on a Budget
What better way to save money while on the slope than to bring your own food and beverages? Pack a breakfast burrito if you start your skiing early. Shop the snack aisle before your trip and pack your backpack full of healthy, satisfying snacks to sustain your time while on the mountain. Have your kids carry a backpack with a water bladder, so they aren't asking for the pricey water bottles in the lodge. Or, take a larger pack for your whole family's needs. Pack a thermos with hot soup or hot water, and pack some hot chocolate packets to enjoy to warm up your hands after hours on the slopes. Cheese, crackers, and sliced meats are always easy snacks to have on hand. If you want to enjoy a meal out while on the slopes, find the best happy hour menu at the local restaurants!
Non-Ski Options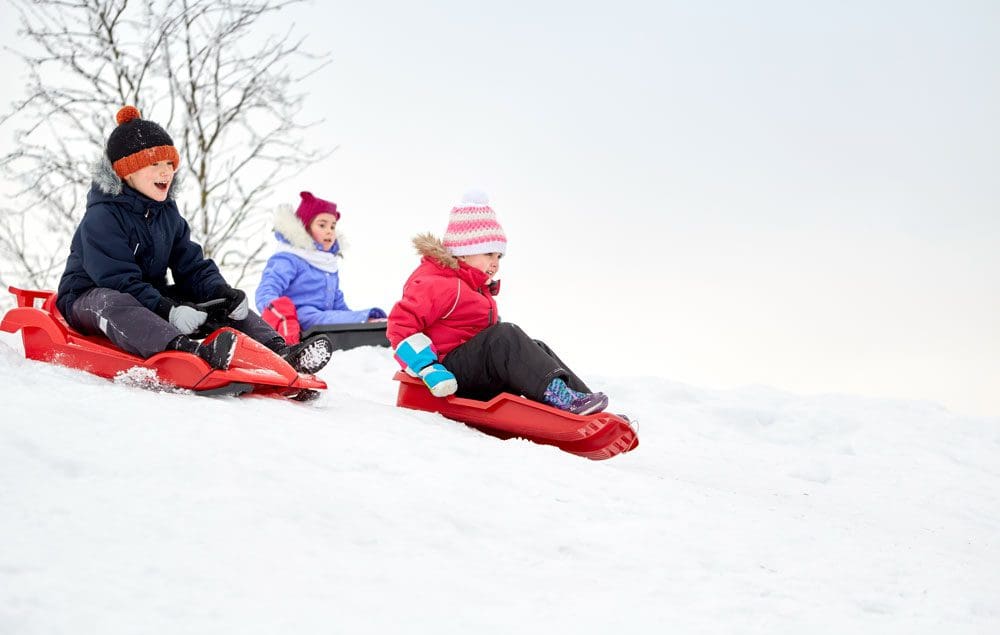 To further save on your ski vacation, alternate ski days with other activities in the area. Maybe your children would like to go sledding or snow tubing, or you may enjoy ice skating as a family. Many ski towns have a walkable downtown. Or, a lodge where you can enjoy your day reading a book around the warm fire with hot chocolate or a specialty coffee drink. Another great option would be to go on a snowshoe hike or even enjoy nordic skiing in the area. Maybe your family would enjoy some downtime and simply spend the day watching movies, playing board games, or completing puzzles together. These are all free or cheaper options that will help offset some of the expense of skiing to help ensure a cheaper ski vacation.
Traveling to Colorado? Add these Colorado Snow Tubing and Sledding Spots for Families to your itinerary.
Happy Skiing!
We hope you liked this list of 12 Ways to Plan A Family Ski Trip on a Budget! Even though skiing is a highly sought-after family winter activity that can be very expensive for a family, there are many ways to plan a ski trip on a budget and find the most economical way to ski. From planning ahead and buying a season pass that is just right for your needs to seeking out a resort that allows kids to ski free, you are sure to find ways to save. If you've been wondering how to plan a ski trip on a budget, hopefully, you found some great tips to start planning. Enjoy your family ski vacation!
*Due to the COVID-19 pandemic, some of the attractions, accommodations, or things to do on this list may be closed. Please ensure availability before making your decision.
*This post may contain affiliate links that may earn us a small commission, at no additional cost to you. Affiliate links in no way inform the hotels, sights, products, or other recommendations included in our articles. All opinions and recommendations expressed here are compiled from submissions submitted by the generous members of our Families Who Love To Travel community.
READ MORE:
Travelers looking for the ultimate beach packing list for families of all ages are in...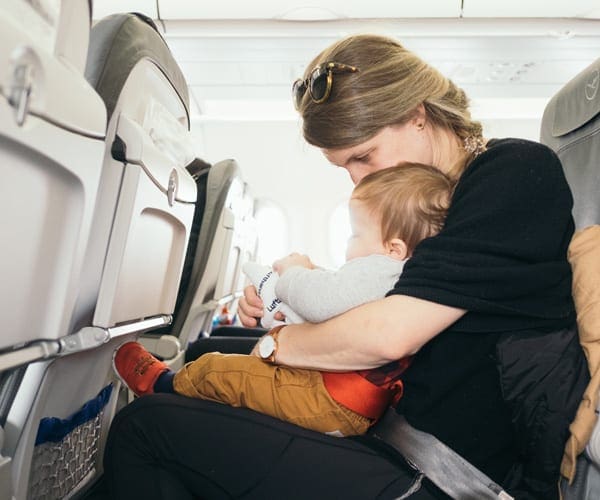 Families Who Love To Travel contributor Meghan Oaks provides her 10 best tips for your...