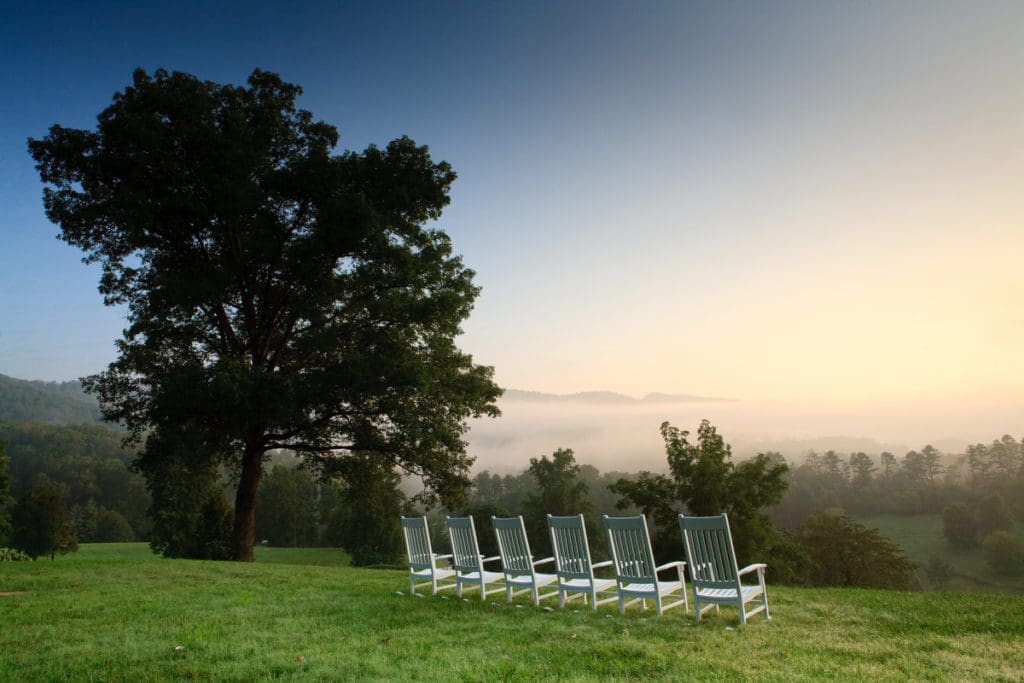 Blackberry Farm, adjacent to Smoky Mountain National Park in Tennessee, has long been known as a premier luxury resort destination – but its status as one of the best family resorts in the United States may not be as apparent. Luckily, this article covers why Blackberry Farm is a perfect family getaway, from amenities to location and friendly staff! Based on my own experience at the hotel, I've put together some essential tips and an overview of the family-friendly activities on offer. Whether your crew likes land adventures, exploration in and on the water, fine dining, sports, and/or traditional family fun like games and puzzles, this semi-all-inclusive resort has it all! Keep reading to find out how to Plan A Perfect Family Getaway To Blackberry Farm In Tennessee!
Blackberry Farm Location & Check-In
Just a half hour from the Knoxville airport, Blackberry Farm transports you to an idyllic setting surrounded by rolling hills and mountain vistas. It's a great jumping-off point for an adventure in Great Smoky Mountain National Park, though you'll likely never want to leave the expansive resort grounds! Upon arriving, the expert staff takes families' belongings (and vehicle if applicable) and shares a welcoming overview of the property. Depending on where you may be staying, staff will transfer guests via resort vehicle. Or, on foot to tour the room.
The main dining and meeting point for activities is near the centrally located check-in at Oak Cottage. Meanwhile, the hiking trails and river flank one side, and the farmstead and additional cottages on the other. This makes the resort-provided golf cart a fun, if not essential, way to familiarize yourself with and access the grounds!
Family-Friendly Accommodations
From historic rooms to spacious suites, there are several family-friendly accommodations at Blackberry Farm. We opted for the Singing Brook Cottage Suites, with a spacious king bedroom that accommodated two rollaway beds. It's well-situated, steps from Camp Blackberry and the family pool. Plus, the cozy front porch meant parents didn't have to go to bed at the same time as the kids! And the room came with its own golf cart to get around the grounds for even more adventure. For families looking for even more space than the suites, the cottages and the three-to-five-bedroom houses let bigger groups spread out.
Best Amenities for Kids at Blackberry Farm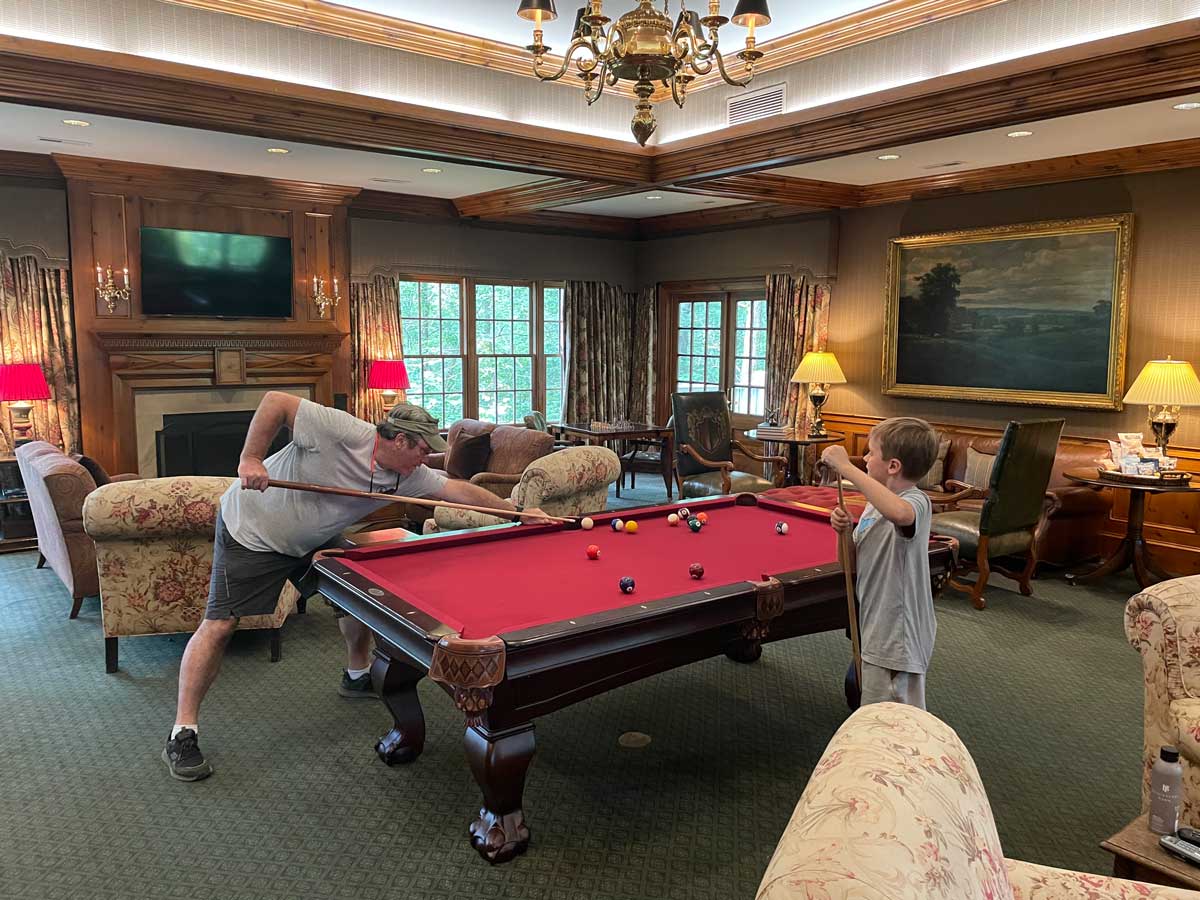 While dessert with every meal, unlimited pantry snacks, and a pool open 24/7 during the late spring and summer will surely win over kids of all ages, there is so much more for children to love at Blackberry Farm!
Camp Blackberry brings all the fun of camp just steps from your room for those ages four and up. Activities depend on the season, but kids can enjoy such fun as making ice cream, competing in ping pong or foosball, perfecting some fresh-squeezed lemonade, playing pool games, painting river rocks, or snuggling up during a movie night. The counselors at Camp Blackberry make sure everyone has a great day or night! Blackberry Youth Discovery is another opportunity for kids ages 10 and up to experience something new, such as painting, ceramics, farm animal care, and adventure activities like hiking and canoeing. It's available at certain times during the year.
Camp Blackberry offers sessions from 9 a.m. until 10 p.m. (with a break from 5 – 6 p.m.) during what the resort calls Family Time from Memorial Day through Labor Day, spring break, and most holiday periods. During other times, private Camp Blackberry sessions and Youth Discovery classes can be arranged. Private babysitting is also available for an hourly fee for all ages.
Family Fun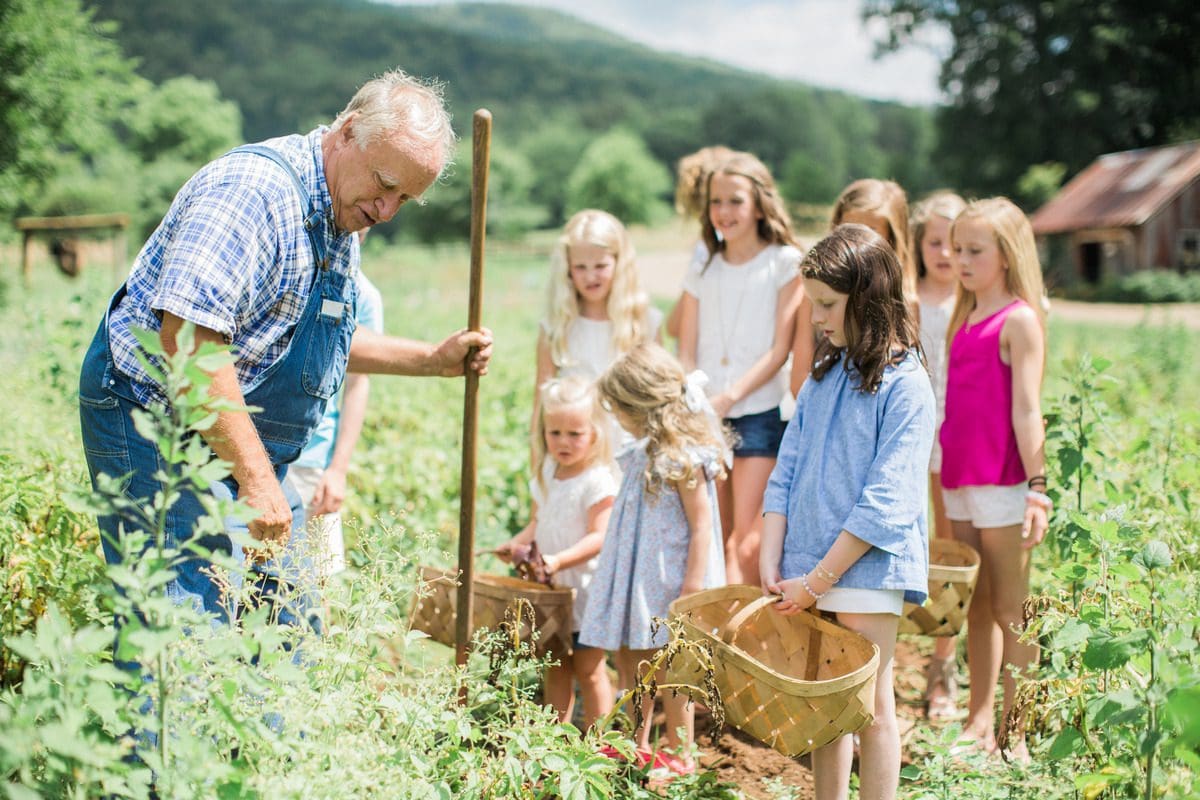 There are so many family-friendly activities to choose from at Blackberry Farm, that it will be difficult to narrow down the list during your stay! Hiking the miles of trails across 4,200 acres is one of the best free activities at the resort. Families with younger kids may opt for the Walker Mountain Trail, for example, an easy-to-moderate mile-long hike with a scenic overlook. The older and more adventurous may gravitate toward the Boundary Trail, with more than 4.5 miles of moderate-to-advanced trails.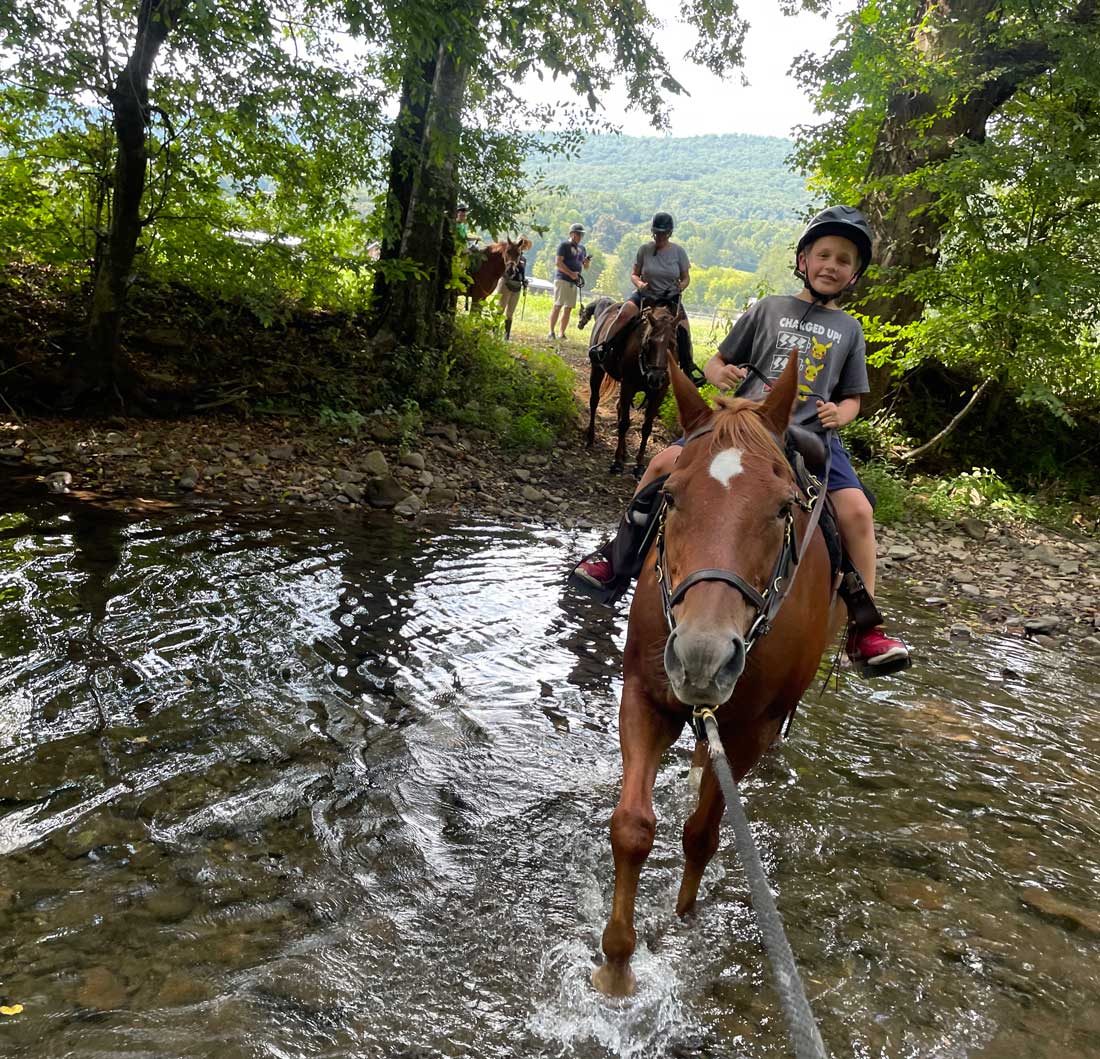 Have a horse lover in the family? Horseback riding is offered for all ages and all levels! Or, you can partake in a carriage ride. Can't get enough of water sports? Try canoeing, kayaking, paddle boarding, or fishing in the beautiful rivers and creeks on and the near the resort. If you've always wondered what it's like to live on a farm, the working dairy and farmstead get parents and kids up close with a wide variety of animals. Meanwhile, the dog kennel lets families play with puppies! On rainy days, the resort offers puzzles and games to enjoy from the comfort of your room. Chestnut Cottage has a pool table, chess, checkers, and more to pass the time. And there's so much more!
There are also special touches that serve as a little surprise for guests. For example, during a long weekend at the end of summer, guests were treated to s'mores overlooking the Smoky Mountains one night. On another day, swimmers at the Family Pool got a visit from an ice cream truck!
On-Site Family Pool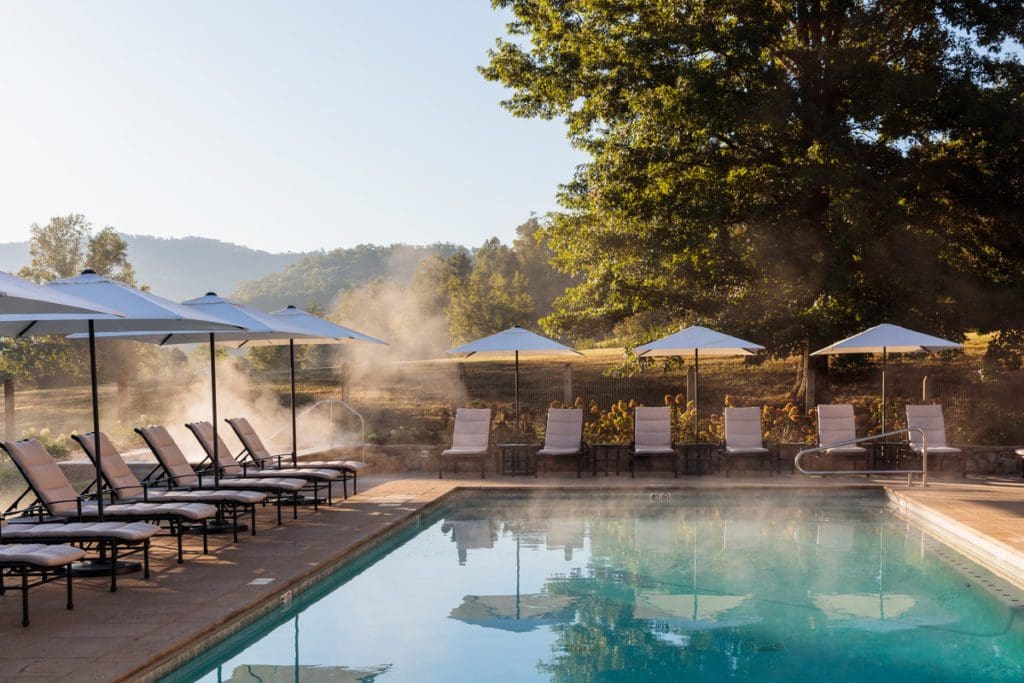 Surrounded by stunning views of the Great Smoky Mountains and the resort's sprawling property, the family pool is a favorite for all ages. Kids could easily spend hours splashing and having fun, with water toys, life vests, and other flotation devices on hand to make things extra fun! There are sun umbrellas and lounge chairs for parents to relax as well. If you've forgotten your sunscreen or bug spray, the resort also has you covered with all the essentials. Plus, the family pool never closes during the warmer months!
Why Parents Love Blackberry Farm
Knowing your children can choose from nearly endless activities and are well cared for on-site are just a few reasons why you should plan your family getaway to Blackberry Farm in Tennessee. But the resort definitely has parents in mind with its all-inclusive Foothills Cuisine® (except for in-room dining which is an extra charge) and wellness activities.
The Wellhouse is a bonus for parents. There are traditional spa activities like massages and scrubs, a full-service salon for nail and hair care, and unique wellness offerings. (Enjoy meditation and yoga in the woods.) Plus, it houses the resort's adult-only pool. If you'd like to take your child(ren) along, the junior spa menu includes hair and nail options for those ages five to 16, as well as facials for teens. The full menu of activities is available for those 16 and older.
For more things to do in Tennessee with kids, check out the Best Things To Do In Nashville With Kids!
On-Site Dining at Blackberry Farm
Families can enjoy their meals at The Dogwood, which offers a full selection of multi-course meals at breakfast, lunch, and dinner. This includes bespoke children's menus and fare that takes advantage of the farm and garden onsite.
Dining at The Barn, the resort's fine dining option is available for guests ages 10 and up, with four courses of inventive local cuisine. Whether breakfast, lunch, or dinner, we noticed that families were separate from others in the main restaurant, which can help parents relax during the meal. The activity sheets, crayons, and high chairs/booster seats make it a treat to eat together.
And for wine, whiskey, and beer connoisseurs, the resort's program is tough to beat, with more than 250 pages of wine bottles from around the world, whiskey tastings, and brews from the resort's brewery!
To extend your trip to Tennessee with kids, read our Exciting Family Itinerary For Gatlinburg & Pigeon Forge!
Would I Recommend Blackberry Farm for Families?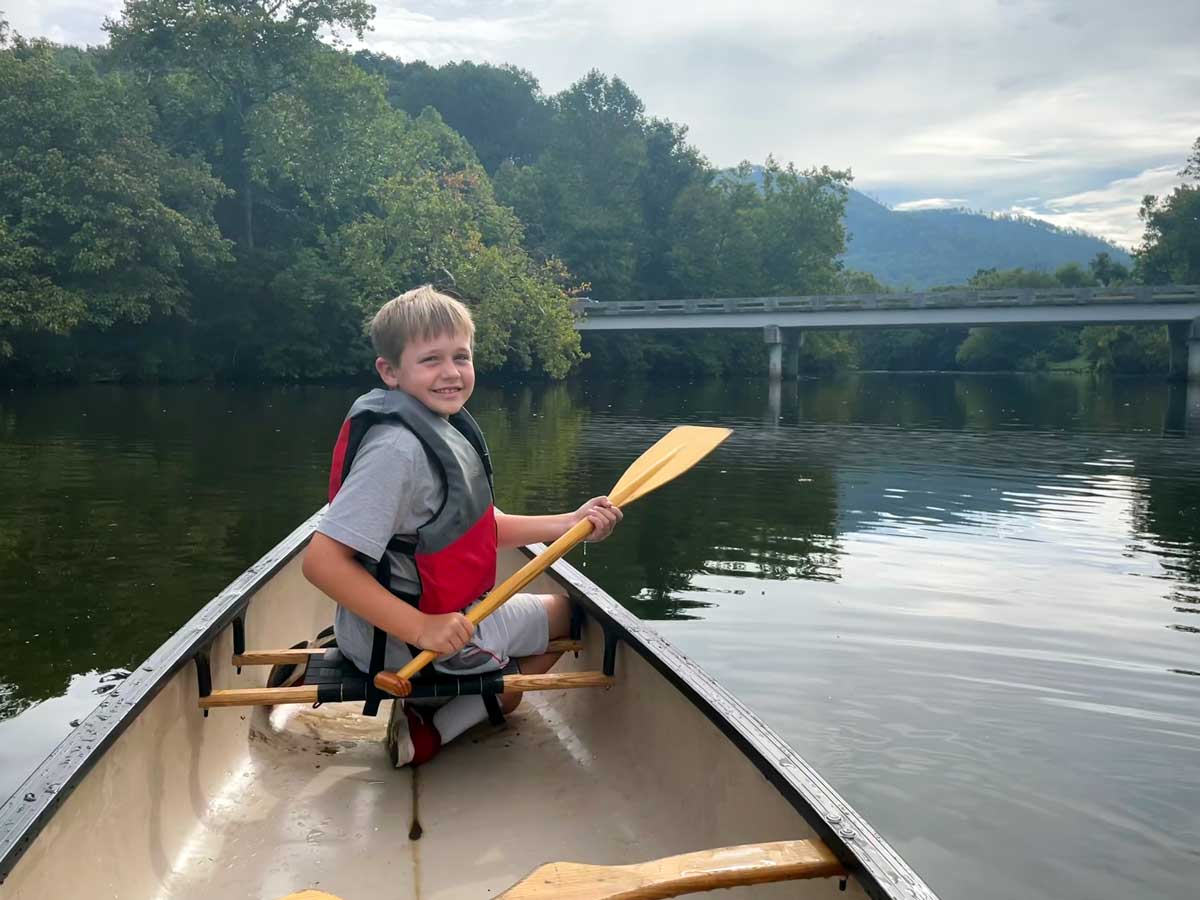 If you're looking for a mixture of family bonding and picturesque outdoor adventures, I would definitely recommend Blackberry Farm! Whether taking in breathtaking scenery, enjoying decadent farm-to-table cuisine, indulging in some R&R, or getting into nature with your kids, a stay here is sure to please kids and parents alike. Book a trip and let the concierge team help create a lifetime of memories before you even step on the grounds. That's why Blackberry Farm has secured its spot as a perfect family getaway!
Happy Travels!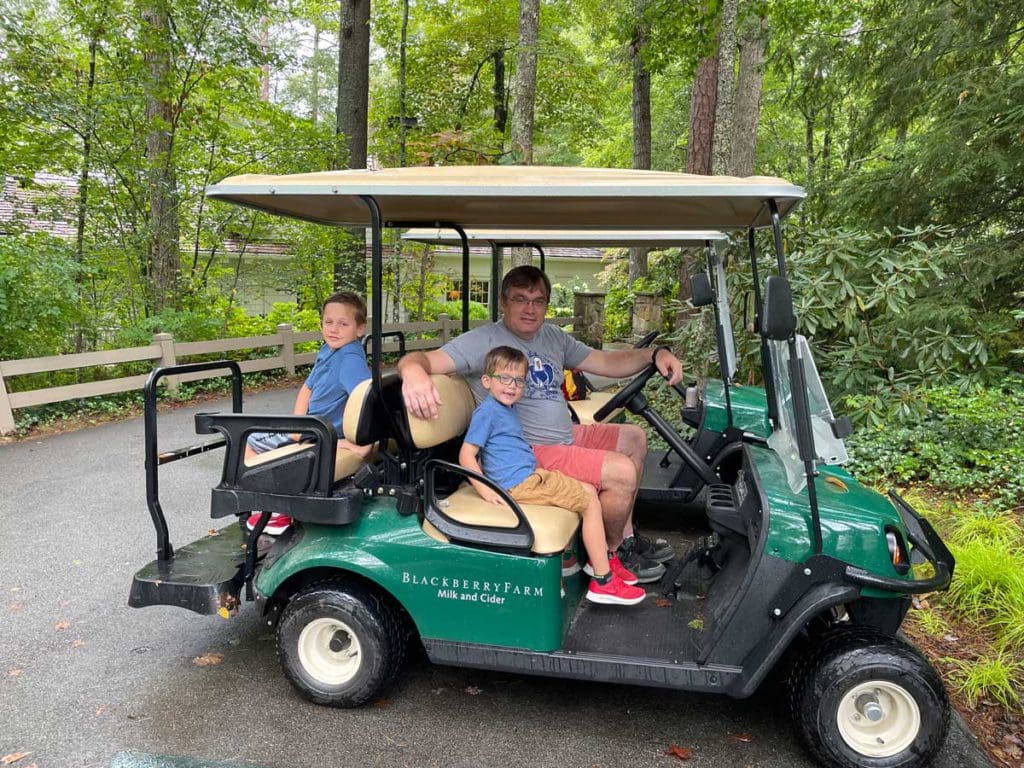 We hope you liked this Review: Plan Your Perfect Family Getaway To Blackberry Farm In Tennessee! With stunning views, outdoor adventures, and so much more, there's surely enough to entertain your entire family. Enjoy your family getaway to Blackberry Farm in Tennessee!
*Unless otherwise noted, all images here are courtesy of and belong to Megan Tucker.
*Due to the COVID-19 pandemic, some of the attractions, accommodations, or things to do on this list may be closed. Please ensure availability before making your decision.
*This was NOT a hosted experience. However, this post may contain affiliate links that may earn us a small commission, at no additional cost to you. Affiliate links in no way inform the hotels, sights, products, or other recommendations included in our articles. All opinions and recommendations expressed here are that of the attributed author.
READ MORE: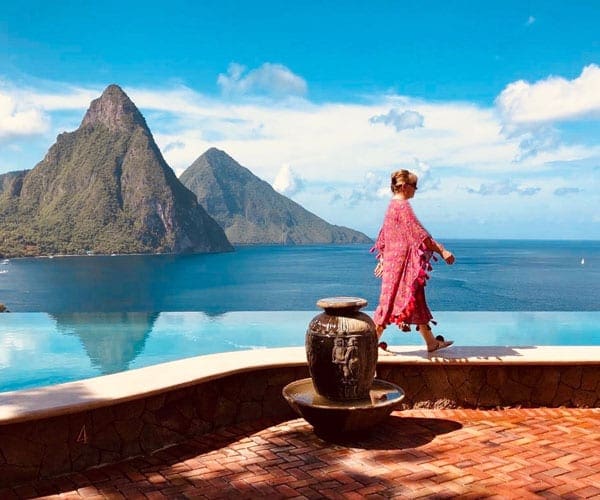 Traveling to St. Lucia with children is always easier with a plan. The island has...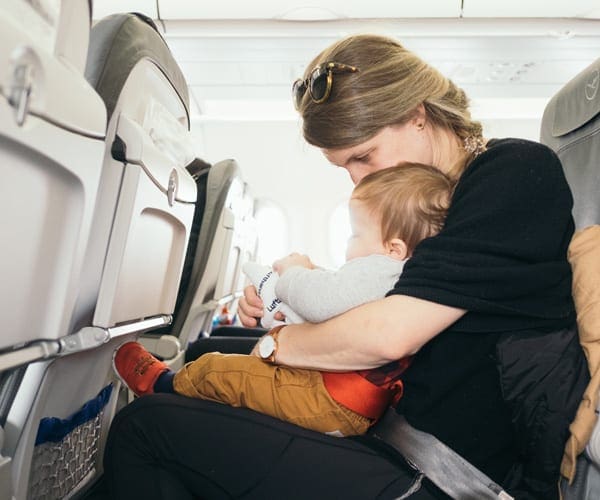 Families Who Love To Travel contributor Meghan Oaks provides her 10 best tips for your...