*This Liene Pearl Portable Photo Printer review is sponsored by Liene. All ideas and opinions expressed within this article are that of the writer, Antonia Grant. Find additional disclosure information at the bottom of this article.*
Liene recently reached out asking if someone on the Families Love Travel team would be willing to receive and provide an honest review of their Liene Pearl Portable Photo Printer. As a traveling mom with an eight-year-old, and a passion for finding creative ways to share our travel memories, I jumped at the chance to try out the Liene Pearl Portable Photo Printer! As frequent flyers, we are always looking for ways to quickly capture and share our memories. My daughter, especially, loves sharing her travel stories about new playgrounds, beaches, and animals. Fostering her creativity and imagination is really important to us (and, *spoiler*, this was an excellent way for her to channel her inner artistic storyteller!). Based on our experience with the Liene Pearl Portable Photo Printer, here is my honest review for travel families.
What is the Liene Pearl Portable Photo Printer?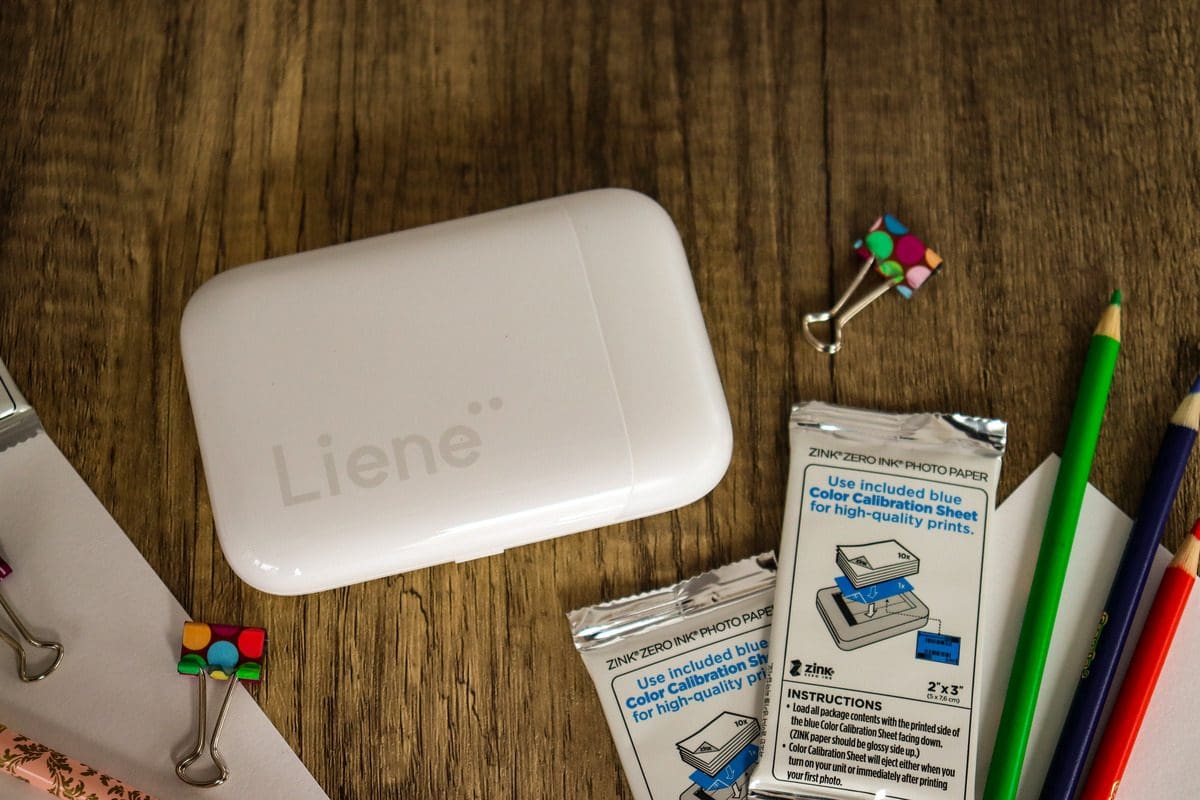 The Liene Pearl Portable Photo Printer is a compact photo printer that uses Zink Zero Ink printing technology to print pictures on the go. This inkless printing is water-resistant, tear-resistant, smudge-proof, and dry to the touch – a huge plus for travel families who love sharing their travel memories. Using Bluetooth, the printer connects to your phone (compatible with iOS and Android) to print 2×3″ images on sticky-backed paper. Each Liene Pearl Portable Photo Printer comes with a printer, charging cord, user manual, and either a 5-count or 50-count of zink photo paper (depending on the option purchased).
Additional Information about the Liene Pearl Portable Photo Printer Worth Noting:
Its compact size means you can pack it into any bag – including a small purse or backpack.
Compatible with multiple devices (which means more than one phone can connect to the printer). The printer connects to your device through an app, which needs access to your image library.
Wireless printing. Using a type-C charging port, you can truly use this photo printer on the go.
Edit photos in the Liene app. You can use the Liene app to edit your photos quickly and easily, including cropping, frames, stickers/enhancements, etc.
There is a 30-day return policy. Plus, users have access to lifetime customer support.
Types of Liene Pearl Portable Photo Printers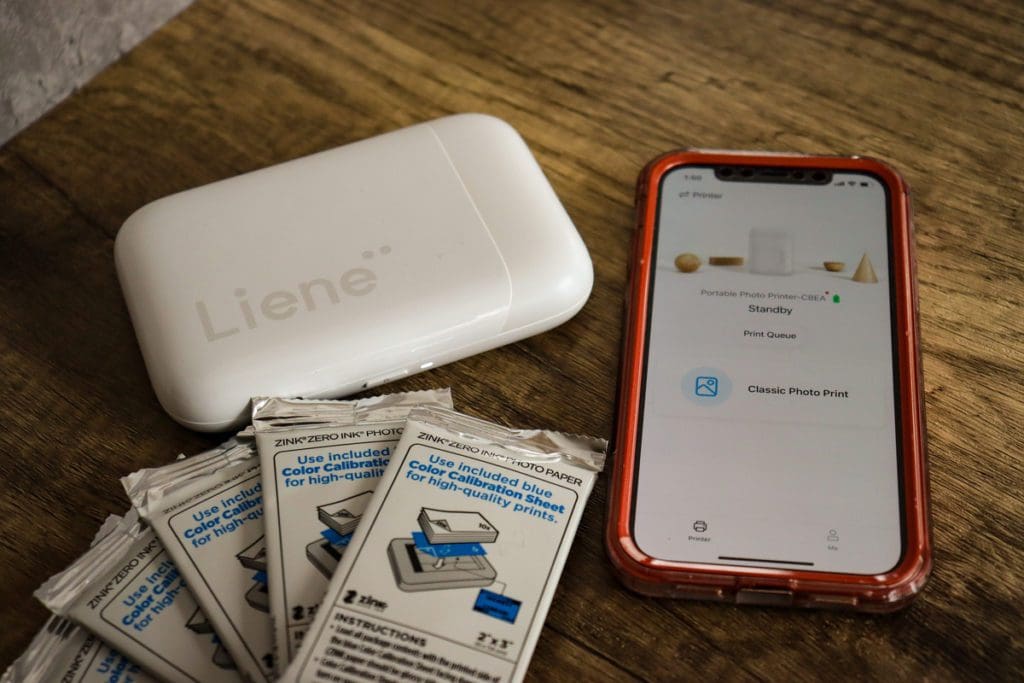 You can purchase two options through Liene in multiple colors. We recommend going with the Liene Pearl 2×3″ Photo Printer, Mini Instant Portable Photo Printer, and 50 Sheets Zink Adhesive Paper because there are more printer sheets immediately available. However, the Liene Pearl K100 2×3″ Portable Instant Photo Printer (5 Sheets Zink Photo Paper) is the less expensive (because it has fewer upfront printer sheets). Both options come in white, pink, and green. When you run out, additional photo paper is available for purchase. Because this model is inkless – you will never need to buy or replace the ink!
Here are The Best Travel Accessories Families Can't Live Without!
6 Things to Know about the Liene Pearl Portable Photo Printer User Experience
There are a few different things to know before you purchase your own Liene Pearl Portable Photo Printer, plus a few ways to maximize your experience. If you're considering adding a Liene Pearl Portable Photo Printer to your packing list, here is what you need to know about the actual user experience.
Who Can Use Liene Pearl Portable Photo Printers?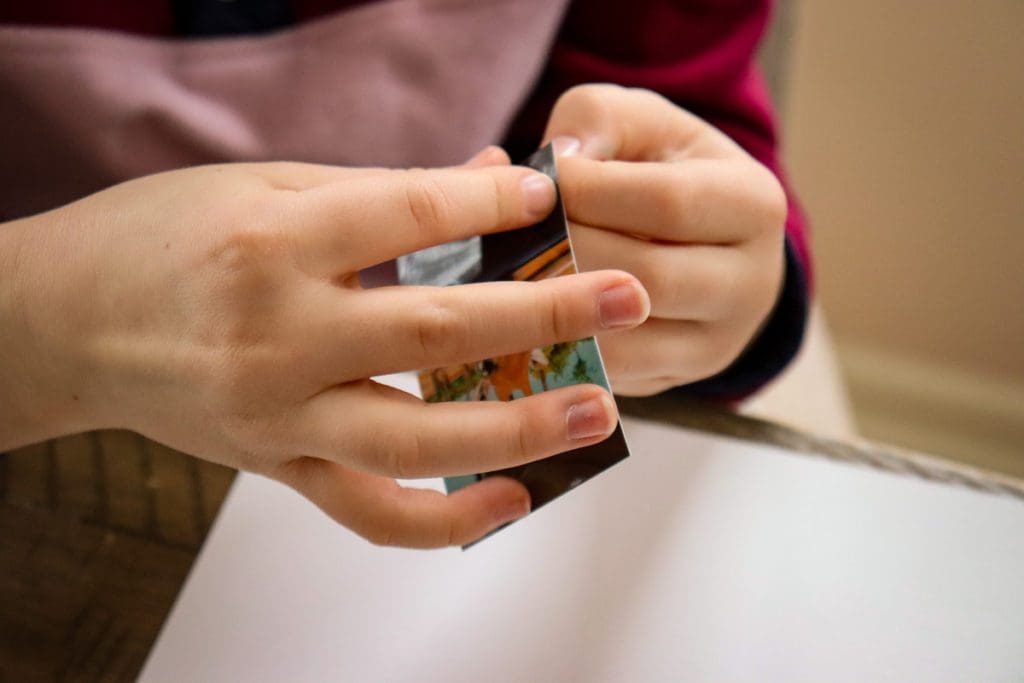 My Liene Pearl Portable Photo Printer review would be incomplete without highlighting who can use one. The exciting news is that anyone who knows how to operate an iOS or Android device can learn to use the Liene Pearl Portable Photo Printer! To trial this, we had our 8-year-old navigate the printer features from start to finish. She could do it with minimal support initially and flawlessly by the end. This is also why I think the Liene Pearl Portable Photo Printer would make an excellent gift for teens who love travel!
Once you can charge and connect the photo printer to your phone, figuring out how to print the photos is very user-friendly. If you need support, a how-to book comes with the photo printer.
High Quality & Easy to Use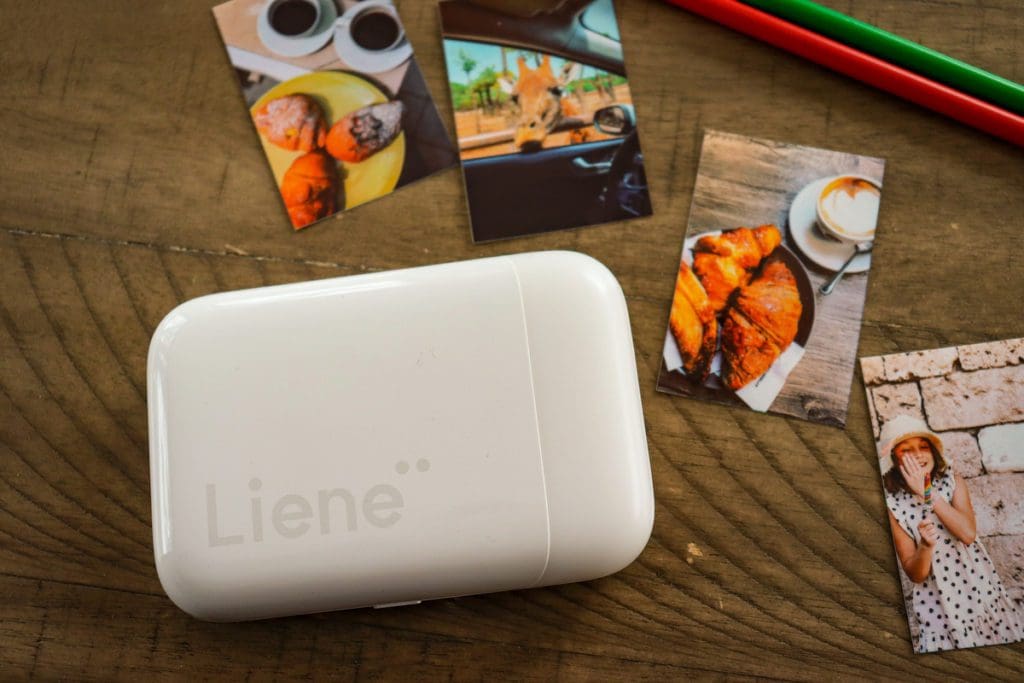 After using the Liene Pearl Portable Photo Printer, I can confidently say it is very high-quality and easy to use. Once it arrives, the first thing to do is charge it (this way, you'll know for sure it is ready to use when desired!). The photo sheets come with instructions on how to load them into the printer (straightforward and easy to follow). Once loaded, you can navigate through the Liene app to print your images. You must create an account on the Liene app and provide access to your image library.
Note, the paper sheets are bound in small packages because they can dry out if not stored properly. This means there is potential for them to stick together or jam. One of the cons of the Liene Pearl Portable Photo Printer is that you can lose printer sheets due to aging if not used properly or right away. Luckily, the user manual contains everything you need to know about sorting them. Just be sure to use up a full photo package during a session to avoid needing to throw away damaged or aged sheets.
Image Quality is Good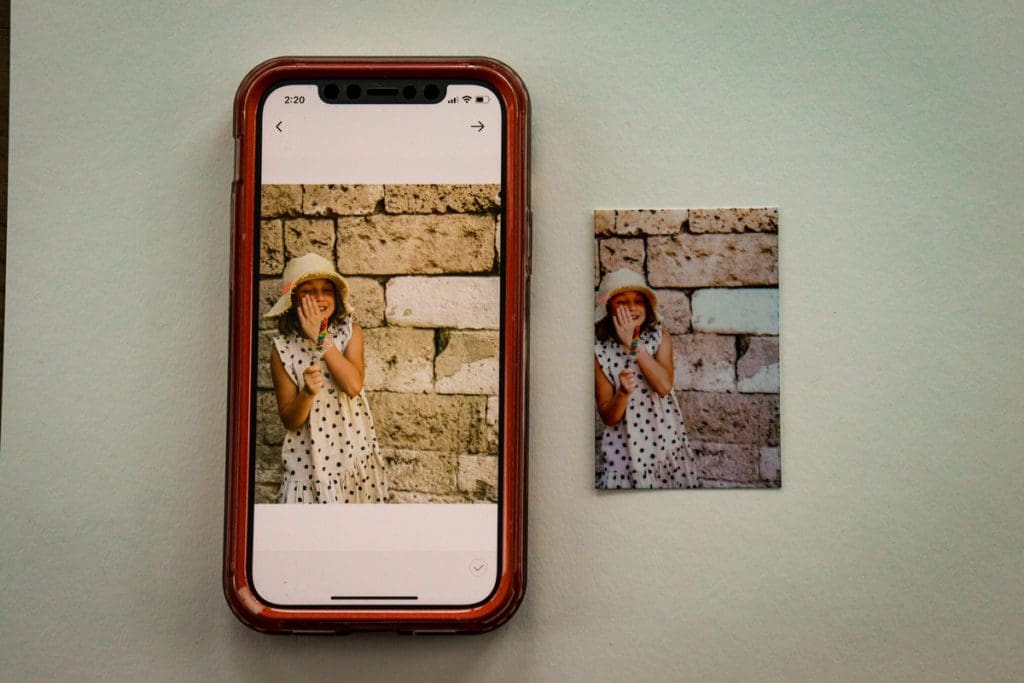 I'm sure you are also wondering about the image quality of the Liene Pearl Portable Photo Printer. I know this was one of my big questions before using it. The image quality is actually pretty good. If you are familiar with the image quality of Polaroid-type cameras, the Liene Pearl Portable Photo Printer is much better than that! It holds up well for activities like scrapbooking or journaling, but if you're printing photos for the purpose of framing them to enjoy the sheer beauty of an image, it may not be what you're looking for (but in this case, likely no instant printer is!). Additionally, the picture remains relatively crisp and doesn't blur in the process of printing.
The above picture gives you an idea of the image quality from my phone to the printed image. You'll note some color variation – which is normal through instant printing services. Liene explains why this happens on their FAQ page. I would be remiss without highlighting the good, despite some color variation, image quality in my Liene Pearl Portable Photo Printer Review. Indeed, it was better than I expected and better than other instant print products and services I've tried.
You Can Edit in the App
In the Liene app, you can also edit your images, including cropping, frames, stickers/enhancements, etc. When editing, you can choose between fun things like borders or no borders, filters, and enhancements (like shadows, saturation, brightness, etc.). You can easily click the checkmark when you are done and head straight to print the image. This is a fun twist, especially for teens and creatives who want to add fun embellishments when scrapbooking or journaling about their travels.
Perfectly Portable for Travel
As a traveler, you likely want to know if this Liene Pearl Portable Photo Printer review covered just how portable and travel friendly this little printer is. The answer: very! Its compact size makes it the perfect travel companion for anyone. From small purses and backpacks to checked luggage, the Liene Pearl Portable Photo Printer can fit wherever you need it to. Due to the finicky printer paper, however, I'd recommend carrying it in your carry-on luggage. The charging cord and refill printer sheets are also very portable. They can easily be packed in a purse or with other travel cords. See the above image for a size comparison related to my iPhone.
Getting Creative Together is Fun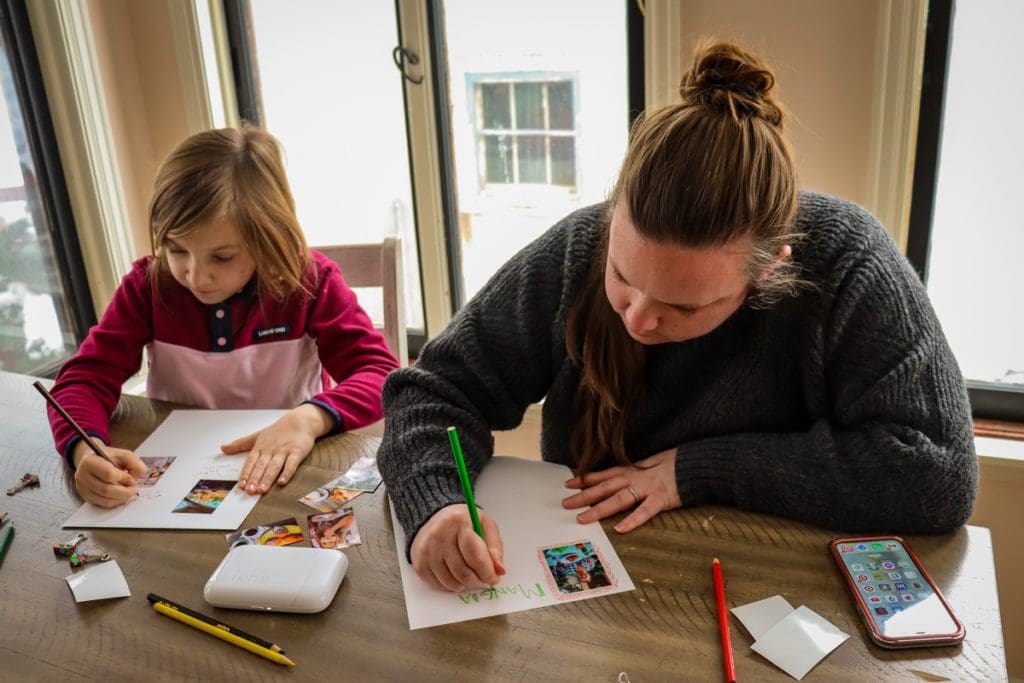 Okay, but was it fun to use? My daughter and I spent an entire afternoon creating a mini scrapbook of our recent trip to Italy. It was so much fun! She absolutely loved that we were scrapbooking together. She gleefully looked at me on more than one occasion and said, "Mama, we're scrapbooking together! Isn't this amazing?!" And it really was. Using the Liene Pearl Portable Photo Printer allowed us to capture and share some beautiful travel moments.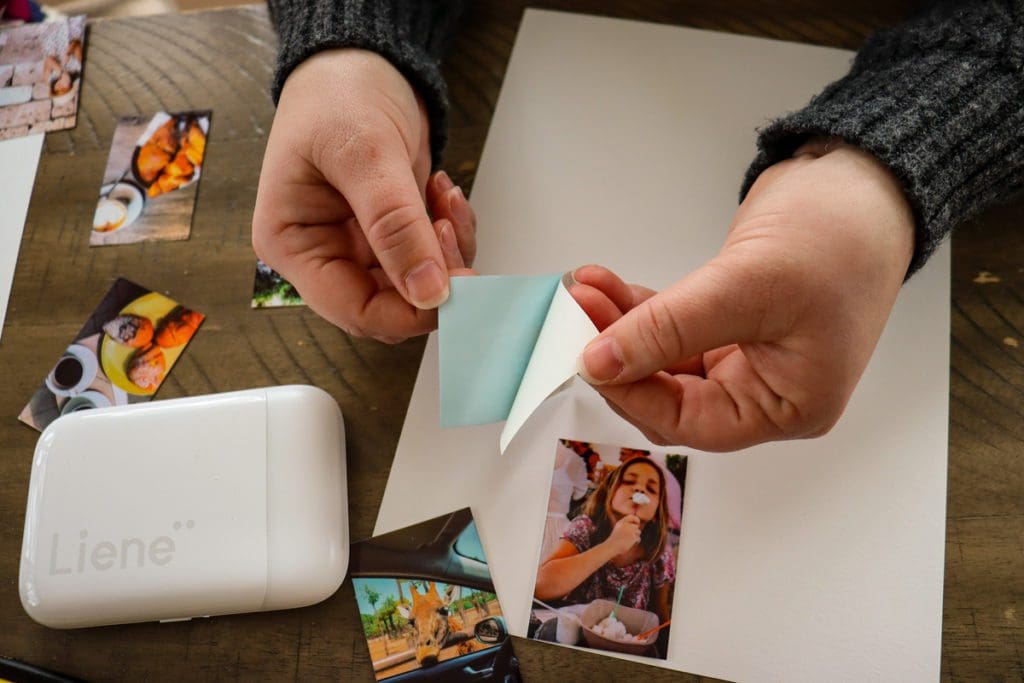 We had so much fun going through pictures from Italy and selecting which ones we wanted to use. With each print, we could laugh and share stories about really special moments. To make it even easier, each photo sheet is a sticker! No glue, tape, or scissors are needed to stick photos into journals, scrapbooks, or notebooks perfectly. Above anything else in this Liene Pearl Portable Photo Printer review, the opportunity to easily get creative and share stories together was truly priceless. It makes the purchase worth it in and of itself!
5 Reasons Why I Think Other Travel Families Will Enjoy the Liene Pearl Portable Photo Printer
Now that you know a little bit about the Liene Pearl Portable Photo Printer user experience, here are five reasons other travel families will enjoy the Liene Pearl Portable Photo Printer. Indeed, my Liene Pearl Portable Photo Printer review wouldn't be complete without sharing why we love the concept of travel tech!
Put Together a Memory Book Before You Leave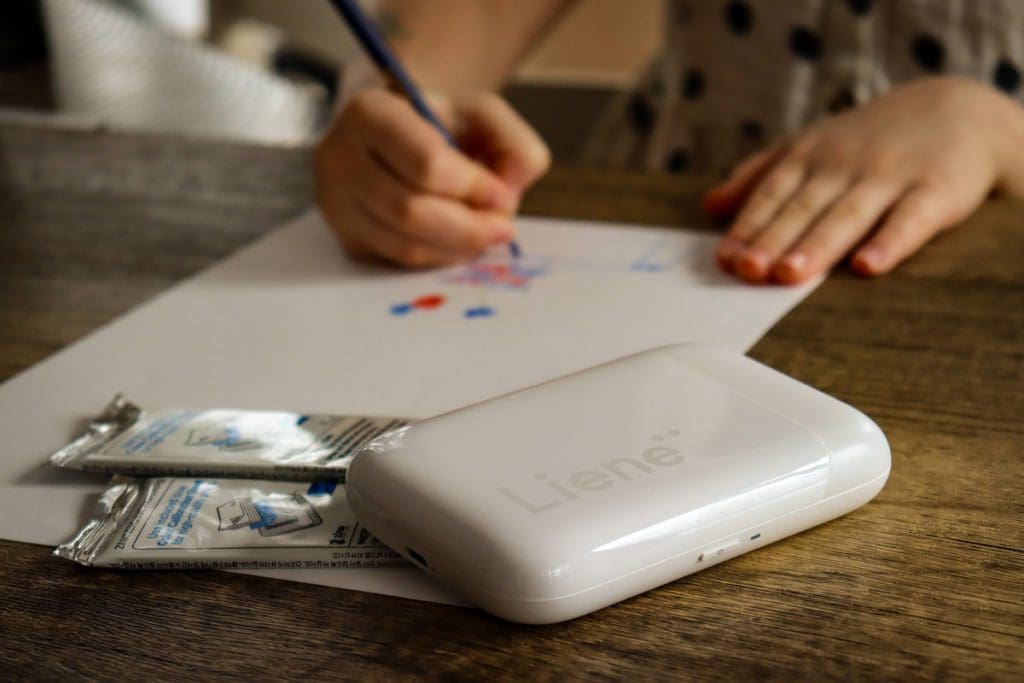 Creating scrapbooks or memory books isn't just for after you return home! Use the Liene Pearl Portable Photo Printer to print pictures of your kid's favorite things around your home or town. This way, if they get homesick, you can pull it out during your travels to give them a sense of home. Snuggle up together and process some of the things they miss, like friends, pets, or grandparents.
You can also use a home memory book to share with new friends you meet during your travels. While traveling, you will get a unique sense of their culture, neighborhoods, and foods. Use the Liene Pearl Portable Photo Printer to create a book depicting your community, favorite foods, and more from home. This is a great way to connect cross-culturally and learn more about each other. In my travels, I have often pulled up images of snow to show to locals I've met – especially to show young kids what my daughter wears to play in the snow!
Get Creative During Your Travels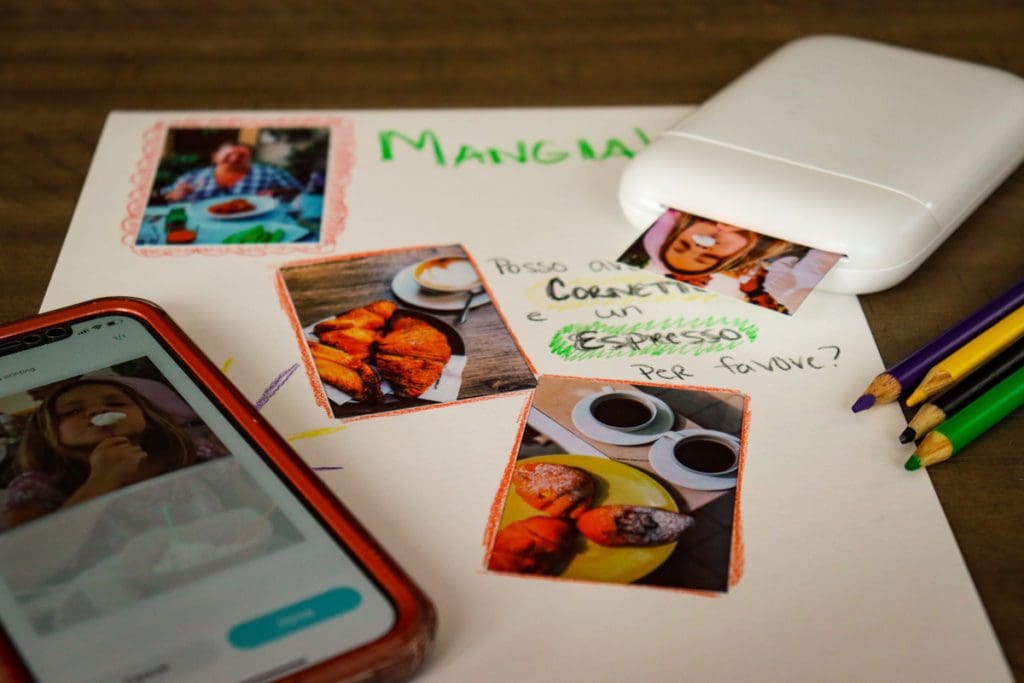 One of the significant benefits of the Liene Pearl Portable Photo Printer is the ability to create a scrapbook, memory book, or journal of your travels while you're away. In the past, I have used postcards to encourage my family to write down memories and experiences from thy day. I love the idea of letting them print a picture to stick next to their memory or story instead. Not only does this save time locating a postcard for the day, but the image is uniquely yours. Plus, this is an excellent way for kids and adults to process the day's adventures and share them when they get home. I can't wait to try it during our next trip!
Save & Share Travel Memories After You Return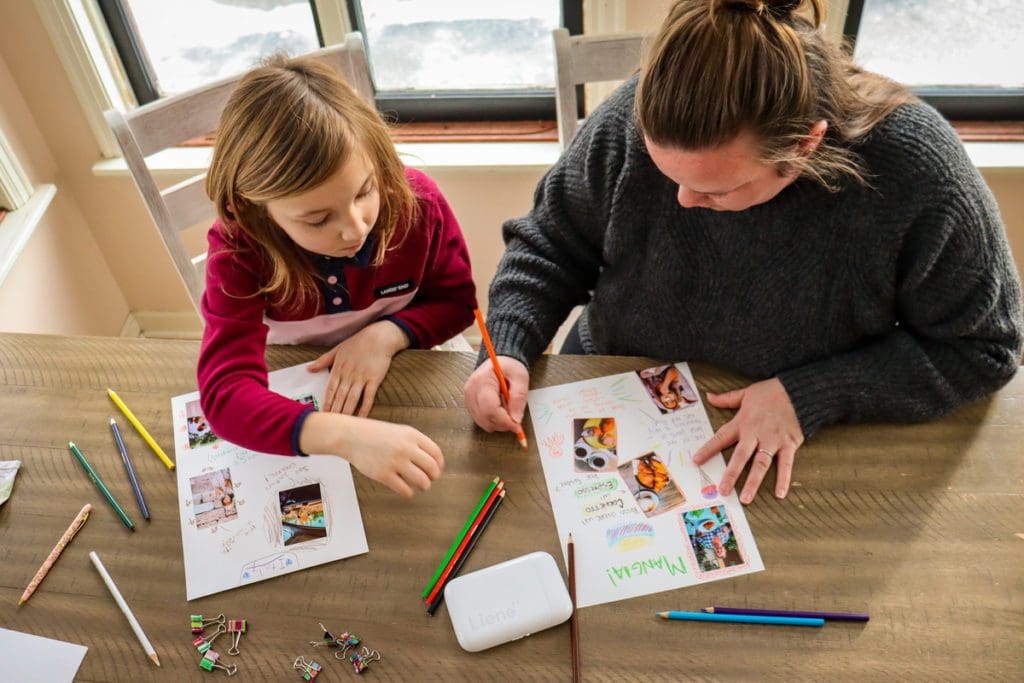 Of course, once you get home, you should always make some sort of scrapbook or photo book of your memories and adventures! This creates a beautiful memento for you to look back on and is the perfect tool to share your memories with loved ones. Using the Liene Pearl Portable Photo Printer, you can select the images you want to print from your travels. Once printed, make handwritten notes next to each picture to share a memory about the meal, experience, or scenery it depicts. Finally, creating a book like this with your kids is also a great way to help them process their memories and travel experiences, as well as see special moments through their perspective. Traveling as a family is all about cultivating these wonderful moments together!
​​Great for Homeschool/Worldschool Families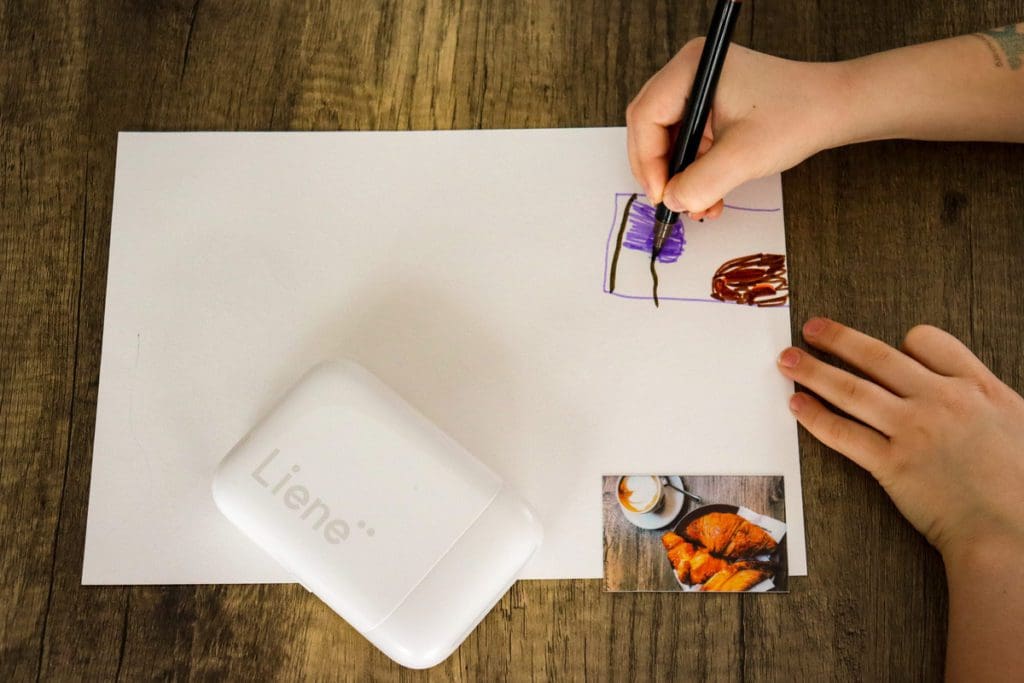 While we do not homeschool, I think the Liene Pearl Portable Photo Printer would greatly benefit families who homeschool or worldschool their children. Not only is it compact and easily stored away for those constantly on the road, but it also creates new opportunities for school projects and learning in various subject areas.
Here are a few simple ways the Liene Pearl Portable Photo Printer can be implemented in a home school curriculum:
Art: Kids can select an image from their travels to recreating in a drawing or painting, practicing their art and design skills.
Science: Challenge kids to a treasure hunt outdoors to learn about the local ecology. Have them take pictures of everything they've found. Back at home, print the images and have them label each item with facts about it in their science notebooks.
Writing: Have kids keep a Discovery or Travel Journal. They can use pictures from their travels to enhance their journaling and depict their adventures.
History: Go to a museum and let kids take pictures of their favorite exhibits. Have them print their photographs at home and keep a log of what they learned in their history notebooks. Then, have them do additional research about that historical figure or event to add to their learning.
Geography: Take different pictures from your travels to create a project about the geography of places you've visited. Kids can describe how this geography influences the location's culture, ecosystems, and livelihood, while also uniquely depicting the geography through printed images.
As a Gift for Teens & Travel Lovers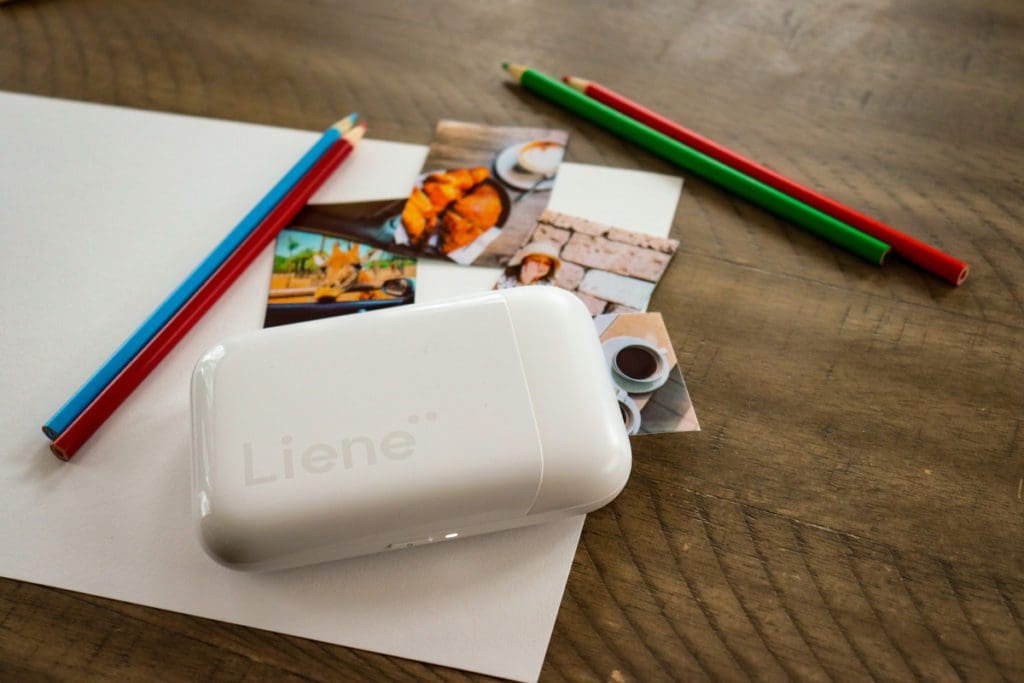 I would be remiss in this Liene Pearl Portable Photo Printer review without mentioning that it's a great gift idea for older kids, teens, and any travel lovers in your life. The price point is perfect for a birthday or holiday gift for travelers of all ages. Tweens and teens, especially, will love the opportunity to easily showcase their original photography and travel memories in a unique way. Not to mention, they can use it to create vision boards, school projects, and gifts for friends and family. Add it to your holiday shopping list for travelers this year!
Traveling with teens? Check out these 21 Vacations With Teens And Tweens In The United States That Are Sure To Impress!
Would I Recommend the Liene Pearl Portable Photo Printer to Other Travel Families?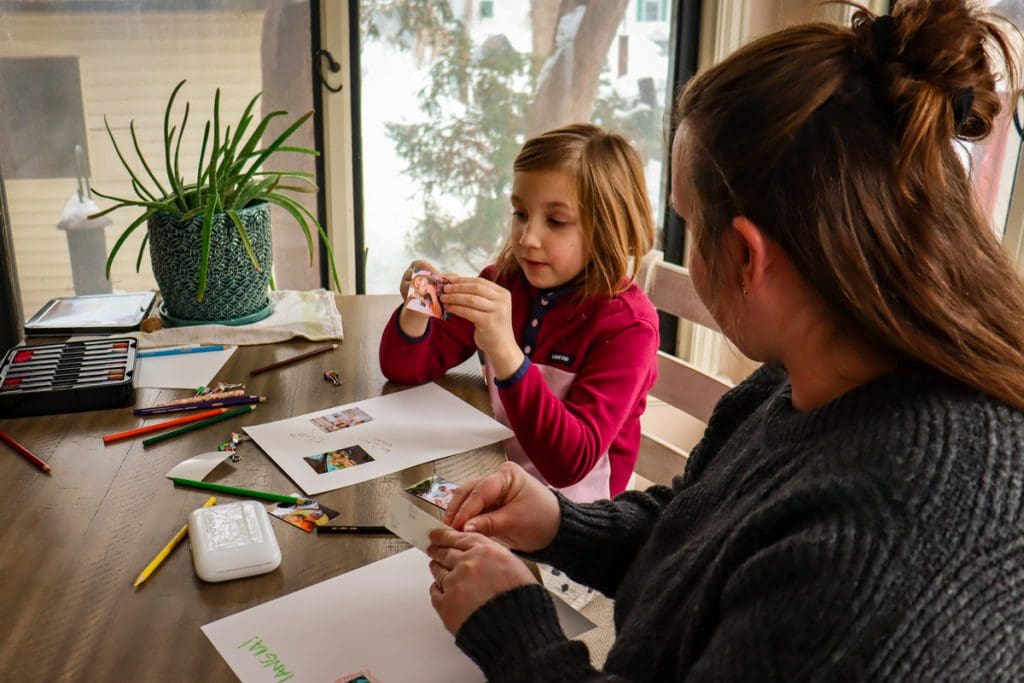 So, with all of that said, would I recommend the Liene Pearl Portable Photo Printer to other travel families? Absolutely! We found the Liene Pearl Portable Photo Printer fun to use together, compact enough for travel, and a great way to share memories. I am already planning to bring it on our next trip to help us write about memories and experiences along the way. Hopefully, this Liene Pearl Portable Photo Printer review has also shown you how easy it is to use and a snapshot of the many ways you can use it with your travel-loving kiddos.
Click here to discover the Best Hacks & Products For Sleeping On Long International Flights With Kids!
Happy Creating & Traveling Together!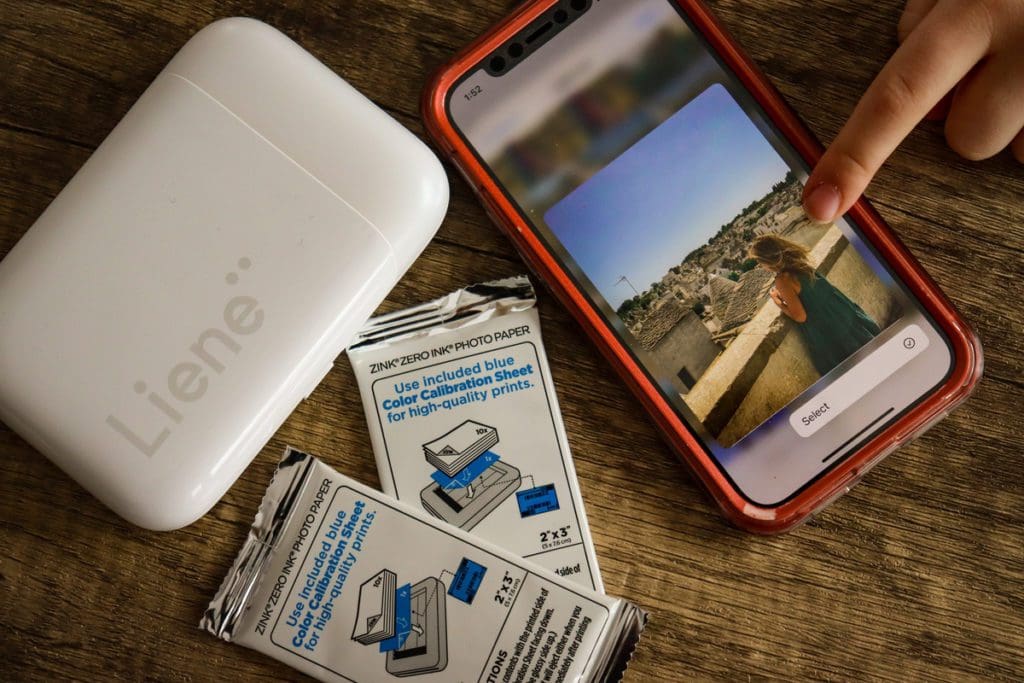 I hope you found this Liene Pearl Portable Photo Printer review helpful in better understanding what it is and if it would be a good option for your family! Indeed, it's one of the best travel gifts for teens. As with all travel experiences, the time together connecting, making memories, and sharing stories is the best part about being a traveling family!
*Unless otherwise noted, all images within this article belong to and are courtesy of Antonia Grant.
*Due to the COVID-19 pandemic, some of the attractions, accommodations, or things to do on this list may be closed. Please ensure availability before making your decision.
*This post may contain affiliate links that may earn us a small commission, at no additional cost to you. Affiliate links in no way inform the hotels, sights, products, or other recommendations included in our articles. All opinions and recommendations expressed here are that of the attributed author, Antonia Grant.
READ MORE: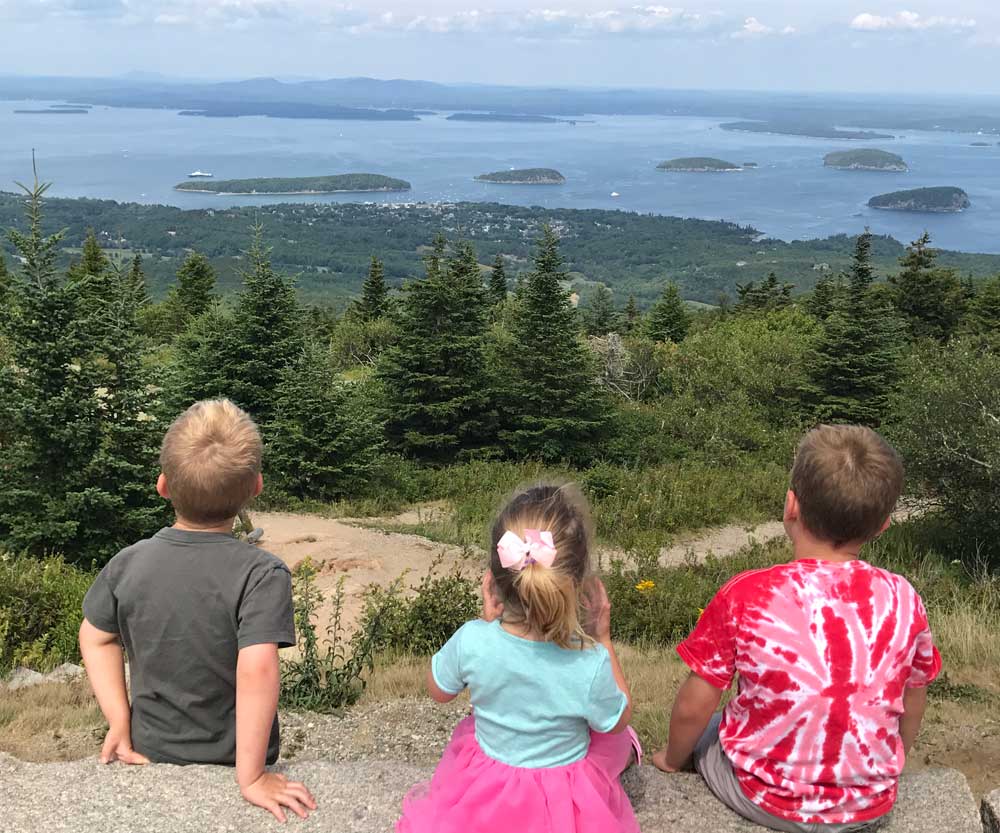 We drove to Acadia National Park in Maine from Northern Virginia. It's a long drive...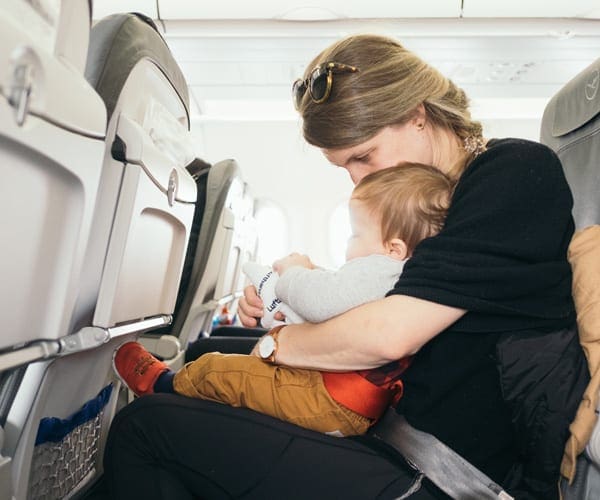 Families Who Love To Travel contributor Meghan Oaks provides her 10 best tips for your...