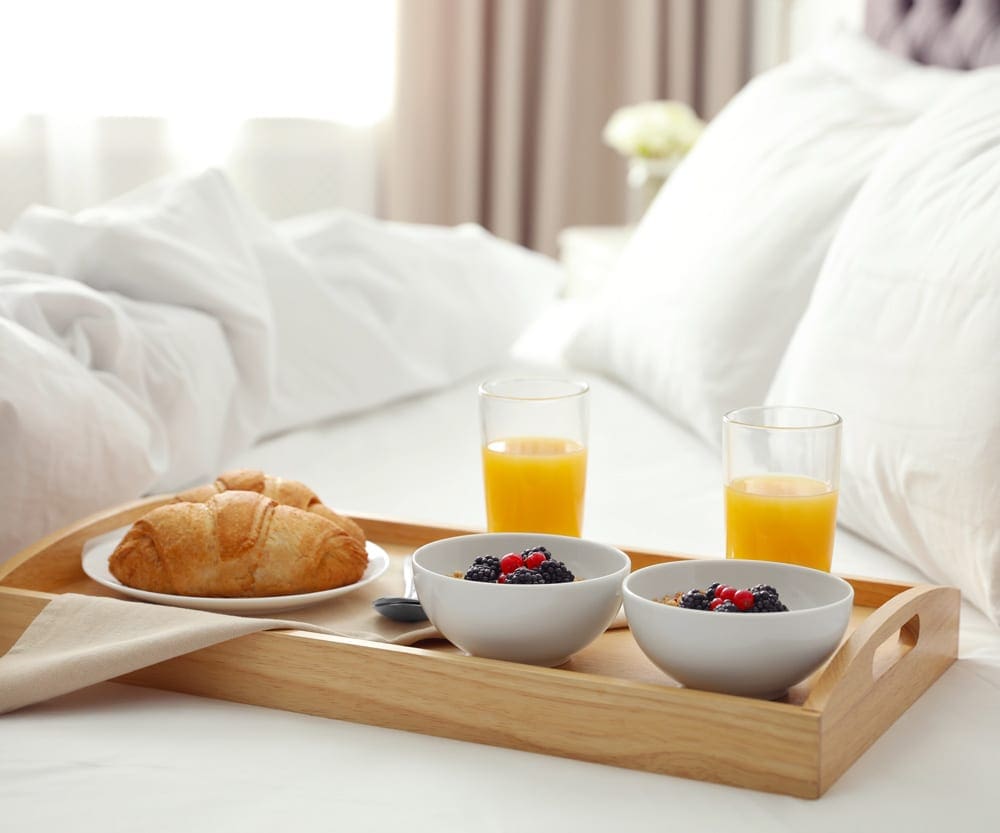 Take a quiet escape to these romantic hotels near NYC, all of which are perfect for a kids-free trip! If you need a break from the hustle and bustle, these luxury resorts offer serenity and calm for busy parents. Enjoy rejuvenating sessions at spas, scrumptious kid-free dining, and other amenities on your adults-only vacation in the Northeast. In fact, all of these hotels are within a few hours of New York City, making them convenient to reach for your romantic getaway. Spend more time together and less time on the road! From The Hudson Valley to Connecticut to the Berkshires, each retreat offers its own unique appeal to couples. Hike, bike, kayak, or enjoy the peace of being together. Next time you're planning a couple's vacation, check out this list of 15 Best Hotels for a Romantic, Kid-Free Getaway in the Northeast!
Habitas on Hudson
Hudson Valley, NY
Book your stay at Habitas on Hudson using Hotel.com!
Enjoy a couples retreat at Habitas on Hudson by booking your room on Expedia!
Parents looking for a romantic or kid-free getaway just outside the city will love the luxurious Habitas On Hudson! Located in Staatsburg, just outside of Rhinebeck, this upscale, adults-only hotel is around two hours from NYC. Verdant forests and rolling hills surround the picturesque property, making it perfect for a rustic escape from the city.
Rooms and suites feature a modern yet quaint aesthetic, ranging from those in the Manor House, the Lodge, or the Quarters. 
Why Couples Will Love It
Habitas On Hudson is an all-season getaway for every type of traveler! If you're visiting in the summer, you can cool off in the nearby swimming pond or head to the beach club. Archery, yoga, hiking, mountain biking, and volleyball are a few more activities for adults to enjoy. There's also a game room, plus a fire pit so you can socialize with other guests. In the winter, enjoy the postcard-worthy landscape covered in a blanket of snow, plus ice skating on the pond! No matter the time of year, guests can also take advantage of spa treatments like massages, a Jacuzzi and sauna, and multiple on-site restaurants.
Winvian Farm
Litchfield Hills, CT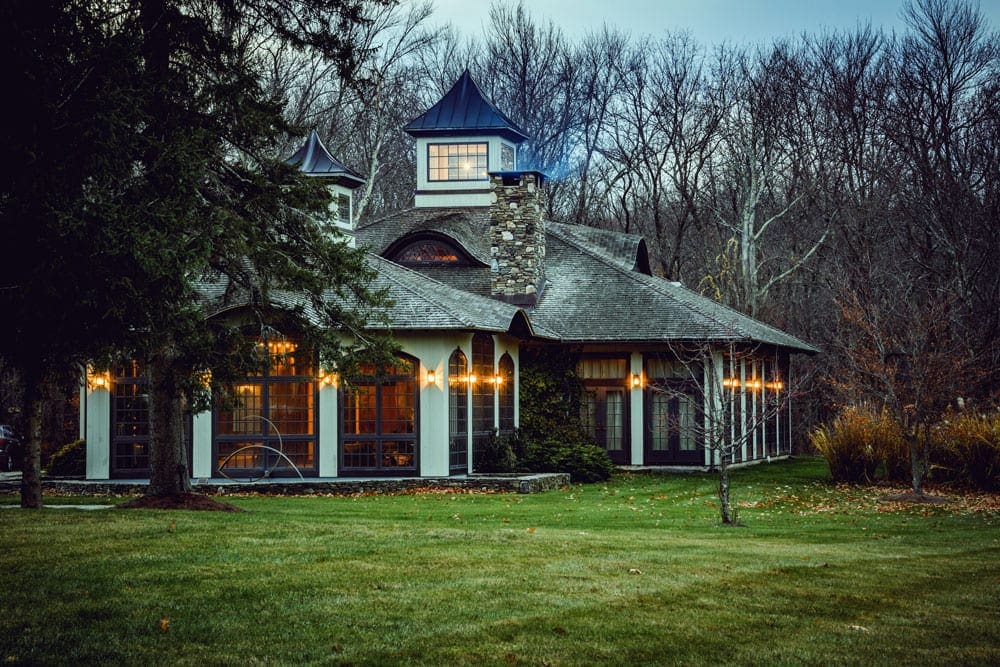 Located in the unassuming region of Litchfield Hills, Connecticut, Winvian Farm offers everything you need for a luxury couple's getaway. Drive just two hours outside of New York City to reach this quiet property. Stay in one of the eighteen luxury cottages, each with a stunning backdrop of the surrounding woods.
Winvian Farm includes a variety of accommodations for a romantic getaway in the Northeast. With several themes, like a rustic wood cabin or even one resembling a restored helicopter interior, you're sure to find one that suits your personal tastes. Additionally, its unique amenities make Winvian Farm one of the best hotels near NYC for a kids-free trip!
Why Couples Will Love It
From the moment you arrive at the 113 acres of Winvian Farm, you'll be impressed by the scenes and sounds of the surrounding nature. Plus, top-notch amenities and world-class service make it ideal for couples looking to unwind. As busy parents, it's crucial to recharge, rest, and reconnect. Start by booking an appointment at the on-site spa. Here, you'll find a range of restorative treatments and therapies. In fact, the Spa was just voted #7 Resort Spa in the US (and the only one in New England!) in the just released 2022 Condé Nast Traveler Readers' Choice Awards. You can also participate in a yoga class. Or, spend the day hiking or biking through the endless resort paths.
You can also find other leisure activities like a game of volleyball, an afternoon of fishing, or a stroll through the luscious gardens. Afterward, go for a dip in the seasonal outdoor pool. Each day, enjoy a scrumptious dinner from the seed-to-table restaurant or consider a private dining experience. Then, Maggie's Tavern recently opened providing a second dining venue with a pub-like menu. Finally, end each day with late-night drinks and treats by the cozy fire.
Wheatleigh
Lenox, MA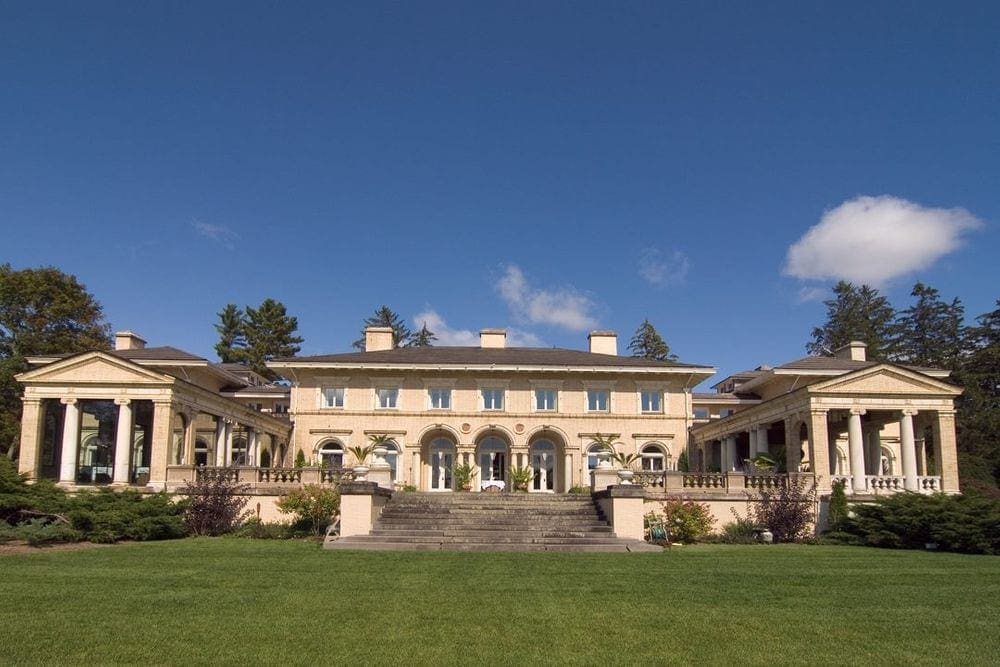 Located in the Berkshires, parents are in for an idyllic retreat at Wheatleigh. Just under 3 hours from NYC, parents will discover a peaceful ambiance and the secluded experience they need to reconnect and refresh. Once an Italianate-style country home, this luxury hotel is now the ideal backdrop for a charming romantic getaway in the Northeast.
Parents looking for a sophisticated stay with exceptional service will adore the accommodations at Wheatleigh. Select from 19 guest rooms and suites, many offering opulent features like high ceilings, thoughtful decor, balconies, and soaking tubs with separate showers.
Why Couples Will Love It
Couples embarking on a kid-free getaway to Massachusettes will adore the luxury amenities at Wheatleigh. After checking in, enjoy a dip in the heated outdoor pool. Or, wander the well-manicured grounds hand-in-hand as you spend some much-needed time reconnecting.
When you're ready to eat, your tastebuds will be in for a treat. The Portico by Jeffery Thomson is Wheatleigh's elegant, on-site restaurant. Here, couples can indulge in one of the finest French restaurants in the Berkshires, featuring seasonal cuisine with three- or four-course prix-fixe menus. Interested in a longer dining experience? Enjoy an exquisite six-course tasting with wine pairings instead. Couples will also find a wine cellar and tennis courts on-site. Finally, enjoy quick access to the nearby Wyndhurst Manor & Club and Kripalu Yoga Center.
Looking for more ideas? Here are the Best Moms' Getaways / Girls' Trip Ideas In The U.S!
Woodstock Inn & Resort
Woodstock, VT
Book your stay at the Woodstock Inn & Resort using Hotels.com now.
Reserve your family's stay at the Woodstock Inn & Resort with Expedia today.
Woodstock Inn & Resort offers timeless Vermont elegance and the perfect backdrop to a romantic couple's getaway. The hotel is a central hub in the heart of Woodstock, Vermont providing a relaxing kid-free escape into the Green Mountains. With the legacy of Laurance Rockefeller in mind, each room offers guests a tasteful combination of nature and history.
Accommodations include rooms and suites, with a variety of options including queen and king beds. Fall back in love as you enjoy one of the best locations for a romantic getaway in the Northeast.
Why Couples Will Love It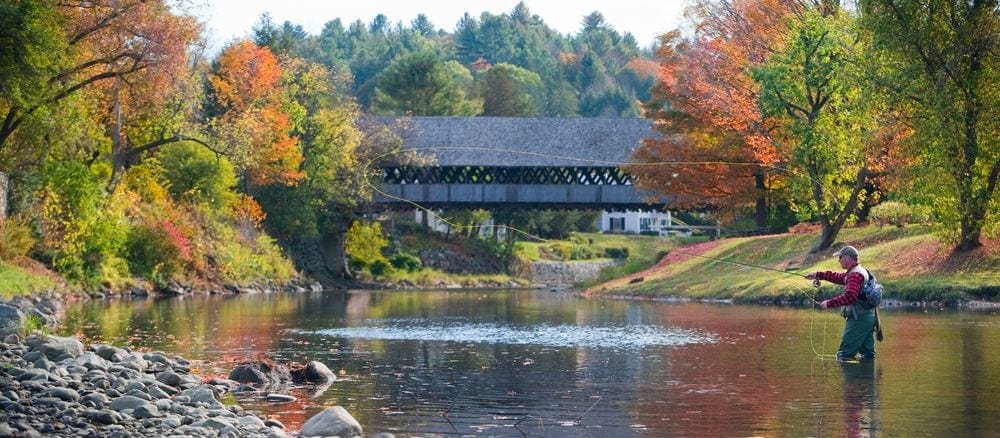 Couples will love the easy access to hiking, biking, skiing, and a selection of other seasonal outdoor adventures at the Woodstock Inn & Resort. Or, roam its elegant manicured lawn as you appreciate the craftsmanship of the hotel's Master Gardener while reconnecting as a couple. Afterward, simply lounge together by the pool and enjoy the feel of the sun on your skin. Then, enjoy farm-fresh seasonal menus at the on-site restaurants.
During your weekend getaway, recharge your mind and body with a self-care day at The Spa. Organic products and unique seasonal treatments capture Vermont's essence while lulling you into a deep state of relaxation. Finally, wander along Woodstock's charming Main Street, lined with delicious restaurants and posh boutiques.
Discover the Best Places to See Fall Foliage in New England with Kids!
Miraval Berkshires Resort & Spa
Lenox, MA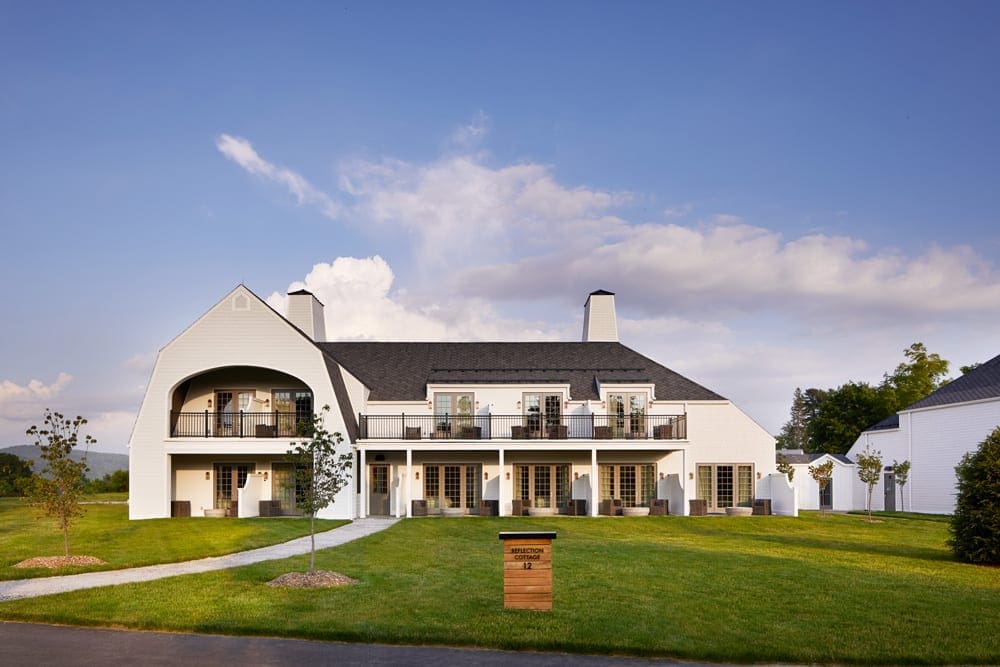 If you're looking to recharge and reconnect as a couple, Miraval Berkshires Resort and Spa in Lenox, Massachusetts is the perfect place. Just under three hours from NYC, this thoughtfully designed hotel in the Berkshires can help parents find a much-needed balance in their lives.
Here, suites and rooms come in various sizes, including king or queen beds and add-ons like private balconies or soaking tubs. Each space is inspired by the tranquility of Miraval Berkshires Resort & Spa's natural surroundings. Certainly, every aspect of your well-being will be cared for on your kid-free getaway in Massachusetts.
Why Couples Will Love It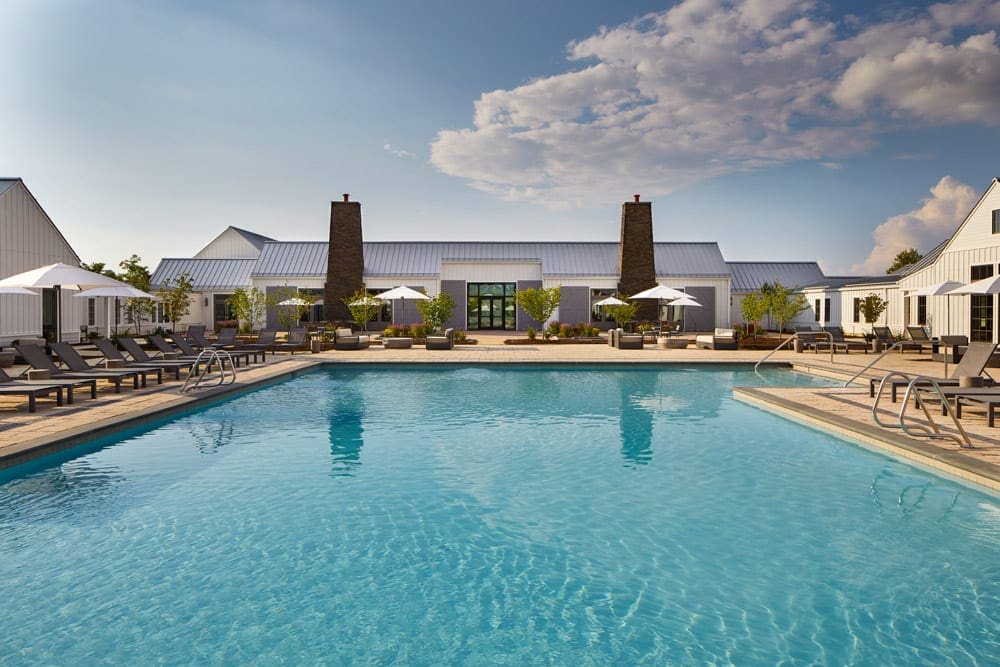 The Miraval Berkshires Resort and Spa offers several activities and well-being sessions each day. Visit the spa to be pampered with world-class treatments, including body renewal, massage, skincare, and more. Then, get active with everything from hiking and biking to golfing and horseback riding. There's no shortage of outdoor activities available for couples here. You can also find healing at wellness counseling sessions.
Discover what you need most to recharge. Try one of the on-site classes, such as yoga or pilates, available at the fitness center. In the mood for a more intense workout? Try water activities such as cardio kayaking or stand-up paddleboarding! Then, join a meditation session or put your skills to the test on the on-site challenge course. Finally, you can also tour the on-site farm and gardens or learn about the Miraval Bees and sustainable living at the resort.
Mohonk Mountain House
New Paltz, NY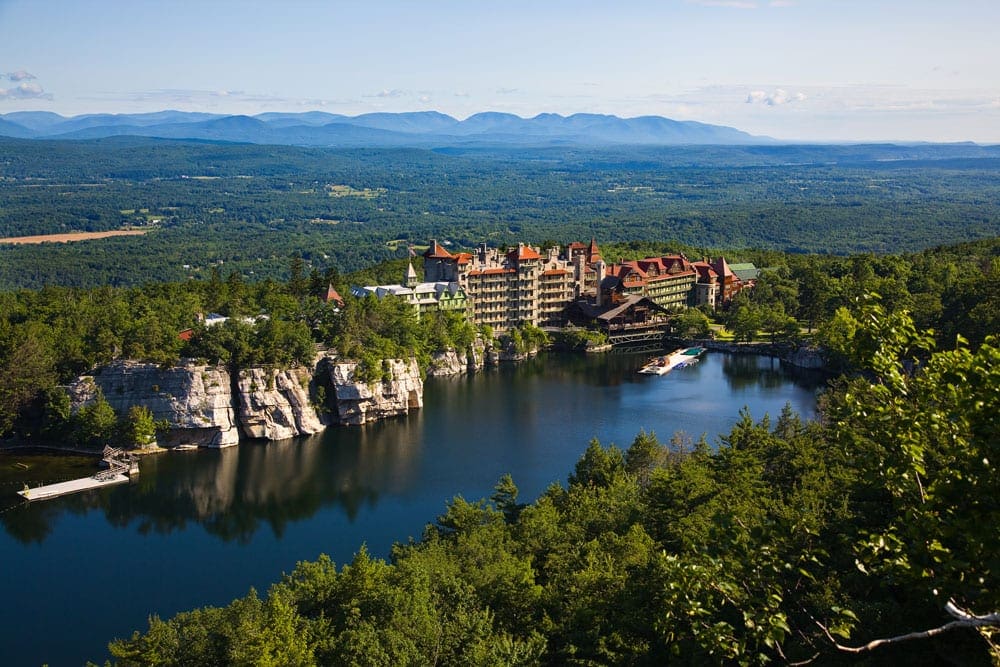 For couples who have always dreamed of staying in a charming castle, the Mohonk Mountain House offers an unforgettable retreat in the Hudson Valley. Only two hours away from New York City, the Victorian castle feels like another time and place. One of simple pleasures and tranquility. Plus, it offers everything you need to recharge for a kids-free weekend in New York!
For your romantic getaway in the Northeast, choose rooms with two queen beds or suites with private balconies and fireplaces. Everything you need will be at your fingertips when your stay at Mohonk Mountain House.
Why Couples Will Love It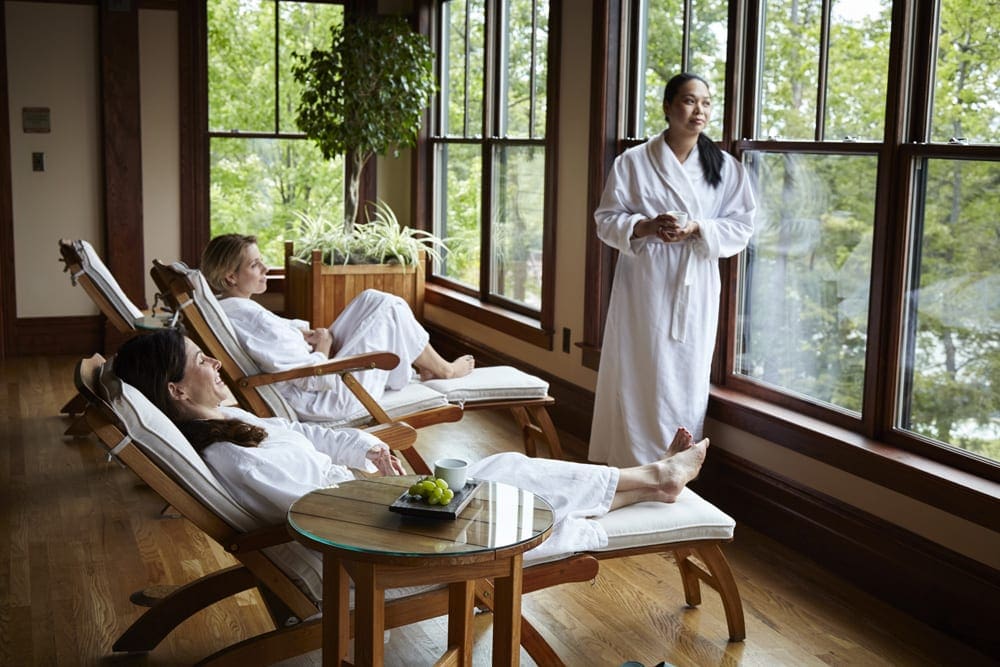 Mohonk Mountain House is a one-of-a-kind hotel for a romantic getaway in New York. When you are ready to relax, book sessions at the Mohonk Day Spa. Award-winning spa services are sure to help you relax and recharge. There's even a mineral pool available to guests. Learn valuable mindfulness and wellness skills to take back home too, including meditation and yoga, wellness lessons, and honing your mindfulness skills. Parents can also take a water aerobics class or work out at the fitness center.
Couples looking for something a little more exciting will love practicing their tomahawk throwing or taking a paddleboard out on the lake. Then, play a round of golf on the historic Hudson Valley Golf Course. Finally, you can also go hiking to explore the miles of trails surrounding the peaceful resort.
Stock up on The Best Travel Accessories Families Can't Live Without!
The Lake House on Canandaigua
Canandaigua, NY
Escape to a tranquil getaway at The Lake House on Canandaigua! Located on the shores of Canandaigua Lake, around five hours from NYC, this luxury hotel has a fresh, farmhouse feel with a bit of an opulent twist.
Rooms and suites capture the charm and sophistication of lake life, whether you book a king-sized town room or a larger premium lake suite. There's a reason this is one of the best hotels near NYC for a mom weekend getaway or kids-free trip!
Why Couples Will Love It
Moms will love relaxing at The Lake House on Canandaigua. Whether you want to go hiking or simply relax by the outdoor pool, the choice is yours. There are complimentary day beds for guest use, plus fun water sports such as kayaking, canoeing, and sailing. Yoga classes and loaner bikes are also complimentary in case you want to explore. Guests visiting in the summer can even enjoy the hotel's summer concert series.
Plus, when you need some extra pampering, don't forget to visit the Willowbrook Spa. Then, end your perfect day with a drink at the lakefront bar, then a meal at the on-site, New American restaurant.
The Point, Saranac Lake
Saranac Lake, NY
The Point, Saranac Lake combines rustic comfort with lakeside luxury, making it perfect for moms who want a kid-free trip. Located on the scenic shores of Upper Saranac Lake, just 5 and a half hours from NYC, this all-inclusive, adults-only resort lets guests travel back in time to the Gilded Age.
Lavish, period-specific decor extends to the elegant guest rooms, located in refurbished log cabins. Many have king-sized beds, fireplaces, waterfall showers, and even a private deck for the ultimate relaxing getaway.
Please note: The Point, Saranac Lake is an adult-only property.
Why Couples Will Love It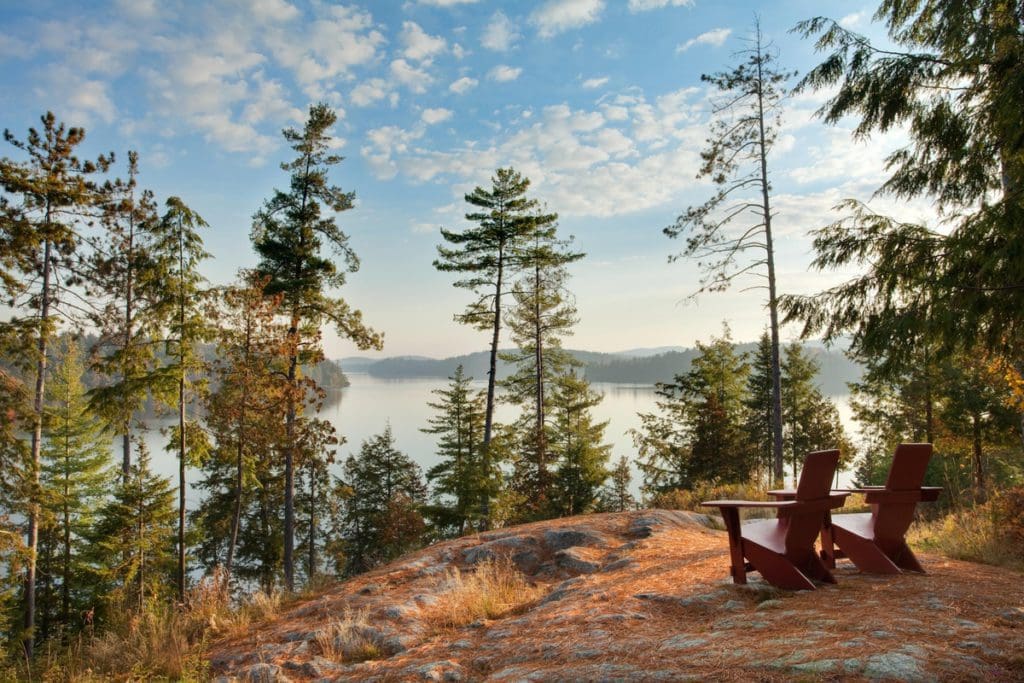 All the little details will be taken care of for you at The Point, Saranac Lake. Whether you're visiting in the spring, winter, summer, or fall, there's a daily roster of activities to take advantage of. For example, in colder weather, adults can go ice skating on the frozen lake, cross-country skiing, and then end the day with hot chocolate and s'mores around the fire pit. Meanwhile, guests can play tennis, go swimming, and play water sports such as windsurfing or canoeing in the summer. Plus, there are plenty of chances to explore the area, whether with a hike or tour. Dining and alcohol are both included in your stay.
White Barn Inn, Auberge Resorts Collection
Kennebunk, ME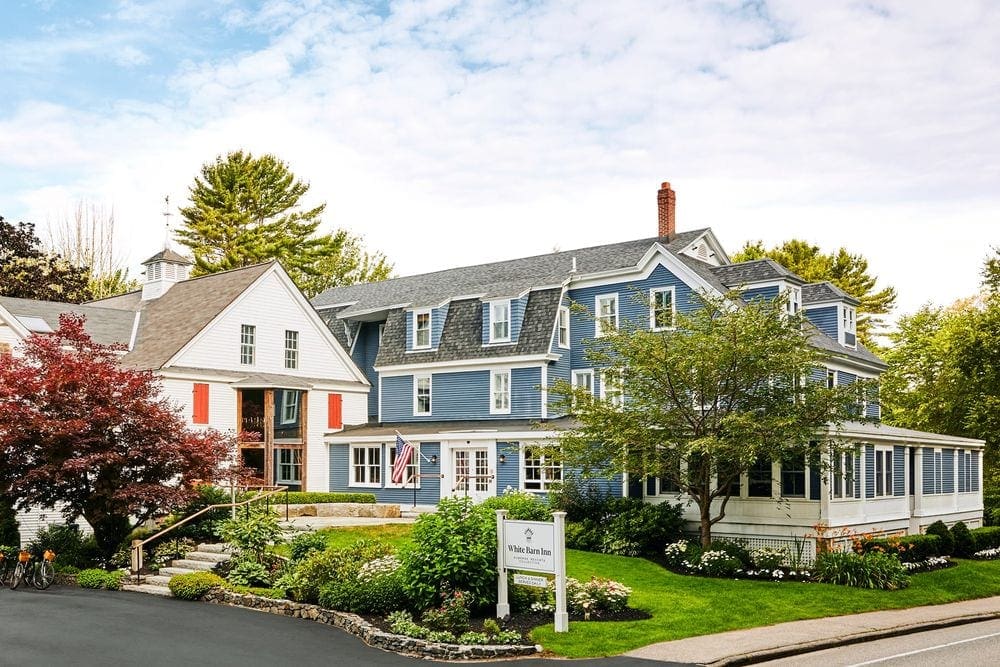 Reserve your stay at White Barn Inn with Hotels.com here!
Book a room at White Barn Inn using Expedia now!
Nestled in the charming seaside town of Kennebunkport, Maine, White Barn Inn, Auberge Resorts Collection offers couples a chic romantic escape. Just 90 minutes from Boston, this enchanting coastal hotel is ideal for reconnecting as a couple.
Accommodations include guestrooms (queen and king bed options), suites, and private waterfront cottages. Each spacious suite features a warming gas-burning fireplace and soaking tub. Then cottages offer couples seclusion, views of the Kennpunkport River, and quick access to a heated Infinity pool. No matter which room you choose, you'll be able to reconnect as a couple in a private oasis all your own. In fact, White Barn Inn may be too fantastic to leave!
Why Couples Will Love It
Couples will adore White Barn Inn for their romantic getaway in the Northeast. Firstly, book a calming treatment at the on-site spa. In fact, the White Barn's Spa is often named one of the best spas in Maine. Pamper yourself with a variety of spa treatments, including facials and massages. Additionally, couples can even book a romantic spa date. We can't think of a better way to set the mood for your kid-free getaway in Maine!
In summer stay active with a cycling tour or sailing experience. Those visiting in the summer can even participate in a traditional Maine Lobster Bake, where you can dine poolside on mussels, lobster, and more! Couples who enjoy cooking together will also love signing up for an on-site cooking lesson. Finally, cozy games by the fire and poolside lounging await you at the White Barn Inn.
Blantyre
Lenox, MA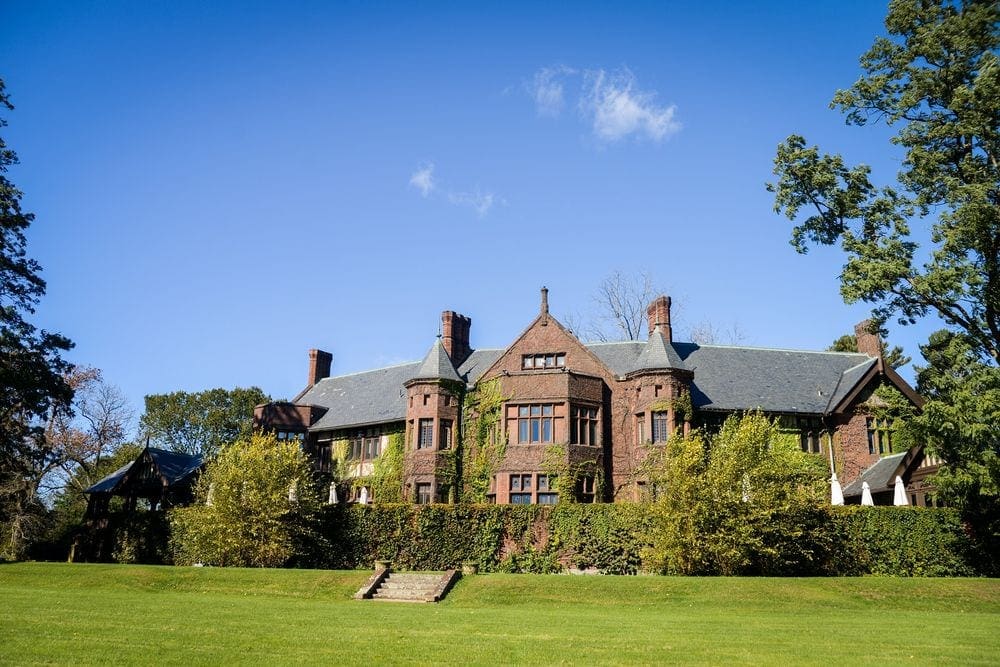 Next on our list of romantic getaways in the Northeast is Blantyre. Just over 2 hours from Boston, and under 3 hours from NYC, Blantyre is a luxury hotel boasting a timeless gilded-age elegance and a Michelin-star chef. Built in 1902, this Tudor-style mansion is the perfect backdrop to a kid-free getaway in Massachusetts.
Accommodations include rooms at the Carriage House, rooms and suites at the Manor House, and stand-alone cottages. The Carriage House is ideal for those who want to be close to the pool and spa, while the Cottages offer more seclusion. Finally, due to its historic age, there are no elevators between floors at the Manor House.
Please note: The Blantyre is an adult-only property.
Why Couples Will Love It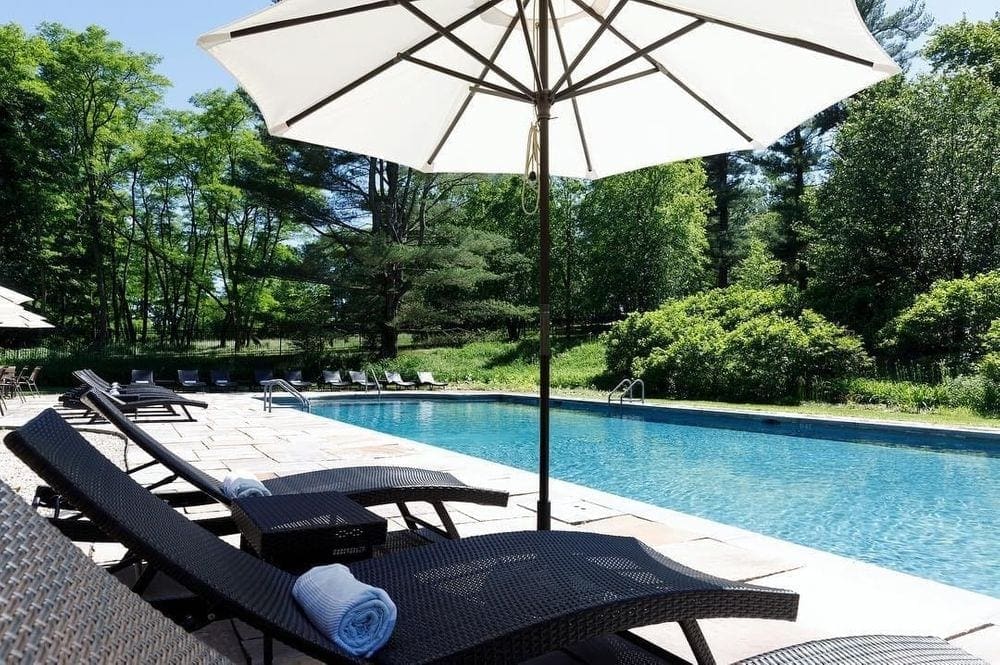 While staying at the Blantyre, couples will be surrounded by calming amenities. From spa services to pool-side lounging, you'll be able to find serene moments around every corner. At the Spa by Blantyre, indulge in heavenly services like facials, massages, or their signature mud and hot stone treatment. Within the spa area, you can also find an outdoor heated pool (open daily from Memorial Day to Labor Day).
Active couples can also spend time in the on-site fitness center or hiking along paths with stunning views of the Berkshires. Blantyre recommends nearby hiking options, or you can work with their knowledgeable staff to identify the best hike for your skills, needs, and itinerary. The hotel also offers seasonal activities throughout the year. Finally, couples will also dine and drink in style at The Champagne Salon and on-site restaurant, featuring creations by Michelin-starred Chef Daniel Boulud.
Twin Farms
Barnard, VT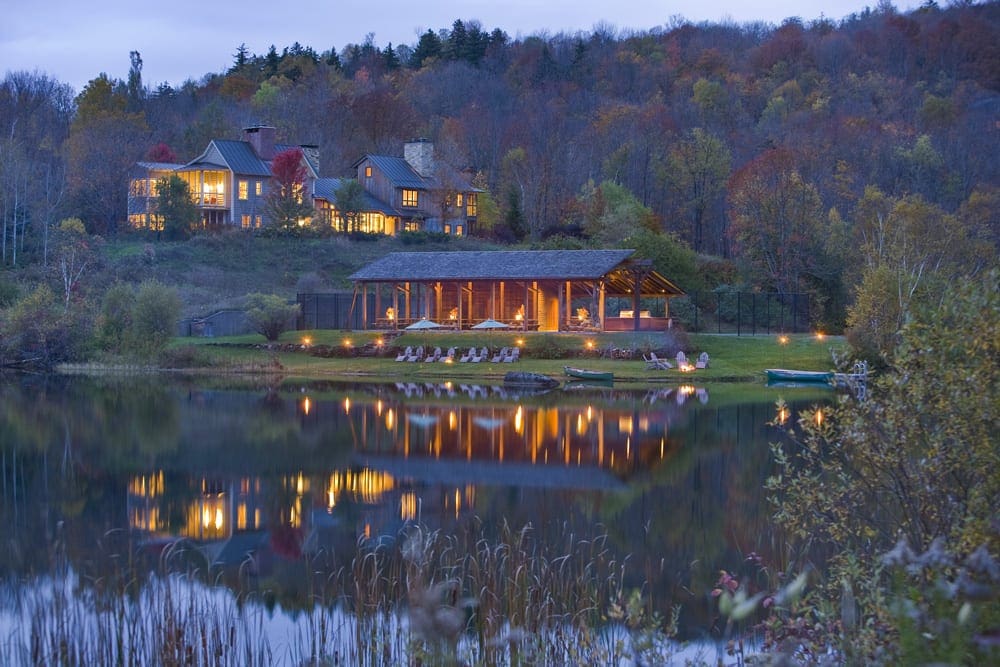 Conveniently located less than two hours from the Burlington Airport, Twin Farms offers an easy place to escape for an all-inclusive romantic couple's getaway in the Northeast. Here, 300 acres of farmland await your arrival. At Twin Farms, you are perfectly secluded from the bustle of everyday life and parenthood. In fact, your experience at the resort is completely customizable to your preferences and needs.
Accommodations range from luxurious rooms in the Farmhouse to free-standing, individually-designed cottages like the Treehouse, Aviary, and Chalet cottages, each with its own fireplace. No matter which you select, you're sure to have a relaxing kid-free getaway.
Please note: The Twin Farms is an adult-only property.
Why Couples Will Love It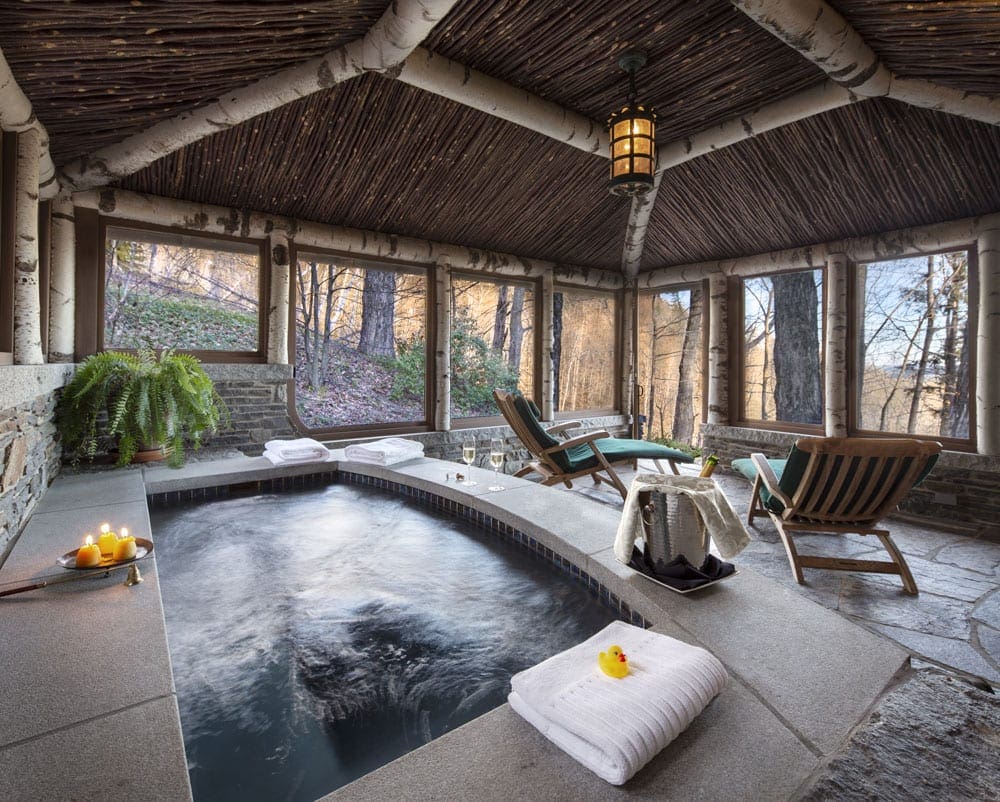 Known for their attentive staff, Twin Farms ensures you have everything you need for a restful kid-free getaway. For couples who enjoy some socialization, you can make new friends and go on adventures during your stay. If you are searching for some alone time, however, your stay can be as private as you desire. They even offer romantic, five-star picnics set up at picturesque spots around the property and meals delivered to your cottage.
When you're ready to leave the room, check out the spa, fitness center, and newly refreshed Japanese fur. Or, try one of many outdoor activities — independent or guided hikes, canoeing, fly fishing, axe throwing, tennis, archery, and more. Additionally, enjoy world-class meals at the Mainhouse or at the new Twiggs restaurant.
Glenmere Mansion
Chester, NY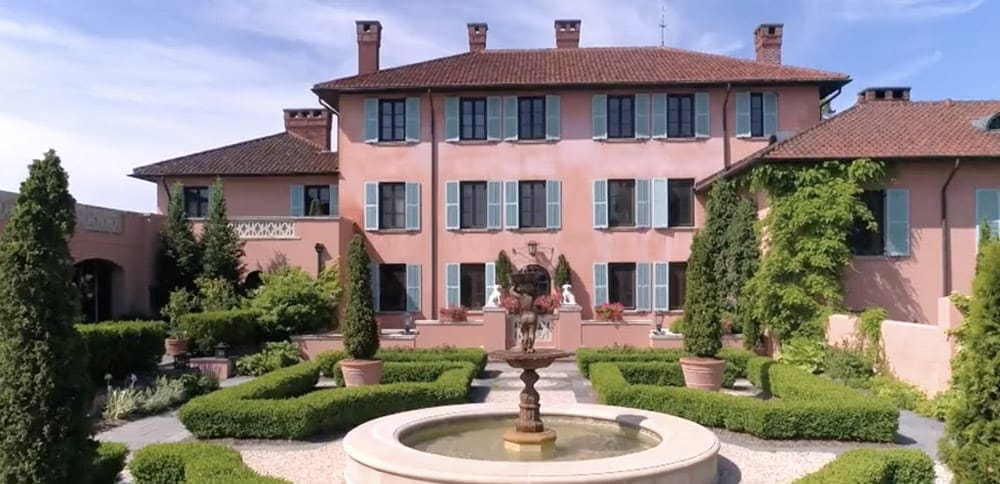 Once a posh country estate, Glenmere Mansion now serves as a top-rated wellness destination in the Hudson Valley. Believe it or not, this sprawling resort is less than two hours away from New York City! Less time in the car, means more time reconnecting and enjoying your weekend away.
During your romantic getaway, take in scenes of nature and spectacular architecture, as well as never-ending rejuvenating activities when you stay at this luxury hilltop hotel. You can book rooms with a king or queen bed, a variety of suites in different sizes, or the Glenmere Penthouse with a private elevator.
Why Couples Will Love It
When it is time to hit the refresh button, parents will find the amenities, facilities, and services at Glenmere Mansion ideal for a special weekend together. The Spa at Glenmere transports you to an older time, indulging your senses in the finest healing traditions and products from around the world. Then, stroll hand-in-hand through the expansive countryside or the luscious hotel gardens. If you desire some leisure time, play a round of golf or enjoy a swim in the heated pool.
You can also stay active with the on-site fitness center, tennis courts, croquet, and bocce courts. Finally, do a little retail therapy at the many cute shops in town. At Glenmere Mansion, life seems to slow down so that you can focus on what really matters, time together.
Ocean House
Watch Hill, RI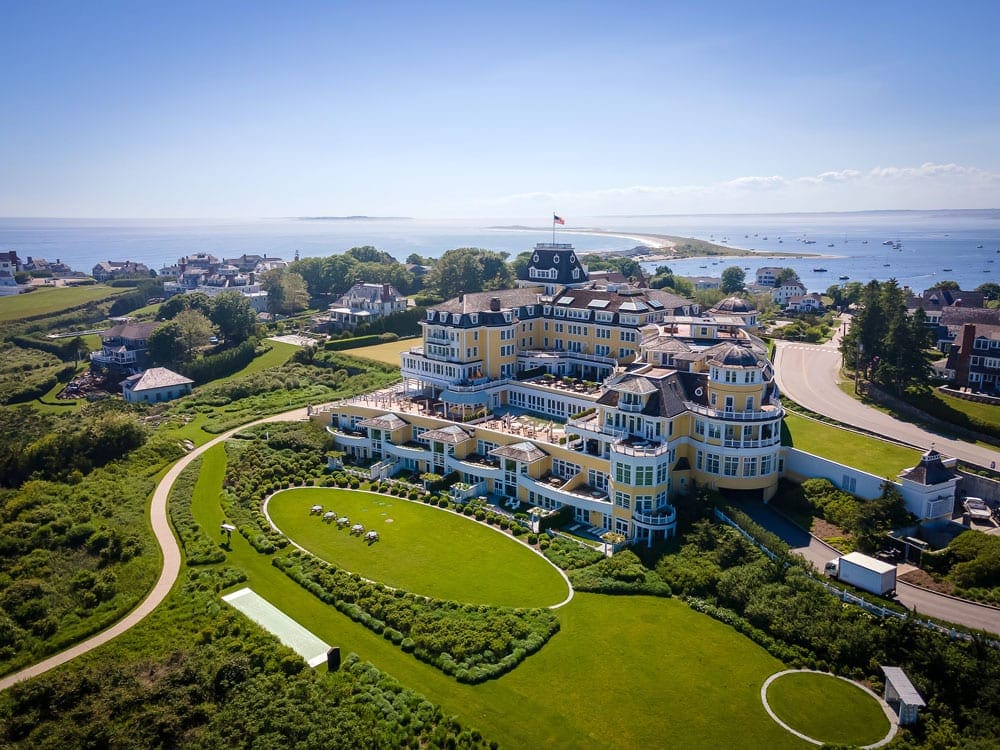 Ocean House offers an iconic New England getaway for parents. Here, discover a dazzling view, top-notch amenities, and a relaxing romantic getaway you'll never want to end. Located in Watch Hill, Rhode Island, just three hours from New York City, this seaside resort is famous for its hospitality and its stunning perch high up on the local bluffs.
Parents staying here can choose between Standard, Deluxe, and Grand Deluxe Guest Rooms in various sizes with two queen beds. Or, there are also one, two, and three-bedroom suites, as well as larger cottages.
Why Couples Will Love It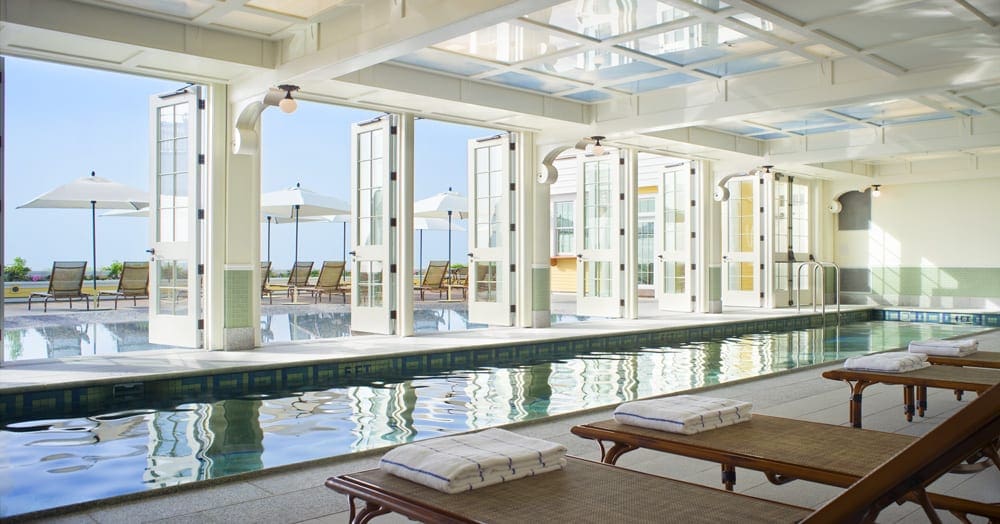 There is so much do to at Ocean House, couples will have trouble narrowing down their options. Firstly, spend time on the white-sand private beach. Then, take tennis or surfing lessons to stay active. Plus, the on-site fitness center is always stocked and ready to go. Then, with the indoor and outdoor pools and the impressive sports facilities, you will never run out of fun and relaxing things to do.
Next, the Ocean & Harvest: The Spa at Ocean House showcases seasonal treatments and homemade beauty products, ideal for parents looking to refresh themselves. Afterward, enjoy a movie in the luxury screening room or participate in a curated art experience. For avid golfers, exclusive golf courses nearby are available for Ocean House guests. Finally, be sure to explore the wine and culinary arts program at Ocean House. Through these events, learn about new foods, participate in an art class, or observe a local cultural event.
Castle Hill Inn
Newport, RI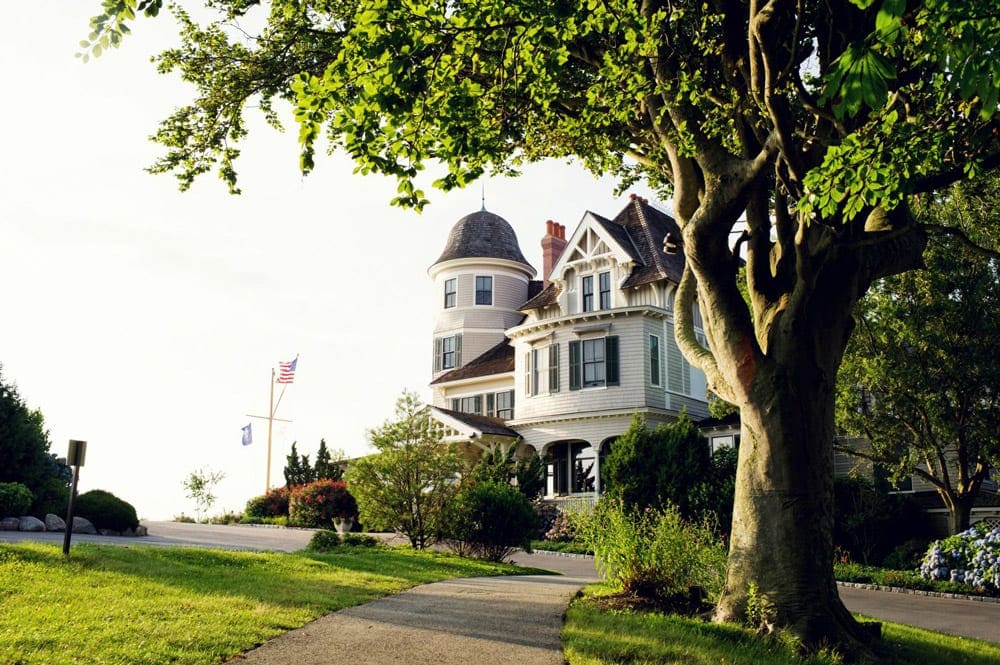 Book your family's stay at Castle Hill Inn using Expedia today.
Reserve a room at Castle Hill Inn using Hotels.com now.
Castle Hill Inn is a coastal heaven for parents looking for a kid-free trip in Rhode Island. Overlooking Narragansett Bay, this spectacular New England resort offers parents a wonderful romantic getaway in the Northeast. Split your time between nearby Newport attractions, relaxing hotel amenities, and enjoying the peace and quiet of your own room.
With accommodations of various sizes, guests can choose between rooms, suites, and cottages, some of which are just steps away from the hotel's private beachfront. That way, the best of Newport is always right outside your door.
Why Couples Will Love It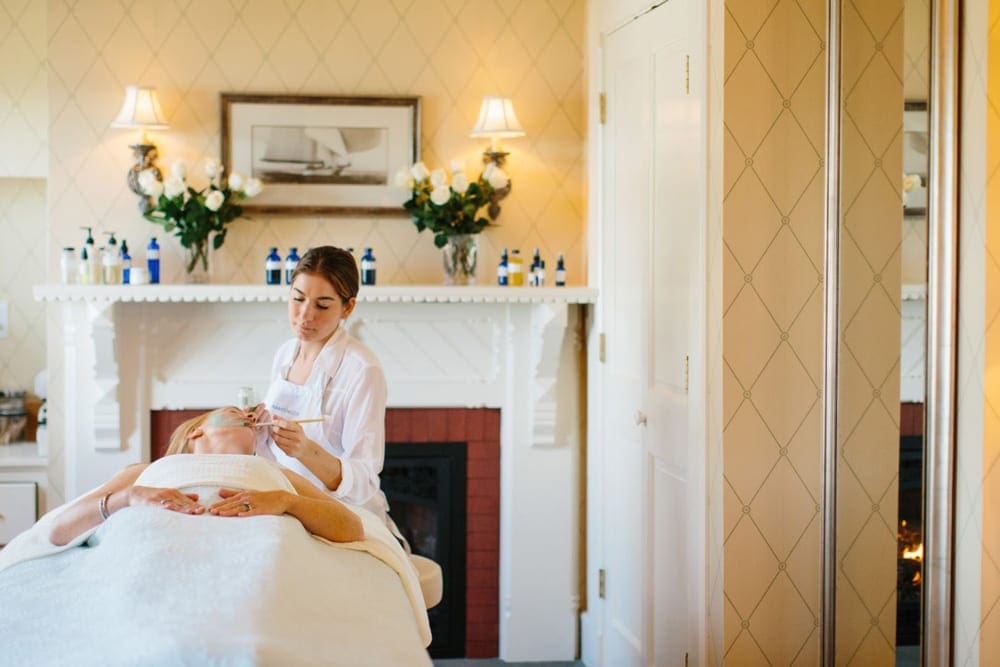 Indulge yourself at Castle Hill Inn. The on-site spa, The Retreat at Castle Hill by Farmaesthetics, is the perfect place for parents to recharge. There is no fitness center or pool on-site, however, guests can enjoy complimentary access to both at the nearby Newport Marriott. Seasonal activities include access to a private beach in the summer and holiday festivals in the winter. Plus, Castle Hill Inn hosts complimentary yoga classes on Saturday mornings (during July and August). There are also opportunities to charter a yacht, go fishing, rent bikes, and play lawn games together. Time your stay correctly and you can spend Sunday evening cuddled up with your special someone enjoying bonfires with the chance to stargaze.
Finally, the location near downtown Newport means you have quick access to the Newport Art Museum and the ferry to the Rose Island Lighthouse. Or, go shopping on Thames Street. Sports fans can also visit the International Tennis Hall Of Fame! With so many options to fill your itinerary, it's no wonder that Castle Hill Inn is one of the best locations for a romantic getaway in the Northeast.
Troutbeck
Amenia, NY
Troutbeck has served as a favorite destination for poets and artists for centuries – not to mention parents seeking a quiet romantic getaway in the Northeast. Now, the Hudson Valley estate operates as a retreat and luxury getaway for those in search of a stress-free vacation. A little over two hours from NYC, this historic hotel is surrounded by over 5,000 acres of peaceful countryside.
Many guest rooms are located in the Manor House; they feature similar configurations such as king-sized beds, soaking tubs, and other amenities. Then, the newly-renovated Benton House features 13 guest rooms, each with private outdoor space, set in a bend of the Webutuck River.
Why Couples Will Love It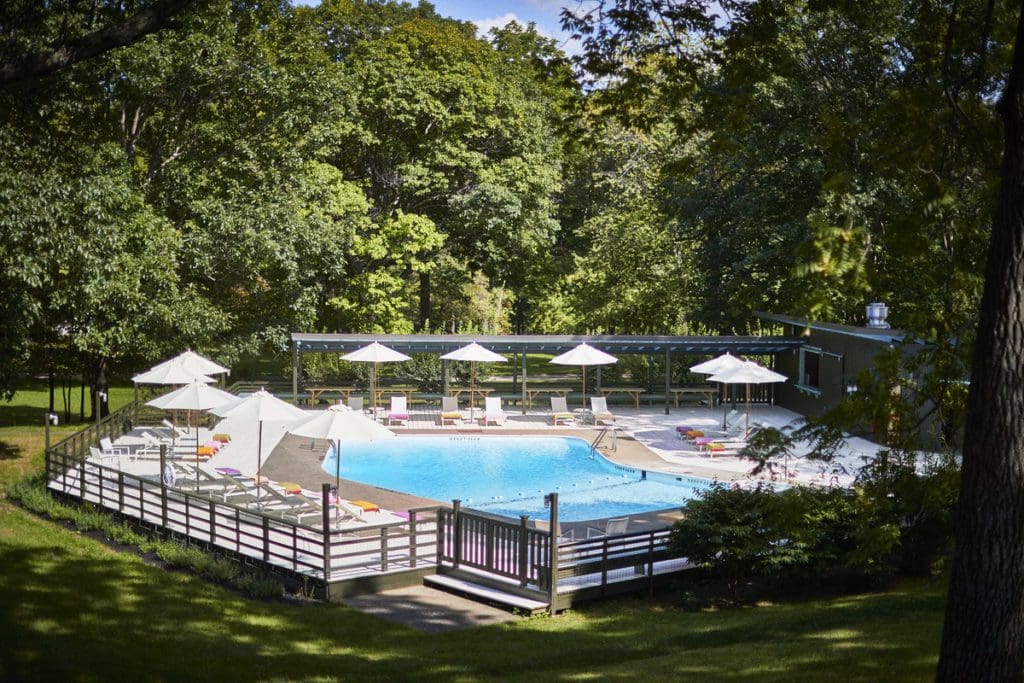 You can dive into your health at Troutbeck. Learn valuable self-care skills for yourself by participating in wellness services at The Barns. Here, guests can experience a unique wellness oasis featuring top-of-the-line fitness equipment, thoughtful wellness amenities, and activities such as Forest Bathing, somatic experiences, and Kinesoma classes. The light-pouring windows encourage self-care and inward reflection.
Find your next favorite read in the library, marvel at the art in the gallery, or explore the walled garden. Parents can also spend time relaxing at the pool. Troutbeck has added stylish new cabanas to its pool deck, offering guests an intimate and chic poolside experience. The Hudson Valley is known for its produce and preserves, which you can also find at the on-site Pantry during your stay.
RELATED: How To Add Romance To A Family Road Trip
Happy Travels!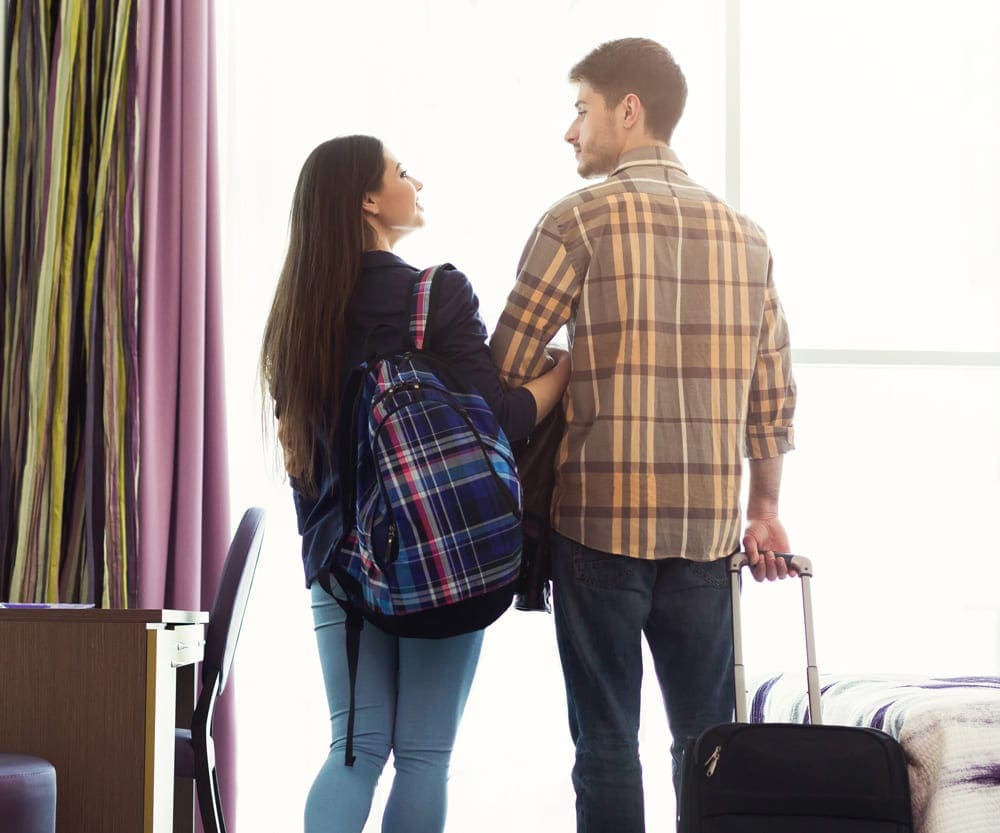 We hope you found this article on the 15 Best Hotels for a Romantic, Kid-Free Getaway in the Northeast helpful in planning your upcoming kid-free weekend. Romance is certainly in the air when you stay at one of the best resorts in the North East for couples! From New York to Connecticut, we are sure you found the perfect spot to spend time together and get some much-needed relaxation and alone time as parents.
*Due to COVID-19, some of the recommendations on this list may be closed or may be experiencing reduced services. Please ensure availability before making your decision.
*This post may contain affiliate links that may earn us a small commission at no additional cost to you. Affiliate links in no way inform the hotels, sights, products, or other recommendations included in our articles. All opinions and recommendations expressed here are compiled from submissions submitted by the generous members of our Families Who Love To Travel community.
READ NEXT:
The most expensive photo ever sold in the world was taken at Antelope Canyon. It...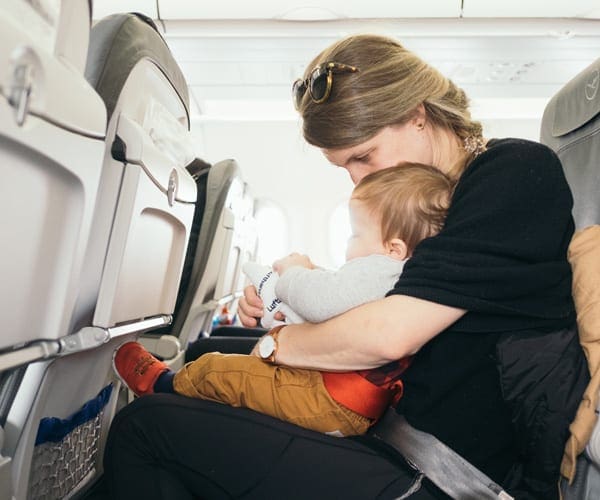 Families Who Love To Travel contributor Meghan Oaks provides her 10 best tips for your...