San Francisco, California is a city like no other. Nestled on the shores of a gorgeous bay and in between two iconic bridges, San Francisco is perfect for a family vacation. This "City by the Bay" offers museums, outdoor adventures, family-friendly activities, and so much more. The itinerary below provides ideas for different types of activities on your family trip to San Francisco. One San Francisco itinerary with kids features museums and popular tourist attractions, while the other provides off-the-beaten-path activities for active families who enjoy exercise and outdoor experiences. There are so many family things to do in San Francisco that it can be challenging to figure out how to do it all. Having lived in San Francisco for many years I put together 4 Spectacular Days in San Francisco with Kids so your family can fully experience all the wonders of this one-of-a-kind city!
Day 1: Explore Golden Gate Park with Kids
Option 1: Museums, Waterfalls and More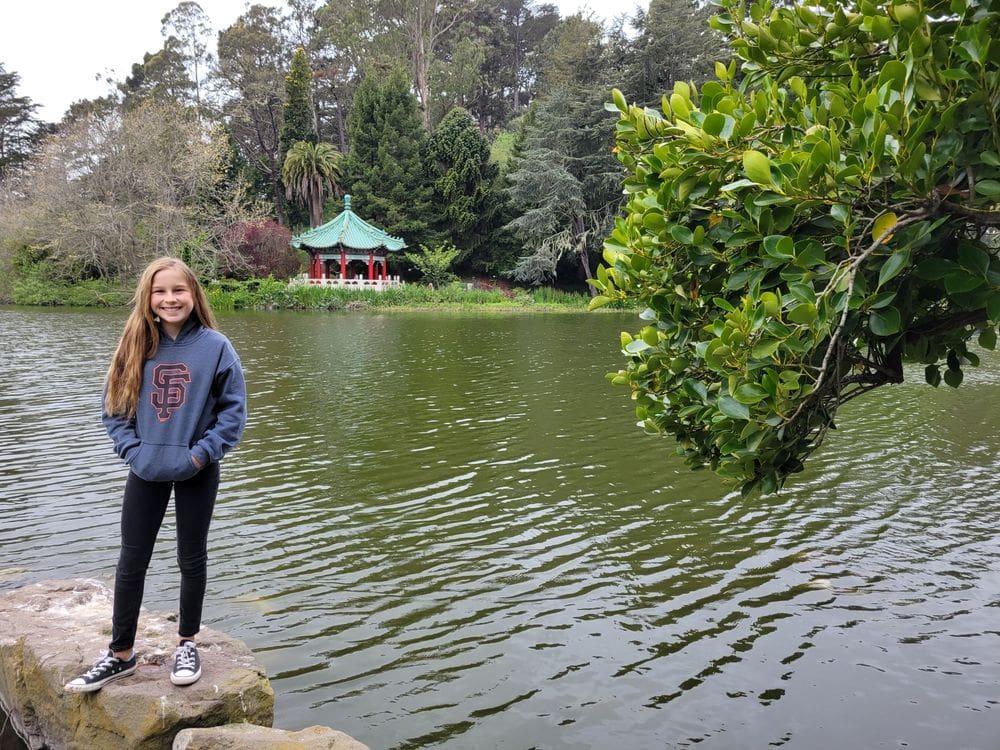 The California Academy of Sciences is alone worth the trip into Golden Gate Park. This kid-friendly museum in San Francisco features 38,000 live animals and has a living roof! From aquariums to natural history exhibits as well as a multi-story butterfly garden, families will delight in exploring all its treasures. Next, adults can enjoy the more sophisticated De Young Museum across the pavilion.
Then, you'll forget you're in the city with a walk through the Japanese Tea Garden or the impressive Botanical Gardens. Afterward, visit Stowe Lake, where you can eat, row around the lake in a rented boat, or marvel at the cascading waterfall. The Koret Children's Quarter is a fabulous playground and a great way to finish your day in Golden Gate Park. At the playground, kids in San Francisco can ride the historical carousel, fly down the famous cement slides, and climb an impressive play structure.
Option 2: Stop and Go Self-Guided Bike Tour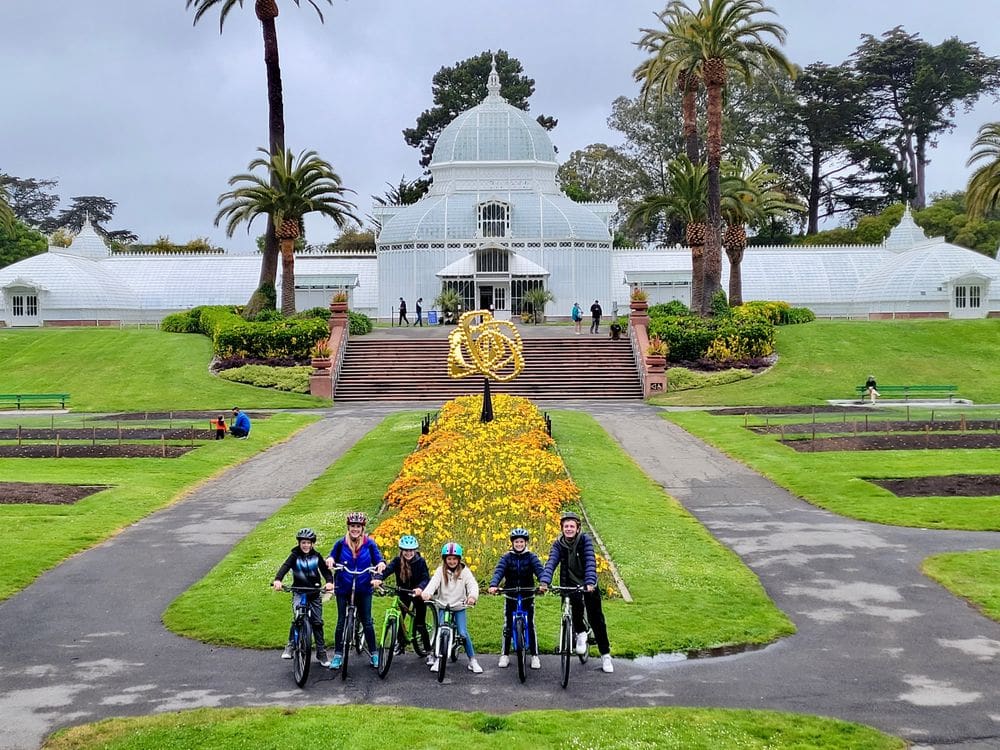 Start your family trip to San Francisco by renting bikes from San Francisco Bicycle Rentals in the Haight-Ashbury neighborhood. Next, traverse John F. Kennedy Drive. Without cars, it's the perfect place to ride bikes with kids in San Francisco. First, stop at the Conservatory of Flowers for photos or a quick tour. Then, ride toward the Music Concourse for a spin on the Ferris wheel or a walk through the Japanese Tea Gardens. Here, you'll also find museums and the Botanical Gardens.
Next, continue to Stowe Lake for hot dogs at the Boat House, a paddle boat ride, or climb to the top of the waterfall. After Spreckels Lake, don't miss the herd of bison to your right! Two historic Dutch windmills and the beach mark the end of Golden Gate Park. Once you've reached the ocean, treat yourself to lunch at the Beach Chalet before pedaling back.
Day 2: San Francisco Family Fun on the Waterfront
Option 1: Kid-Friendly Activities at The Exploratorium & Pier 39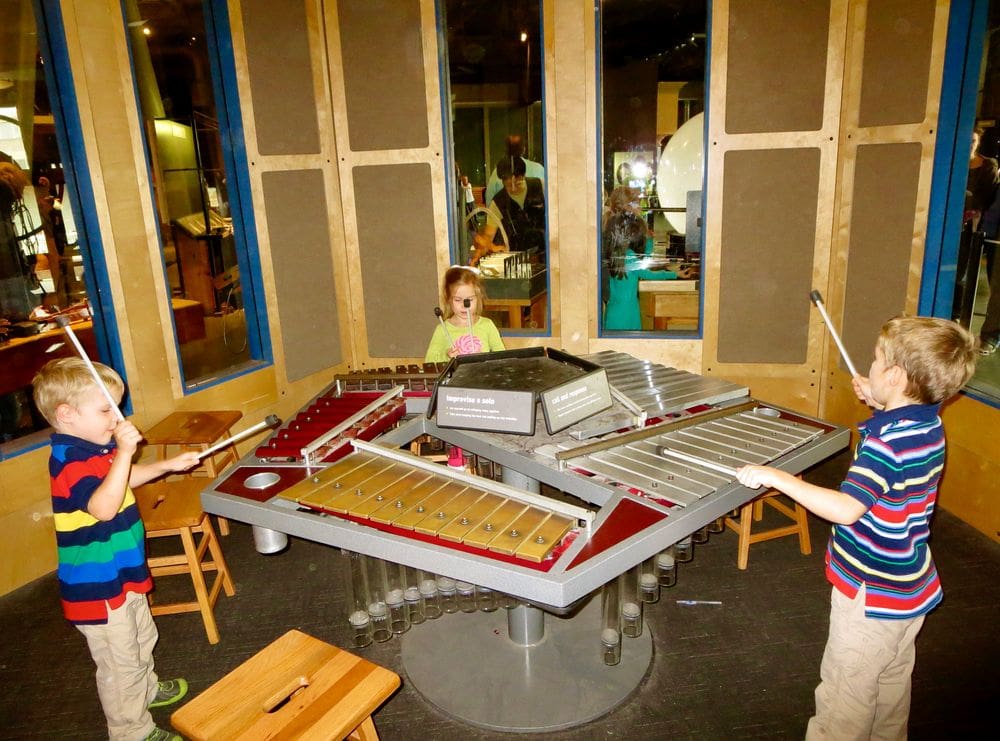 The waterfront features some of the most popular things to do in San Francisco with kids. Your first stop should be the Ferry Building downtown. As one of the only buildings to survive the 1906 earthquake, it's a great spot to grab a coffee, food, or farmer's market goodies before starting the day. Walk down the Embarcadero and watch the boats sailing between the bridges until you reach the Exploratorium at Pier 15. As a world-class, kid-friendly museum, families in San Francisco can touch, see, and smell their way through different scientific experiments. For an extra-special experience reserve time in the Tactile Dome (additional cost). Families will journey through darkness using only their senses as a guide. Plan to spend several hours enjoying the many activities at the Exploratorium. There's a cafe and places to relax outside if you need a break some downtime between exhibits.
Next, continue along to Pier 39. You know you've arrived at this tourist hot spot when the air smells like waffle cones and the t-shirt shops appear. Pier 39 is a favorite San Francisco family activity with so much fun all in one place: sea lions, rides, arcade, carousel, aquarium, bay cruises, and even thrilling jet boat rides. You'll also find a wide variety of restaurants so you can finish your day with dinner on the bay. Parking can be challenging along the waterfront so it's best to walk or take public transportation between destinations. Spending time along the waterfront will be a highlight of your San Francisco family vacation.
Option 2: Bike The San Francisco Bay with Kids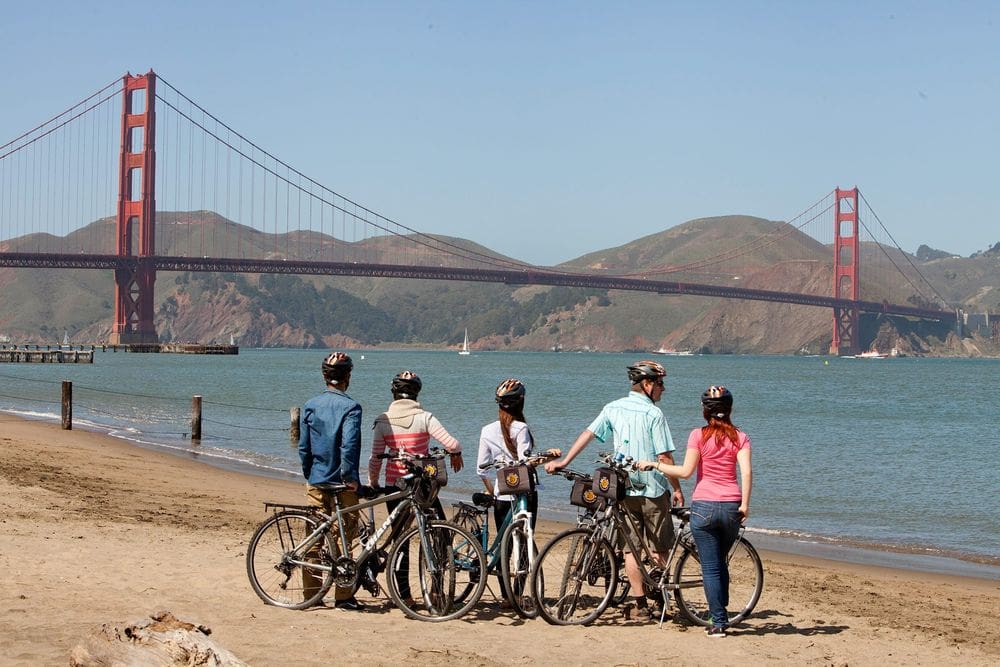 One of the best ways to explore San Francisco with kids is to bike the bay! To begin, make your way down to Fisherman's Warf. Walk on the wharf to see old sailing ships and pop into Musée Mécanique, a one-of-a-kind penny arcade. Then, pick up bikes at San Francisco Bicycle Rentals, Blazing Saddles, or Bay City Bike (reservations recommended). You'll be outfitted with a map, helmet, and bike lock (be sure to pack your own water and snacks). As you ride along the scenic route you'll pass Fort Mason and the Marina Green (perfect for flying a kite).
Next, continue to the Palace of Fine Arts (feed the ducks), Crissy Field (dip your toes in the water), Fort Point (iconic photo spot), and then, finally, up and over the Golden Gate Bridge. Fortunately, the only hill you'll encounter is a small one to reach the entrance to the bridge.
The Golden Gate Bridge is one of the most famous structures in the world. Crossing it on a bike is one of the best family activities in San Francisco, and certainly, one of the most memorable! Once you're on the other side, travel downhill into the city of Sausalito. Built by artistic squatters after WWII, it's full of galleries, restaurants, and great spots for lunch. Buy a ticket for the ferry that returns you to Fisherman's Wharf. They run every few hours so be aware of the schedule before you depart and plan accordingly. You'll be treated to spectacular views of the city and Alcatraz as you sail across the bay. Finally, after the bikes are dropped off, end the day with a world-famous ice cream sundae at Ghirardelli Square. After all, you earned it! Biking the bay provides great exercise and family fun in San Francisco!
Pro Tip:
On your family trip to San Francisco, you can take the cable car from Union Square down to Fisherman's Wharf. To avoid the long wait at the turn-a-round, walk a few blocks up and hop on at any street corner when the cable car stops.
Day 3: San Francisco on Foot
Option 1: Family-Friendly Walking Tour & Museum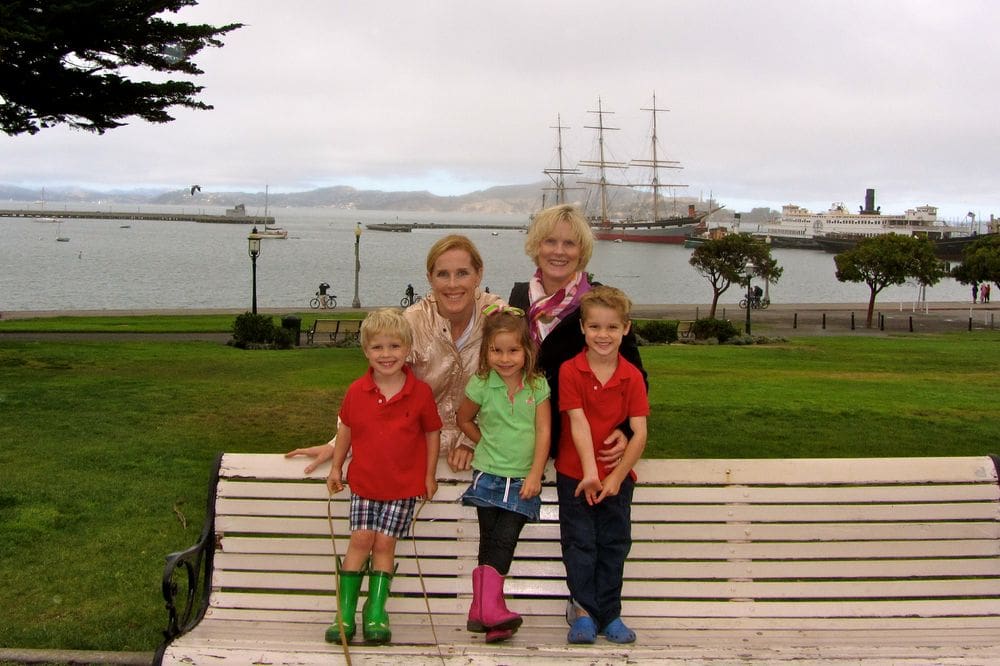 San Francisco City Guides, offers free 1-½-2hr walking tours, a great family-friendly activity in San Francisco. There is no better way to experience San Francisco with kids than on foot, guided by an expert. You can take a tour that focuses on a topic such as Gold Rush history or the mansions of Pacific Heights. Or, explore specific neighborhoods like Japantown or Nob Hill.
To maximize your day plan an afternoon activity in the same location as your walking tour. Some suggestions include Chinatown with Cable Car Museum and Fortune Cookie Factory, the Presidio with the Walt Disney Family Museum, or Lands End with the Legion of Honor Museum. Additionally, tour the Mission District with Mission Dolores Basilica, founded in 1776. You can also, explore Fisherman's Wharf along with Coit Tower and Lombard Street. The whole family will enjoy diving deeper into the neighborhoods that make San Francisco so special.
Option 2: Crosstown Trail with Kids in San Francisco
For a unique family thing to do in San Francisco check out the Crosstown Trail. The trail runs 17 miles and offers stunning views, steep stairs, flat paths, and the ability to run, walk, or bike through the heart of San Francisco. Choose a segment of the trail that complements the rest of your itinerary. It's easy to jump on and off the trail so you can select activities along the route you chose to travel The Crosstown Trail is a fun thing to do in San Francisco with kids and an off-the-beaten-path activity that will make you feel like a local. It's certainly a great addition to any San Francisco itinerary with kids!
Day 4: See San Francisco from the Water
Option 1: Alcatraz Island & the Waterfront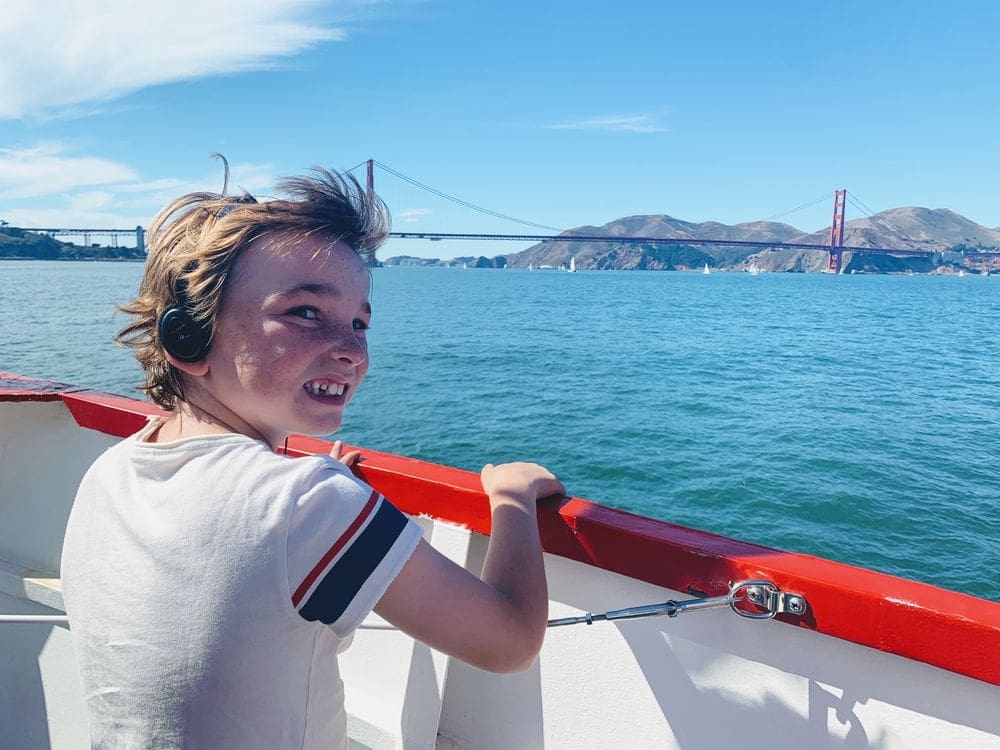 San Francisco's most notable feature is its location on the bay. The shallow estuary provides a spectacular backdrop and great escapes for city-dwellers. Alcatraz Island sits in the middle of the bay and is at the top of the list for things to do in San Francisco with kids. As a famous prison, Alcatraz delivers an incredible audio tour. However, reserve your tickets far in advance.
A Bay Cruise is another family-friendly San Francisco activity that allows you to be out on the bay. You'll sail under the bridges and enjoy unobstructed views. After your tour, visit the Ferry Building, Pier 39, or Fisherman's Wharf to complete your tourist experience. A boat trip can also be combined with a visit to The Exploratorium, a San Francisco children's museum on Pier 15. All in all, a day on the water is a fun way to experience San Francisco with kids.
Option 2: Hiking Angel Island and Kayaking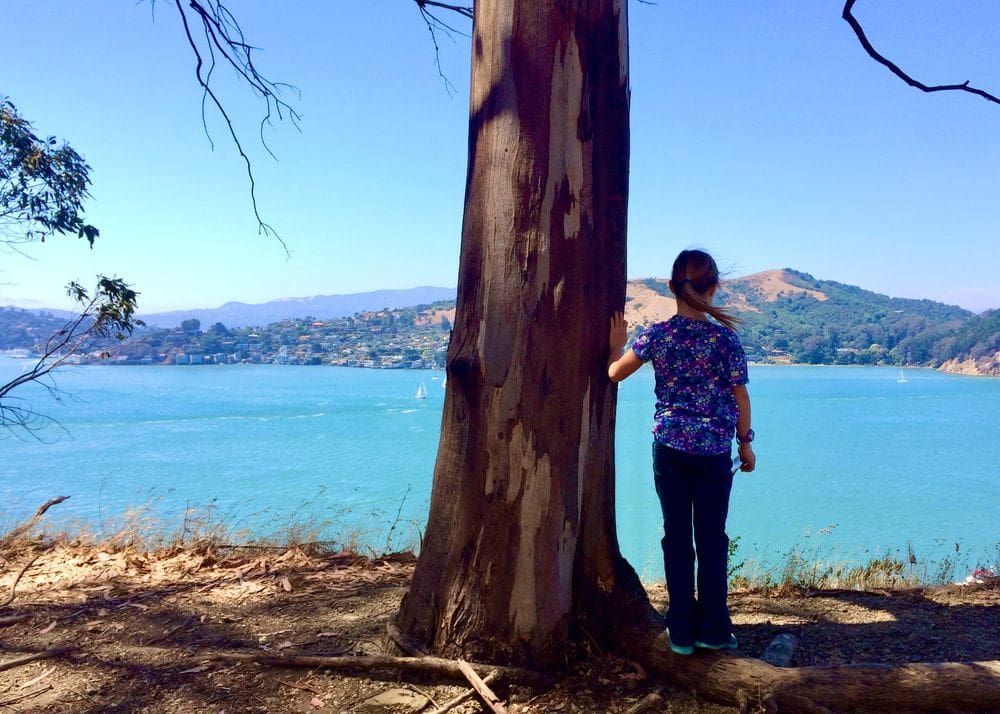 Alternatively, add this exciting excursion to your San Francisco itinerary with kids. Angel Island is the largest island in San Francisco Bay. This state park provides guests with hiking trails, camping, and biking as well as the best views of the bay. Moreover, it's easy to visit for a half-day on the water. The public ferry from San Francisco or Tiburon will whisk you to the island in minutes. Then, follow one of the paved trails around the island or go for a hike. Along the way, visit any of the museums to learn about the many different inhabitants of Angel Island. City Kayak and SeaTrek will set you up for an unforgettable family experience on the San Francisco Bay for those wanting to kayak or paddleboard.
Additional San Francisco Family-Friendly Activities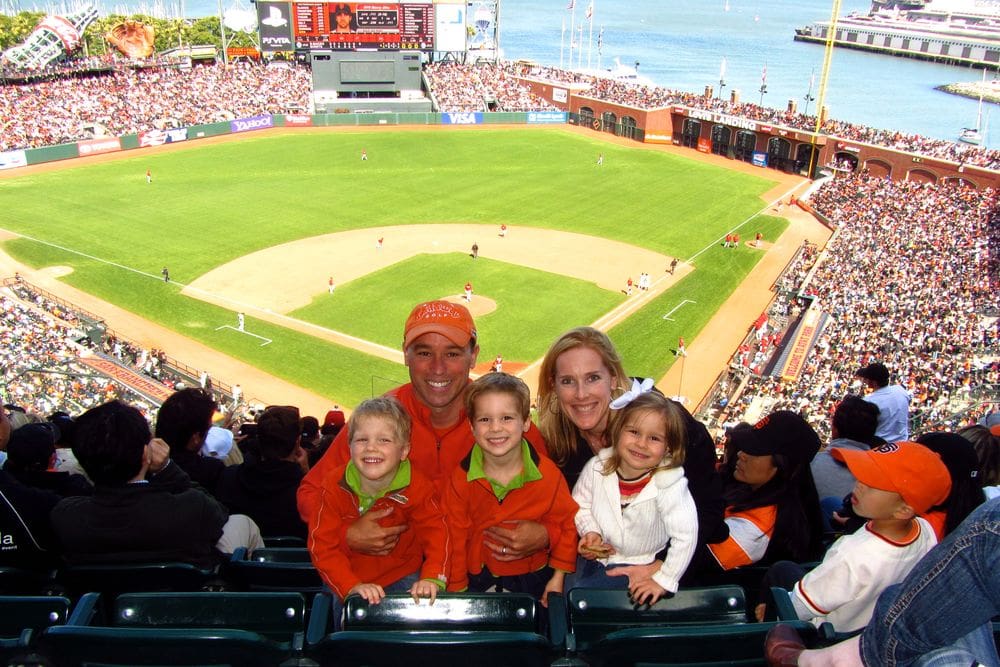 If you have some extra time in your schedule consider adding one of the following family-friendly San Francisco activities. The Children's Creativity Museum offers a hands-on arts and technology experience for kids age 2-12. Sports fans can cheer on the San Francisco Giants at one of the most picturesque stadiums in the country. Or, root for the Golden State Warriors at the brand new Chase Stadium.
Kids interested in modern art should visit the MOMA and animal lovers will enjoy the San Francisco Zoo. For a small San Francisco children's museum check out Randall Museum and see if you can locate one of the hidden cement slides in the neighborhood nearby (hint, use Google). Lastly, don't forget to drive down the most crooked street in the world, Lombard Street, and swing by the famous San Francisco Pink Lady Houses in Alamo Square.
Use WayAway and Travel Without Worry!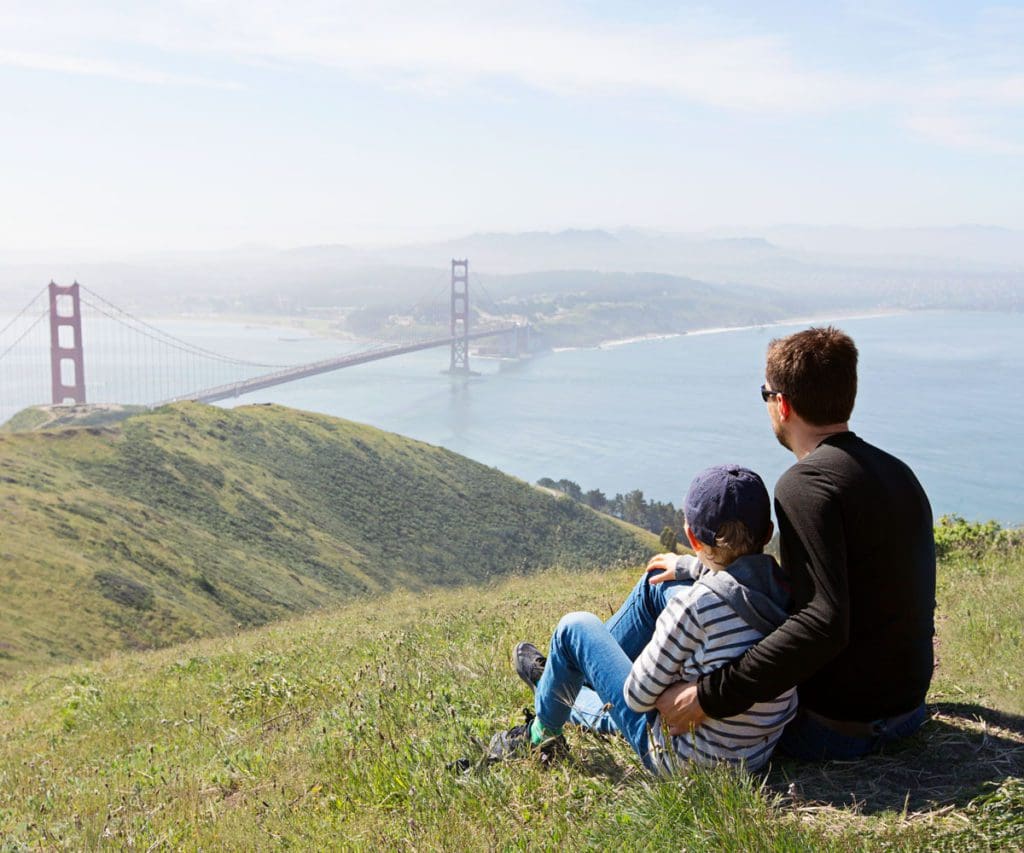 Trust in WayAway when planning out your SF trip. Apart from being a flight and hotel aggregator that offers cashback deals on all travel purchases, it boasts quality content created by local experts in hundreds of cities around the world. Everything you need to know about where to stay, where to eat, what to see, and much more is presented on a cute and handy map. The WayAway Plus membership gets you all that, plus access to their 24/7 travel concierge service and cashback on all your travel expenses that can cover the subscription cost within a week!
Where to Shop in San Francisco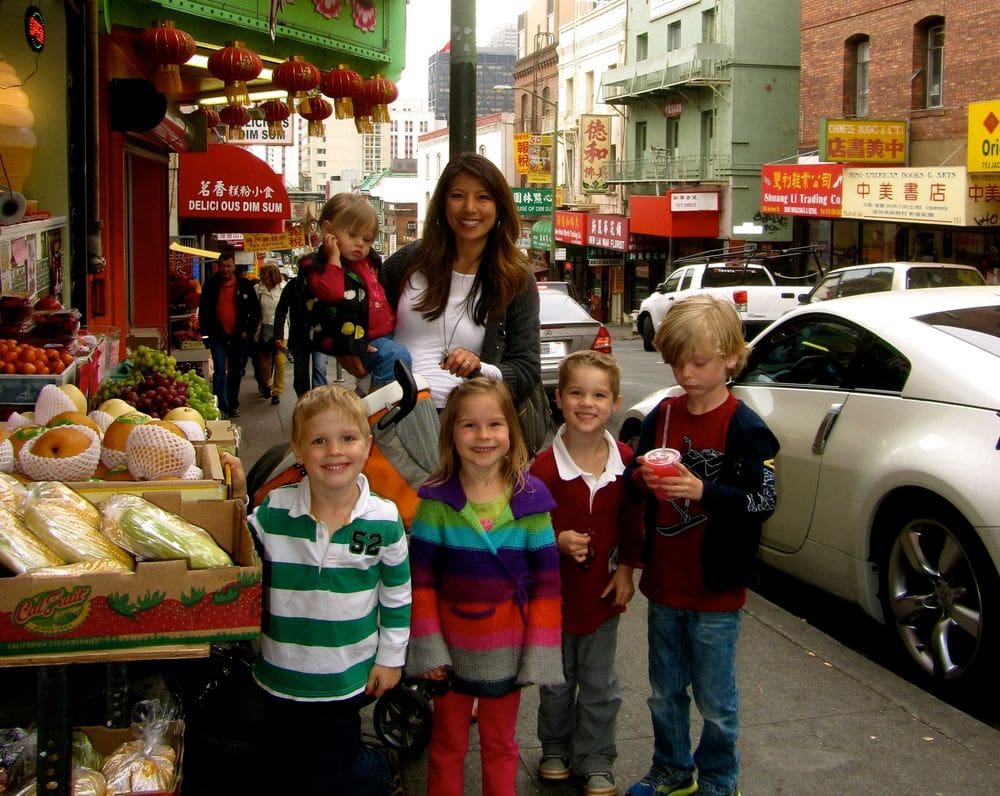 No San Francisco family vacation itinerary is complete without a little shopping! Union Square is San Francisco's shopping headquarters. However, there are great spots all over the city to pick up unique finds to commemorate your family vacation in San Francisco. Union, Chestnut, and Fillmore Streets offer local boutiques and restaurants. The Haight-Ashbury, Mission District, and Castro are where you'll find great thrift stores and all things alternative. You'll find San Francisco logo gear at the tourist shops at Pier 39 and Fisherman's Warf. Cole Valley and Hayes Valley are sunny enclaves sprinkled with unique boutiques. And, if you want imported items head to Chinatown or Japantown. There's no shortage of shopping in San Francisco!
Where to Eat in San Francisco with Kids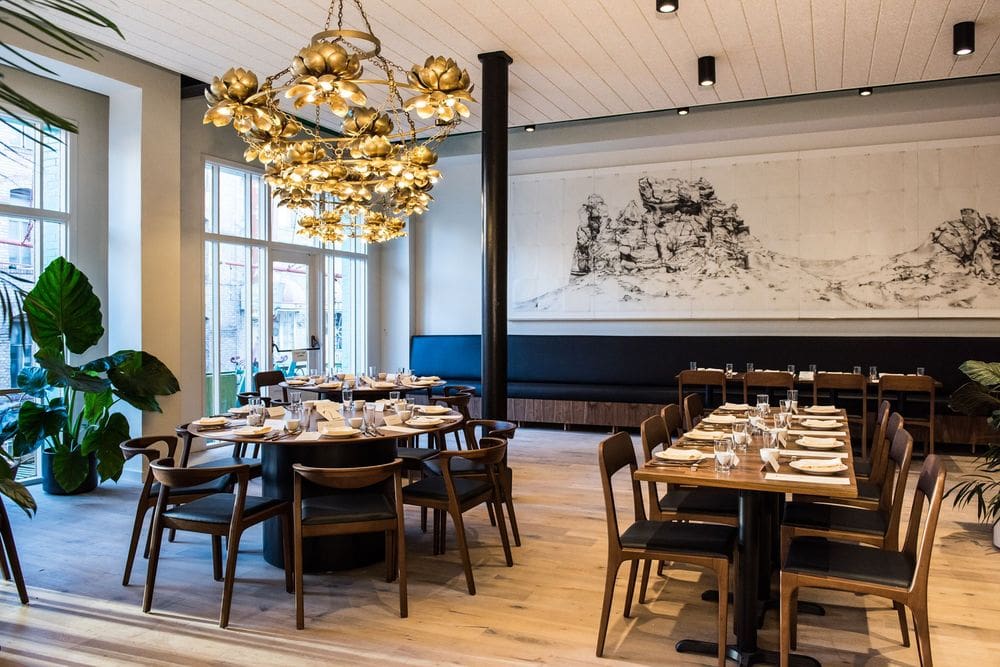 As you explore San Francisco with kids you're bound to stumble upon some amazing restaurants. However, some suggestions include Squat & Gobble Cafe & Creperie (they have kids eat free days) and Pacific Catch in the Marina. Visitors to Chinatown will appreciate the large family tables at Mister Jiu's. If you end up South of Market Street (referred to as SOMA) the collection of food trucks at SoMa StrEat Food Park will please the whole family. At either Fisherman's Wharf or Pier 39, visit the home of sourdough at Boudin for delicious clam chowder in a bread bowl. And, true foodies will want to make reservations months in advance for State Bird Provisions or Gary Danko. At the end of the day, no matter what your San Francisco itinerary with kids looks like, you'll discover a fabulous restaurant!
Where to Stay in San Francisco with Kids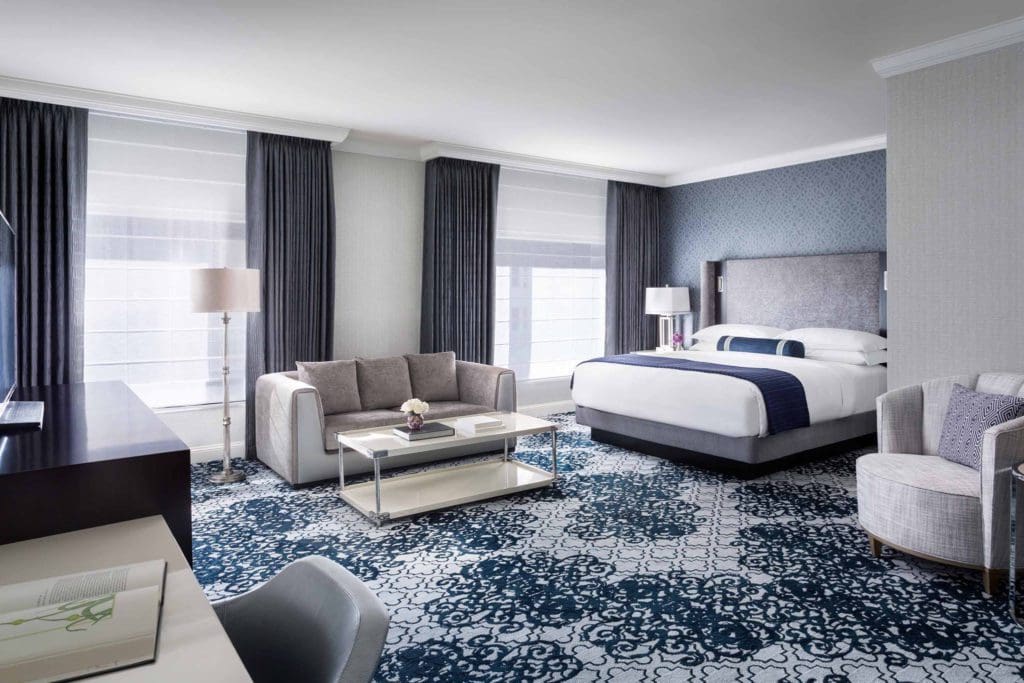 San Francisco is full of beautiful and family-friendly hotels. If your family trip to San Francisco focuses on waterfront activities you can use the Hyatt Centric Fisherman's Wharf San Francisco, Hotel Riu Plaza Fisherman´s Wharf, or the Suites at Fisherman's Wharf as a home base. The Westin St. Francisco is a fixture of Union Square and kids will love a ride up the glass elevators. Nearby are the famous Nob Hill hotels, The Ritz-Carlton, San Francisco, and Hotel Fairmont San Francisco. In the trendy Yerba Buena and downtown area, guests can stay at the San Francisco Marriott Marquis, Palace Hotel, and the Hyatt Regency San Francisco. And, for a fabulous location in the Marina District families in San Francisco will love the funky and fun Hotel Del Sol. All of these hotels offer families swimming pools for a dip after a day of adventure and exploration.
Find Vacation Home Rentals on Vrbo with Room For The Whole Family
RELATED: Best Family Hotels in San Francisco (With Great Options for Large Families & Pools)
Tips for Families Visiting San Francisco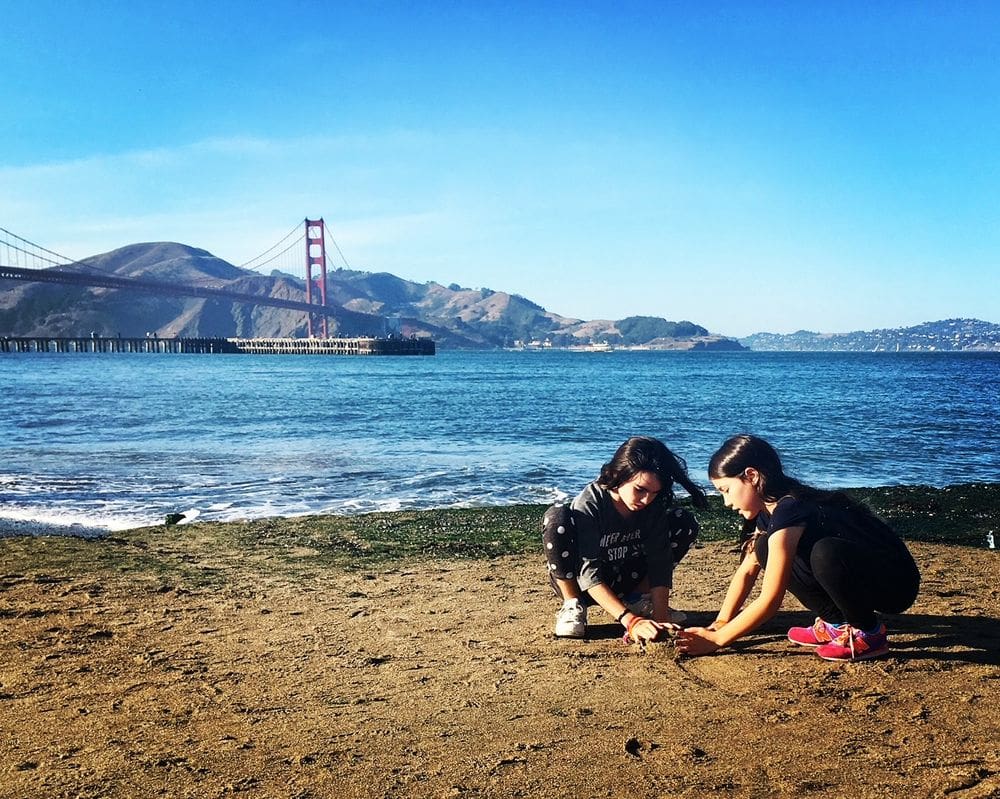 When planning your San Francisco itinerary with kids, here are some additional tips to help you have a fun and successful family vacation.
Parking: parking is a challenge. Plan to use public transportation or ride-share apps, unless you're a pro at parallel parking in tight spots. Consider taking BART from the airport to the city to save on daily parking fees.
Weather: The weather in San Francisco changes by the minute. The afternoon fog can roll in and drop the temperature 20 degrees in an hour. Pack warm layers, even if it looks like a sunny day! Otherwise, you'll end up purchasing an overpriced sweatshirt off the street.
Packing: Pack for the day when setting out for your adventures. While San Francisco can feel small and compact, it's not convenient to run back to your accommodations mid-day to grab new gear or change clothes.
Crime: As a major city, crime is always an issue. As such, valuables should not be left in vehicles or unattended purses/bags.
Plan Ahead: Reserve tickets for attractions as far in advance as possible when planning your San Francisco family vacation itinerary.
Written by FLT Top Contributor, Emily Kapic. You can find more from Emily and her family's adventures on Instagram @Take5Travel!
*Unless otherwise noted, all images were taken by and are courtesy of Emily Kapic.
*Due to the COVID-19 pandemic, some of the attractions, hotels, and restaurants featured on this list may be temporarily closed or experiencing reduced services. Confirm availability online prior to visiting.
*This post may contain affiliate links that may earn us a small commission, at no additional cost to you. Affiliate links in no way inform the hotels, sights, products, or other recommendations included in our articles. All opinions and recommendations expressed here are compiled from submissions submitted by the generous members of our Families Who Love To Travel community.
READ NEXT: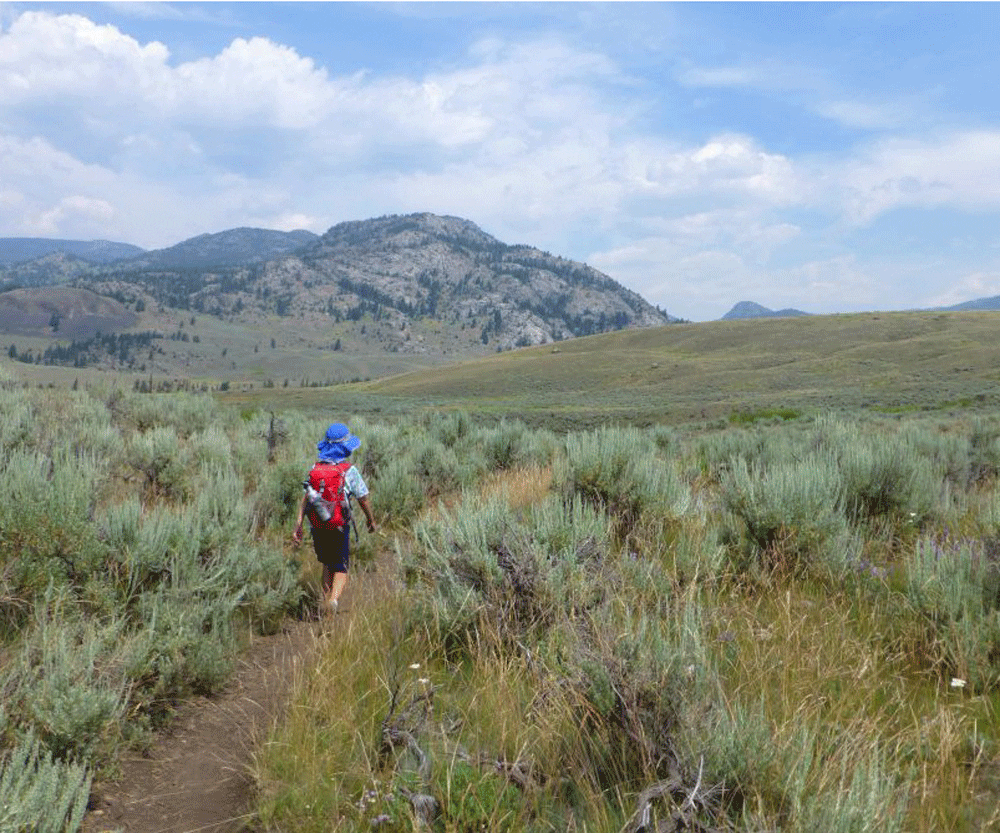 Everyone knows that Yellowstone National Park makes for a classic family vacation. Strolling the boardwalks...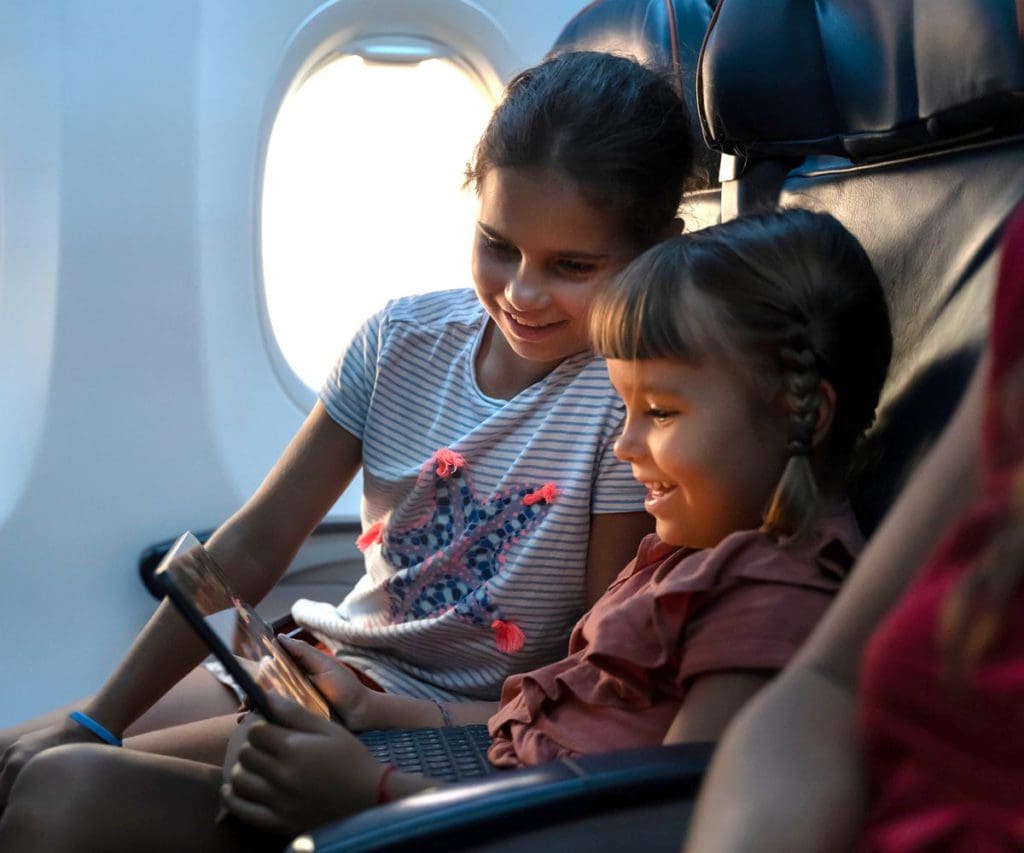 As parents, we're always looking for fun ways to keep our kids entertained while traveling....