A family vacation to Spain promises endless things to do in Seville with kids! Otherwise known as Sevilla, this city in Spain's southernmost region is famous for its colorful flamenco, siesta afternoons, and bullfighting. And, of course, delectable tapas! Visitors will also find it to be a great destination for a family getaway since there's much to keep both children and adults captivated! Luckily, Seville is a walking city, so you should be able to reach all the major monuments and landmarks you want to see on foot. (But do take advantage of the tram system to connect from Plaza Nueva to the Plaza de España!) For parents who are searching for a few excursions to add to their itinerary, I created this list of Amazing Things To Do In Seville With Kids using my own expertise as a local.
Rent a City Bike in Seville or book 3-hour bike tours to enjoy the highlights of Seville!
Visit Famous Landmarks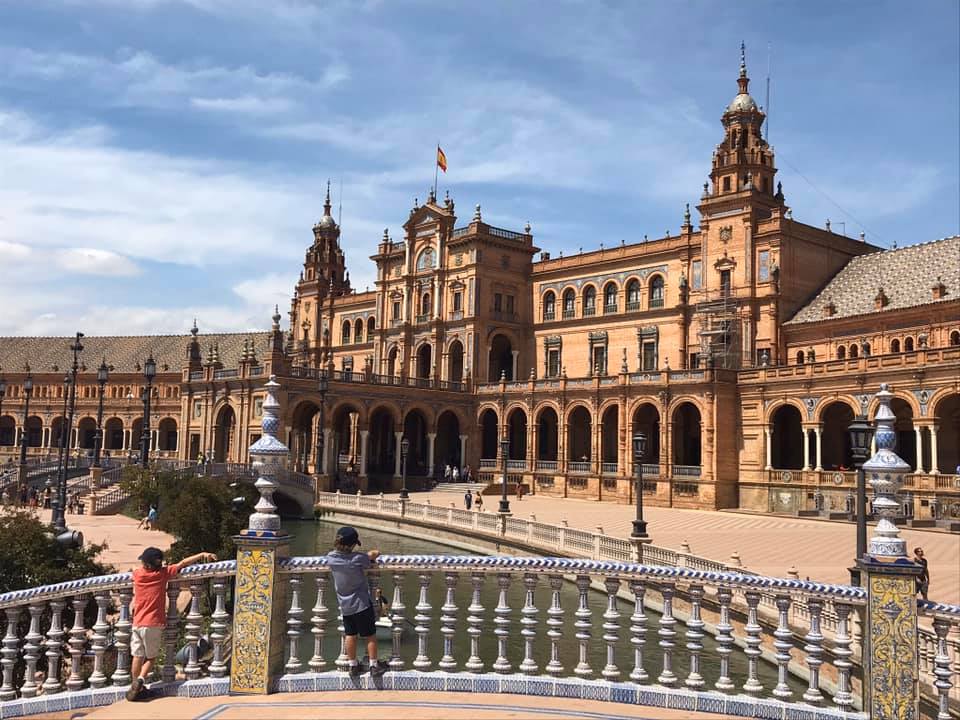 Seville has so many monuments you should add to your sightseeing itinerary! Fortunately, the city also features a compact central area, so you won't have to venture too far in between each one. The Plaza de España is worth a walk-around for its fantastic Renaissance Revival architecture including Andalusian tile work, fun water boats along the moat, and its little-known Military Museum inside (just by the Puerta de Aragón). Adjacent to the Plaza de España is Maria Luisa Park, where families can rent pedal quads for a fun way to explore. Two more monuments you can't miss are the Cathedral and the Alcázar. Children will be excited to check out Christopher Columbus' tomb and climb up to the top of the Giralda tower! The Alcázar has stunning gardens and even a maze. These monuments are far from boring and are sure to be a hit with your entire family.
Next on your list should be Seville's architectural marvel, the Metropol Parasol! Located in Plaza de la Encarnación, it's known as "Las Setas" (the mushrooms) for obvious reasons. In addition to its funky facade, the views from above give a new view of old Seville. Of course, you can enjoy it from the terrace with a nice, cold drink. Within the complex, there's the Antiquarium (a museum dedicated to the ruins discovered while digging for the project) and an open-air market. The Plaza de Toros de la Real Maestranza, Sevilla's famous bullfighting ring, is also worth visiting if you're interested. But it's only open from Easter Sunday through the end of September. Tickets are available right at the window on fight days. Finally, don't forget to visit the Palacio de Dueñas, built in the late 15th century. It's one of Seville's major historic homes of architectural and artistic importance.
Pro Tip:
No matter which Seville monument you plan to see, secure your tickets ahead of time to avoid long lines and have a pleasant sightseeing experience! If you think this may be too much walking for your little ones, City Sightseeing offers a hop-on/hop-off bus tour if you'd like to start there to get oriented with the city and not tire your kids out too soon. You can buy a multipass at most newspaper kiosks.
Book your hotel in Spain today!
Wander Under-the-Radar Neighborhoods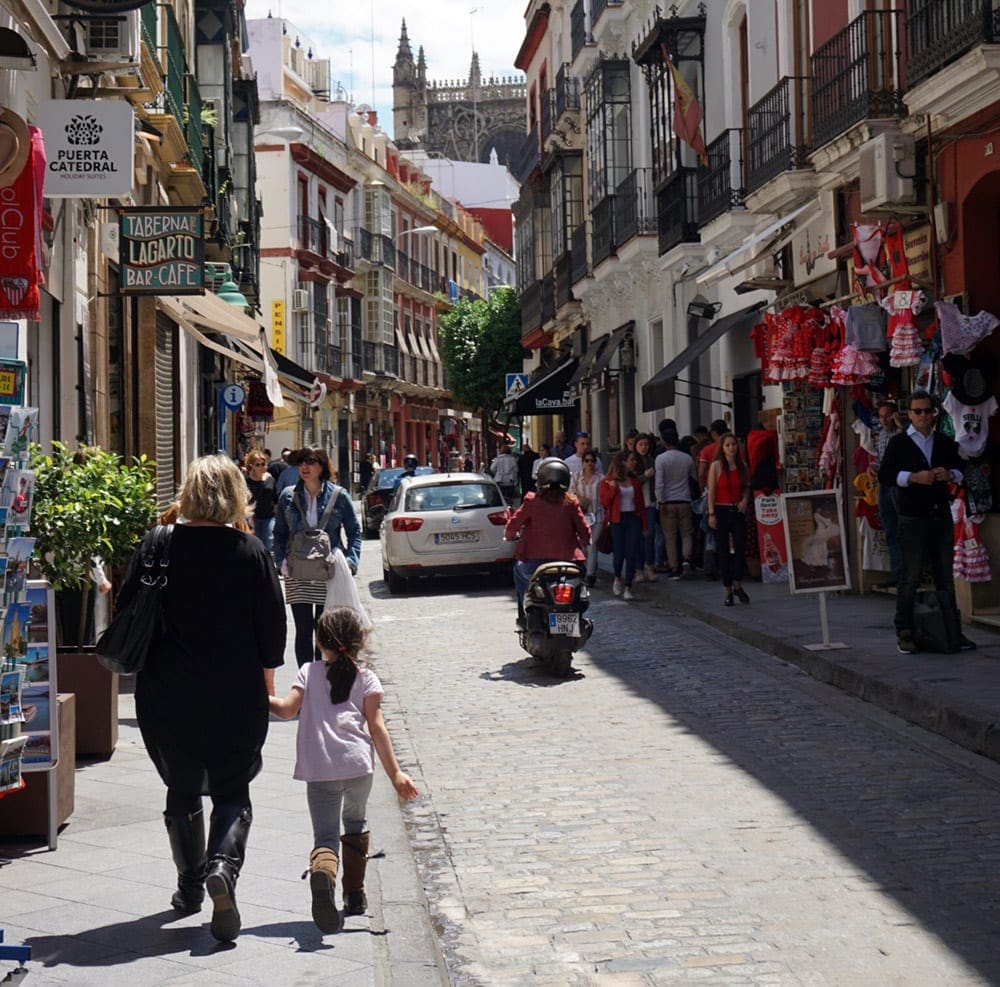 Though Seville's city center is gorgeous, the city's outer areas are also a sight to behold. Triana and La Cartuja, on the other side of the river from the monumental center, are both worth a visit if you're in town for more than a weekend. In La Cartuja, visit the Jardín Americano, Seville's botanical gardens filled with beautiful flora. Or take a walk through Alamillo Park, with its own bike rental service and plenty of space for outdoor activities. For a full day of entertainment, there's always Isla Mágica Amusement Park, complete with water slides, roller coasters, and theatrical shows.
Triana is a lively neighborhood with plenty of tapas bars and ceramics shops too. Here, Calle San Jacinto is a picturesque pedestrian main street with a local feel, making it a lovely place to stroll. Triana's bridge from the Center is also quite beautiful when illuminated at night. Definitely make time to pop into the Triana Market, and maybe even the Inquisition Museum if you have history buffs in the family. In the Triana Market, there is a unique opportunity to participate in a cooking class with local chefs at the Taller Andaluz de Cocina, who will also take you on a tour. Book ahead of your visit, this will be a memory-maker for sure! It's one of the best things to do in Seville with kids.
Spain Road Trip – Auto Europe provides price comparisons from the top suppliers. Use this link to find planning guides, driving distances, and more. ** US RESIDENTS ONLY **
Watch a Flamenco Show
To experience flamenco in Seville, watch an excellent show for the whole family at the Museo del Baile Flamenco. Open during the day as a museum with a comprehensive history on the art of the dance, the building transforms into an unforgettable spectacle by night, wowing older kids and adults alike from the minute the show starts. Book the intimate option for an up-close and personal look at the performance – it isn't too long (about an hour runtime), so children won't get itchy. Once it starts, you'll be transported into an authentic Andalusian universe filled with palpable passion and emotion. Tickets tend to sell out fast, though, so make sure to either buy yours in advance or online. Either before or after the show, you can also visit the dance museum with special expositions showing the history and artistry behind this enigmatic art form so typical of Southern Spain.
Skip the Line: Flamenco Show at Tablao Flamenco El Arenal in Seville Ticket using Viator.
Take a Food Tour
Seville is best-experienced through its delicious cuisine! The city is known for its tapas bars, so visiting a few is a must. There's a lot to try, though, so pace yourselves! One great option for families a private food tour with local eating experts, such as Devour Tours. Their kid-friendly tour includes churros and jamón, as well as a dose of culture and history to provide a little guidance. Feel free to also explore tapas bars on your own for lunch or dinner. However, don't expect to find many that'll pull out a highchair or children's menu for your tot. If you look around, most families eating out have their babies in their laps or strollers. Eating hours are also a bit later than what you may expect. Lunch is served around 1 pm (the earliest) until 4 pm, then dinner from 8 pm on.
Book A Tour Now:
The 10 Tastings of Seville With Locals: Private Food Tour
Tastes, Tapas & Traditions of Seville Food Tour
Go Shopping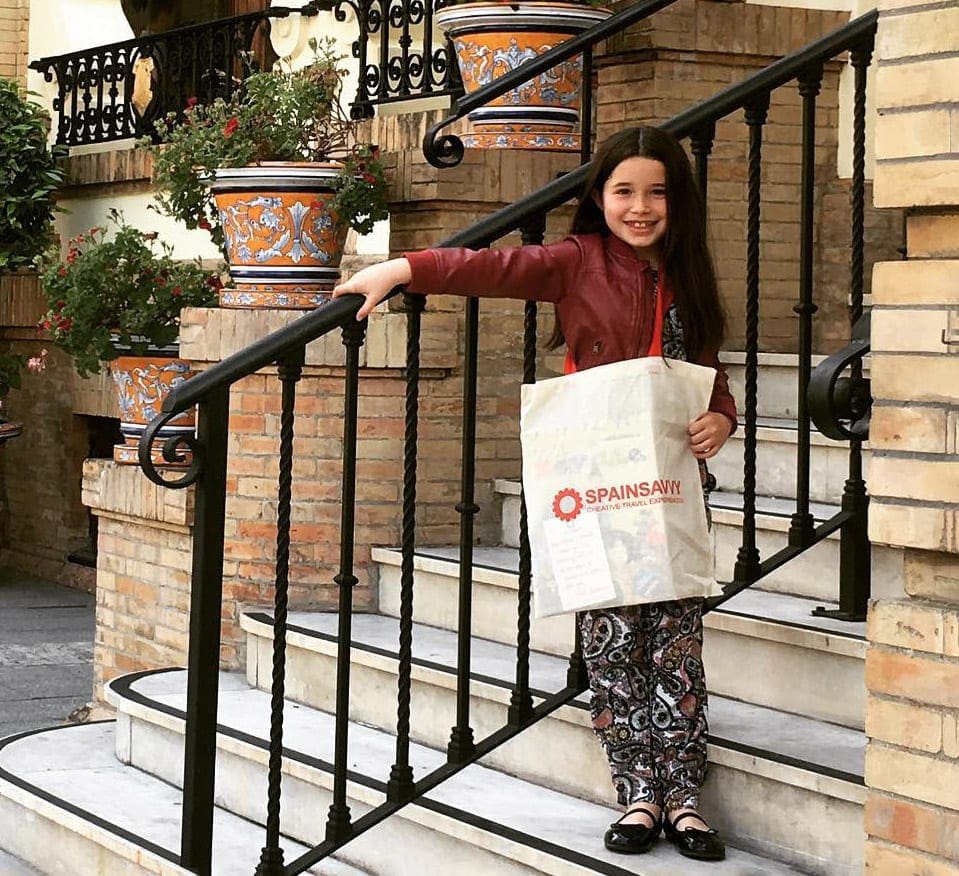 If shopping is on your family's agenda, there's plenty to go around in Seville. Treat yourself to a shopping spree or bring home a few souvenirs to remember your special trip! When you walk down Tetuán, Sierpes, and Cuna Street (right off of Plaza Nueva), you'll find countless storefronts to browse. All the tiny side streets radiating off house smaller shops and boutiques you might not find elsewhere in Spain too. This includes children's clothing, toys, books, and baby gear. A one-stop shop for anything you might need is El Corte Inglés in Plaza Duque, Spain's only department store. It even has a supermarket in the basement! If you want to bring wines, oils, or other culinary goods home, we suggest shopping at the stands in either the Triana Market or in the Encarnación Market (under the Setas). Or, visit Lama La Uva, just behind the Setas.
Seville is also great for affordable souvenir shopping. Some things tourists like to take back from a visit here are ceramics and fans, or mantones de Manila (they're the perfect throw for any formal outfit). If you're not looking for anything too fancy, you can find some at the souvenir shops in the monumental center. For superior quality mantones and hand-painted fans, however, there are few hidden spots. Make sure you stop by Juan Foronda on Calle Sierpes. Another off-the-beaten-path gift shop always a hit with visitors is El Jardín on Calle Francos, which features unique items handmade by local artisans. You'll find ceramics in this central shopping district as well. For a unique shopping experience, cross the bridge into the original ceramics district, Triana. There, you'll be able to visit workshops on Antillano Campos, Alfarería, Castilla, and San Jorge streets. Don't miss Cerámica Triana on Antillano Campos!

Happy Travels!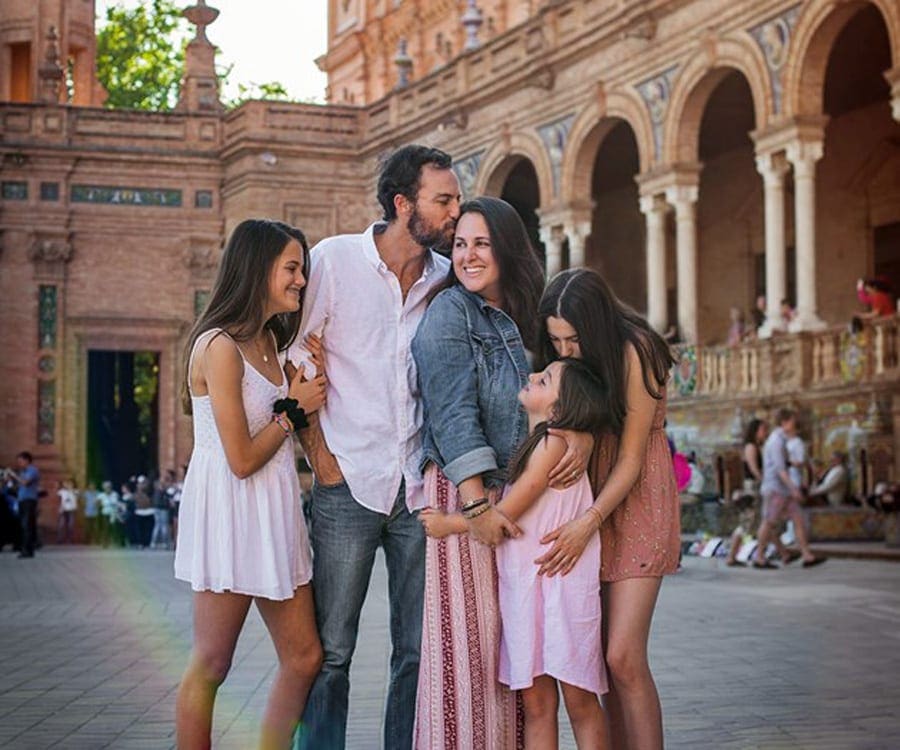 We hope you enjoyed this parent-approved list of Amazing Things To Do In Seville With Kids by our contributor Sarah Gemba! Seville is a wonderful city to introduce your children to Spain's cultural magic, and we're sure it'll impress all ages. Enjoy these things to do in Seville with kids on your family vacation in sunny Spain!
Find vacation rentals in the Metropolitan Area of Seville using Vrbo.
Written by FLT Contributor, Sarah Gemba. Sarah is the Founder and Principal Travel Designer at Spain Savvy, a boutique travel design company located in Seville. Originally from the U.S., she has been living in Spain for over 20 years and has three children of her own. She designs custom itineraries for families all over Spain and Portugal, and also works with trusted partners in Morocco, France, Greece, and Italy.
Unless otherwise noted, all images in this article were taken by and are courtesy of Sarah Gemba.
*Due to the COVID-19 pandemic, some of the locations in this article may be temporarily closed or may have reduced services. Please ensure availability and review any travel restrictions between your home country and Spain before making your decision and embarking on your family trip to Seville with kids.
READ NEXT
All About Adventures By Disney
Best Itineraries For Seville With Kids
Three Weeks In Portugal With Kids
How To Prepare And Involve Children In Travel Planning
*This post may contain affiliate links that may earn us a small commission, at no additional cost to you. Affiliate links in no way inform the hotels, sights, products, or other recommendations included in our articles. All opinions and recommendations expressed here are compiled from submissions submitted by the generous members of our Families Who Love To Travel community.
If you're looking for an amazing summer vacation destination, look no further than these Greek...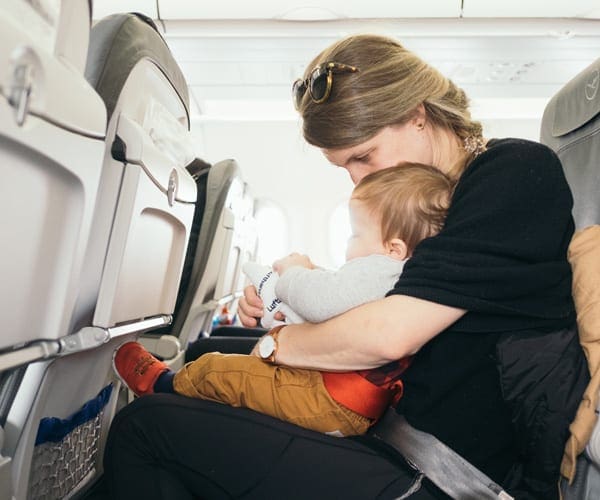 Families Who Love To Travel contributor Meghan Oaks provides her 10 best tips for your...