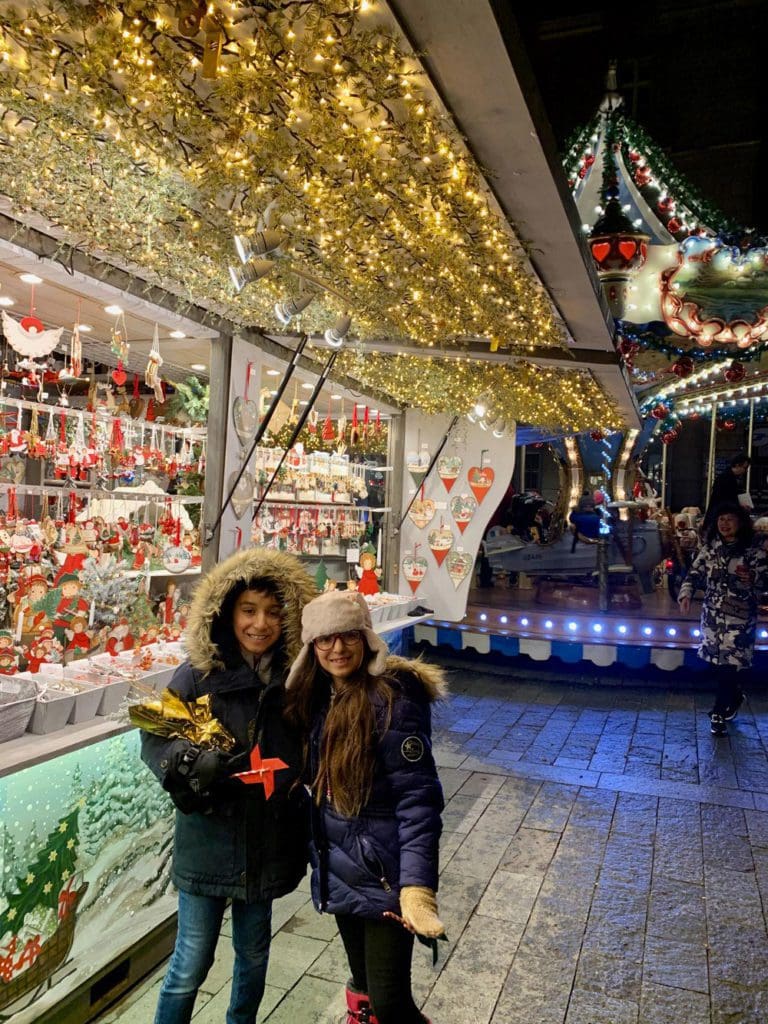 Wandering around admiring the twinkling lights, sipping on a hot beverage, and soaking up the festive cheer of the best Christmas markets in Europe is one of the quintessential reasons families spend the holiday season here. Between famous destinations in Germany or France and some lesser-frequented ones, you'll find a variety of different options to plan your next family vacation. Some markets are known for their never-ending food selection or their magnificent tree lighting ceremony. Others are filled with unique, handmade gifts and goodies. One thing is for sure: everyone in your family will love soaking up the Christmas Cheer that these markets bring! Whether you're planning on checking out a few different ones in the same country or hopping around Europe to compare, don't miss out on all the markets have to offer. Here's our list of the Best Christmas Markets in Europe for Families!
Best Christmas Markets in Germany for Families
Centuries-old traditions are alive and well in Germany, a country that originated many of the Christmas customs the Western world still follows today. As such, it's a great place to visit during the holiday season with your children! Here are our picks for the best Christmas markets in Germany for families!
RELATED: 9 Best Magical Christmas Towns In The Northeast To Visit With Kids!
Nuremberg Christmas Market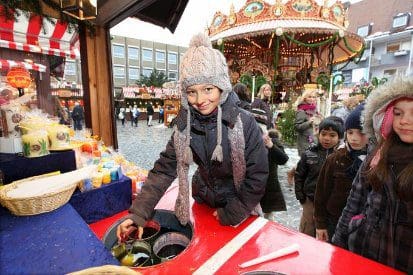 The Nuremberg Christmas Market is one of the most famous and oldest Christmas markets in Germany. It takes place in the Hauptmarkt, the central square in Nuremberg's old town, and spills over into adjoining blocks. Save your family shopping for when you visit, since it's brimming with toys, ornaments, and other handmade gifts. On top of that, find yummy fare all over the market too. Then, the Nuremberg Market is great for kids! In fact, there is a special Children's Market portion that features a massive carousel, a train ride, hands-on booths (like candle making and crafts), and fun games for kids. Your family will also enjoy the tradition of the Christkind, a Christmas ambassador that is elected every 2 years and often makes appearances at this market.
Passau Christmas Market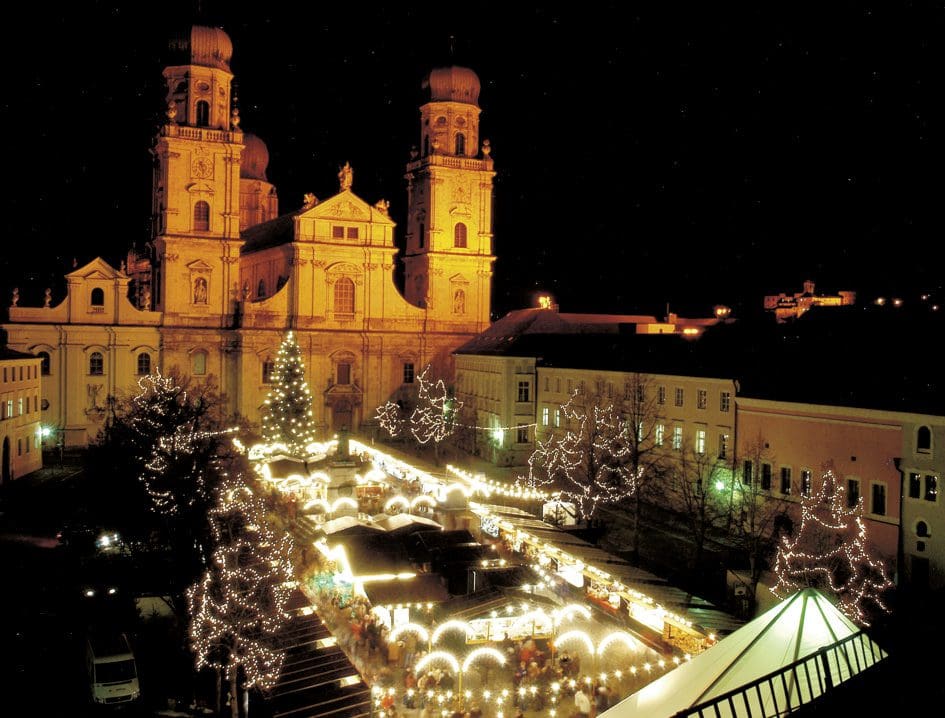 The Passau Christmas Market is one of the best European markets for families. This historic border town is a great stop in Germany with kids. Find the market set against the backdrop of St. Stephen's Cathedral in Passau's historic town center. Shop more than 70 vendors selling goods and other crafts, perfect for bringing home a few souvenirs from your trip. Then, listen to local music and art performers as you stroll through the lavishly decorated stalls in search of the perfect gifts. Be sure to grab some traditional Christmas food, like gingerbread cookies or Bratwurst, aka fried sausage. Passau also boasts having Bavaria's longest unbroken stretch of Christmas lights, so you and your kids are sure to be dazzled by this experience! Finally, don't miss special family events like puppet theater!
Get inspired by our offers and fly with Lufthansa again to the most beautiful destinations worldwide.
Munich Christmas Market

Since it's one of the largest, it's no surprise the Munich Christmas Market is one of the best Christmas markets in Europe for families. Located in the old town at the Marienplatz, the city's central square. This famous market also has kid-friendly activities to enchant younger travelers. Enter the Christmas tree height guessing competition, since the huge, illuminated tree is one of the most photographed sights here. Kids can even write a letter to Christkind (the child of Christmas). Or, make your own holiday crafts at the Himmelswerkstat (Heavenly Workshop), a special craft area just for kids. If you want to experience the whole market, including the various stalls selling goodies, you may need to come back a couple of times due to its size.
In Munich, book your tour of Neuschwanstein Castle, the inspiration for Disney's Cinderella Castle, through Getyourguide.com today!
Rothenburg ob der Tauber Christmas Market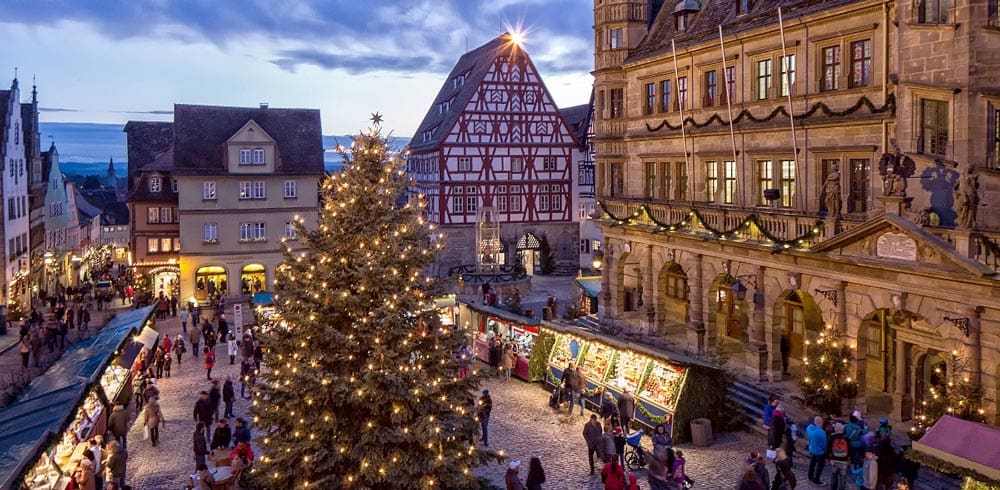 The Rothenburg Christmas Market is sure to put your family in the Christmas spirit. Not only is it one of the oldest Christmas markets in Europe, but it's also set against a one-of-a-kind backdrop in Rothenburg's Old Quarter. With the year-round Christmas Village and Christmas Museum, this town knows how to do Christmas, and its yearly Christmas Market is impressive. Though the market is a bit smaller, it's more walkable and better for little kids. Families can shop for knick-knacks at their own pace, browsing all the stalls selling Christmas gifts. A major plus is that Rothenburg is a medieval-style town with tall town walls to explore around the market. Your kids will love the sweet treats and festive decorations, but they'll also love running around like knights in this unique city! 
Cologne Christmas Market
The Cologne Christmas Market is, without a doubt, one of the best Christmas markets in Europe for families. Nestled up against the breathtaking Cologne Cathedral, one of the tallest cathedrals in the world, this market will have you and your family in awe your entire visit. Colorful strings of light decorate the streets as the smell of delicious German food fills the air. You'll love the intricate décor and thoughtful atmosphere as you stroll around to find the perfect holiday treat at one of the many food vendors and purchase those last-minute gifts that you're looking for. Your kids will love the ice-skating rink that is nearby, too! Together, families can also visit the Village of St. Nicholas, set on the Rudolfplatz in the city center. Enjoy a special children's workshop with painting and more handicrafts.
Get back on track with Eurail. Start planning your European rail trip today!
Best Christmas Markets in Austria for Families
Christmas in Austria will be an adventure for the entire family. Between the tradition of the "Krampus," lots of gingerbread cookies, and other fun Christmas customs, we're sure you'll have a blast. Check out these Christmas markets in Europe for families!
RELATED: 12 Magical Christmas Towns in the U.S. for Families
Vienna Christmas Market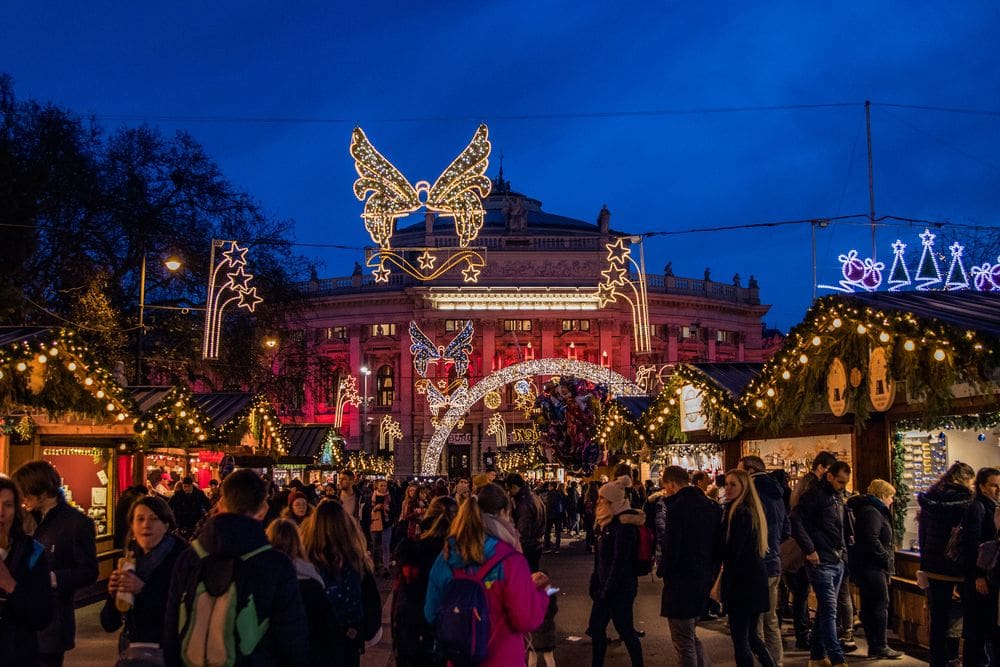 Take your next family vacation to the Vienna Christmas Markets! Though there are a lot of holiday markets throughout the city, the biggest and most popular is located on the Rathausplatz, the square in front of the town hall. It features over 150 bustling stalls, so you'll find plenty of shopping and dining opportunities. Next to the market, families can also visit the adjacent park complete with light sculptures and other fun surprises. If that wasn't enough, kids will love the kid-centric activities in the town hall, like cookie decorating and candle making. The Vienna Christmas Market features a jam-packed performer schedule as well. As you're exploring, you'll hear the cheery sounds of singers, instruments, and choirs. Don't be afraid to dance along!
Reserve a Classical concert or a tour of Schonbrunn Palace, a UNESCO World Heritage Site, through Viator!
Salzburg Christmas Market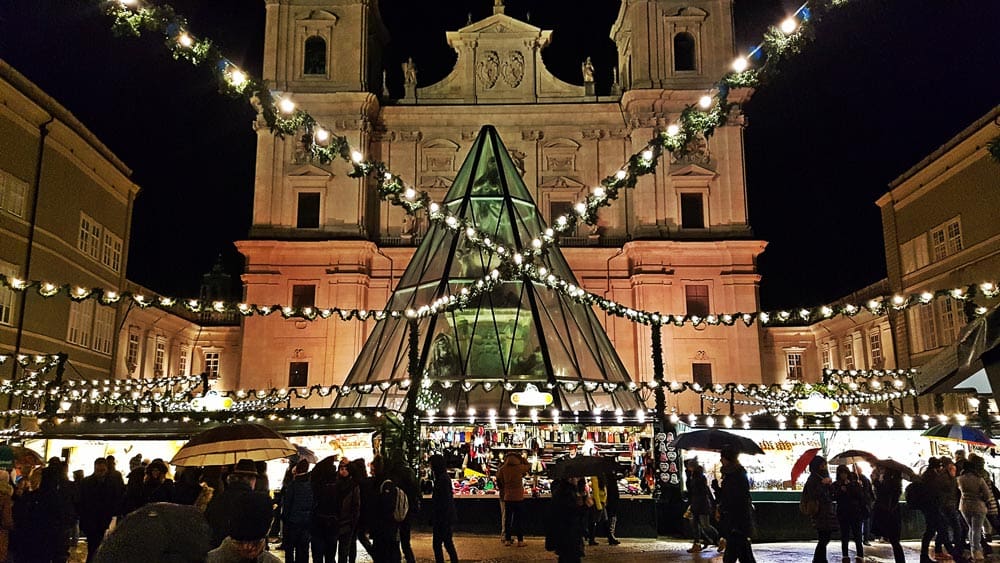 Experience the enchanting Salzburg Christmas Market! Situated at the foot of the Hohensalzburg fortress near the Cathedral of Salzburg, this market is unique because of its expansive twinkle lights floating in the sky. It also features memorable experiences for young visitors of all ages, in addition to crafts, toys, and other market booths. Enjoy a weekly reading with "Christ Child" on Wednesdays and singalongs on Saturdays. For the parents, this market's mulled wine is sure to impress. It's hot, spiced well, and will keep you coming back for more. If you're in a pinch for gifts, you'll be sure to find wonderful trinkets and goods to give from one of the 95 stalls at the market, offering a wide range of items. No wonder this is one of the best Christmas markets in Europe for families!
Look here to book your tours in Salzburg (especially The Sound of Music Tour) with Getyourguide.com.
Innsbruck Christmas Market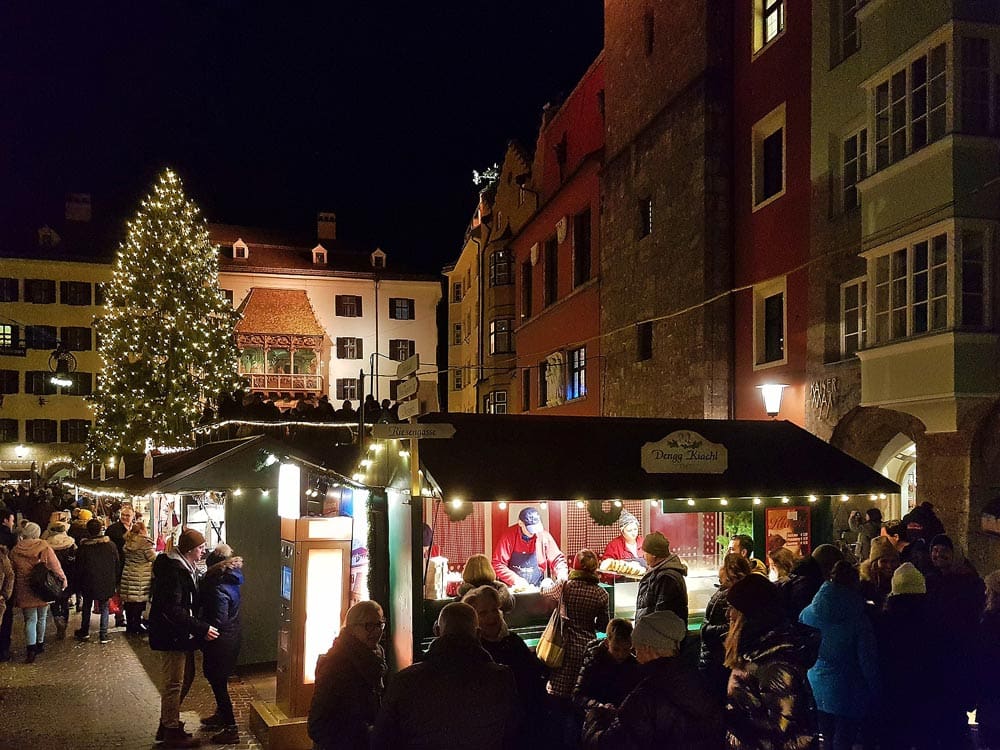 The Innsbruck Christmas Market at the Market Square is also one of our favorite Christmas markets in Europe for families. With the city's famous 'Golden Roof' and other Medieval-style buildings as its backdrop, you'll find this spectacular market in the Innsbruck Old Town Square. Snow-covered buildings in the background, glowing from the light of the market decorations, will set the scene perfectly during your vacation. In addition to shopping, it also has some family-friendly activities. Your children will also love the events curated just for them, including puppet shows and storytelling. Of course, the real treat is the carousel in the center of the market that adds the perfect amount of charm to the experience. Don't forget to grab some carefully crafted holiday sweets before you head out!
Linz Christmas Market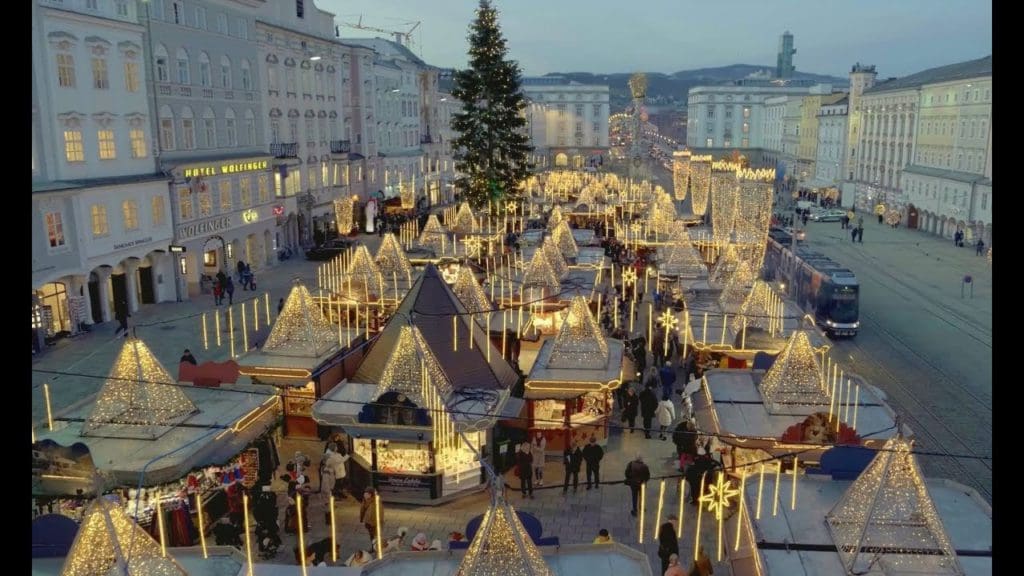 For an experience that will be as educational as it is festive, head to the Linz Christmas Market. Surrounded by Baroque-style architecture, it's located in the Main Square. Your entire family will love getting to watch the craftsmanship on display at the market; you can quite literally watch the production of some of the products sold at the market! Whether you want to see how a horseshoe is made or want to watch someone paint a masterpiece, you'll love getting to see the market talent firsthand. There are also fairy tale huts throughout the market that have moving fairies and characters inside. Kids will love exploring and seeing how many they can spot while parents go shopping. This will be a Christmas tradition you won't soon forget!
Best Christmas Markets in Denmark for Families
Christmas is an especially cheerful season in Denmark. Expect lots of dancing, great food, and to see cobblestone streets decorated with twinkling fairy lights. If you're searching for the best place to experience the holiday season in Denmark, here are our favorite Christmas markets in Europe for families!
RELATED: 11 Hot Places to Visit in December that Families Will Love
Copenhagen Nyhavn Christmas Market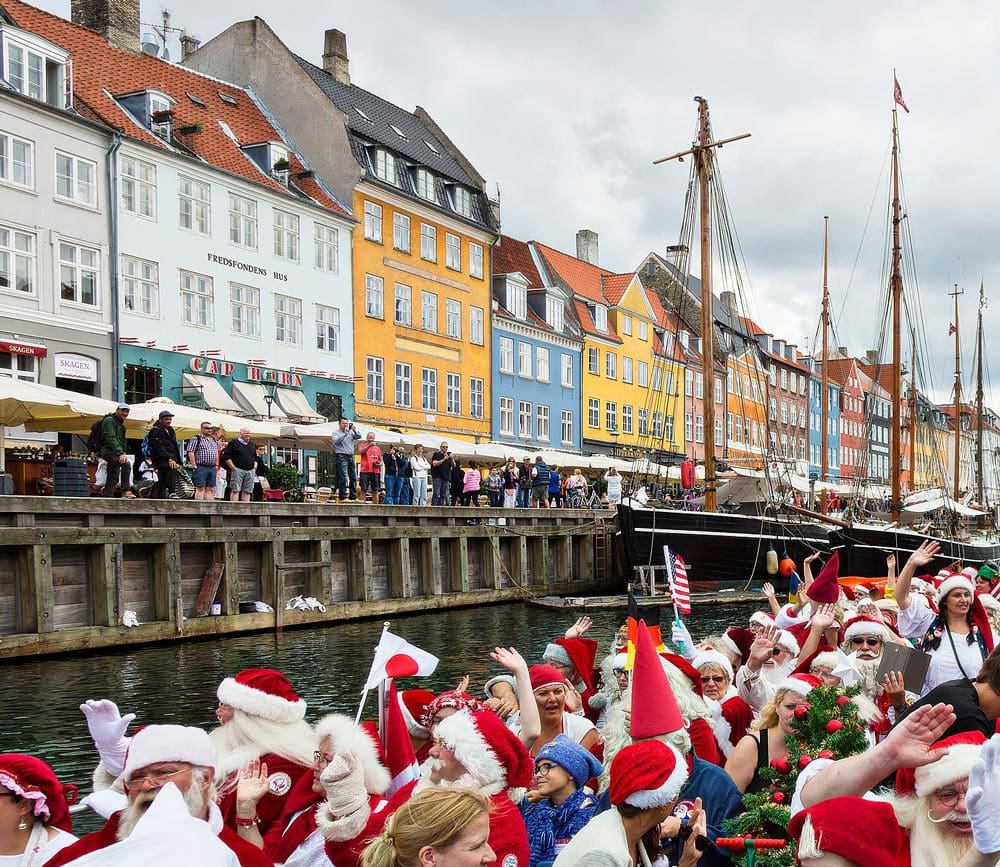 One of the most famous spots to photograph Copenhagen is Nyhavn, an iconic row of colorful houses along the water. When the weather gets cold and the snow starts to fall, Nyhavn transforms into a beautiful Christmas Market! There are lots of markets throughout the city, but the Nyhavn Christmas Market is surely one of the more unique ones. You definitely won't want to miss it this year! Not only is this picturesque spot is a great place to take family pictures, but there are lots of things to do too. Stalls are situated along the pier, and usually, live Danish music plays too. Kids and adults alike will love the sweet treats found throughout the market, as well as the various souvenirs, crafts, and other unique fits. Adults will definitely need a glass or two of mulled wine to wash them down!
Purchase tickets to Tivoli Gardens or perhaps a 1-hour Canal Cruise here through Getyourguide.com!
Tivoli Christmas Market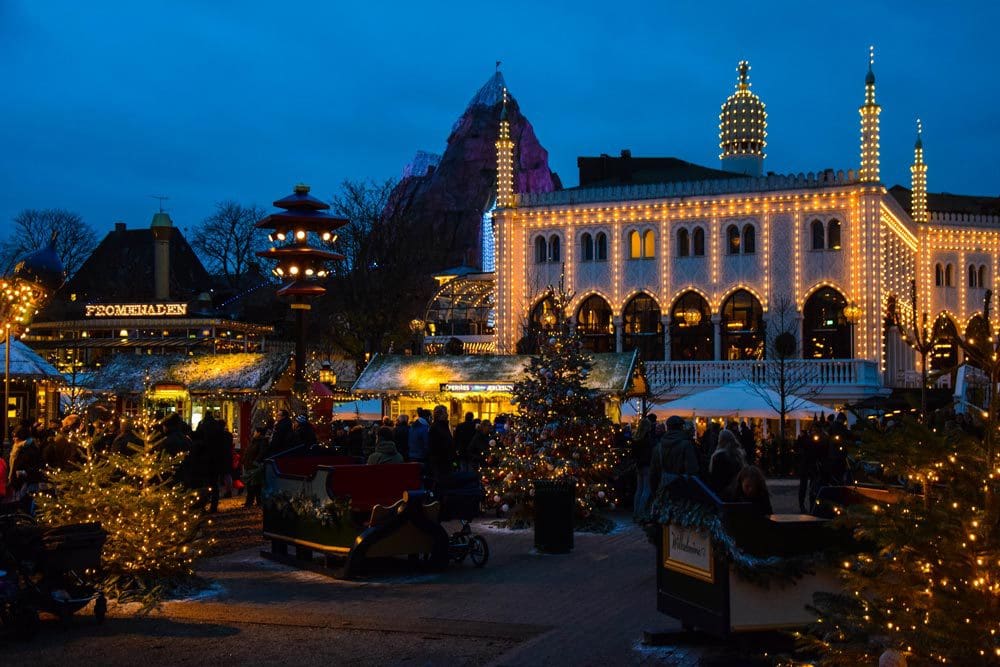 If you can only make it to one Christmas Market in Denmark, your kids will love Tivoli Christmas Market more than any other. Any other day of the week, Tivoli is an exciting theme park for all ages. But it becomes extra magnificent at Christmastime. Watch thousands of vibrant lights twinkle throughout the park and above the splendid Tivoli Lake. You'll spend your time moving through the park to different rides and stopping to enjoy the decorated wooden houses. Be on the lookout for Santa's reindeer as you explore the grounds. There's even a chance that kids can meet Father Christmas if you visit before December 24th! Nightly live music and delicious desserts await you as well.
Best Christmas Markets in France for Families
Heading to France for Christmas? You're in for a real treat! Festive cities throughout the country celebrate the season with sweets, tree-lined pedestrian streets, and of course, Christmas markets! Stay tuned for more information on the best Christmas markets in France for families!
Strasbourg Christmas Market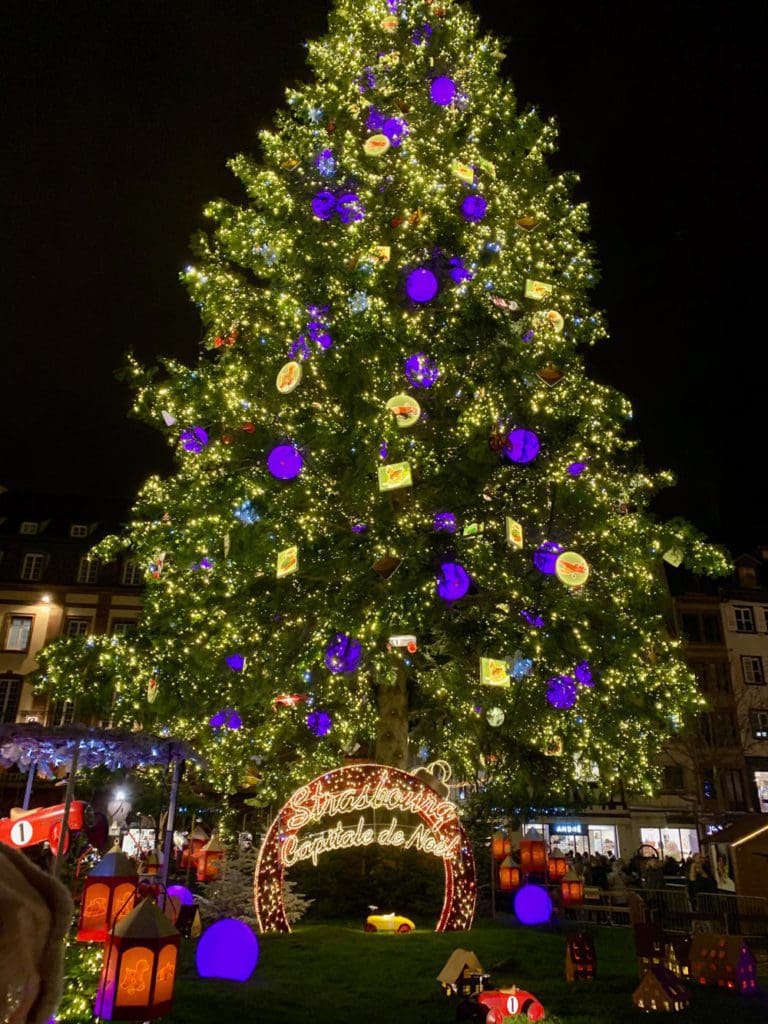 Strasbourg Christmas Market takes the title of "France's Oldest Christmas Market," and it doesn't disappoint. After all, this city calls itself the "Capital of Christmas" for a reason! Located at ​​the Grande Île near Strasbourg Cathedral and Place Kléber, there are over 300 stalls and vendors at this famous market. Your eyes will light up with excitement over all the amazing things you can purchase! Family-friendly activities include live concerts, craft workshops, and more. Another one of our favorite features of the Strasbourg Christmas Market is that it does its part to do good during the holiday season. The market features a "Village of Sharing" that is supported by a humanitarian group and meant to spread Christmas cheer to those in need. Show your kids what Christmas is all about!
Check out various things to do in Strasbourg with Getyourguide.com here!
Colmar Christmas Market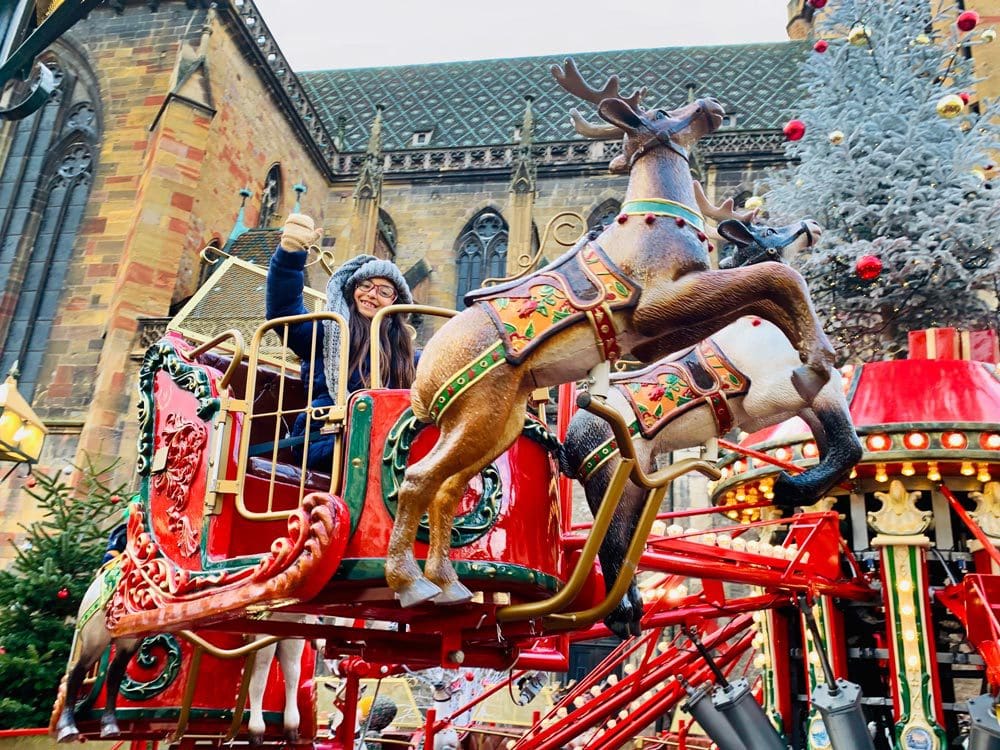 The Colmar Christmas Market is another one of the best Christmas markets in Europe for families. Located in the historic town center, it's one of six in the whole city, so you'll be able to find lots of kid-friendly activities here. In fact, there's even an ice skating rink nearby! If you can't keep the little ones busy enough with chocolates and other holiday sweets, help them expend some energy by stopping at an interactive nativity scene, petting a farm animal, or playing a children's game. Colmar knows the importance of keeping all ages happy at the Christmas Market, and they take that responsibility seriously. Be warned, the markets do end a bit earlier in the evening than most others in Europe, but with little kids, that shouldn't be a problem.
Additional Great Christmas Markets in Europe for Families
If you want to venture beyond the beaten path into a lesser-frequented market in Europe, there are plenty of options for that too. Here are our picks for some other Christmas markets in Europe for families!
RELATED: Review: Suvretta House For The Perfect Family Ski Vacation
Bratislava Christmas Market, Slovakia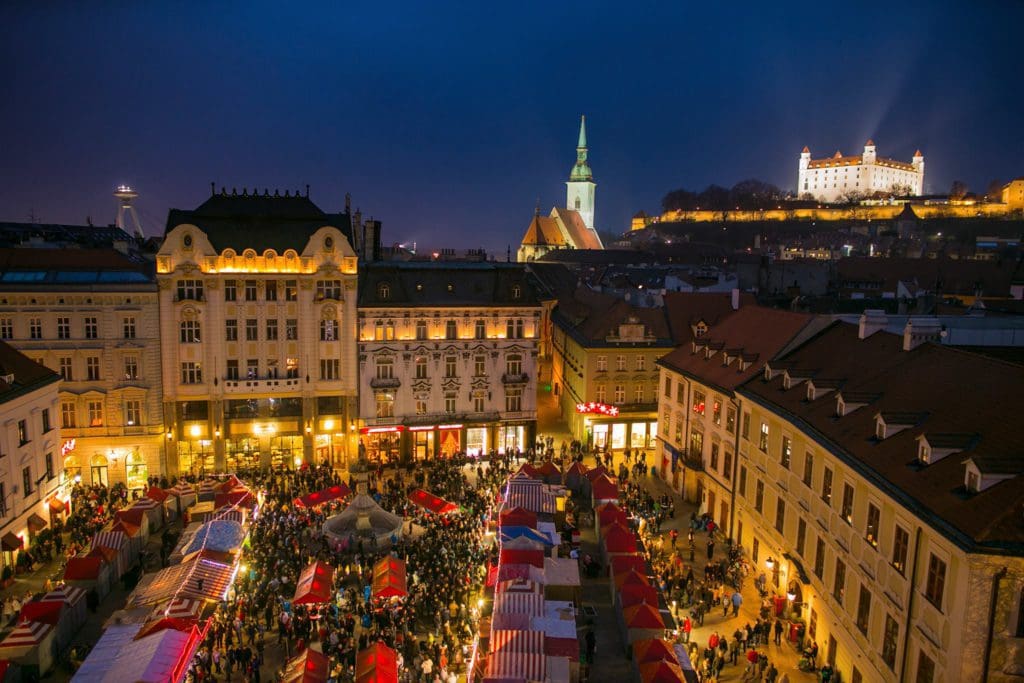 Add the Bratislava Christmas Market in Slovakia to your winter bucket list, especially from November 26th through December 22nd. Bratislava in the winter is something else – it looks like a scene straight out of a Christmas book! Located at the Main Square and Hviezdoslav Square, The Bratislava Christmas Market captures the magic of the season with its many decorated stalls and glowing streets. Your kids can enjoy ice skating as well. If you're a big foodie family, don't miss the plethora of desserts here. Try a chimney cake filled with Nutella, Lokša, sweet and savory pancake, and other yummy goodies. Visit this market during the day if you need to shop as the stalls will be a bit less crowded. If you're looking to get the full experience with everything sparkling from the Christmas lights, it may be best to wait until the evening.
Book a Bratislava food tour or a historical post-communism tour through Viator here!
Zagreb Christmas Market, Croatia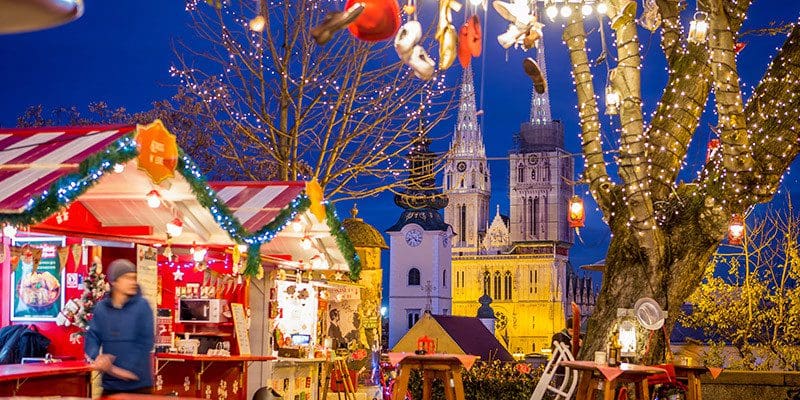 Want to see another side to the best Christmas markets in Europe for families? Visit the Zagreb Christmas Market in Croatia. Located in Ban Jelacic Square, this Christmas Market won the title of "Best Christmas Market in Europe" two years in a row! You can't win that award without good reason; the Zagreb Christmas Market is something to marvel at and definitely worth a visit. First off, Croatia is splendid, and the Christmas spirit does something to push Zagreb into a magical oasis of Christmas. This market has some of the best hot food options and shopping choices on the continent. What makes it stand out, especially for kids, are the 3D art installations. Some are even interactive! Families will love exploring everything this dynamic destination offers for a few hours.
Reserve your tour through Viator of Plitvice Lakes National Park, a world UNESCO World Heritage Site!
Happy Travels!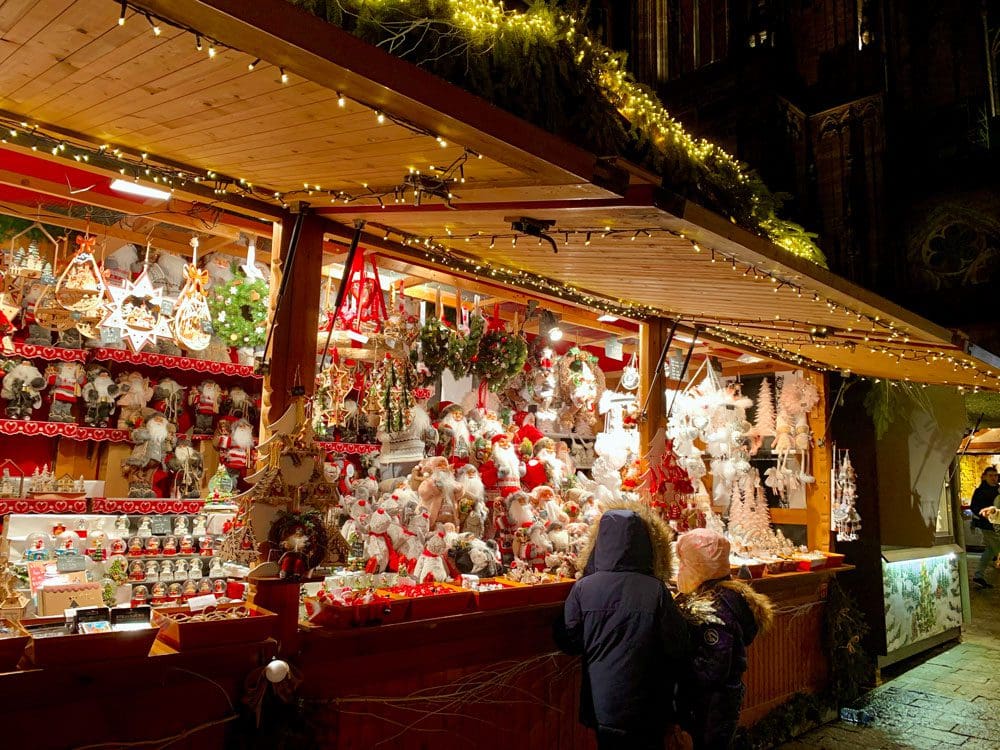 We hope you liked this list of the Best Christmas Markets In Europe For Families! No matter how old you are, once you set foot in one of these winter wonderlands, you'll be transported to a time in your life where there were no worries, only excitement. Let your nose, eyes, and ears guide you, you'll experience some of the best tastes, smells, sights, and sounds that are on this planet. Christmas Markets make for a great family memory, but it's the spirit of the holiday season that makes great memories no matter where you are!
*Due to the COVID-19 pandemic, some of this list's attractions, accommodations, or things to do may be closed. Please ensure availability before making your decision.
*This post may contain affiliate links that may earn us a small commission at no additional cost to you. Affiliate links in no way inform the hotels, sights, products, or other recommendations included in our articles. All opinions and recommendations expressed here are compiled from submissions submitted by the generous members of our Families Who Love To Travel community.
READ NEXT: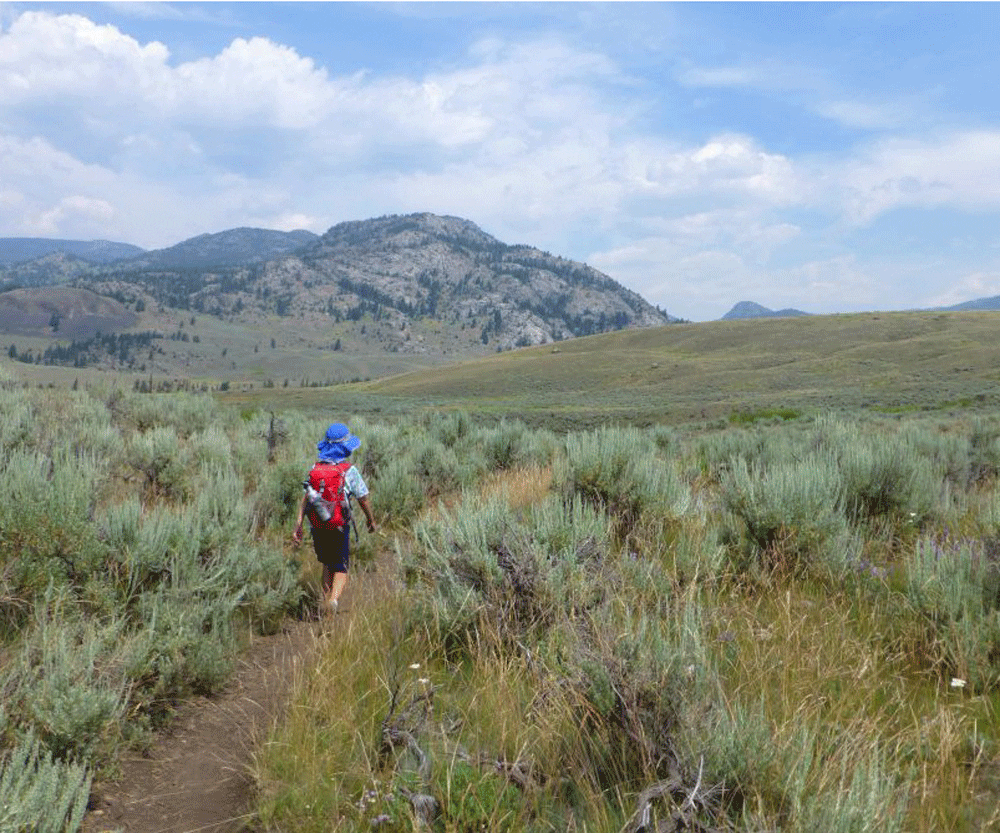 Everyone knows that Yellowstone National Park makes for a classic family vacation. Strolling the boardwalks...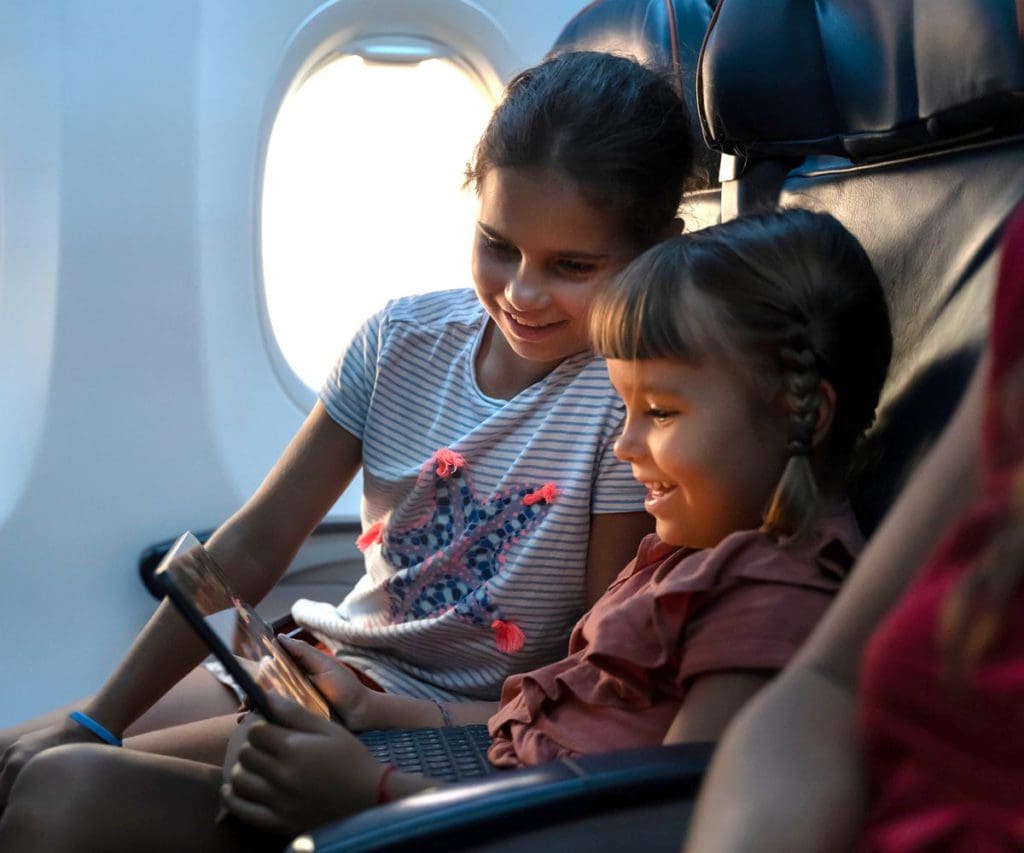 As parents, we're always looking for fun ways to keep our kids entertained while traveling....