There are so many things to do in Costa Rica with kids! With activities for all ages spanning coast to coast, families visiting this charming Central American country are in luck. Costa Rica offers travelers a perfect mix of beach and outdoor activities, and the most popular sights are within reach via car. That means it's easy to enjoy a luxury stay at your accommodation, while also immersing yourself in the local culture! From adventure sports to visiting famous landmarks like La Fortuna Waterfall and the Arenal Volcano, you'll find plenty to fill your vacation days here. Animal lovers visiting Costa Rica will be amazed at all the opportunities to spot wildlife too, between sloths, turtles, and rare birds! To start planning your own Costa Rica itinerary, take a look at our parent-approved suggestions on where to bring children.
Costa Rica is comprised of seven regions, called administrative provinces; Alajuela, Cartago, Guanacaste, Heredia, Limón, Puntarenas, and San Jose. We've designed this list to highlight a few regions and show you the best kid-friendly activities in Costa Rica found within them! Additionally, we have included nearby family-friendly hotels in each area so that you can maximize your stay based on where you want to explore. Here's our list of 15 Amazing Things to Do in Costa Rica with Kids!
Looking to book a family-friendly tour in Costa Rica? Find great options using Viator or today!
Alajuela Province with Kids
Located in Alajuela Province, you'll discover the beauty of La Fortuna de San Carlos (or, La Fortuna for short). This small Costa Rican town is one of the country's most famous locations. It's nearby the capital San Jose, and provides a gateway to some of Costa Rica's best attractions, like the Arenal Volcano and La Fortuna Waterfall. In fact, many of these iconic sites also offer night tours to give travelers a new perspective on Costa Rican wildlife! Be sure to stop here during your Costa Rica family vacation, even if it's just for a day! Here are our favorite family-friendly recommendations for things to do in La Fortuna with kids.
RELATED ARTICLE: Best Costa Rica Resorts & Lodges For A Family Vacation (All-Inclusive Included)
Where to Stay in Alajuela Province
Want to situate your home-base in Alajuela Province? Our families have compiled their favorite kid-friendly hotels in Costa Rica to help you find the perfect spot! For a truly unique stay, check out Tree Houses Hotel Costa Rica. Your kids will adore sleeping in the canopy of the Costa Rican jungle! Offering stays throughout Costa Rica, most of them reside near La Fortuna. Plus, you'll have three treehouse styles to choose from, including "the family", a one-level treehouse situated for maximum privacy and accommodating up to 6 people.
Want immediate access to healing hot springs? Book your stay at The Springs Resort and Spa. With hot springs featuring various temperatures, including one with a slide, your kids won't want to leave this Costa Rican paradise! Finally, the Peace Lodge offers a boutique hotel experience within the iconic La Paz Waterfall Gardens Nature Park!
shrsl_ShareASale_liveWid_Init(42494, 2398478, 'shrsl_ShareASale_liveWid_leaderBoard_populate');
Things to Do in Alajuela Province with Kids
Here are eight amazing things to add to your Alajuela Province bucket list while exploring Costa Rica with kids. Want local tips and personalized advice for your trip to Costa Rica? You can also connect with Jorge from Go Ask A Local! He's a local guide based near Arenal who works all over the country and offers trip planning consultations.
Enjoy the Scenery at Mistico Hanging Bridges Park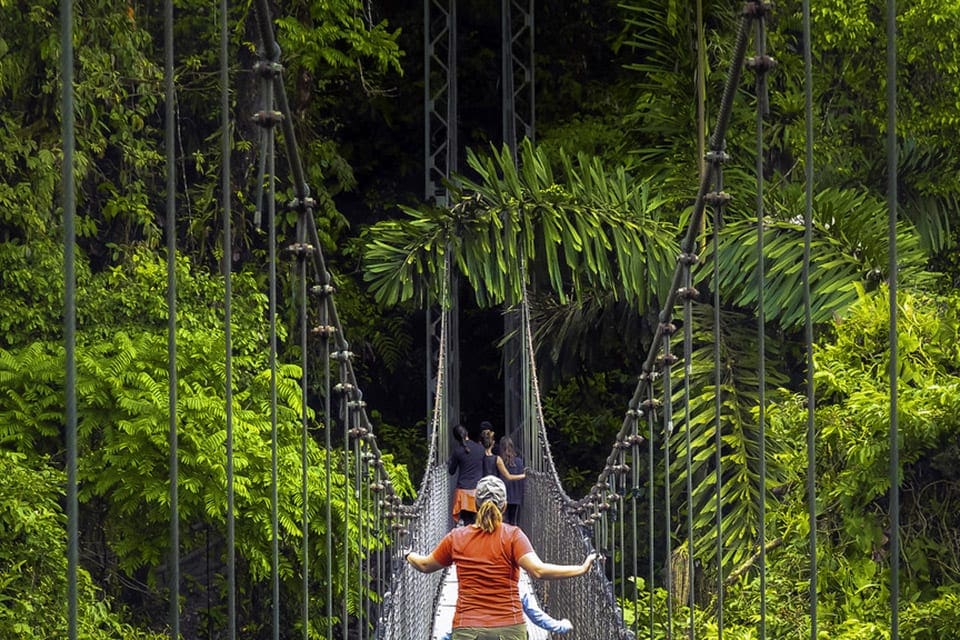 An amazing adventure awaits your family at Mistico Hanging Bridges Park! Located between a lowland, a forest, and a highland, this La Fortuna park combines several different ecosystems to create beautiful biodiversity. Be sure to snap a photo of the signature hanging bridge overlooking a scenic lake, providing visitors with spectacular views of the surrounding area!
Aside from the famous hanging bridge, the park also boasts some of the best things to do in Costa Rica with kids. Take kids on a bird-watching tour or a hike through the forest with a knowledgeable wildlife specialist. Daredevil children may even enjoy a guided hike toward the Arenal Volcano, one of the most famous landmarks in the country. Though a guide is recommended, it's also doable to try it self-guided, if you're looking to save some money. Just remember to enjoy the area with your family! Buy your Mistico Hanging Bridges Park tickets now for your next family vacation before it's too late!
You can also book a tour of Mistico Arenal Hanging Bridges Park using Viator.
Take a Treetop Adventure at Arenal Ecoglide Park
Experience Costa Rica from the treetops at Arenal Ecoglide Park! Located in San Carlos, this family-friendly destination is ideal for adventurous kids. With activities for younger children, tweens, and teens alike, the outdoor activity center boasts a double cable system for its zip-lining and a few free-fall experiences. Parents can rest assured knowing their children are in safe hands! However, keep in mind most activities here are available for kids over the age of 5.
We suggest booking a package to try a bit of everything. With a canopy tour, you'll be able to conquer 14 platforms and 12 canopy cables located throughout the trees, concluding with a ride on the Tarzan swing. Precautions will be explained at the "cable school" before any action. In the end, you can enjoy a complimentary drink while looking through the professional photos taken during your visit!
Experience stunning wildlife in a tropical rainforest. Costa Rica Vacation Rentals.
Visit the Butterfly Conservatory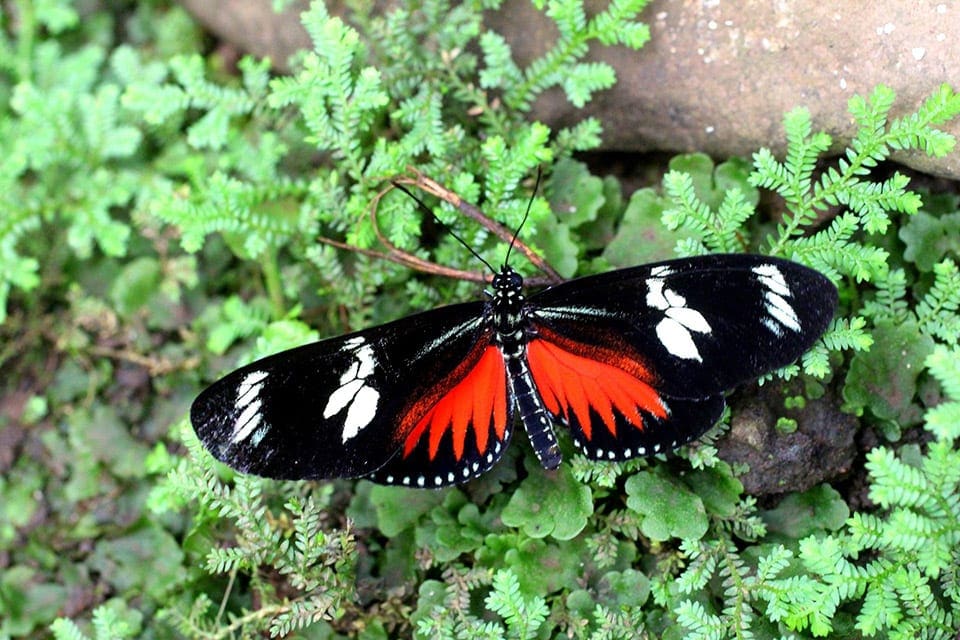 An afternoon at The Butterfly Conservatory is one well spent! For families who have animal lovers, this is a must-visit destination in Costa Rica. Located in the small town of El Castillo, it's a short drive away from La Fortuna, making it convenient to add to your itinerary. The Butterfly Conservatory focuses on preserving butterflies and other tropical rainforest species of the Arenal region.
Luckily, you can learn more about them by taking a tour of the property with your children! Book a kid-friendly Metamorphosis Tour and you'll wander through diverse exhibits about frogs, butterflies, and other insects, highlighting how wildlife endures in Costa Rica's natural environment. Kids can also take the Rainforest River Walk along the creek running through the property, where you'll spot sloths, monkeys, toucans, and parrots. With views overlooking the Arenal Lake, end your visit at the gazebo, surrounded by peaceful hummingbirds.
Skip the Line: The Butterfly Conservatory Admission Ticket with Viator.
Stroll through La Paz Waterfall Gardens
Wander through scenic landscapes at La Paz Waterfall Gardens! Part nature park, part animal sanctuary, this family-friendly attraction is like a mini Jurassic Park (without the dinosaurs!). It's also located in Costa Rica's Alajuela province, near the San Jose Airport. You can easily spend a full day here just walking through the lush gardens and stunning waterfalls. Beginner hiking trails are well paved, making it easy for children to toddle along and explore. Information spread throughout the park will provide some contextualization of Costa Rican culture, too.
If you book a tour through the park, kids can learn about an array of local wildlife. Remember to keep an eye out for jungle cats, sloths, monkeys, and frogs along the way! There's also a butterfly garden for children. Buy a meal with your entrance ticket and your experience will conclude with a delicious lunch at Trout Lake.
Book La Paz Waterfalls Gardens (Half day) tour with Viator.
Hike to La Fortuna Waterfall
The La Fortuna Waterfall is one of Costa Rica's most stunning geological wonders. Located just outside of La Fortuna, kids can come here to swim, picnic, or take pictures. It's definitely a must-visit in Costa Rica! Visitors of all ages come from far and wide to take a dip in the crystal clear waters, reaping the health benefits in the process. Flowing from about 250 feet, the waterfall is uniquely located on the base of Costa Rica's dormant volcano, Chato.
The trail to get there is set along a forest and pasture, so kids can spot toucans, parrots, and other wildlife along the way. This journey is truly one of the best things to do in Costa Rica with kids. Once you arrive, the area's beauty will astound you. Remember to bring bathing suits, and if the waterfall is too crowded, there are nearby pools that offer the same effect.
Book La Fortuna Waterfall Guided Hike using Viator.
Appreciate the Arenal Volcano
Appreciate the Arenal Volcano during your family vacation to Costa Rica! Towering over the nearby town of La Fortuna, it's the most well-known volcano in Costa Rica. However, it hasn't been active since 2010, so families can still tour its grounds and learn more about its history! The Arenal Volcano is located within Arenal Volcano National Park, which offers visitors a chance to familiarize themselves with the area with the help of a park ranger.
Roam through forests, lava fields, and wander by Lake Arenal! While you can't hike directly toward the volcano, your family can venture around the various ecosystems in the area to experience the park. Three main rivers near Arenal provide the perfect setting to go white water rafting, for example. There are also rock rappelling or canopy tours for older or more adventurous kids. End your visit at the nature sanctuary set near the Nicaraguan border!
Reserve Arenal Volcano National Park Tours and Activities using Viator now.
Climb Up Observation Tower At The Arenal Observatory Lodge & Spa
Families visiting the Arenal Volcano will love the Arenal Observatory Lodge and Spa. As the only hotel within Arenal Volcano Park, you can't beat the amazing views here. The area is a natural wonderland surrounded by creeks, rivers, and waterfalls. For the best overlook, be sure to climb up the hotel's 92-foot-tall observation tower in the middle of the rainforest. With 360-degree panoramas of Lake Arenal, Cerro Chato, and the Arenal Volcano, it'll be the highlight of your visit!
Families staying at the hotel can also get a free guided tour of the property, including information about its beautiful flora and fauna. Kids can even watch hummingbirds flock to the bird feeder stationed outside the hotel's restaurant! They'll also love spotting unique wildlife such as toucans, wild turkeys, red-eyed tree frogs, and spider monkeys. Plus, there's a museum on-site detailing the history of the Arenal Volcano.
Relax in the Hot Springs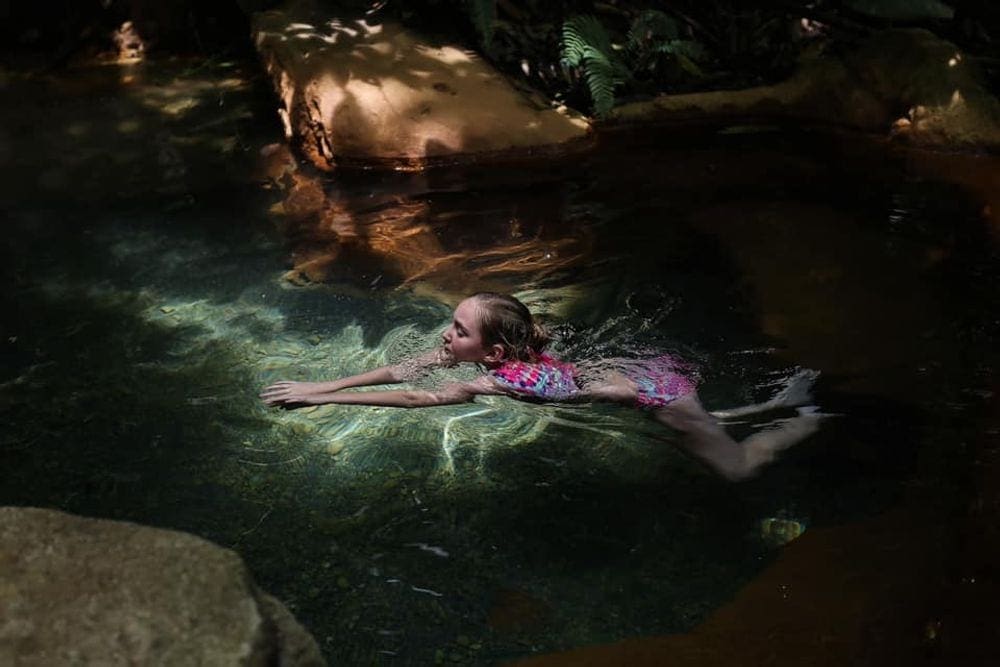 Due to an immense amount of thermal activity, Costa Rica offers a variety of hot springs for families to enjoy! In fact, hot springs in Costa Rica come in a variety of different sizes, shapes, and temperatures. This means your family can find the Goldilocks of hot springs to relax and rejuvenate while vacationing in Costa Rica. First, our families recommend The Springs Resort and Spa. As one of the best hot springs in Costa Rica with kids, you'll have access to great views of the Arenal Volcano while soaking in temperatures ranging from 83 degrees Fahrenheit to 104 degrees Fahrenheit.
Plus, kids will love the exciting on-site water flume called the Monkey Slide. Additionally, Arenal Springs Resort & Spa is another parent-recommended option for enjoying hot springs in Costa Rica. Offering a more authentic feel than some accommodations, families will love relaxing in hot springs surrounded by tropical gardens.
Puntarenas Province with Kids
Puntarenas Province is home to Quepos, a tiny town on Costa Rica's Pacific Coast. Famous for its white-sand beaches, native squirrel monkey population, and wonderful views, it's best known as a way to access the famous Manuel Antonio National Park. Here are our recommendations on how to explore this stunning natural area as a family!
Where to Stay in Puntarenas Province
Need a home base near Manuel Antonio National Park? We've got you covered. Arenas Del Mar Beachfront & Rainforest Resort provides the best of Costa Rica at your fingertips. From beach access with loungers and umbrellas to resident monkeys and sloths to quick access to some of the best hiking in Costa Rica, a stay here will lead to a divine balance of adventure and relaxation. Plus, this beachfront luxury resort also offers spectacular dining and friendly staff.
Then, your family may also enjoy Tulemar Resort. This gated, residential resort is centrally located in Manuel Antonio. Plus, the property's hiking trails will ensure you and your kids can spot monkeys, sloths, and exotic birds during your stay! Tulemar Resort offers bungalow-style accommodations, as well as privately owned vacation homes available for rent.
Things to Do in Puntarenas Province with Kids
You can't leave Puntarenas Province without checking Manuel Antonio National Park off your Costa Rica bucket list!
Explore Manuel Antonio National Park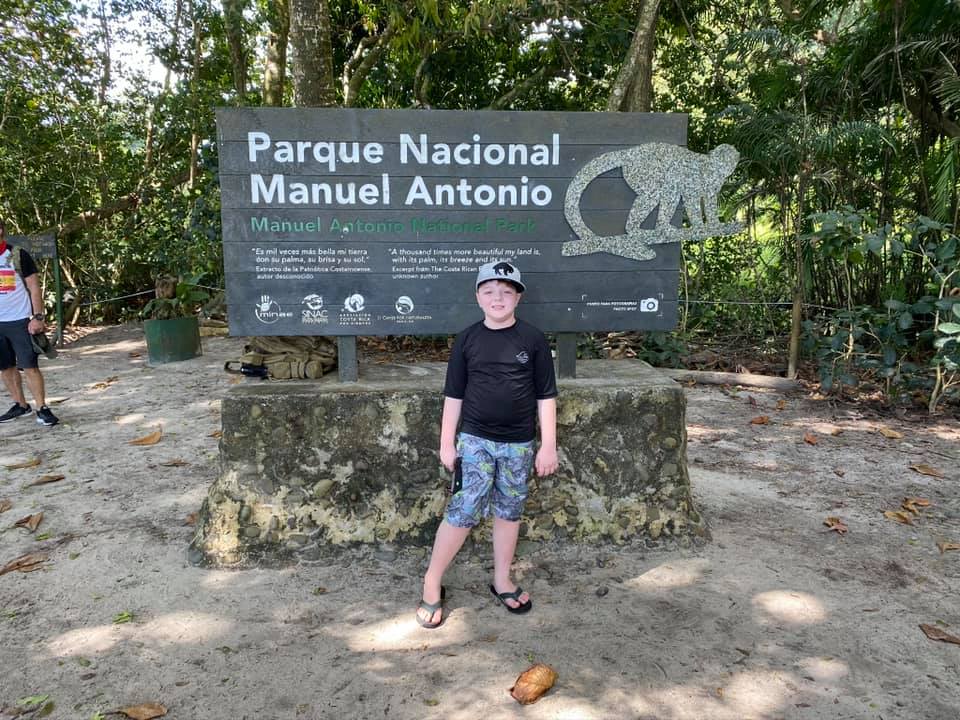 Manuel Antonio National Park is a stunning showcase of Costa Rica's natural beauty. Located in Quepos along the country's Pacific shore, this expanse encompasses rugged rainforest, white-sand beaches, and colorful coral reefs. Here, families can explore with the help of a guide or with a self-guided map, depending on preference. If you want to learn more about the park's wildlife, we recommend a guided tour. Guides will have a better idea of how to spot the animals and flora, so if kids are interested in seeing monkeys, lizards, snakes, or sloths roaming free, this is probably the best option.
If you want to explore at your own pace and possibly relax seaside, there's a place for that too. Manuel Antonio National Park contains three beaches where you can spend the afternoon sunbathing with snacks. Purchase refreshments from the on-site cafe, since the park doesn't allow outside food!
Limón Province with Kids
Costa Rica's Limón Province houses the small town of Tortuguero, famous for its sea turtle population. From here, you'll be able to access the diverse ecosystems within Tortuguero National Park, where you can see these turtles up close! Then, remember to stop in Cahuita during your family vacation to Costa Rica. Here, you'll find the country's very own Sloth Sanctuary, a must-visit for parents and kids alike. Here's what you'll need to know about exploring Limón Province with kids!
Where to Stay in Limón Province
If Tortuguero National Park is your main draw to Costa Rica, you'll want to stay nearby. Located along the Caribbean coast, the Tortuga Lodge & Gardens provides stunning views of the Tortuguero River and luxury amenities. Eco-conscious families will also love its rustic lodge feel, which was built with the immediate tropical environment in mind. Tortuga Lodge & Gardens also features its own private nature reserve, ideal for daily nature walks (you can even embark on guided walks with local naturalists).
Things to Do in Limón Province with Kids
Families exploring Limón Province will love adding these two fantastic wildlife adventures to their itinerary!
Spot Sea Turtles at Tortuguero National Park
Tortuguero National Park is the best place to see turtles in Costa Rica. No wonder families love it so much! Located in the Limon province along Costa Rica's Caribbean Coast, this tourist spot is famous for attracting wildlife enthusiasts worldwide. Here, you can expect to find the park's main attraction nestled along a marked trail on the beach: Green Sea, Leatherback, and Hawksbill Turtles. Due to poaching, many of these species are near extinct, so the park is the best place to see them up close without destroying their natural habitat.
There are a variety of ways to venture through, most of which kids will enjoy. Take a walking tour with a ranger, where you can learn more about the turtles and their history. Or consider checking it out via kayak for a different perspective. Either way, the whole family will treasure special moments at Tortuguero National Park!
Reserve Tortuguero National Park (Parque Nacional Tortuguero) Tours and Activities using Viator now.
Spend an Afternoon at the Sloth Sanctuary
Animal lovers of all ages can't wait to visit The Sloth Sanctuary! Located near Cahuita, this family-friendly attraction is the world's only sloth-centric preservation center. Not to mention one of the best things to do in Costa Rica with kids! Here, you'll be able to see these adorable creatures closer than ever and gain educational knowledge.
Be sure to book the standard Buttercup Tour, which offers an inside glimpse at the sloths, why they're unique, and how human encroachment affects their habitats. Then, in the on-site learning center, kids can meet the actual sloths and put what they've learned to the test. Ideal for children over the age of 5, the tour lasts around two hours and climaxes with a canoe ride through the sloth's habitat. If you want a VIP look at the sloths, you can also book the Insider Tour, which includes access to a special nursery.
Discover our parent-recommended Spring Break Destinations for Families – click here!
San Jose Province with Kids
San Jose is Costa Rica's capital, so expect a bustling city filled with historical attractions, delicious restaurants, and shopping boutiques. On the outskirts of the city, in the greater San Jose Province, you'll also find a few fun outdoor activities for little ones to enjoy too.
Where to Stay in San Jose Province
Families looking to stay in San Jose Province won't be disappointed! These centrally located accommodations will put you within a short drive of almost everything on your itinerary. If you're seeking a glamping experience immersed in the jungles of Costa Rica, try Rafiki Safari Lodge! Here, you'll enjoy a 618-acre private reserve along the Savegre River, as well as quick access to Manuel Antonio National Park (less than 20 miles). Spend your days floating down the Savegre River, horseback riding, hiking, birding, and launching into other nearby things to do in Costa Rica with kids.
Things to Do in San Jose Province with Kids
A visit to Costa Rica with kids isn't complete without embarking on a rainforest adventure among the canopy near San Jose.
Book a Rainforest Adventure Tour
Traverse Costa Rica like never before with help from a Rainforest Adventure Tour! With two locations throughout the country, it's easier than ever to experience an exhilarating excursion together. Plus, parents have plenty of options when deciding what to do with little ones! Choose from an excursion in Braulio Carillo, just an hour away from San Jose, or Jaco Beach, a private reserve in the middle of the forest.
Though locations vary, both include a jam-packed day of adventures, featuring activities such as zip-lining, waterfall climbing, and aerial trams. Which one you choose will depend on your children's ages. Due to the on-site butterfly garden and aerial tram, Braulio Carillo is better for younger children. Then, older kids looking for an adrenaline rush can check out Jaco Beach. Note that all children participating in a Rainforest Adventure Tour must be at least 5 years old.
Guanacaste Province with Kids
Nestled along the Pacific Coast, you'll find Guanacaste Province. About 4-5 hours from San Jose, this area offer a fantastic array of water sports and opportunities to hit the beach, including surfing, deep-sea fishing, and more. Embracing surf and sand along the Pacific Coast is definitely one of the best things to do in Costa Rica with kids!
Where to Stay in Guanacaste Province
When staying in Guanacaste Province, our families recommend Andaz Costa Rica Resort At Peninsula Papagayo (a concept by Hyatt). This luxury resort offers world-class golf, three beaches, family-friendly activities, and spectacular on-site dining.
Or, try JW Marriott Guanacaste Resort & Spa. This hacienda-style hotel provides stunning views of the Pacific Ocean and a chance to immerse yourself in a lush, tropical environment. Not to mention the Kids Club with certified staff, infinity pool, and trails for biking and hiking! Finally, The Westin Reserva Conchal, an All-Inclusive Golf Resort & Spa offers families an eco-friendly retreat with access to the Westin® Kids Club, complimentary fine dining, and an on-site spa!
Things to Do in Guanacaste Province with Kids
Guanacaste Province offers the perfect location for on-the-water Pacific Ocean exploration.
Take Surf Lessons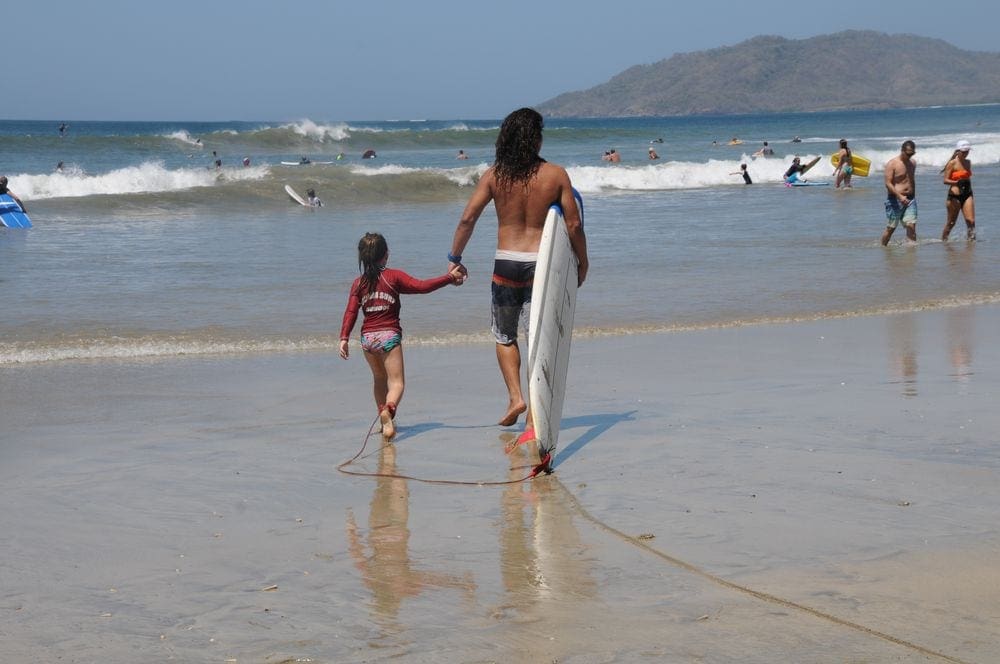 In Guanacaste Province, your family can find a variety of water activities to explore, including surfing! Active kids who are also good swimmers will delight in the opportunity to experience surfing. Our families highly recommend Iguana Surf in Tamarindo for young surfers-in-training. With Tamarindo Beach as the backdrop, kids have the opportunity to learn and enhance their skills with professional instruction. Both group and private lessons are available, meaning you can select the best option for your child's needs and experience. All lessons include 2 hours of instruction, the use of a soft-top surfboard, and a bilingual surf instructor, among other amenities.
While kids are learning to surf, you can soak up the rays on Tamarindo Beach. Perfect waves for surfing can make swimming challenging here, so sit back and relax. Or, take a stroll hand-in-hand down the beach, enjoying some adult-only time while kids are surfing under professional supervision.
Book your family surf lessons in Tamarindo or Santa Teresa now.
Reserve your Surf Lessons with Pro Team in Jacó using Viator before you leave.
Go Fishing
Families can also select from deep-sea or off-shore fishing experiences while visiting Costa Rica with kids. Families with young children may prefer in-shore fishing, as opposed to off-shore or deep-sea fishing, so that kids can catch fish without committing to a long day on the water. Our families recommend Papagayo Sportfishing in the Guanacaste Province. Offering a variety of tours, you are sure to find the best option for your family.
In fact, you can find tours that last up to 8 hours, maximizing your time on the water and chance of reeling in the big catch! Parents will also love that Papagayo Sportfishing provides everything you need for your fishing experience, including snacks and drinks, equipment, and bait. Families who do not have access to a car may also be able to arrange pick-up before embarking on the fishing tour.
THEN, Read our 6 Parent-Trusted Tips For Snorkeling With Kids
Happy Travels!
We hope you liked this list of Things To Do In Costa Rica With Kids! From coast to coast, this rugged Central American country brings out the adventurer in everyone. Your trip will be no different, so enjoy Costa Rica with your family!
*Due to the COVID-19 pandemic, some of the locations on this list of things to do in Costa Rica with kids may be temporarily closed or may have reduced services. Please ensure availability before making your decision.
*This post featuring the best things to do in Costa Rica with kids may contain affiliate links that may earn us a small commission, at no additional cost to you. Affiliate links in no way inform the hotels, sights, products, or other recommendations included in our articles. All opinions and recommendations expressed here are compiled from submissions submitted by the generous members of our Families Who Love To Travel community.
READ NEXT: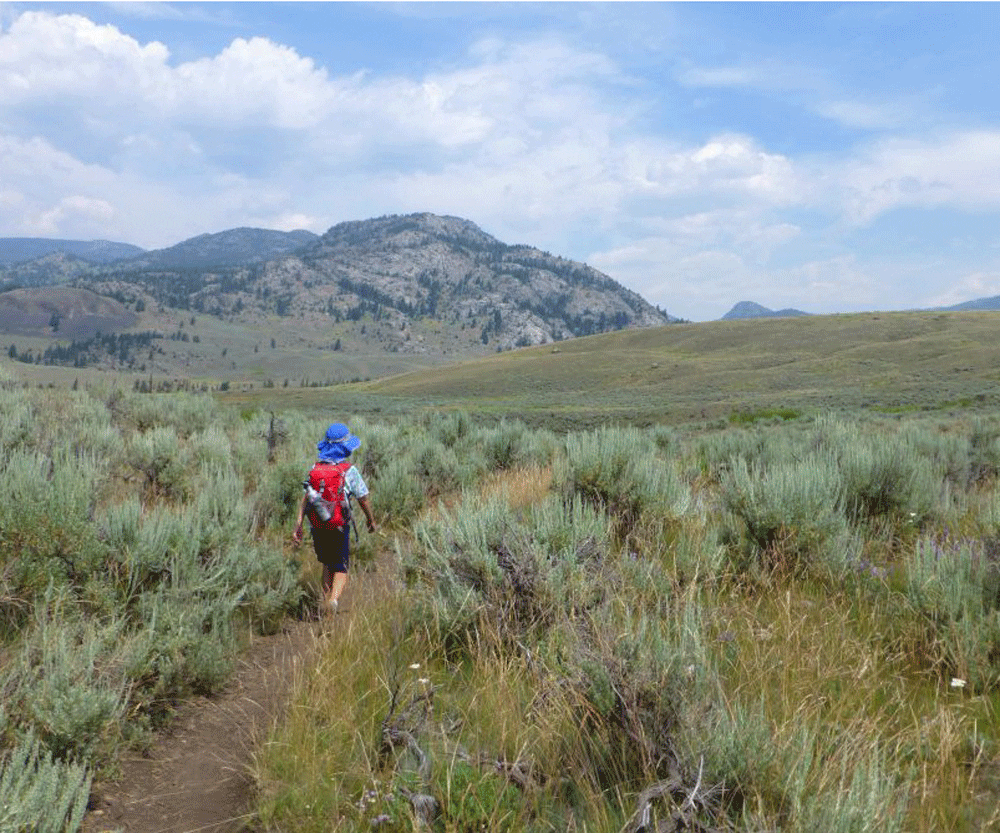 Everyone knows that Yellowstone National Park makes for a classic family vacation. Strolling the boardwalks...
You can do all the research and pack all the right things, but it's hard...