What are the best things to do in Dubai with kids? From desert safari tours to boat rides around the marina, this dynamic city has a ton to offer families on vacation. Soaring skyscrapers, beautiful beaches, and all-inclusive hotel options also make Dubai a big draw for travelers. And let's not forget shopping, fine dining, and a bustling nightlife! Of course, once you figure out your accommodations, sightseeing should be next on your agenda. Kids of all ages will find must-visit attractions across the city, so it's best to start planning your itinerary beforehand. What it'll include depends on your family's interests, like whether you're more interested in cultural destinations, sightseeing, or animal encounters. Either way, this parent-approved list of Things To Do in Dubai With Kids is a great place to start searching for inspiration. Please keep reading for our suggestions!
Pro Tip: If you're flying with Air Emirates, save your boarding pass for discounts on attractions in Dubai!
Best Animal Encounters in Dubai with Kids
As a city, Dubai offers something for everyone! Whether you are traveling with tiny trekkers or teens, here are some of the animal attractions in Dubai. There are many fantastic ways to learn about and encounter animals in Dubai with kids, from aquariums to falconry!
READ NEXT: The 12 Best Family Hotels in Dubai
Stay for a Show at the Dubai Dolphinarium
Dolphins are some of Dubai's most treasured creatures. At the Dubai Dolphinarium, kids can watch the animals and their cute seal friends, trained to perform fascinating tricks! Ideal for all ages, the 45-minute extravaganza features fun dancing, singing, and juggling. Shows occur at 11 am and 6 pm on weekdays, with an extra 2 pm show on weekends.
The Dolphinarium also hosts an exotic bird show that might be of interest to curious children, particularly if they want to learn about parrots, cockatoos, toucans, or falcons. Birds can fly and interact with the audience, making it more immersive than the dolphin show. Catch both if you have the time! Children over the age of 8 can also participate in the Deep Swimming With Dolphins program if they want an up-close look. End your visit at the Mystical Mirror Maze, a labyrinth that amazes adults and children alike!
Visit the Dubai Aquarium & Underwater Zoo
The Dubai Aquarium & Underwater Zoo is a double-hitter for kids interested in aquatic life! Located on the Dubai Mall's ground level, it's the largest suspended aquarium in the world. It also houses 140 animal species and over 300 different kinds of sharks! Kids can spectate while professional divers lure sharks with buckets of bait, bringing the creatures just feet away from the Aquarium's glass enclosure.
At the Underwater Zoo, be sure to set aside some time to see King Croc, a crocodile that's still expected to grow beyond its current weight of 1000 pounds. There's also a penguin, otter, and stingray encounter, plus the option for more adventurous kids to snorkel. More technologically inclined children will probably be interested in the complex's newest addition: a virtual reality zoo. There, they can watch gorillas roam through the jungle, or follow a herd of elephants through the Sahara.
The Green Planet

Walk among the treetops, meet exotic animals, and learn all about the rainforest at The Green Planet! Located in the heart of Dubai, this indoor attraction features a three-story rainforest with over 3,000 plants and trees.
You can explore the different levels via a suspended bridge or take a ride on the glass elevator. There are also a variety of educational exhibits, making it the perfect place to learn about the rainforest ecosystem. Plus, kids will love the animal encounters. You can see sloths, lizards, frogs, birds, and even iguanas! And if you're lucky, you might even spot one of the resident parrots. Brave kids can even swim with piranhas and witness a special feeding session!
Get Up Close to Animals at Dubai Safari Park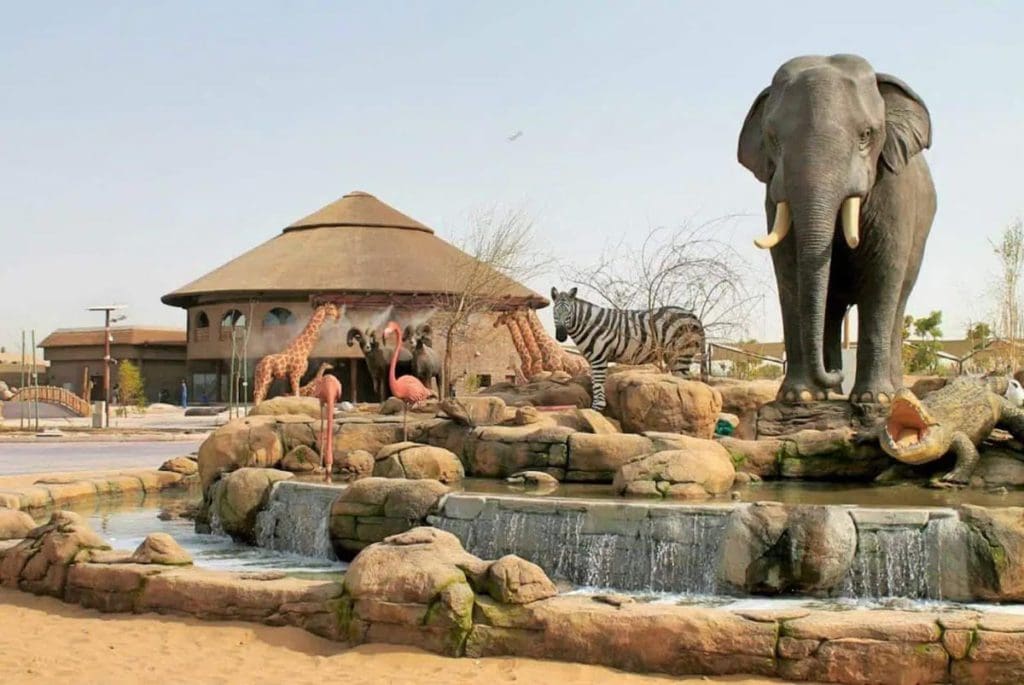 For an unforgettable experience with your family while in Dubai, look no further than Dubai Safari Park! From the African Village to the Asian Village, this awesome park is home to over 3,000 animals from all around the world, making it one of the largest wildlife collections in the Middle East. Highlights include getting up close and personal with giraffes, lions, tigers, and elephants. There's also a great kids' play area, complete with a petting zoo, where they can even pet ponies! And if that's not enough, there's also a falconry show, snake charmer performances, and educational talks from the park's experts.
Best Adventure Activities in Duba with Kids
Do you have thrill-seekers in your group? Add these exciting adventures to your itinerary in Dubai with kids.
RELATED: Best Hacks & Products For Sleeping On Long International Flights With Kids
Enjoy Indoor Fun at Ski Dubai
Families can escape the heat at Ski Dubai! Located in the Mall of the Emirates, this kid-friendly destination is the city's largest indoor snow park. Whether you want to ski or snowboard, it has a range of packages catering to different skill sets and ages. Though little ones over the age of two can enter, parents must supervise anyone under fourteen.
To experience everything the park has to offer, you can book the Snow Premium package, which includes a skiing and snowboarding lesson and unlimited access to the park's other activities. This includes tubing, bobsledding, rock climbing, and a chance to spend 40 minutes in Ski Dubai's Penguin Encounter. Children will love to interact with the cute colony of Gentoo and King Penguins, and they'll learn some educational facts during the process! This is one of the best things to do in Dubai with kids.
Take a Desert Safari Tour
Explore Dubai's desert terrain with a special safari tour! This part-tour, part-adventure lasts several hours and can be booked through companies such as Platinum Heritage, Desert Safari Dubai, or Arabian Adventures. While it is available to all ages, older kids may be more attentive to the experience.
Ranging from early morning to late evening options, kids will have the opportunity to learn more about Dubai's ecosystem and wildlife in the process. Plus, they may even spot native wildlife, like the Arabian oryx, along the way! Though most tours vary in meeting spot, duration, or location, they all serve a similar purpose: to educate travelers about Dubai's history through a series of unforgettable encounters. Ride a camel, witness a Falcon show, or get a henna tattoo! Kids will have a great time feeling a part of the local culture, and the whole family can share a bonding experience.
Play DXB (VR Park at the Dubai Mall)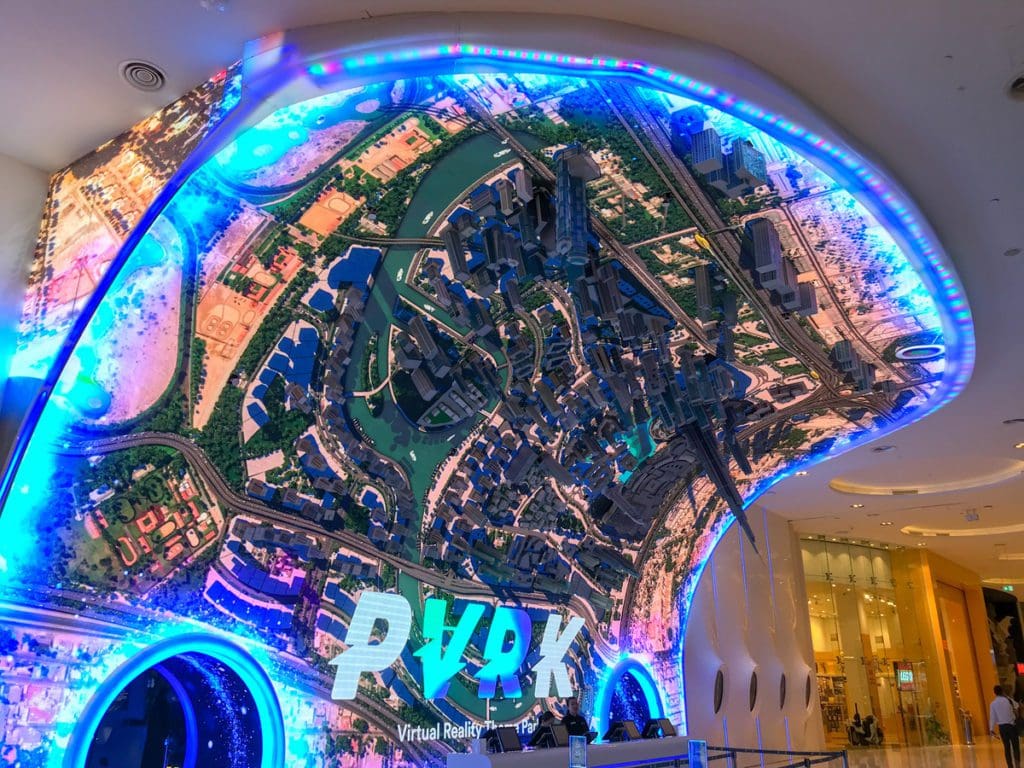 There are plenty of things to do in Dubai with kids, but one of the best has to be visiting Play DXB, formerly known as the VR Park at The Dubai Mall. This cutting-edge virtual reality park offers a variety of fun and thrilling experiences for all ages, from flying through space to battling dinosaurs. There's an Oculus gaming headset for teens and tweens to try out, as well as some inflatable playgrounds and trampolines for younger kids.
Entry is free, though each experience is ticketed separately. Though it's open to all ages, remember there may be some height restrictions on some attractions.
Spend a Day at a Theme Park
If you're looking for the best things to do in Dubai with kids, look no further than spending the day at a theme park! From exciting rides to delicious food, there's something for everyone to enjoy. Plus, what kid doesn't love getting to meet their favorite characters? Here are some suggestions!
READ NEXT: 11 Best Airlines For Kids For International Family Travel – And What You Need To Know!
​​Legoland Park and Waterpark
There's no doubt that Legoland® Dubai is one of the best things to do in Dubai with kids! It's an amazing place full of rides, attractions, and activities that are perfect for children between the ages of 2 and 12.
The park is divided into different themed areas, each with its own unique activities and attractions. From exploring ancient ruins in The Lost Kingdom to the MiniLand Light Show, there are plenty of things to keep kids entertained for hours on end. Plus, when you want to cool down from the heat, the water park area has lots of slides, a wave pool, and even cool attractions like the chance to build your own boat from LEGOS!
IMG World of Adventure
Bring your kids to IMG World of Adventure for a day they'll never forget! With four different themed zones and over 50 rides and attractions, there's something for everyone at this world-class theme park. No wonder it's one of the best things to do in Dubai with kids!
From the Cartoon Network Zone to the Marvel Adventure Zone, your kids will be entertained for hours on end and probably make some new friends too. And if they're looking for a thrill, the Haunted Hotel and Lost Valley zones are sure to get their heart racing. Plus, with various restaurants and cafes on-site, you can refuel and recharge between rides and attractions.
Motiongate Dubai
Families searching for the best things to do in Dubai with kids can't go wrong with Motiongate Dubai! This theme park is designed to appeal to movie lovers of all ages, with over 20 rides and attractions inspired by some of Hollywood's biggest blockbusters.
From thrilling roller coasters to gentle rides for the little ones, children will love the chance to see all their favorite characters as they explore the park. There's a Cloudy With A Chance Of Meatballs-themed water ride, for example, alongside a Smurf-themed rollercoaster. And don't forget to check out the amazing live shows featuring your favorite characters, including a Dinosaur-themed parade! And when you're hungry, the park's dining options include everything from fast food to fine dining.
Best Outdoor Activities in Dubai with Kids
If you encounter lovely weather while in Dubai, you'll want to add these fantastic outdoor things to do in Dubai for families to your vacation.
Then, stock up on Fun Activities To Keep Kids Entertained While Traveling!
Slip and Slide at Atlantis Water Park
Book your stay at Atlantis The Palm on Travelocity now.
Book your stay at Atlantis The Palm on trip.com now.
Enjoy a day of family fun in the sun at Atlantis Water Park! This sprawling complex is located at the tip of Dubai's very own artificial island: The Palm. Though Atlantis The Palm guests have an advantage when visiting this water park, any family can choose to come here. Just remember to buy tickets ahead of time!
If you book the two-day adventure pass, kids will have a full 48 hours to tackle massive waterslides, interconnected river rapids, and surf riders. A two-day pass also includes access to The Lost Chambers, Dubai's largest aquarium, and a shark feeding or dolphin show. However, families who want to spend less time at the Atlantis can book a one-day pass, and they'll receive similar benefits. Passes for the park's other attractions can also be purchased in combination. Cuddle with some sweet sea lions or snuggle up to some dolphins, both of which are kid-friendly!
Explore Dubai Garden Glow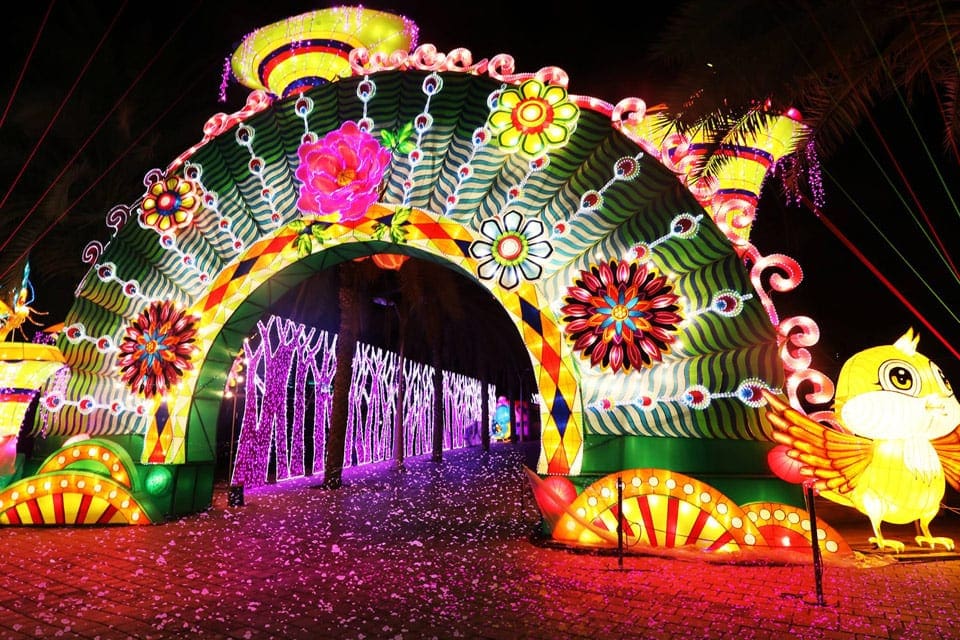 Watch your imagination come alive at Dubai Garden Glow! Located within Zabeel Park, this kid-friendly attraction is truly a magical experience for the entire family. The recreation park is filled with various installations, spanning five different sections. It'll definitely appeal to children who love anything involving flashing, colorful lights, and musical performances!
From the dinosaur and art parks to a safari and enchanted forest, you'll likely spend a few hours here; just try to take everything in! Start your visit at Magic Park, where you'll find science-related exhibits and even 3D artworks. Meanwhile, at Glow Park, you'll find handmade light installations in the shape of adorable animals! End your evening with a picture in front of the glittering "My Dubai" sign. Dubai Garden Glow also has seasonal hours, and sometimes takes short breaks. A new season just started, so be sure to take advantage soon!
Watch a Fountain Show
Watching a fountain show is a must for families visiting Dubai. Visible from the Dubai Mall, The Burj Khalifa Fountain Show is usually a popular option for travelers. Most gather by the Waterfront to witness it in all its glory, as this is often the best, mostly unobstructed view. Performances are free, but you could get an even better glimpse if you pay to enter the Dubai Fountain Boardwalk. Or, head to the Top of The Burj Khalifa, which has an observation deck to see Dubai by night. Overall, the show lasts about 5-10 minutes and happens every half hour from 7:30 pm to 11 pm on weekdays, and until 11:30 on weekends.
Another fountain show worth visiting is the Palm Fountain at The Pointe, where two giant floating platforms light up with 3,000 LEDs. Shows are three minutes long and occur every half-hour between 6 pm and 10 pm.
Book a Boat Ride Around the Marina
Encounter the city by the sea with a boat ride around the Dubai Marina! From fishing charters to sunset cruises, this waterfront attraction is great for travelers who want to see a different side of Dubai. Vetted companies such as Boat Tours Dubai, The Yellow Boats, and Dhow Cruise Dubai have all set up shop along the marina to offer a ton of customizable packages.
Families can either book a private tour or a shared charter boat, for example, equipped with experienced multilingual guides who are ready to teach you more about the Dubai waters. Lasting anywhere between one to three hours, these tours cover Dubai's history and its recent transformation into an international destination, designed to keep the whole family enthralled in the narrative. The specifics of what you see will depend on which company you book, but you can guarantee it'll be entertaining either way!
Stroll the JBR Walk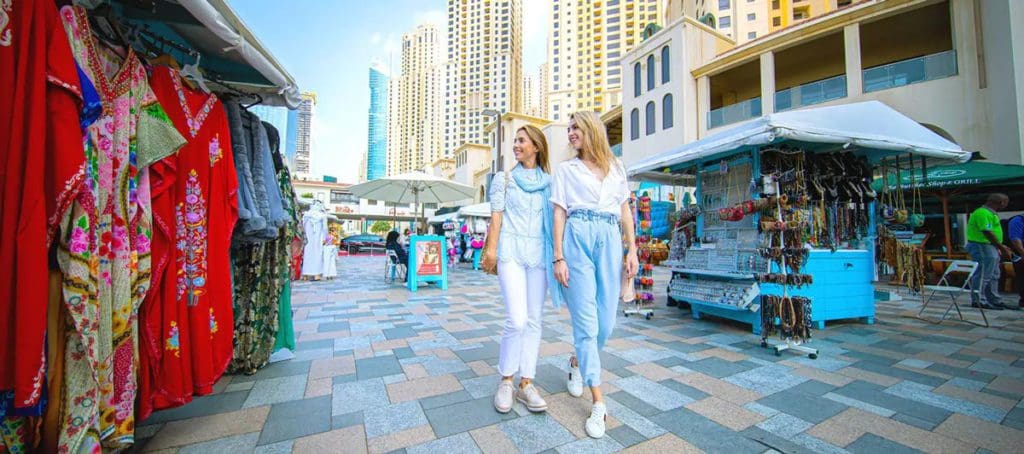 Dubai is a playground for kids of all ages, and there's no better place to explore than the JBR Walk! This one-mile-long pedestrian-friendly promenade is lined with shops, restaurants, and cafes, making it the perfect place to window shop or people watch. Outdoor pop-up markets also showcase cute jewelry, local food, and performances by street entertainers. Plus, it's the ideal place to introduce your kids to the vibrant culture of Dubai. You'll also find lots of interactive games and features that kids will love while walking down the promenade, including some splash pads. And when the heat gets too much, head to one of the many beach clubs or take a dip in the Arabian Gulf!
Appreciate the Flowers at the Dubai Miracle Garden
A trip to Dubai Miracle Garden, one of the most extensive flower gardens in the world, is a must for any family visiting Dubai! This breathtaking flower garden is home to over 50 million blooms, all arranged in stunning displays. From life-size elephants made entirely out of flowers to towering castles and cascading fountains, there's something to marvel at around every corner. Themed areas include an Arabic-style courtyard, a butterfly garden, and a section dedicated to Disney characters. There's also a play area for children, making it the perfect place to spend a day out with the family.
Best Cultural Experiences & Museums in Dubai with Kids
Families interested in learning more about local history and culture are in luck! There are plenty of museums and other cultural experiences in Dubai for families. These places are interactive and educational, and provide an excellent way for kids to learn about different local cultures and topics. Here is what you should add to your itinerary!
REAX NEXT: Best Weekend Getaways From Dubai For Families
Learn about Local Culture at the Sheikh Mohammed Centre
Whenever you visit a new place, it is important to spend time learning about the local culture, language, history, and peoples. When visiting Dubai with kids, the Sheikh Mohammed Centre for Cultural Understanding offers a fantastic opportunity for families to learn about Emirati culture, customs, traditions, and religion. Additionally, the Sheikh Moh
READ NEXammed Centre for Cultural Understanding promotes connection among cultures and removing the barriers between them.
As one of the best things to do in Dubai with kids, you will have plenty of opportunities to engage in the local culture. In fact, you can sign up to enjoy a traditional meal in advance of your visit, which begins with a guided walking tour of the historic Al Fahidi Historical Neighborhood. Afterward, kids will delight in sitting Bedouin-style on carpets and pillows for the family meal. Plus, curious kids will love the opportunity to ask questions of your expert host.
OliOli Experimental Centre
If you're looking for something different to do with the kids in Dubai, then you should definitely check out the OliOli Experimental Centre. This place is all about hands-on learning and exploration, and it's sure to be a hit with your little ones.
With over 80 different interactive exhibits, they'll never be bored here! From learning about the science of sound to exploring the world of insects, it's a great way to spend quality time with your kids while teaching them a thing or two. Kids will especially love the Air Gallery, where they can build rockets or planes, and the Water Gallery, which features lots of splashing fun. And if they do get tired, there's even a dedicated nap area!
Museum of the Future
Looking for something fun and educational to do with the kids in Dubai? Why not visit the Museum of the Future? This family-friendly museum is dedicated to showcasing innovative and future-focused technology and ideas. Kids will love seeing all the different technologies on display, from artificial intelligence to 3D printing. They can also learn about the science behind these technologies and how they might be used.
There are interactive exhibits, too, so kids can really get hands-on with the science. For example, one exhibit simulates what kind of technology we may use in 2071, complete with realistic sound effects and visuals. And, best of all, it's all housed in a stunning, cutting-edge building!
Pro Tip: This is an extremely popular attraction in Dubai, so book your tickets in advance! 
Kidzania
Kidzania is an amazing place for kids to have fun and learn simultaneously! This place is an indoor city designed just for kids, and it's one of the best things to do in Dubai with kids hands down. Children can role-play in over 40 different establishments, from hospitals to fire stations, and there's even a working airport! They can also try their hand at being a firefighter, doctor, journalist, or even a pilot! Plus, all of the experiences are educational, too, so your kids will be learning while they're having fun.
Where To Stay In Dubai With Kids
If you need suggestions on Dubai hotels, look no further! Families who want to stay by the beach will love properties like Rixos The Palm Hotel and Suites, Le Méridien Mina Seyahi Beach Resort & Waterpark, and the Jumeirah Beach Hotel. Or, you can check out hotels with a more city feel, like The Grand Hyatt Hotel and Residences Dubai. For more information, check out our list of the best family hotels in Dubai!
Explore the Interactive Map of Dubai
Happy Travels!
We hope you liked this list of Things To Do in Dubai With Kids! Between the stunning architecture, kid-friendly attractions, and sunny weather year-round, it's no wonder this is such a popular destination to visit. Enjoy your future vacation to Dubai with your family!
This post may contain affiliate links that may earn us a small commission, at no additional cost to you. Affiliate links in no way inform the hotels, sights, products, or other recommendations included in our articles. All opinions and recommendations expressed here are compiled from submissions submitted by the generous members of our Families Who Love To Travel community.
READ MORE: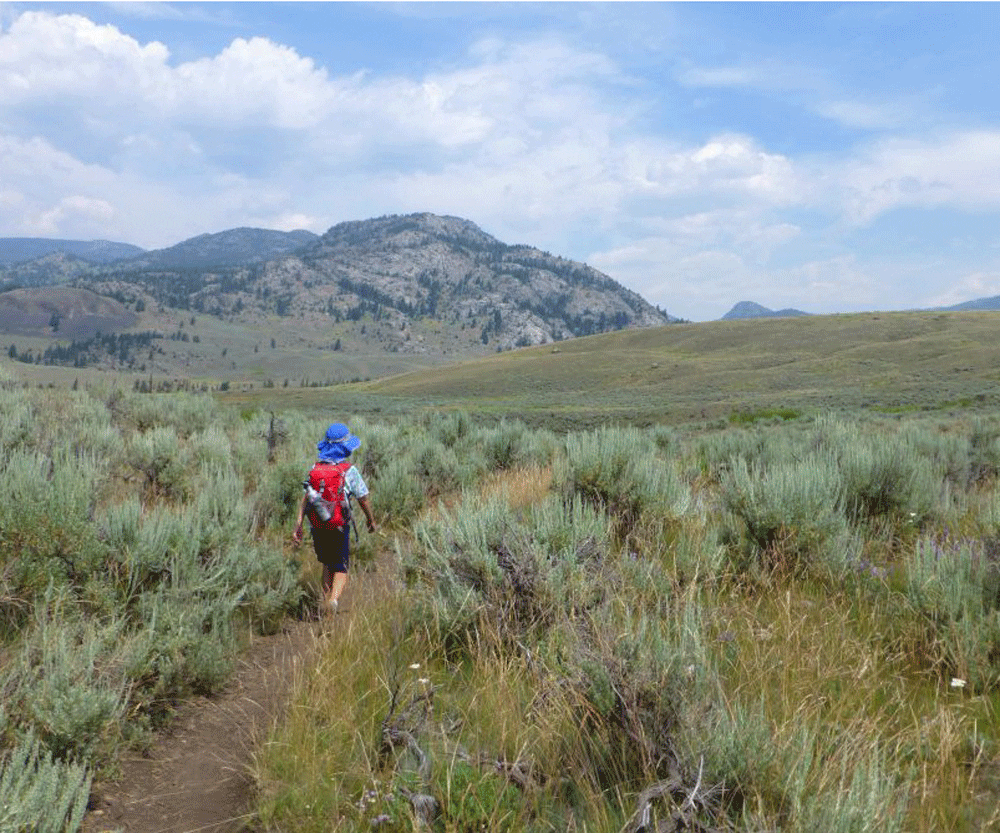 Everyone knows that Yellowstone National Park makes for a classic family vacation. Strolling the boardwalks...
You can do all the research and pack all the right things, but it's hard...