If you're looking for a great destination with a lot of culture, history, and beauty to fascinate kids of all ages, Florence is one of the most visited cities in Europe. Famous for its old-world charm, endless dining options, and world-famous attractions, it's one of the most popular destinations in Italy for locals and international tourists alike. Of course, when visiting Florence with kids, there are so many options it may seem overwhelming to choose which are the must-dos. Luckily, we put together a list of the Best Things To Do In Florence With Kids! Between walking tours, the best museums in Florence for kids, and other fun attractions, you'll have plenty of ideas to add to your itinerary. Keep reading to learn more!
Ways to Explore Florence with Kids in Style
Whether with a walking tour, a hop-on-hop-off bus ride, or even a bike, there are so many ways to explore Florence with kids! Keep reading to find out our favorite things to do in Florence with kids! 
RELATED: 15 Best Hotels In Florence For Families
Walking Tours in Florence for Families
For some more specific walking tours in Florence for families, here are our favorite options! A walking tour is a fantastic way to see all the top attractions in Florence while keeping kids entertained. You won't feel like you're wasting any time, because a friendly local guide will use interactive games to keep kids tuned in, as well as iPads, etc. You'll get to visit places like Ponte Vecchio, Piazza Della Repubblica, San Lorenzo Market, and the Duomo. There are many free options for families as well, including Florence Free Tours, La Bussola, etc.
Tours For Kids by With Locals are a wonderful way to see the city from a local perspective. These affordable walking tours let families venture off the beaten path with someone who knows the city intimately and there are a ton of different options too. Get a broad overview of Florence, learn more about its Medici legacy, and more!
The Best of Florence: A Family-Friendly Private Tour by GetYourGuide is another great option for families who want to see the highlights of Florence and some hidden gems, with a family-friendly twist. Your whole family can take a tour of the city and enjoy tales about the places they visit. There's also an optional treasure hunt for all ages with important history about the area. Along with this, there are some local treats included such as gelato for the kids. This tour is 100% family-friendly and may even be a highlight of your trip!
Illuminated Florence Tour for Kids and Families with Gelato and Pizza is a unique way to see the city and keep kids entertained during the process. Instead of a typical daytime tour, this fun excursion happens at night, letting families see Florence illuminated! Kids can enjoy games, quizzes, and treasure hunts while learning about the history of Florence, Michelangelo, the Medici family, the Renaissance, and much more. Along the way, you'll pass Piazza della Signoria, Ponte Vecchio, the outside of Palazzo Pitti and Piazza Santo Spirito. Plus, it includes a stop for authentic pizza and gelato!
Hop-on, Hop-off Bus Tours
Hop-on, Hop-off Bus Tour: Families who want to explore Florence at their own pace without walking will love a hop-on, hop-off bus tour! It's also great for families with multiple members who are short on time, since you can see most major attractions in a short period. Get scenic views of the city while visiting venues such as the Duomo, Palazzo Pitti, etc. Though the buses can't enter the historic center, it stops at about 15 points on the outskirts and takes you to destinations such as Piazzale Michelangelo, Santa Croce Church, and more. You'll get a good overview of the city and children can experience all sights, smells, and sounds of Florence without tiring their little legs. You can also get two different routes for your interests and headsets so you can hear the commentary in many languages.
Alternatively, purchase Florence City Hop-on Hop-off Tour through Viator for free cancellation up to 24 hours in advance. Tickets are valid for 1 calendar day, 48 hours, or 3 calendar days.
Electric Cart Tour
Electric Cart Tour Florence by Viator is a unique way to see Florence as a family! See the best of the historic sights in Florence via a golf cart on this fun and interactive tour. Your guide will share an insider's perspective on the culture and history of the birthplace of the Renaissance while you sit back and relax in a roomy electric cart. Meet your small group at a central location in the city for a morning or afternoon departure for better convenience.
Bike Tours
Florence Bike Tour With Gelato Tasting by Viator lets families enjoy a fun biking tour through the streets of Florence. You'll pass beautiful sights including Uffizi Gallery, Piazza Della Signoria, and the iconic Ponte Vecchio. Hear interesting facts and stories about Florence during your excursion. You can even enjoy a complimentary coffee or gelato before taking your bike tour! Choose between a morning or evening tour, which is a great option for families visiting Florence with teens.
More Tours in Florence for Families
Looking for a more unique way to explore Florence? Here are some suggestions!
The Best Tour in Florence: Renaissance and Medici Tales

by Viator lets families discover great attractions, lesser-known landmarks, and more hidden corners of Florence. This walking tour allows you to explore the sights on foot and soak up the atmosphere of the city for a budget-friendly price. Travel to Florence and learn about the rich history of the Medici family. Plus, explore many attractions in Florence including the Duomo and Giotto's Campanile. 
Best of Florence: Small Group Tour Skip-the-Line David & Accademia with Duomo by Viator also lets families see Florence's top attractions in a small group. This includes skip-the-line access to the Accademia Gallery and the Gates of Paradise. Enjoy an informative, small-group experience highlighted by personalized attention before taking in the city's scenic streets.
Highlights of Florence for Kids & Families by Viator is a great tour for families in Florence. Play games, answer interesting trivia questions, and hear stories about the city as you visit San Lorenzo Market, Piazza Della Repubblica, Ponte Vecchi, and more. In the end, you'll stop for a sweet treat!
Best Things to Do in Florence with Kids
Now that you've discovered the best ways to explore Florence with kids, it's time to figure out what to do in Florence as a family. From educational museums to bustling street markets, fun classes, and more family-friendly activities, there's so much for your family to enjoy in this gorgeous Italian city. Keep reading to learn more about the best things to do in Florence with kids!
Stroll Across Ponte Vecchio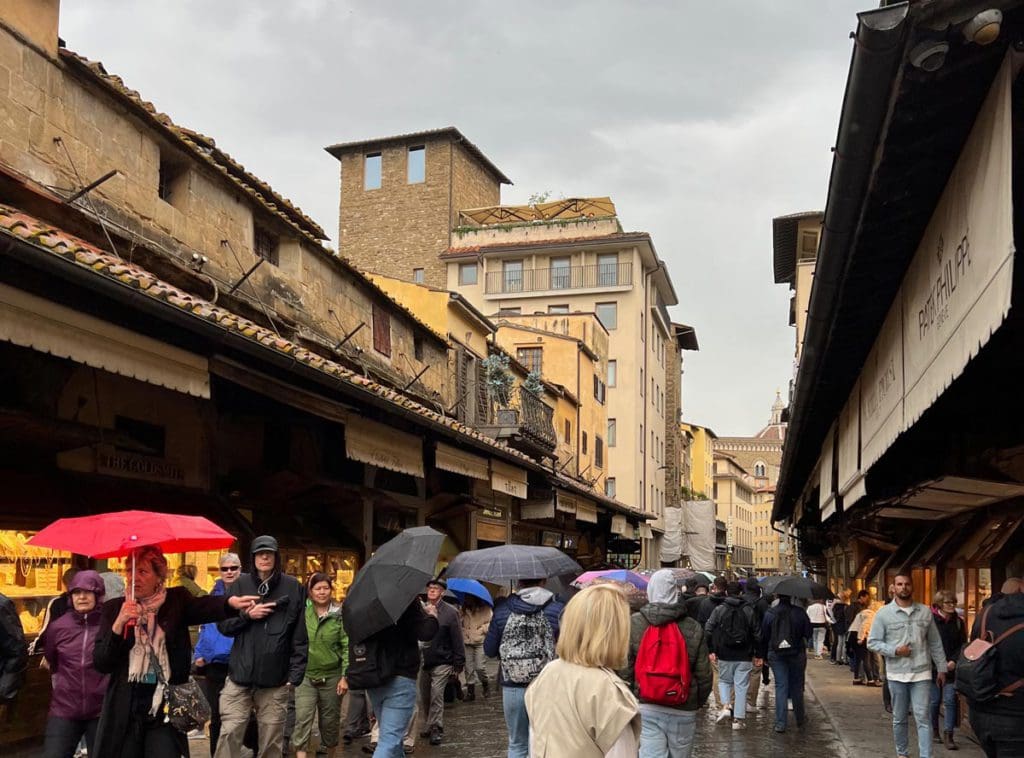 Ponte Vecchio is a historical bridge in Florence connecting two sides of the Arno river. It's a charming bridge with interesting Medieval architecture. Additionally, it is more like a road with shops on both sides, which sell everything from jewelry to leather goods. This is one of the most popular tourist attractions in town, so expect it to be crowded.
Little kids will love to spot animals from its entrance while older kids admire the funky shape and learn about its story, including when it wasn't destroyed by bombs during World War II. You can also enjoy stunning views of the river and the city skyline from the bridge. Once you've crossed the bridge, take some time to explore the nearby streets. You'll find plenty of cafes, restaurants, and boutiques to keep your family busy.
See the Iconic Duomo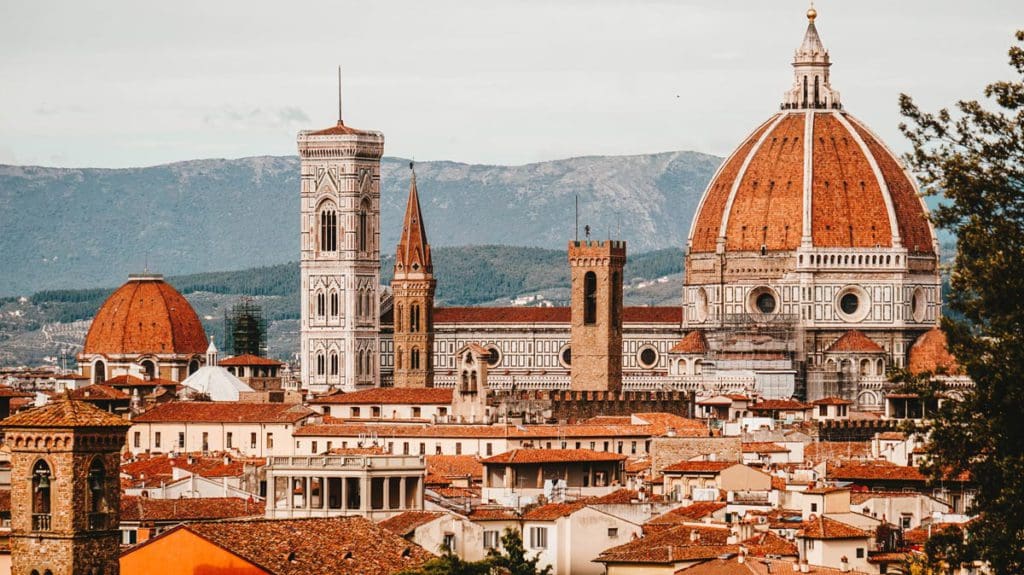 One of the first things you need to see when visiting Florence with kids is the Duomo. Designed by Filippo Brunelleschi between 1420 and 1436, this architectural marvel tops the Florence Cathedral and is one of the most iconic landmarks in the city. As such, it's a must for any first-time visitor, and definitely worth visiting with kids! Children will be impressed by the exterior alone, since it's covered in intricate sculptures. Similarly, the inside is just as impressive, featuring frescoes and relics. Even though there's often a line, we suggest taking some time to explore this magnificent building. Families with teens can even take a long climb up the dome to get a gorgeous view of the Florence skyline!
While you're in the area, you should also check out the Baptistery of St. John. This octagonal structure is located right next to the Duomo and it is one of the oldest buildings in Florence. The Baptistery is known for its beautiful bronze doors, created by Ghiberti. Make sure to take a look at these incredible pieces of art. After exploring the Duomo and the Baptistery, walk around Florence and take in all of the sights. There are plenty of museums, churches, and other landmarks to see in this beautiful city. You could easily spend days exploring everything that Florence has to offer with your kids!
Pro Tip: If you're visiting the Duomo with kids under six and looking for tickets, buy them from the ticket office inside the museum beside the Duomo. Children ages six to eleven can purchase reduced-price tickets online.
Rub the Nose of Fontana Del Porcellino
Looking for good fortune in Florence? You may find some luck at Fontana Del Porcellino! This statue of a large, wild pig is the crowning glory of Mercato Nuovo, located in the center of Florence. Local legend has it that touching its nose brings good luck. As such, the statue might be worth a quick stop! It's also a great stop if you're planning a walking tour with your family. Certainly, it's one of the best free things to do and see in Florence with kids!
Visit a Family-Friendly Museum
Florence is known for its art, history, and culture. So it's only right you visit a museum while you're in town. Here are our favorite options!
Leonardo Da Vinci Museum
Kids will love the Leonardo Da Vinci Museum, a testament to one of the world's greatest inventors and painters! Located in the heart of Florence, this kid-friendly educational institution has an extensive collection of Da Vinci's sketches, prototypes, and even a few paintings.
It's especially fantastic for kids because it's a sensory experience, so little ones can touch and interact with most of what's on display! There are four sections for them to explore: earth, water, fire, and air. They can also see real-size, functioning models including machines of war, flight, and engineering. Plus, there's an immersive audio guide, which you can purchase beforehand to give you more background information.
Uffizi Gallery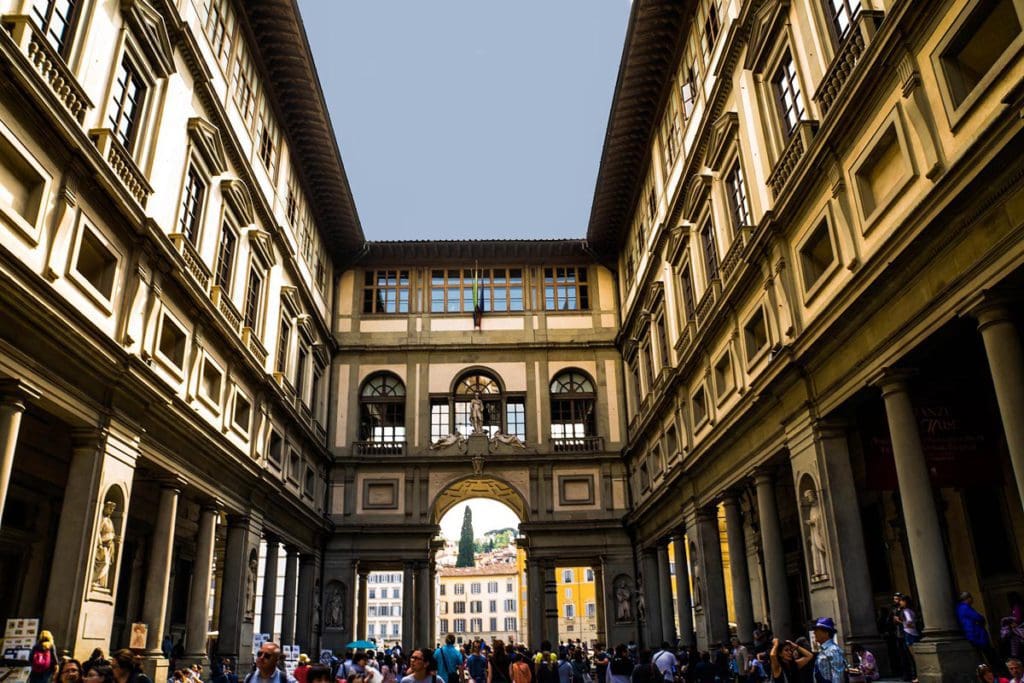 Art lovers visiting Florence can't miss a trip to the Uffizi Gallery. As one of the oldest and most visited galleries in the world, it houses an incredible collection of paintings. In fact, the museum is home to masterpieces by artists such as Leonardo da Vinci, Michelangelo, and Botticelli. Galleries are arranged chronologically, so you can see how Renaissance art developed over time.
Teens and preteens will definitely be interested, but it may take some convincing for little ones. Luckily, there are special tours designed just for families! If you book a tour geared towards kids of all ages, especially younger ones, they can explore the museum while completing engaging activities. There are interactive games for the children to enjoy, so parents can experience the famous artworks as well.
Skip-the-line tickets are highly recommended if you're visiting Florence during the busy reason or kids' holidays.
Buy your Early Access: Guided Uffizi Gallery Tour with Skip-the-Line Ticket using Viator today!
Accademia Gallery
Add the Accademia Gallery to your Florence with kids itinerary! Located in the center of Florence, near the Duomo, this famous destination is one of the most popular tourist attractions in the city. Of course, it's for a good reason, since it showcases some of the most famous art in the world! This includes Michelangelo's famous statue of David, which you can see on display in all its glory.
Aside from the statue, the gallery also has a collection of paintings by Renaissance artists such as Leonardo da Vinci and Botticelli. To make the experience more interesting for your family, make sure to pick up an audio tour specifically for kids. It has a ton of fun facts to keep them entertained and learning about Italian art history!
Looking for a guided tour? GetYourGuide offers a Florence: Tour for Kids w/ Michelangelo Statue of David.
To skip the line, Viator also offers a Skip-the-Line Accademia and Michelangelo's David Tour for Kids and Families.
Palazzo Vecchio
Palazzo Vecchio is one of the most iconic landmarks in Florence. Dating back to the 13th century, this large palace showcases a unique mixture of Gothic and Renaissance-style architecture. It's also home to the Museum of Florence, which contains a wealth of art and artifacts. Its interior is filled with preserved frescoes, statues, and living quarters for Italian royalty!
When visiting Palazzo Vecchio as a family, be sure to take a tour to learn about the history of Florence and see some of its most famous artworks. Everyone will be amazed by the story of the Medici, and kids will even find a few secret passages! Then, walk around the palazzo itself. You'll get a sense of its grandeur and see its many intricate details up close. The museum also has a beautiful garden to explore.
Galileo Museum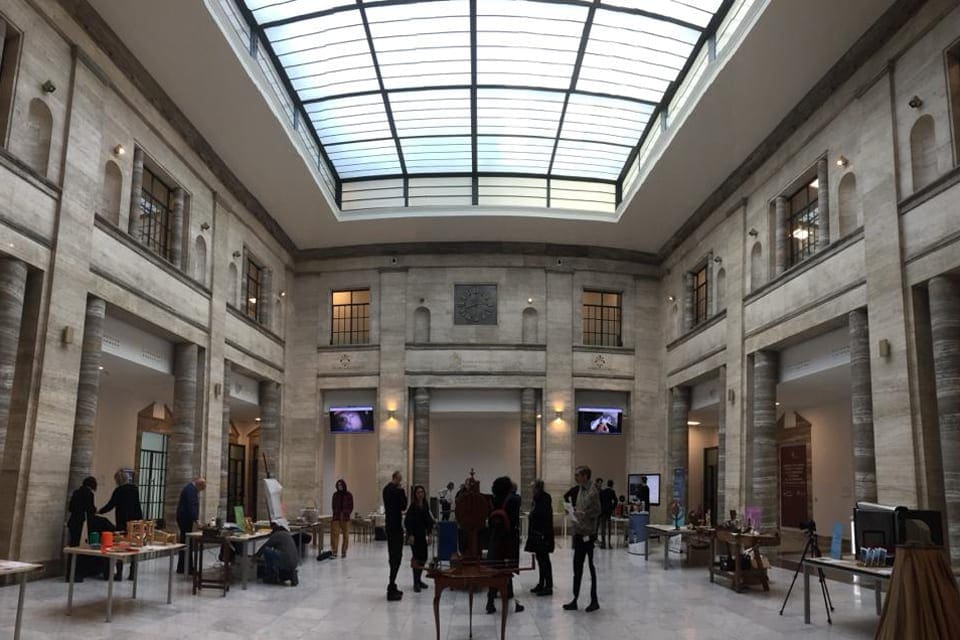 Galileo Museum is one of the best things to do in Florence with kids who have an inquisitive mind! Focusing on all things Galileo Galilei, the museum walks visitors through his various inventions, including telescopes and microscopes, all the while highlighting the story of the astronomer's life. It's one of few museums in Florence you'll be able to attend without waiting in line, and you can probably tackle its tiny interior in an hour or so. But don't let this place's size fool you! As a treasure trove of gadgets, children will be entertained at every corner. There's even a hands-on area where kids can play with some of Galileo's creations. Visit the gift shop after, and you'll go home with a totally unique souvenir!
Palazzo Strozzi + Museum
Located within a stunning Renaissance palace, The Palazzo Strozzi is a dynamic cultural center offering a variety of exhibits and events. Though it may not be the most interesting for toddlers or younger kids, it'll definitely be a hit with teens or older children! Upon arrival, little ones will receive a unique "children's explorer's bag," which comes with torches, pens, and paper games to make the experience more enjoyable.
With a rotating selection of modern and contemporary art exhibits, you'll always discover something new and exciting here! In the past, the museum has showcased artists like Natalia Goncharova and Ai WeiWei. Throughout the various exhibits, there are also several rooms where kids can play.
For more scenic places in Europe, read our list of 16 Exciting European Beach Destinations For Families!
Enroll in a Kid-Friendly Class
Whether your kids are interested in art, history, or cooking, there are plenty of educational opportunities in Florence that make learning fun. Here are a few of our favorite classes for families!
Cooking Class
What better way to experience Florence than by enjoying its delicious cuisine? Even parents with picky eaters will find food their kids are willing to eat and help make! Taking a cooking class in Florence is a wonderful way to bond as a family and learn more about the city's diverse culinary traditions. With local companies such as Mama Florence, Eating Europe, and Florence Cooking Classes, families can learn how to make gelato, fresh pasta, and more delicacies in an intimate and personalized setting. In the end, you'll be able to dig into your delicious creations, and then brag that you've now prepared an authentic meal in one of the greatest cities in the world!
Viator also offers a Florence Cooking Class: Learn How to Make Gelato and Pizza. In this cooking class led by a traditional Italian chef, families can learn how to make Italian pizza and gelato. You'll gain important insight during the beginning of the class, then prepare your own final products. At the end of the school day, you'll take home a recipe booklet filled with things you learned that day to continue your schooling back home.
GetYourGuide also offers a Florence: Cooking with Kids 3-Hour Experience to help families learn how to make traditional homemade Italian pizza and gelato. Led by a funny and passionate chef, it's a wonderful way to let kids express their creativity and culinary skills. With a simple recipe, families will learn to reproduce authentic Italian pizza in their own oven at home. Using the same pizza dough, you'll also learn how to make savory croissants, perfect for appetizers or as an accompaniment to drinks.
Marble Paper Class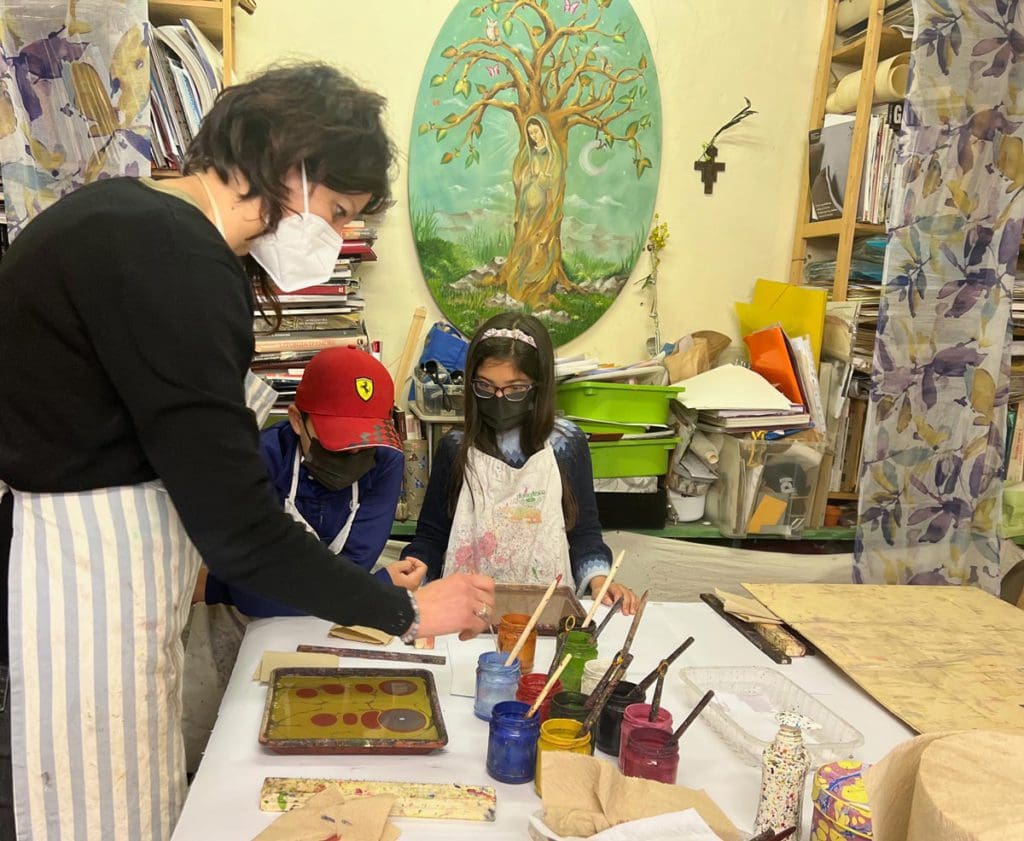 When visiting Florence for the first time, be sure to take a marble paper class with your kids. Though it'll be different than all the museums and cultural attractions, it's equally as fun! This is a unique opportunity to get your hands dirty and learn how to make beautiful works of art using only marble paper and a few simple tools. Ideal for families with kids who are older than six, the classes are small and intimate, so little ones will have plenty of opportunities to ask questions and get help from their instructor. Classes typically last two or three hours, and all materials are included. You'll leave the class with your own beautiful creation, as well as the knowledge and skills to make more.
Many local providers offer this class, and you can even take a class with a local artist like Giulio Giannini or Francesca Vannini.
Browse the San Lorenzo Market
Explore the smells and sights of Florence at the San Lorenzo Market! Located in a historic, cast-iron building, the market, also known as Mercato Centrale, embodies both the old and new Florence. Here, the bustle of contemporary life meets ancient Italian tradition. Do as the Italians do, and spend a few hours touring the market, sampling prosciutto, cheese, and anything else your family can get its hand on! If you'd prefer a full meal, however, there's also a wonderful Sicilian restaurant on the second floor. Plus, a variety of stalls selling pasta and to-go meals like Lampredotto, a type of fish sandwich. What an amazing place to browse clothing shops and familiarize yourself with the city!
Plus, Don't Miss These Other Markets in Florence for Families
Whether it's for food, clothes, or souvenirs, there are a few other markets in Florence that you won't want to miss on your family vacation. Firstly, save time to visit Mercato Nuovo, a smaller market located in the center of the city. Here, you'll find souvenirs, clothes, and other items to bring home with you. Then, don't forget to check out the bargaining market located next to the Ponte Vecchio. You can find some great deals on souvenirs and other items here. With so many options, there's bound to be something everyone in your family enjoys!
Enjoy a Stroll or a Picnic at the Boboli Gardens
Families looking to enjoy a leisurely stroll or picnic will love The Boboli Gardens. Located behind the Pitti Palace, this tranquil oasis is one of the most amazing open-air museums in Florence! It's perfect for an afternoon stroll, as beautiful flora wrap around statues and other priceless artworks. Though toddlers and young kids can run around too, be aware it's not very stroller-friendly. Still, kids will love seeing the mermaid grotto, star-shaped fort, ponds, and various sculptures!
If you really want an amazing view, however, you'll have to climb to the top of the observation tower. From there, you'll be rewarded with a breathtaking panoramic view of the entire city, including the famous Duomo!
Stop for a Break in a Piazza
Florence has plenty of piazzas, aka town squares, to stop in and take a break from sightseeing! With cute cafes, street performers, and more, these are great places to let kids roam and relax. Here are two of our favorite options for families!
Piazza della Repubblica
Need a break from exploring Florence with kids? Stop for a spell in Piazza della Repubblica! This scenic square dates back to ancient Roman times and is one of the most popular places in the city. It's also home to an antique carousel, one of the most photographed sights in Florence! If you're traveling to Florence with kids, especially toddlers or young kids, you can't miss taking a ride and snapping a few pictures.
Afterward, explore the area and its quaint shops and cafes, and maybe stop for a coffee or a gelato. Giubbe Rosse Cafe boasts an impressive history, as it was a meeting place for intellectuals up until the 20th century. At night, watch the entire square come to life with street performers and live music!
Piazza della Signoria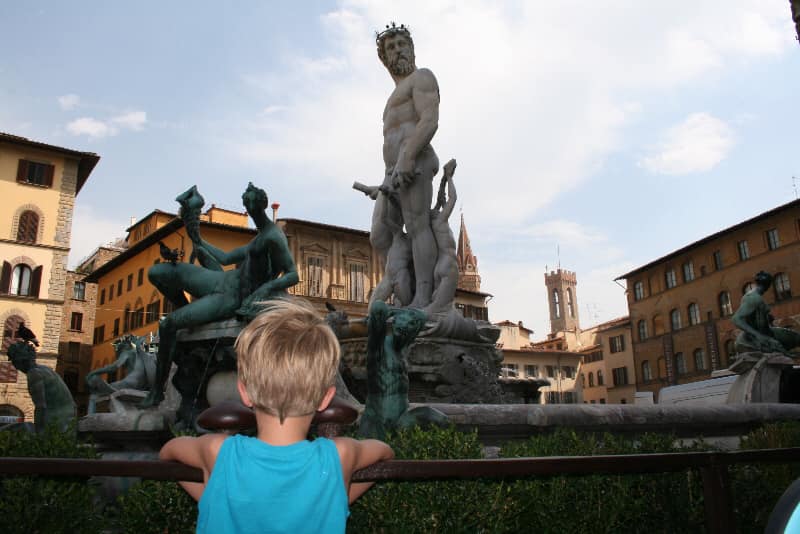 If you're visiting Florence for the first time with your kids, be sure to add Piazza della Signoria to your list of places to see! As one of the best free things to do in Florence with kids, this famous destination is one of the most iconic squares in Florence. Located in the heart of the city, it's home to several important landmarks, including the Palazzo Vecchio and the Fountain of Neptune.
The square is also a popular gathering place for locals and tourists alike. There are often street performers and musicians playing, making it a great place to people watch and soak up the atmosphere of Florence. There are often many events and festivals taking place in Piazza Della Signoria, so there's always something to see and do.
Take a Florence River Cruise on a Traditional Barchetto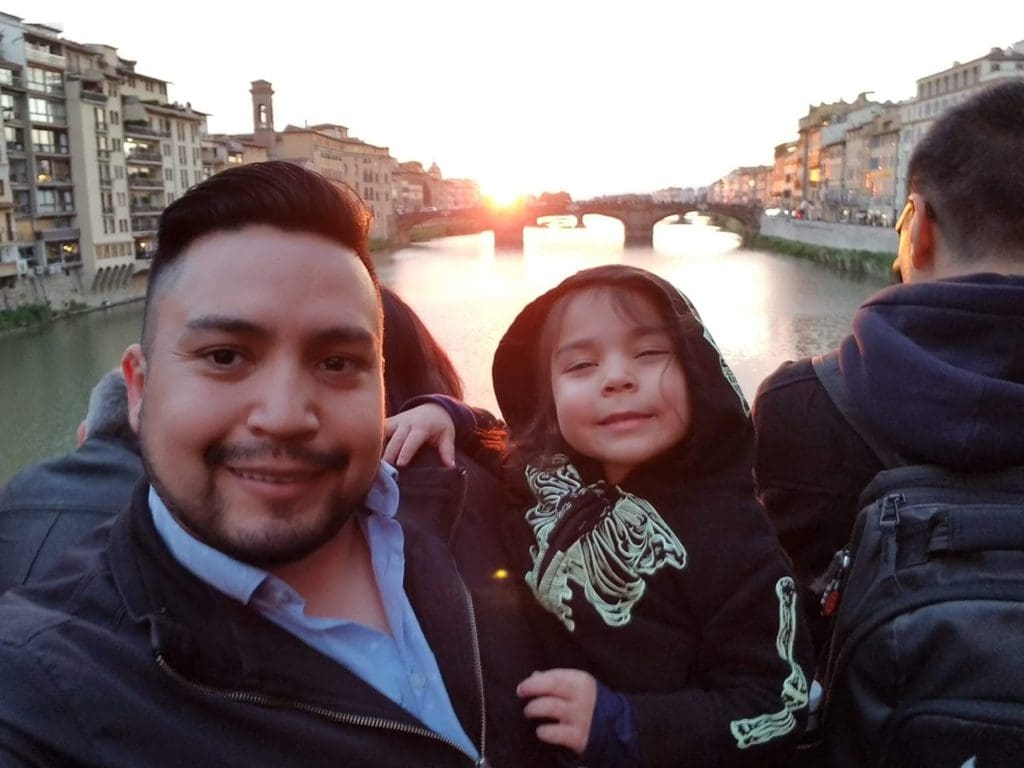 One of the best things to do in Florence with kids is to take a river cruise through the scenic city with your family! With the Ponte Vecchio bridge and the Arno River as your backdrop, you've got an unforgettable view as you sail through Prosecco and see attractions like the Uffizi Gallery and Corsini Palace. River cruises are also a great way to learn about Florence and its history. Your tour guide will point out all of the important sights and tell you about their significance. During your river cruise, you'll see the Palazzo Pitti, a large palace once home to the Medici family. Other sights include the Duomo, which is Florence's iconic cathedral, and the Campanile, the bell tower attached to the cathedral.
Book your Florence River Cruise on a Traditional Barchetto through Viator today!
Happy Travels!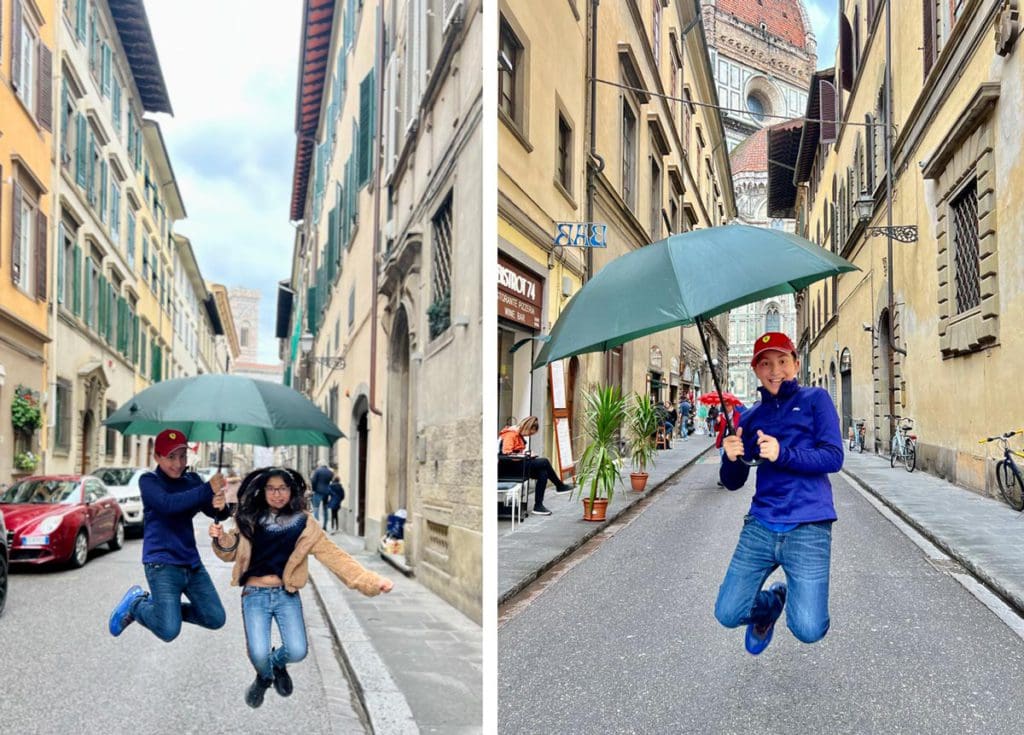 We hope you liked this article on the Best Things To Do In Florence With Kids! With great food, iconic history, and so much culture and art, Florence is surely a one-of-a-kind destination for a family vacation. Enjoy Italy with your kids!
*This post may contain affiliate links that may earn us a small commission, at no additional cost to you. Affiliate links in no way inform the hotels, sights, products, or other recommendations included in our articles. All opinions and recommendations expressed here are compiled from submissions submitted by the generous members of our Families Who Love To Travel community.
READ MORE: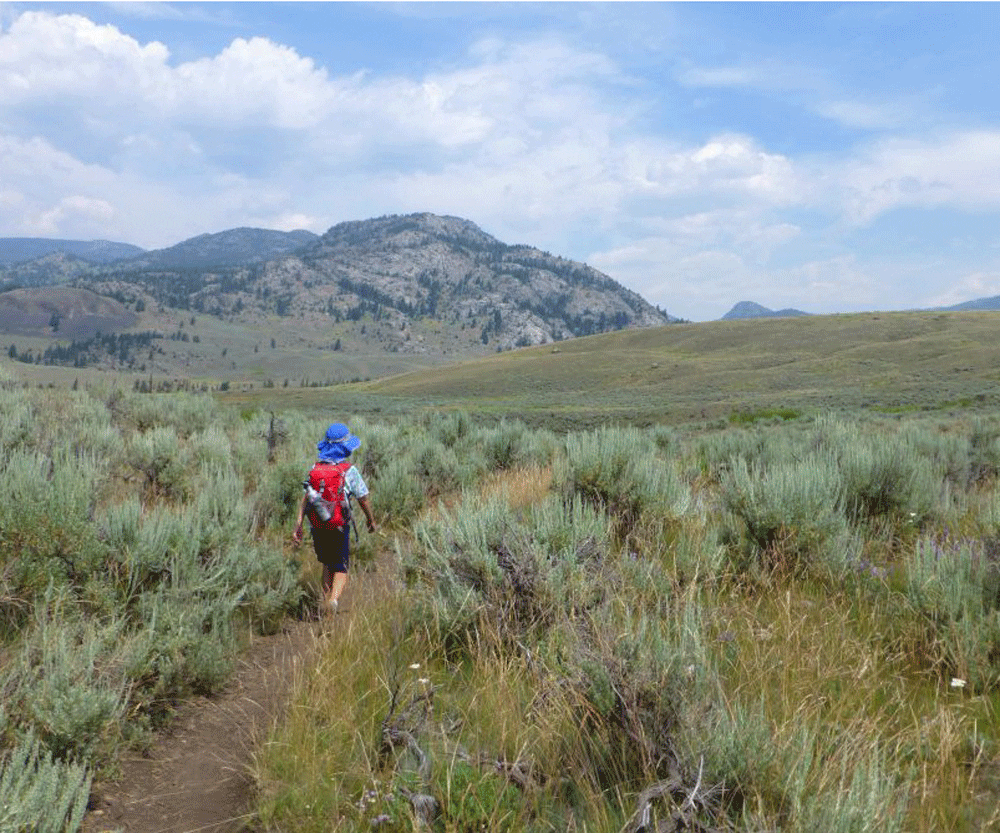 Everyone knows that Yellowstone National Park makes for a classic family vacation. Strolling the boardwalks...
From finding the best flights to booking a hotel, there are tons of decisions you...