Discover endless things to do in Aruba with kids during your next Caribbean family vacation! Home to beautiful beaches, all-inclusive resorts, and numerous kid-friendly activities, this palm-tree paradise is dubbed One Happy Island. Families love spending time on its shallow shores, snorkeling, scuba diving, and spotting turtles. Baby Beach and Eagle Beach are two of many island locations where you can soak up the sun. Whether you want to take a ride on an Atlantis Submarine or feed furry friends at Philip's Animal Garden, there's an interesting excursion for everyone in Aruba. Next time you need help planning your itinerary, just use this list of 12 Things To Do In Aruba With Kids as a reference!
Don't lug the baby gear with you on your next trip to Aruba! Rent everything you need using BabyQuip.
Spend an Afternoon at Eagle Beach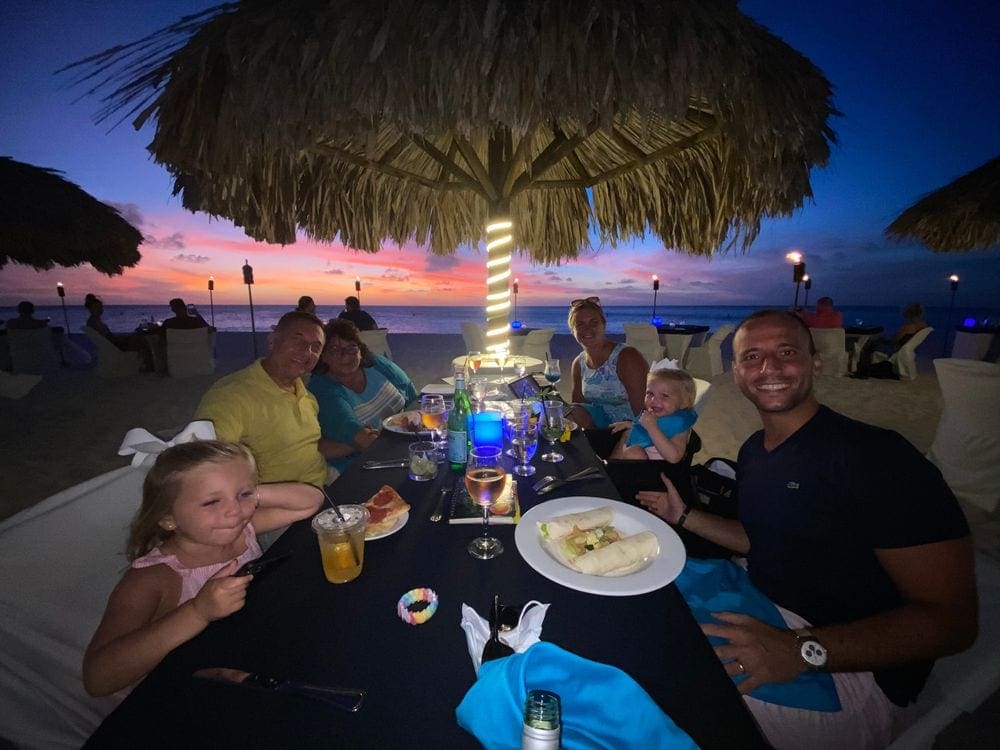 Take the entire family to Eagle Beach! Known as one of the best beaches in Aruba to visit with kids, this white-sand paradise showcases the island's most breathtaking vistas. Conveniently, it's also a fantastic place to spend the afternoon with your kids! Between calm blue waters and delicious cuisine, your family will be captivated by Eagle Beach's lively ambiance.
Plus it's home to two of the most photographed fofoti trees in Aruba, with its trademark silhouette pointing in the direction of the Caribbean. (It'll definitely be a great spot for some family photos!) Or, head to Eagle Beach for a day of relaxation and spend a few hours soaking up the sun. Water sport rentals are available for the more adventurous travelers too. Plus, kids will also love the abundance of wildlife you can find here. Traverse the beach and try to identify all four species of sea turtles!
"My family had a wonderful dinner in Eagle Beach at a restaurant named Passions On The Beach! My girls brought their suits to dinner and had a great time in the waves while waiting for the food!"

– Tara Neche
RELATED ARTICLE: 10 Best Caribbean Family Resorts With Baby Clubs
Tour the Aruba Butterfly Farm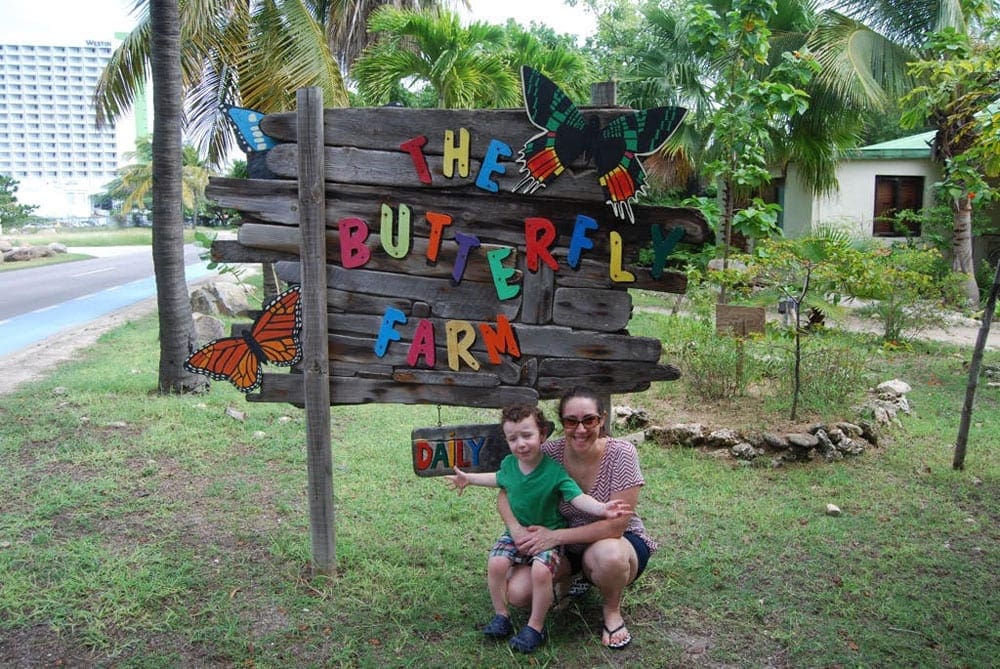 Reserve the Aruba 3-Hour Guided Island Sightseeing Tour on Getyourguide.com which makes a stop at The Aruba Butterfly Farm!
Kids of all ages will love a trip to The Aruba Butterfly Farm! Located in Oranjestad Noord, this peaceful sanctuary's main attraction is its tropical garden, teeming with butterfly species from all over the world! Little ones will definitely enjoy exploring this expansive green area, complete with a fresh-water pond to spot koi and other native species.
If you want to learn more about the wildlife, tour guides can even lead you through the lifespan of these majestic critters, starting from egg to cocoon and then butterfly. Then, take a chance to get up close to the butterflies on one of the benches or designated areas. If you stand still enough, they might even land on you! Of course, if you can't get enough of the Butterfly Farm after your first trip, don't worry. Your admission ticket is valid for the entirety of your stay in Aruba!
Snorkel or Swim at Baby Beach
Book your tour to Baby Beach with GetYourGuide.com!
A day at Baby Beach will impress your entire family! Located in San Nicholas, this white-sand beach is perfect for a day of family fun in the sun! Craving a day of seaside relaxation while your kids wander about? Baby Beach offers shallow waters for little swimmers, so children can enjoy safe fun together while you lounge. Remember to rent or bring an umbrella during the sun's height, though, because there's not a lot of shade here!
If your family is interested in water sports, you can also enjoy hassle-free snorkeling, since Baby Beach is populated by plentiful fish and turtles. Plus, with a range of restaurants, and a small refreshment stand that sells hotdogs, burgers, and other casual care, you won't have to leave when you're hungry. Spend a whole day relaxing with your family on Baby Beach, one of the best things to do in Aruba with kids!
"Baby Beach is a great beach for kids. It's shallow and you can go out far, but be very careful about going out too far because there is a current when you get out way past where you can touch."

– Jennifer Chan
Visit Aruba's Ostrich Farm
Reserve your visit to Aruba's Ostrich Farm with Getyourguide.com today!
Nature-loving children will treasure an interactive tour of Aruba's Ostrich Farm! Perfect for a family outing, guests can traverse this expansive farm with a tour guide. During the process, you'll learn a little more about the property and its ostriches. Then, mingle with these majestic birds! Everyone will love an opportunity to feed an adorable ostrich. Besides that, prepare to be up-close-and-personal with creatures like peacocks, lizards, and even emus. You may even be able to hold a baby ostrich or an emu egg!
If you have finicky children, you'll be happy to know the tour is pretty short (around a half hour) and never drags on. Of course, you could always grab a bite to eat from the on-site restaurant, Savana, if you're hungry afterward! Plus, with prices ranging from $7 for children to $14 for adults, this interactive experience is affordable and fun for the whole family.
RELATED ARTICLE: 11 must-try family-friendly Aruba restaurants for families!
Take a Spin on an Atlantis Submarine
Ready to book your tour for the Atlantis Submarine? Book now using GetYourGuide.com or Tripadvisor!
Get ready for an underwater experience like no other aboard a certified Atlantis Submarine! Great for children of all ages, this subaquatic vessel dives to the depths of the Caribbean Sea to showcase Aruba's abundant ocean life. Families can get a glimpse at shipwrecks and sea creatures in the beautiful Barcadera Reef!
As one of the best family-friendly things to do in Aruba, this excursion is an ideal underwater experience for those who dislike snorkeling or scuba diving. Laminated cards next to the window state what fish you'll see, so the whole trip will be a learning process, too. All the while, an informative guide will crack jokes to give you a better look at Aruba's submarine history. (If you're lucky, you could catch a sea turtle swim by!). Atlantis Submarine lasts about an hour overall and isn't recommended for those who have a hard time sitting still in tight spaces.
Hop Aboard a Seaworld Explorer Semi-Submarine
Here are some great options for the Seaworld Explorer from Tripadvisor and GetYourGuide.com. Book today!
A Seaworld Explorer Semi-Submarine is another one of the best things to do in Aruba with kids. Unlike an actual submarine, a semi-submarine allows visitors to stay on deck. During the tour, a knowledgeable guide will take guests through the depths of the breathtaking Arashi Reef and the Antilla!
This surreal underwater experience will mesmerize children of all ages, particularly those interested in learning more about Aruba's aquatic life. Spot fish, sea turtles, sharks, and other native creatures in the largest shipwreck in the Caribbean, originally used for research in Australia's Great Barrier Reef! History buffs will surely appreciate the chance to navigate an authentic WWII German vessel. Not only will the experience be educational, but it'll be fun, too. The submarine will also pass a few celebrity houses along the way!
Plan a Day Trip to De Palm Island
Gift your family the experience of a lifetime on your trip to De Palm Island by booking a tour with Tripadvisor here.
Unlimited adventure awaits your family at De Palm Island! A small islet located adjacent to Aruba, this tourist attraction is accessible via a five-minute ferry ride from the De Palm Island Ferry Terminal. Families staying at major island hotels can also opt to book a package through your concierge or the De Palm website, where you'll find complimentary shuttles to and from your accommodations.
Regardless of how you choose to arrive, buying a ticket here gives you an all-access pass to the island's best family-friendly activities. From an exciting water park and guided snorkel excursions to thrilling banana boat rides and more, it's perfect for children of all ages! Between island activities, parents can relax in the seaside restaurant and savor a hot buffet lunch, refuel at the snack bar with burgers, hot dogs, and fries. Enjoy specialty frozen cocktails while sprawled out in a scenic setting!
"De Palm Island is like a vacation within a vacation. From the boat ride to get over, the expansive water park, the wide selection of kid-friendly foods and fruity drinks, and the calm sea waters, our little one didn't want to leave!"

– Megan Tucker
Feed Wildlife at Philip's Animal Garden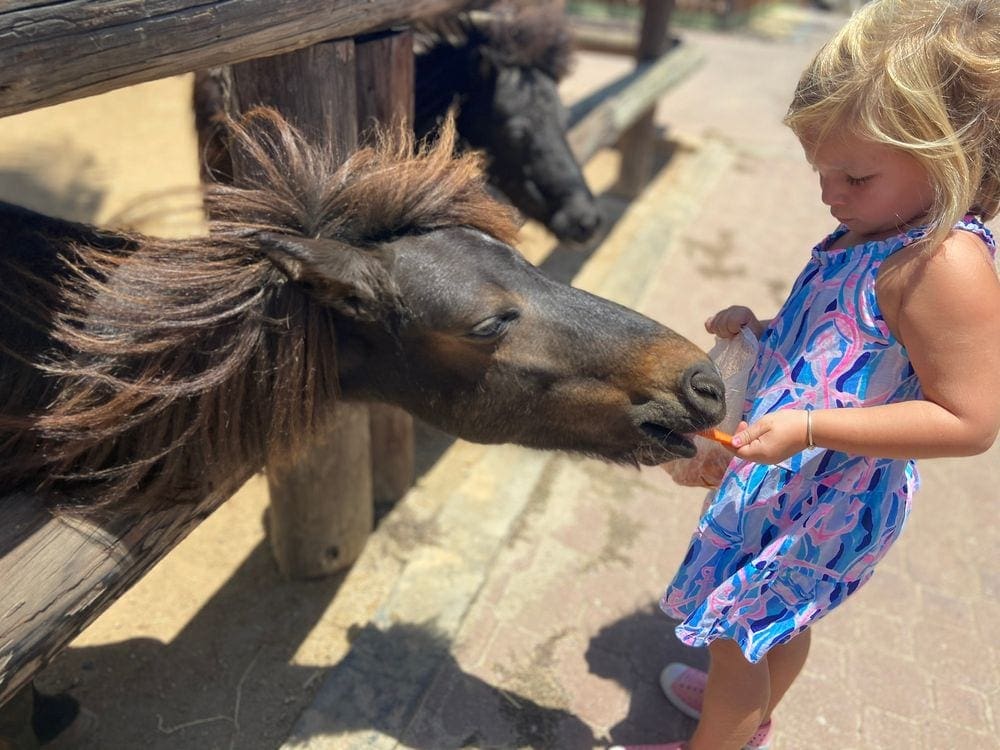 Reserve a Half-Day Animal Sanctuary Tour in Aruba with Tripadvisor today!
Phillip's Animal Garden is a paradise for Aruba's wildlife lovers! Set in an expansive green area, this non-profit rehabilitation center houses animals from all over the world. Owner and founder Phillip Merryweather built all of the shelters and spaces from scratch to ensure the creatures are well taken care of, something that sets this spot apart from a regular zoo.
Given this family-friendly aspect, Philip's Animal Garden is surely one of the best things to do in Aruba with toddlers or younger children. Take a quick tour of the property and you'll get the full experience. Feed baby goats from a bottle, spot a kangaroo from a distance, and also get close to a howler monkey! Phillip will also explain more about the animals, like why the kangaroo's original owners abandoned it. Kids can also spot eyra cats, potbelly pigs, and Shetland ponies roaming the grounds of Phillip's Animal Garden!
"We loved Philip's Animal Farm! Although it was extremely warm, my daughters had an amazing time feeding the animals with the carrots provided at check-in! It was beautiful to see them interact with the animals and laugh uncontrollably at how much fun they were having!"

– Tara Nechev
Explore the Aruba Donkey Sanctuary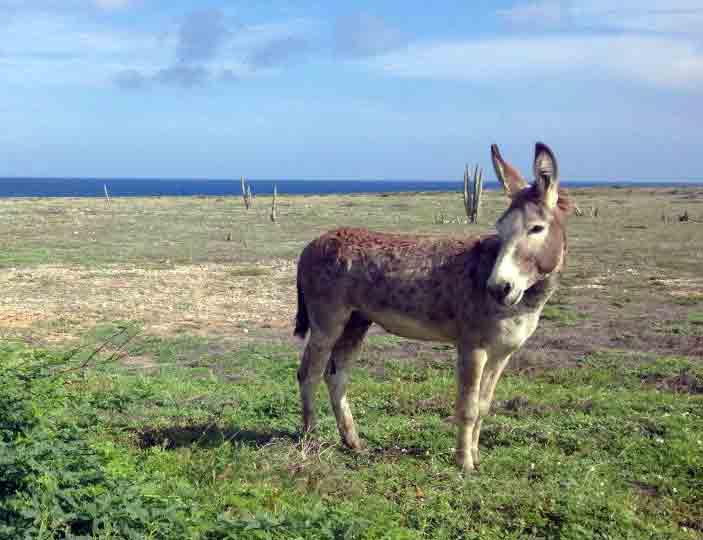 Ready to book your Meet the Animals of Aruba Tour? Reserve now using GetYourGuide.com.
Families will love exploring The Aruba Donkey Sanctuary! Launched in 1997, this Santa Cruz non-profit sanctuary has a simple yet powerful mission statement: "Save the Donkeys." As a plus, entrance here is entirely free, making it affordable for the entire family! When you arrive, settle into the visitors center for a quick refreshment. You'll also get a rundown on what to expect during your visit, alongside the proper protocol for interacting with the donkeys.
Then, you can embark on a tour where children can pet, feed, and mingle with the donkeys from a secure porch area. Don't forget to take lots of photos! In the meantime, parents can enjoy some coffee, or snack on the observation deck. Head to the souvenir shop afterward for some donkey-themed mementos to take home with you. A visit to the Aruba Donkey Sanctuary also puts you near other island attractions, like Arikok National Park.
"Support the Aruba Donkey Sanctuary! They rely on donations and save so many donkeys. Bring a bag or two of apples and the people there will lend you a knife and cutting board so you can cut them up. Hold onto the apples when you walk in because the donkeys are little thieves!"

– Jennifer Chan
Head to Mangel Halto
Discover the best options for Mangel Halto by GetYourGuide.com, Viator, or Tripadvisor today.
Mangel Halto is the family-friendly beach of your dreams! Pristine and secluded, a network of mangroves pave the path to its calm, shallow waters, located right off Pos Chiquito. Though it's generally one of the best beaches in Aruba to visit with kids, Mangel Halto is known for shore-diving. Some also claim it to be the best snorkeling spot in Aruba! If you don't like snorkeling, it's also a fantastic destination for families to relax.
Many sunbathers choose to visit here to beat the Aruba crowds or enjoy a picnic underneath one of the beach's many public huts. Kids can spot a diverse array of marine life dispersed throughout the reef, and spend the day roaming free. (You can even walk out onto the edge of the reef to spot parrotfish, yellowtail snappers, and more local wildlife!) Paddleboarding and kayaking rentals are also available on the Mangel Halto!
Skip the tours and book tickets for Octopus Aruba Sailing & Snorkeling Tickets instead.
Trek the Trails at Arikok National Park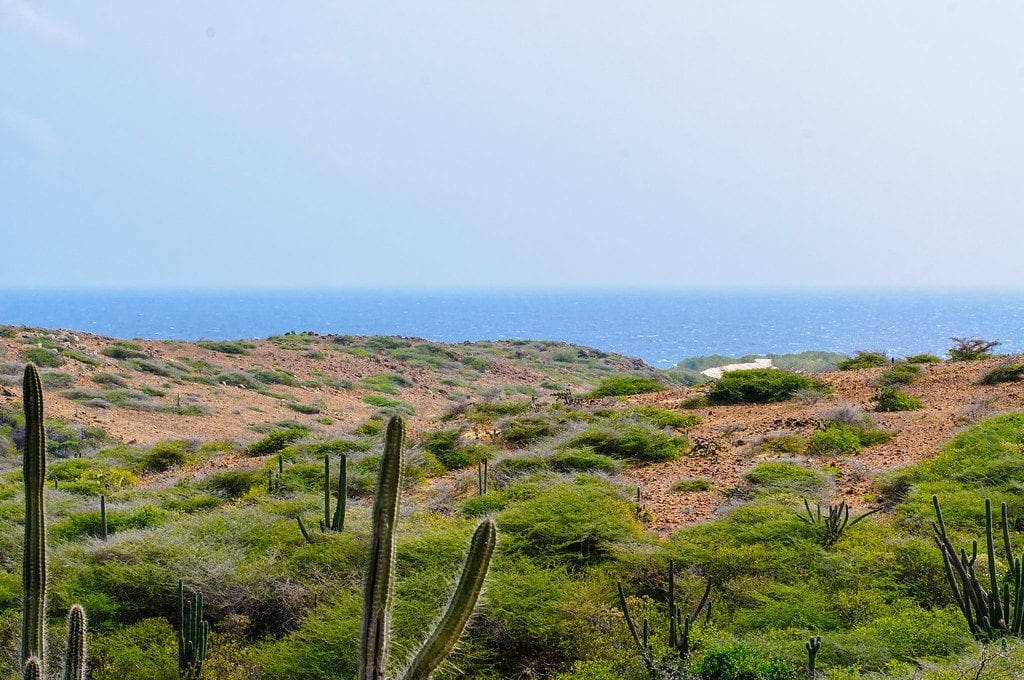 Splurge with an Aruba Arikok National Park & Beach Horse Riding Private Tour with GetYourGuide.com today!
Reserve an Arikok Hiking Tour with Tripadvisor or Viator!
Enjoy a day exploring the great outdoors with your family at Arikok National Park! Located on Aruba's east coast, this sprawling area stretches nearly 20% of the island to offer sweeping views of its surrounding scenery. Come here to traverse rugged terrain, learn more about Aruba's history, or search for diverse wildlife! It's no surprise that visiting Arikok National Park is a great experience for an adventurous family since there's so much to do here.
Two popular beaches include Boca Prins and Dos Playa, which is also a turtle nesting site. Adventurous kids will also love climbing to hilltops Jamanota or Arikok to spot as many native creatures as they can, including wild goats and lizards. Arikok National Park also boasts two natural pools and cave formations you can explore with the help of a ranger, who will explain the park's history to your family. Children receive free admission too!
"Arikok National Park is awesome! Get a map and explore."

-Jennifer Chan
Enjoy Family Fun at Splash Park Aruba
Book Splash Park Aruba with Tripadvisor today!
Head to Splash Park Aruba for some ocean fun in the sun! Located in Oranjestad, this inflatable water park sits atop the crystal-clear water of Surfside Beach. It's also the perfect place for families to cool down on a hot Aruba day! Kids will love splashing around in designated areas throughout the park, each offering a challenge for different age groups. From the Flip, the park's first free-floating water catapult, to a series of obstacle courses, slides, and even climbing rope, there's no telling what you'll find!
Older kids will have a blast here, but there's even a toddler area for little ones to enjoy. Either way, you'll be sure to experience a workout, as well. Parents can even explore with a drink in hand. Need some food to fill you up after a day at Splash Park Aruba? Hit the food court for some casual fare once you're hungry!
Book an Adventure with De Palm Tours
Book your next family adventure in Aruba with De Palm Tours! Check out this kid-friendly tour company for outdoor excursions during your family vacation. Whether you're looking for things to do in Aruba with teens, younger kids, or toddlers, you'll find an outing suitable for your family! Tours range from snorkeling to submarine experience, sailing, and other getaways for all interests!
Located in Oranjestad, Aruba's tourist center, a De Palm Tour is a safe way for kids to experience a typical Aruban adventure. Swim with flamingos on De Palm Island, take an off-road safari near Baby Beach, and so much more! If you're unsure, why not choose a mix? De Palm Tours hosts an Aruba Sightseeing Tour for newcomers to the island. Parents, be sure to check out the kid-friendly Happy Hour Snorkel and Sail. You'll enjoy a low-impact afternoon filled with laughter snacks and also an open bar!
Happy Travels!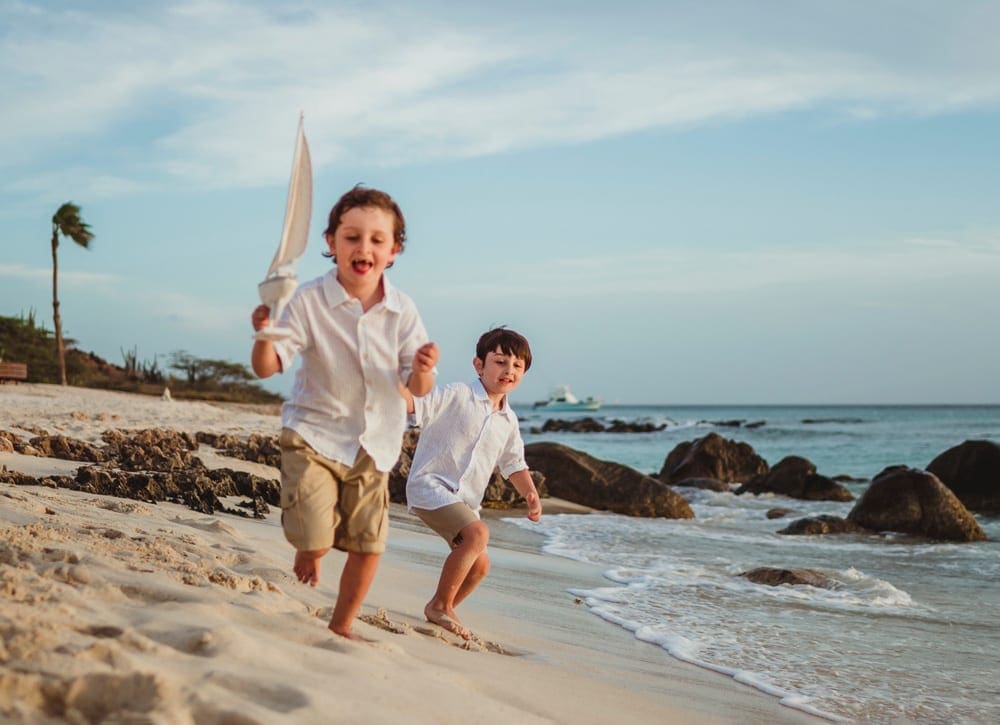 We hope you've enjoyed our list of 12 Things To Do In Aruba With Kids! From sunbathing on shimmering shores to interacting with local wildlife, taking a tour via submarine, and exploring National Parks, there's surely something for everyone in Aruba. Of course, as parents, we know that traveling with children is about memories more than anything else! Enjoy a fantastic time in Aruba with your kids.
Don't forget to book your Tickets for Family-Friendly Aruba Attractions!
Companies such as Viator or GetYourGuide offer various tours in Aruba and all over France with a flexible cancellation policy and a book now, pay later option. These companies offer peace of mind for families if they have to cancel for any specific reason.
Many of the activities on this list may require altered safety precautions due to COVID-19. Learn more about how Aruba is handling the pandemic by clicking here.
*This post may contain affiliate links that may earn us a small commission, at no additional cost to you. Affiliate links in no way inform the hotels, sights, products, or other recommendations included in our articles. All opinions and recommendations expressed here are compiled from submissions submitted by the generous members of our Families Who Love To Travel community.
READ NEXT: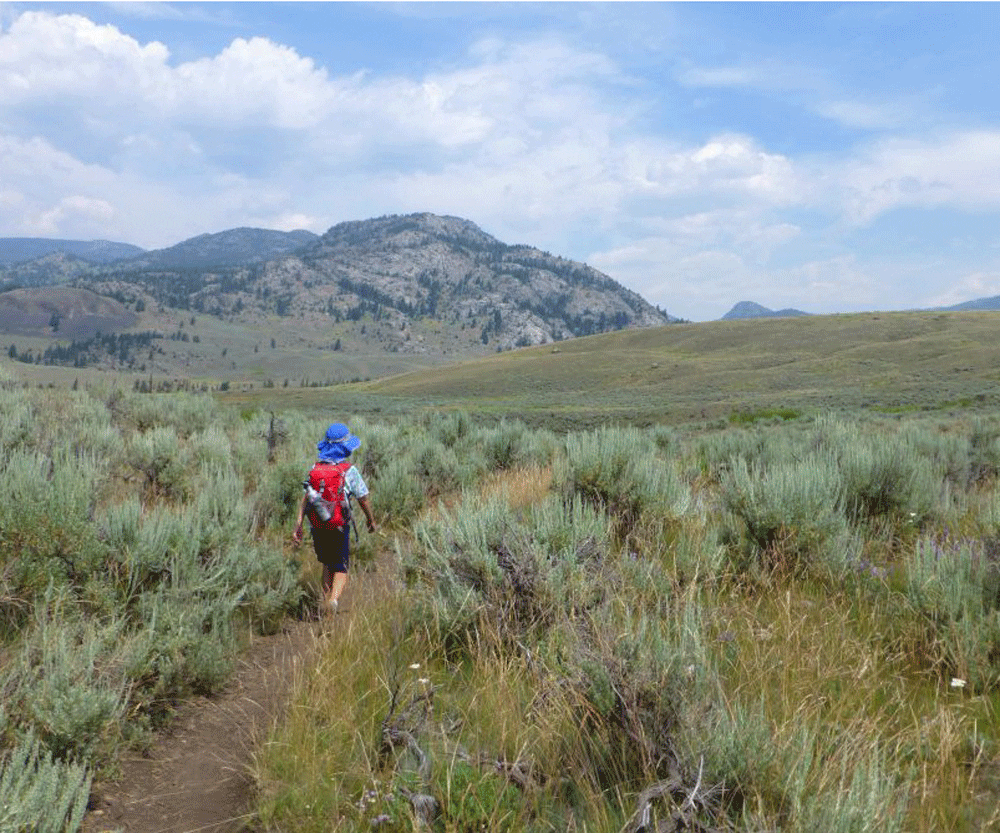 Everyone knows that Yellowstone National Park makes for a classic family vacation. Strolling the boardwalks...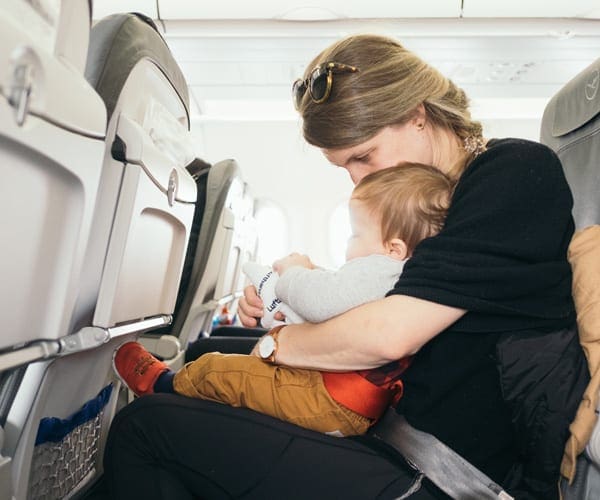 Families Who Love To Travel contributor Meghan Oaks provides her 10 best tips for your...