A fun and educational vacation awaits your family at these best things to do in Rome with kids! From the ancient landmarks of the historic city center to the trendy streets of Trastevere, there's so much to do in this wonderful city with kids. Whether you're visiting with older kids who are interested in arts and culture or younger kids who want to explore Rome's open green spaces, this list of best things to do in Rome with kids has you covered. In addition to tips, we've also included tours, where to stay, and more advice for planning your Rome family itinerary. Keep reading to find the 35 Fun & Educational Things To Do In Rome Kids Will Love!
Ways to Explore Rome with Kids
Make sightseeing into a fun experience the whole family can enjoy by taking a special Rome tour! Whether on an exciting food tour, a bike tour, or a hop-on, hop-off bus ride, this is a great way to entertain kids. You can explore some of the best sights all in one go with an engaging guide! Stay tuned for our favorite tour options in Rome, including the best things to do in Rome with kids!
Looking for an itinerary? Use our Exciting 5 to 10-Day Rome Itinerary With Kids: What To Do And Where To Go
By Walking
There are many ways to see Rome's ancient attractions. Start by taking a free walking tour. Rome free talking tours are available to book online to book in advance. Plus, there are also free apps available online that guide you through walking routes and provide information. Here are two free options to consider for families:
Families who want to simplify their vacation in Rome can also book a tour guided walking tour. Certainly, some options suit all ages and interests. Here are two options to start your search:
With a Bike or a Golf Cart
Walking tours aren't the only way to see Rome with kids. Sometimes hopping on a bike or golf cart is even better with kids! Segway or bike tours are great for older kids, tweens, and teens. Remember Rome can get crowded so bikes can get a bit challenging for new riders during the busy season. Then, those with littles in tow may appreciate the ease of a golf cart tour. Even multigenerational families will appreciate these tours on wheels. Here are some great tours to consider.
Hop-On, Hop-Off Bus Ride
See all of Rome's best attractions in one go hop-on, hop-off bus tour! Perfect for families with toddlers and younger kids who don't want to do a lot of walking, this versatile tour lets you explore the city at your own pace.
With one, two, and even three-day tickets, families can see all the best landmarks in Rome. Enjoy everything from the Pantheon to the Spanish Steps, Colosseum, and more! Tours include pre-recorded commentary so you can learn more about the history behind what you're seeing, and your ticket also includes a free digital walking tour. It's a great way to customize your vacation if you want to spend more or less time at a certain spot than a traditional tour would. Viator also offers a hop-on, hop-off bus tour that is great for toddlers and multigenerational groups.
Look here for more Rome tours through Getyourguide.com!
Best Places in Rome to Explore with Kids
Travel back in time to Ancient Rome when you visit the historic city center, home to landmarks, architecture, and archaeological sites from thousands of years ago! From the Pantheon to Palatine Hill, the Colusseum, and the Roman Forum, these are some of the most famous attractions in the city and surely the best things to do in Rome with kids. Stay tuned to learn more!
Save with discounted tickets and explore Rome with Go City®. Get your pass here!
Find out why Italy is on the list of the 10 Best Places to Travel with Kids in Europe!
The Pantheon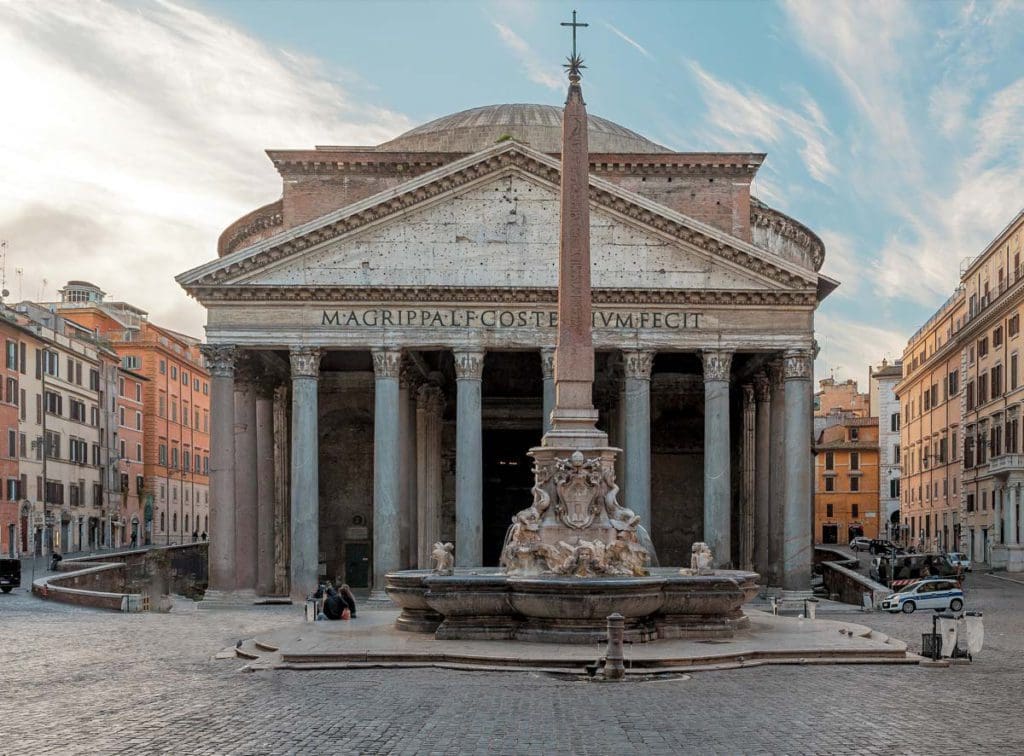 The Pantheon is one of the most recognizable buildings in Rome. Located in the historic city center, this former temple to pagan gods is now a church that's free for the public to visit and great for all ages. Though you could just see the monument from afar, we suggest going inside and buying an audio tour if you want to learn more about the history. Of course, you could just go inside for free and appreciate the intricate detailing and art – including an incredible dome ceiling. The Pantheon is often included in walking tours of the historic city center, so it's easy to fit into a sightseeing itinerary.
Colosseum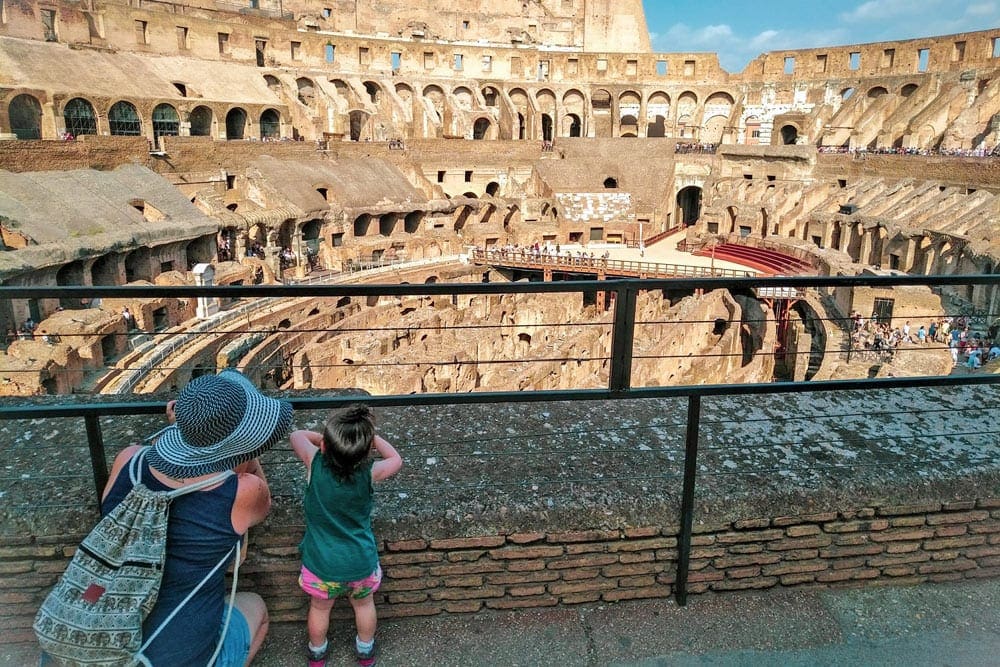 Kids of all ages will definitely be impressed by the Colosseum! At this amphitheater in Rome's historic city center, the whole family can get a glimpse at life as a gladiator, from the deathly battles to other forms of entertainment. You don't necessarily need a tour to enter as there's an audio guide available. But we recommend booking one since there's so much to see and learn. Companies like CoopCulture and Civitatis offer a full tour of the Colosseum in conjunction with other famous sites. Depending on the tour you book, you'll be able to visit the historic underground area, featuring show props and even the elevator used to lift the animals into the arena!
Book this Semi-Private Colosseum Underground Tour for a new Colosseum experience that the whole family will enjoy! Or, enjoy this Colosseum and Roman Forum for Kids Tour combination tour, including the Colosseum, Palatine Hill, and the Roman Forum.
Palatine Hill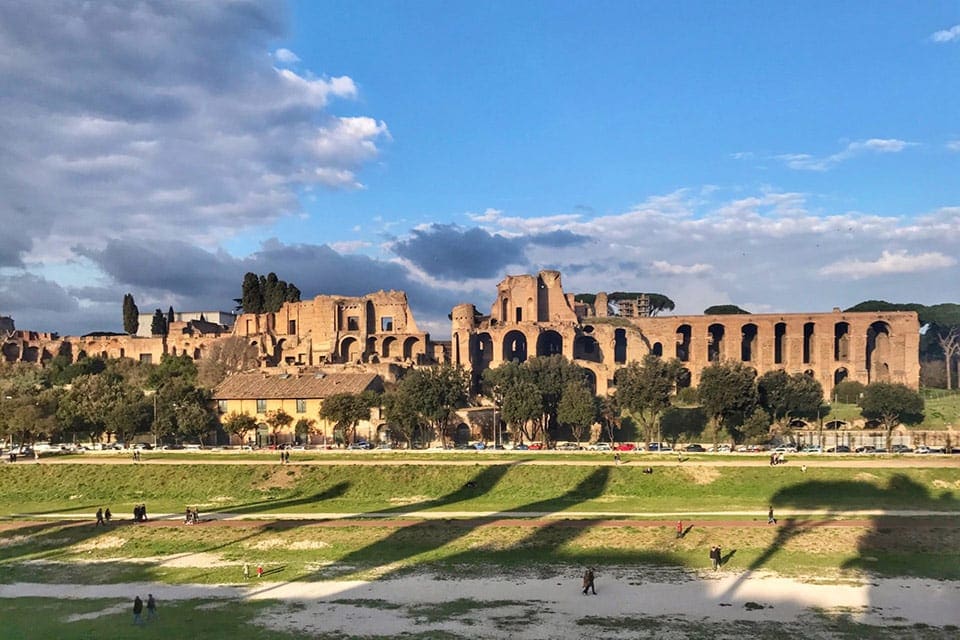 Visit Palatine Hill to be rewarded with some of the best panoramic views in Rome! Located above the Roman Forum in the historic city center, this is the most important of Rome's seven hills, believed to be the "nucleus of the Roman Empire." So, not only is it a great place for a stroll on a sunny day, but you can also witness a piece of history! During your visit, you'll pass a variety of ruins, as well as the grand Flavian Palace and Farnese Gardens. There's also a Palatine Museum with a few exhibits to learn more about. Since it's located nearby, a lot of travelers combine a trip to Palatine Hill with the Colosseum, Pantheon, Roman Forum, etc.
Roman Forum
Located between the Palatine and Capitoline Hills, the Roman Forum was once the center of everyday life in Ancient Rome. Now, visitors can see the ruins, explore the ancient plaza, and learn what life was like in the old days. Whether you want to take an audio tour, explore on your own, or include the forum in a bigger walking tour of the historic city center, this is a must-visit when in Rome with kids of all ages. Most people choose to visit after seeing the Colosseum since the entrance of the forum is near the Colosseum's exit. Still, we suggest visiting in the early morning or late afternoon, as it tends to get crowded!
If you're not taking a tour and want a budget-friendly way to see the Forum, download the Parco Colosseo app or Rick Steves Audio Tours Europe.
Circus Maximus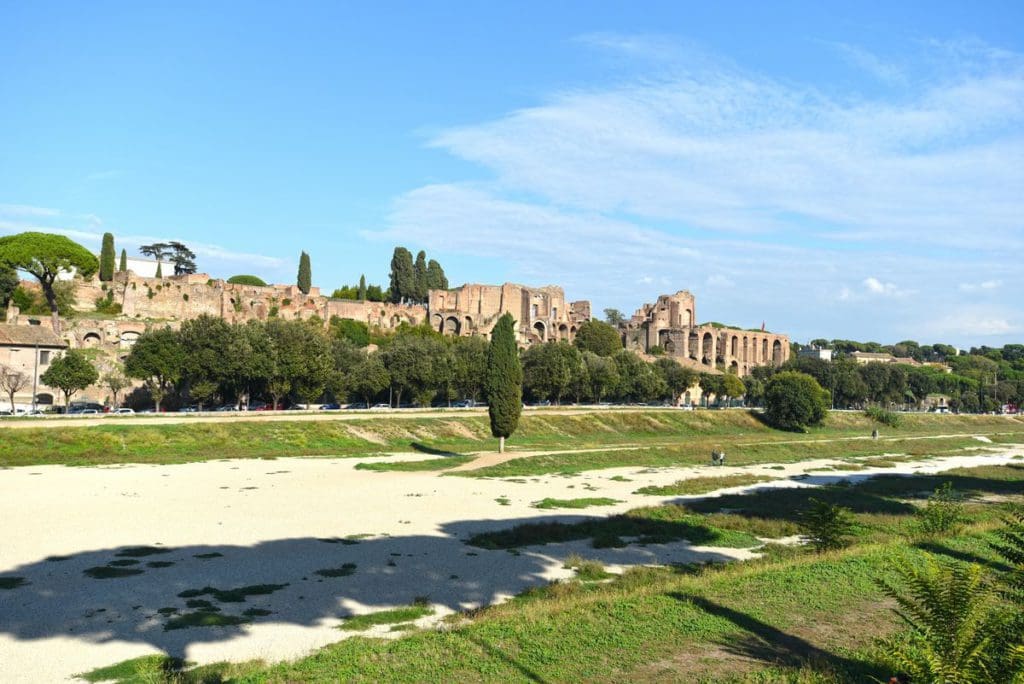 Kids will love a visit to the largest chariot stadium in ancient Rome, the Circus Maximus! Though the stadium has been destroyed over the years due to fire, the ruins remain for visitors to see today. It's located below Palatine Hill and a few minutes away from the Colosseum. Families usually visit here when sightseeing in the historic city center. There isn't too much to explore, but older kids will likely enjoy walking around the oval racetrack and envisioning their own chariot games. Meanwhile, teens and parents can read more about its history. Since it's not as busy as other sights, you can visit any time of day to get a break from the hustle and bustle.
The Catacombs of St. Callixtus
Families in the mood for a spooky adventure in Rome with kids will love the Catacombs of St. Callixtus. As one of the largest burial grounds in Rome, the catacombs were the official cemetery of the Church of Rome in the 3rd century AD, featuring around half a million Christians, including martyrs and popes. We suggest visiting with a guided tour of the Catacombs through Viator to learn more about the history and all the incredible artifacts housed here. During your tour, you'll see the crypt of the nine popes and St. Cecilia as your guide tells you more about the hidden history of the site. This is one of the best things to do in Rome with tweens and teens!
Piazza Navona
A piazza, also known as the town square, is the center of activity in Rome. It's the perfect place to stop for a spell and enjoy the ambiance, whether with gelato or a cup of coffee. A lot of piazze in Rome also feature street performers to entertain kids, like Piazza Navona in the historic city center. Bustling with vendors and the Fontana Dei Quattro Fiumi, it's located near the Pantheon and other attractions that are likely already on your family itinerary, like the nearby Al Sogno Toy Store. Nearby, you'll also find another famous piazza in Rome: the Piazza di Spagna at the bottom of the Spanish Steps. Both are worth a visit with kids to take a break!
Make a Wish in One of Rome's Fountains
Rome is brimming with beautiful fountains, from the famous Trevi Fountain to the lesser-known Turtle Fountain. These scenic spots are an excellent place to take a break during your family vacation; especially if you throw a coin in the fountain to make a wish! Here are our favorite fountains, aka the best things to do in Rome with kids of all ages!
Trevi Fountain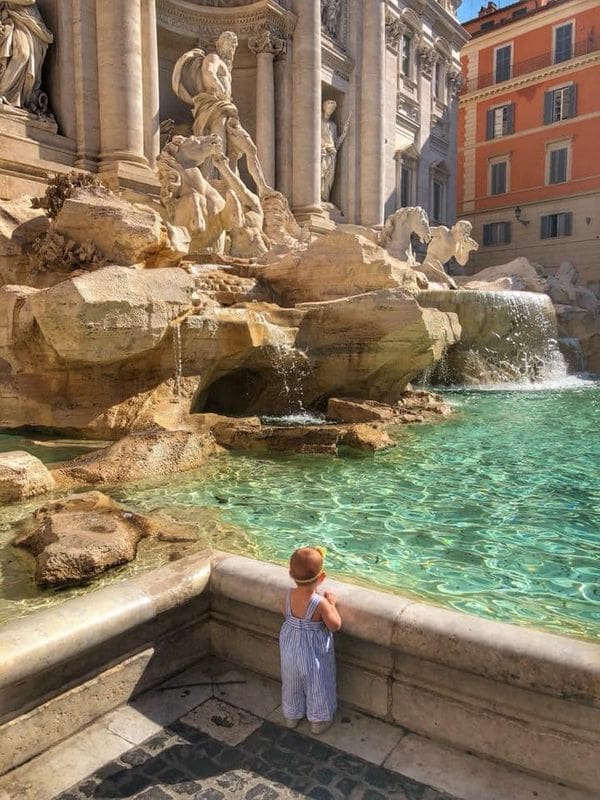 A vacation in Rome with kids would be incomplete without seeing the Trevi Fountain! At over 85 feet high, this Baroque fountain is one of the most famous attractions in the city. Located in the heart of Rome in Piazza di Trevi, it's near the Pantheon, Spanish Steps, and other landmarks. With its lavish statues and intricate details, families often visit here to take iconic photos and participate in the ritual coin toss for good luck. Keep in mind this is a very popular area of Rome, and the fountain is usually crowded from noon to at least 7 PM. Some savvy travelers like visiting at the end of the day when crowds are fewer and the fountain is illuminated!
Turtle Fountain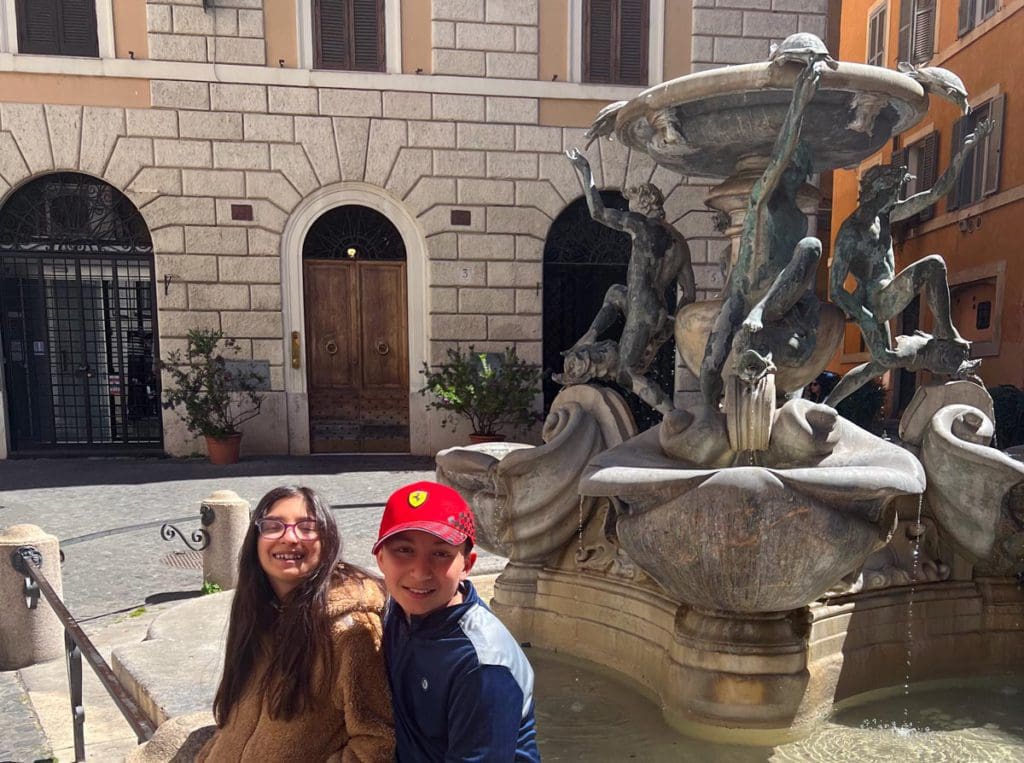 Sure, the Trevi Fountain may be the most famous in Rome, but don't forget about the Turtle Fountain! Whimsical and perfect for curious kids, it's located in Piazza Mattei in Rome's Sant'Angelo District. Luckily, it's just a 10-minute walk from the Pantheon and other attractions. The neighborhood is historically Jewish, and the fountain represents the intersection of Renaissance and Medieval culture. Take a photo, toss a coin in for good luck, and then relax in the piazza. You can people-watch, grab a snack, and listen to the sound of church bells. This is definitely one of the best things to do in Rome with kids!
Fontana dei Quattro Fiumi
Fontana dei Quattro Fiumi, aka the Fountain of the Four Rivers, is another one of the best things to do in Rome with kids. Located in Piazza Navona, the gorgeous fountain was created by renowned architect and sculptor Gian Lorenzo Bernini. It features the Gods of the Four Rivers. If you're visiting with kids who are learning Renaissance history in school, this is a great chance to learn more about Bernini. Alongside this fountain, Piazza Navona also has two smaller fountains: Fontana del Moro and the Fontana del Nettuno. All are great options for tossing a coin and making a wish with kids. Little ones will love the elaborate designs!
Get a Panoramic View of the City
With its ancient hills, panoramic terraces, and more fantastic vantage points, it won't be difficult to find some of the best views in Rome. To help you out with the planning process, we've compiled the best things to do in Rome with kids of all ages when you want a beautiful view of the city, from castles to monuments and more!
Aventine Hill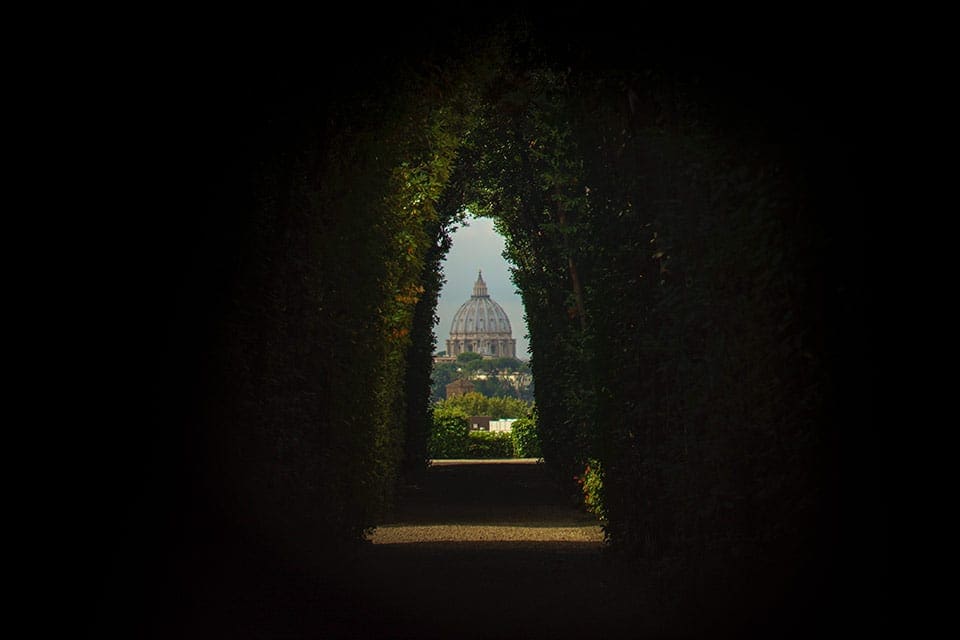 One of Rome's famous seven hills, Aventine Hill is also another excellent place to overlook the city. The southernmost of all the hills, it's located in a quiet, residential area away from the crowds of the city. Although it's across the river and closer to sites like the Colosseum, this hill provides some of the most unique views of St. Peter's Basilica. With a beautiful rose garden, manicured orange trees, and plenty of open green space, it's the perfect place to spend a sunny day with kids. A few religious structures here might also be of interest. Visit the Basilica of Santa Sabina, the oldest basilica in Rome.
Castel Sant'Angelo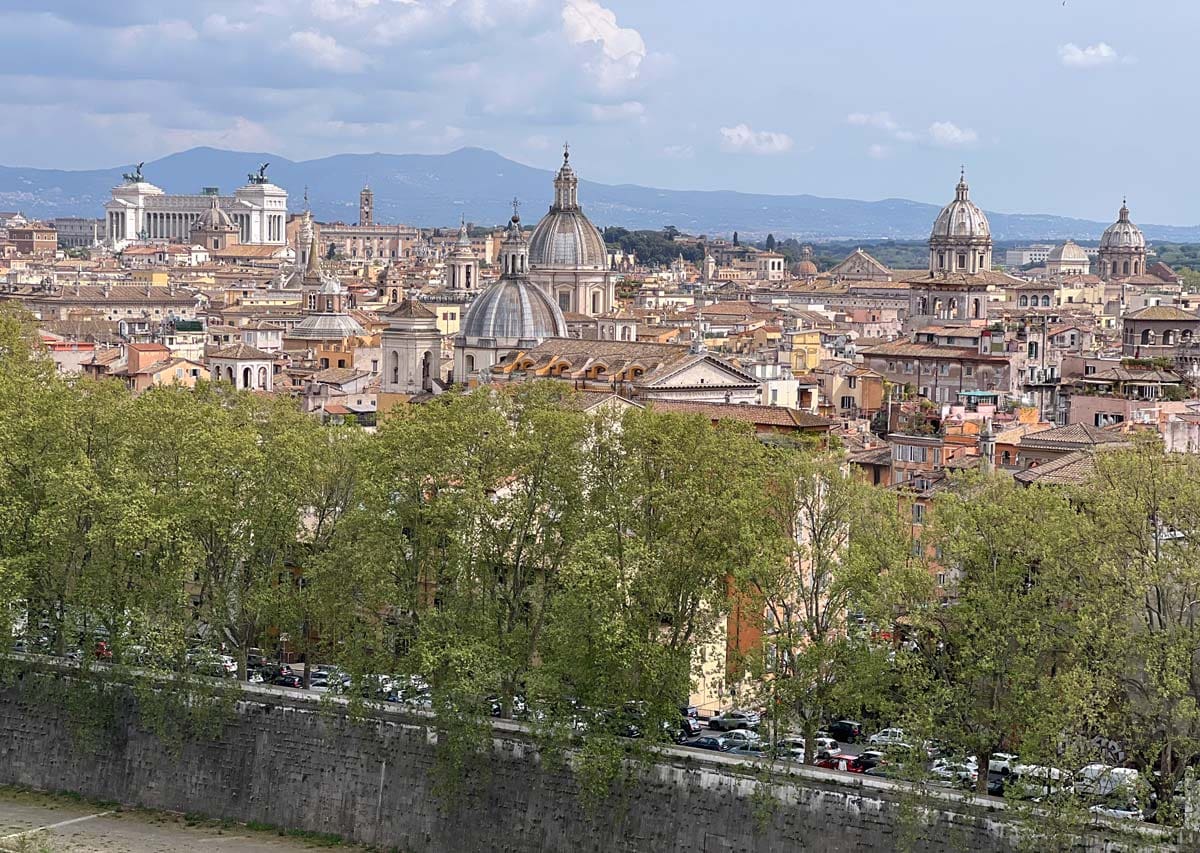 The Castel Sant' Angelo was originally commissioned as a mausoleum for Roman Emperor Hadrian and his family. Overlooking the River Tiber near Vatican City, it later became a holy site. Now, families can visit with a paid ticket and experience the building's turbulent history. Inside, you'll be able to explore the vestiges of Imperial Rome on five floors. Kids of all ages will love seeing all the historic weapons on the first floor as you explore the property. They can also see the prisons, more artifacts, furniture, plus secret apartments intended to house popes in times of war. When you're done seeing the inside, head to the top floor for an amazing view over Rome!
Book your tour of Castel Sant'Angelo using Viator today!
More Scenic Spots in Rome to Visit with Kids
To continue your scenic exploration of Rome, we suggest the Appian Way. Also known as Appia Antica, families can walk down one of the oldest roads in Rome. Certain stretches are better than others. For example, the Basilica di San Sebastiano features pine trees and green fields peppered with woods and crumbling ruins. It's ideal for a relaxed, albeit bumpy, bike ride, available to rent nearby. To combine a view of the city with history, visit the Mole del Vittoriano, a monument with a panoramic terrace. Terrazza del Pincio, located at the Southern end of the Pincio Promenade and looking out over Piazza del Popolo, also offers one of the best views of the city.
Venture Off-The-Beaten-Path to Bocca Della Verita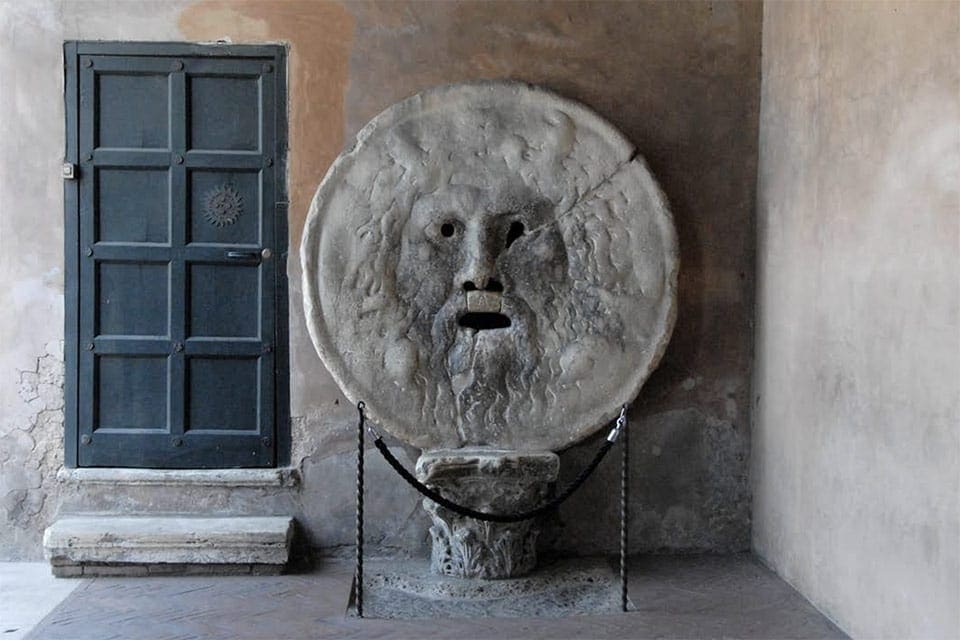 Learn the fascinating legend of a 4th-century stone when you see the Bocca Della Verita! Located in Santa Maria in Cosmedin Church, this historic attraction is worth a visit simply to see the stone, which resembles a man's face with his eyes open. Legend says the stone used to eat the hands of liars, so it's definitely an interesting story to tell children. Plus, they can stick their hand inside to take a cheeky photo! Though it'll probably be a quick stop (you go inside the vestibule to take a photo and then leave,) we recommend adding it to your Rome with kids itinerary.
Enjoy the Great Outdoors
With options for kids of all ages, Rome has plenty of gardens, parks, markets, and other spaces for families to wander. One of the most popular is Villa Borghese, located on Pincian Hill close to the Spanish Steps. This former estate is one of Rome's biggest public parks, featuring beautifully manicured gardens, ponds, and ancient statues. Kids will love taking a break from the chaos to explore. There are even two playgrounds within Villa Borghese, as well as opportunities to rent surrey bikes to tour the grounds or take a row boat out onto a pond.
Then, check out some of the attractions located within the gardens, like the Borghese Art Gallery. Or, the Bioparca di Roma. At this sprawling zoological park, kids can see monkeys, sea lions, and so much more! Families who want to continue their exploration of the outdoors can also visit Campo de Fiori, where you'll find the oldest market in Rome.
Visit a Kid-Friendly Museum
Visiting a museum in Rome is a great way to keep kids entertained for the day while learning something new. Of course, since Rome is filled with so much art, culture, and history, museums should definitely be at the top of your list of the best things to do in Rome with kids. Here are our favorites!
Don't miss these Best Things to Do in Rome with Toddlers!
Vatican City
Home to iconic art, visiting Vatican City is a must when seeing Rome with kids. First, there are the Vatican Museums, a collection of over 25 museums located in the Vatican Palaces. One ticket gives you access to all the galleries. Kids can explore Egyptian relics, Renaissance paintings, Greek and Roman Sculptures, and so much more. Of course, when visiting the Vatican Museums, you can't miss the opportunity to see the Last Judgement in Michelangelo's Sistine Chapel. Then, use your leftover time to visit St. Peter's Basilica and Square, one of the Catholic church's most holy pilgrimage sites. Though younger kids may not be as interested in seeing the inside of the basilica, it's still worth a stop.
GetYourGuide offers various Tours of St. Peter's Basicilia, as does Viator, which features a Private Tour of The Vatican & St. Peter's.
Villa Doria Pamphili
Set along the Via del Corso in the heart of Rome lies Villa Doria Pamphili. This converted palace is loaded with masterpieces from Caravaggio, Rafaello, Velasquez, and many other Baroque and Renaissance artists! Though there are many museums in Rome, a lot are usually crowded with tourists. The sheer beauty of the architecture of Doria Pamphillij gives families an alternative option to spending a few hours soaking up Rome's culture, since the garden area gives kids space to run around. Admission also includes a complimentary audio tour, designed to keep the kids engaged and interested in the history they absorb. That way, the whole family can enjoy the incredible artworks displayed in one of the most stunning palaces in the world!
Other Kid-Friendly Museums in Rome
Don't miss these other kid-friendly museums in Rome. Whether on a rainy day or to escape the heat, they will surely offer both fun and educational opportunities for everyone.
Explora Children's Museum is perfect for young kids between six and twelve who want to challenge their creativity with hands-on exhibits. It features a variety of science and history-related attractions for them to enjoy. A small space is also available for kids three and under.
Galleria Borghese is a must for families with older children who love art. Explore an endless maze of rooms filled with beautiful paintings, furniture, and statues – each more incredible than the last!
MAXXI – The National Museum of the 21st Century is a great option for kids who are interested in contemporary art can also visit.
Enroll in a Family-Friendly Class
Whether you're interested in pasta, gelato, or learning to live like a gladiator, Rome offers so many classes families can enjoy together. These are great indoor activities on a rainy day. Plus, they're a perfect way to bond as a family while learning more about Rome and its history, culture, and customs. Keep reading for the best things to do in Rome with kids! Though there are options for kids of all ages, pay attention to any age requirements that may be a factor before booking.
The Gladiator School of Rome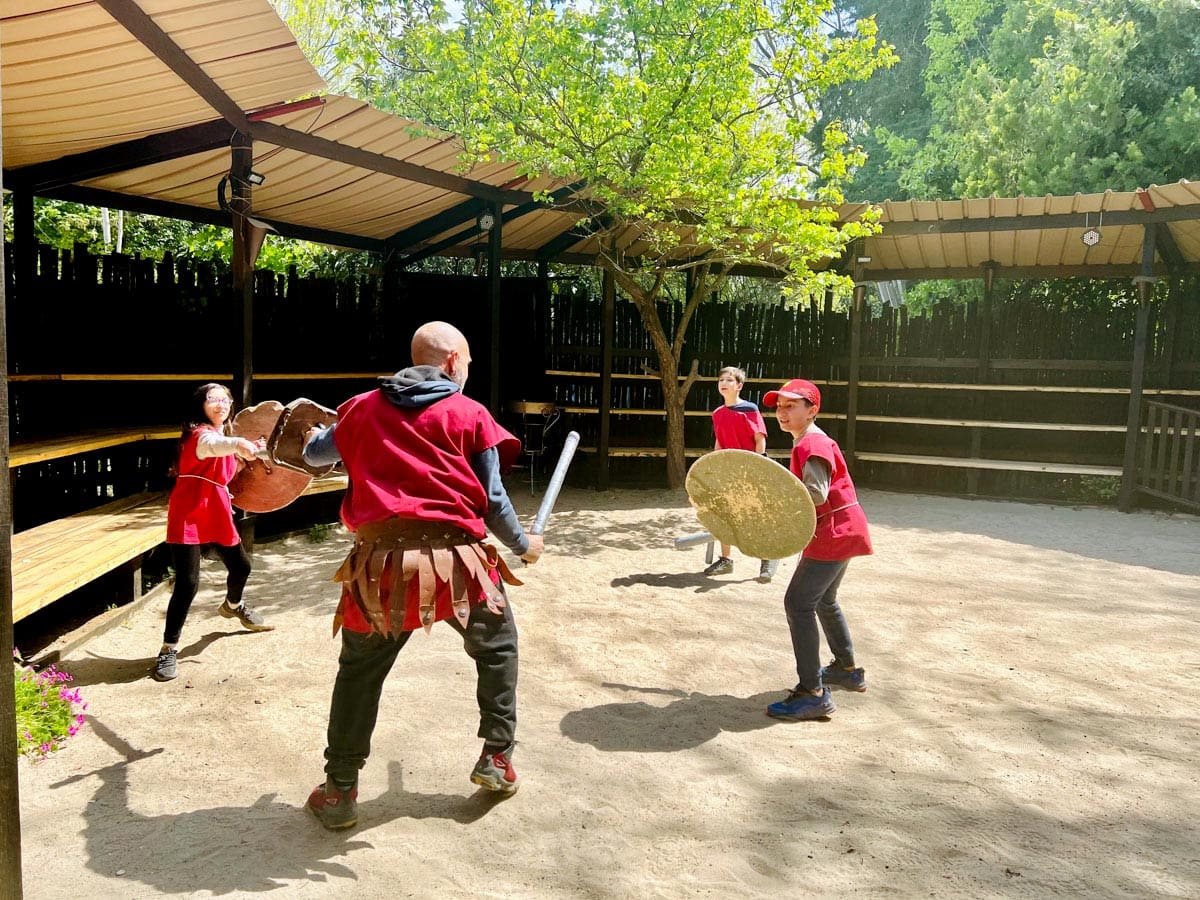 Want to teach your kids how to fight like a real gladiator? Visit the Gladiator School Of Rome! At this historical museum and educational attraction, older kids and tweens can train to be gladiators for a day and travel back in time two thousand years with an exciting two-hour class. In the process, they'll learn more about Ancient Rome and what it took to survive back then – all with replica gladiator clothing and weapons! Between gladiator games, fun facts about history, and more wholesome fun, it's a wonderful way to immerse kids in an iconic period of history. Once you're done with the class, your ticket also includes a free tour of the Gladiator Museum, featuring hands-on exhibits and cool artifacts!
Book the Gladiator School through Viator here for free cancellation up to 24 hours in advance and the tickets are cheaper than buying direct!
Cooking Classes
Sure, you could visit Rome and taste delicious food – but why not learn how to make it too? Thanks to a variety of family-friendly cooking classes across the city, now you can! Learn how to make two staples of Italian cuisine, pizza, and pasta, at Local Aromas, featuring a variety of classes to teach guests how to homemade pizza or gnocchi. Eataly Roma also offers a wonderful pizza-making class for families in La Scuola Di Cucina Eataly, teaching kids how to toss, knead, and cook the dough. From pasta and pizza-making for kids to limoncello-making for parents, Once In Rome is another popular option. Want to learn how to make delicious desserts? Take a cookie-making class from In Rome Cooking!
Viator also offers a great Fettucine Making Class For Lunch/Dinner, one of the best things to do in Rome with tweens and teens.
Arte al Sole Summer Camps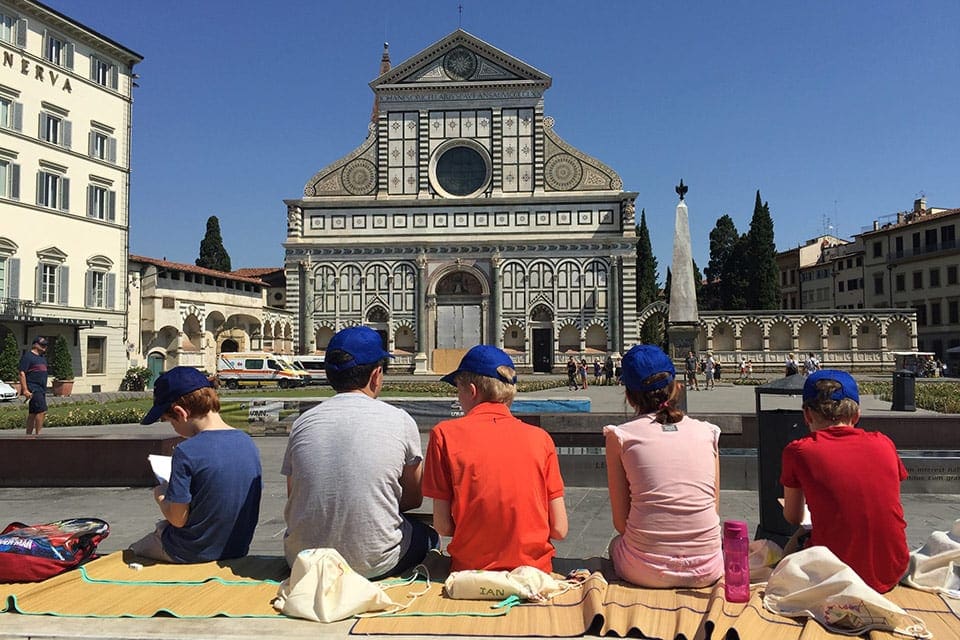 Families visiting Rome in the summer can take advantage of Arte Al Sole Summer Camps, which provide kids with immersive and educational experiences throughout this amazing city. If you're visiting for a short time, Arte Al Sole offers families a behind-the-scenes look at Rome's most famous landmarks with a private guided tour, from the Colosseum to Capitoline Hill. Families visiting Italy for longer can also enroll in the Umbria Summer Camp, where they'll enjoy a fun-filled week of art and soccer in Umbria, a region two hours away from Rome. Each week of the camp focuses on a different aspect of Italian culture, so not only will your kids learn a ton, but they'll never have the same experience twice!
Ancient Mosaic Workshop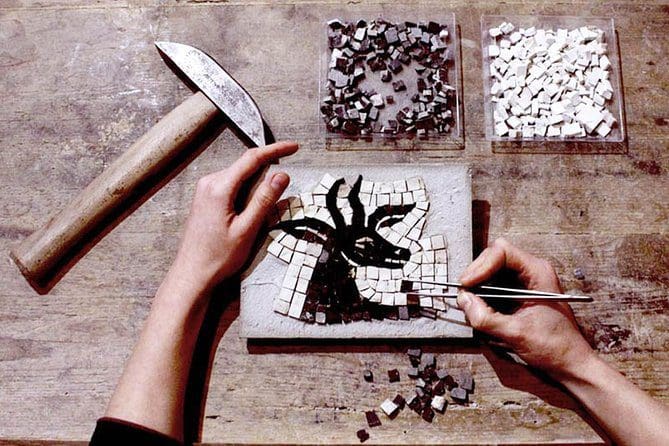 Creative kids will love a chance to let their imagination shine at an Ancient Mosaic Workshop. This tradition dates back centuries. During an Ancient Mosaic Workshop by Viator, kids thirteen and up can visit a historical, family-owned mosaic studio in Monti to take a class with a master mosaicist! Hear stories about the history of the craft as you learn about texture, composition, and tile-cutting. Then, make your own mosaic from local marble. Families can also take a Mosaics Masterclass and Workshop in Trastevere through Viator. It includes a brief tour through the neighborhood, then a workshop with an expert. Of course, the best part about taking a mosaic class is bringing your completed creation back home with you!
Book a Matteo Truffle Experience
For a unique activity outside of Rome for the whole family, book a Matteo Truffle Experience. With this special tour, families can take a train from the Rome city center to an area slightly outside of Rome. There, your guide Matteo will pick you up. Then, you'll journey through the woods with Matteo and his helpful dogs to go truffle hunting! This is truly a one-of-a-kind adventure for all ages, lasting around two hours and filled with all kinds of fun facts. Once you're done, you'll return to Matteo's home to enjoy a delicious lunch. All dishes will be cooked using the truffles you found. Kids will love seeing all their hard work pay off in the end!
Watch a Family-Friendly Performance
Seeing a family-friendly performance is a great way to spend the day indoors in Rome with kids. Little ones will love seeing a puppet show at Teatro Mogiovino, a performing arts center located on the outskirts of the historic neighborhood of Garbatella. With family-friendly performances like The Happy Prince and The Sisters Of Cinderella, it has a scenic location inside a garden. Plus, at the San Carlino Puppet Theater, located inside Viale Dei Bambini, kids can enjoy hand-painted backgrounds and props alongside clowns, musicians, puppets, and more. For older children who want to see a more sophisticated show, visit Teatro Dell'Opera, featuring various opera performances, ballet, and more in a historic building.
Experience the Thrill of a Theme Park
Rome isn't just for experiencing history and culture – it's also jam-packed with fun rides for families! At Roma World on the outskirts of the city, kids can learn how to fight like gladiators, enjoy life in Ancient Rome, and try traditional food! Activities include an educational farm, archery, botanical tours, and more. Kids who are movie buffs may better appreciate Cinecittà World, featuring a variety of rides and movie-themed attractions. Kids will love the rollercoasters for all ages, the dancing fountains, and even the water park section! Both parks are located next to each other and are easy to combine. Just outside of Rome, families can also visit Rainbow Magicland, a colorful theme park!
Get a Taste of Rome with Kids
When in Rome, gelato is a must! Whether to cool off after a long day or for an afternoon pick-me-up, the city has countless gelato shops. Luckily, most are located near major attractions, like Sweet Life Gelateria, located near Piazza Navona in the historic city center. A lot of flavors here are sourced from whatever fruit is in season. So, kids can try fresh strawberries, blackberries, mango, and more. Near the Pantheon, families can visit Cremeria Monteforte. It offers a large selection of homemade flavors such as chocolate, cherry, etc. Pico Gelato, another popular spot, has multiple locations, including one in Flaminio. Gelateria La Romana also has multiple locations, including one near Vatican City.
Embark on a Tasty Food Tour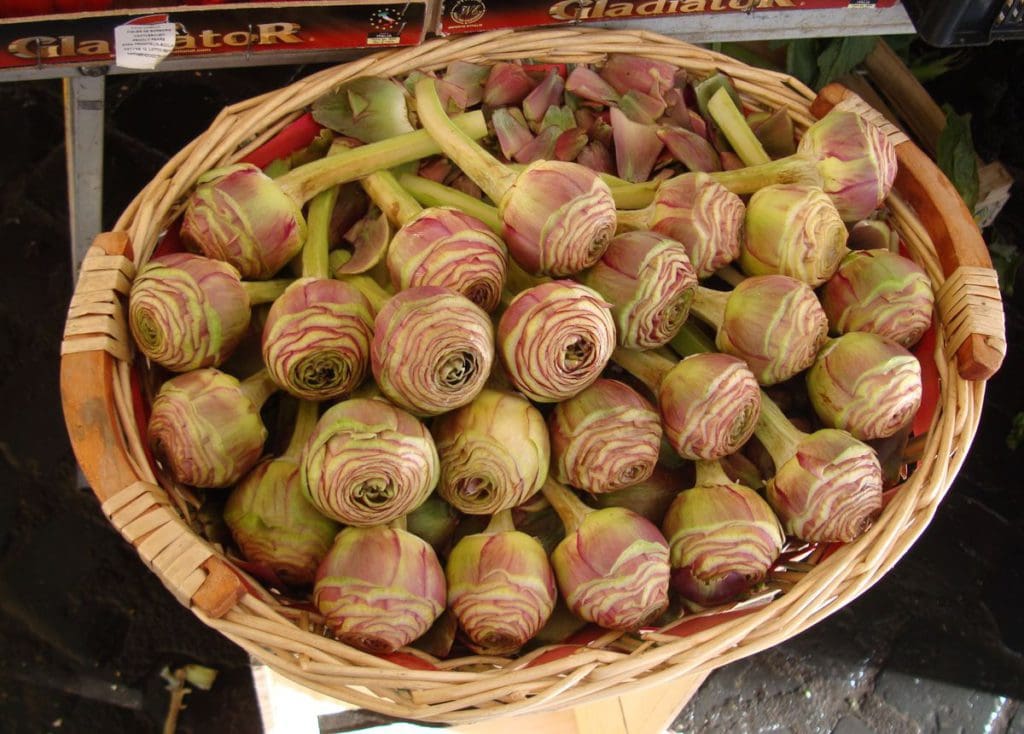 To make your walking tour more interesting, foodie families can try a Small-Group Food Tour through the Jewish Ghetto and Trastevere. You'll see the sights, learn about history, and eat your way around! Other popular family-friendly food tours include Rome Secret Food Tour and Savor Italy Walking Tour. Certainly, food tours are the perfect itinerary options for tweens and teens!
Gelato Tasting
If simply buying gelato from a local shop isn't enough to satisfy your sweet tooth, book a gelato tasting! With a Rome Gelato Tour, for example, families can taste their way through the best gelato shops in Rome accompanied by an expert guide. Not only will you get the chance to enjoy a variety of frozen treats, like gelato, sorbet, and more, but you'll also learn the history of gelato making and how it's been modernized in Rome. Lasting around three hours, tours are private, making them perfect for families who want to spend time by themselves. Locations change based on demand, but you'll likely be walking around the historic city center of Trastevere.
Take a Day Trip
Rome offers several great opportunities for families to take day trips or weekend getaways! One popular option is to head to the sea for a day. Alternatively, many families like going to Florence for the day. If you are looking for a day trip or weekend getaway from Rome with kids, here are four great options!
Lake Bracciano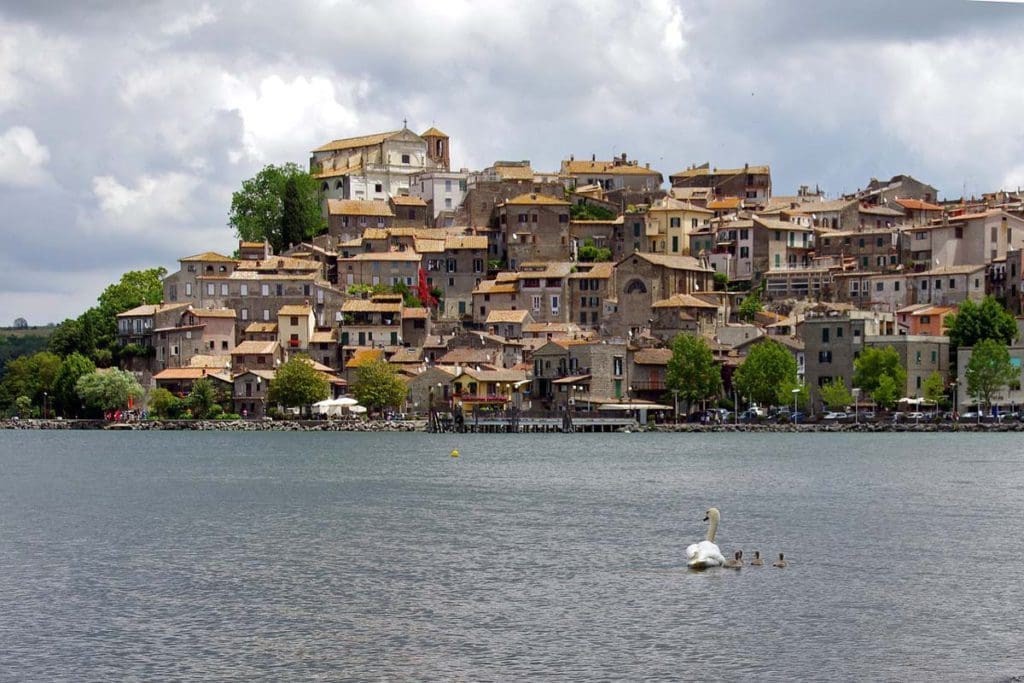 For families with an extended vacation planned, one of the best things to do in Rome with kids of all ages is to take a day trip. Lake Bracciano, located around an hour north of the city, is a crystal-clear volcanic lake perfect for swimming, kayaking, sailing, and more family fun in the summer. If you don't have a car, you can reach here by public transportation. Take the train toward Viterbo from the Ostiense train station (connected to the metro at the Piramide stop). Soon, you'll arrive at this lakeside gem! In addition to spending time by the water, families can also explore the winding, cobblestone streets of the city center. Don't forget to look out for the breathtaking Renaissance castle!
Looking for more ideas? Try one of the 16 Exciting European Beach Destinations For Families!
Tivoli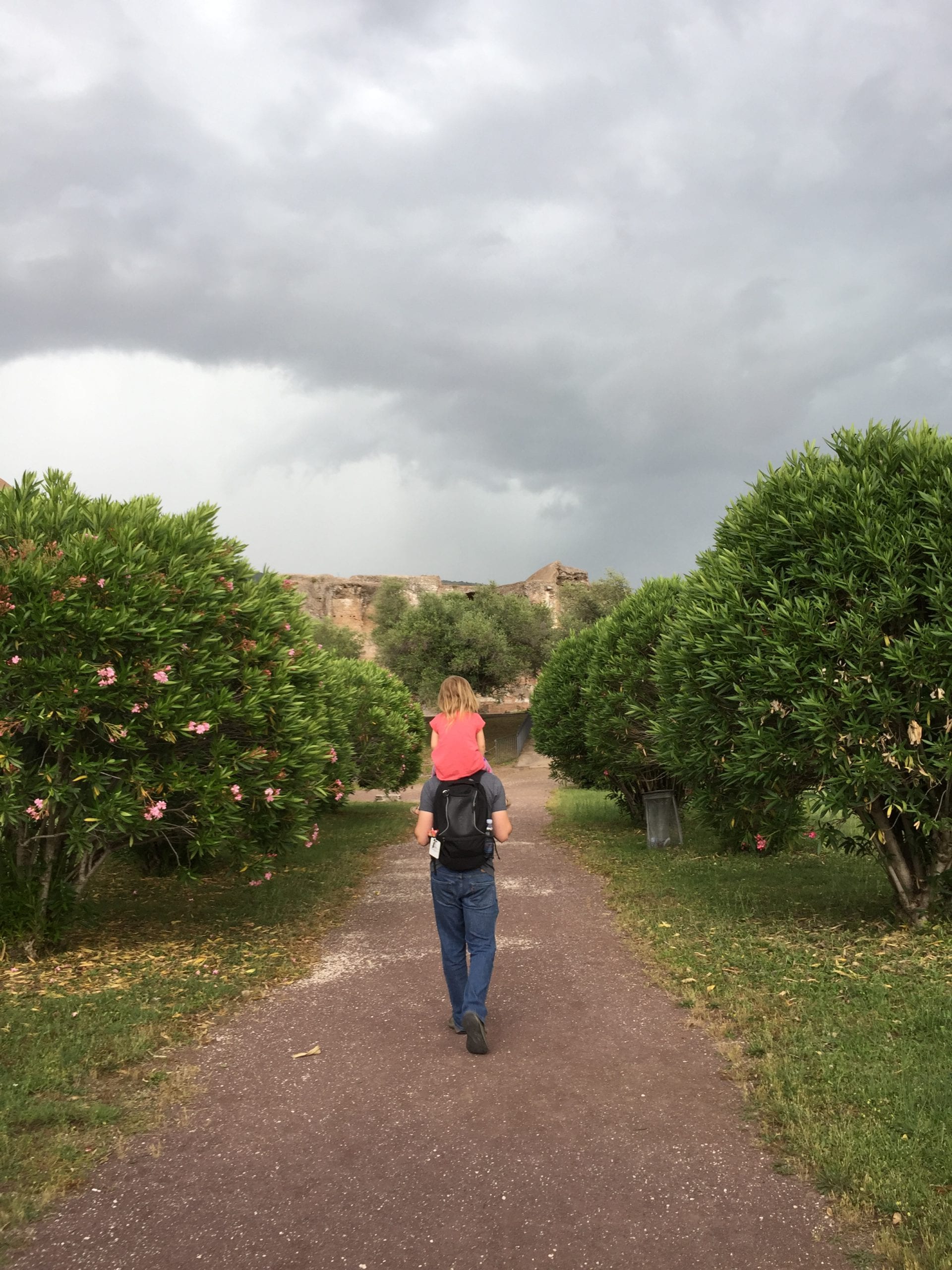 Families interested in learning more about Italian art and culture should head to Tivoli. Just one hour northeast of Rome, this charming Italian town is a lovely pair with a family vacation in Rome. Tivoli boasts roots in ancient Roman times and features outstanding historic architecture, stunning gardens, and more for families. In fact, families with toddlers will even find a nice playground (near the large fountain).
Start your visit at Villa Adriana. Great for kids of all ages, this ancient villa was created for the Roman Emperor Hadrian. Families can wander the grounds to see what remains of the classical architecture, pottery, and mosaics. Certainly, kids will enjoy running about the green spaces and getting some fresh air after a few days in Rome. Then, Villa d'Este Palace & Gardens is another great option for families in Tivoli. Kids can meander through manicured gardens, while parents appreciate elaborate fountains. Inside the grounds, be sure to visit the palace for scenic views of Tivoli and to gaze upon art. Finally, take in more amazing views from Via Delle Cascatelle. This enchanting walkway along the river in Northern Tivoli is sure to please everyone in your family.
Florence
Florence is another great option for a family day trip from Rome! From Tuscan food to renaissance art, families with older kids and teens will especially love this option. To get there, head to Rome's Termini Station. From here, take a fast train to Florence (the journey takes about 90 minutes). Tickets can be booked with Trenitalia (make sure to book the fast train for Firenze, and not a regional train, which would take you 4 hours instead). While in Florence, consider walking to Piazza del Duomo at the start of your day. Here you can enjoy views of the iconic Santa Maria del Fiore Cathedral – as well as climb to the top for views of Florence!
Since you only have the day, take the Hop-On Hop-Off Tour Bus to see the sights and take in the city views. Afterward, take a family walk across Ponte Vecchio, the oldest bridge in Florence (and a great family photo opp). While in Florence, a family-friendly museum visit is also a must! Teens will love seeing David at the Galleria dell'Accademia. While those with older kids and tweens should head to Leonardo Da Vinci Museum or the Uffizi Gallery (take a family tour with Viator to learn more about the exhibits here). Those with toddlers or small children in tow can go to Piazza della Repubblica's Antique Carousel for a fun ride. Have time to enjoy more scenic views? Head to Piazzale Michelangelo and San Miniato al Monte.
Research and reserve your Florence Tour tickets here with Viator or GetYourGuide!
Head to the Sea
Romans and tourists alike love going to the sea for a day (or two!). Within about an hour or so, you can reach a variety of lovely beaches and seaside towns. Lido di Ostia is one of the best (and easiest) beaches for a family day trip from Rome. Dotted with Italy's iconic rows of umbrellas and beach chairs, families can enjoy sandy shores and calm waters that are ideal for wading and swimming. Alternatively, families can head north of Rome to reach Santa Severa. With sea views and ancient castles, this beach destination is a favorite for locals. Plus, its shallow waters are particularly attractive for families with toddlers. Looking for more options? Consider Civitavecchia, Santa Marinella, Sabaudia Beach, and Gaeta.
To get to the beach, families can either choose to take a train or rent a car for the day (depending on your group size, this may be more cost- and time-efficient than the train). Upon arrival by train, most beaches are within walking distance of the station. We recommend selecting your beach and then plotting travel plans accordingly. Certainly, heading to the beach is one of the best things to do while visiting Rome with kids!
Where to Stay in Rome with Kids
Once you've discovered the best things to do in Rome with kids, look for somewhere to stay. For a convenient stay in the historic city center, consider hotels such as Hotel Nazionale Roma, Crossing Condotti, Grand Hotel de la Minerve, Albergo Santa Chiara, St. Regis Rome, Hotel Artemide, and Hotel de Russie. A few more boutique options include Bio Hotel Raphaël – Relais & Châteaux, J.K Place Roma, and The Inn At The Spanish Steps. Families who want to stay in trendy Trastevere will love the Villa Agrippina Gran Melia, located on the banks of the River Tiber. Or, for a more secluded stay, Rome Cavalieri, A Waldorf Astoria Hotel is a wonderful option. It offers panoramic views of Rome from its prime hilltop property. Also, read 6 Best Neighborhoods To Stay In Rome With Kids to find the top kid-friendly hotels in Rome.
Need room to spread out or a kitchen to cook family meals while in Rome? Reserve a home rental in Rome using Vrbo, Plum Guide, or Homes and Villas by Marriott International now.
Interactive Map of Rome
Discover the places to stay, restaurants, and local attractions in Rome with our interactive map. You can filter by what you're looking for, so it's quick and easy to select which area you want to explore.
Happy Travels!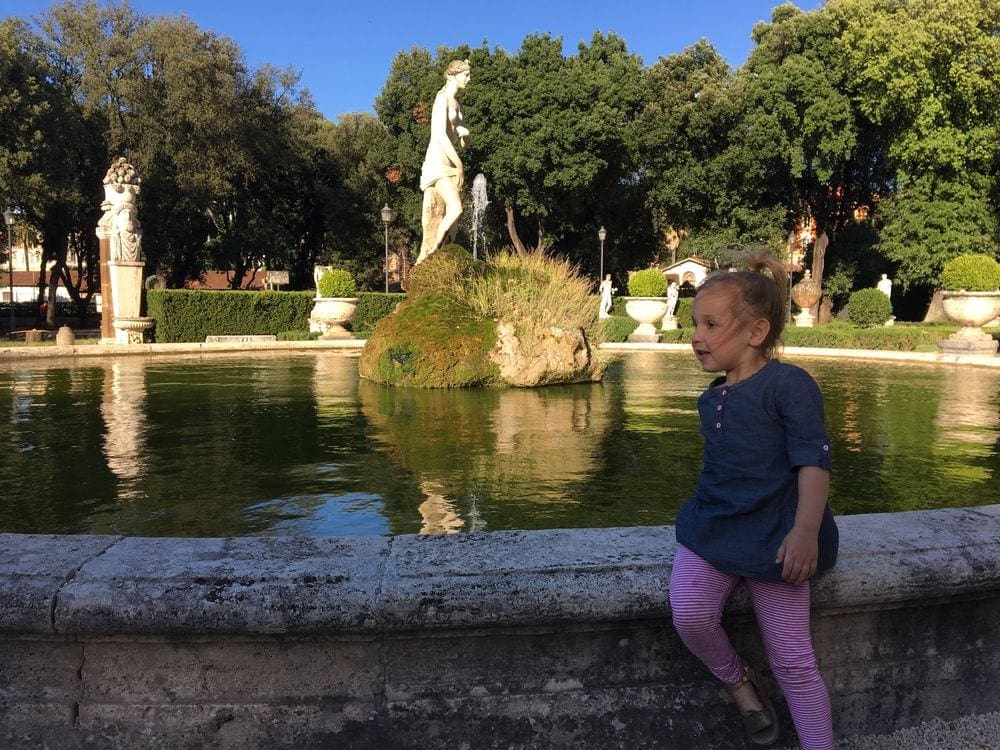 We hope you found a few things to pack into your Rome itinerary with kids in this article highlighting 35 Fun & Educational Things To Do In Rome Kids Will Love! With great food, iconic history, and so much culture, Rome is surely a one-of-a-kind destination for a family vacation. Enjoy the best things to do in Rome with kids!
Looking for an itinerary that fits everything? Use our Exciting 5 to 10-Day Rome Itinerary With Kids: What To Do And Where To Go
*Due to the COVID-19 pandemic, some of this list's attractions, accommodations, or things to do may be closed. Please ensure availability before making your decision.
Book Your Rome Tours Now
*This post may contain affiliate links that may earn us a small commission, at no additional cost to you. Affiliate links in no way inform the hotels, sights, products, or other recommendations included in our articles. All opinions and recommendations expressed here are compiled from submissions submitted by the generous members of our Families Who Love To Travel community.
READ MORE: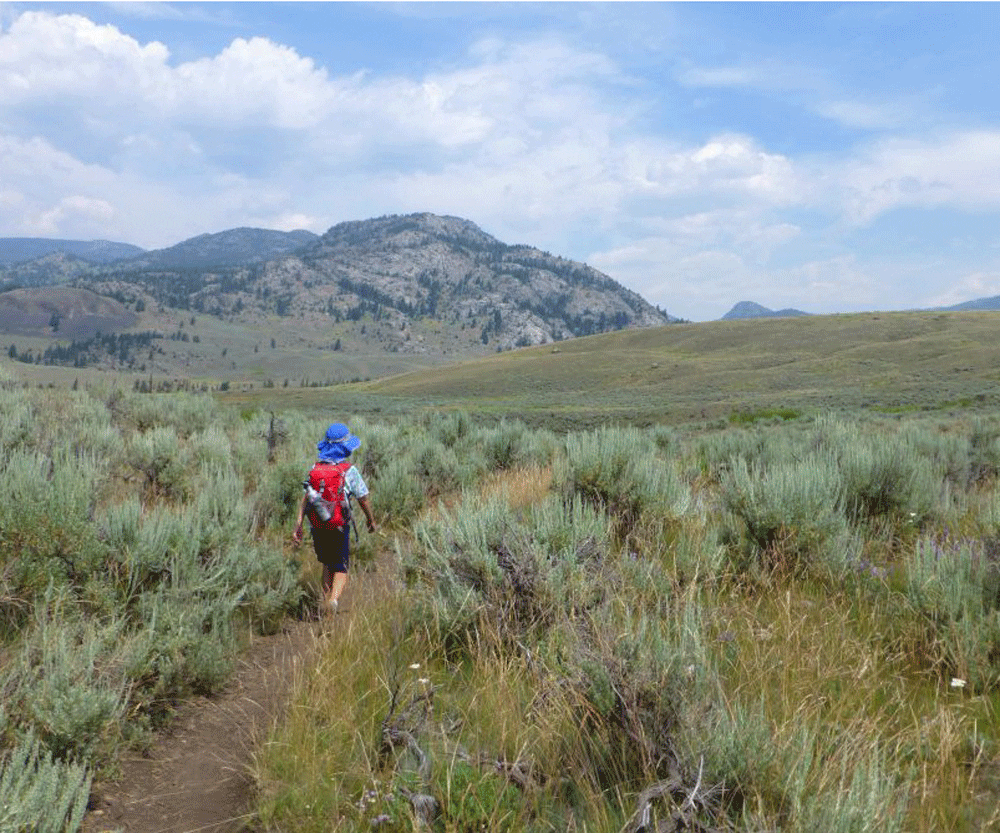 Everyone knows that Yellowstone National Park makes for a classic family vacation. Strolling the boardwalks...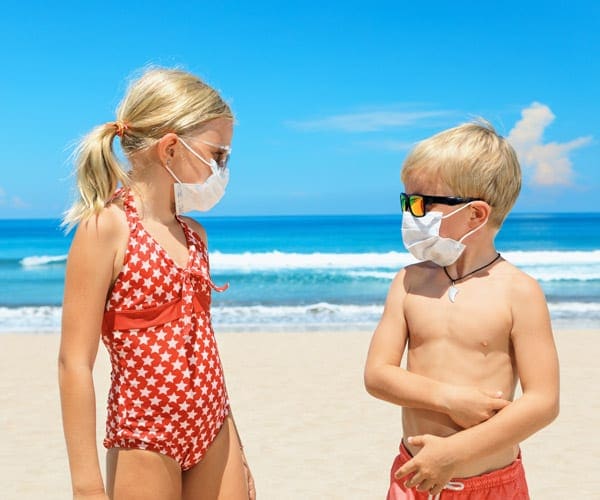 Coronavirus restrictions are now lifting across the country. We believe families need to make the...