If you're looking for the best things to do in Las Vegas with kids, you're in the right place! From sprawling hotels to thrilling attractions, Las Vegas is a great place to visit for all ages. In fact, many adults may be surprised at how kid-friendly the city is, from iconic attractions to kid-friendly museums. Plus, Las Vegas is famous for its family-friendly shows and great restaurants. Visiting Las Vegas with kids can feel overwhelming. There are so many different things to do, that it's hard to know what to prioritize. Luckily, we've put together a detailed list of the best things to do in Las Vegas with kids. Keep reading to learn more!
Pack light and rent your baby gear in Las Vegas with BabyQuip.
Take in the Sights and Sounds of Las Vegas
Las Vegas has a lot to offer for tourists, especially families. To take in the sights and sounds of the city, travelers can enjoy the excitement of The Strip and Fremont Street, ride the rollercoasters at New York-New York, or see a show. Keep reading for more suggestions!
Fountain of Bellagio
Perhaps the most iconic place in Las Vegas is the Fountains of Bellagio. Set against the backdrop of the Bellagio, they make for a beautiful scene as they perform to music and awe-inspiring light displays. Families can watch them from the beach, but we suggest you see this spectacular performance from the street or inside the hotel's lobby. Kids will surely be wowed every second of this 5-minute show! It's just long enough to pique their interest without being too long, making this one of the best things to do in Vegas with toddlers!
Shows happen every 30 minutes Monday through Friday from 3 PM to 7 PM and every 15 minutes from 7 PM to midnight. On weekends, they start as early as noon, but be sure to arrive early to get the best spot.
Book your stay at The Bellagio Hotel and Casino here with Priceline or Expedia now!
Gondola Rides at the Venetian
Without a doubt, one of the best things to do in Las Vegas with kids is to take a gondola ride at The Venetian. Kids will feel like they're visiting Venice during this 15-minute ride, as a singing gondolier guides you through a scenic, replica landscape. Families who want to experience this unique Vegas activity can choose between indoor and outdoor gondola rides. Both routes provide slightly different scenery, with the outdoor ride offering a bit more privacy and a view of the city.
Inside, you'll receive the typical tourist experience in Vegas as you ride through a shopping mall meant to resemble Venice. Though some people consider this experience a bit cheesy, it's worth it when traveling with kids in Las Vegas. Each gondola sits four people, and you can consider booking a private one to have it all to yourself!
Reserve this Las Vegas Super Saver Tour through Viator which includes the Gondola Ride!
Catch a Show
Las Vegas is known for its extravagant shows. Whether you're looking to catch a Cirque du Soleil show or see the acrobats, there are plenty of options for you to choose from as a family. Here are our favorite choices for Las Vegas shows for kids!
Cirque du Soleil
If you have kids, there's nothing more magical than a Cirque du Soleil show. Your entire family will fall in love with the costumes, the stage design, and the amazing performers for sure! With multiple themed shows throughout hotels in Las Vegas, there are plenty to choose from for all ages, making this one of the best Las Vegas shows for kids.
One of the most popular shows is Cirque du Soleil's "O" at Bellagio Resort & Casino. It tells the story of a boy who never grows up, inviting you to journey through his world. Children will be mesmerized by the funky costumes and live acrobatics during Mystère at Treasure Island. Music fans also have their choice of fascinating Cirque du Soleil shows, including The Beatles™ LOVE™ at The Mirage Hotel & Casino and Michael Jackson ONE at Mandalay Bay. Finally, KÀ at MGM Grand Hotel & Casino is another great option! What could be better than hearing your favorite songs in the middle of an incredible performance?
Mat Franco at The LINQ Hotel + Experience
Do your kids want to be entertained with magic shows, acrobatics, juggling, and more circus variety acts? Head over to the on-site theater at The LINQ Hotel + Experience to see Mat Franco! This world-renowned magician performs four shows daily, featuring a variety of tricks sure to dazzle your little ones. Running for around 90 minutes, the show combines comedy and magic to provide a one-of-a-kind experience every time. It'll keep your kids engaged the entire way through, even older teens who are magic skeptics. In fact, most of it is guided by audience improv, so you never get the same show twice. Kids must be at least 5 years old to attend this show. 
Nathan Burton Magic Show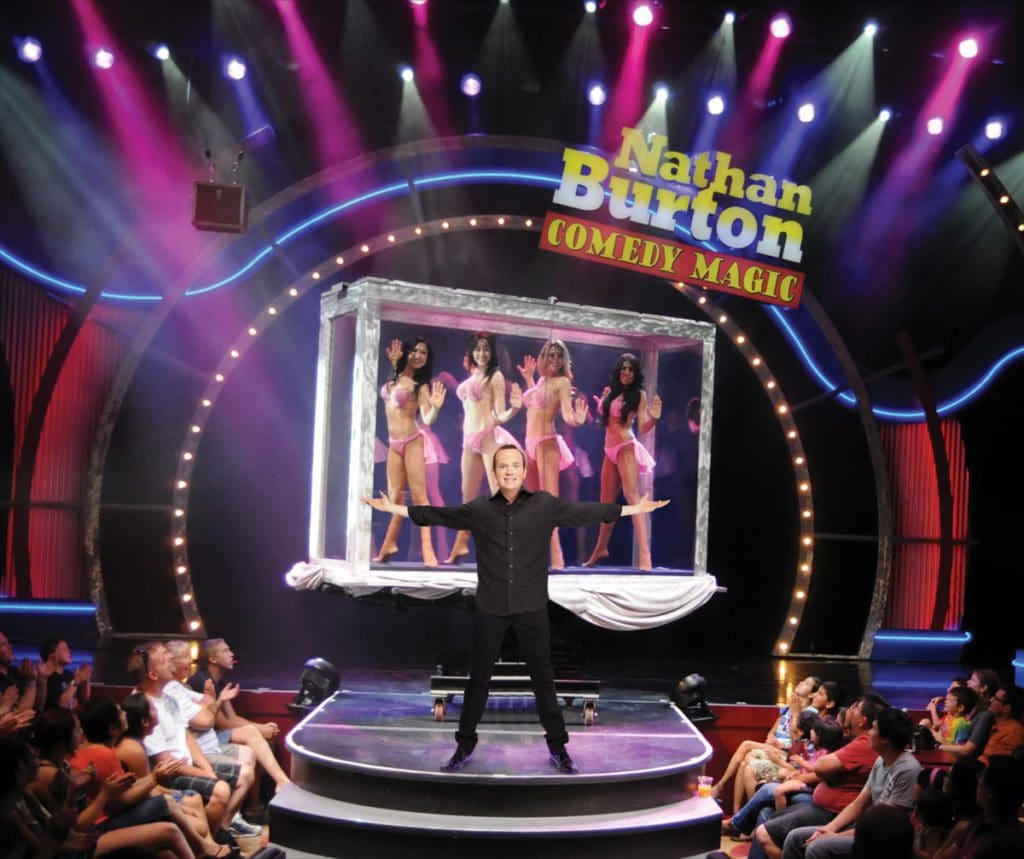 If you're in the mood for a hearty laugh, take your family to see the Nathan Burton Magic Show. Hosted at the on-site theater at The LINQ Hotel + Experience, this exciting performance combines entertaining dance moves, funny jokes, and, best of all, mind-blowing magic tricks! As one of the best things to do in Las Vegas with kids, the show lasts a little over an hour. Kids will get to witness over 100 tricks, 80 of which are up-close. Audience participation is encouraged, so little ones can immerse themselves in these clever illusions! All the while, your entire family won't be able to resist cracking a smile during this fast-paced, upbeat performance.
Pro Tip: Shows often happen in the late afternoon, making them ideal for little kids who can't stay out too late! Certainly, this is one of the best Las Vegas shows for kids.
Tournament of Kings Dinner & Show
Journey back in time at the Excalibur Hotel thanks to The Tournament of Kings dinner show! Adapted from the tale of King Arthur, this combination of dinner and performance is a great option for kids of all ages. Lasting around 90 minutes, it's hosted by King Arthur and his knights, featuring horses, jousters, and even a fire-breather!
The show takes place in front of roaming performers and includes a banquet feast with chicken, squash, pumpkin pie, and other tasty dishes. Kids can even eat dinner with their hands! During the show, you'll witness a medieval jousting tournament with different characters including the evil knight, the dragon, and others. Your entire family will love watching the horsemanship, including performers jousting on mechanical horses, and the falconry demonstrations. Though it's not as immersive as other shows in Las Vegas, you can expect some audience participation.
Look here for alternative things to do and see in Las Vegas with Fever Up, such as Behind The Stage: Permission to Dance!
Indulge Your Sweet Tooth
Las Vegas is a wonderful place to indulge your sweet tooth as a family. Whether you're in the mood for a sugar rush or want to drink some classic Coca-Cola, here are our picks for the best things to do in Las Vegas with kids who have a sweet tooth!
Sugar Factory Fashion Show
Sugar Factory Fashion Show is a must-visit for any dessert-loving family. At the famous chain's bigger-than-ever Las Vegas location, visitors can wander through a sculpture garden complete with giant LED displays before sitting down to eat. Opening soon, there's also a Chocolate Lounge on the second floor, providing views of the Vegas strip and some mouth-watering menu options.
On the first floor, families can enjoy regular food and drinks from a unique menu. Choose between rainbow sliders served on different colorful buns, popcorn shrimp, and other fun options. Kids will especially love the "Insane Milkshakes," which are packed with chocolate, whipped cream, and more sweet delights! Parents can even try some specialty alcoholic beverages. No wonder this is one of the best things to do on the Las Vegas strip with kids!
Coca-Cola Store Vegas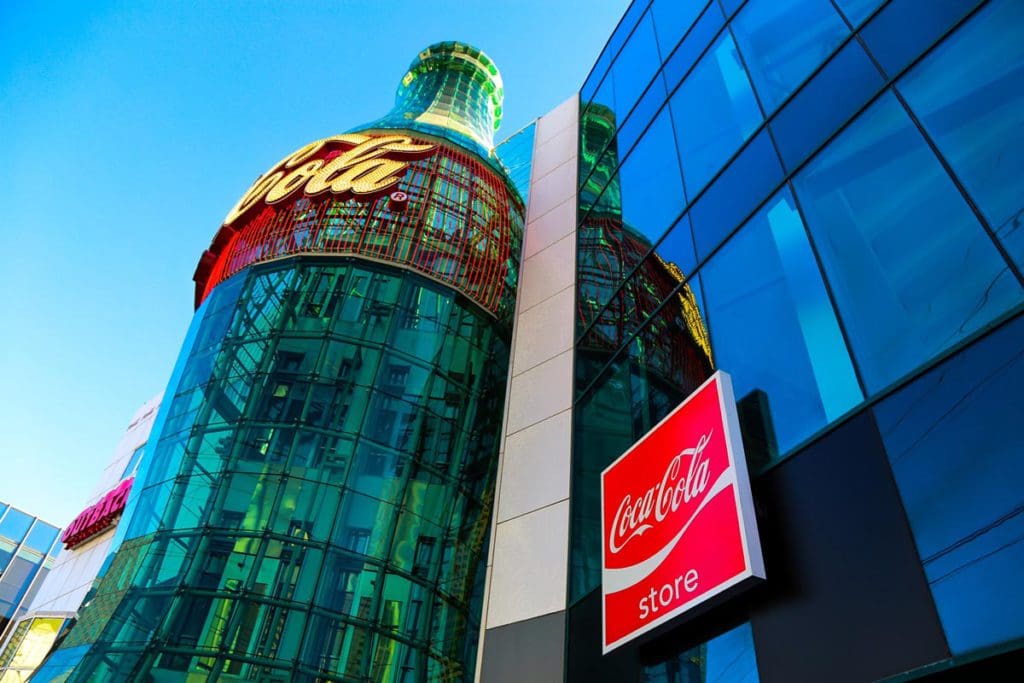 Families can take a break from strolling the Vegas strip and stop at the Coca-Cola Store. As one of the best things to do in Las Vegas with kids, this immersive retail experience lets you shop in style. Inside, you can learn a bit about the history of the Coca-Cola company and shop through Coke-themed merchandise. There is even some Las Vegas-specific merch (ideal for collectors!). Then, treat your family to delicious Coke Floats and purchase the Taste of the World beverage tray to sample 16 different international beverages. Be sure to snap a photo of the giant Coca-Cola bottle on the outside of the building!
Immerse Yourself in a Unique Las Vegas Experience
Some experiences in Las Vegas are too unique to fit into any category! From aquariums to Marvel-inspired experiences, families can immerse themselves in unparalleled entertainment.
Seven Magic Mountains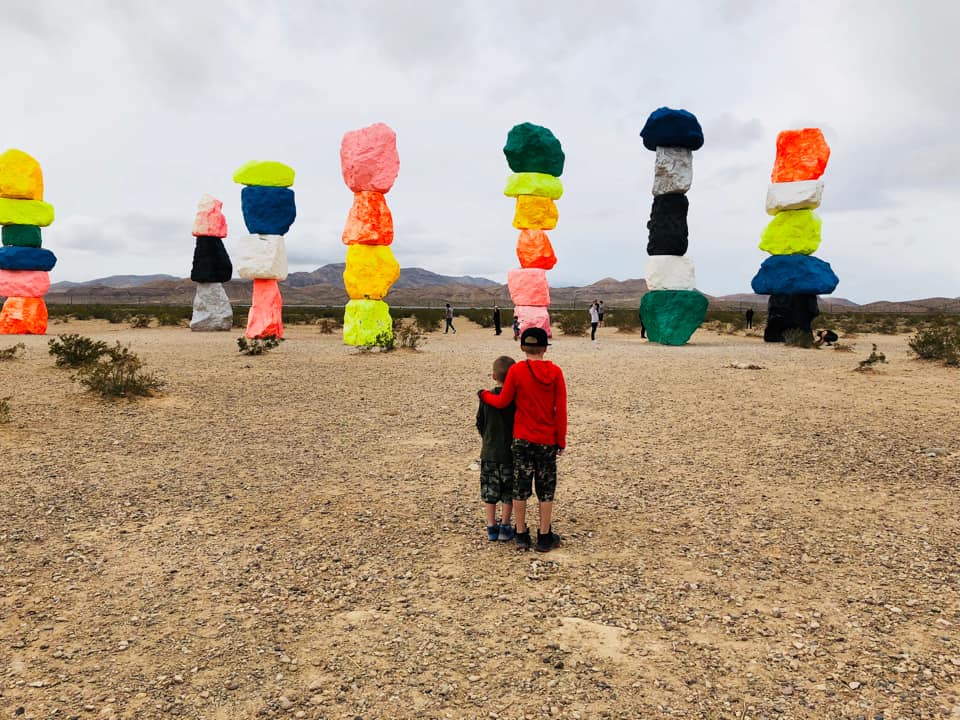 One of the most popular attractions for kids near Las Vegas is Seven Magic Mountains. Located about 10 miles south of downtown, it's an art installation on public land near Las Palmas Avenue on Interstate 15 at the 215 Beltway. It's easy to reach, which means you can easily add it to your Vegas itinerary. Created by Ugo Rondinone, the semi-circle of enormous boulders is made up of seven types of concrete cones, some reaching as high as 115 feet into the air. It'll surely wow your kids enough to make them want to stop and take a picture! Certainly, this is one of the best family things to do in Las Vegas off the strip.
Book this tour to see the Seven Magic Mountains through Viator!
Marvel Avengers S.T.A.T.I.O.N

The Marvel Avengers S.T.A.T.I.O.N, an interactive exhibit from the Marvel Universe, is a great way to spend part of your day on the Las Vegas Strip with kids in tow. This attraction lets kids dive into the world of Captain America, Hulk, and Thor through an educational lens, teaching them about science, history, engineering, and more.
After a briefing from Nick Fury about the villainous HYDRA's impending takeover of the world, participants will have to complete a few tasks. Designed for different age levels, they include decrypting a message and assembling a 3-D model of Iron Man's helmet. Kids who have what it takes will be able to join the Avengers S.T.A.T.I.O.N in the end! For a more intimate experience at this exhibit, families can also book a VIP Tour Monday through Thursday. Certainly, families will find this to be one of the best things to do on the Las Vegas strip with kids!
Titanic: The Artifact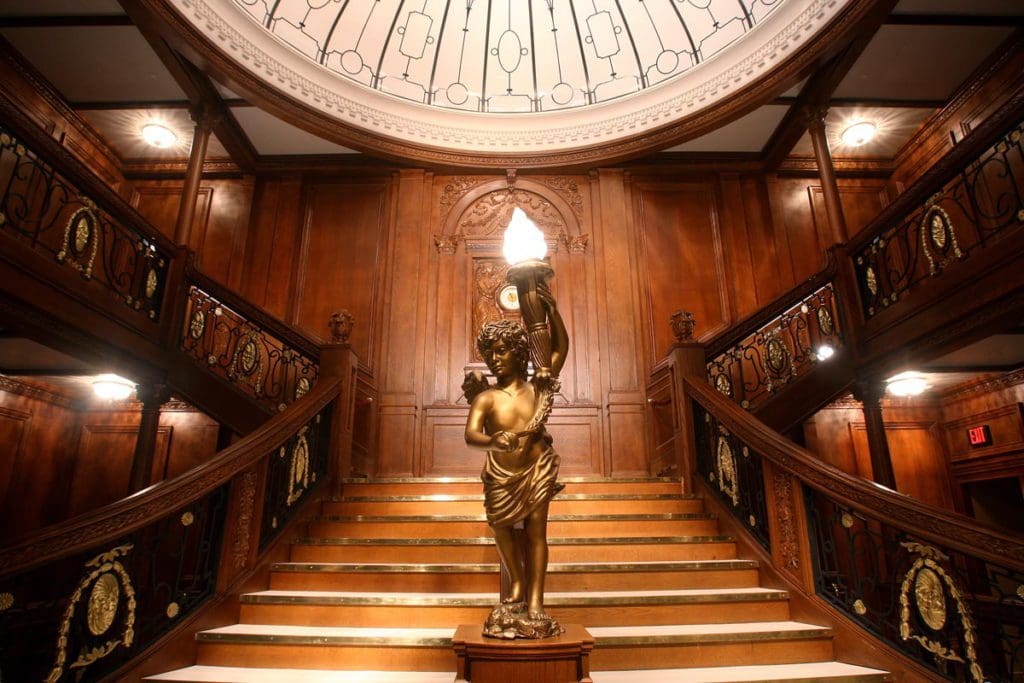 Learn more about what happened on that fateful night when you visit Titanic, The Artifact. Located at the Luxor Hotel & Casino, this immersive installation features artifacts rescued from the ocean floor after the Titanic sank in 1912. This includes luggage, ship whistles, floor tiles, window frames, and lots of other mysterious and historically significant pieces.
While this may not be the best exhibit to visit with sensitive young kids, older kids who are familiar with the Titanic will be drawn in by the immersive storytelling. You can also see a piece of Titanic's hull, a full-scale re-creation of the Grand Staircase, and the outer Promenade Deck, which simulates the same temperatures passengers felt. Offering a glimpse into a world before wireless communication and smartphones, it's surely a must for any family visiting Las Vegas!
Downtown Container Park
Downtown Container Park is a unique outdoor shopping center and entertainment complex with local artists, crafters, retail shops, and restaurants. Best of all: it's made entirely of containers! There are 42 stores of all shapes and sizes, as well as plenty of places to eat or relax. From the large Tree House to the small-scale Burning Man art pieces, your kids will be wowed by all the art pieces across the unique property. There are also three areas for children to play in, including the large tree house playground, making this one of the best things to do in Vegas with toddlers.
Though it's open during the day, the evening is a better time to visit since more restaurants will be open and sometimes there's even live entertainment. Plus, at night, you can see the praying mantis statue light up!
High Roller Observation Wheel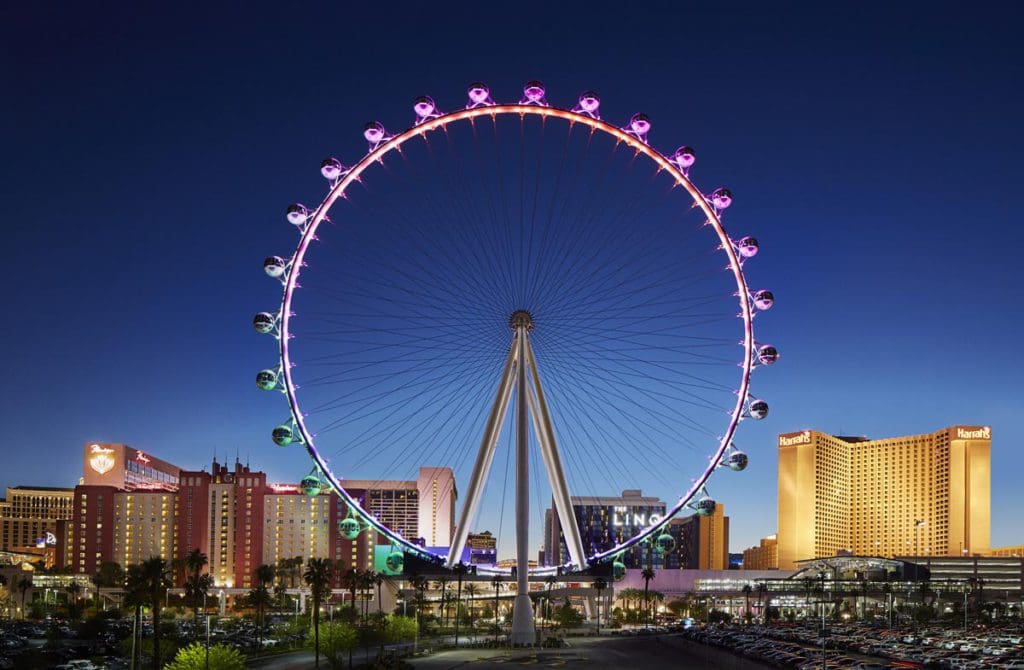 As one of the best things to do on the Las Vegas strip with kids, you'll get a birds-eye view of the Las Vegas strip on the High Roller Observation Wheel! Offering 360-degree views of the city, this observation wheel takes families on a 30-minute adventure 550 feet in the air. No wonder it's one of the best things to do in Las Vegas with kids!
Rides are available during the day and at night, but we suggest booking a night ticket for the best experience. Along the journey, you'll see all the glittering hotels and casinos sparkle beneath you, illuminated by the Las Vegas skyline. Cabins are spacious and enclosed, so you can rest assured it's a safe experience for young kids.
Shark Reef Aquarium at Mandalay Bay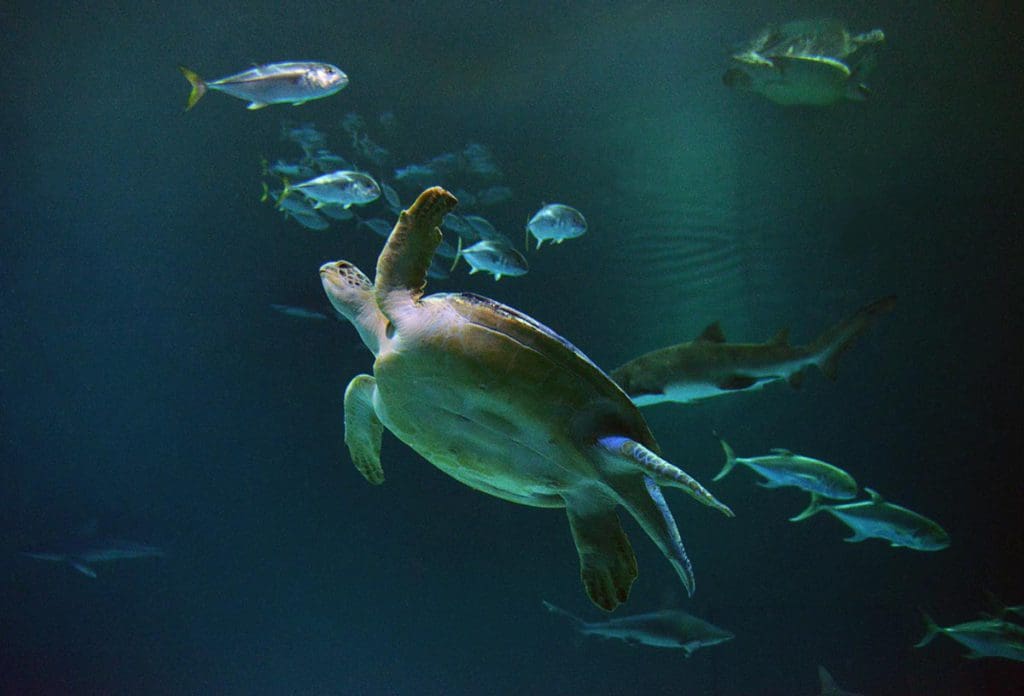 Say hello to some of your favorite marine life at the Shark Reef Aquarium! Located in Mandalay Bay Hotel, this is one of the best family activities in Las Vegas and offers some of the best exhibits for kids. Learn about sea turtles, jellyfish, and other sea creatures during this educational experience.
As you journey through the different sections, you'll see how the huge space is home to over 2,000 species of marine life. Kids will love walking through the underwater tunnel, where they can watch fish swim all around them! For an interactive experience, the aquarium also has a touch-tank where children can feed stingrays and sharks, which is perfect for little ones who are fascinated by these creatures. Certainly, this is one of the best things to do in Vegas with toddlers.
Sky Pod and Observation Decks at ​​The STRAT Hotel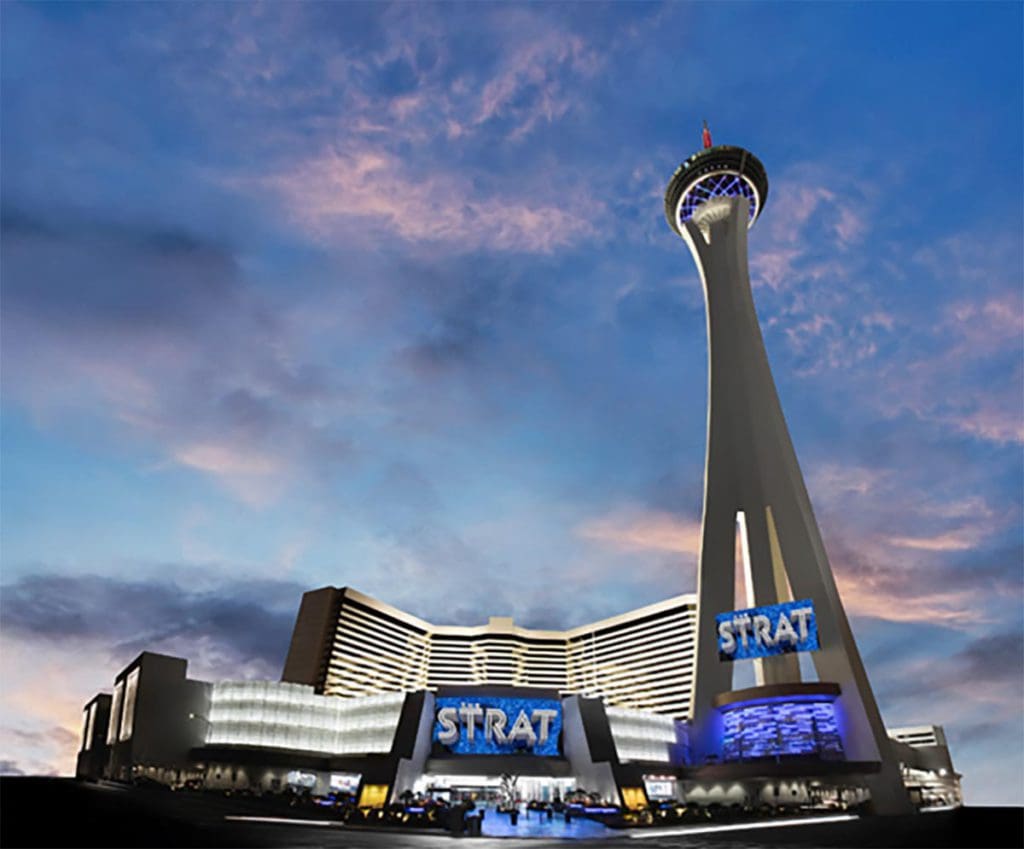 See Las Vegas from a new perspective at The Strat Hotel. With two sky-high decks, visitors can see the city like never before from over 1,000-feet in the air. The Observation Decks and SkyPod offer a variety of entertainment for all ages, from an arcade for kids to a restaurant and lounge for adults. Brave kids can ride two exhilarating rides on Levels 109 & 112, as you shoot up over 100 feet! Teens who want an adrenaline rush can even try the SkyJump, offering the chance to soar above Las Vegas. Guests staying at the hotel can also take advantage of other perks, like a poolside breakfast buffet.
Mandalay Bay Beach
For a fun beach escape inside Las Vegas, head to the Mandalay Bay Beach at the Mandalay Bay Resort & Casino. With a capacity of over 5,000 people, this massive beach provides fun activities for the entire family. Enjoy clean sand, warm water, and lifeguards on duty when you spend the day at one of the best family activities in Las Vegas.
Children will love the wave machine! It's especially perfect for little ones because it has a large moat to keep them safe while they splash around in the water. There's also plenty of beach gear so they can explore the sea without getting too messy. Though the food may be pricey, it's worth it for the convenience of not leaving the beach. Afterward, families can check out the Living Waters exhibit, which teaches people about the importance of water. Mandalay Bay also has an amphitheater, where they host events and concerts.
Go to a Museum
Visiting a museum is a fun way to enjoy a day in Las Vegas with kids. From exhibits for teens to children's museums for little kids, these are our favorite museums in Las Vegas!
DISCOVERY Children's Museum
DISCOVERY Children's Museum is a hands-on museum with plenty of fun for kids located in downtown Las Vegas. As one of the best things to do in Vegas with toddlers and kids of all ages, there are a large number of exhibits for children to explore with an emphasis on science and the natural world. Here, kids can learn more about math, science, and engineering through hands-on play and exploration. Interactive opportunities include a mock grocery store and a fantasy stage with costumes. There's also a Water World exhibit, where kids can learn about water. For the more crafty among us, the museum also has a maker space where kids can build things from recycled materials. 
Bodies…The Exhibition
Looking for the best things to do in Las Vegas with teens? Visit Bodies…The Exhibition, a unique and fascinating show. Located inside the Luxor Resort & Casino, the show features real human bodies and other anatomical specimens, including interactive displays and whole-body slices. It's an educational and stimulating exhibit that will surely fascinate both adults and children alike.
Though it may not be best for squeamish kids, it's a great way to introduce teens to the field of biology. It's also an opportunity to take them on an educational and scientific journey through 250 human specimens and dissections. You can see how organs work, learn about what makes us uniquely human, and take a closer look at our skin, muscles, bones, and more.
The Neon Museum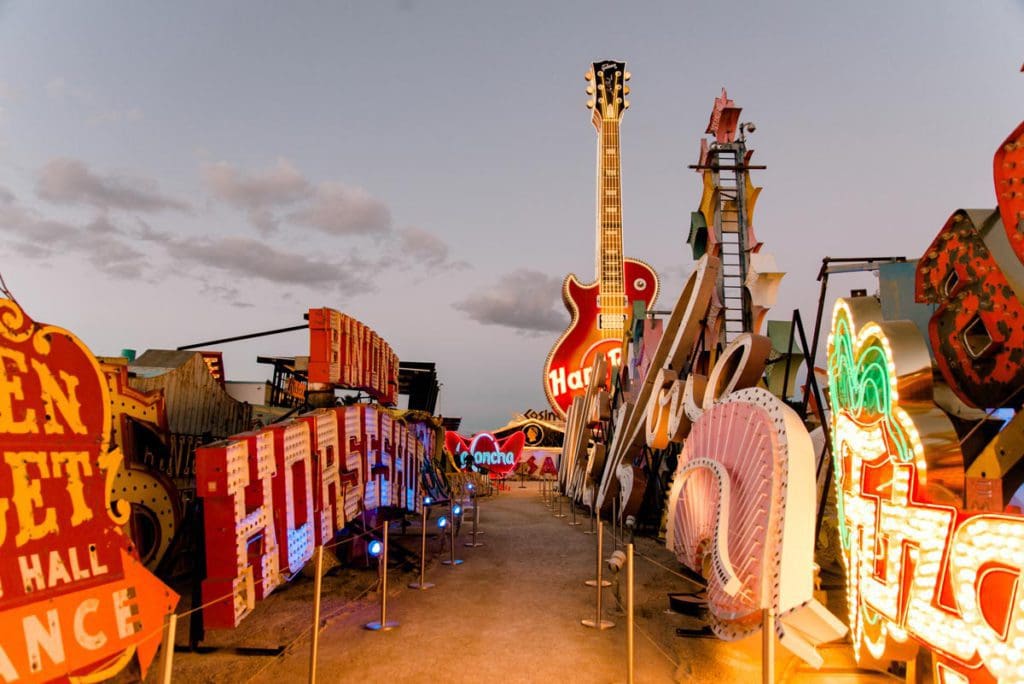 The Neon Museum is a one-of-a-kind museum for families. Located in downtown Las Vegas, it features historic neon signs from Las Vegas's past. It's also a great place to visit when you're in Las Vegas with kids because it's extremely eye-catching and interactive.
Perfect for a photo opportunity, the museum currently showcases approximately 250 signs spanning the city's history over the decades. You can pay a small fee and wander around the museum during general admission in the afternoon, or take a guided tour in the evening ($28 per person). The tours last about 45 minutes and you get to learn about the history of Las Vegas while seeing some really cool neon signs! You can also tour the museum's North Gallery, home to the 360-degree immersive audiovisual show Brilliant! Jackpot and the expansive Las Vegas Luminaries mural that pays tribute to lesser-known individuals who helped shape and have significantly impacted Las Vegas cultural history.
National Atomic Testing Museum
The National Atomic Testing Museum is a haven for science and history buffs in Las Vegas. Located right next to the University of Nevada, this educational facility tells the history of nuclear weapons in the United States.
Inside, you'll find exhibits that include a simulated nuclear test site and an exhibit about how radiation affects your body. The National Atomic Testing Museum also tells the story of the people and technologies that forever changed Las Vegas and Nevada. Kids will be fascinated by a replica of a mushroom cloud created from cereal boxes, a fake street where you can sit in cars to see what they felt like after being hit by an atomic bomb, and a giant detonation chamber. Finally, children under 7 years of age receive free admission, and there is a family package option for admission too.
Las Vegas Natural History Museum
One of the best things to do in Las Vegas with kids is to visit the Las Vegas Natural History Museum. Located in downtown Las Vegas, it showcases exhibits on Native American history, the animal kingdom, and more. With something to appeal to younger and elementary-aged kids, the museum has more than 100 exhibits, including one on Early Man. Plus, a shark feeding opportunity that kids will love (available on select days, included in the price of admission). There are also interactive games and plenty of hands-on learning activities for kids to enjoy. It's a great way to spend an afternoon teaching children some really interesting facts without getting bored.
Pinball Hall of Fame
Pinball may not be as popular as it once was, but the Pinball Hall Of Fame is here to change that! As the world's largest display of working pinball machines, this is certainly one of the more unique things to do in Las Vegas with kids. When you visit, you can explore more than 300 vintage and modern pinball machines from around the world. Of course, all the machines are available to play, so you can have fun while you learn more about pinball! This is sure to be a fun-filled adventure for all ages. Not to mention, one of the best family activities in Las Vegas.
Springs Preserve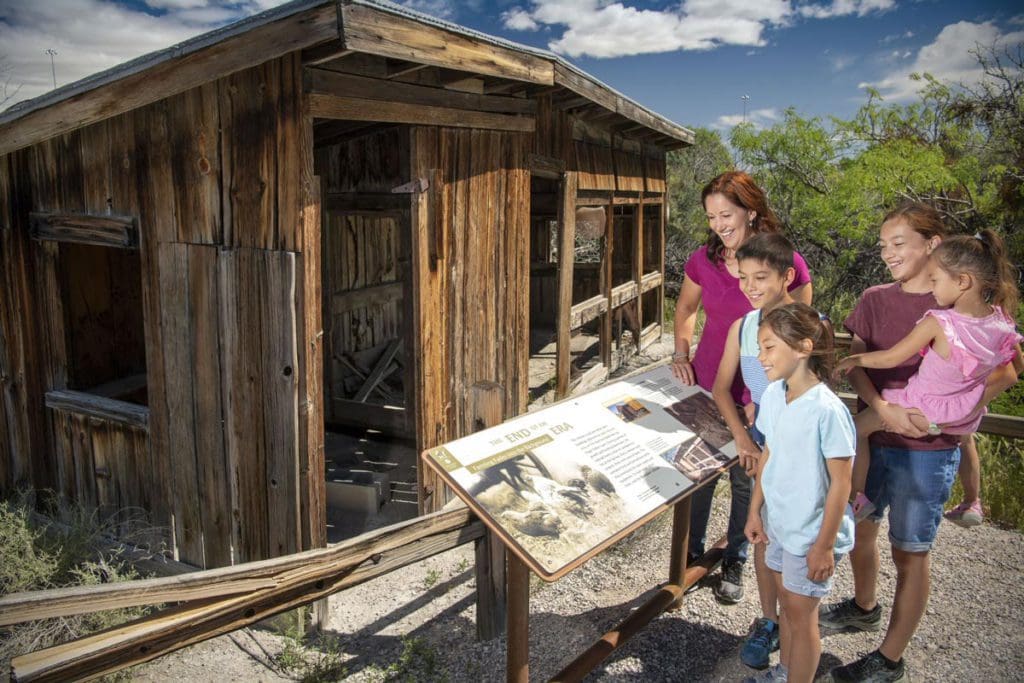 Located in the heart of Las Vegas, Springs Preserve is a nature preserve and living museum with so many things to do. You can go on more than five miles of trails, explore more than 40 acres of botanical gardens, or enjoy an interactive exhibit at one of three museums: the Origen Museum, The Nevada State Museum, and Boomtown 1905, which tells the story of Las Vegas from 1905-1920. During the spring and fall, families can also visit The Bufferfly Habitat to see caterpillars crystalize and become beautiful butterflies! When the weather is warm, kids can also splash on the splash pad and playground. Keep an eye out for the preserve's famous naturalist, Mr. Mojave!
Bellagio Conservatory & Botanical Garden
If you're looking for a great diversion from the bright lights of Las Vegas, take your children to the Bellagio Conservatory & Botanical Garden. With over 17,000-feet, the colorful displays are always changing, and there are plenty of opportunities to take pictures with your favorite flowers or animals. It's a breathtaking display of flowers and beautiful colors that changes every three months.
In fact, one of the most exciting things to do in Las Vegas with kids is going to see the show at the Bellagio Conservatory, where you can watch the landscape come alive with music and lights. Different occasions call for different shows, but some stand out, like the Lunar New Year edition. Either way, it's a perfect stop for families looking for something interesting to do in Las Vegas with kids!
Things to Do Near Las Vegas for Families
Taking a day trip from Las Vegas is a wonderful way to experience the magic of the southwest as a family. Whether you want to stay in Nevada or venture out to Arizona, here are our favorite options for things to do near Las Vegas for families!
Hoover Dam
Hoover Dam is a great place for adventurous kids and adults alike. Located 30 miles southeast of Las Vegas, the drive to reach Boulder City takes around an hour and a half. Once you get there, you'll be greeted by panoramic views of Hoover Dam from the top deck of the parking garage! To explore more, you can tour the visitor center, watch a short film on the history of the dam, and walk across a pedestrian bridge that winds around the canyon. There are also two 1-mile trails that you can hike if you're feeling adventurous! Parents who want to save some money will appreciate the free parking lots on the Arizona side of the dam. 
Book your Hoover Dam tour from Las Vegas here with Viator!
Red Rock Canyon National Conservation Area
Reserve this Valley of Fire Red Rock Canyon Day Tour or this fun Scooter Car Tour of Red Rock Canyon, both from Las Vegas, through Viator here!
Take a day trip to Red Rock Canyon National Conservation Area from Las Vegas! Located about a half-hour from Las Vegas, it's well worth the drive to see some stunning nature in this oasis of beauty. Once you arrive, there's a small visitor's center, where you can pick up brochures and maps for self-guided hikes.
A 16-mile scenic drive takes you through the spectacular canyon with towering red stone cliffs, monoliths, and dramatic landscapes. Kid-friendly trails include the Lost Creek Trail (0.6-miles), the Children's Discovery Loop Trail (0.8-miles), and the Red Springs Boardwalk (0.5-miles). Kids will love exploring the natural habitat of pheasants, hawks, and mule deer. You can also check out the petroglyphs near the visitor center.
READ NEXT: Review: Red Rock Resort in Las Vegas, Nevada
Grand Canyon National Park
Book this Grand Canyon South Rim Tour or a Grand Canyon Deluxe Helicopter Tour, both from Las Vegas, through Viator now!
One of the best things to do in Las Vegas with kids is to take them on a road trip to the Grand Canyon. It's only a 3-hour drive and it'll make for a great family fun day trip. On the South Rim, you'll find family-friendly hikes like the South Kaibab Trail to Ooh Ah Point. A round-trip to Ooh Ah Point is around 1.8 miles, so even though it's a bit steep, it should be fine for most kids.
The South Rim Trail is kid-friendly and offers iconic views too. Families can also hike the Shoshone Point Trail or the Bright Angel Trail, which features a wide path without many drop-offs. A park shuttle can get you where you need to go without tiring your feet. You can also spice up your visit with a trip down the Colorado River on a raft or even a helicopter tour!
Then, read: Amazing Sedona and Grand Canyon Itinerary For Families
Valley of Fire State Park
Book your Valley of Fire Guided Hiking tour through Getyourguide.com here!
Valley of Fire State Park is one of the most visited parks in Nevada. Located around an hour from Las Vegas, the park features beautiful red sandstone rocks that are amazing to look at. This includes the famous "Rocks Within The Rocks," which are truly a sight to behold!
Though it can be a bit difficult for kids, there's also no shortage of hiking trails here. The White Domes Trail (1.1-miles), Mouse's Tank Trail, (0.8-miles), and the Rainbow Vista Trail (1.1-miles), all provide breathtaking views of the landscape, though they can be a bit steep at times. No wonder it's one of the top destinations for adventurous families near Las Vegas! If you have time, explore by foot and see ancient petroglyphs from people who lived here centuries ago.
Where to Stay in Las Vegas with Kids
There are plenty of places to stay in Las Vegas with kids. The Venetian and The Palazzo offer both suites and villas, complete with a pool. There is also the Luxor Hotel & Casino, which has a family suite, but it doesn't have a pool. Another one of the best places to stay for families is the Wynn Las Vegas, which has the largest hotel room in the world! For more information on the best hotels in Las Vegas for families, check out our list of Best Hotels In Las Vegas For Families.
Happy Travels!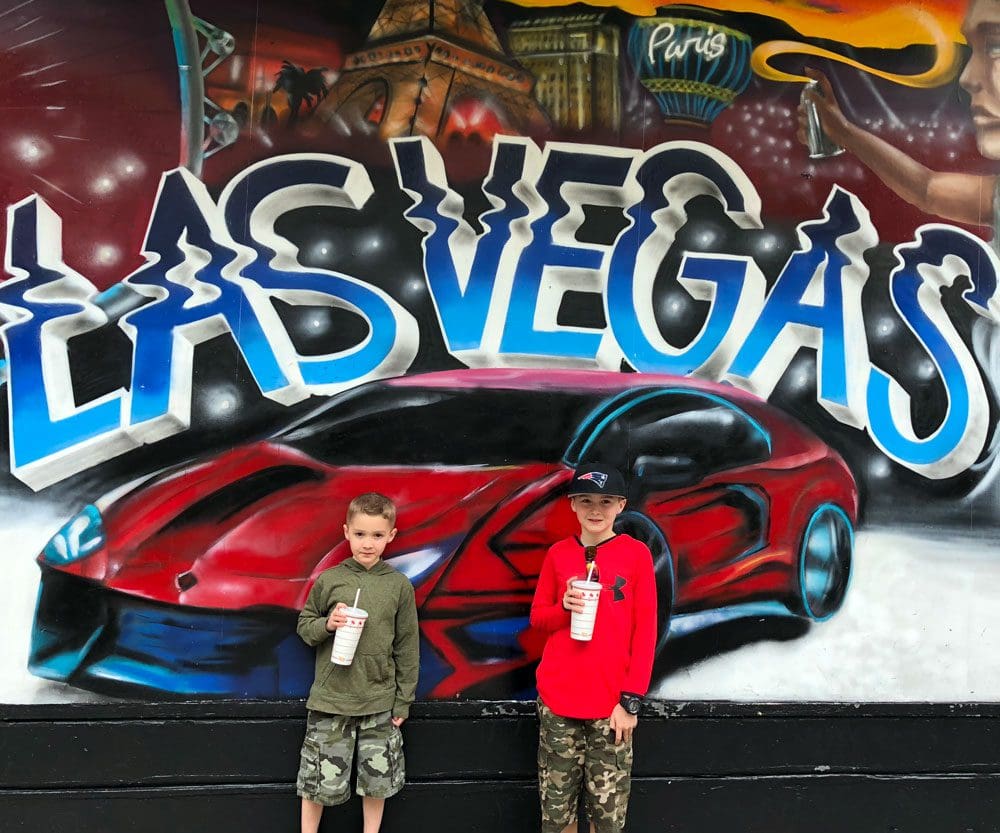 We hope you liked this list of the Best Things To Do In Las Vegas With Kids! Whether you want to see the city come alive through a dazzling performance or use it as a jumping-off point to visit nearby destinations, an adventure awaits your family. Enjoy Vegas with your kids!
*Due to the COVID-19 pandemic, some of the attractions, accommodations, or things to do on this list may be closed. Please ensure availability before making your decision.
*This post may contain affiliate links that may earn us a small commission, at no additional cost to you. Affiliate links in no way inform the hotels, sights, products, or other recommendations included in our articles. All opinions and recommendations expressed here are compiled from submissions submitted by the generous members of our Families Who Love To Travel community.
READ MORE: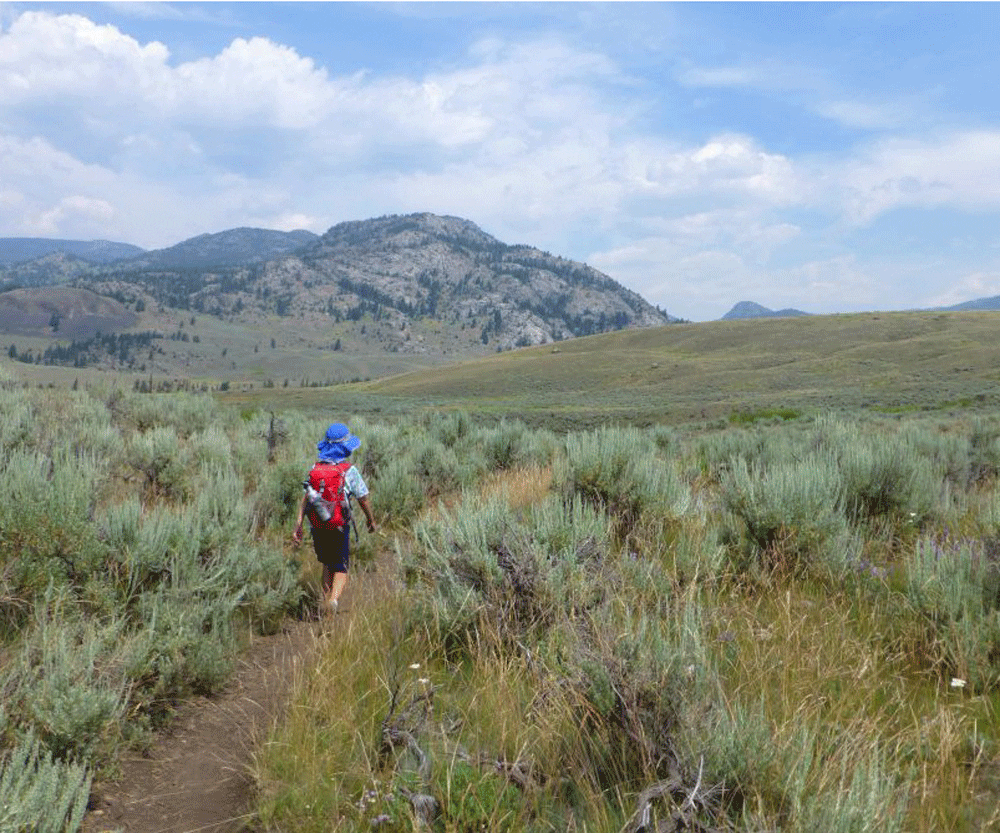 Everyone knows that Yellowstone National Park makes for a classic family vacation. Strolling the boardwalks...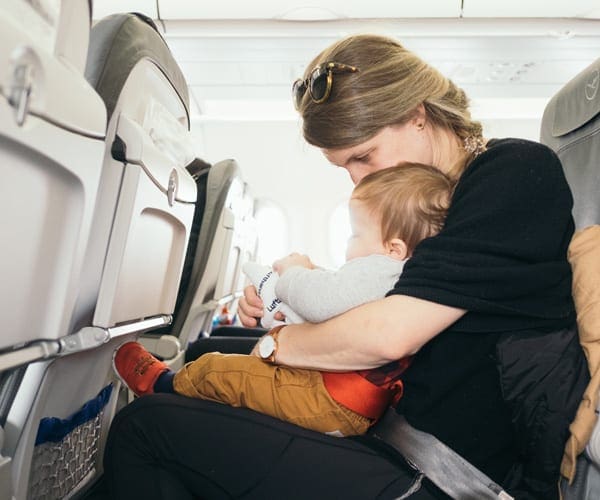 Families Who Love To Travel contributor Meghan Oaks provides her 10 best tips for your...