There are so many things to do in New York City with kids! A hotbed of culture, food, music, museums, art, and more, it's no wonder that NYC is one of the most popular and recognizable travel destinations in the world. It's also a perfect destination for your next family vacation! Due to all the hustle and bustle of this city, though, you might not initially realize how much it has to offer for kids. In fact, there are so many things to do in New York City with kids, we rounded up some of the best blogs on where to go in order to help you plan a trip that suits your family's taste. Keeping different travelers in mind, we even split them up by age range so you can find activities that appeal to your children specifically. These blogs offer tips to navigate the Big Apple!
The Wanderlust Crew
The Best Things to do in NYC with Kids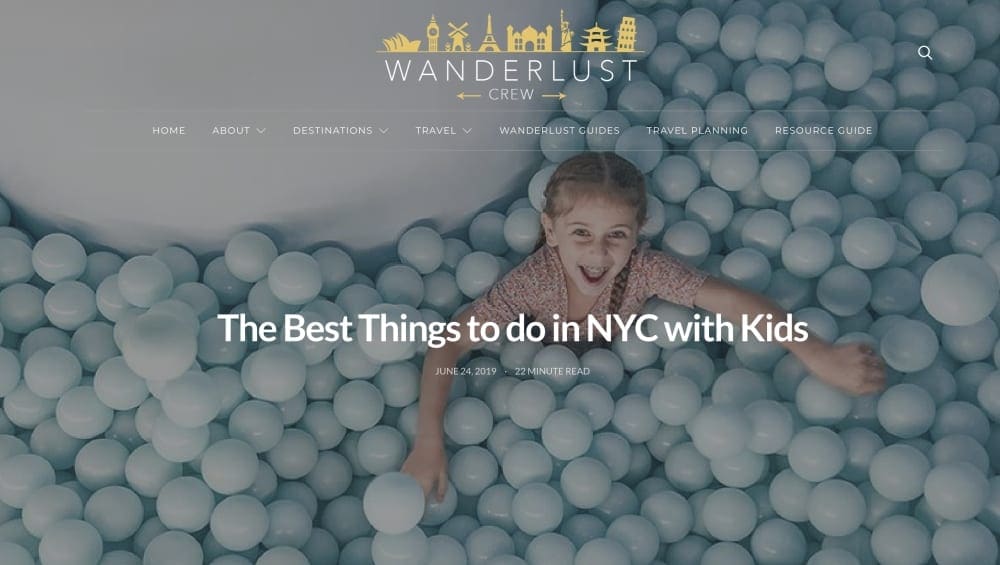 Vanessa has compiled her list from more than 20 visits to NYC (a remarkable feat in and of itself!). With stunning photos of her daughter, Vanessa covers all the basics in planning a truly unforgettable family vacation to NYC. This blog includes information on how to get to NYC, places to stay, how long you should visit, how to get around the city, and much, much more. She also shares some fantastic know-before-you-go information, which will help family travelers novice to expert (like kids 12 and under ride the New York Subway for free). Vanessa also includes her eight favorite kid-friendly museums in NYC, with a lovely review of the Color Factory. This is a must-read for anyone planning a family trip to NYC with kids! Read more here!
Pint Size Pilot
20 Things to Do in NYC with Kids
Tara created this fantastic list after multiple family trips to NYC (kids were at varying ages from toddlers to school-aged children). It includes a fun video, tips for saving money, and 20 amazing things to do in New York City with kids. Meander High Line park, one of the most stunning urban parks in the United States. Then, check out a Yankees game with your baseball-loving kiddos. Afteward, treat them with a visit to Coney Island! With so many great tips and tricks, this blog is definitely a great read for anyone planning a family vacation to NYC. Most sections include fun family pictures and a note at the end with additional, very helpful insights or advice. Read more here!
CC + Mike
VISITING NEW YORK CITY WITH KIDS
Want advice from a local? Start here! CC + Mike provides great tips from the lens of a NYC transplant. Kids will delight in strolling along the Brooklyn Bridge. Then, allow kids to marvel at the sheer magnitude of Grand Central Station. Afterward, let kids run around Bryant Park like true New Yorkers! We love this blog for breaking down itinerary planning that makes sense logistically and maximizes time in NYC. Great pictures and smart tips make this easy read blog very helpful in planning a memorable NYC family vacation. Read more here!
2TravelDads
PLANNING NYC WITH KIDS: FROM BUILDING AN ITINERARY TO BOOKING WITH REWARDS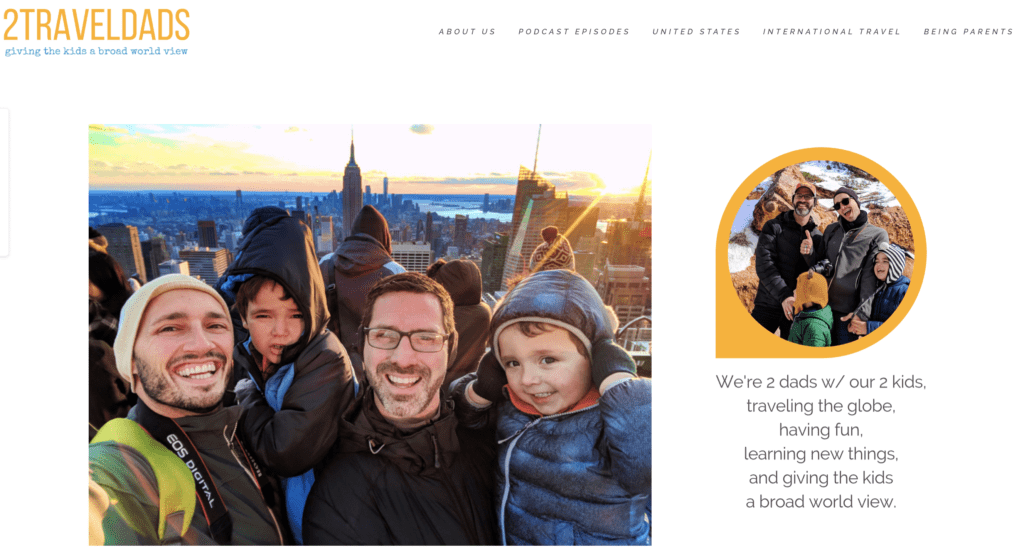 Think NYC sounds like a stressful, chaotic endeavor with kids? It can be, but 2TravelDads breaks the planning down in a way that makes it seem a little bit easier. Rob includes information on where they stayed, what to do, and where to dine. Foodies will love Rob's restaurant suggestions, including Leo's Bagles and Katz's Delicatessen. He also includes some information on how to book a trip to NYC through rewards points, an added bonus of this blog. Fun family pictures, great advice, and a packed itinerary make this blog a great read for any family planning to travel to NYC with kids. Don't miss the NYC transportation tips at the end. Read more here!
Meg O. On the Go
THINGS TO DO IN NYC WITH KIDS | OUR NEW YORK CITY FAMILY TRIP
In this blog, Meg recounts her time in NYC with her two darling daughters. She includes tips on where to stay, the top sites with kids (including information on family-friendly Broadway shows), and kid-friendly dining. The dining recommendations are particularly helpful for families traveling with younger children. Kids will love going to the top of the Empire State Building, where they can survey all of NYC. Then, treat them to the lights and sounds of Times Square. Additionally, families will love spending time strolling through Central Park. Great family pictures and a succinct writing style make this blog a delight to read when planning a family trip to NYC. Read more here!
Global Munchkins
The ULTIMATE Guide to New York with Kids [25 Amazing Tips]

This really is the ultimate guide for planning NYC with kids. A straightforward read, Amber's blog includes so many great tips for where to stay, play, and eat. Each section is chock full of information, fun family pictures and videos, tips, updated links, etc. Amber makes planning easy and fun with her guide to NYC with kids. Take a family stroll through Central Park. Afterward, visit the 9/11 Memorial and Museum. Then, take in the views from the Empire State Building. Within the blog, most sections have an additional, poignant tip at the end covering everything from budget-saving tips to attractions covered under the CityPass. Read more here!
Carltonauts
12 BEST THINGS TO DO IN NEW YORK CITY
A truly kid-centered approach to NYC, it is very clear that Jason's young daughter had a hand in planning their trip – and the recommendations for this blog. It is so fun to see kids take part in planning family vacations! First, marvel at the views from atop the Empire State Building. Then, explore your choice of one of the many museums in NYC. From the Metropolitan Museum of Art to the American Museum of Natural History, you'll have an array of great options! With darling family pictures, relevant tips and advice for each recommendation, and a humble writing style, this blog is an easy read for families looking to build and/or add to their NYC itinerary. It has some NYC classics (Central Park) and some unique finds (the American Girl Doll store). Definitely worth a read! Read more here!
y Travel Blog
8 FREE (OR CHEAP) THINGS TO DO IN NYC WITH KIDS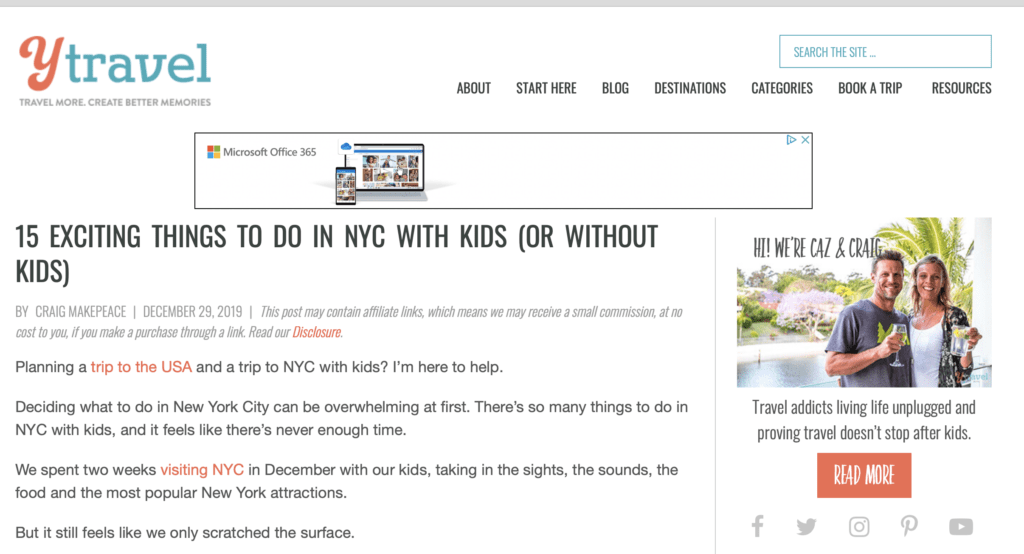 Planning a budget-friendly trip to NYC? Caz has some amazing tips and recommendations for you. What can you do for free in NYC? Turns out, a lot of things! From Central Park to the Brooklyn Bridge, this blog highlights a lot of fun sites that keep an NYC budget happy for family travelers. We love this blog for its fun writing style, very cute family pictures, and its truly kid-centered recommendations. Don't miss the tips on what to wear in NYC and where to eat with kids. The dining recommendations are particularly great for families with small children. Read more here!
Mom With a Map
New York City: in a Day & on a Budget
Planning to do a quick trip to NYC or a visit on a budget? Sarah, the Mom With a Map, has you covered! Her blog is proof that, if determined enough, families can do NYC in a day and on a budget. She provides 7 wonderful budget-saving tips, plus a few splurges if your budget allows. Allow us to recommend a carriage ride in Central Park! We especially love her list of free sites in NYC; including the Statue of Liberty, Central Park, and Times Square. Additionally, don't miss her helpful tips for saving on food while traveling. Read more here!
Bridges & Balloons
How to Plan the Perfect Family Trip to New York with a Baby
Considering NYC with a baby and not sure what to pack or how to do it? This is the blog for you! Victoria includes so much great information on how to do NYC with a baby; including transportation options, packing, the top things to do (like museum stroller tours!), dining, and much more. We love this blog for its wonderful family pictures, fun writing style, and detailed recommendations for families with babies. Don't miss the additional helpful tips at the end of the blog. Read more here!
Curious G and Me
Are you ready for the Summer? Over 50 Things to do with Kids this Summer in New York City & Beyond
Looking for a true insider's guide to NYC with kids? Look no further! This blog is FULL of fantastic recommendations for traveling to NYC with kids, particularly for families with small children. It includes everything from playgrounds to local hidden gems to gardens to much, much more. We highly recommend this blog as a wonderful starting place for planning your family trip to NYC. It's a longer read than we usually recommend, but well worth the time given it's incredible tips and insights. Cute family pictures, up to date links, and location information make this a goldmine of information for families. Don't miss the additional posts at the bottom for more information on family travel and things to do in NYC. Read more here!
Saucepan Kids
Visiting New York with kids – The top family-friendly places to visit
Not sure where to start with older children and teens in NYC? Start here! This blog is wonderfully written and includes a lot of fun family pictures that bring NYC to life. It includes a lot of great information on visiting a number of wonderful places in NYC, including Hudson Yards, the Roosevelt Tramline, and several museums. Don't miss the transportation and dining tips at the end. Dining tips include their top picks for pizza, juice, kid's picks, and more. This blog also includes their kid's insights and top picks, making it particularly insightful when searching for things to do in New York City with kids. Read more here!
Happy Planning!
New York City with kids proves one of the most diverse and exciting travel destinations in the world! With so much to do here, it is definitely a place your family will go again and again. No matter what your family is interested in doing, however, New York City will have it in spades! This list of best blogs on things to do with kids in New York City is sure to provide exceptional tips for an outstanding family trip. Happy planning!
Next, find more things to do in New York City with kids, as well as lodging, restaurants, and other recommendations on our main page on New York City.
Have a blog, itinerary, or article you would like us to feature? Contact us!
The most expensive photo ever sold in the world was taken at Antelope Canyon. It...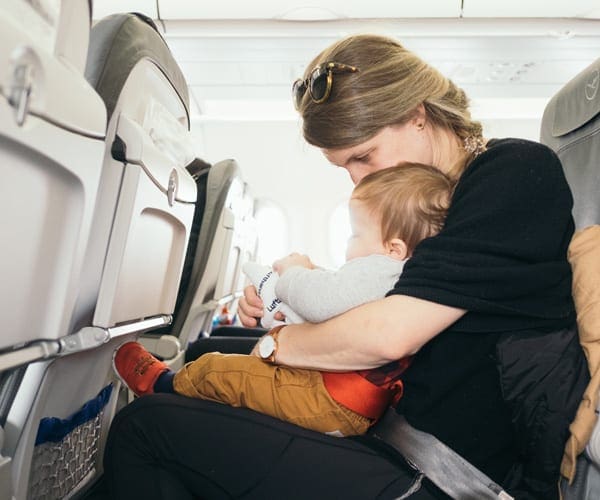 Families Who Love To Travel contributor Meghan Oaks provides her 10 best tips for your...