With so many best things to do in Oahu with kids, it's easier than ever to take the family on a fun-filled vacation! Whether you want to enjoy some of the best views around from a kid-friendly hike, spend an afternoon at the beach, or learn more about local culture, this Hawaiian island appeals to all ages. It's home to the state's capital, Honolulu, plus the lively Waikiki Beach, one of the most popular destinations in Hawaii. Of course, with so much to see and do, you may need suggestions on how to plan an itinerary. On this list, we've put together the Best Things To Do In Oahu With Kids, plus where to stay. Keep reading to learn more!
Buy Go City Oahu: All-Inclusive Pass here.
Take a Family-Friendly Tour
One of the best things to do in Oahu with kids is to take a tour. Whether you're interested in an adrenaline-pumping excursion or to learn more about Oahu's history and culture, there are plenty of options to choose from. Here are some favorites!
Kualoa Ranch

Visiting Kualoa Ranch ranks as one of the best things to do in Oahu with kids! Nestled on the eastern coast of the island, this sprawling nature preserve welcomes families. Learn about the Hawaiian lifestyle, enjoy a range of guided tours, and even visit a petting zoo. Movie buffs can learn all about the iconic sites from Jurassic Park or Jumanji, which were filmed at the preserve, on a Jurassic Adventure Tour or a Hollywood Movie Sites & Ranch Tour! From zip-lining to horseback riding, mountain biking, and ATV tours, there are plenty of other opportunities at the ranch too.
One great option for families is the Malama Experience, a hands-on excursion where kids can assist with cleaning, planting, and harvesting taro. Or, an Ahola Aina Tour, where you'll travel on an open-air trolley to learn more about Kualoa Farming operations. Since there's so much to do and see here, you'll want to spend at least one day at this stunning nature preserve!
Book Kualoa Ranch tours through Viator here. Viator offers free cancellation up to 24 hours before the start of your tour for a full refund!
Dole Plantation Pineapple Express Train Tour
One of the best things to do in Oahu with kids is the Dole Plantation Pineapple Express Train Tour. For a really fun day out, this two-mile loop takes families through the property and includes all its major highlights. See the stunning scenery of the island's north shore and learn more about pineapples in Hawaii on this fully-narrated, twenty-minute train tour. It'll take you through lovely gardens and vast pineapple fields, which you can explore afterward on a Plantation Garden Tour. This tour lets families get up close with flowers, fruits, and native plants. Of course, kids can't miss a chance to explore the world's largest maze: the giant Pineapple Garden Maze. Search for eight secret stations and see if you can solve the mystery!
Buy Dole plantation tickets here, including a round trip to Honolulu.
Tropical Farms Macadamia Nuts Tour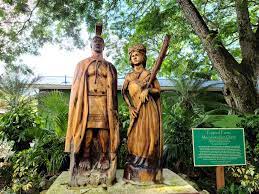 If you're looking for fun and unique things to do in Oahu, check out Tropical Farms Macadamia Nuts and take a farm tour. On the one-hour outing, families can visit the plantation to see a demonstration of how Hawaiians lived off the land. Plus, take a boat tour around the fish pond!
To start, a funny guide will take you through the farm and point out various plants. Then, you'll visit a tiny amphitheater to see a show about Hawaiian customs. Kids will love learning important skills like how to open a coconut and snack on the delicious fruit! You'll also have a chance to eat guavas and starfruit right off the trees. At the on-site bakery, families can also enjoy macadamia nuts and other fruits that aren't available in Waikiki, like cinnamon macadamias.
Kayaking Tour of Kailua Bay
Kayaking tours are a great way to experience the beauty of Oahu and its surrounding areas. One great way to get a feel for Oahu is by kayaking through Kailua Bay. The bay is quite deep, with shady spots where you can stop and enjoy snorkeling. There are also places where you can jump out of the kayak and explore on foot.
Our Facebook contributors recommend various local providers for kayaking tours of Kailua Bay, including Kailua Beach Adventures, Adventure Tours Hawaii, and Sun & Salt Hawaii. If you want the convenience of a tour with a flexible cancellation policy, Viator also offers a Kayaking Tour of Kailua Bay with Lunch for kids eight and older. GetYourGuide also offers a Kailua: 2-Hour Guided Kayak Excursion with Lunch and Oahu: Twin Islands 5 hr Guided Kailua Kayak Tour.
Zip-lining at CLIMB Works Keana Farms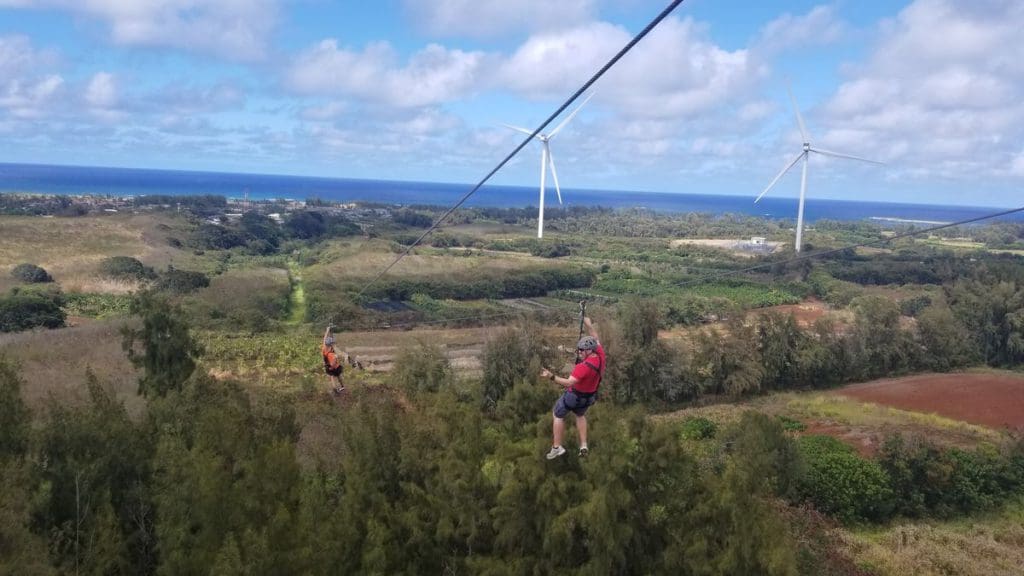 Adventurous kids will love the thrill of a zip-lining tour at Keana Farms! Located in Kahuku on Oahu's North Shore, this family-friendly attraction allows kids to play safely and have a ton of fun. Take a three-hour guided zipline tour, which includes a trip down some of the longest zip-lines in Oahu. They range from 500-feet to a whopping half a mile long!
First, you'll start your tour with an ATV ride up the mountain, Then, you'll be fitted with a harness, helmet, gloves, and shoes before you find yourself zipping through the treetops. Along the way, kids can learn more about Hawaii's fascinating history while taking in panoramic views of the ocean. Expect to encounter rappels, sky bridges, scenic boardwalks, and lots of other fun obstacles during your exploration!
Looking for a more flexible tour? Viator also offers a Zipline Tour On Oahu's North Shore For Families.
Shark Cage Diving
Families looking for a once-in-a-lifetime opportunity in Oahu shouldn't hesitate to go shark cage diving. This is a popular activity in Hawaii because the water is calm and clear. However, the sharks aren't endangered, and it's generally considered safe for kids due to the minimal chance of interaction. One of the best places to enjoy this unique excursion is Oahu's North Shore, where you'll find some of the best dive sites in the world, including some with sharks. It won't be a cheap experience, but it'll certainly be very exciting! Our contributors suggest booking a trip with a reputable company such as North Shore Shark Adventures, Hawaii Shark Encounters, or Haleiwa Shark Tours. If you have a GoPro, definitely take it with you to capture some cool footage underwater!
Viator offers various Shark cage diving tours like Oahu Shark Dive and Shark Cage Diving In Oahu that depart from Oahu's North Shore. You'll take a cruise to spot dolphins and humpback whales on the way to shark-viewing. Plus, you'll also get a chance to see predators up close from the inside of a secure underwater shark cage. It's a 2-hour excursion, great for adventurous families.
GetYourGuide also offers a Shark Cage Dive on the North Shore.
Atlantis Submarines Waikiki
Kids who aren't old enough to go scuba diving or snorkeling will love descending underwater in an Atlantis Submarine! As one of the best things to do in Oahu with kids, this fun excursion departs from Waikiki Beach and offers the only encounter-based submarine tour in Hawaii. Dive 100-feet below the surface during this one-of-a-kind experience, ideal for adults and kids. You'll get a great view of the iconic Diamond Head, plus the chance to see green sea turtles, sharks, eels, and other colorful marine life. Kids will love spotting the sunken ships and what remains of airplanes, pyramid structures, and other objects that have sunken to the bottom of the Atlantis Reef.
Go Hiking
Families who love the great outdoors can enjoy Oahu's stunning scenery on a hike! While there are tons of hikes across the island, some are more family-friendly than others. Here are our suggestions!
Diamond Head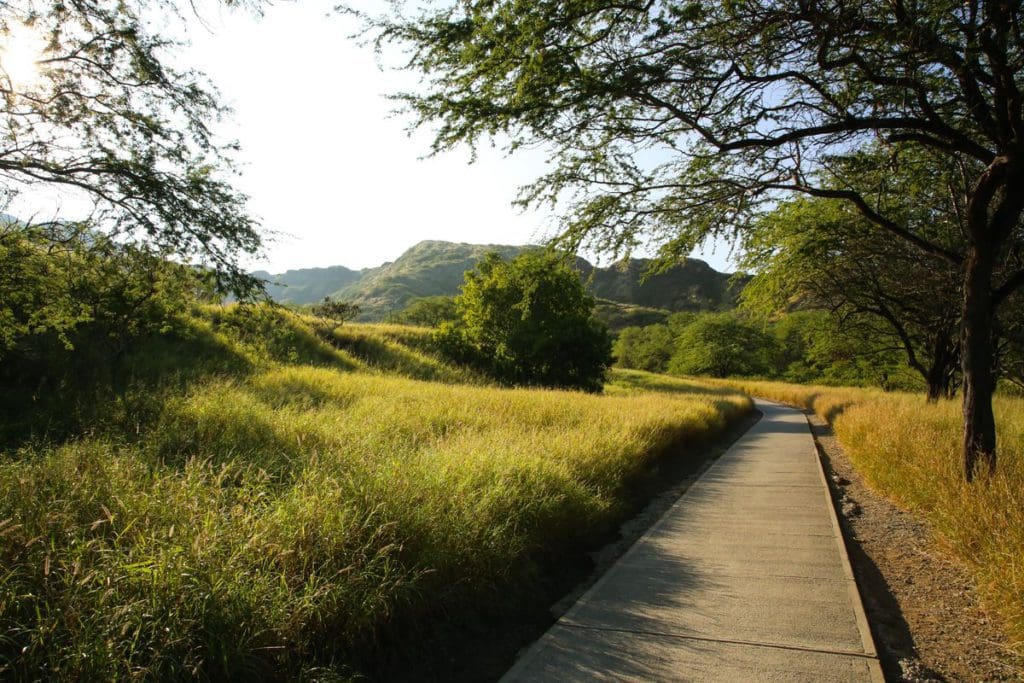 There are several hikes in Oahu that are perfect for kids and the most popular is Diamond Head. It's named after Diamond Head State Monument, famous for its breathtaking coastal views and military history. Located in Honolulu near the eastern edge of Waikiki's coastline, this volcanic cone and former fort dominate the skyline.
Families can hike the moderate 1.5-mile Diamond Head Summit Trail, bringing visitors up and down the cliffside to breathe in fresh ocean air scented with tropical flowers. You do have to go through a few steep stairs and a lighted 225-foot tunnel, which may scare some younger children. Either way, you can't miss the impressive views from the top of the 760-foot summit! Though it's not a hard hike, bring plenty of water, hats, and sunscreen. Allow at least two hours for the hike.
Buy tickets for Diamond Head State Monument: Self-Guided Audio Tour Today Using Tiqets. There's free cancellation for up to 24 hrs.
Book a Diamond Head Crater Hike and North Shore Experience with GetYourGuide now!
Waimea Falls Park & Botanical Gardens
Families who want to hike among beautiful flora and fauna will love Waimea Falls Park & Botanical Gardens. Located in Waimea Valley, a historic area on Oahu's North Shore, this is one of Hawaii's most family-friendly hikes. With a small entrance fee, families have access to a short and paved trail that leads through lush botanical gardens.
Though it's sometimes a bit wet and foggy, it'll surely be worth it. Especially once you reach the marvelous Waimea Falls at the end of the hike! This cascading waterfall is one of the most breathtaking attractions in Oahu! On a hot day, kids may even be able to swim in it depending on the water conditions. Expect the hike to take around an hour round-trip. Wear appropriate hiking shoes, since there are some rocks than can turn slippery.
Manoa Falls Trail
Another one of the best hikes in Hawaii for families is the Manoa Falls Trail. A short drive from downtown Honolulu, Manoa Falls is a gorgeous, 150-foot waterfall that attracts visitors from all over Oahu. Families can hike this scenic, out-and-back trail that runs for 1.7 miles round trip. You'll love seeing the verdant greenery of the Manoa Valley as you make your way to the waterfall; the scenery is very different from what you'd expect of Honolulu.
Though this is generally an easy hike, there's an uphill portion that's difficult when it's wet or muddy. Once you come upon Manoa Falls, you'll realize why this is one of the most popular spots for locals and tourists alike! Visitors aren't allowed to swim in the waterfall, so keep this in mind.
Lanikai Pillbox Hike
Also known as the Kaiwa Ridge Trail, the Lanikai Pillbox Hike is one of the most awe-inspiring trails in Oahu. Overlooking Lanikai Beach and Enchanted Lake in Kailua, this stunning hike is also popular thanks to its amazing vantage point over Kailua Bay and Ko'olau Mountains. Since the trail can be steep and narrow at certain places, we don't recommend this for younger kids. However, once you're familiar with where it leads and how to get there, the journey up is easy and worth every step. Kids will love seeing the different pillboxes along the way too. (Some are painted with colorful graffiti!) No wonder this is one of the best things to do in Oahu with kids!
Makapu'u Point Lighthouse Trail
Looking for more hiking opportunities in Oahu? Don't miss Makapu'u Point Lighthouse Trail! This popular hike brings families to Makapuu Point, a scenic spot on the easternmost point of the island. Around 2 miles round-trip, this hike is rated as moderate due to its uphill nature. Still, families who can make the trek will love walking along the seaside cliffs, offering outstanding views of the southern coastline, including Koko Crater and Koko Head. Once you reach the top, you'll come upon a picturesque observation desk and, of course, the Makapuu Lighthouse! If you're up for an even further climb, take the stairs to the top of the lighthouse for a panoramic view over Oahu! Keep in mind this is a very popular hiking spot and can get crowded in the summer.
Learn More about Hawaiian History
From Pearl Harbor to the Polynesian Culture Center, there are lots of different places to visit in Oahu with kids. These are definitely some of the best things to do in Oahu with kids, so stay tuned to learn more!
Iolani Palace
Features grand staircases, courtyards, halls, and open spaces, the Iolani Palace is a great place to start exploring everything Honolulu offers. Dating back to 1882, this was once a Hawaiian royal residence. Now, families can take a docent-led tour of the property and learn about the Palace's history, from its completion to the overthrow of the Hawaiian monarchy in 1893. Kids will love hearing stories about the royal residents as you explore the first-floor staterooms and second-floor private quarters. Then, the tour concludes in the basement Galleries with a self-guided tour. Though this is a general tour with all the best highlights, the palace also offers a few more specific, specialty tours. Fashion lovers will appreciate the lavish 19th-century gowns and jewelry on a Fashion Fit For Royalty Tour!
Polynesian Culture Center
Learn more about the culture and history of Polynesia at The Polynesian Culture Center. Located in Laie, on the northern shore of Oahu, this family-centered cultural tourist attraction and living museum is certainly one of the best things to do in Oahu with kids. In addition to daytime exhibits and demonstrations, there's a range of activities to enjoy here. Visit the Football Hall Of Fame to learn more about the sport, get a taste of Polynesia at the on-site dining options, and even see a traditional fire knife show! Kids will love exploring the different villages, where they can participate in cultural demonstrations such as hula hooping or fishing without a net!
Buy Polynesian Cultural Center Tickets here with Go City Oahu: All-Inclusive Pass!
Pearl Harbor Historic Sites Visitor Center
If you're looking for an activity that can bring the whole family together, check out the Pearl Harbor Historic Sites Visitor Center. Located in Oahu, this naval base played an integral role in the United States' decision to enter WWII. Kids can learn all about the poignant history of this infamous battle at the various sites throughout the complex, comprising six in total. From the Pearl Harbor Aviation Museum to the Pacific Fleet Submarine Museum, Battleship Missouri Memorial, and Pacific Harbor Parks, there's a lot to see and do here. We suggest setting aside a few hours and starting with the USS Arizona Memorial, where over 900 sailors and Marines are buried. It's free to enter, but if you reserve ahead of time, you'll even get the chance to take a boat ride!
Buy tickets directly for the Pearl Harbor Aviation Museum and Battleship Missouri Memorial Tickets.
Viator offers a whole day Pearl Harbor Remembered Tour that dives into the history of the Pacific National Monument, USS Arizona Memorial, Ford Island, and the USS Missouri Battleship. It's highly recommended for families who want to get an in-depth look into Hawaiian history.
Children's Discovery Center
Families looking for a fun indoor activity for younger kids will adore a trip to the Children's Discovery Center. Located in Honolulu, this interactive museum lets kids ten and under explore a ton of hands-on exhibits about geology, botany, and marine ecology. Little ones will love playing with the sand table, visiting the aquarium, and even getting their hands dirty with mural painting! In the Rainforest Adventures section, there's also a play area for kids between birth and three months old. Kids five and under can also visit the tot area inside the Fantastic You exhibit, which teaches kids all about the human body. This is surely one of the best things to do in Oahu with kids!
Spend a Day at the Beach or by the Water
Oahu has some of the most beautiful beaches in Hawaii, so visiting one is definitely a must during your family vacation! Here are some of our favorite suggestions for the best beaches in Oahu for families!
Hanauma Bay State Park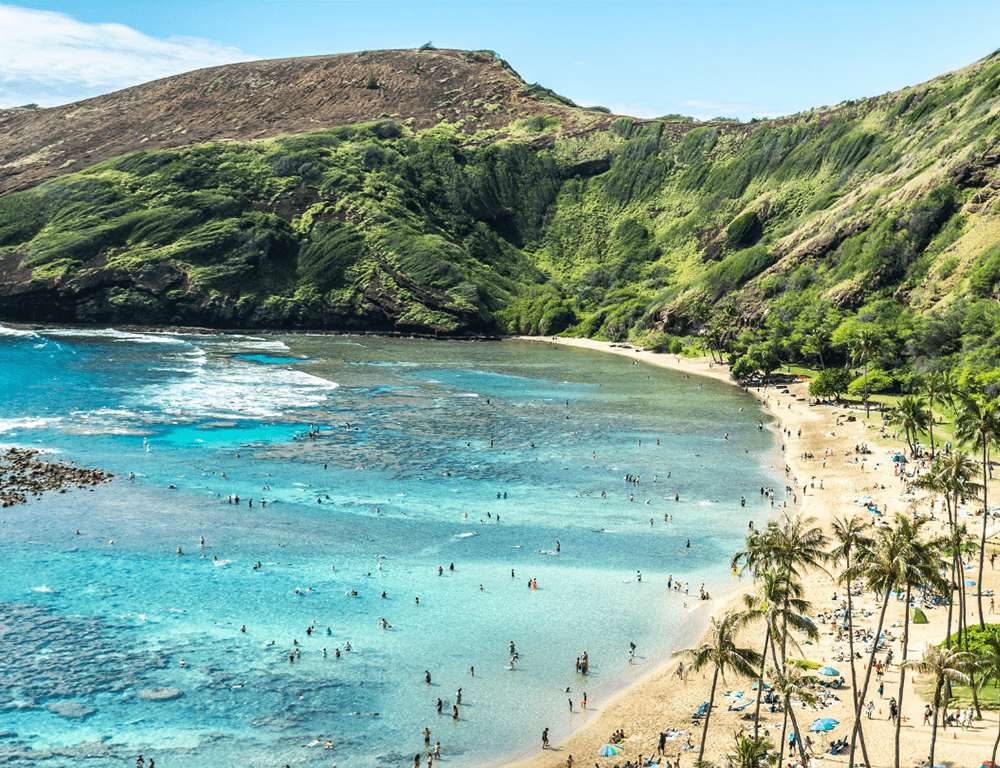 Hanauma Bay State Park is a nature preserve located on Oahu's south shore. Home to turtles, colorful fish, and stunning coral reefs, it's definitely one of the best things to do in Oahu with kids. Entry to the bay requires a fee, and so does parking. Before making your way to the beach, all visitors need to watch a short 9-minute safety video at the Marine Education Center. Families can also take a few minutes to explore the exhibits if kids want to learn more. From there, you can take a fun tram ride down to the bottom of the hill to reach the beach (walking is also an option, but little kids may get tired.) This gorgeous, sandy beach is especially great for small kids since there are no waves, plenty of sand, plus two lifeguards on duty.
Snorkeling at Hanauma Bay
For families who want to explore underwater, Hanauma Bay is also a popular snorkeling spot. Due to overcrowding and the pandemic, however, snorkeling gear isn't available to rent here. We suggest bringing your own or renting from elsewhere in Oahu in preparation for your trip. Whether you're a beginner or an avid snorkeler, the water is crystal clear and shallow, making it perfect for all ages. There's even a small area where kids who won't want to snorkel can sit and spot some fish in the water. During your underwater exploration, you'll see vibrant parrotfish, triggerfish, butterflyfish, convict tangs, and so much more. Who knows, if you're lucky, you may even get to swim alongside a sea turtle!
For more things to do in Hanauma Bay, check out our article on 5 Exciting Things to Do in Hanauma Bay with Kids!
Halona Beach Cove and Blowhole
See one of Hawaii's most marvelous natural wonders at Halona Beach Cove and Blowhole. Just a 20-minute drive from Waikiki, this unique geological formation is the result of a volcanic eruption from thousands of years ago. Though the water is usually a bit rough, and thus not ideal for swimming, most people come here for the amazing views and to spot whales. Of course, kids will get a kick from watching a rush of water erupt from the blowhole! While the blowhole is visible from a lookout point near the highway, more adventurous travelers also like to scale down the rocks while wearing appropriate footwear. We don't suggest this with young kids, of course, but teens may be up for a challenge.
Lanikai Beach
Lanikai Beach is the perfect place to spend an afternoon with kids. Located in Kailua, this idyllic destination is widely considered to be one of the most beautiful beaches in Hawaii. With Oahu's breathtaking mountains as your backdrop, families can also enjoy the surrounding scenery of the Mokulua Islands. This is also a great place to visit with young kids since the water is calm and the sand is soft, making it perfect for building sandcastles. Locals and tourists alike also visit Lanikai Beach for swimming, scuba diving, and fishing. Crystal clear waters are ideal for spotting colorful marine life and maybe even catching one!
Turtle Bay Beach
Turtle Bay Beach is a favorite spot among many Oahu vacationers. Located on the northernmost point of Oahu, it's home to several endangered hawksbill turtles and other marine wildlife such as seals, making it relatively unique among Hawaiian beaches. It's no surprise this is one of the best things to do in Oahu with kids!
This protected, sandy beach is perfect for enjoying quality family time, whether you just want to spot turtles from the shore or go snorkeling. Kids will love seeing these adorable creatures up close in their natural habitat! Swim conditions here can be hit or miss depending on the current, and it can get a bit rocky. However, teens will love the chance to surf nearby, since the waves are ideal for that.
Waimea Bay
Waimea Bay is a beautiful beach at the base of the Waianae Mountains. It's a popular spot on Oahu's north shore for surfers in the winter, since the waves can reach up to 30 feet. However, in the summer, the water calms down a bit, making it fantastic for families who want to swim. Snorkeling is another popular activity here since the blue-green water is so clear and abundant with marine life.
In addition to the beach, there are tons of things to do nearby. Across the street, visit Waimea Valley, a botanical garden nestled in a verdant valley. This is the perfect place to get out of the sun and cool down, since you can walk a shaded path to a picturesque waterfall. Kids can grab a life jacket and swim in it!
Waikiki Beach
Waikiki Beach is one of the most recognizable places in Oahu for a good reason! Located within the vibrant neighborhood of Waikiki, where there are a lot of major hotel chains, fine dining restaurants, and shops, it's certainly a popular destination for visitors all over the island. Families can enjoy stunning views of nearby Diamond Head from this scenic beach, which is known for its surfing, swimming, and sunbathing opportunities.
Kids will also love the various grassy areas for playing games such as soccer. Families can also take a walk on the beach and simply relax. A few more fun things to do in Waikiki include renting paddleboards, snorkeling at sunset, and watching the Friday firework show that starts at 7:45 PM.
Looking to book your next snorkeling adventure? GetYourGuide offers a Morning Snorkel Sail along Waikiki Beach or a Turtle Canyons Snorkel Excursion!
Surfing Lessons at Waikiki Beach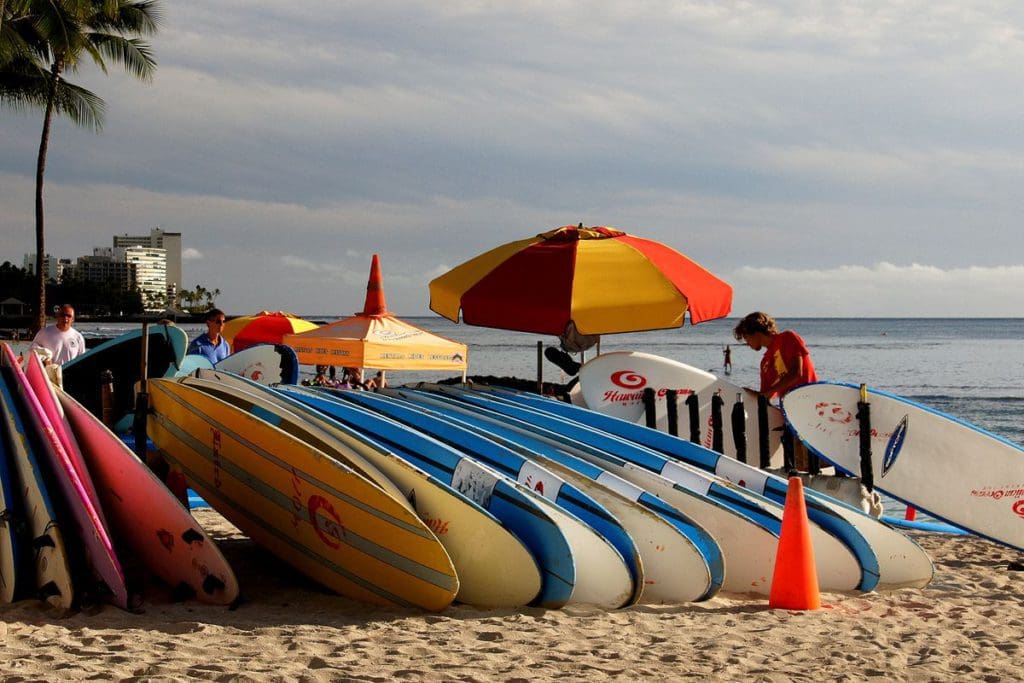 For kids who are interested in surfing lessons, Waikiki Beach is the place to be. Thanks to its small but long-lasting wave break, this is one of the most famous surf spots on the island, great for all skill levels. Beginners learn how to surf on the gentle waves, while experts can improve their skills on the long left point break. Surf lessons are usually super fun for kids because they're interactive and involve lots of laughs. There are countless local surf schools in the area, but our contributors recommend Hans Hedemann Surf School. These two-hour lessons will have kids feeling like a pro in no time! If you want to get the whole family in on it, you can also rent a stand-up paddleboard and try it out yourself.
Viator also offers a 2 Hour Private Surf Lesson in Waikiki. For kids thirteen and older, GetYourGuide offers a Group Surfing Lesson in Waikiki Beach or a Private Surfing Lesson in Waikiki Beach for younger kids.
Kaneohe Bay Sandbar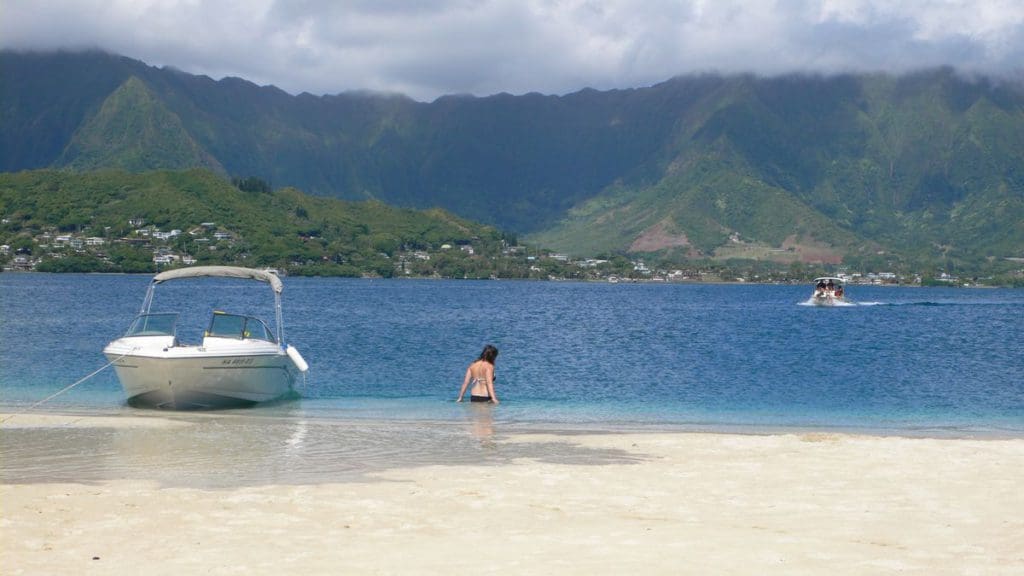 Families searching for a unique Oahu activity will love the Kaneohe Bay Sandbar. Located on the eastern, windward side of Oahu, this natural formation is nestled in the center of the reef-protected Kaneohe Bay. It has panoramic views of the Koolau Mountains and nearby islets making it extremely beautiful. However, it's only accessible by boat or kayak. When there's low tide, families can dock their watercraft to hang out and enjoy the sandy bottom. Since the water is calm and only rises to your knees, it's a popular place for snorkeling, playing beach volleyball, or enjoying a picnic.
Book a Family Photo Shoot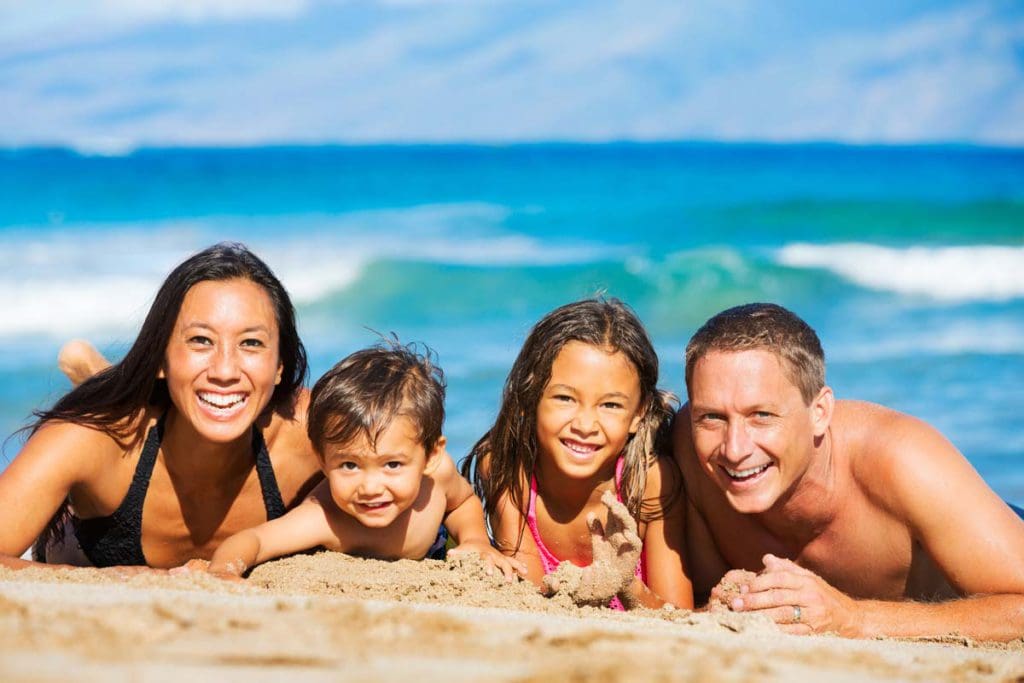 What better way to capture family memories and the beauty of Hawaii than with a photoshoot? Many beaches throughout the island provide the perfect backdrop for a family picture! Plus, since the water is usually calm enough for little ones to splash, this is a great way to get some candid shots to remember your trip. Though there are many ways to book a photoshoot in Oahu, we suggest hiring a local photographer for the most authentic experience.
Companies such as Kristen Hook Photography, Oahu Pro Photography, and Little Bird Photography offer various packages to fit your family's needs. You can also browse on Instagram, as there are often specific hashtags based on destinations such as #Honoluluphotographer, #Waikikiphotographer, etc.
Stroll through the Hoomaluhia Botanical Garden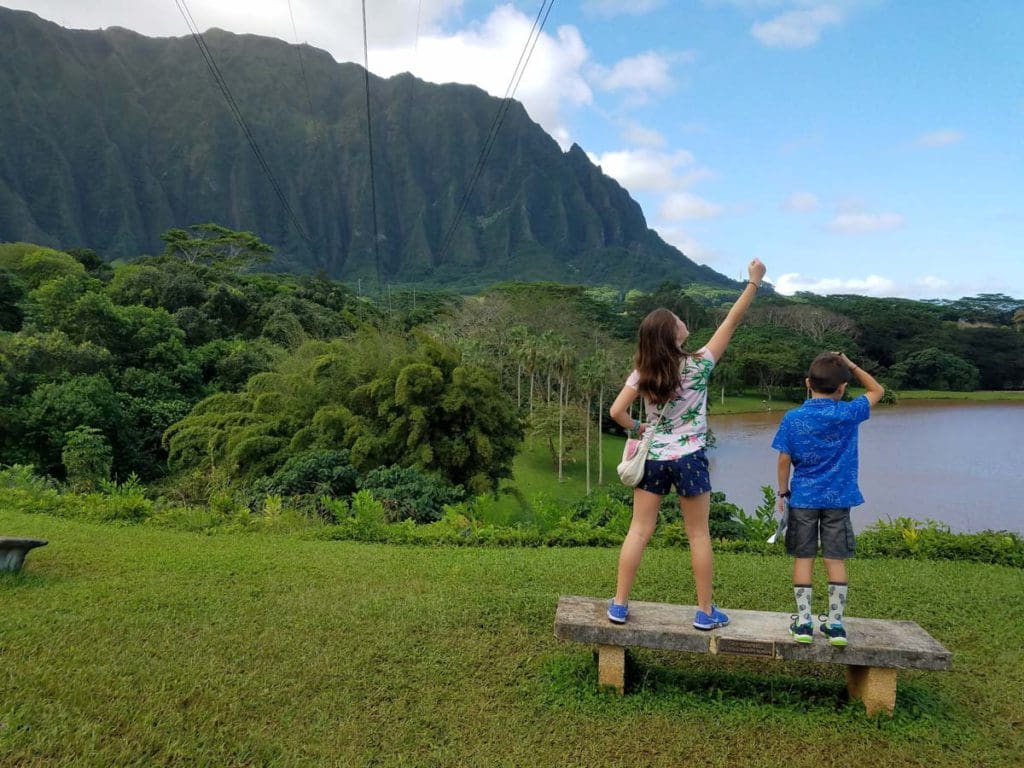 Stroll through a lush oasis at Hoomaluhia Botanical Garden! Located along a freshwater lake, this family-friendly attraction is home to over 400 different plant species from the Philippines to Sri Lanka, alongside beautiful flowers and butterflies. With paved paths throughout the property, it's perfect for families who want to explore and take a stroll in the afternoon. It's a lovely place to stretch your legs or bring a picnic, since there are lots of quiet areas to stop along the way. Expect to pass two large ponds, a waterfall, bridges, tunnels, and even a fun bamboo maze for kids to navigate. There are also educational exhibits for children to learn about botany at the Visitors' Center. No time to walk? There's also a scenic road through the gardens, but you can't stop for pictures at any point.
Where to Stay in Oahu with Kids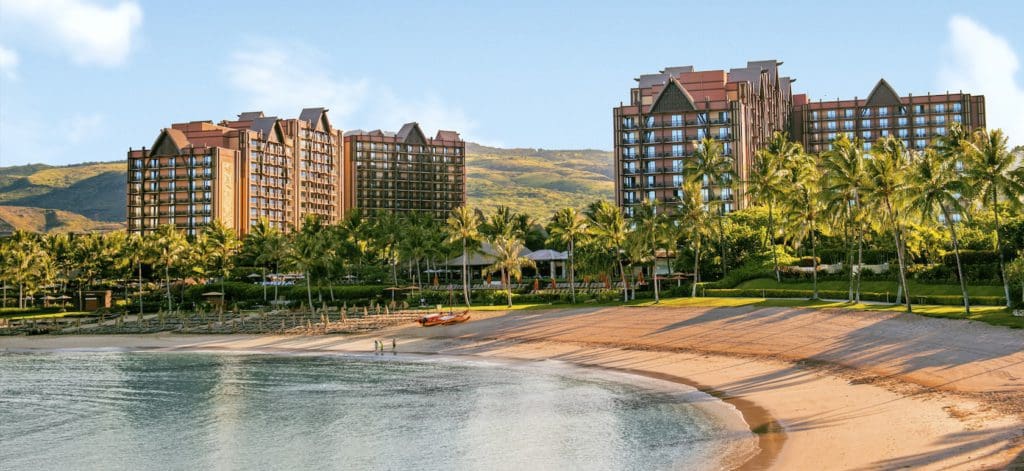 Looking for somewhere to stay in Oahu with kids? Families who want the Disney experience will love the one, two, and three-bedroom accommodations at Aulani, A Disney Resort & Spa. This hotel also offers multiple on-site pools and tons of activities for kids. There's also The Kahala Hotel & Resort, which gives kids access to a white sand beach and the chance to see dolphins! Hilton Hawaiian Village Waikiki Beach Resort has a beautiful beachfront property, plus the chance to choose from multiple accommodations on-site. Other great hotels in Oahu for families include Turtle Bay Resort and The Ritz-Carlton Residences, Waikiki Beach.
Plan your next Oahu getaway to one of these 20 Best Hotels In Hawaii For A Family Vacation!
Happy Travels!
We hope you liked this list of the Awesome Things To Do In Oahu When You Visit With Kids! From beautiful beaches to cultural excursions, stunning views, and so much more, this Hawaiian island is surely a great vacation choice for families. Enjoy Oahu with kids!
*Due to the COVID-19 pandemic, some of the attractions, accommodations, or things to do on this list may be closed. Please ensure availability before making your decision. 
Book these Popular Viator tours and activities in Oahu:
*This post may contain affiliate links that may earn us a small commission, at no additional cost to you. Affiliate links in no way inform the hotels, sights, products, or other recommendations included in our articles. All opinions and recommendations expressed here are compiled from submissions submitted by the generous members of our Families Who Love To Travel community.
READ MORE: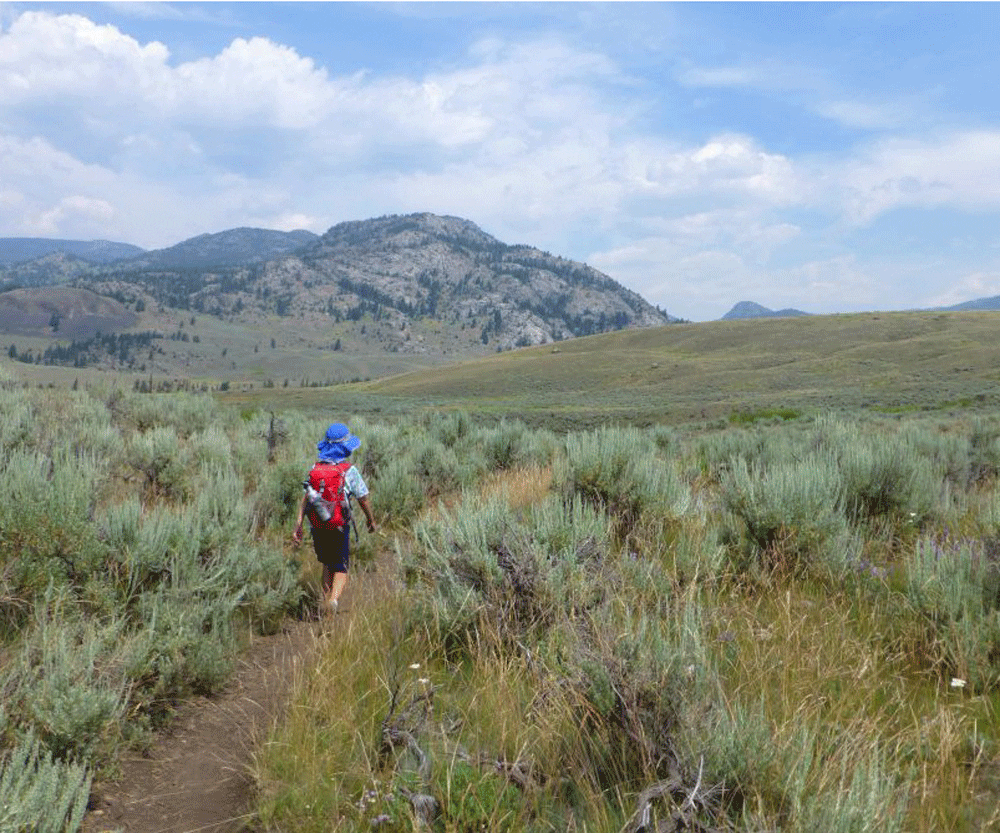 Everyone knows that Yellowstone National Park makes for a classic family vacation. Strolling the boardwalks...
You can do all the research and pack all the right things, but it's hard...