What are the best things to do in Phoenix with kids? Phoenix is a wonderful family-friendly city best explored between September and May. If you really love the heat, summertime may be a perfect time for you. Just brace yourself for three-digit temperatures! Living in Phoenix for nearly two decades has taught me a lot, but after having three kids, I realize there's so much more to enjoy with them. Because it's so hot in the summer, we make it a point to get out early or go to locations that offer an air-conditioned space or at least a splash pad to cool off. Every one of these things to do in Phoenix with kids is versatile in terms of ages or best season to visit, so children of all ages will have something to explore. Between animal adventures, scenic hiking trails, and more, keep reading for my suggestions!
Reserve your Car Rental At AirportRentalCars.com here!
Take an Animal Adventure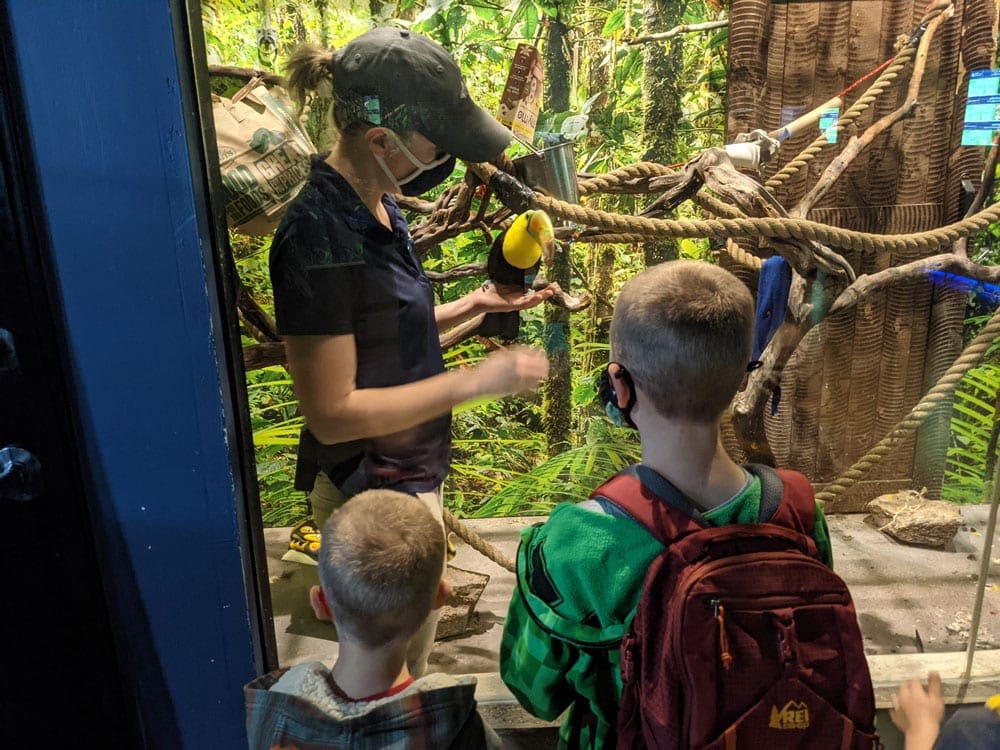 If your family loves animals, Phoenix is a great place to spot some. It has an amazing aquarium, a great zoo, and an entire regional, state, and national park system with deserts and numerous mountains where animal sightings are frequent. You don't have to go far to spot a Cactus Wren, Roadrunner, Gecko, or even a Coyote! Because Phoenix is surrounded by mountains, animal sightings are frequent. Check out some of our favorite locations where you can see some animals in Phoenix!
Phoenix Zoo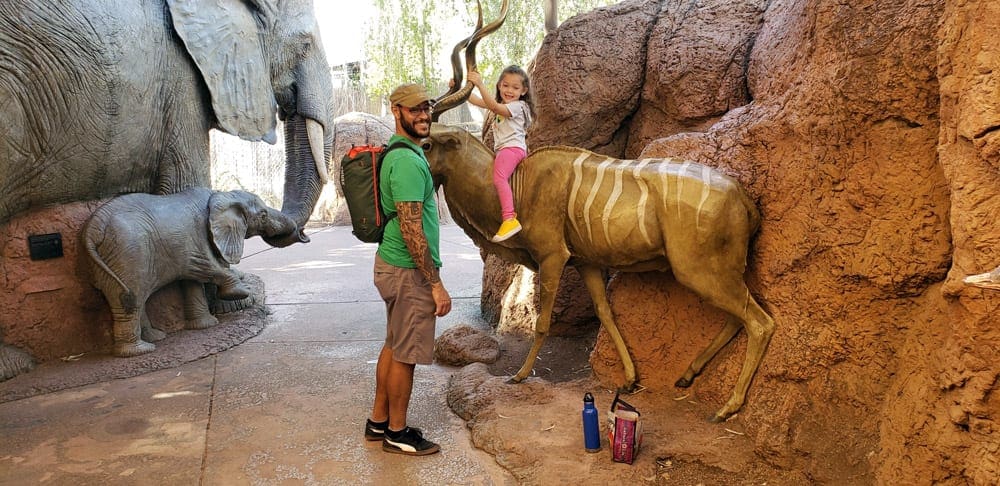 Visit the Phoenix Zoo for the ultimate animal encounter! Located in Papago Park, this natural sanctuary showcases over 3,000 animals, several of which are endangered. Start by riding a camel or a giraffe and snap a few pictures. Then, visit the Enchanted Forest and climb up to the treehouse for an aerial view of the zoo! There are many native animals to learn about too, like the cuddly Black-Footed Ferret and the adorable Cactus Ferruginous Pygmy-Owl. Families can even chat with a real conservationist to brainstorm ways to help the animals. Visiting Arizona in the summer? Get to the zoo early to beat the heat and bring a swimsuit, since there are two splash pads for kids to cool off! The Phoenix Zoo also has a great petting zoo full of goats, chickens, turkeys, and horses. Hop on the Endangered Species Carousel as your grand finale!
The Phoenix Zoo is taking safety precautions because of COVID-19. Learn more about its new policies here.
OdySea Aquarium
As the largest aquarium in the Southwest, OdySea Aquarium has a lot to offer families. It's great to visit any time of the year. With more than 6,000 animals to spot, families will learn about seahorses, sea lions, penguins, even sloths! When you arrive, stop by the first-floor restroom and see what you will find inside. Our favorite parts are the hands-on exhibits. Kids can spend all day chasing and touching stingrays at the Stingray Shores Exhibit. They also have an exhibit with starfish and anemone at the Touch Pools. As you walk through the aquarium you will come upon the only rotating presentation that teaches visitors about different marine life, including Lemon Sharks and Sea Turtles. The 20-minute presentation on the OdySea Voyager brings education and fun to any animal lover of all ages. Don't forget the Kids' Cove, where little ones can color and enjoy other activities!
In adherence to COVID-19 protocols, the OdySea Aquarium is open seven days a week. Hours vary, so please check the website for updated information.
RENT AN RV IN ARIZONA USING RVSHARE
Find a Family-Friendly Hiking or Cycling Trail
Arizona is full of outdoor trails that kids can explore by foot, bike, or with the comfort of a pack. Just remember: Arizona is a desert, and you may not sweat or feel thirsty, but you still have to stay hydrated. Many people forget to drink water until it is too late. Always bring enough water anywhere you go. Our favorites local spots for hiking or biking with kids are below!
Dreamy Draw Loop Trail
Located in the Phoenix Mountains Preserve, the Dreamy Draw Loop Trail is a good option for families who want an overview of some of the city's best views. My family likes this one because it's closest to our home. Although this 3.7-mile loop is heavily trafficked, it's still worth exploring for its beautiful wildflowers and desert landscape. It has some elevation, which could get trickier for younger kids, but those who have hiked before should be fine. There are also a lot of side trails you can branch off into off the main loop. Watch out for wildlife along the way!
Papago Park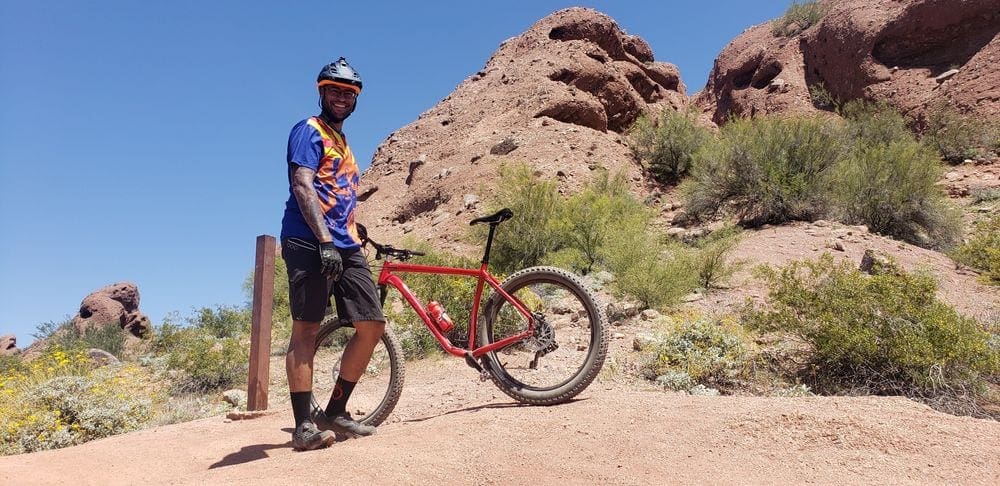 Papago Park is a great spot for both hiking and biking. Families who want a simple hike can check out the Hole in the Rock Trail, which is only 0.3 miles and great for all skill levels. Not to mention the stunning sunset you can see from the top! For a longer hike in Papago Park, take the 2.3-mile Papago Park Butte Loop. Perfect for tweens, tweens, or experienced hikers, it's still pretty flat and easy, though it's a little extra work to get on top of the butte. While hiking, you'll also spot a little alcove that many visitors like to take pictures inside. You might even get lucky and run into a family of owls during your excursion!
Brown's Ranch
Brown's Ranch is one of my favorite spots to bring the kids to ride near Phoenix. With cycling and hiking opportunities for beginner and intermediate adventurers, this Scottsdale trailhead offers scenic desert views that can't be beaten. The paths are nicely maintained, and since there are several to choose from, it doesn't seem as congested the further you venture into the preserve. The Upper Ranch and Brown's Ranch Road Trail is a relatively easy hike 4-mile for most of the way up, but it becomes a little steeper in the last .2 miles, so we recommend it for more experienced hikers.
Brown's Ranch is all single track so if you plan on biking, bring a trailer for your ride that will fit the tighter paths.
Pro Tip: A wider trailer might work for this adventure – we have a Weehoo to make the process easier.
Pinnacle Peak Park
Showcasing a pristine Sonoran Desert landscape, Pinnacle Peak Park is another family-favorite Scottsdale attraction. There are plenty of trails for families to experience the beauty of the park's eponymous Pinnacle Peak. The North Scottsdale Trail is maintained extremely well, making it easy for beginners or adults carrying kids. In addition, you will find cute storytelling signs sharing the tale of the tortoise and hare. It's an in-and-out route that's only 1.75-miles one way. It does have some climbing, but it is manageable.
Plum Guide – Book Arizona's Finest Homes – PlumGuide.com
McDowell Mountain Regional Park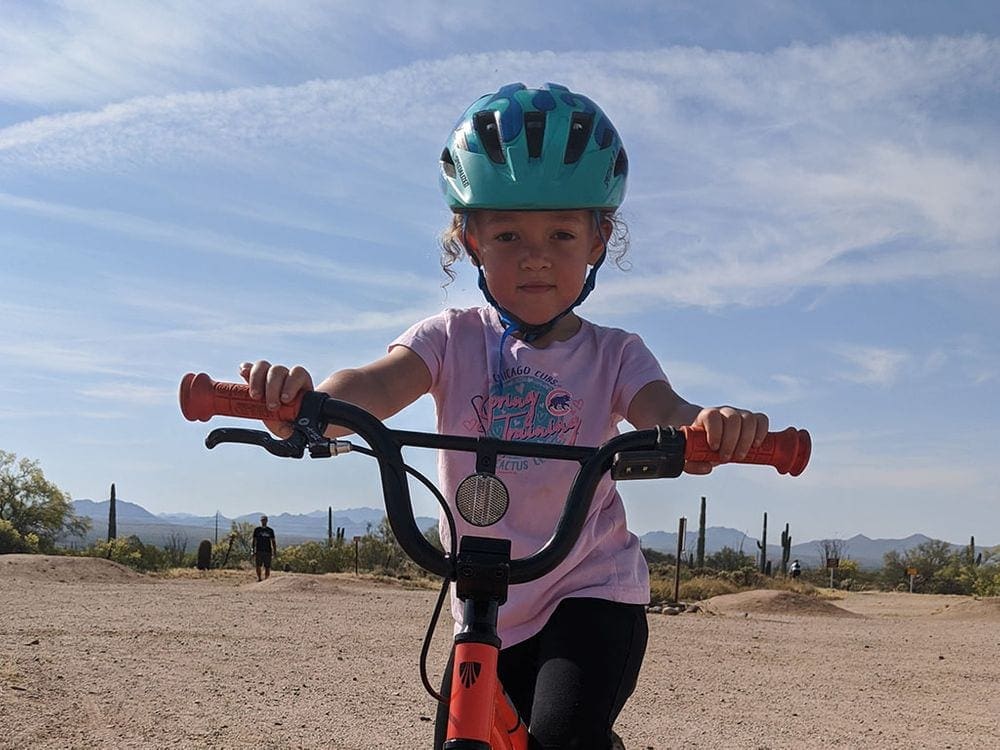 McDowell Mountain Regional Park is located near Phoenix in Fort McDowell, Arizona. At this family-friendly spot, you can do anything from hiking to biking or camping. McDowell Mountain Regional Park also has over 20 trails to explore on foot or bike with kids. Some, like the McDowell Mountain North Trail or the Wagner Loop Trail, are flat, easy, and as short as two miles. Pass by gorgeous Sonoran Desert wildlife and vegetation during the process! Kids will especially enjoy hiking the Tortoise Trail, which showcases jackrabbits and lizards. Parents with babies or toddlers will love the stroller-friendly Nursery Tank Trail. If you are interested in biking, the Pemberton and Escondido trails are on the mild side for cyclists eager to explore.
Find Top 50 Phoenix family-friendly vacation rentals using Vrbo.com
Flex Your Brain Muscle at a Museum
Once you've hit the trails and explored all the animal attractions, stop into one of Phoenix's many museums. Two recommended for children are the Arizona Science Center and/or Children's Museum of Phoenix. Phoenix has a great bike lane system, so getting around downtown where both of these are located is fun and easy, even with family. If you're not interested in bopping around town on a bike, hop on the Valley Metro Light Rail to reach the best things to do in Phoenix with kids!
Arizona Science Center
Bring your whole family to the Arizona Science Center! Located in Heritage and Science Park in downtown Phoenix, this kid-friendly center is made up of four levels dedicated to more than 300 hands-on-exhibits. There's no doubt it'll entertain and educate your child! Each exhibit is broken down into independent sections exploring the human body, weather, transposition, computers, and more. Kids can even step into a hurricane, tornado, wildfire simulation! The coolest 5-minute show "Forces Of Nature" takes you into the middle of it all. (Bring a raincoat if you don't like getting wet.) Adventurous families can even hop onto the Skycycle on a 90-foot cable. Talk about experiencing gravity first-hand! If you're interested in other exhibits, don't worry. There's always one to choose from since the special exhibits rotate frequently. Whatever time of the year you're visiting, you're bound to catch something your family will enjoy.
Children's Museum of Phoenix
The Children's Museum of Phoenix is a great place to bring kids. Typically, this three-story fun zone can be seen crowded with kids and adults running around through a noodle forest or climbing large structures to reach the floating bathtub. Due to COVID-19, the museum has taken all its kid-friendly fun outdoors. However, there are a lot of activities kids and adults can still do to learn in a safe environment! With more than 15,000 square feet of new outdoor space, the museum's Adventure Play area lets kids be free. From building to climbing, kids will use their imagination and work up a sweat. They can play in the sandpit, paint a rock, or water and harvest what is currently in the garden to develop various developmental skills. As one of the best things to do in Phoenix with kids, admission here needs to be reserved beforehand.
Enjoy a Family Day Trip
Want to mix up your Phoenix family vacation? Take a day trip to a nearby city! Phoenix's location in Arizona puts you near other places worth visiting as a family. Of course, there's nearby Tempe and Scottsdale, which are easily accessible and house many of the attractions on this list. Beyond that, families may enjoy visiting Prescott. It's 90 minutes away from Phoenix and is a particularly great spot to visit during the summer since it's often ten to twenty degrees cooler here. You'll find lots of lakes to explore surrounded by beautiful greenery, like Lynx, Watson, and Wilson. Kids will love swimming, playing, and spotting local wildlife. At night, families can spend time in Prescott's historic town square which is full of evening entertainment, shops, and restaurants. We recommend eating at Raven Cafe or Bill's Pizza then stopping at Frozen Frannie's for dessert!
Finish Your Visit with a Sweet Treat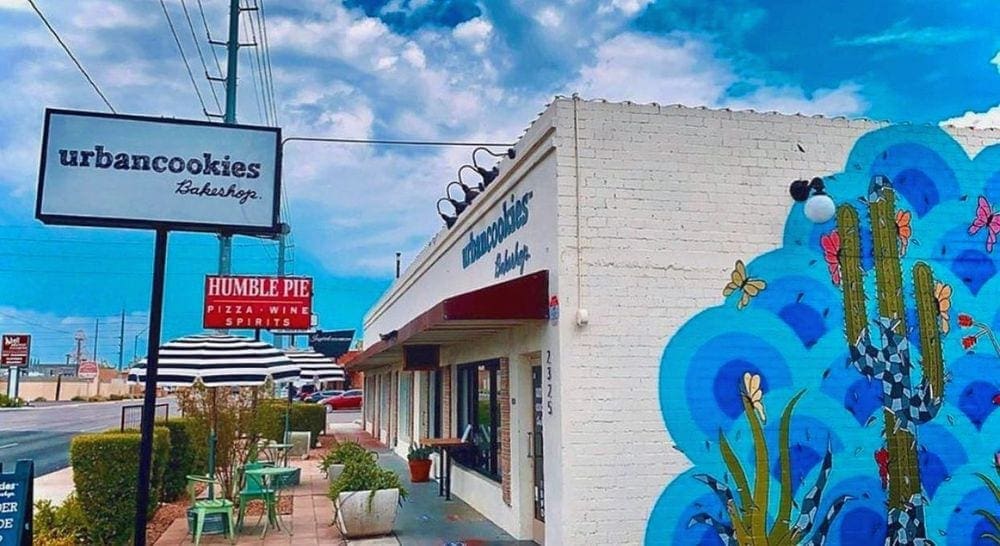 If you enjoy indulging in some tasty treats, Phoenix has many amazing locations to try! As someone who has a sweet tooth, I've yet to find something better than Urban Cookies. Desserts in the United States oftentimes tend to be a bit too sweet for my liking. Urban Cookies' cupcakes are moist with just the right amount of sugar. They have fun rotating flavors kids will love like Cherry Churro and Chocolate Salted Caramel, but their traditional flavors are just as good. I also recommend visiting Sweet Republic, one of the most unique ice cream places in Phoenix. Flavors range from traditional mint chocolate chip to white roses, black sesame, and rum raisin. Once upon a time, they even used to sell wasabi ice cream, and if you're lucky enough you may catch some! There are three shops between Phoenix, Tempe, and Scottsdale to pop in for a tasty treat.
Find Upscale Hotels in Phoenix, AZ using Travelocity
Where to Stay in Phoenix with Kids
Book your stay at Arizona Biltmore, a Waldorf Astoria Hotel or The Hilton Phoenix Resort At the Peak now.
If you're searching for family-friendly accommodations in Phoenix, you'll be pleased to know the city offers plenty of options. Nearby Old Town Scottsdale and the Odysea Aquarium, families can stay at Great Wolf Lodge Water Park. It has a great pool and kids will love the water park located directly inside the resort! The Arizona Grand Resort & Spa also has a water slide on-site. Plus, it's close to the Arizona Mills Mall, Oasis Water Park, and Tempe Town Lake, where you can rent paddle boats or scooters. The Hilton Phoenix Resort At the Peak is another great option, known for its proximity to Old Town Scottsdale, lazy river, and miniature golf. We also recommend Arizona Biltmore, a Waldorf Astoria Hotel.
Calling All Heroes! Book Now and Save up to 30% off Stays at Great Wolf Lodge with Promo Code HEROESA
Happy Travels!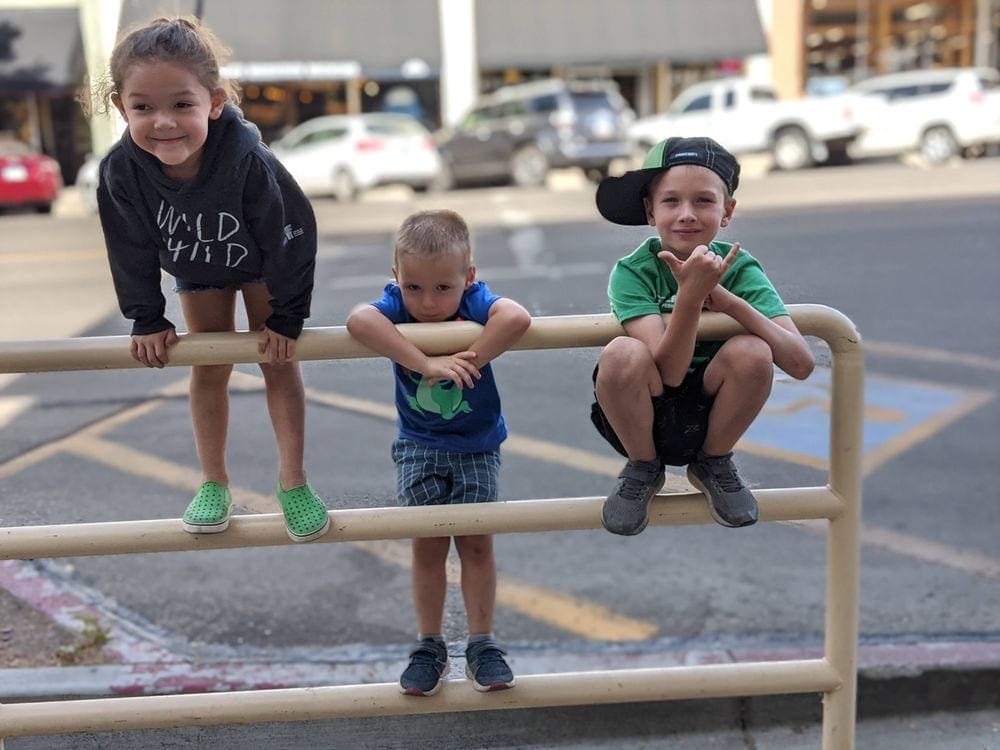 We hope you liked this list of the Best Things To Do In Phoenix With Kids by our contributor Kasia Michalik! Whether you hit up a museum or get active during your family vacation, you'll find plenty to do in this amazing city. Enjoy Phoenix with your kids!
Find more from Kasia and her family's adventures online or on Instagram @alifemaspicante.
Unless otherwise noted, all images were taken by and are courtesy of Kasia Michalik.
Please note: Due to COVID 19 precautions many of the attractions, excluding hiking and cycling trails have reservation requirements. Please check all websites before you visit.
READ NEXT:
7 Best Hotels For Exploring Sedona With Kids
9 Best Things To Do In Sedona For Families
5 US West Coast Safaris and Animal Parks for Families
12 Warm U.S. Spring Break Destinations For Families
*This post Things to Do in Phoenix with Kids for families may contain affiliate links that may earn us a small commission, at no additional cost to you. Affiliate links in no way inform the hotels, sights, products, or other recommendations included in our articles. All opinions and recommendations expressed here are compiled from submissions submitted by the generous members of our Families Who Love To Travel community.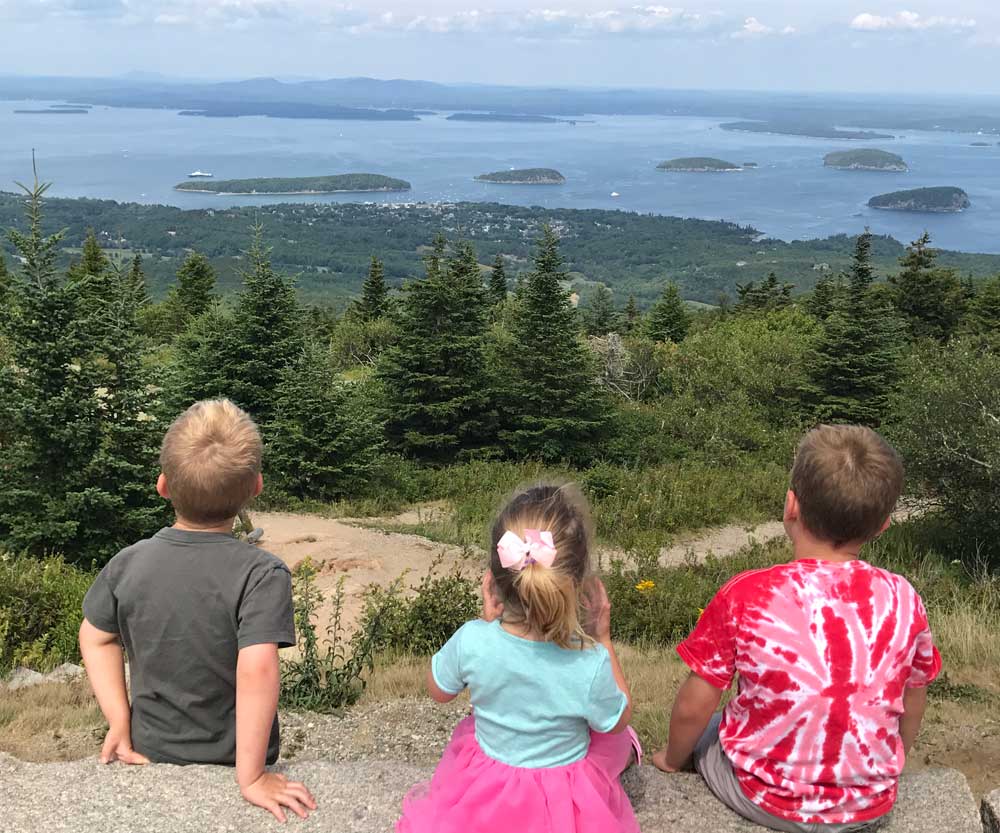 We drove to Acadia National Park in Maine from Northern Virginia. It's a long drive...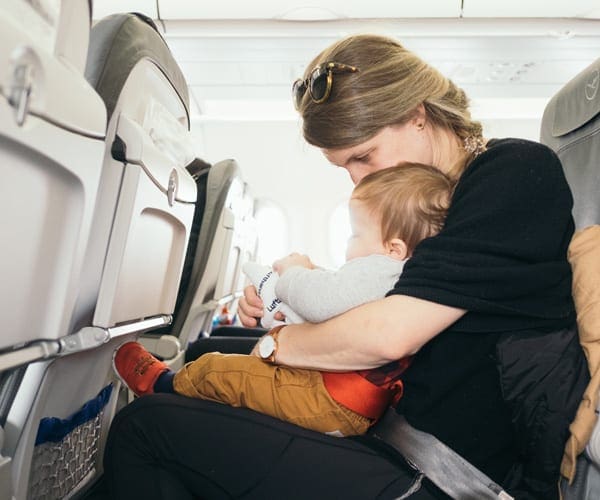 Families Who Love To Travel contributor Meghan Oaks provides her 10 best tips for your...