Families will find many fun things to do in St. Lucia with kids! Located a quick flight away from the United States, this rugged Caribbean island is great for travelers of all ages. But those with adventurous older kids will particularly enjoy an active vacation here, whether you want to hike, bike, or tour a drive-in volcano! From the island's towering Pitons to the magical streets of Soufriere, St. Lucia offers excitement at every turn. Immerse yourself in a fascinating culture while you enjoy a stunning mountain backdrop, historical sights of interest, and of course, delicious food. If you're unsure of how to start planning your own family trip to St. Lucia, though, you can start with this list of 11 Things to Do in St. Lucia With Kids. We've included parent-approved locations and tips from our Facebook group to make the decision-making process easy for you!
Book Your Airport Transfer from Hewanorra International now.
Hike the Tet Paul Nature Trail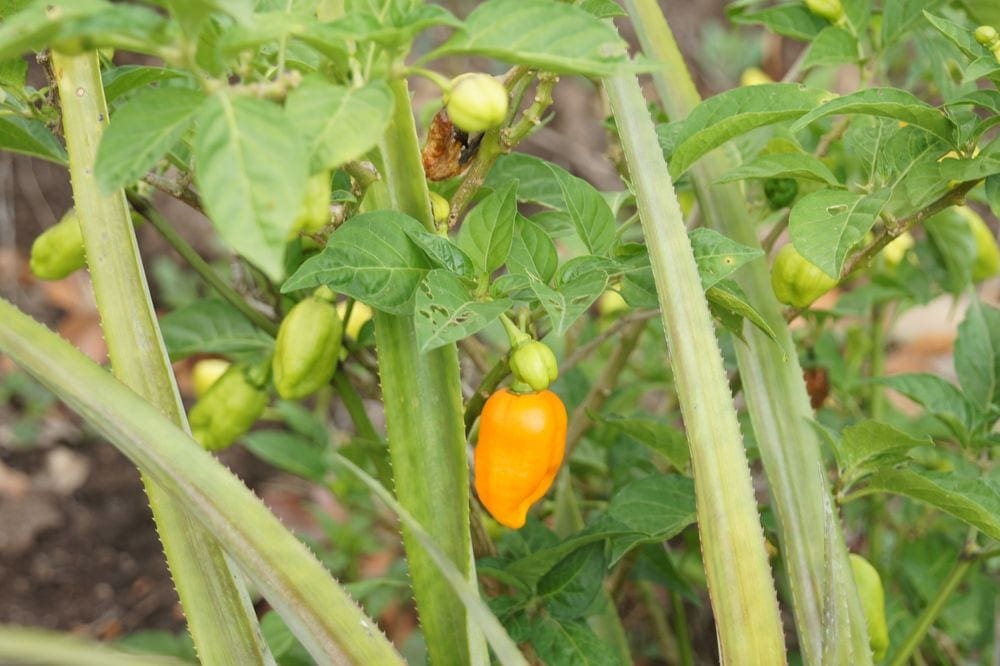 Hiking the Tet Paul Nature Trail is another popular choice on our list of things to do in St. Lucia with kids. Located in Soufriere near the island's southern point, the scenery here is simply gorgeous and a must-see. It's particularly great for families with young kids because it's a short hike (more like a walk with stairs). On a clear day, you'll find gorgeous, 360-views of St. Lucia here. Even kids will marvel at the picturesque panoramas of the surrounding Pitons! Admission is $10, which also includes a friendly, informative guide to take you through the trail. Along the way, you'll learn more about St. Lucia's history, wildlife, and plantations. Remember that if you drive from St. Lucia's port, the trip can take almost 2.5 hours one-way on a winding road.
RELATED ARTICLE: Best Resorts In St. Lucia For Families (All-Inclusives Included)
Venture to Pigeon Island National Park
Pigeon Island National Park is a vast playground of nature and family-friendly fun! Located on the island's northernmost point, many families visit for the picturesque views from Signal Hill. Of course, there are kid-friendly hiking trails throughout the park, and even some historic ruins to explore. Or, head to one of the sandy beaches to experience leisure in St. Lucia. Spend the day lounging with some drinks and a bite to eat! Kids will enjoy the boat that comes by frequently selling juice and other delicacies local to the island. You can even choose to pack a picnic to be more cost-efficient. There are two great restaurants on Pigeon Island National Park, however, and they're worth venturing to if you're in the mood for Mediterranean cuisine. For example, Jambe de Bois serves plates of grilled mahi-mahi, seafood lasagna, and hummus, all while you enjoy calming ocean sounds!
Book your Day-Trip to Pigeon Island using Viator today.
Trek the Famous Pitons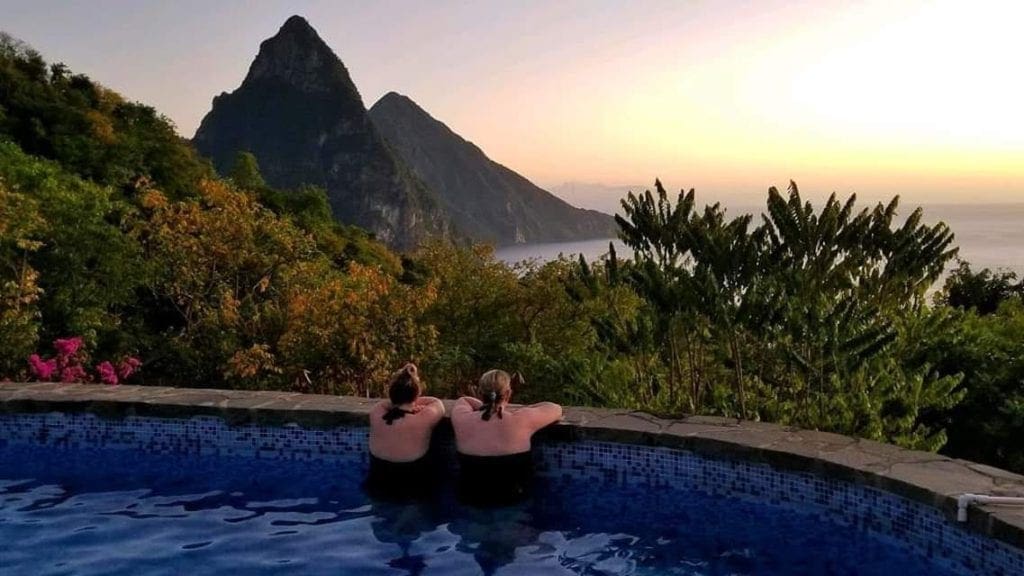 Towering above sea level, these volcanic plugs are St. Lucia's most iconic sight! Situated between the towns of Soufrière and Choiseul, The Pitons consist of two parts: Gros Piton and Petit Piton. To get as close as possible, take a hike. Since Petit Piton and Gros Piton are both pretty intensive hikes, we recommend this trek for older kids or teens. Gros Piton is the easier of the two, and a tour is the only way you can reach its vantage point. Trust us, the stunning views will be worth it! Knowledgeable guides excel at making St. Lucia's history as engaging and interactive as possible. Beginning at your pick-up location, you'll start your day in Fond Gens Libre, and then proceed to the trail. Just be sure to allot a day to take everything in, because the excursion can last almost 6 hours. Comfortable hiking shoes or boots are recommended!
Book a Majestic Gros Piton Hiking tour for your family now.
Take a Tree to Bean to Bar Tour with Hotel Chocolate
Would your kids recognize chocolate before it becomes the delicious treat we can buy at the store? Likely, the yellow pod the chocolate comes from would surprise and delight them! Hotel Chocolat offers family-friendly tours to learn about the chocolate-making process – from growing on the tree to creating the beans to eating the bars! During these tours, learn about the importance of one of St. Lucia's largest trade goods in a unique and fun way. Afterward, create your own chocolate as a family. Kids will love getting their hands deliciously dirty in the process! The tour promises a lot of test-tasting along the way too, which is sure to keep kids happy and entertained the whole time! Additionally, Hotel Chocolat offers other kid-friendly things to do in St. Lucia, including short hikes, a Gros Piton climb, boating excursions, and more! Discounts on all tours are offered for hotel guests.
Don't miss the fun; book your family's stay at Hotel Chocolat now.
You can request the current COVID-19 practices and protocols for Hotel Chocolat by using this form.
Wander the Streets of Soufriere
Carve enough time in your itinerary to visit Soufriere, described as the "heart and soul" of St. Lucia. Though many choose this town for an off-resort day-trip, Soufriere contains most of the island's famous sights! If you've already visited the Pitons and the Sulphur Springs, consider visiting the Fond Doux Holiday Plantation. Here, kids can take a one-hour interactive tour to learn more about cocoa processing (and maybe get a free sample, too!). Or, if you're feeling up for an adventure, take the opportunity to go scuba diving at The Anse Chastanet Reef. Kids must be at least 8 years old and comfortable with the water in order to go diving. There's a beginner course that the whole family can take, but there's also a program specifically for kids called the PADI Seal Team. They'll learn about being environmentally conscious before they're allowed to enter the water.
Reserve your family-friendly Soufriere Tour now (and pay later!).
Book a Private Full-Day Charter: St Lucia Boat Tour to Soufriere for your family now.
Roam the Enbas Saut Waterfall & Hiking Trail
Put on your hiking boots and head to Enbas Saut Waterfall & Hiking Trail! Located in the Edmund Forest Reserve toward the south coast, its natural beauty will inspire your children's inner-explorer. Luckily, your family won't have to navigate the ecosystem alone! As one of the best things to do in St. Lucia with teens or older kids, Enbas Saut Waterfall & Hiking Trail offers a tour that makes this journey into the jungle simple. First, they'll pick you up at your hotel before walking you through breathtaking flora and rock formations. Before long, you'll stumble upon the jungle's main attraction: the waterfalls. Remember to bring your bathing suit! Kids will have the opportunity to take a "cleansing bath." All the while, they'll encounter cute creatures like parrots and chinchillas. The tour runs for about 5-6 hours. Afterward, the guide will take you to one of the best restaurants in the area!
Book a St. Lucia Private Island Tour now using Viator (Free Cancellations).
Spend a Day at Splash Island Water Park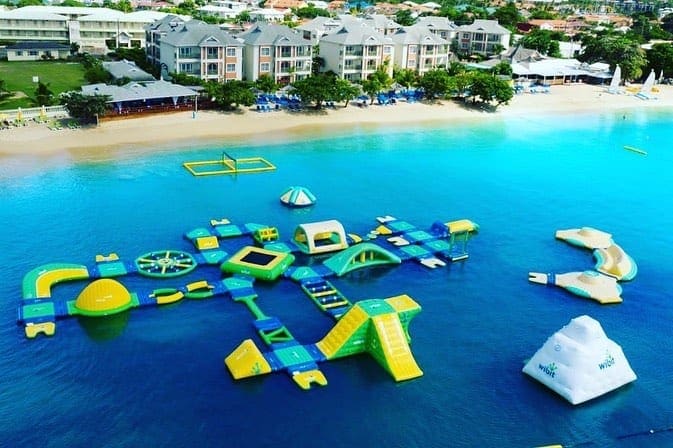 Families can beat St. Lucia's heat at Splash Island Water Park! Located on Reduit Beach in Rodney Bay Village, this family-friendly destination is the Caribbean's first open-water sports park. The whole family will have a ton of fun here, with inflatable courses located directly on the water. Prepare to bounce, jump, and climb! This is definitely a tiring workout for adults and kids alike, but you'll have a blast in the process. Visiting Splash Island Water Park is recommended for kids six years of age and older (the minimum height for kids is 42″). There are a ton of great options to entertain preteens and teens too. Lifeguards are always on duty, and every participant is required to wear a life vest. Opt for an hourly, half-day, or full-day pass, depending on your preference. Afterward, grab a bite from the SeaGrapes Beach Bar at Bay Gardens Beach Resort & Spa!
Book Splash Island Water Park in St Lucia with Viator or directly here!
Splash Island Water Park, one of the best things to do in St. Lucia with kids, is open in adherence to COVID-19 protocols. Learn more here.
Explore TreeTop Adventure Park
When visiting St. Lucia as a family, zip-lining in the rainforest is a must! Adventurous kids will love a trip to St. Lucia's TreeTop Adventure Park, a family attraction located in Dennery. Here, you'll find 12 of the longest, fastest zip-lines in the Caribbean! There are also five net bridges to fall back on, giving you plenty of time to appreciate the view. Look out for native St. Lucia wildlife along the way (include tarantulas!)! The minimum height to ride is 50″, making it a great activity the whole family can enjoy. Certified guides will walk you through the process from beginning to end, providing safety protocols and taking photos along the way. Adventure Tours, the park's parent company, also offers other family-friendly tours through St. Lucia such as mountain biking or open-top jeep rides. This is surely one of the best things to do with kids in St. Lucia!
Book the Rainforest Adventures St. Lucia Aerial Tram and Zipline Tour (with Transfer*) for your family using Viator.
St. Lucia's Treetop Adventure Park is welcoming guests with regards to COVID-19 safety protocols. Learn more here.
Go Snorkeling
Snorkeling in St. Lucia will be a memorable experience for your family! With beautiful beaches across the island, you'll have plenty of options to choose from during your vacation. Many families love Anse Cochon, a stunning shoreline with calm waters that are great for swimming. They're also extremely clear, which means it's ideal for snorkeling too. You'll find plenty of local boat tours that will take you here and guide you along the snorkeling process. Or, you could also reach it through the Tikaye Resort's road for a small fee, which can later be applied to dinner at their on-site restaurant. Another spot for kid-friendly snorkeling in St. Lucia is Marigot Bay, famous for its shallow waters. Just off-shore, there's a small collection of rocks where marine life gathers, so you won't have to venture far. Kids will love spotting colorful schools of fish fluttering through the Caribbean Sea!
Take a boat tour for epic snorkeling in Marigot Bay and explore the island's sheltered west coast – book now.
Click here for Your Shopping List For The Best Kids Snorkel Gear!
Hit the Beach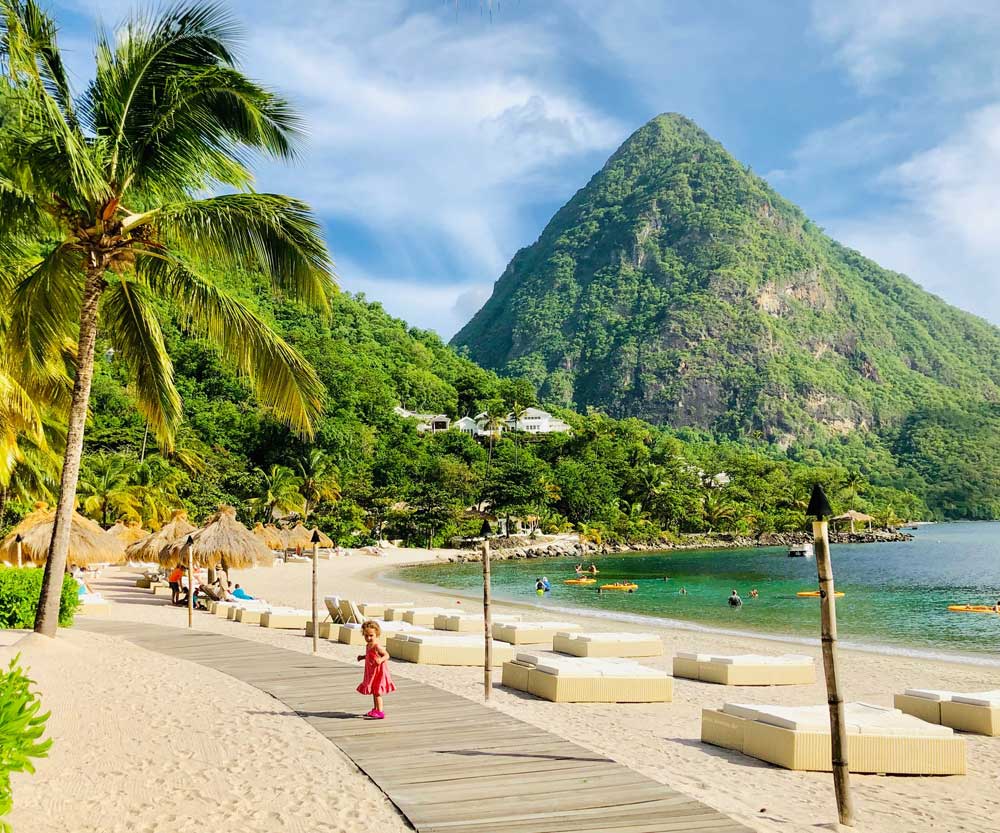 A family vacation in St. Lucia isn't complete without time on the beach! From turquoise waters to pristine white sand, there's nothing quite like it. Reduit Beach is arguably the most famous beach on the island, but it can get touristy. Kids will nonetheless enjoy swimming, building sandcastles, or trying water sports like jet skiing. Watch people selling trinkets on the beach, they can get pushy at times. Regardless, your family is sure to make many memories in one of the most beautiful locations in St. Lucia.
If you're searching for a more unique option, consider Jalousie Plantation Beach. This stretch of shoreline lies at the foot of the St. Lucia Pitons, providing an unparalleled view of the iconic landmarks. Whether you explore it by boat or on the road, witnessing this dramatic landscape is truly a one-of-a-kind experience. Families on their way to the George F. L. Charles Airport can also stop at Vigie Beach to take a quick stroll before leaving. Chairs are available for rent during peak times, but remember the waves can be strong during high tide.
6 Parent-Trusted Tips For Snorkeling With Kids – Click here to learn more!
Try Kitesurfing
Searching for a way to mix-up your St. Lucia family vacation? Try kitesurfing! This unique family-friendly activity is perfect for entertaining adventurous preteens or teens. Cas en Bas Beach is where many travelers embark on their kitesurfing excursion, which is why we recommend it for families too. Luckily, it's easier than ever to participate in the fun thanks to St. Lucia's very own Kitesurfing School. Whether you're a beginner or looking to challenge your skills, families can find the right option for them. For example, kids can learn to body drag or how to fly a power kite with a Discover Kitesurfing lesson, which runs for two hours and covers the basics. There's also a less intensive one-hour lesson if you feel you don't need as much instruction. Or, opt for a long six or ten-hour course, which can be split into multiple sessions to maximize your time.
Happy Travels!
We hope you've enjoyed our list of 11 Things to Do in St. Lucia with Kids! From hiking to cascading waterfalls to an up-close view of a volcano, we guarantee you'll find something for everyone in St. Lucia. Of course, as parents, we know that traveling with children is about memories more than anything else! Enjoy these fantastic things to do in St. Lucia with your kids.
*Due to the COVID-19 pandemic, some of the attractions on this list of the best things to do in St. Lucia with kids may be temporarily closed or have reduced services. Please ensure availability before making your decision.
*This post may contain affiliate links that may earn us a small commission, at no additional cost to you. Affiliate links in no way inform the hotels, sights, products, or other recommendations included in our articles. All opinions and recommendations expressed here are compiled from submissions submitted by the generous members of our Families Who Love To Travel community.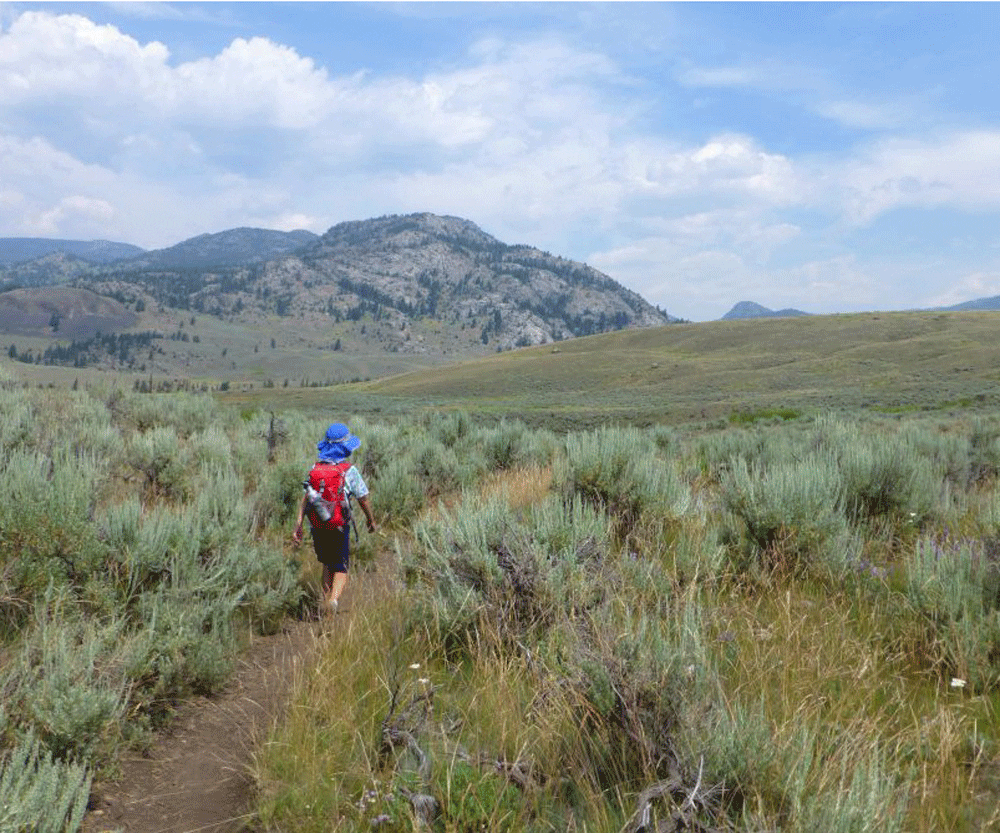 Everyone knows that Yellowstone National Park makes for a classic family vacation. Strolling the boardwalks...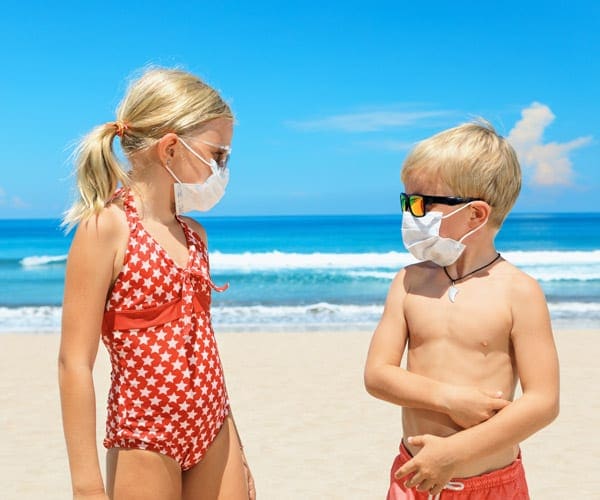 Coronavirus restrictions are now lifting across the country. We believe families need to make the...