Let's make travel accessible to everyone around the world through virtual travel from home! Today, parents can guide kids through virtual travel from home to Bangkok. This is a place where we will celebrate culture, language, history, and acceptance of people around the world. Here, families can travel to Bangkok comfortably! Find virtual fun, tours of famous destinations and museums, cooking lessons, and more in our Travel From Home section. Kids will get hands-on experiences and learn about a variety of cities, countries, and regions through these at-home travel guides. Additionally, these resources can be used as an educational tool.
Each one also includes a list of books and movies for all ages to bring the whole experience to life in your living room. This is a wonderful opportunity to inspire young travelers, introduce kids to a place you will travel to in the future, and/or simply teach your family about other places around the world. Enjoy, explore, and create memories together!
This Travel From Home Edition is Curated by Lisa Lossie
Virtual Travel from Home to Bangkok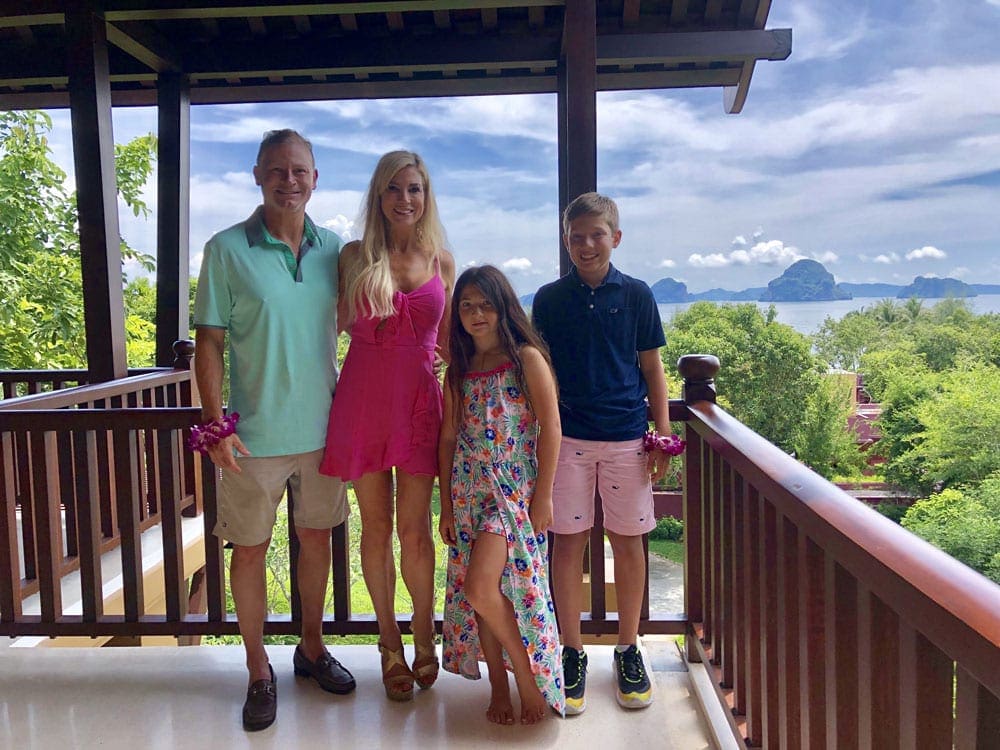 Temples, elephants, and curry, oh my! Sawadee, Thailand is our next stop in the Travel From Home series. From the bustling city of Bangkok to the turquoise waters of the Andaman Sea, Thailand is a treat for your senses! Get ready to build your tuk-tuk and take a virtual tour of this amazing country in Southeast Asia.
Getting There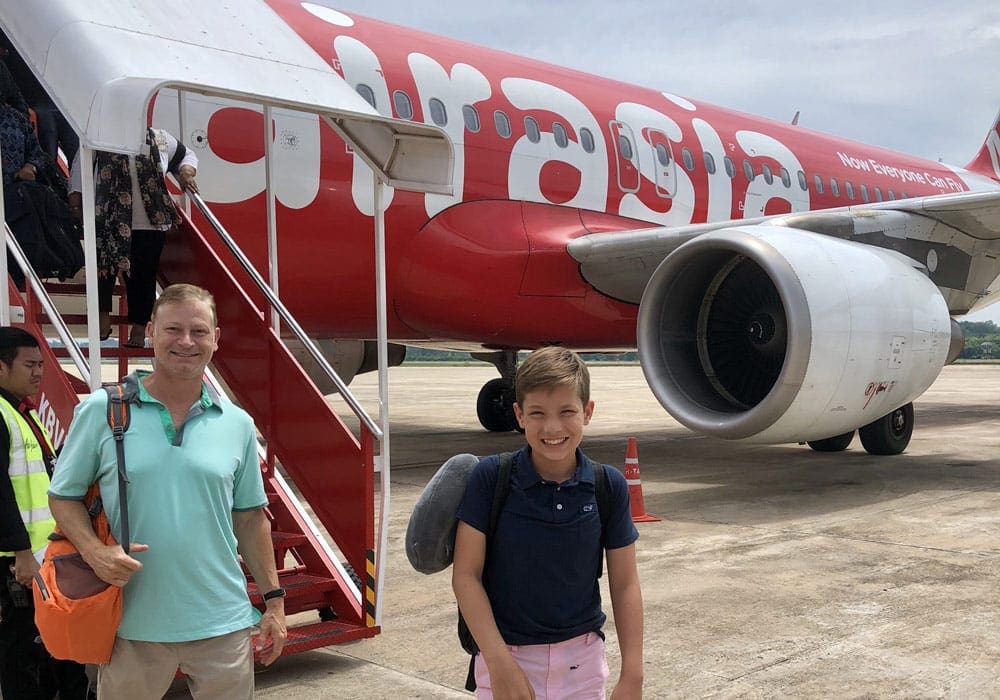 Get out a globe or map to begin your exciting virtual travel from home to Bangkok experience! (or find one here)! Ask kids if they can spot Thailand on the map, and then explain some more about its history. Formally known as Siam, it is now officially known as the Kingdom of Thailand, located on the Southeast Asian Indochinese peninsula. Throw in some more fun facts to build the momentum. Did you know sixty million people call Thailand home and by mass, it's the 50th largest country on the planet? The official language is Thai, but in bigger cities and in the hospitality industry, many people speak English. Bangkok is the capital of Thailand and is located on the southern coast of Thailand. Let's spend the day exploring Bangkok and other parts of Thailand from home!
Thai Talk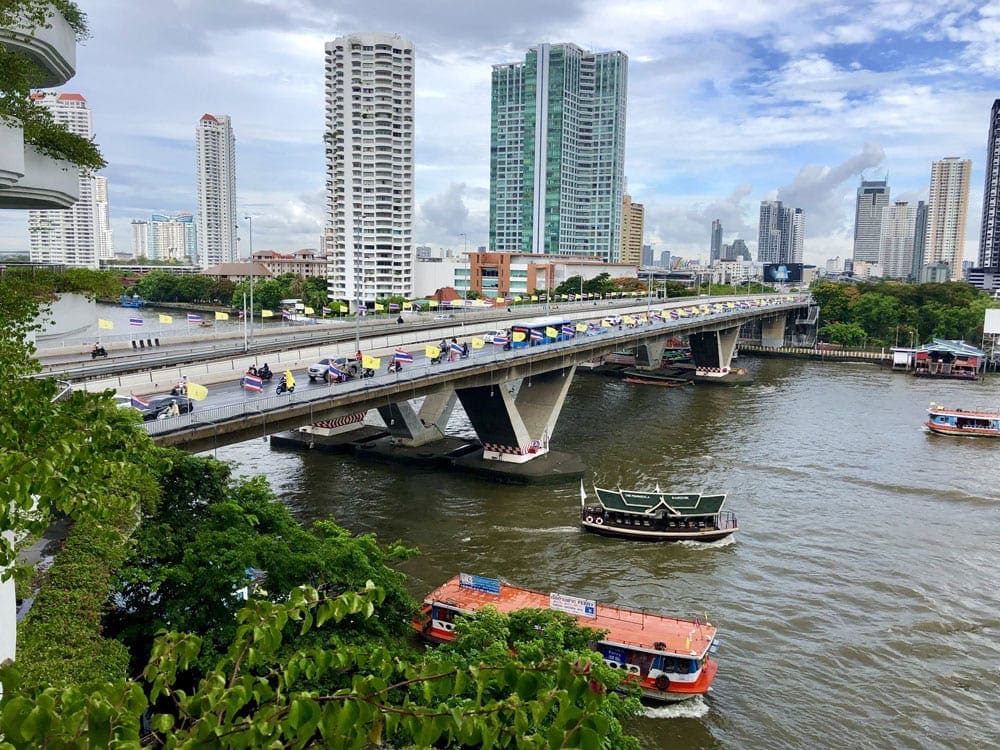 Your family can travel to Bangkok as Thailand experts by learning some conversational native phrases! After all, Thailand is called the "The Land of Smiles," and you'll certainly make the locals smile if you learn some simple words to communicate! Practice these sentences at home to give kids an introduction to Thai culture. Start with explaining how, unlike English, Thai has gendered adjectives and verbs. For example, Sawadee Krab/Ka– means hello (Krab for male and Ka for female). Kab Koon Ka, which means thank you, can also be translated for men: Kab Koon Krob. Luckily, you don't have to teach your children alone, as there are plenty of online resources! Find these pronunciations and more through this educational video with Jack!
End your Thai language lesson by saying Laagorn Krab/Ka – goodbye!
Food Tour Experience During Virtual Travel from Home to Bangkok
Bangkok is Thailand's largest bustling metropolis! Similar to New York City, Bangkok never seems to sleep, known for tuk-tuks and incredible street food all-night-long! Travel like the locals do by making your own at-home transportation. Grab a large laundry basket, pile up the kiddies in your at-home "tuk-tuk," and get ready to go on an amazing food tour of Bangkok! Explore market stalls, learn more about native cuisine, and simply get a feel for the country. Next, kids can learn more about the history of tuk-tuks in Asia Highlights, a brief run-down on how to operate tuk-tuks in Thailand. Kids will love learning about this unique form of transportation unparalleled in many parts of the world!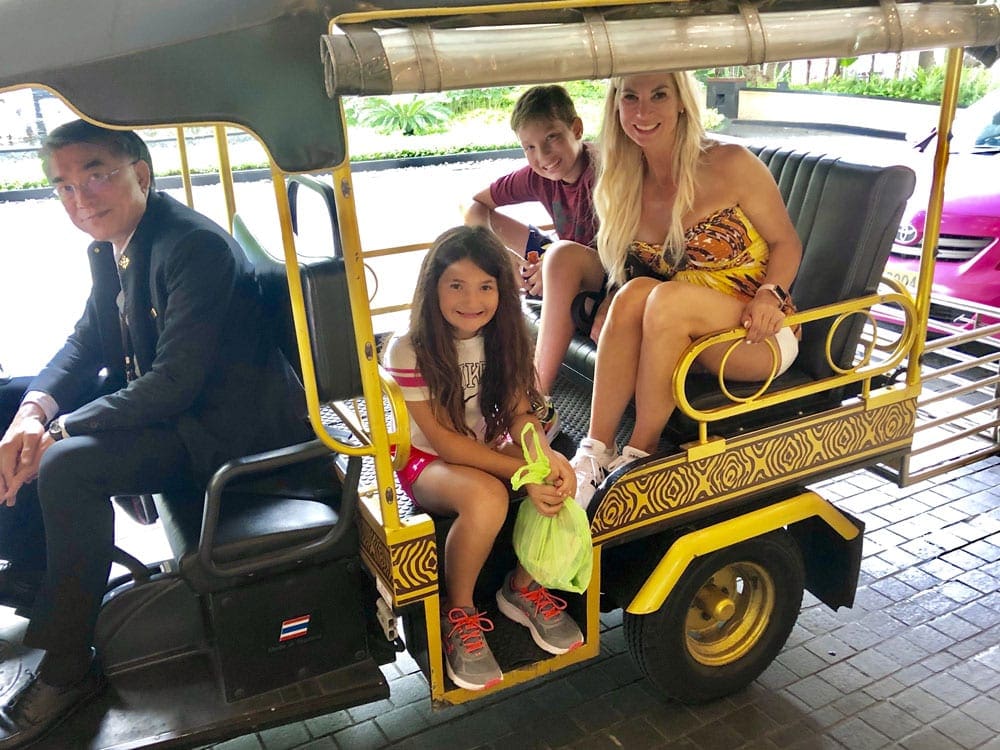 While riding your virtual tuk-tuks, make a few stops along the way for some of Thailand's best food. Luckily, it's easy to cook Thai food in your own kitchen, making the experience all the more realistic! Your local grocery store will have everything you need to create your perfect Thai dish. Gather up all your ingredients and then get ready for your own food tour with these recipes! Start off with some traditional Thai Iced Tea to enjoy, arguably the most famous drink in Thailand. Then, enjoy a Thai traditional soup, like the delicious Tom Kha Gai. Get your daily serving of vegetables from a yummy Thai Green Papaya Salad, and then follow up with the star of the show: the main course of Thai Basil Chicken!
Or, try one of our favorite desserts (straight from a Thai street stand), baby pineapple dipped in a chili sugar. We were able to recreate this at home with fresh pineapple, sugar, and any amount of cayenne pepper you can handle. The sugar mixed with some heat makes for a tasty treat!
Temple Time in Thailand
Continue your virtual travel to Bangkok by learning more about Thailand's religious traditions. In fact, kids will be fascinated to discover there are approximately 40,717 Buddhist Temples in Thailand! Plus, many of them – 33,902 to be exact – are actually still in use today! Explain a temple's significance to children to help them better understand this number. In Buddhist countries, temples play a key role in everyday life, from forming community bonds to strengthening spiritual ties. Learn more about these practices by taking a tour of the Temple of the Reclining Buddha, or Wat Pho.
Along the way, capture your children's attention with some interesting fun facts about the temple! Did you know it's one of the largest temple complexes in Bangkok? Famous for its big, reclining Buddha in a gold leaf, It houses the Thai School of Medicine which is believed to be the birthplace of Thai massage (which is still taught there today!) Wat Pho is also one of the oldest temples in Thailand, dating back to 1688. To enter this sacred space, visitors must cover their knees and shoulders. Afterward, tour other amazing temples in Thailand with a Viator Travel Tour.
Asian Elephants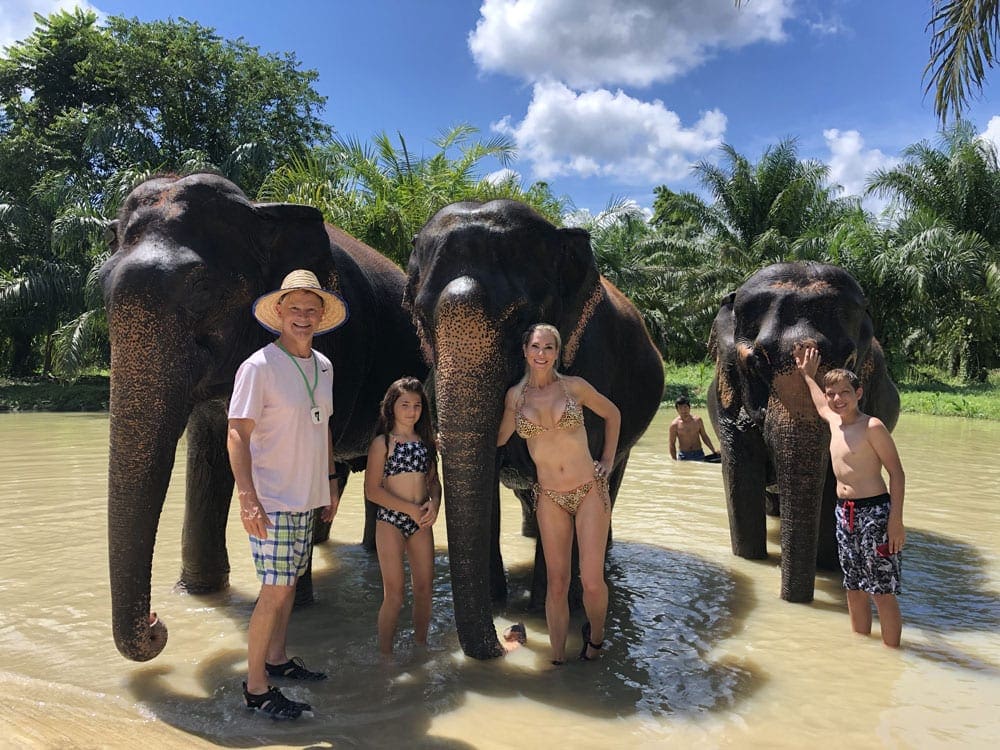 Thailand's majestic elephants have become emblematic of the country's natural beauty. Maintaining these gigantic animals can be quite the feat, however! (If you're exhausted cooking three meals a day in quarantine, imagine feeding an elephant 600 pounds of food!) They are amazingly fascinating creatures, though, enough to interest any animal-loving kid. Recount some Elephant fun facts to excite children about future travels to Bangkok!
Elephants use their trunks for smelling, breathing, drinking, tearing down limbs, moving things, greeting other elephants, and bathing! Make it a fun game by seeing if you can live like an elephant, using only your hands or feet to complete certain tasks. Elephants are also herbivores, meaning they eat only plants. Besides an elephant sanctuary, about 20% of Thailand's elephants live in the northern province of Chiang Mai, where they are often seen roaming the streets! And when kids inevitably complain about putting sunscreen on, show them how elephants get the job done: they spray themselves with mud as sunscreen!
Families can also learn more about the elephants in Thailand by watching this documentary from Real Wild, illustrating the hardship many of these beautiful creatures are facing. Otherwise, elephant-loving kids will also love some themed crafts, like creating an elephant face from a paper plate, Elephant word search, Elephant stick puppets, or Elephant coloring pages!
Phi Phi Islands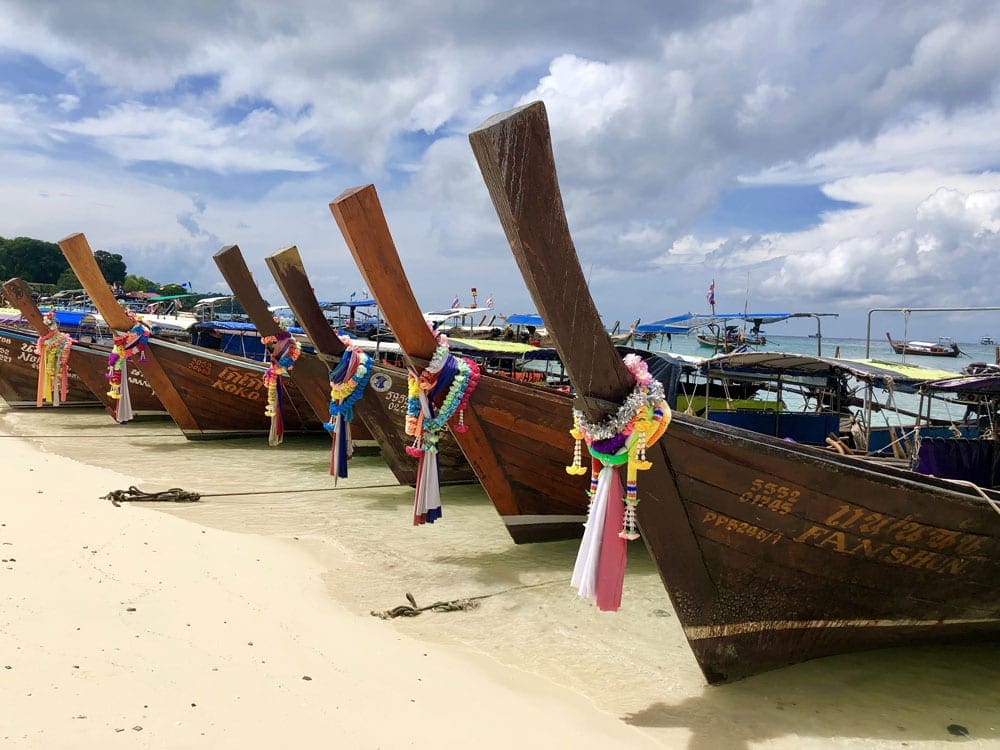 Thailand also boasts breathtaking islands surrounding its gorgeous mainland. Conclude your online travel to Bangkok by visiting some of Thailand's other tranquil islands! A trip to the Phi Phi Islands is like getting lost in a dream. With crystal clear, blue waters, and limestone cliffs jutting out from the sea, it's worth the three-hour boat from Krabi to see these jewels. A longtail boat can take you from monkey island, with monkeys hanging on the cliffs to the blue lagoon to Maya Bay. Take a virtual tour of these magical islands and see why it's one for the bucket list! Next, check out this family's journey to the Phi Phi Islands.
Maya Bay Beach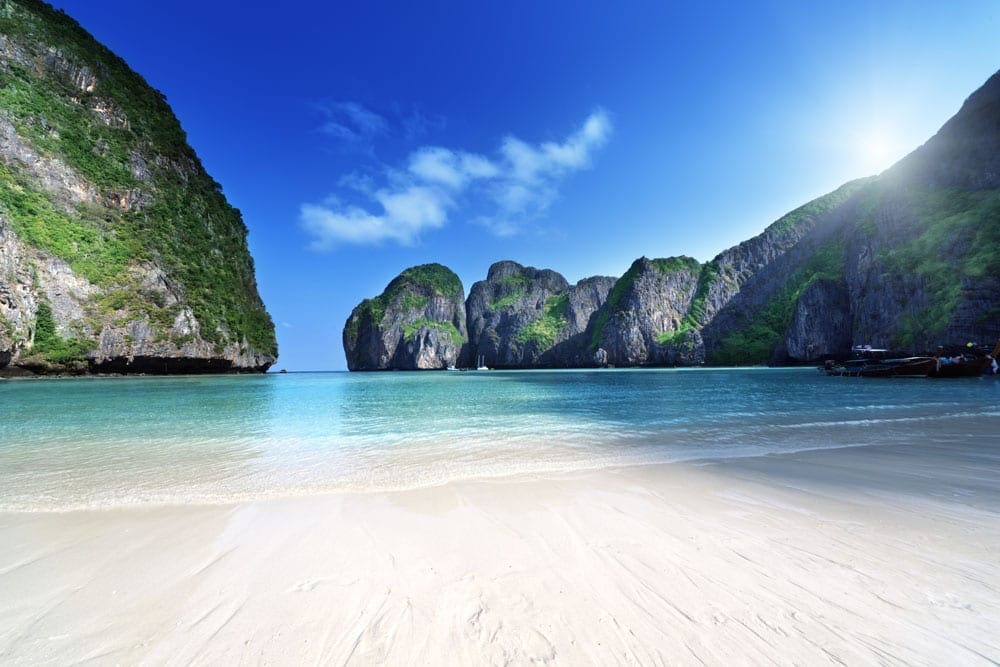 After taking a general tour of the Phi Phi Islands, head to Maya Bay Beach. Located within the islands, Maya Bay is one of Thailand's most famous beaches! It also has a complicated past after growing in popularity. Though it's now closed to visitors, you can still see it by boat when you travel to Bangkok. From home, check out the movie that made this spot so popular, The Beach with Leonardo DiCaprio! Additionally, you can see gorgeous views of this beach from home with this BBC video.
Follow a Thai Instagram Account
If you can't get enough of Thailand, follow these Instagram accounts to keep up with this beautiful country! Through these amazing accounts, you can see the true beauty and culture of the land of smiles. Use them to get excited until you can book your own trip to Bangkok! First, try @thailand.with.kids and see how this family explores the best of Thailand together. You can also check out #beyondbangkok for amazing sights and locations! Next, follow @tielandtothailand, a couple blogging their way through Thailand. Finally, follow @_lostinthailnd for amazing shots throughout the country!
Happy Virtual Travel from Home to Bangkok!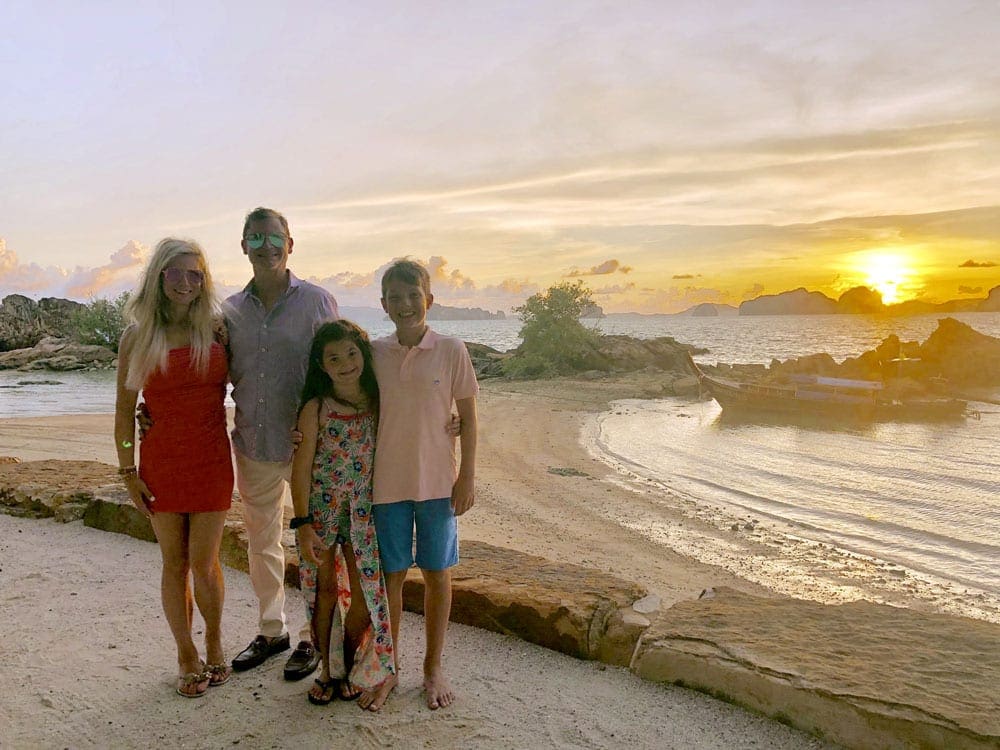 Bangkok has so much to offer! Whether you are preparing to travel to Bangkok in the future or looking for ways to travel to Bangkok from home, we hope this virtual vacation helps you and your kids get a taste of Bangkok. From wonderful culture to iconic beaches to culinary classics, Bangkok is sure to be a hit with your kids – be it on the ground or from your couch! We hope you have enjoyed your virtual vacation to Bangkok!
Want to see more from Lisa Lossie? Lisa is a 5 time Emmy Award-Winning television news writer/producer. She now blogs about her adventures with her hubby and three kids. You can follow her adventures on Instagram @blondie_on_board or on her travel blog!
READ NEXT:
Virtual Vacation from Home to Amsterdam
The most expensive photo ever sold in the world was taken at Antelope Canyon. It...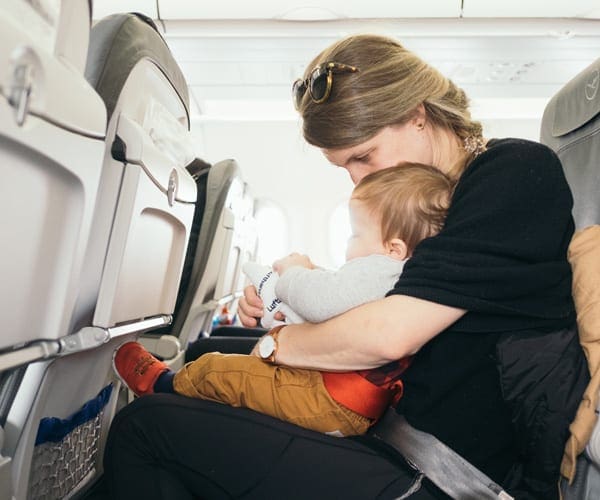 Families Who Love To Travel contributor Meghan Oaks provides her 10 best tips for your...