Let's make travel accessible to everyone around the world, virtually, from home! Today, let's take a virtual vacation to Ireland! This is a place where we will celebrate culture, language, history, and acceptance of people around the world. Here, families can travel to Ireland comfortably! Find virtual fun, tours of famous destinations and museums, cooking lessons, and more in our Travel From Home section. Kids will get hands-on experiences and learn about a variety of cities, countries, and regions through these at-home travel guides. Additionally, these resources can be used as an educational tool.
Each one also includes a list of books and movies for all ages to bring the whole experience to life in your living room. This is a wonderful opportunity to inspire young travelers, introduce kids to a place you will travel to in the future, and/or simply teach your family about other places around the world. Enjoy, explore, and create memories together!
Travel From Home | Dublin to the Cliffs of Moher Road Trip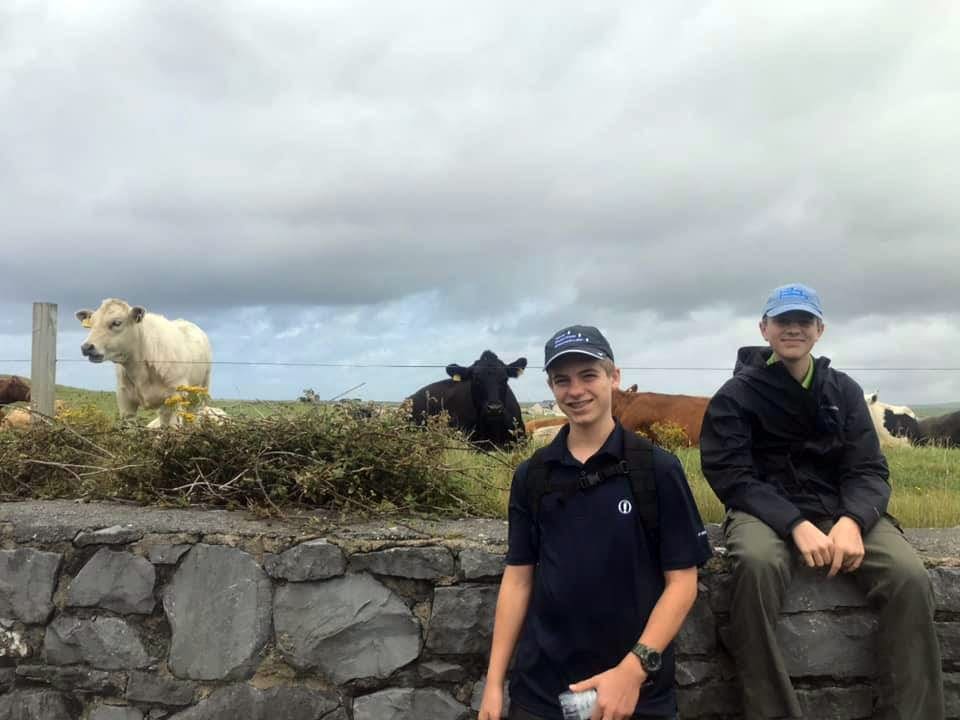 No wonder it's called the Emerald Isle! Take a virtual vacation to Ireland with your family to explore its lush green pastures and narrow, winding roads, which you can now experience from the comfort of your home. Ireland's rolling countryside is dotted with cows and sheep, its charming cobblestone walls lining almost every road. Take in the awe-inspiring scenery while your family navigates stunning churches and crumbling ruins in the distance. Relish the Irish culture as you take a road trip across Ireland, now boasting itself as the Wild Atlantic Way!
To begin your family's virtual travel to Ireland, pack your bags, and get your map ready. A daring adventure awaits! First, get your bearings with information about Ireland's flag, geographical location, and culture. After all, Ireland is best experienced by car, immersed within its breathtaking topography. This way, your family can get lost on the narrow roads and make spur of the moment stops at pubs and castles during the process. Just be sure you have your rain boots, raincoat, and an umbrella prepared! Ireland is sure to experience a few sprinkles during your journey!
Drive on the Left Side
Pretend you've landed in Dublin and are ready to explore! To get your bearings, find your home on a globe or map and then locate Ireland on the map of Europe. How far did you travel exactly? Kids can calculate miles to strengthen their math skills. After jumping in the car, consider what makes Ireland different from other countries around the world. Do you notice something different? In Ireland, people drive on the left side of the road, so the steering wheel is on the right side of the car!
Kids will love an opportunity to play into this quirky cultural difference. Create your very own, unique car using collapsible cardboard boxes and be sure to add a right-sided steering wheel to explore Ireland. Use a paper towel roll and a paper plate to create the steering wheel. If children ask why the Irish drive on the left side of the road, you can direct them to some educational resources. With this brief Youtube video, learn the history of why some countries drive on the right and left side – and how it has changed over time. Now, it's time for your very own adventure driving on the left of the narrow roads in Ireland. Make it a fun scavenger hunt and watch for Celtic crosses that dot the landscape. Additionally, be sure to make stops along the way to walk along the stone walls or explore the beautiful ruins.
Road Trip: Cross Country
Dublin
Get ready for a cross-country expedition! As you continue your road trip out of Dublin, head south through the Wicklow Mountains and stop at Glendalough monastic site, an early Christian settlement situated around two lakes. Here, you'll discover plenty of chances to explain Ireland's strong relationship with religion. Throughout the complex, spot various high crosses, round towers, and early churches scattered.
Kilkenny
Next, make your way toward Kilkenny, a Medieval city over 400 years old! Just outside of town, you'll find the ever-intriguing Dunmore Cave, which has some of the best calcite formations in Ireland. History buffs are in for a real treat! Did you know that there was Viking activity in the cave in 928 AD? Kids will love this fascinating tidbit. In Kilkenny, experience the top 5 things to do in the city, such as exploring a historic monument or creating your own arts and crafts. So, definitely be sure to visit Kilkenny Castle and learn about its history! About 15 km from the city you'll also find the magnificent Kells Priory, one of the largest medieval monuments in Ireland! Next, wander through the Celtic crosses at Rock of Cashel as you drive through the city of Cashel on your way to Limerick.
Limerick
Limerick is our next stop on our way to the Atlantic Ocean! When you arrive, try these 5 special experiences to highlight the city's very best attractions. Stopping at the Limerick Milk Market will make you feel like a true local, which you can also tour virtually through a helpful Youtube video. (Stop by the market on a Saturday for a more authentic experience!) For an aerial view of Limerick and St. John's Castle, hover in the sky with a drone to see all the beautiful details from above. Don't miss the local landmark of King's John's Castle, where kids can watch the castle come to life with hands-on experiences within its museum. As time allows, visit St. Mary's Cathedral or the Frank McCourt Museum. Older kids can read Frank McCourt's famous book, Angela's Ashes, for further insight into his grueling life.
Next Stop, the Cliffs of Moher
Next up, The Cliffs of Moher! Roll down the windows and enjoy the breeze in your hair, as we make our way to the dramatic shorelines overlooking the Atlantic Ocean. Watch for puffins as kids roam the pristine coastline. You'll have plenty of time to embrace nature's beauty while you learn more about the various birds, flora, and other wildlife at the Cliffs of Moher. The best time to visit the puffins is during the mating season between March and the end of July, where the Cliffs of Moher's untouched beauty meets the vastness of its jagged rocks and expansive ocean. To experience this transcendental experience from home, this breathtaking video captures the elements of wind and water during a storm along the West Coast!
Take in Some Irish History on Your Virtual Vacation to Ireland
Kids will love learning about Ireland's rich and robust history! For various family-friendly facts about the country, check out Natgeo Kids, which includes facts like population, currency, and type of government. Ireland was actually inhabited by Celts and Vikings, and over time, invaded by the Norman Vikings in 1170. The Normans made Ireland English Territory after their invasion. Tension grew in the 1600s because most of England was Protestant, while most of Ireland remained Catholic. Though this explanation may sound complex, Youtube actually has a really engaging animated history of Ireland, perfect for young kids to grasp a greater understanding of the complexity of Irish history. For older teens and adults, this extensive documentary by BBC provides a more in-depth history to investigate. Irelandopedia: A Compendium of Map, Facts, and Knowledge may be the perfect gift for an aspiring history buff!
The History of St. Patrick's Day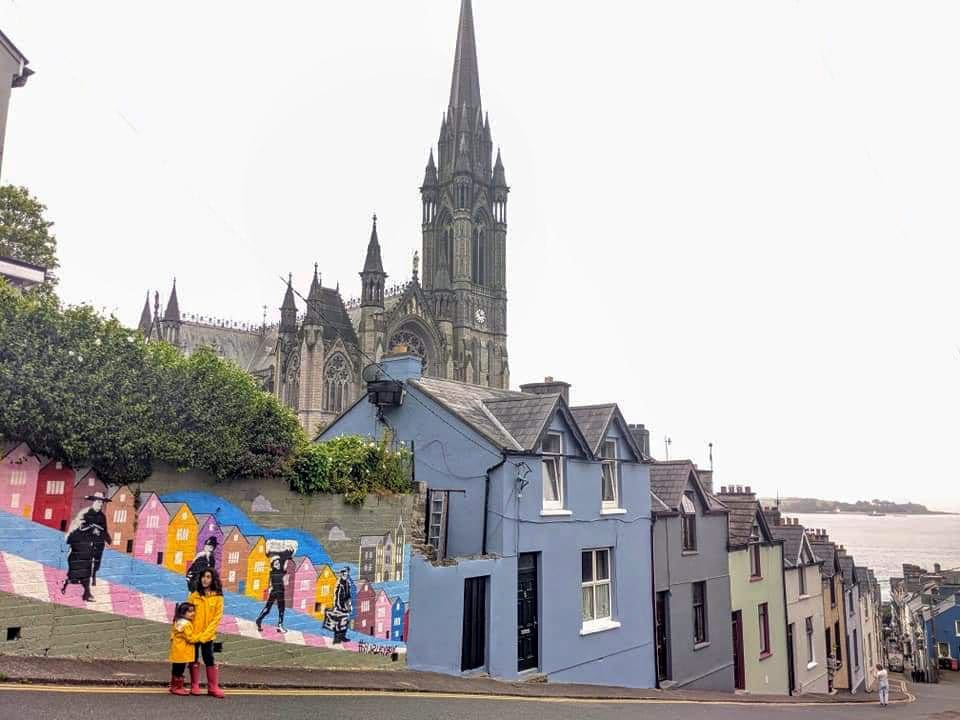 Catholicism is Ireland's most common religion thanks to Ireland's patron saint, St. Patrick, who is credited for bringing Christianity to Ireland. St. Patrick's story is very interesting and definitely worth conveying to your children. To get you started, this video explains a brief history of St. Patrick's Day in a way that's accessible to younger children. Though St. Patrick's Day began as a feast day to celebrate Ireland's patron saint, it has turned into a secular holiday that many celebrate across the world. In addition, it has taken on a new meaning and has widely become a celebration of Irish culture.
Have some fun and celebrate St. Patrick's Day today (even though it may not be March 17th!) Create some Irish themed St. Patrick's Day snacks like Irish soda bread or go on a leprechaun hunt. What exactly is a leprechaun, though? I'm sure any kid would finally love to learn more about these Leprechaun tricksters and how they have evolved over the years!
Follow Irish Instagram Accounts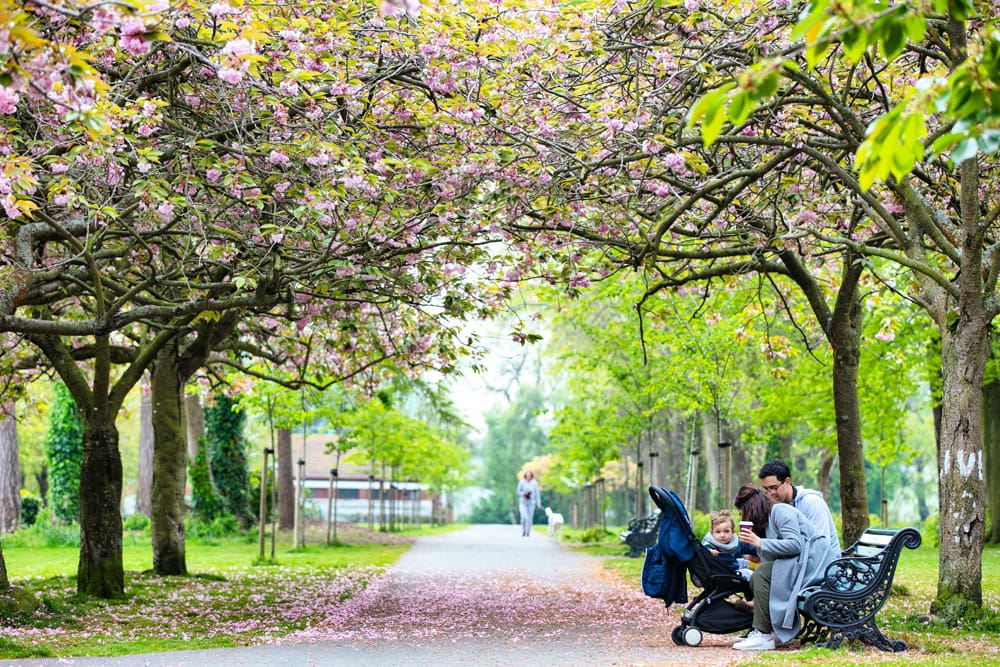 Parents and teens may also love doing a virtual tour of Ireland through Instagram! Keep up with some of our favorite Irish Instagram accounts to get a glimpse of local life in the country. Ireland (@ireland) is a great tourist resource to see the country's very best sights through beautiful pictures. Looking to get a glimpse of daily life in Dublin? Check out Dublin Daily (@dublindaily). Next, try Little Pieces of Ireland (@littlepiecesofireland), which features stunning photos of Ireland. For a more authentic glimpse at life in Ireland, check out this Georgia family (@peaches_in_eire), now living in Ireland. Those interested in history should follow David Gunning (@davidlewisgunning). His photos of ruins and Ireland's ghostly history is sure to be a fascinating find. Or, maybe you are looking for a little fun and a lot of rugby? If so, you must follow Jamie Heaslip (@jamieheaslip)!
Craft and Create on Your Virtual Vacation to Ireland
Celebrate your virtual vacation to Ireland by creating some adorable crafts! Herds of sheep fill the emerald Eire's rural landscape, which is the official name of Ireland. Pay tribute to this emblematic livestock with a sheep craft using paper plates from Kid World Citizen, great for younger children. These calm creature's beautiful white wool is a stark contrast to their black faces, dubbing them "blackface mountain sheep." Very hardy and nimble sheep, these sheep withstand Ireland's harsh natural elements year after year! Older kids or adults may find a more complicated adorable sheep worth creating, made from yarn and wooden circles. Now, jump in the car and go for a scavenger hunt to find sheep and cows in your local area! While in the car, play traditional Irish folk music to bring the experience to life.
Another animal you have to see during your virtual travel to Ireland is the puffin! Did you know there are three types of puffins in the world? The Atlantic Puffins, in Ireland, are the most iconic. Learn to draw a puffin from Art for Kids Hub!
Let's Get Cooking: Pub Style
We're sure you've worked up an appetite! As you explore Ireland with kids, you won't miss the Irish pubs across the country. "Pub" is short for public house, a place where people gather for food and music, simply to socialize! Pubs in Ireland are fun, entertaining places where you are surrounded by jolly people who love to tell you a good story. Pretend you're at an Irish pub at home and have a pint while listening to the traditional music played. Then, it's time to get cooking! Choose from any of these traditional Irish foods, like shepherd's pie, colcannon, and smoked corn beef to create your perfect family dinner. Kids' mouths will also surely water over these fun St. Patrick-inspired recipes as you try to decide which recipe to bring to your table. Don't forget to find your favorite Irish drink to compliment your meal, like an Irish coffee!
Irish Jigs
Ireland has a rich musical history waiting to be experienced! Families can start by learning the history and origins of traditional Irish music. Then, once you have a brief background, put your knowledge to the test by listening to some Irish jigs! Kids will definitely tap their feet to these jigs and reels. It's a great soundtrack to cook your St. Patrick's Day treats! Most people are familiar with Irish dance because of Riverdance, which has a long history culminating from a multilayered history of migration, invasion, and influence from these many cultures. Here is a more local, contemporary flavor of Irish Dance to practice at home!
Read Together on Your Virtual Vacation to Ireland
After you travel to Ireland, from Dublin to the Cliffs of Moher, cuddle up as you read some Irish stories! Start with Fiona's Luck, a wonderful folktale about a clever girl who outwits a Leprechaun King, recommended ages four to eight. Parents with younger children can also try the read-aloud version. Fiona's Lace is another great Irish tale, as it's a true story about the author's family. Find its read-aloud version in two parts (part 1 and part 2)!
For books about leprechauns, kids will surely enjoy The Night Before St. Patrick's Day, an action-packed romp about a clever Leprechaun. Try the read-aloud version to experience this fun twist on the story "The Night before Christmas." Next, try Tim O'Toole and the Wee Folk a truly fun leprechaun tale with a read-aloud version. If you're looking for more kids' books about Ireland, try these ones recommended by Walking on Travels!
Catch an Irish-Inspired Movie on Your Virtual Vacation to Ireland
Ireland is often the incredible backdrop for movies! Spend the evening experiencing Ireland through film with some family-favorite flicks. First, try the Song of the Sea, which is a wonderful tale of sibling love and resiliency. Or, try these wonderful classics: The Secret of Roan Inish (1994), The Secret of Kells (2010), and Darby O'Gill and the Little People (1959) (available on Disney+). Finally, toddlers may enjoy Puffin Rock, a fantastic TV series, available on Netflix (parents will love that Chris O'Dowd is the narrator!).
Teens or parents can watch Irish-inspired classics like Once (2007), Calvary (2014), or Angela's Ashes (1999). Looking for a little humor in your movie suggestions? Try Leap Year (2010) or, the true Irish classic, Waking Ned Devine (1998)!
Happy Virtual Vacation to Ireland
Whether you are preparing to travel to Ireland in the future or looking for ways to travel to Ireland from home, this virtual vacation can help your family get a taste of Irish culture and countryside. From ancient history to iconic landmarks to culinary classics, Ireland is sure to be a hit with your kids – be it on the ground or from your couch! We hope you have enjoyed your virtual vacation to Ireland, from Dublin to the Cliffs of Moher.
Want to see more from Michelle?  Find her on Instagram @adventuretolearn. 
READ NEXT:
Virtual Vacation from Home to Amsterdam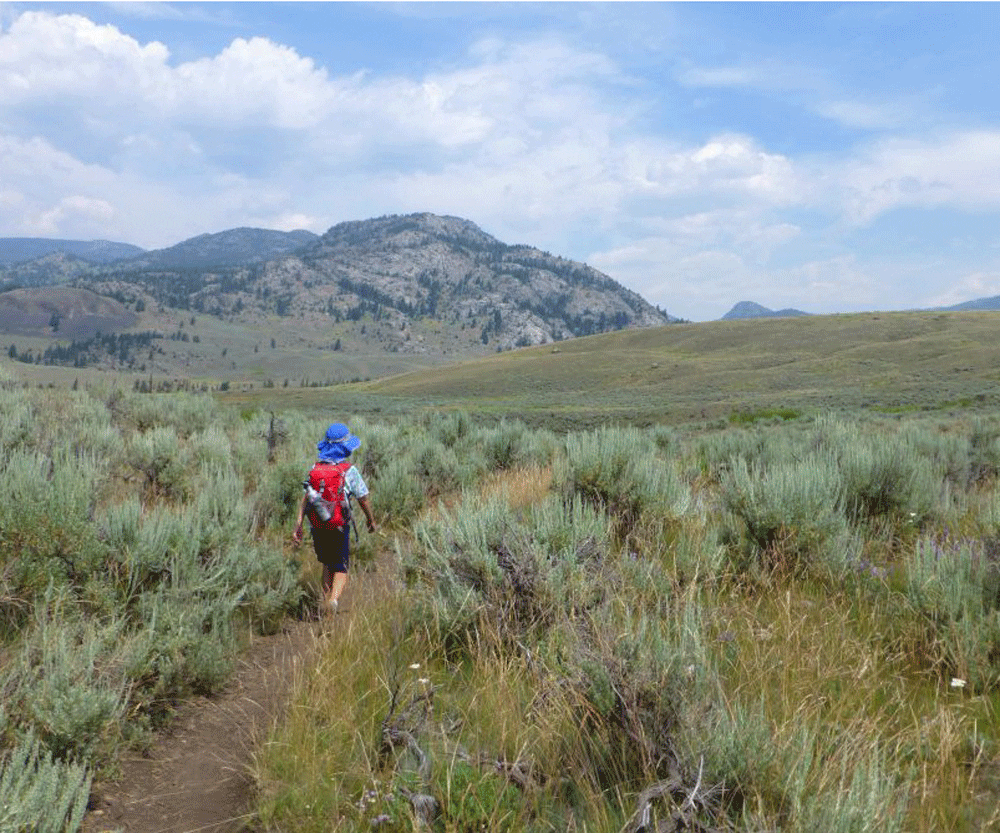 Everyone knows that Yellowstone National Park makes for a classic family vacation. Strolling the boardwalks...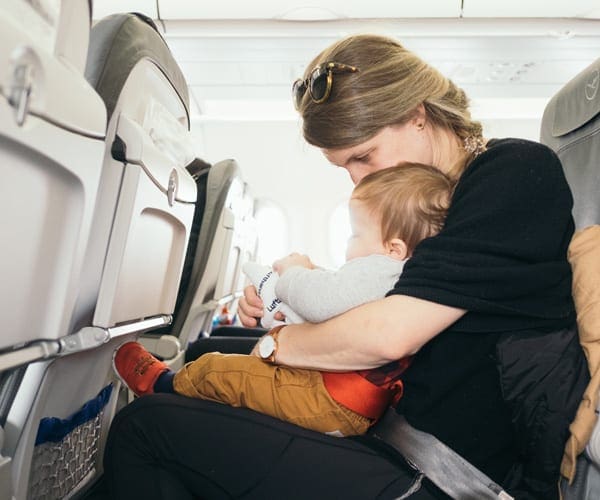 Families Who Love To Travel contributor Meghan Oaks provides her 10 best tips for your...