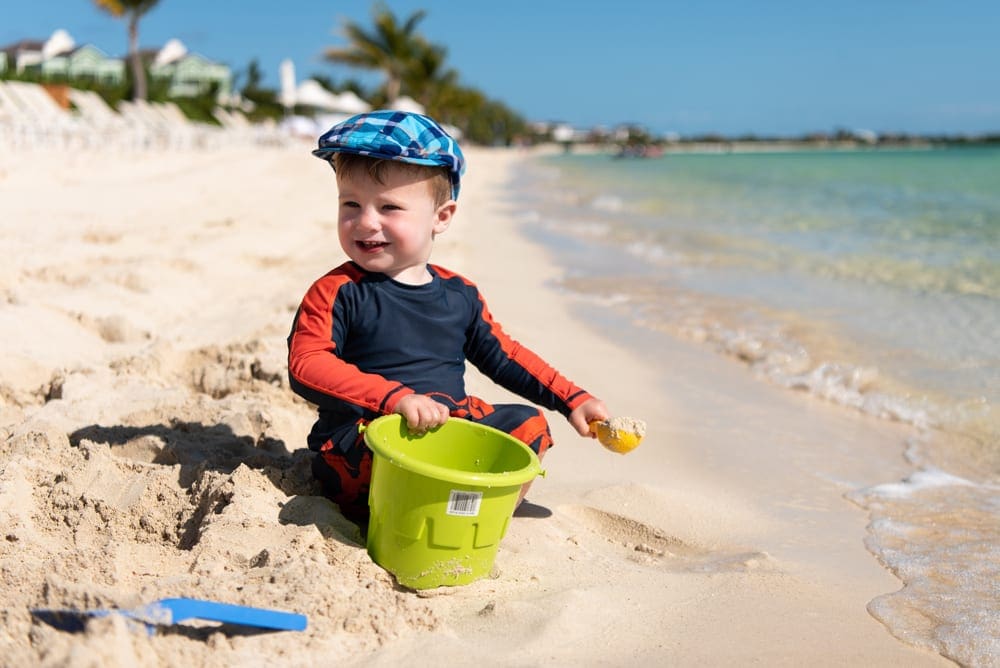 Add these things to do in Turks and Caicos with kids to your family itinerary! Famous for its white-sand beaches, world-class snorkeling, and shallow, clear waters, this Caribbean island is perfect for your next getaway. From extreme water sports on scenic beaches to spotting wildlife with your children, there's surely no shortage of activities for all ages here. When it comes to traveling to Turks & Caicos, though, it's always better to have a plan, especially since there are so many options! That's why we recommend reading this list of 14 Fun Things To Do In Turks & Caicos With Kids. We've included parent-approved suggestions and other tips for families traveling to Turks & Caicos from families who have been there. Keep reading for inspiration for your next tropical trip! 
Best Beaches in Turks & Caicos with Kids
Spend some time in the surf, sand, and sun! When you're ready to relax on the beach or splash around, there are plenty of fantastic beaches in Turks & Caicos with kids. Keep reading to learn about our favorite family-friendly beaches in Turks and Caicos.
Sunbathe on Grace Bay Beach
Visiting Grace Bay Beach is one of the best things to do in Turks & Caicos with kids! Located on the island's northeast coast within Princess Alexandra National Park, this family-friendly beach features miles of pristine, powdery white sand alongside crystal-clear water.
With spots for snorkeling and shallow waves, this public area is also fantastic to relax with younger children. Rent an umbrella, collect seashells, or dive down to the ocean depths to spot colorful marine life. Or, wade in the water and spend your day sunbathing. Whatever you choose to do at Grace Bay Beach, it stretches for almost seven miles, so you'll definitely be able to find a quiet spot to settle in. Adventurous swimmers have their fair choice of action too, though. Kids will love the Big Mable tube ride!
Headed to Grace Bay Beach? Book this 4-hour Group Half Day Snorkeling Excursion in Grace Bay!
Take in the Sights at Sapodilla Bay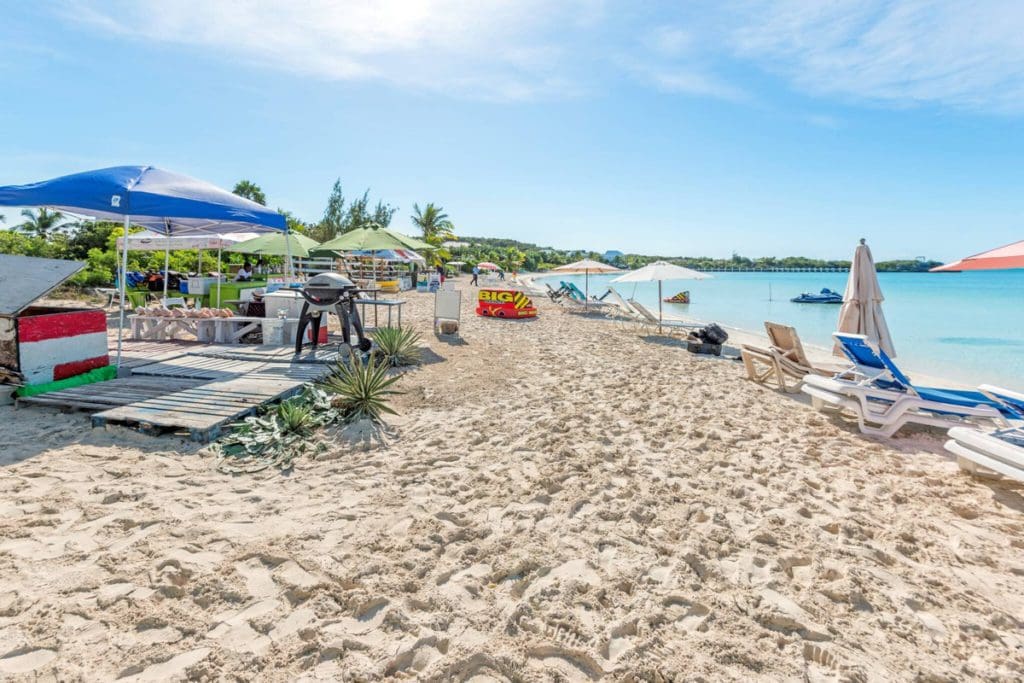 Sapodilla Bay is the perfect setting for a family-filled day of fun in the sun! It is situated off the south shore of Providenciales near Chalk Sound. Familes love this white-sand beach because it offers shallow waters, scenic views, and sheltered alcoves. Here, kids can swim or snorkel, spot peaceful sea turtles, or watch out for private yachts sailing in the distance.
Though it isn't as famous as Grace Bay Beach, on a busy day crowds can definitely carry into Sapodilla Bay. Expect it to be more commercialized in comparison to other quiet, family-friendly areas in Turks and Caicos. Fishermen even sell fresh produce oceanside! Plus, there are a lot of spots where you can grab casual Caribbean fare for lunch. As one of the things to do in Turks and Caicos with kids, teens will especially appreciate various watersport rentals nearby. Whether you choose to sunbathe, kayak, or surf, you'll never regret your time spent at Sapodilla Bay!
Spot Iguanas at Little Water Cay
Little Water Cay is better known as iguana island! Framed by a limestone cliff coastline, this breathtaking area is part of the Princess Alexandra Nature Reserve. It's also the only place in the world to spot the endangered rock iguanas in their natural habitat. Getting here requires a short trip via a tour boat or kayak from the Leeward Marina area.
Big Blue Collective offers guests the chance to rent kayaks or paddleboards to reach the tiny island, but there are also various boat charters and eco-tours available. When you arrive, kids will be taken aback by the sight: hundreds of giant lizards inhabit the area! Little Water Cay splits into two looping boardwalk paths for walking. If you do choose to kayak, be sure to stop at all the tiny islets on the way. Extending to Half Moon Bay, families can also choose to take a guided tour of Little Water Cay to learn more.
Connect with Nature at Taylor Bay Beach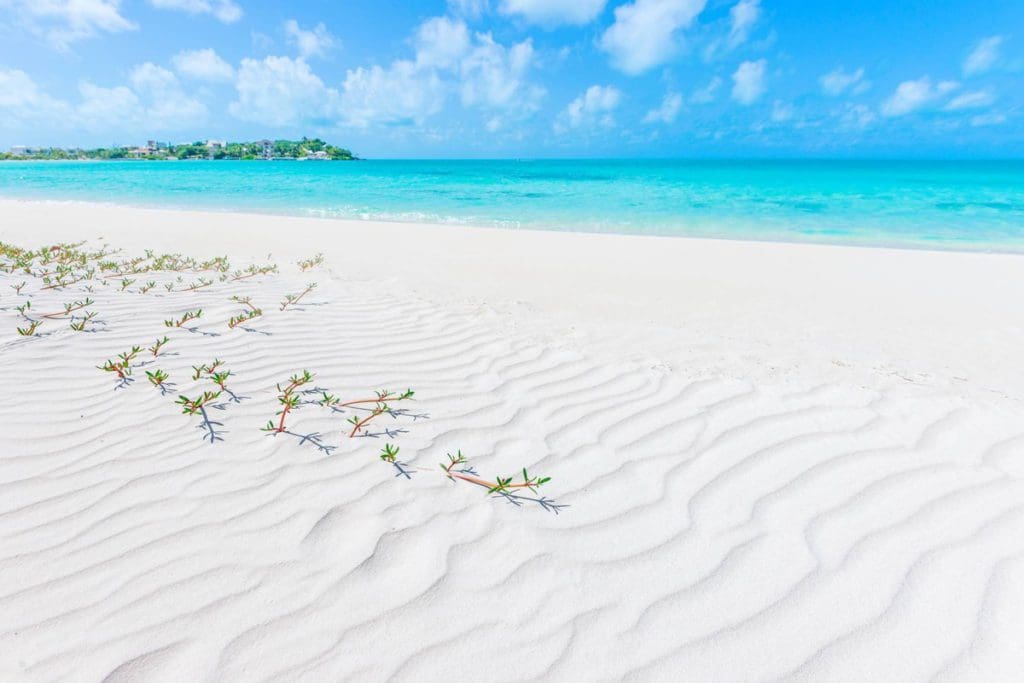 Explore the Caribbean's maritime wonders at Taylor Bay Beach! Sailboats often anchor themselves to its secluded turquoise waters, adding to its already amazing scenery. Located near Chalk Sound on the island's south coast, Taylor Bay Beach also makes for a great escape from the larger, more crowded Turks & Caicos beaches.
There aren't many spots for snorkeling, but the waters are clear and shallow, ideal for beginner swimmers. Little ones will love splashing in the warm sea, which is approximately 2-4 feet deep for nearly half a mile out. Due to low tides, interesting patches of sand often form funky designs along the shore as well. Plus, with a plethora of well-maintained trails housing beautiful birds, it's also a good spot to connect with nature! Parents can hit the tennis courts too. Taylor Bay Beach remains one of the best things to do with kids in Turks & Caicos!
READ NEXT: Spend Five Perfect Days in Turks and Caicos with Kids
Best Outdoor Things to Do in Turks & Caicos with Kids
Looking for ideas to enjoy beautiful, sunny days in Turks and Caicos with kids? There are a number of family-friendly outdoor activities on the island that aren't spending the day at the beach, from horseback riding to kayaking. Keep reading to learn about our family-friendly activities on Turks & Caicos.
READ NEXT: Four-day Itinerary with Kids in Turks and Caicos
Go Horseback Riding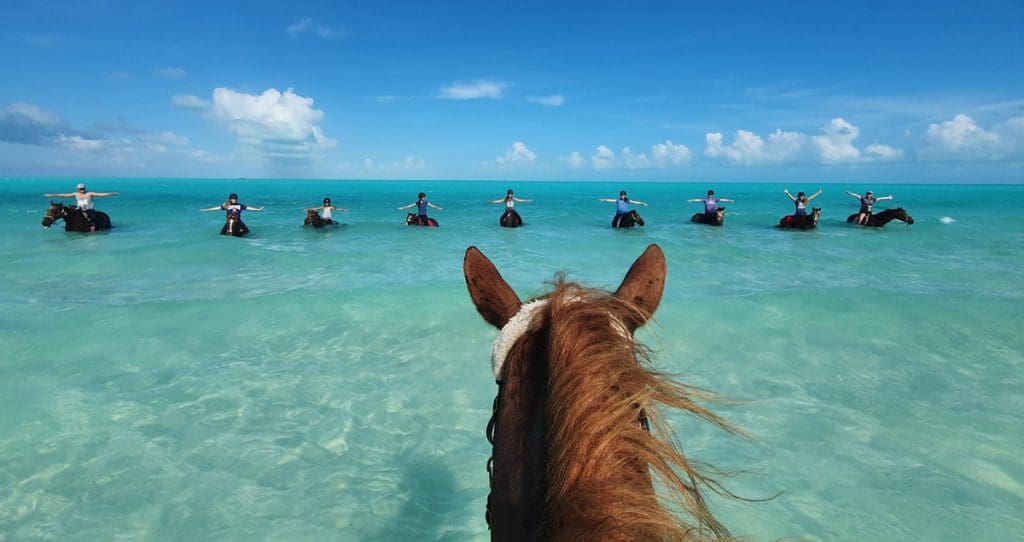 There's nothing as enchanting as enjoying a Turks & Caicos beach on horseback! Luckily, there are plenty of opportunities to do so with your children here. Book your tour with Provo Ponies, an island company offering beautiful pony rides to Long Bay Beach. Families also enjoy tours from TCI Heritage or Unique Tours & Rentals. The latter is the only company that starts the experience directly on the beach. (But if you'd rather have a longer ride, we suggest a more extensive option.)
Trot through scenic trails and shallow turf while your family sits back and enjoys the ride. Of course, be sure to bring your camera too, memories like this are sure to last a lifetime! No matter which tour you choose, experienced instructors will be on standby the entire time to ensure your safety, ready to answer any questions. Guided horseback rides are usually recommended for children ages 7 and older.
Book a Private Horseback Ride and Swim in Turks and Caicos Islands with Viator today!
Explore the Flamingo Pond Overlook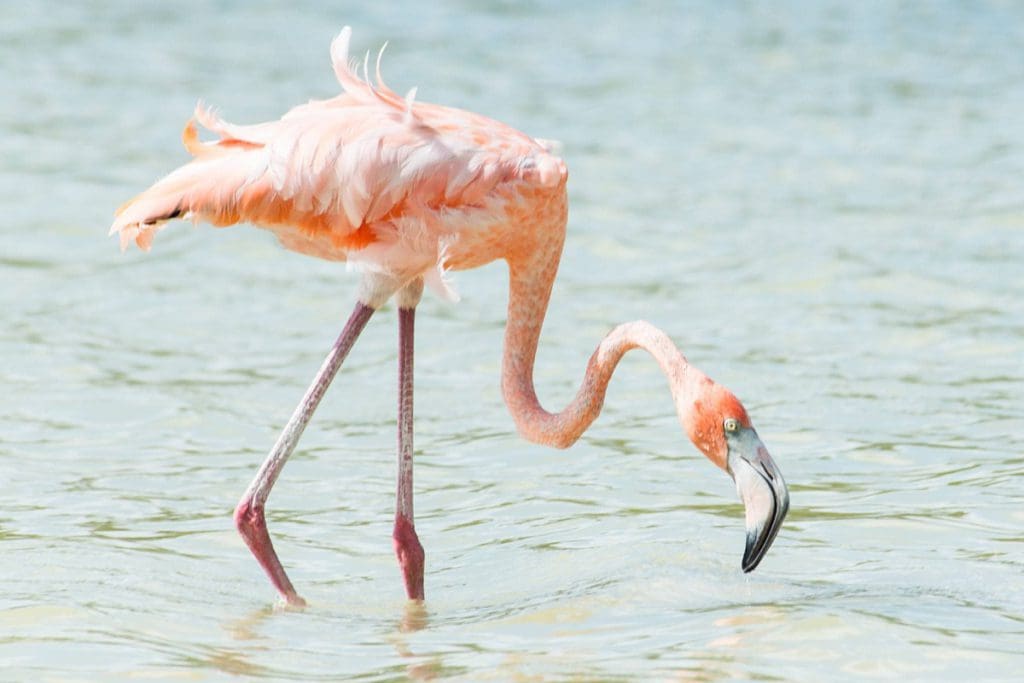 Spot graceful West Indian flamingos in their natural habitat the Flamingo Pond Overlook! Located in North Caicos, this secluded, tidal marine pond is only reachable via ferry from Providenciales. You can take it from the Heaving Rock Down Marina to the Sandy Point Marina or Bellefield Landing. We recommend renting a car to explore North Caicos. A car allows easier exploring around the island. Plus, then you can reach nearby Middle Caicos afterward.
Once you arrive at Flamingo Pond Overlook, take a peaceful stroll along these tidal flats, showcasing flamingos by the hundreds. The best time to visit this spot is usually during the Caribbean high season, which lasts from December to April. Since the lookout is about 300 feet from the pond, however, we recommend bringing binoculars to get close-up views of the flocks. Kids and adults alike will be mesmerized by the stunning pink birds! No wonder this is one of the best things to do in Turks and Caicos with kids.
Find more family-friendly tours and activities in Turks & Caicos on Viator today – book before you go!
Kayak or Paddleboard at Chalk Sound National Park
There's nothing quite like a day spent kayaking or paddleboarding in Chalk Sound National Park! Located on a natural lagoon in the southwest of Providenciales, the turquoise waters are simply gorgeous, and the experience is one your kids will never forget. Plus, with its gentle waves and sheltered coves, the park is the perfect place to take young children for their first time on the water. Even experienced kayakers and paddleboarders can find plenty of challenges in the park, with its rocky coastline providing ample opportunities to explore. 
Families can find one of the best launch spots by following Chalk Sound Drive for about three miles, turning right onto Oleander Circle, and continuing until you reach the water. For rentals, check out Las Brisas Restaurant (part of Neptune Villas). Most vacation villas on the water in Chalk Sound also offer guests complimentary kayak use. 
Swim with Stingrays at Gibbs Cay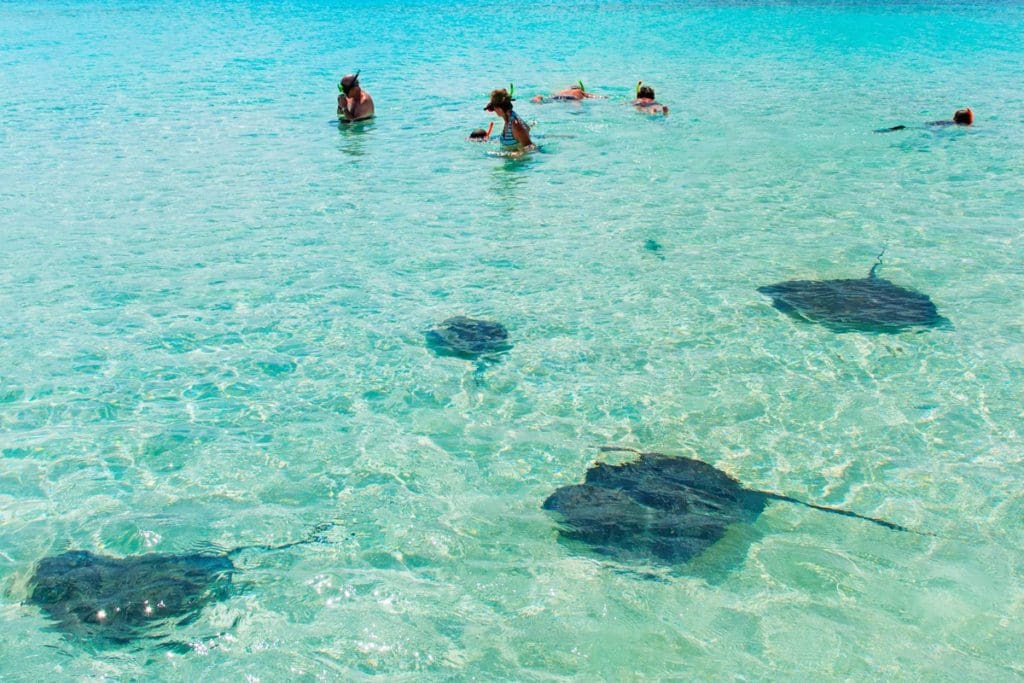 Swimming with stingrays is an unforgettable experience, and it's something that your kids will always remember! One of the best places to do this in Turks & Caicos is Gibbs Cay, a small, uninhabited island off the coast of Grand Turk. You can take a short boat ride from Grand Turk to get there, and once you're on the island, you're in for a real treat.
This area is best known for its stunning turquoise waters and its friendly stingrays. You can snorkel or scuba dive here to see the rays up close or take a dip in the shallows and see them swim by. And of course, you'll get to feed them too! 
Several local companies offer tours departing from near the cruise center or Cockburn Town. Parents, rest assured – they'll teach kids how to safely interact with the stingrays!
Snorkel at the Bight Reef (Coral Gardens)
Are you looking for an amazing snorkeling experience in Turks & Caicos? Then head over to the Bight Reef (Coral Gardens)! Located just off the shore of Grace Bay Beach, this reef is teeming with marine life, including colorful reefs, fish, and turtles. Kids will love exploring the underwater world and seeing all the different creatures up close. What's more, the clear turquoise waters make for excellent visibility, so you can take in all the beauty of this natural wonder. So whether you're an experienced snorkeller or a first-timer, the Bight Reef is worth a visit! 
You can either rent snorkel gear from somewhere nearby (there are lots of local providers near Grace Bay Beach), or you can bring your own. To get there, there are two adjacent accesses to the beach and the reef. If you're staying on the Bight or western side of Grace Bay, you can also walk along the beach to the Bight Reef.
Descend Underground to the Conch Bar Caves
Turks & Caicos is a renowned beach destination, but there's plenty to do off the sand as well. Case in point: exploring the island's natural underground marvels. Descend about 30 feet below ground at the Conch Bar Caves, where you'll find a network of limestone caverns decorated with stalactites and stalagmites. Located near the village of Conch Bar on Middle Caicos, this is one of the best things to do in Turks & Caicos with kids, as they're sure to be fascinated by this otherworldly environment. Plus, it's a great way to escape the heat of the day. And who knows, you may even spot some bats!
Since the caves aren't super developed, we don't recommend this for very young kids, since you'll have to explore with a flashlight and squeeze through some slippery or tight spaces. It's also not accessible unless you visit with a guide, so book your trip through Viator or a local company. 
See the Grand Turk Lighthouse
There's no better way to get a feel for the Turks & Caicos than by visiting the Grand Turk Lighthouse. Dating back to the 19th century, this imposing structure stands at the edge of the island, offering stunning views of the ocean and nearby islands. Best seen at sunrise or sunset, the lighthouse is one of the best things to do in Turks & Caicos with kids. It's a great opportunity to learn about the island's history and get some incredible photos. While you can't go inside, you can walk along the scenic coastal path near the cliffs. If you're hungry, there's a small snack and gift shop in the old lightkeeper's house.
Hike to Mudjin Harbor
One of the best things to do in Turks & Caicos with kids is to hike to the Mudjin Harbor. This gorgeous spot is located on the island of Middle Caicos and is only accessible by hiking or taking a boat. The hike itself is about 3 miles long and can be challenging in parts, but it's well worth it when you reach the stunning turquoise waters of Mudjin Harbor.
One of the main access points is located inside the Dragon Cay Resort, with walking paths down to the beach. Some families spend hours here, since there's so much to do! Though the waters aren't ideal for swimming, you can still relax on the beach or explore the nearby caves. It's also a great way to get some exercise while also enjoying the natural beauty of Turks & Caicos.
Indoor Things to Do in Turks & Caicos with Kids
If you encounter a rainy day or need a reprieve from the sun, you can find a number of kid-friendly indoor things to do in Turks & Caicos. Keep reading to find more fun things you can do in Turks & Caicos with kids!
READ NEXT: Five Perfect Days in Turks and Caicos with Kids
Visit the Turks and Caicos National Museum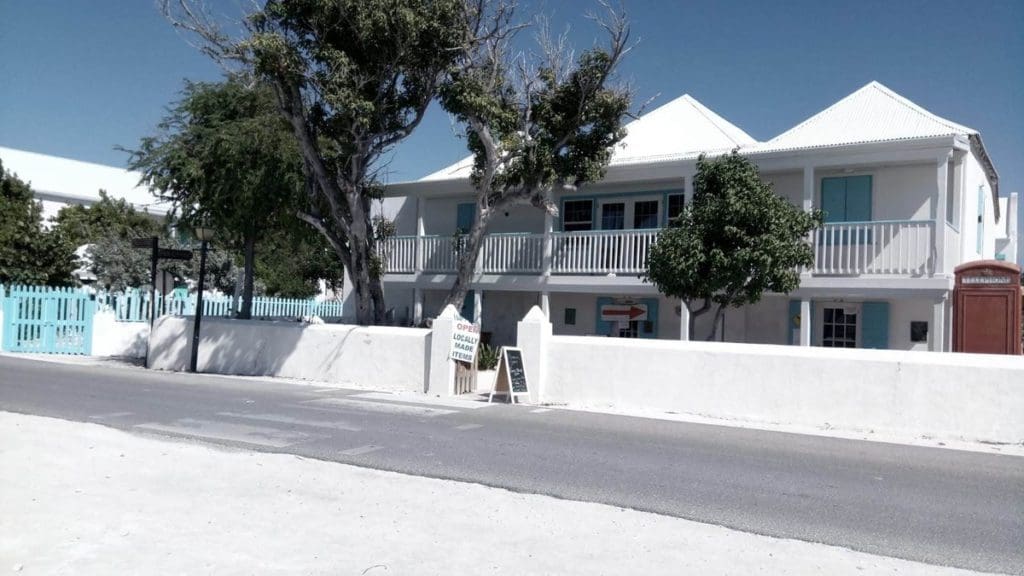 If you're looking for something fun and educational to do with your kids while in Turks & Caicos, look no further than the Turks and Caicos National Museum. With a prime location on Front Street on the island of Grand Turk, this world-class museum offers a variety of exhibits and activities that will teach your kids about the history and culture of the Turks & Caicos Islands. Families can see displays of traditional artifacts, including tools, weapons, pottery, and jewelry.
Some of the best things to see at the museum include the "Taino" exhibit, which tells the story of the native people who inhabited the islands before European colonization, and the "Pirates & Prosperity" exhibit, which chronicles the rise and fall of piracy in the region. There are also interactive exhibits like a simulated dive into a shipwreck, as well as a gift shop where you can buy souvenirs.
Shop at Alverna's Craft Market
If you're looking for the best things to do in Turks & Caicos with kids, then you definitely need to check out Alverna's Craft Market! Located near Grace Bay, this vibrant market is full of local artisans selling handmade goods, including jewelry, paintings, and sculptures. There's also a wide variety of food options, so you can sample some of the island's cuisine while you browse the stalls. Kids will love exploring all the vendors, who are often very friendly, and adults will appreciate the beautiful handcrafted items on sale. Plus, it's the perfect place to find unique gifts for your friends and family back home!
Where to Stay in Turks & Caicos with Kids
With so many fun things to do in Turks & Caicos with kids, you'll want to find the perfect home base for your family. Our families have compiled their favorite family resorts in Turks & Caicos to help you decide where to stay.
Firstly, Beaches® Turks & Caicos Resort is always a top recommendation in Turks & Caicos! Gigantic water slides, kid-friendly pools, and swim-up soda bars await your family here. Kids can also hang out with their favorite Sesame Street characters, like Elmo! In addition, Beaches Turks & Caicos is well-known as one of the best Caribbean resorts with baby clubs, featuring a special infant program for infants and toddlers up to two years old.
Then, consider Grace Bay Club. This hotel offers three sections on its property. One is reserved specifically for adults, while another for families. Plus, they offer private villas to accommodate extended stays. The calm waters are ideal for littles to enjoy swimming, snorkeling, or sailing. Finally, kids can also splash in the hotel's outdoor pools. There is even a children's pool and one designated for guests over sixteen!
These are just two of the 7 Best Family Resorts In Turks & Caicos!
Turks and Caicos Interactive Map
To help plan and book your trip, find all hotels, home rentals, the nearest airport, and family-friendly things to do in Turks and Caicos all in one place on this interactive map. Also, read about our top picks for the Best Family Resorts In Turks & Caicos to find the top kid-friendly hotels on the island.
Then, learn All About Turks and Caicos With Kids: Important Information You Need to Know.
Happy Travels!
We hope you've enjoyed our list of 14 Things To Do In Turks & Caicos With Kids! From sunbathing on shimmering shores to graceful pink flamingos, we guarantee you'll find something for everyone in stunning Turks & Caicos. Of course, as parents, we know that traveling with children is about memories more than anything else! Enjoy a fantastic time in Turks & Caicos with your kids.
*Due to the COVID-19 pandemic, some of the attractions, accommodations, or things to do on this list may be closed. Please ensure availability before making your decision. 
CHECK OUT THESE POPULAR TOURS IN TURKS AND CAICOS
*This post featuring the best family resorts in Turks & Caicos may contain affiliate links that may earn us a small commission at no additional cost to you. Affiliate links in no way inform the hotels, sights, products, or other recommendations included in our articles. All opinions and recommendations expressed here are compiled from submissions submitted by the generous members of our Families Who Love To Travel community.
READ NEXT: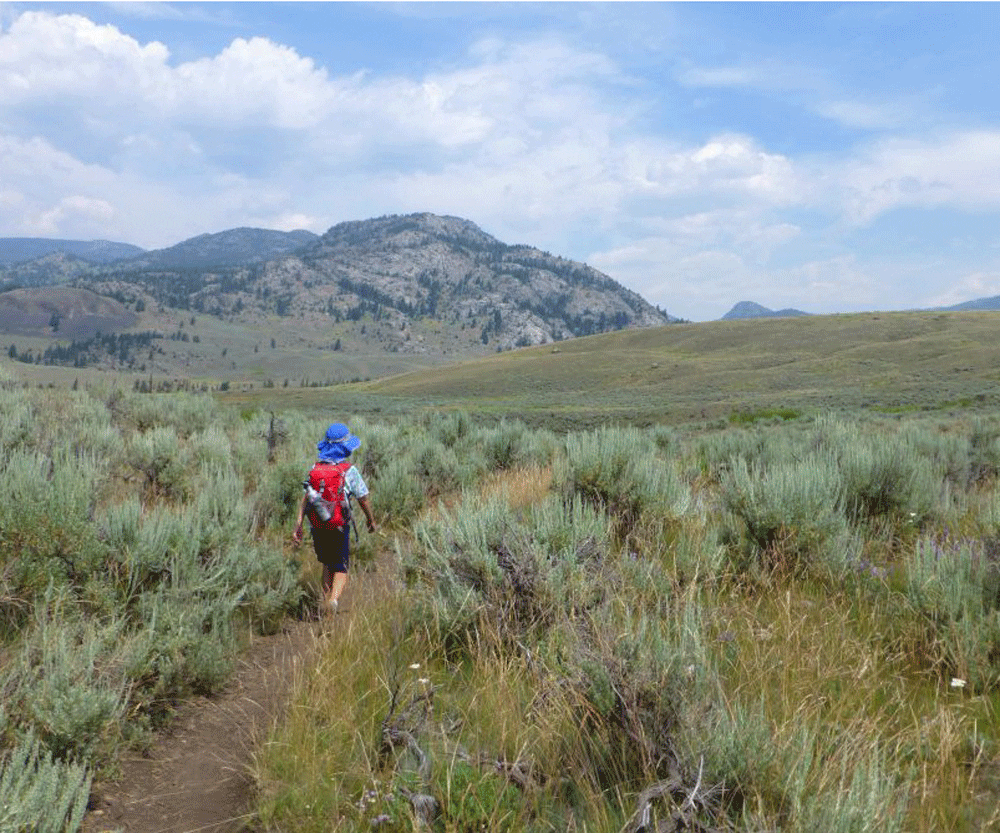 Everyone knows that Yellowstone National Park makes for a classic family vacation. Strolling the boardwalks...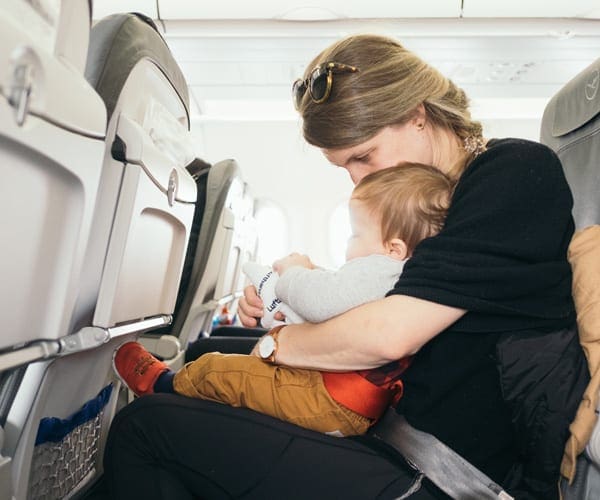 Families Who Love To Travel contributor Meghan Oaks provides her 10 best tips for your...