If you're looking for a memorable family adventure, be sure to consult this Iceland itinerary for families! This stunningly picturesque country has something for everyone – from snow-capped mountains and glaciers to green rolling plains and coastline. And with so many kid-friendly attractions, there's no reason why your youngsters can't have as much fun as adults. Plus, Iceland is also small enough that you can easily explore all its fascinating attractions on your own with a family road trip. For my own Iceland itinerary for families, my family visited tourist destinations such as Vatnajökull National Park, Geysir, Gullfoss Waterfall, and Thingvellir National Park. To help you plan a similar trip, I put together this guide to taking a dream Iceland vacation. Keep reading to find out where to stay, things to do, and more!
Day 1: Reykjavik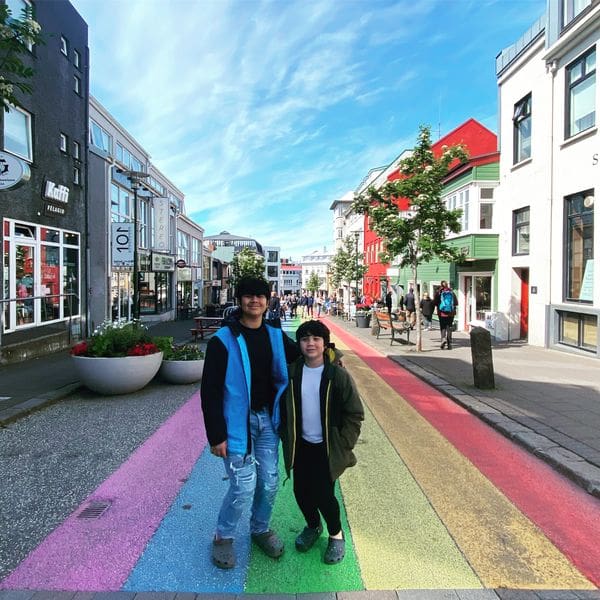 On the first day of our Iceland itinerary for families, we landed in Reykjavik. As the capital of Iceland, there are a ton of things to see and do here with kids. We took a walking tour around the city, which lasted around three hours and taught us so much history! We booked our walking tour through a local company. However, there are a lot of options, including City Walk Iceland or Your Friend In Reykjavik. Regardless of which tour you choose, you'll get to see the downtown area while learning about the magical folklore behind each place. Reykjavik is a "young" vibrant city, so prepare for crowds the later it gets. Remember to bring a warm jacket!
GetYourGuide also offers a Reykjavik: City Walking Tour.
Where to Stay in Reykjavik with Kids
Need somewhere to stay in Reykjavik with kids? We loved staying at the Fosshotel Reykjavík. This reliable hotel chain offers families wonderful service and great amenities, and this location is no exception. It's nestled in the downtown area, making it easy to reach all the best sights in town.
Look for a homestay in Reykjavik with Vrbo here!
Day 2: Golden Circle: Þingvellir National Park, Geysir, Gullfoss Waterfall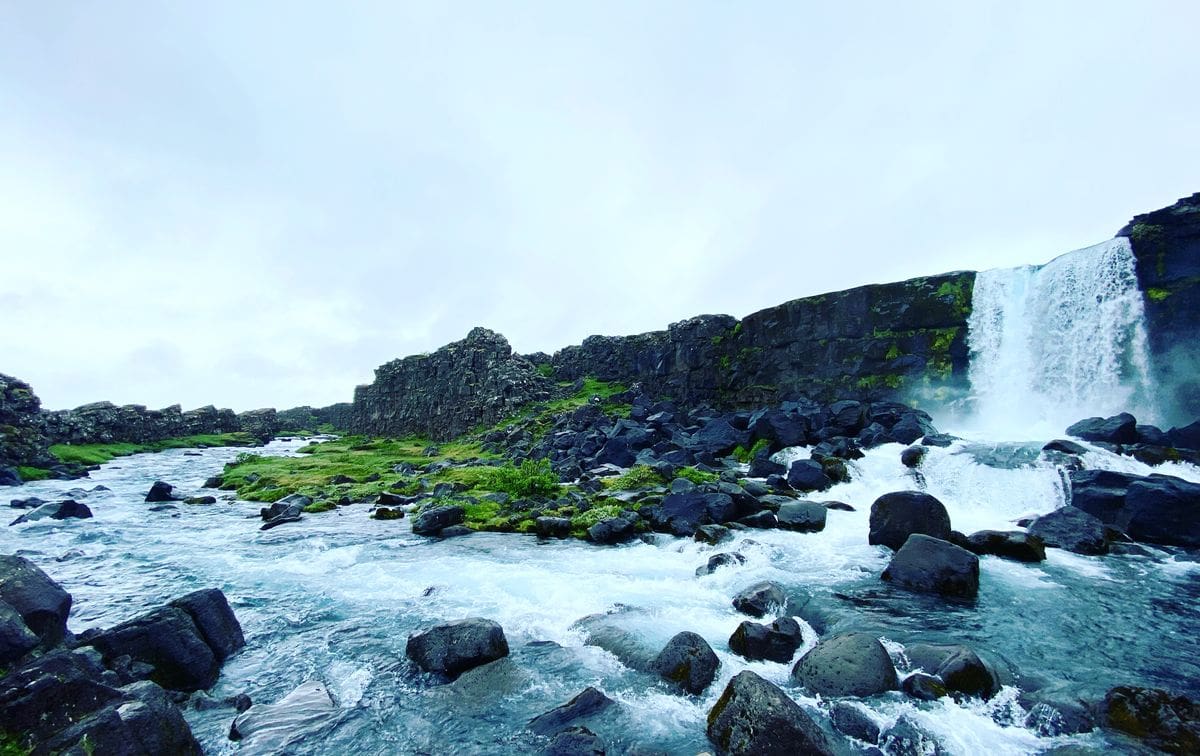 An Iceland itinerary for families would be incomplete without a stop at the Golden Circle. Located not far from the capital city, this circular route in southwest Iceland features three of the country's most stunning and popular locations: Thingvellir National Park, Geysir, and the Gullfoss Waterfall. Many families start in Reykjavik and then continue to Thingvellir National Park (also spelled Þingvellir), known for its surreal landscape split by shifting tectonic plates. Head to the visitors' centers to grab a map, then take the trail toward Thingvallabaer and Thingvallakirkja. Kids will love the beautiful vistas, rocky cliffs, and spotting ducks along the trail!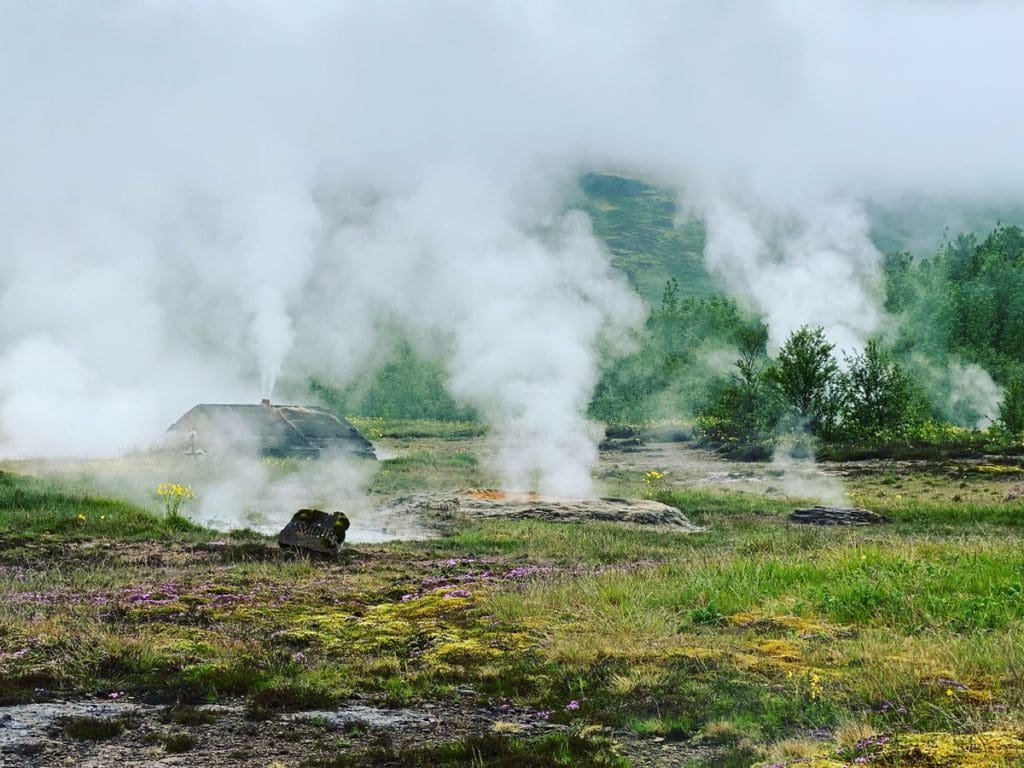 From there, continue to the Geysir Geothermal Area, located within the Haukadalur Valley. Though you won't see this world-famous geyser erupt, there's one nearby that goes off every 10 minutes! If you have time to stop for food as we did, don't miss Friðheimar. This country-style restaurant is located on a real tomato farm! Next on your Iceland itinerary for families, stop at the Gullfoss Waterfall. This crystal blue, thundering waterfall is ideal for visiting with kids, since you don't need to walk far to reach it. From the visitors' center, it's just a few minutes to the viewing platform, and another short walk down to the waterfall. Don't forget to snap the perfect family photo!
Lots of different tours are available if you don't want to drive through the Golden Circle on your own, including add-ons like snowmobile rides, horseback rides, and visits to the geothermal spa. Two local companies include Reykjavik Excursions and Arctic Adventures Iceland. Viator also offers a Golden Circle Classic Day Trip From Reykjavik.
Day 3: Þjórsárdalur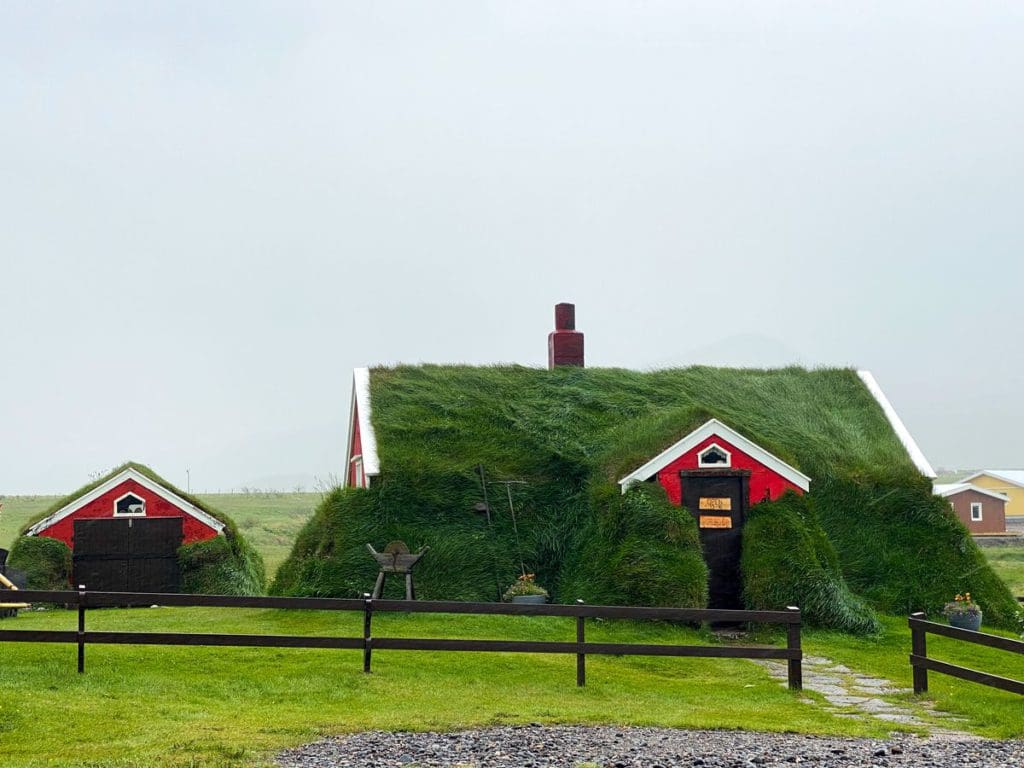 Known for its stunning waterfalls and other natural sites, Þjórsárdalur is a famous valley in the Southern Highlands of Iceland. Since it's too far from the Golden Circle, we visited it on the third day of our Iceland itinerary for families. One of the most magnificent waterfalls here is Haifoss, one of the tallest in the whole country! From the parking lot, it's a short walk to the viewing platform to see it and its nearby sister waterfall, Granni. Families can also take a moderate, 2.5-mile hike along the bottom of the waterfall to get a better view. Either way, the black rock backdrop is breathtaking!
For a fun history lesson while visiting Iceland with kids, bring them to a Viking replica farm. We visited one in the Þjórsárdalur valley in Stöng, also known as the Þjóðveldisbærinn Stöng. Here, families can see the remains of an old Viking settlement, from preserved churches to living quarters. Kids will love walking through the property and imagining how the Vikings lived. If you follow the hiking trails, you'll also discover an area named Gjain, a waterfall valley once used as a set for Game of Thrones!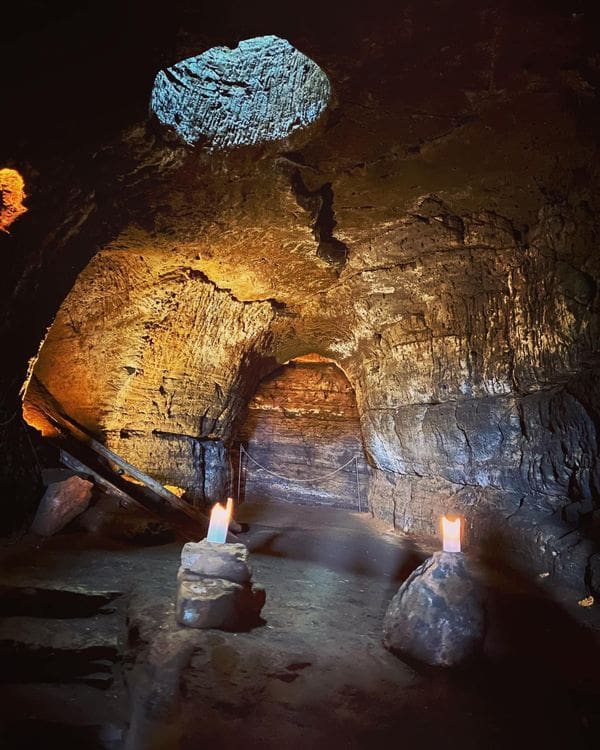 Next, we headed toward the Caves of Hella, a historic collection of twelve caves in Southern Iceland. Only four of these ancient caves are open to the public, inviting visitors to join in on speculating their origins. Guided tours are available in English daily at noon and 4 PM, letting kids learn more about the mysteries of the caves. They'll be amazed by all the little nooks and crannies, complete with carvings on the wall and other artifacts! Since we were already in the area, we tried to drive as close as possible to the Helka Volcano. Sadly, it was closed!
Where to Stay Near Þjórsárdalur with Kids
For a hotel near great attractions like the Caves of Hella, we stayed at the Hotel Selfoss. Overlooking the banks of the Ölfusá River, it features cozy rooms, a spa for parents, plus an outdoor heated pool for kids to splash.
Day 4: Seljalandsfoss Waterfall, Skógafoss Waterfall, Sólheimajökull Glacier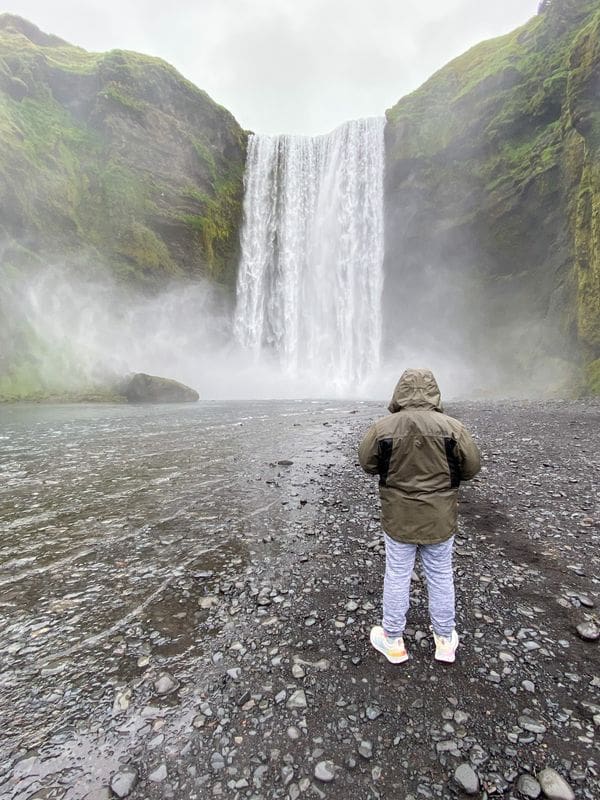 While driving the Ring Road, we stopped at the Seljalandsfoss Waterfall on our fourth day. Located in southern Iceland, this gorgeous waterfall is unique because it lets families walk behind it on a footpath. Visitors can fully encircle the area in the summer, passing by cliffs with a wide cavern and lots of rocks. It's extremely majestic and picturesque, so it's no wonder this is such a popular attraction. Then, we continued driving to reach the Skógafoss Waterfall in Skógar. Though you can't walk around this magnificent waterfall, it's much more powerful and has a fun legend behind it about a giant's hidden treasure. Steps lead to an observation platform above the waterfall if you want to get closer, but prepare to be soaked!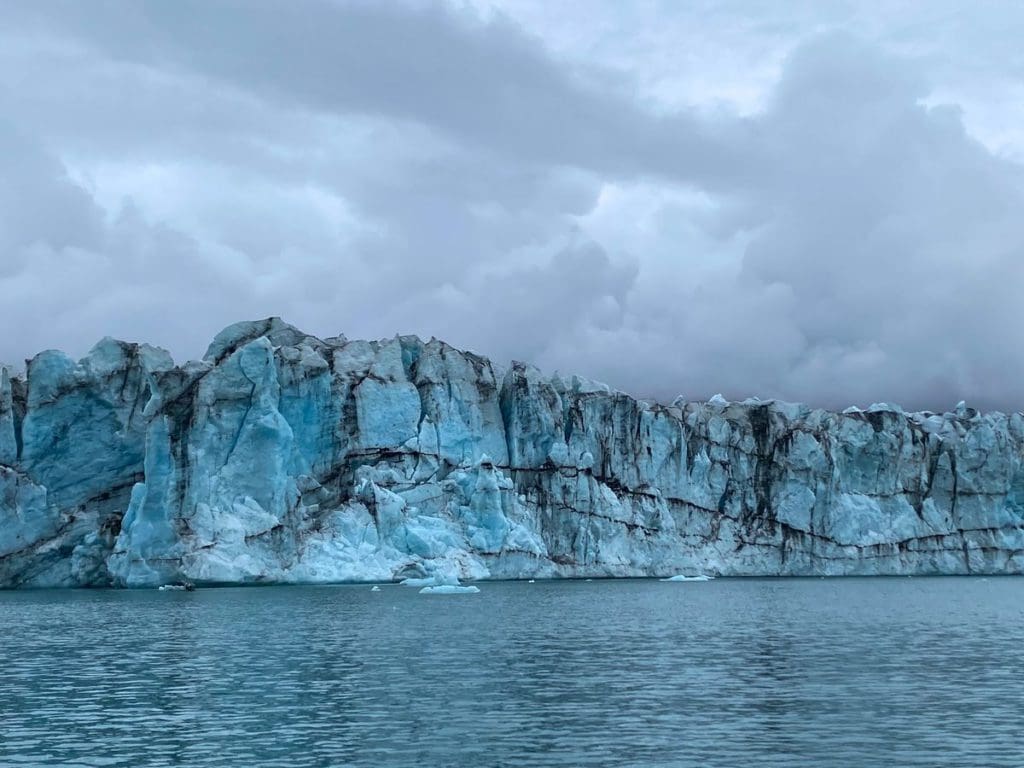 Next on our Iceland itinerary for families, we drove around twenty minutes to The Sólheimajökull Glacier. Part of the mighty Myrdalsjokull Glacier, it boasts icy paths, deep blue hues, and rugged landscapes. It's a popular glacier to visit in Iceland mostly due to its ease of access, since there's an easy path alongside the lagoon in front of it. Ideal for kids of all ages, the gravel path is flat, passing multiple icebergs for around half an hour before reaching the glacier wall. Kids will love listening to the sound of ice cracking and even touching some!
After, we drove to the world-famous Reynisfjara Black Sand Beach. Showcasing huge basalt stacks, thundering waves, and incredible vistas, local legend says the stones were once trolls trying to pull ships from the ocean to shore. This is a wonderful photo opportunity and a must-see in Iceland with kids! It's also located adjacent to the small fishing village of Vík í Mýrdal. If you have time, I highly suggest exploring the cozy town with your kids.
Optional: Day Trip to the Fjaðrargljúfur Canyon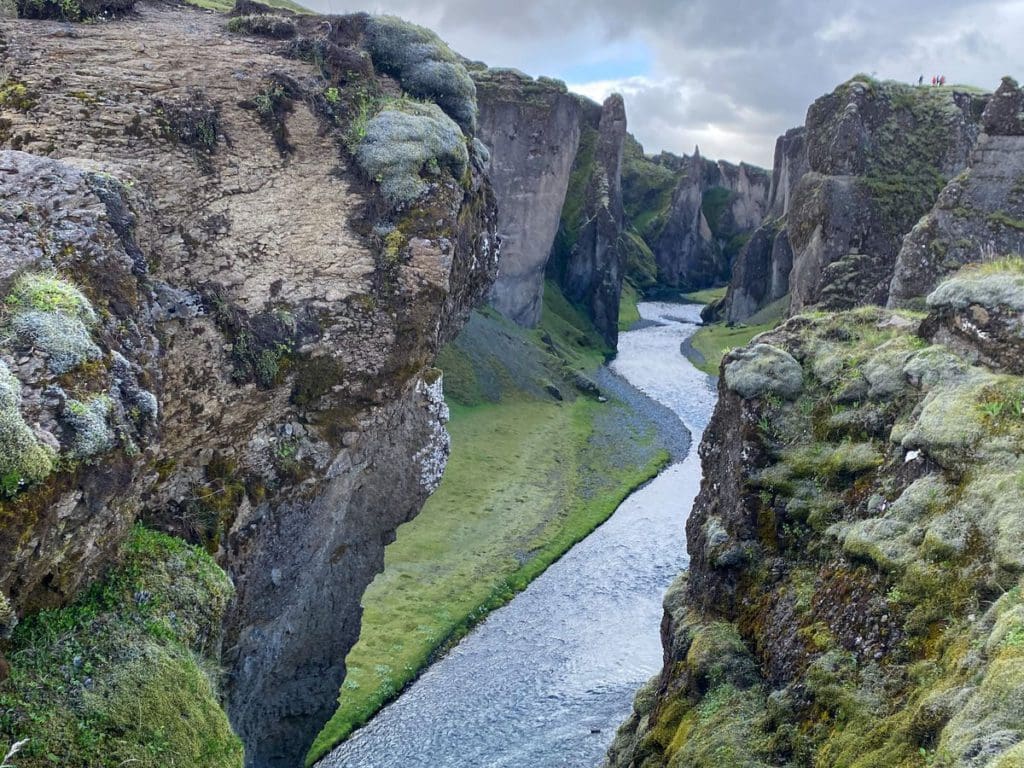 Finally, families can also stop at the Fjaðrargljúfur Canyon around an hour away. This scenic canyon is about 100 meters deep and features a small freshwater stream running through it. There are a few kid-friendly paths to see the canyon up close; one features occasional wading through a river and another that takes you around the edge of the canyon to a viewing point. Most families prefer the second option, which provides beautiful views over the whole area!
Looking for more things to do in Iceland with kids? Check out this list of the Best Things To Do In Iceland With Kids!
Day 5: Skaftafell, Vatnajökull National Park, Fjallsárlón Ice Lagoon, Diamond Beach
For families driving through Southeast Iceland, a stop at Svartifoss is a must! This unique waterfall is located within Skaftafell Nature Reserve, which is situated in Vatnajökull National Park. From the visitors' center, families can reach this stunning waterfall by taking a direct hike uphill that runs for around two miles and passes other waterfalls in the gorge. For a longer trek, families can try circling the Svartifoss-Sjónarsker-Sel Loop. This 3.5-mile loop features 3 beautiful destinations: Svartifoss, Sjónarsker (boasting aerial views of the surrounding glaciers), and Sel, where kids can see the old turf-roofed houses before returning to the Visitors' Center.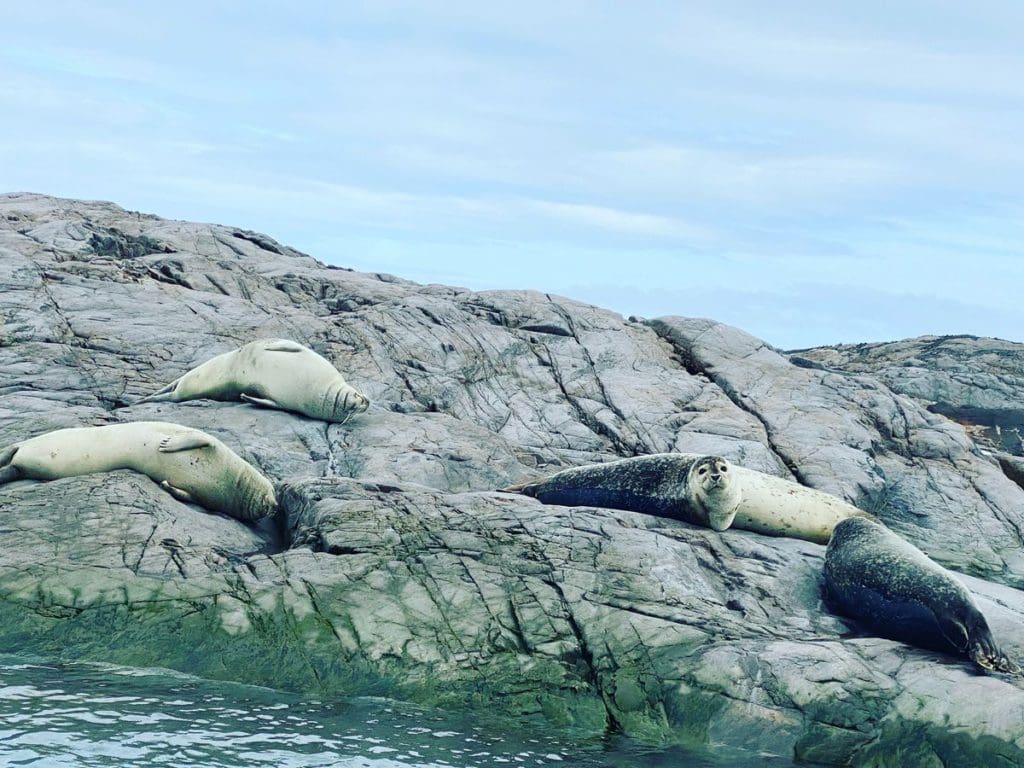 From Skaftafell, families can drive around an hour to see some of the most gorgeous lagoons in Iceland. First, stop at Fjallsárlón Ice Lagoon next to the Vatnajökull Glacier. It's an easy walk to the lagoon, climbing up a gentle slope and then down to the beach. This scenic destination is also great for taking a boat tour and spotting wildlife such as seals or native birds! Nearby, families will find an even more iconic destination: the Jökulsárlón Glacier Lagoon. Dotted with icebergs, this glacial lagoon is home to arctic birds and all kinds of seals too. This is a fantastic place to take a boat tour as a family and see the waterfalls. If you have extra time like we did, head to nearby Diamond Beach to see the famous black sand framed by iceberg fragments!
Plan your next adventure by booking this South Coast and Jökulsárlón Glacier Lagoon Day Tour from Reykjavik through Viator!
Where to Stay Near Skaftafell with Kids
For somewhere to stay near Skaftafell with kids, check out the Fosshotel Nupar. Offering views of the Vatnajökull Glacier, it's just a few minutes away from the park and has an on-site restaurant.
If you love Iceland, check out these other 17 Best Mild Weather European Destinations For A Family Summer Vacation!
Day 6: Djúpivogur, Petra's Stone Collection, Fáskrúðsfjörður
We took it easy on the sixth day of our Iceland itinerary for families and spent most of the day in transit. Still, we had some time to stop at a few sites I would recommend to other families, including Djúpivogur. This quaint, coastal village in eastern Iceland faces the scenic fjord Berufjörður and promotes a laidback way of living. It also has a historic past for kids to learn about, since it was chosen as a fishing port by The Danes in the 16th century. Save time to walk along the charming harbor area, where you'll see one of the town's main attractions: the Eggs of Merry Bay. This quirky installation of 34 oversized granite eggs is sure to impress your kids!
Around an hour away, another must-visit for curious kids in Iceland is Petra's Stone Collection. Located in an unassuming house in the tiny town of Stöðvarfjörður, this remarkable rock collection was started as a personal hobby by a local resident. Now, visitors can see a stunning selection of found natural objects, including hundreds of mineral rocks, and learn more about the history of the fjord where the town is located. My family spent some time here, then made our way to Fáskrúðsfjörður, a small fishing village about half an hour away. Founded in 1880, this charming town is steeped in French history, which families can learn more about at the French Museum.
Where to Stay Near Fáskrúðsfjörður with Kids
Families looking for somewhere to stay near Fáskrúðsfjörður will have great luck with Fosshotel Eastfjords. Set off Route 96 in early 20th-century buildings, this peaceful hotel is near a fjord and surrounded by mountains.
Day 7: Egilsstaðir, Seyðisfjörður, Bakkagerði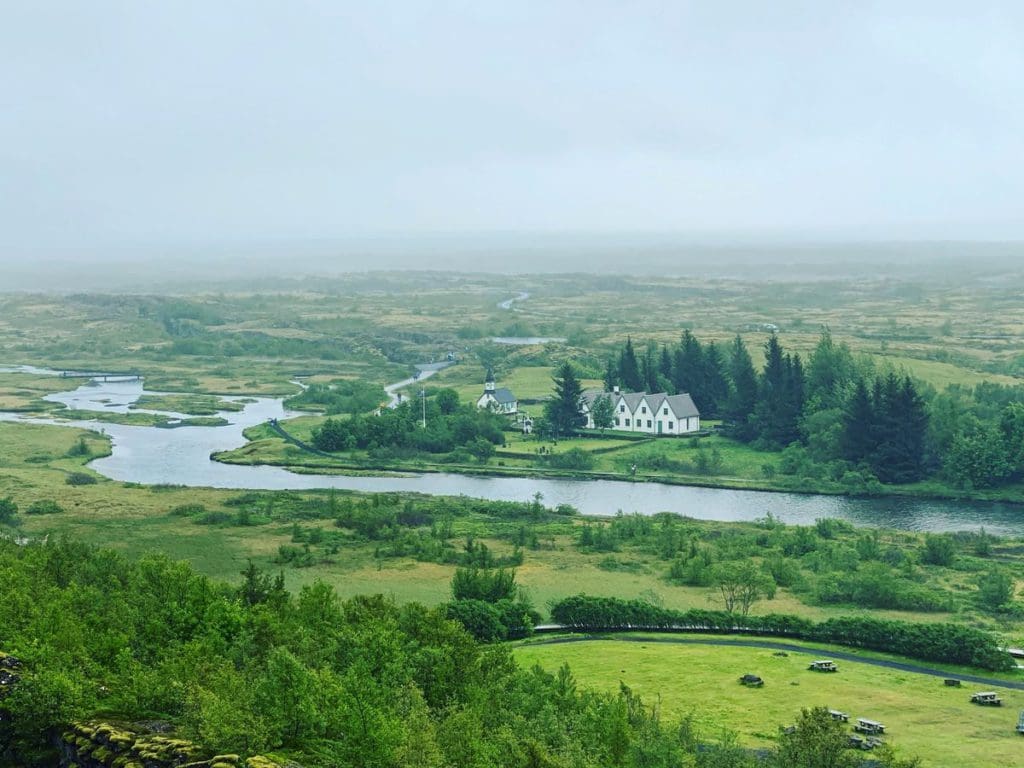 Kids who are interested in Icelandic folklore will love a chance to stop in Egilsstaðir to possibly see the Lagarfljótsormurinn, aka the Lagarfljót Worm! This grayish body of water looks like a lake, but it's actually a glacier-fed river rumored to be home to this rare species of worm. There's a scenic loop that wraps around the lake, and plenty of places to get out and explore too. Bring a picnic to eat and enjoy the beautiful scenery! Seyðisfjörður, another small town in eastern Iceland, is also worth a visit with kids. It's surrounded by marvelous nature, including mountains, waterfalls, and beautiful sea vistas. Reindeers, seals, and porpoises are a few examples of wildlife you can see in the area.
For a relaxing pit stop on your drive out of Seyðisfjörður, visit the Vok Baths, Iceland's only floating infinity pools. Soak in gorgeous blue waters within the confines of the scenic ​​Lake Urriðavatn. After, we traveled toward Bakkagerði, another small seaside town. This is a great setting for hikes one of Iceland's most isolated villages with a population of less than 130. But what it lacks in humans, it makes up for with other "residents" – it is rumored to have the largest colonies of elves and fairies in the country, as well as a thriving bird population. The most famous destination to hike here is Stórurð, a breathtaking spot with gigantic rocks left by glaciers. There are hikes of varying difficulties, so it'll be easy to find a path to take with kids.
Day 8: Dettifoss, Lake Mývatn, Dimmuborgir, Leirhnjúkur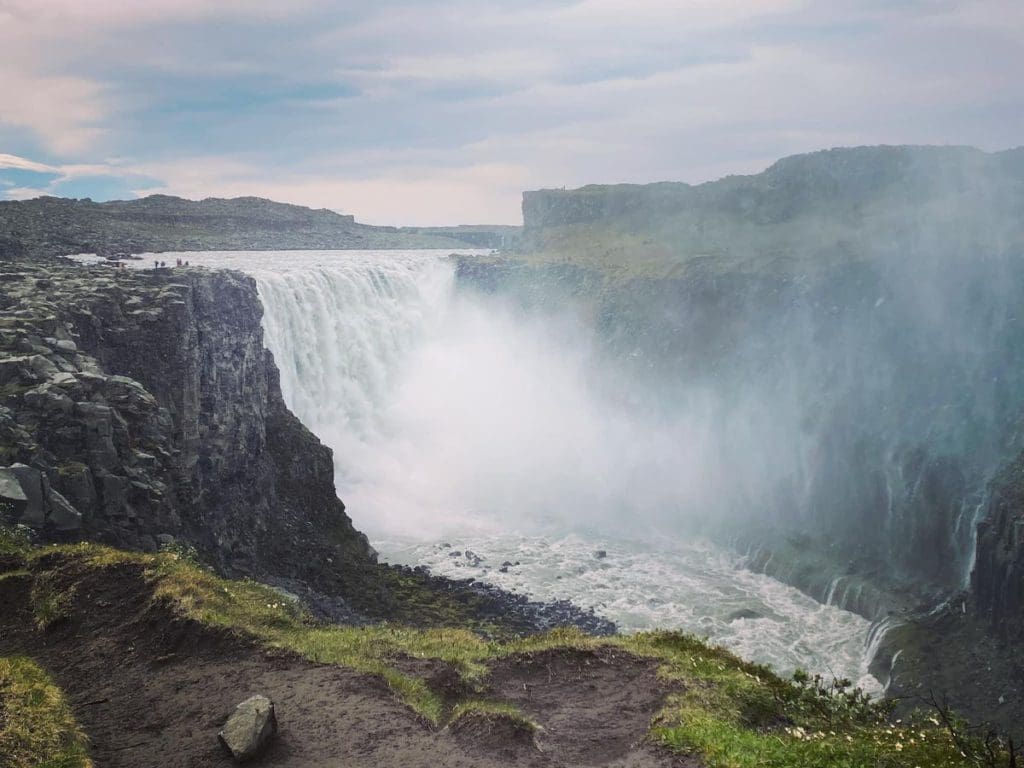 Dettifoss is one of the most impressive waterfalls in Iceland. It's located in the north of the country, and it is fed by the glacial river Jökulsá á Fjöllum. One of the best ways to experience the power of the waterfall as a family is to take a boat trip underneath it. You can also take a 10-minute walk down a steep rocky trail. Either way, it's thrilling to watch the roaring white rapids drop into Dettifoss' deep gorge! About an hour away, continue driving until you reach Lake Mývatn, a shallow eutrophic lake situated in an area of volcanic activity, not far from the Krafla Volcano. Animals lovers will find plenty of birdwatching or fishing opportunities. Families can also relax in the Nature Baths or gaze in awe at the lava fortress Dimmuborgir.
Known as "Mud Peak," we also added nearby Leirhnjúkur to our Iceland itinerary for families. This active and colorful volcano is a must-see when visiting Iceland with kids. The Leirhnjúkur Short Trail, one of the best hikes to the top, is short and easy, and the views are incredible. On a clear day, you can see all the way to the nearby Vatnajökull glacier. The summit is also a great place to look for Arctic foxes, as they often den nearby. Be sure to bring plenty of food and water for the hike, as there are no restaurants or stores at the top. Families with extra time in their itinerary should also stop at the Viti Crater, around 10 minutes from Lake Mývatn. Or, visit Hverir, a geothermal field close to the main road and just a few minutes from the Mývatn Nature Preserve.
Day 9: Jökulsárgljúfur National Park, Ásbyrgi Canyon, Hljóðaklettar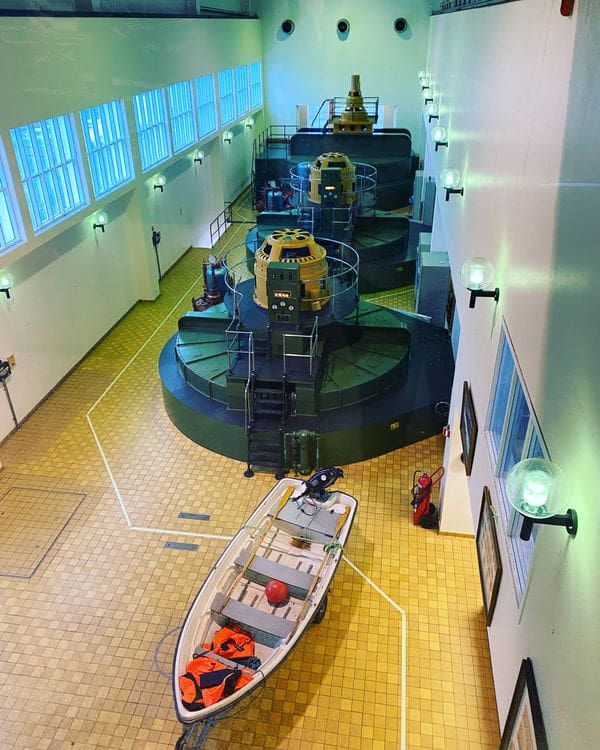 Families who want to drive the Diamond Circle in northern Iceland should save time for Jökulsárgljúfur National Park. Part of the larger Vatnajökull National Park, it houses the famous Ásbyrgi Canyon, a landmark near Route 85. Firstly, stop by the Visitors' Center to pick up maps and learn more about the area. The horseshoe-shaped canyon was formed in a massive glacier flood, and its imposing walls grow ever larger the further you travel. There are two roads, one on either side, though the most popular is the westward route from the Ring Road. For an easy hike that kids can enjoy too, try the 3-mile Eyjan Hill Trail. It should take around two hours and reward families with amazing views! We also saw the beautiful Hljóðaklettar rock formations, located along a glacier river and accessible with an easy hike.
If you're planning a prolonged stay in this area like we did, use the nearby town of Húsavík as your home base. Just south of the Arctic Circle, this affordable fishing town features incredible ocean views, colorful houses, and lots to keep families entertained. We loved visiting the Húsavík Whale Museum, one of the biggest attractions in town. Hands-on exhibits teach kids all about whales, and there are currently 11 whale skeletons for them to see, including sperm whales, bottle-nosed whales, minke whales, and narwhales.
Where to Stay in Húsavík with Kids
Need somewhere to stay in Húsavík with kids? We recommend the Fosshotel Húsavík, which is within walking distance from the harbor.
Day 10: Goðafoss, Akureyri, Jólahúsið, Siglufjörður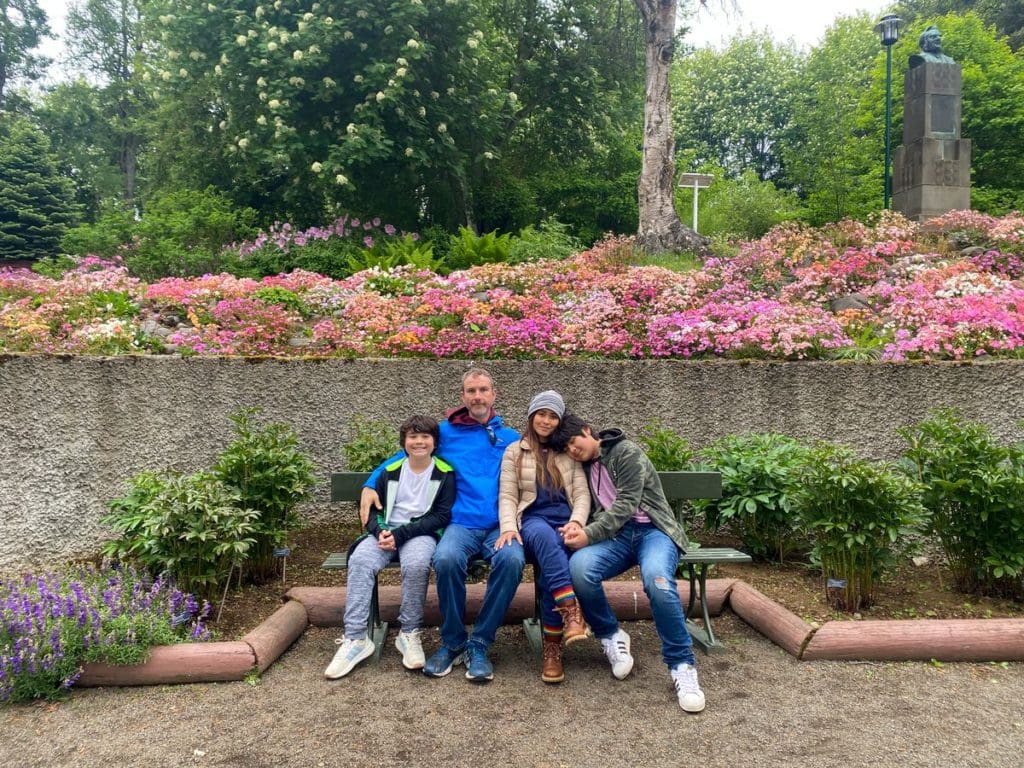 Nicknamed "Waterfall of the Gods," Goðafoss is a powerful and wide waterfall. It's among the most beautiful falls in Iceland for a reason, as it attracts thousands of visitors to the north of the country. There are multiple paths leading to viewpoints overlooking the falls, most of which are only a short walking distance. There's also a trail across a pedestrian bridge that gives families a better view. Since Goðafoss is easily reached by traveling east from the capital of the north, Akureyri, a lot of families choose to explore here as well. We loved walking along the Akureyri Harbour, which follows the fjord of Eyjafjörður. My family also had a wonderful time at the Akureyri Botanical Garden, which features all different kinds of colorful plants and flowers in bloom. They're labeled with different zones, making it easy to navigate, and there's also a cafe on-site.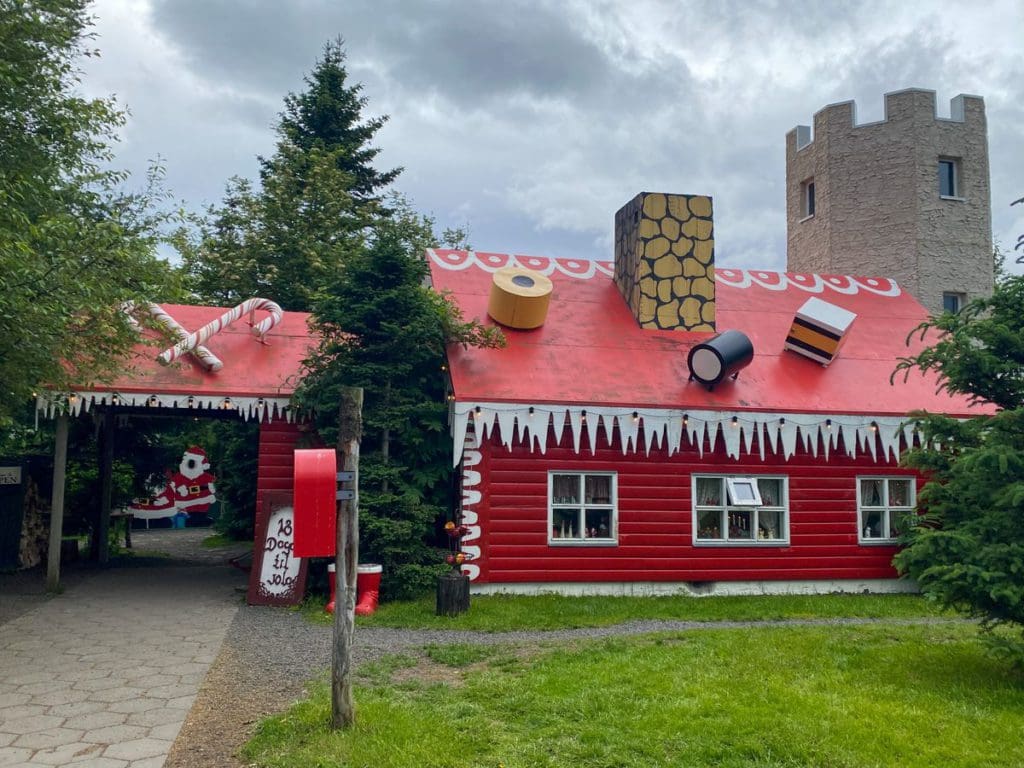 If you have extra time as we did, I also suggest visiting Jólahúsið, aka the Christmas House. Located just outside of town, this magical shop is brimming with different Icelandic Christmas handicrafts, from Santa souvenirs to some more inventive ornaments. Since it's open all year, most people come just to browse, but usually end up leaving with something special! This is also a great place for kids to learn about Icelandic Yuletide traditions and the thirteen "Yule lads", the local Santa alternatives. For another educational experience, families can head up north to The Herring Era Museum in Siglufjörður. Interactive exhibits are sure to get kids interested in what life was like during the town's herring heyday!
Day 11: Vatnsnes Peninsula, llugastaðir, Víðgelmir Lava Cave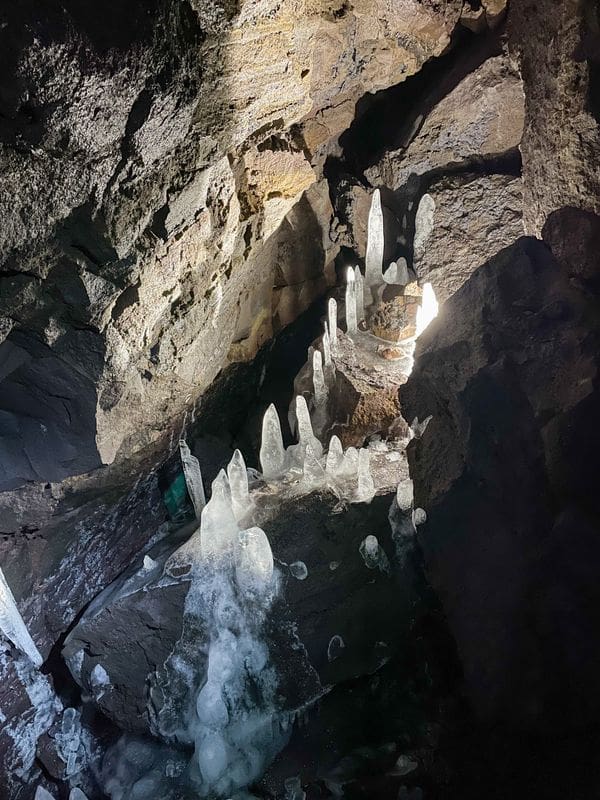 Day eleven of our Iceland itinerary for families was the coldest yet – we couldn't even feel our fingers and toes! So, we set off in the car for the Vatnsnes Peninsula in northern Iceland, home to the largest seal colony in the country. There are several scenic roads around the peninsula you can drive, but we took roads #711 and #717, which were approximately 100 km. On #711, we came upon a hidden gem on the west side of the Vatnsnes Peninsula. Kids will love a visit to the Illugastaðir Farm, a historic destination featuring incredible views of peaks along the Strandir coast in the Westfjords. With awe-inspiring panoramas, the area has a ton of fantastic hiking trails where families can spot fields of nesting birds and seal colonies!
On our way back south, we stopped at the Cave Vidgelmir, Iceland's largest lava cave. In fact, Víðgelmir is hailed as the mightiest of Iceland's lava caves, featuring amazing colors and lava formations that lurk in the depths of the earth. This long, ancient cave is easy for families to explore since there's a wooden walkway. I definitely recommend booking a tour through the caves for your kids to learn more about the geology and history of the cave, as this was one of the highlights of our trip. Little ones will love seeing the stalagmites and imagining lava flowing through the cave! Everyone is provided with helmets and flashlights, but you should also bring warm clothing since the underground is chilly.
Day 12: Snæfellsjökull National Park, Haafell Goat Farm
On day twelve, our tour of Iceland's Ring Road was practically complete! So, on our way back to Reykjavik, we decided to stop at Snæfellsjökull National Park. Located on the tip of the Snaefellsjokull Peninsula, there's a lot for families to enjoy inside this scenic, sprawling park. Kids will be impressed by the park's main attraction: the sub-glacial volcano! Hiking is one of the best ways to see everything the landscape has to offer, and there are a lot of kid-friendly ones. For example, families can trek the path leaving the parking lot of Djupalonssandur. It's fairly short, though occasionally steep. For a longer hike, try the trail through Moduvor, Skardsvik, and Ondverdarnes. You may even see some fishermen loading up their boats. Look out for black sand beaches, lava tubes, and caves as well!
If you have extra time on your Iceland itinerary for families before heading back to Reykjavik, another must-visit is the Haafell Goat Farm. Kids who are animal lovers will jump at the chance to learn more about these particular Icelandic goats, a species dating back to Viking times! When you take a tour, a guide will walk you through the property. Learn more about day-to-day life on the farm, including how to care for goats and what makes Icelandic goats special. Then, they'll take you into the pasture and introduce you to some of the friendly creatures! Children will have a chance to pet the kids and wander around too. Afterward, you can visit the small shop and cafe, which sells unique products such as goat jerky or ice cream.
Want to book your trip from Reykjavik? GetYourGuide offers a From Reykjavik: Snæfellsnes Peninsula Full-Day Tour!
Where to Stay Near Haafell Goat Farm with Kids
There are plenty of hotels in the area for families. My family loved Hotel Bifrost, which is conveniently located right off the Ring Road. It offers a picturesque location in the heart of Borgarfjordur.
Day 13: Reykjavik, Blue Lagoon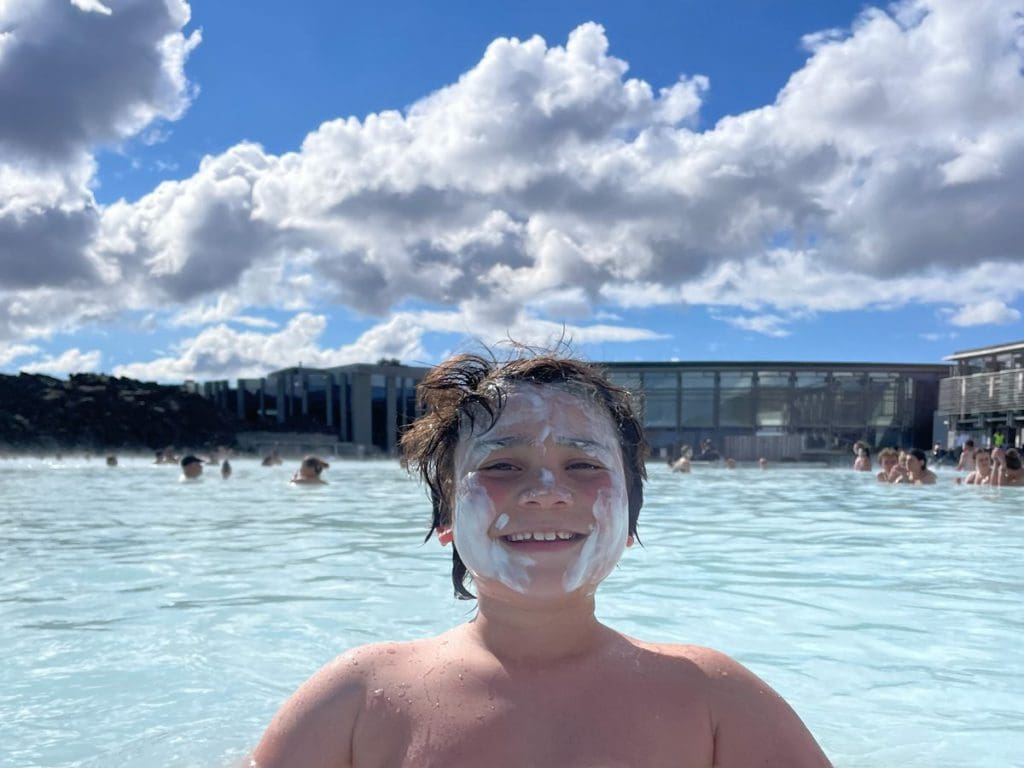 On the last day of our Iceland itinerary for families, we headed back to Reykjavik to prepare for our departure. But of course, before we left, we couldn't miss a chance to visit one of Iceland's most famous destinations: the Blue Lagoon! Located near the Keflavik Airport, it's easy to access from Reykjavik and a must for families. (It may be a bit boring for smaller children, but the experience is worth it.)
This kid-friendly, hot water spring is a favorite spot among tourists and locals alike, showcasing an impressive spa and hotel. Be sure to pre-book your reservation to take a dip in the Blue Lagoon – a ticket even includes a special mud mask! Kids will love watching the steam rising around the rocks and enjoying a nice walk around the lakes. Since it's a popular destination, however, expect crowds and longer wait times.
Book your Golden Circle, Kerid Volcanic Crater, and Blue Lagoon Day Trip from Reykjavik using Viator today!
Happy Travels!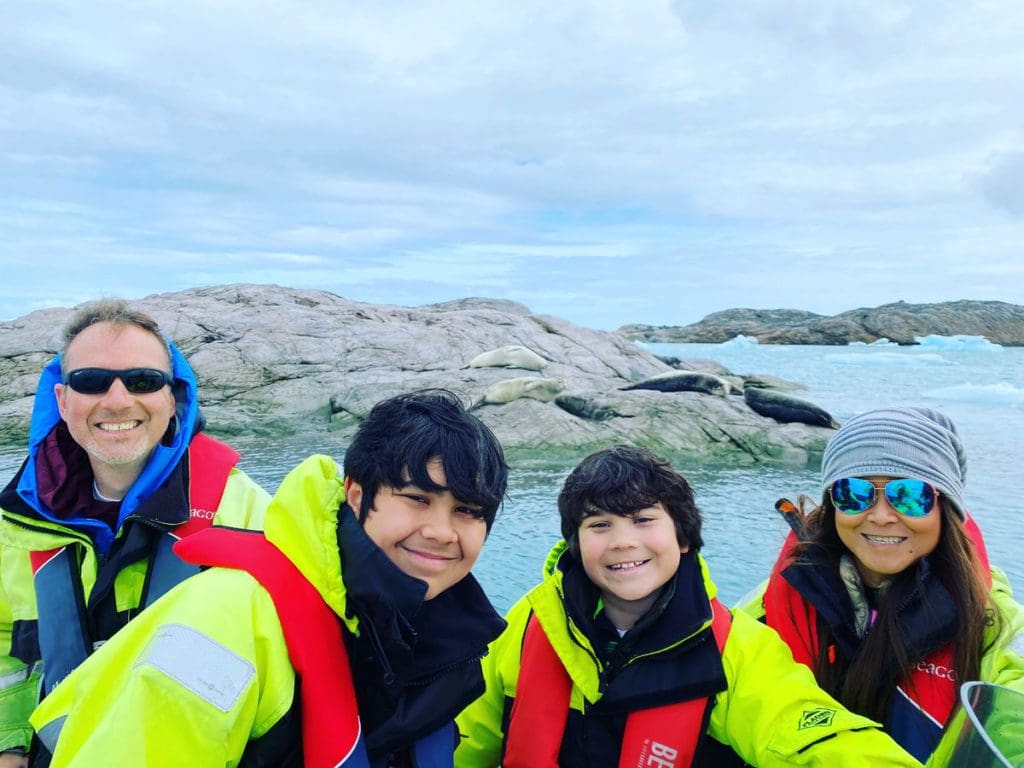 We hope you liked this Exciting Two-Week Iceland Itinerary For Families by our contributor, Kritika Storer! From the bustling streets of Reykjavik to Blue Lagoon, the Golden Circle, and Húsavík, we're sure you'll love this unique destination. Enjoy Iceland with your kids!
Unless otherwise noted, all images within this article belong to and are courtesy of Kritika Storer.
*Due to the COVID-19 pandemic, some of the attractions, accommodations, or things to do on this list may be closed. Please ensure availability before making your decision.
*This post may contain affiliate links that may earn us a small commission, at no additional cost to you. Affiliate links in no way inform the hotels, sights, products, or other recommendations included in our articles. All opinions and recommendations expressed here are compiled from submissions submitted by the generous members of our Families Who Love To Travel community.
READ MORE: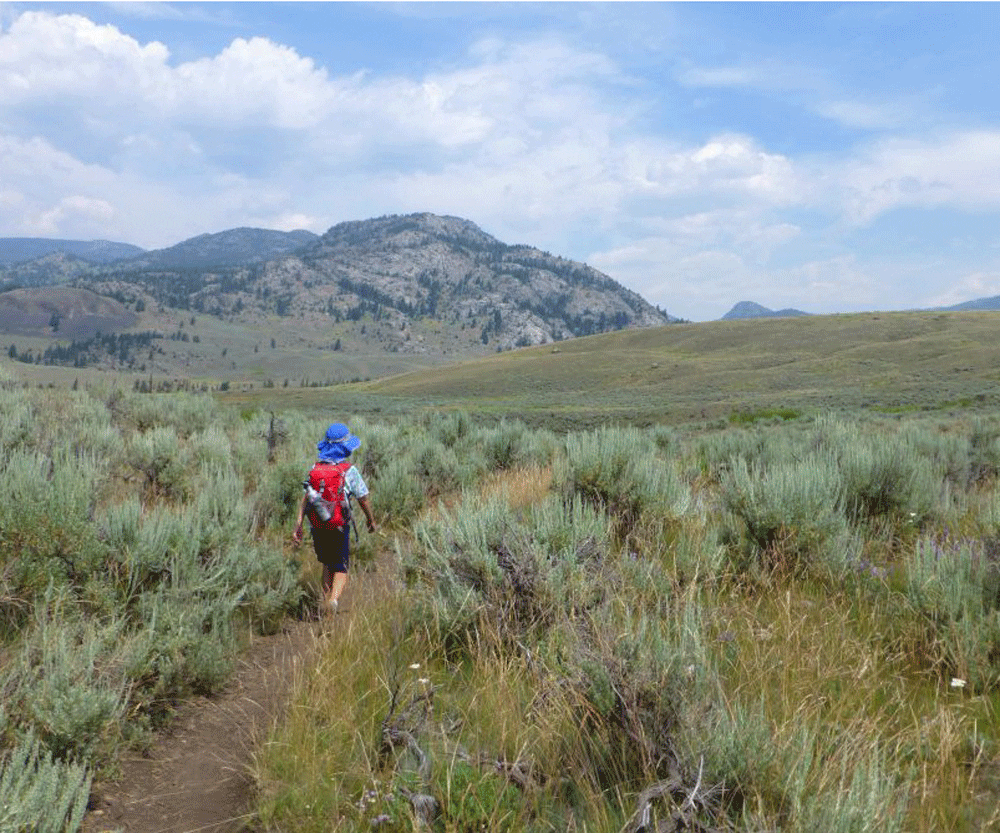 Everyone knows that Yellowstone National Park makes for a classic family vacation. Strolling the boardwalks...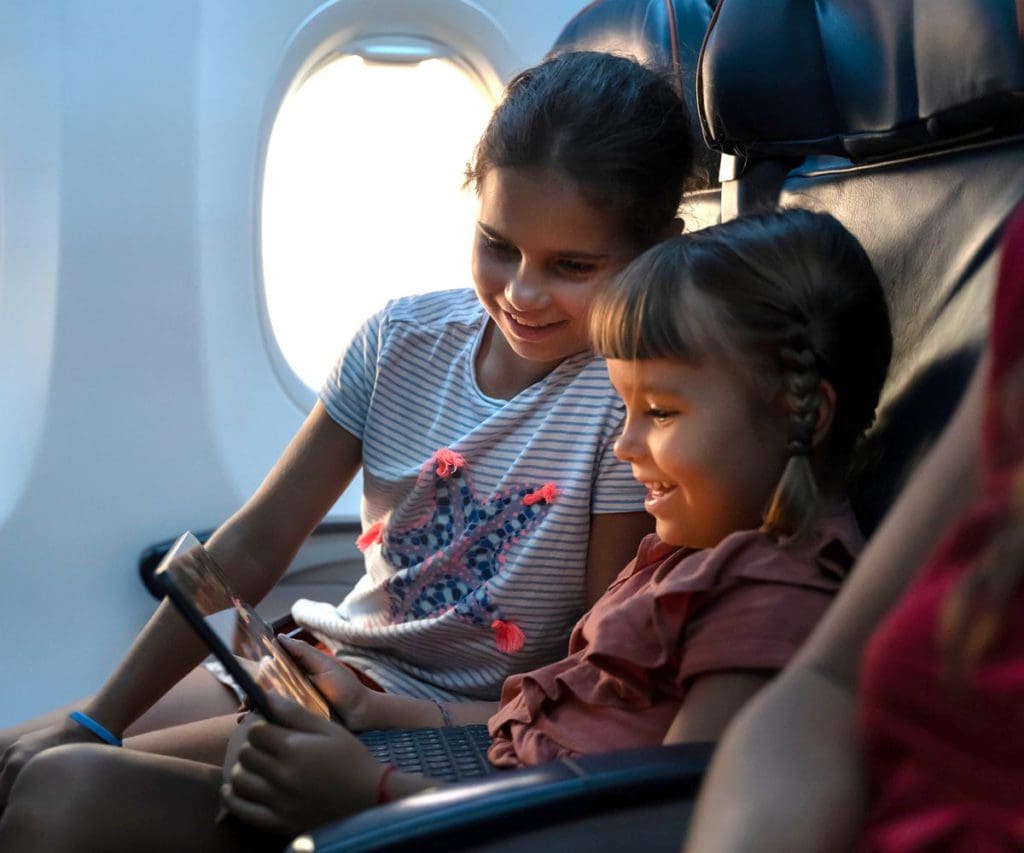 As parents, we're always looking for fun ways to keep our kids entertained while traveling....