Get ready for the ultimate ski and winter trip packing list for families! If you have a family ski vacation on the horizon, you're probably wondering what to bring with you. This becomes even more complicated with kids, as you wonder about the best ski gear for toddlers, children, and teens. Luckily, we've put together this helpful list to guide you from start to finish on your winter journey. First, you should decide what you're going to pack and what you're going to rent at your destination. For reference, we've compiled the best ski gear for kids, along with the best ski clothing for your next family vacation. We also included some optional ski accessories, alongside important toiletries, so you're covered on all ends. Next time you need advice about packing for a family ski vacation, keep reading. Here's our Ultimate Ski Trip Packing List For Families This Winter!
What To Pack For A European Vacation With Toddlers
Travel Documents You Will Need
You will likely need some specific travel documents for your upcoming ski trip with kids. Don't forget to pack the following items.
Passport or ID
Adults will need to ensure they have proper identification, especially when flying. If you are planning to ski abroad, everyone, including young kids, will need passports. Check passport dates to ensure everyone's passport has at least 6 months of validation remaining after the trip is completed.
Additionally, many cities, states, and countries are requiring individuals (adults and children) to have proof of COVID-19 vaccination or negative test to enter restaurants, hotels, museums, etc. Double-check your location to see if this is a requirement.
Tickets
Triple check to ensure you have all tickets needed before departure, including airfare, lift tickets, museum entry, etc. At this time, many locations are requiring tickets to be reserved in advance of arrival. Check each location you are planning to attend to see if they are requiring advanced tickets or time-entry reservations.
Travel Insurance
Many families appreciate the assurance travel insurance provides. Families can purchase travel insurance that protects medical emergencies while traveling, as well as travel needs like hotel cancellations, rebooking airfare, etc. Families embarking on a ski trip should review their current medical insurance to verify coverage out of state or out of the country. Accidents can happen! If you are nervous about your travel arrangements, having this added layer of protection may be helpful.
Credit Cards & Cash
Remember to pack the credit cards and cash you need for your ski trip with kids. Many restaurants and other locations are no longer accepting cash, having a credit or debit card will ensure that you can purchase accordingly. Additionally, make sure you have easy cash on hand for any tipping you may encounter at the hotel, in taxis, etc.
Car Rental Details
We recommend printing your car rental details. Having them accessible upon arrival will save you from getting a headache in the process. It will also help ensure a straightforward rental process, which will be much appreciated after a long flight with kids in tow.
Accommodation Details and Directions
Likewise, make sure your hotel details or home rental address are handy upon arrival. This will aid in a speedy arrival, especially if traveling by Uber or taxi, and check-in. You will also want to make sure you keep the address accessible throughout the vacation for car services, directions from your rental car, etc.
Train or Bus Schedule
Many ski resorts offer a train or bus from the airport or a meeting point between the airport and resort. Have this timetable handy to ensure you make the train or bus you intend to take after your flight.
What to Pack on the Plane
On the plane, you will want to pack a few essentials to keep everyone happy and entertained. Here is what we recommend.
Activities for Kids
Make sure you have a few things on hand for kids to do in flight. Things like new toys, coloring supplies, books, and a tablet or iPad can be very helpful in keeping kids entertained. Also, ensure you have headphones for kids to use for music or screen entertainment.
RELATED ARTICLE: The Best Headphones for Kids of All Ages
Snacks & Water Bottles
Pack snacks and a filled water bottle for your flight too. You can purchase a water bottle at the airport to take on the flight. Some flights have more limited services due to COVID-19, having enough snacks and beverages packed for your family will help keep moods high and tummies fu
What to Pack for Time on the Slopes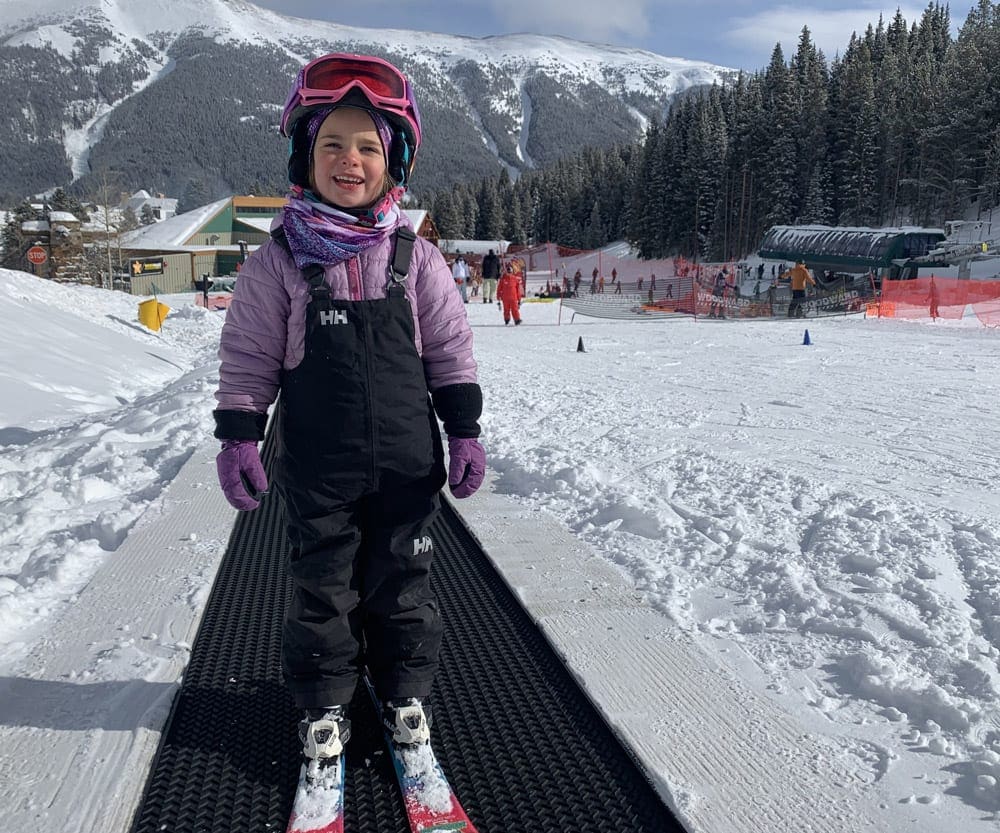 Packing the right ski gear is one of the most important parts of a successful family ski vacation! Whether it's your first time or you want some updated items, here's our favorite ski gear for the ultimate winter trip with kids!
RELATED ARTICLE: Ultimate Guide To Ski Gear For Kids
Pack, Ship, or Rent Ski Boots, Skis, and Pole
Firstly, decide if you want to pack, ship, or rent your ski boots, skis, and poles. If you do not own your equipment, you can rent seasonal skis from where to live, if you plan to ski regularly. If you don't like the idea of hauling your gear, but you want to have it with you, ship your skis to your destination using a service like Ship Skis. It's always a good idea to pack your own boots, even if don't want to carry large skis with you. This way, if there is a delay in shipping, you can still hit the slopes in rented skis, but your own boots.
If this is your first trip of the season, have everyone try on their boots with thick socks to make sure they still fit. If not, grab new ones before you leave or rent them upon arrival. Remember it can be expensive to ship or rent ski equipment, so factor that into your trip budget.
Ski Helmets
Safety is really important when skiing with kids, so a helmet should be a priority on your packing list. Some parents chose to rent directly from a ski shop, while others prefer to purchase and pack their own. With a rental, you run the risk of not knowing previous accidents, damage, or misuse. If you only purchase a few ski items beforehand, make a helmet one of them. Higher-end helmets often include MIPS Protection for extreme movements, like GIRO's Launch MIPS Snow Helmet For Kids. For more helmet recommendations, check this list.
Ski Goggles
You cannot rent ski goggles, so you will need to purchase and pack these in advance of your family ski trip. Ski goggles are essential for blocking the sun, snow, and other winter elements. Some are suited to younger kids, while others are geared toward teens. Young kids will benefit from the anti-fog lens and universal compatibility from affordable models from Scotts Sports and OutdoorMaster, for example. Keep in mind more expensive goggles often have better fog protection than cheaper ones. For additional ski goggle recommendations, check this list.
Best Ski Clothing to Pack for Your Winter Family Vacation
Our ultimate ski and winter trip packing list for families would be incomplete without a mention of ski clothing! Between base layers, gloves, jackets, etc., there's a lot of packing and planning to do before your trip. Keep reading for our advice and suggestions on what to pack! Find all of our recommendations for layers and jackets here.
Base Layers
A successful ski trip with kids requires lots of warm layers! Between thermals and other under layers, these special clothing pieces help generate heat and keep kids toasty on the slopes. In essence, they should wick away any moisture from the skin. Invest in base layers made from merino wool, silk, or a synthetic blend (polyester or nylon). Do not purchase base layers with any cotton in the blend.
Middle Layers & Fleeces
Next is your middle layer. This layer should capture the extra moisture and let it evaporate through your outer layer. Fleece is the best option for middle layers, both on top and for pants. Fleece is very useful for your family ski vacation, particularly in colder climates. Columbia offers options for boys and girls in an assortment of colors. Families can also purchase Lands' End Bonded Fleece Jacket, which has waterproof and anti-pilling technology.
Snowsuits
Snowsuits are great for little kids taking a ski vacation. They come in either a bib style or as overalls. Look for snowsuits that are insulated, wind and waterproof, comfortable, and warm. Often, snowsuits can also accommodate your little ones as they grow. This is fantastic for frequent skiers who plan to use their snowsuit multiple times! Visiting a colder climate? Try the Arctix Kids Snow Suit in an overall style, made from ThermaTech. For babies or small children, Columbia has snowsuits for children with "I-Grow" technology.
Snowpants
Traveling with older kids or teens on your family ski vacation? Pack snow pants instead. This outer layer should be insulated, but breathable, as well as wind and waterproof. Look for snow pants made from flexible materials. Families love brands like Arctix (which has ThermaTech insulation), as well as The North Face, which sells waterproof pants for boys and girls. If you need to stock up before your family ski vacation, you can find other snow pant recommendations on this list.
Ski Jackets
Between shell jackets, insulated models, and three-in-one options, there are many ski jackets for families to choose from. Thicker layers may seem like the best option, but separate layers can offer temperature versatility. Popular ski jackets often come in two types: a singular, thick layer, or complete with an inner fleece and outer shell. We suggest lightweight options by Columbia for either boys or girls, which are waterproof and designed to last. Puffer jackets offer a nice alternative. If you can't decide between a shell or an insulated jacket, opt for a three-in-one, which combines a shell outer covering with insulation for maximum warmth. Liners range from thin fleece to warmer synthetic wool and can be worn separately. If you're traveling to a colder climate, pack an insulated jacket, made from durable materials and including a fleece lining.
Ski Gloves
Depending on how cold it is where you're visiting, you can decide to pack lightweight, finger-style gloves, warmer mittens, or even heated gloves. Finger-style gloves are ideal for families traveling to moderate ski climates. With a "snow seal" to keep your child's hands insulated, Hestra sells a wonderful wind and waterproof choice. Need gloves that can fit portable warmers? Try some from N'Ice Caps' or Burton, which has a hand warmer pocket, waterproof lining, and two layers of fabric. Keep in mind that mittens are usually warmer.
Ski Socks
Which ski socks you pack depends on your type of winter vacation. Families who plan to be on the slopes a lot may need a pair of high-performance socks. ​​They're made to withstand exercise, extreme temperatures, and sweat, plus they're snug and feature moisture-wicking materials. Pure Compression sells a great pair made from a blend of merino wool and polypropylene, while Burton also offers a more lightweight option. Wool socks are generally the best option, as they are a bit thicker and made from merino or thermal wool.
Ski Balaclavas
Balaclavas are a must for skiing with children, especially in colder climates. Usually made from merino wool, fleece, or spandex, they're also hygienic if you're renting a helmet. Unlike fleece or wool balaclavas, magnetic balaclavas are better at preventing condensation. Pack one of these options from Seirus Innovation or North 45 so your kids can easily take them off. Keep in mind some resorts are banning these due to COVID-19. Need something even lighter for a warmer climate? Try a synthetic balaclava made from nylon, polyester, and spandex.
RELATED ARTICLE: Ultimate Guide To Ski Gear For Kids
Additional Accessories for Your Family Ski Vacation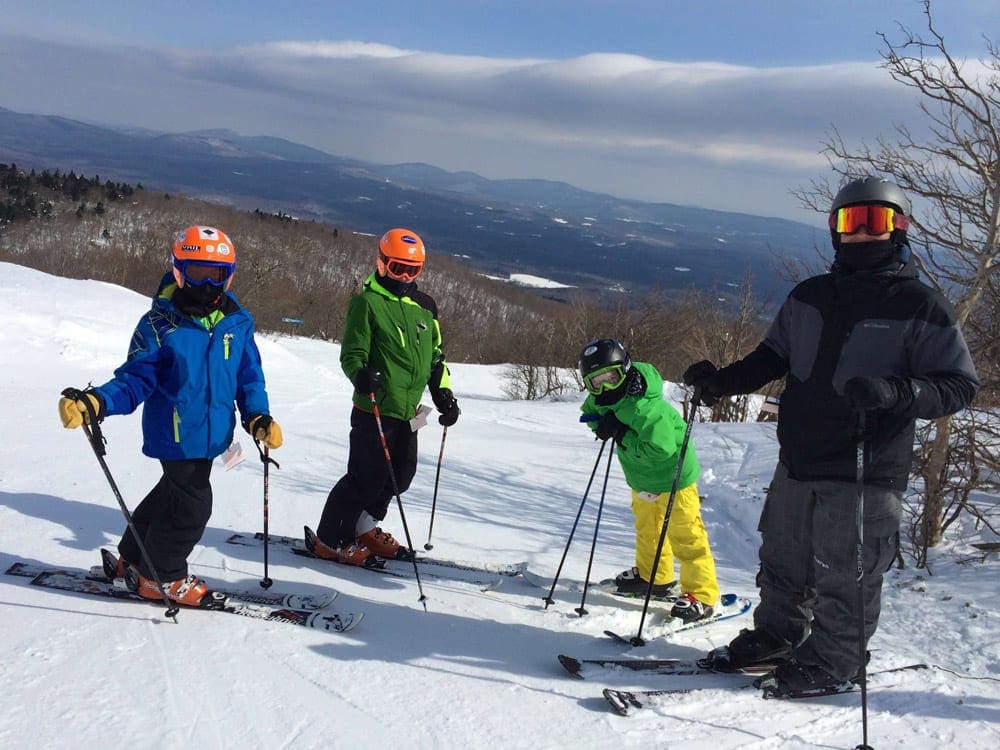 Some items on our ultimate ski and winter trip packing list for families aren't absolutely necessary, but still provide a whole lot of convenience! Between boot bags, ski harnesses, and more, these are some optional suggestions on our ultimate ski/winter trip packing list for families!
Gear to Teach Kids Yourself
Instead of enrolling kids in a ski camp, a lot of parents who are experienced skiers like to invest in gear to teach kids themselves. For younger kids who can't control their speed or stop properly, it'll be super helpful to let them ski in front of you. Kids between two and four can use a harness with buckles for a firm grip. We love these options by LaunchPad and Lucky Bums, with removable leashes in case they want their independence. For skiers older than five, try the Edgie Wedgie. This easy-to-use clip attaches to the end of children's skis to keep them together!
RELATED ARTICLE: Tips for Skiing with Kids for the First Time
Boot Bags & Ski Bags
A boot bag isn't entirely necessary for your family ski vacation, but it could be helpful to store all your items. Transpack sells a fantastic Edge Jr. Boot Bag with adjustable shoulder straps and inside ventilation. It easily fits a helmet and a pair of boots, depending on the size of both. We recommend you to buy one that has wheels and padding, making it easier for kids to carry themselves. We recommend ski or snowboard roller bags that are large enough to hold all of your snowboard clothing AND equipment into one. For more boot bag recommendations, check this list.
Multi-Purpose Warmers For Hands, Body, and Toes
Enjoy long days in the snow without getting cold thanks to hand, body, and toe warmers. These air-activated, ready-to-use models can supply heat for up to eight hours, so they're great for sticking in shoes, gloves, and other spots to keep cozy. Buy multi-purpose packs of versatile warmers from Tundras, Hot Hand, or Warmzy. WORLD BIO also sells a pair of Disposable Insole Foot Warmers, which are available in kids' sizes. Warmers are a wonderful alternative to more expensive electric gloves, socks, or other warming options. Plus, they're portable and TSA-approved, so they're ideal for traveling!
Glove Clips
Never lose your gloves thanks to these handy glove clips! Whether you want to attach them to snow pants, snowsuits, or jackets, these durable contraptions often come in metal or stainless steel. Senker sells a six-piece set of glove clips with plastic teeth, created for babies or young children. Resinta glove clips include an adjustable band to adapt to your children, and they're cute too. They can be used to secure pacifiers or bedsheets too, so they're definitely useful to have on a family vacation!
Skin Protection
Regardless of age or experience, everyone on the slopes needs a few items to ensure exposed skin is protected. Dermatone offers wind protection for your skin. Then, everyone also needs sunscreen applied regularly. You can get sunburn as easily on the slopes as you can at the beach. Sun glare can be strong on the slopes, even on overcast or cloudy days. A regular SPF 30 or 50 will do the trick, but we also suggest bringing along some mountain-specific sunscreen. Finally, make sure everyone has their own chapstick with SPF protection in their pockets. For more skin protection recommendations, including brands and styles, check this list.
Items to Maximize Convenience on the Slopes
There are a few more items you may want to consider packing to maximize your time on the slopes. Each day, make sure everyone has their ski passes and lift tickets accessible. This will ensure there are no hold-ups when you're ready to ski. For families with young children, adding walkie-talkies with long ranges can ensure communication between groups. Finally, everyone should also carry their own tissues, snacks, and water bottle. Tissues are particularly helpful on windy days or while you're riding the lift.
Clothes to Pack for Off the Slopes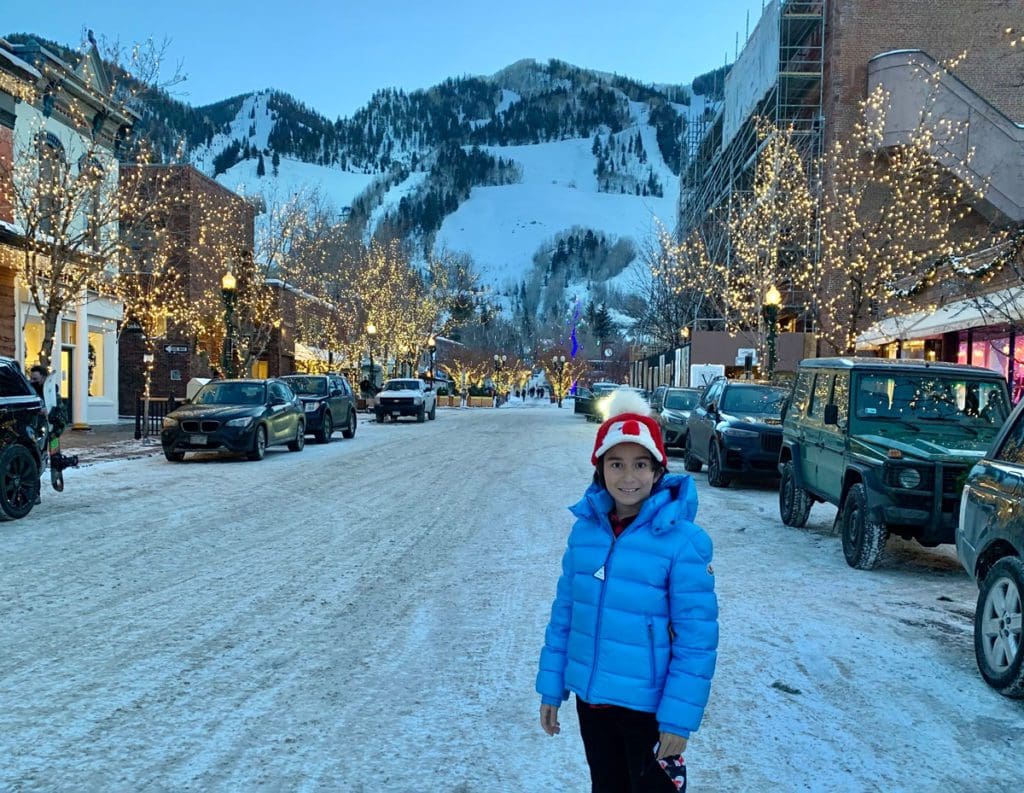 Off the slopes, there are a few items of clothing to pack to ensure a successful family ski vacation. Here is a list of what we recommend having for your accommodations, exploring town, etc.
Outdoor Ware You Will Need for Off the Slopes
You may want to consider having separate outdoor gear for in town than what you wear while skiing. Temperatures can vary on-mountain verses in town. Packing an additional warm jacket or pants will ensure you are prepared for varying temperatures and needs. Additionally, you will want a pair of waterproof snow boots for exploring life off the slopes. This will make it easier to walk in the snow, as well as embark on a winter hike. Finally, pack a warm hat, gloves, and a scarf for exploring in town or to use for other outdoor activities on your winter vacation with kids.
Additional Clothes to Pack
On-mountain or off, it is still winter! Make sure everyone in your family is outfitted with the proper clothing needed for a winter family vacation. In addition to the outerwear mentioned above, you will also want to have an ample supply of fleece or wool sweaters and fleece pants. Thin to moderate wool socks are also recommended for your accommodations or while exploring the town. Don't forget to pack the proper amount of sleepwear and undergarments too! To stay warm throughout your winter trip with kids, avoid cotton, too-tight jeans, and tennis shoes. Finally, you may also want a smart casual or dressy outfit for a nice family dinner too.
Flip Flops & Swimwear
If your hotel, chalet, or accommodations has a hot tub, sauna, pool, or jacuzzi, pack flip flops and swimwear too. You'll have to get to the pool somehow, and you won't want kids stomping down there in big winter boots. A hot tub feels so good after a long day on the slopes, so don't miss out on soaking sore muscles or letting kids splash about before bed. If your accommodations don't provide robes or towels, make sure to pack those too.
Best Toiletries to Pack for Your Ski Vacation
Don't forget to bring along your family's toiletries during your ski vacation! While your hotel or accommodation may have some of these things on hand, you'll want to make sure they have what you need or pack your own.
Getting Ready for the Day
Make sure everyone has what they need to get ready for the day. This may include items like deodorant, make-up, hairbrushes, and supplies. Those with long hair will want to decide how they plan to style it with helmets and other ski gear in mind. That may mean packing additional hair ties or other items. As mentioned earlier, sunscreen and wind protection, are a must in your suitcase for a family ski vacation.
Bath Time & Bed Time Routines
Families will need to pack shampoo and conditioner, soap, and any other typical bath time supplies they use. Then, lotion and chapstick are particularly important to pack, as dry skin happens easily while skiing. Toothbrushes and toothpaste are easy to forget. Make sure everyone has theirs in the bag before you leave the house.
Other Supplies You May Need
Finally, don't forget to pack all of your medication and a basic first aid kit, including over-the-counter medication you may need. If someone in your family wears glasses, you may also want to consider if contact lenses are a better fit for skiing. If you are traveling abroad, talk to your medical provider about the prescription medication you plan to take to ensure you are allowed to bring it in the country, as well as having enough on hand for the duration of the trip and your return. Scissors, tweezers, and nail clippers may also be helpful on your family ski trip. If you experience any issues on your family ski vacation, you'll be thankful you packed these items from our Ultimate Ski Trip Packing List For Families This Winter!
Miscellaneous Items to Consider
Finally, there are a few other things to pack to ensure a successful winter family vacation on our Ultimate Ski Trip Packing List For Families This Winter. Don't forget to grab these items on the way out the door!
You will need your cell phone and charger. Remember that cold temperatures make batteries die faster. As such, it is prudent to pack an on-the-go charger or spare battery source.
Then, don't forget your camera or GoPro to capture family memories! If you're traveling abroad, you will need an adapter or converter for your electronic devices.
Pack some playing cards or a game on hand for cozy nights together.
Happy Travels!
We hope you liked the suggestions on our Ultimate Ski Trip Packing List For Families This Winter! Whether you're still searching for your perfect winter destination or want some last-minute packing tips, the advice on our list will be a great resource for your family. Enjoy skiing in a winter wonderland with your children!
*This post may contain affiliate links that may earn us a small commission, at no additional cost to you. Affiliate links in no way inform the hotels, sights, products, or other recommendations included in our articles. All opinions and recommendations expressed here are compiled from submissions submitted by the generous members of our Families Who Love To Travel community.
READ NEXT: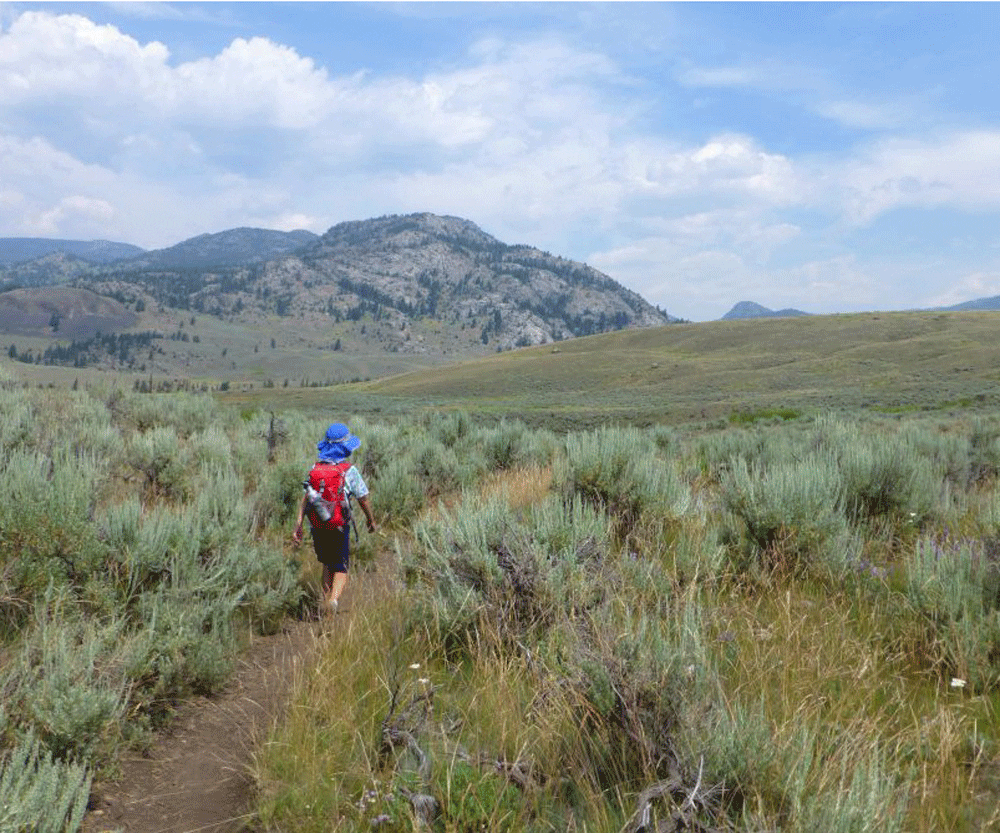 Everyone knows that Yellowstone National Park makes for a classic family vacation. Strolling the boardwalks...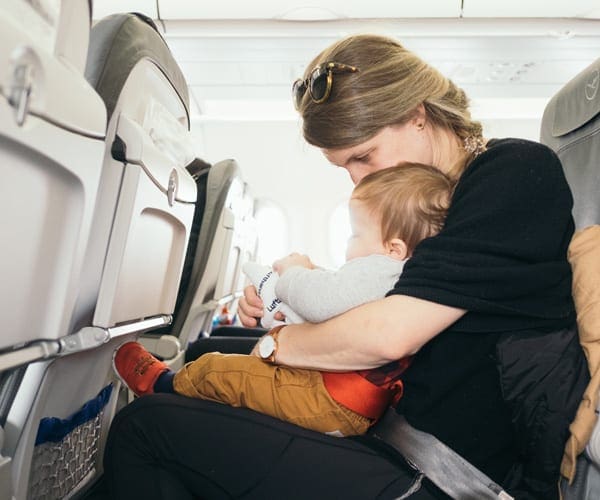 Families Who Love To Travel contributor Meghan Oaks provides her 10 best tips for your...