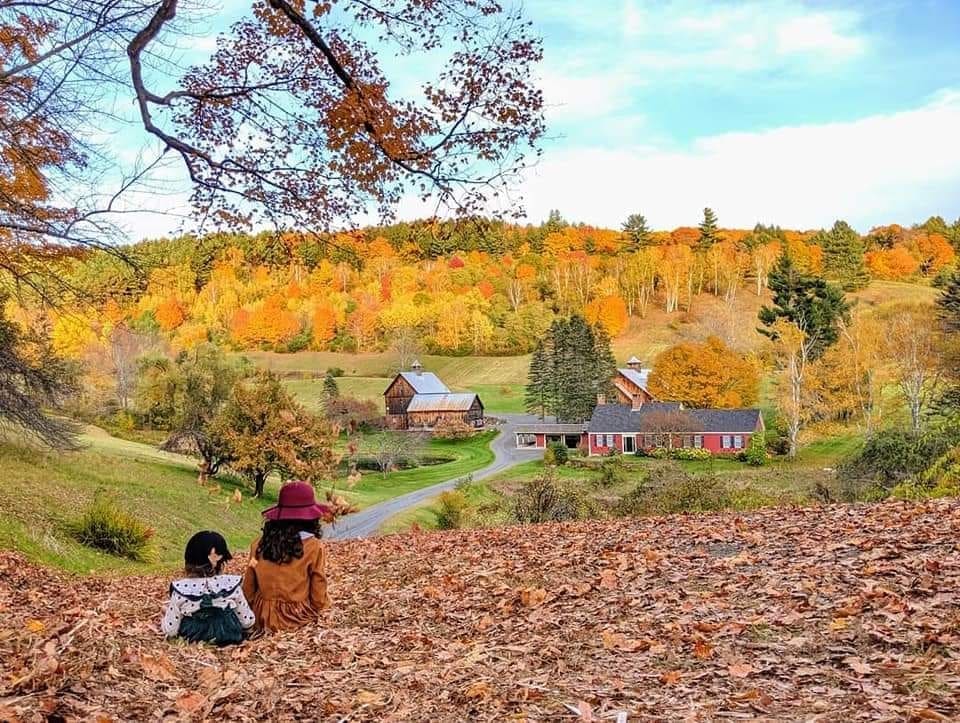 Vermont is a no-brainer if you want a stunning fall foliage vacation for families. From the state's famous Route 100 to gondola rides in Stowe, hiking through Woodstock, and more family-friendly activities, you'll find so many things to do in New England in the fall with kids here from late September to mid-October. Go hiking, mountain biking, or simply curl up with a hot cider or other fall beverage as you enjoy an amazing view. Since Vermont is home to so many cute towns, there are plenty of other activities to keep kids entertained and happy. In this article, we've included some things to do, as well as places to stay if you're planning a trip to Vermont to see the fall foliage and need suggestions for families. Keep reading to learn more!
Why is Fall in Vermont a Special Time of Year for Families?
As the leaves change color and the days get shorter, Vermonters know that fall is in the air. This is a special time of year for families to spend time together, as the leaves turn every shade of red, orange, and yellow, and the air is crisp and cool. Vermont is also full of scenic roads that wind through the mountains, and visitors flock to see the leaves at their peak. If you're looking for family-friendly fun, Vermont has you covered too. Small towns feature adorable shops, cafes, and farmers' markets that are perfect for a day out with the kids.
Vermont in the Fall: A Guide to the Best Foliage, Fun, and Food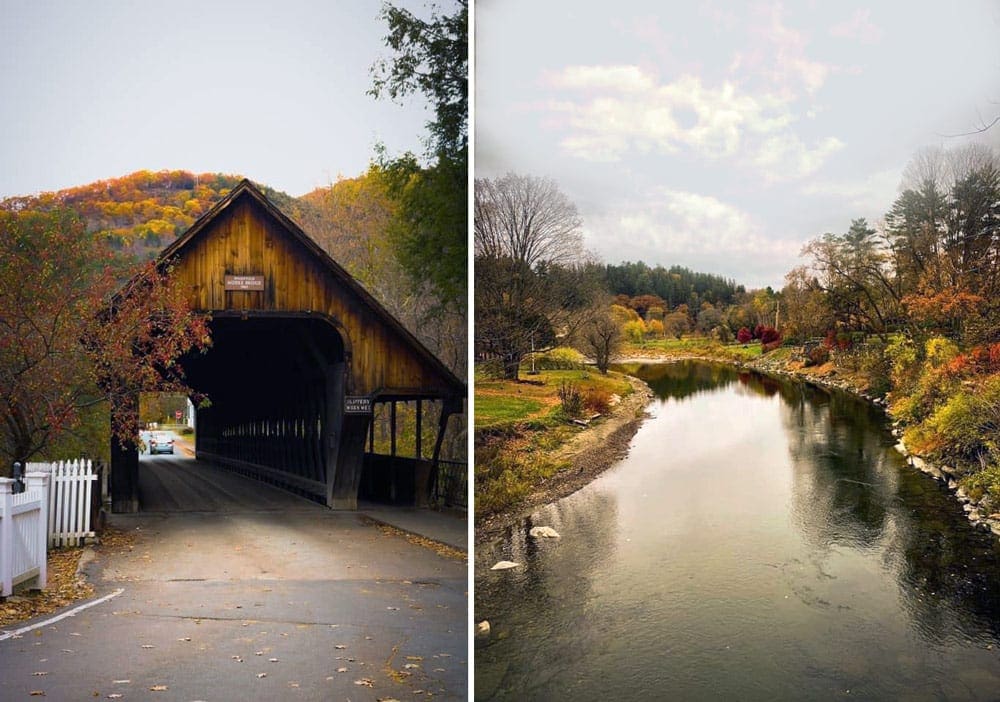 There's no better place to enjoy the fall foliage than in Vermont. The best way to enjoy this beautiful season is by spending time outdoors with your family. Luckily, Vermont has no shortage of activities to keep you and your kids busy during the fall! Vermont's landscape is a feast for the senses in the fall as maple, oak, and birch trees fill the hills. Vermont also offers forested mountains, picturesque lakes, and sugar maples that are so distinctive, that they're the state tree. And, of course, no trip to Vermont in the fall would be complete without a visit to one of our many apple orchards. There's nothing quite like picking your apples and enjoying a warm cider donut on a chilly autumn day.
All of this combined creates a rich spectacle that has lured tourists to the Green Mountain State for over 200 years! In this article, we'll explore some of the best Vermont destinations to take a vacation for families, as well as some fun things to do with your kids in the autumn. Whether you're looking for a scenic drive or an afternoon of apple picking, we've got you covered!
Tips to Prepare for Your Trip to Vermont with Kids this Fall
If you're planning a trip to see Vermont's fall foliage, there are a few things you should keep in mind.
First, make sure to pack comfortable clothes and shoes. You'll be doing a lot of walking, so you'll want to be cozy. It can also get chilly in Vermont during the fall, so bring a jacket or sweater along just in case.
Second, plan your route in advance. There are many scenic routes through Vermont, so take some time to research which one you want to take. Remember that the leaves will be at their peak colors in early to mid-October, so plan your trip accordingly.
If you keep these things in mind, you will have a wonderful time on your trip to see Vermont's fall foliage with your family!
What to Pack for Your Trip to Vermont with Kids this Fall
When packing for your trip to see Vermont's beautiful fall foliage, there are a few things you should keep in mind.
First, the weather can be unpredictable, so it's important to pack clothing you can layer. A light jacket or sweater is a good idea. You'll also want comfortable shoes for walking, as you'll probably be doing a lot of that.
Secondly, don't forget to pack your camera! The sights you'll see are definitely worth capturing. A tripod can also be helpful if you want to take long exposure shots of the leaves.
Finally, remember to pack any other essentials you might need, like sunscreen and insect repellent. Fall foliage can be enjoyed while being prepared for anything!
The Best Places to See Fall Foliage in Vermont with Kids
There are plenty of great places to see the leaves change color in Vermont, from the charming town of Stowe to Killington, Brattleboro, Lake Champlain, and more. On this list, we've put together some Vermont fall foliage vacations, each of which is perfect for families. So what are you waiting for? Pack your bags and head to Vermont for a fall vacation you'll never forget!
Killington
See some of the best fall foliage in Vermont for families in Killington! This central Vermont town is located within the state's Green Mountains and offers stunning views during autumn. If you're coming from the north, drive down through the Sherburne Pass. This enchanting highway loops between the picturesque Green Mountains and Pico Peak.
Hikers and mountain bikers will love exploring Killington through endless kid-friendly trails too! Thundering Brook Fall Trail, part of the larger Appalachian Trail, is an easy hike for any age and has a breathtaking waterfall. On the top of Killington Peak, Killington Ski Resort showcases awe-inspiring views thanks to its K-1 Gondola. At the top, appreciate the colorful panoramas, grab food and drink at the lodge, or take kids to the Adventure Center. What better way to see the fall foliage than on a fun alpine slide or zip-lining adventure?
For fresh fall produce, visit nearby Reading to wander around and savor autumn activities at Jenne Farm, the most photographed place in the entire state!
Search Expedia for a hotel room near Killington here!
Brattleboro
Brattleboro may be a little off the beaten path, but it's still worth the trip! This small town near the New Hampshire border is home to some of the most dramatic autumn colors you'll ever see. In the historic downtown, families can browse Main Street, which is lined with shops and businesses selling seasonal fall items.
From downtown, families can also access a variety of hikes in and around Brattleboro. Try the 2.5-mile Black Mountain Trail or the longer, 7.5-mile West River Trail. (Though you don't have to hike the whole thing, it's a peaceful stroll along the riverfront.) Families can also go biking on the same path or take a less active approach to see the fall foliage. The Molly Stark Byway also passes through Brattleboro and offers incredible views of the iridescent autumn leaves!
Pro Tip: Even though Brattleboro, Vermont, is one of the best fall foliage vacations for families, there aren't many hidden gems and it's rather small. If you venture too far off the beaten path, you may be disappointed in the lack of autumn foliage.
Stowe
Without a doubt, Stowe is one of the most vibrant Vermont towns to take a fall foliage vacation for families! Located in northern Vermont, with Mount Mansfield as its backdrop, it offers the ideal mixture of relaxation and recreation. Visit the Stowe Mountain Resort to experience its epic Gondola Skyride, where you can see the beautiful foliage surrounding Mount Mansfield.
Or, visit Lodge at Spruce Peak to enjoy a birds-eye view from one of the longest tree-top courses in the United States. You could even take a hot air balloon ride! Or, rent a bike and head to Stowe Recreation Path. This five-mile trail flaunts pretty pedestrian bridges, swimming holes, and magnificent views of Mount Mansfield. Smuggler's Notch is another popular byway for families, separating Mount Mansfield from Spruce Peak and the Sterling Range.
Feeling hungry after all that adventuring? Grab a tasty pizza at PieCasso, where the gourmet pies are a work of art within themselves!
Where to Stay in Stowe with Kids
If you're looking for somewhere to stay in Stowe with kids, we have some suggestions. Families love the Trapp Family Lodge, an Alpine-style resort with an indoor pool for kids. Smugglers' Notch Resort is another fantastic option because of its sprawling property. It also has scenic trails and an abundance of kid-friendly activities. Other kid-friendly hotels include Topnotch Resort and Stoweflake Mountain Resort & Spa.
Stratton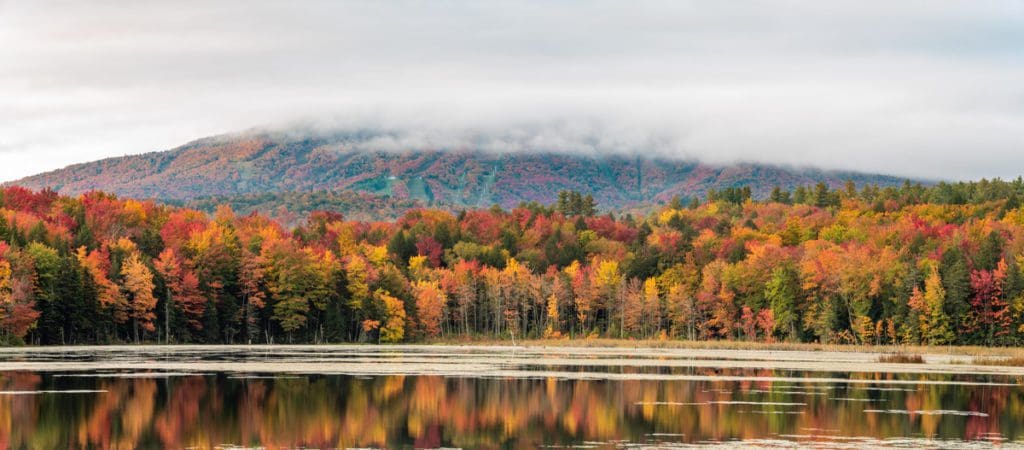 Outdoor adventurers flock to Stratton during the fall season! This cozy town in southern Vermont is renowned for its family-friendly recreation, no matter the time of year. However, it's no secret some of the best spots in town are best enjoyed in the autumn!
For an amazing landscape view, visit Stratton Mountain Resort to ride the scenic gondola. Kids will be in awe as you travel up to Vermont's highest peak and see the foliage over four different states! Other ways to see the beauty of Stratton include hiking, kayaking, or an ATV tour. Trek the Lower Mountain Loop along Old Log Road for an easy one-mile trail. Or, take history lovers along the lovely Fire Tower Trail to encounter the crossing of the historic Long and Appalachian Trails. Finally, you'll be rewarded for your climb with a tower boasting panoramic views over Stratton!
Book a homestay near Stratton here through Vrbo!
Woodstock
Woodstock is certainly a top choice in Vermont for a fall foliage vacation for families. Located in central Vermont, it boasts an idyllic ambiance and an array of family-friendly activities, making it a popular vacation spot in New England. Before arriving, stop at the Marsh-Billings-Rockefeller National Historical Park. History buffs can explore billionaire Frederick Billing's preserved mansion and gardens, while little kids enjoy nearby Billings Farm. Take a tour to learn more about its animal population, explore via a wagon ride, and even listen to a story!
Then, check out Woodstock's Main Street, which has a chalkboard listing all the local town events. Families can also explore Central and Elm Streets to roam through small boutiques and other novelty shops. Don't forget to take a family photo on the rustic wooden bridge!
For a panoramic view overlooking Woodstock, look no further than The Pogue and Mount Tom Trail at Mount Tom State Park. This 4.2-mile trail luxuriously loops around Woodstock's neighboring mountains and warm-water lake. Families who want an indoor experience can also visit the Montshire Museum of Science in nearby Norwich and grab lunch at the famous King Arthur Baking Company afterward!
Where to Stay in Woodstock with Kids
Need somewhere to stay in Woodstock? Book your stay at the family-friendly Woodstock Inn & Resort to make the most of your vacation in Vermont! It showcases indoor and outdoor pools, spacious accommodations, and tons of activities to take advantage of the season. What could be better as you explore one of the best places in Vermont to take a perfect fall foliage vacation for families?
Burlington
Another Vermont town perfect for a fall foliage vacation for families is Burlington. Located on Lake Champlain's shimmering shoreline, this adorable town showcases a bustling downtown, historical museums, and lots to do as a family in the autumn.
Most families visit during the fall season for one reason alone: The Burlington Greenway. Also known as the Island Line Trail, this flat, relatively easy bike trail spans almost eight miles from the city center to the Colchester Causeway. It also has a run/walk path for you to treasure the autumn hues! Along the way, stop to splash your feet in Lake Champlain's chilly waters. Or, if hiking or biking isn't your thing, take a scenic drive around Mount Philo. This breathtaking peak is accessible due to its striking auto road. Then, visit the famous Ben and Jerry's on Church Street for delicious ice cream!
Click here to learn more about the Best Places to See Fall Foliage with Kids within 3 Hrs Of NYC for Families!
Warren
Fall foliage in Vermont is unlike any other part of the country, and this is especially true in Warren. Located in the heart of Vermont's dramatic Green Mountains, the town is surrounded by beautiful forests. Here, the changing colors of the trees are a sight to behold, and there are many fantastic places to enjoy fall as a family.
Countless nearby hiking trails, like the 1.1-mile Kingsbury Reservoir Loop, are easy enough for kids. Warren is also located near the Green Mountain National Forest. Families can also take advantage of the hiking trails there, like the 4.6-mile Blueberry Hill Loop. If you're looking for something a little less strenuous, Warren also has several charming shops and boutiques that will have you drooling over their autumnal wares. There are also many restaurants and inns in Warren that offer fall dining with stunning views of the foliage.
Bennington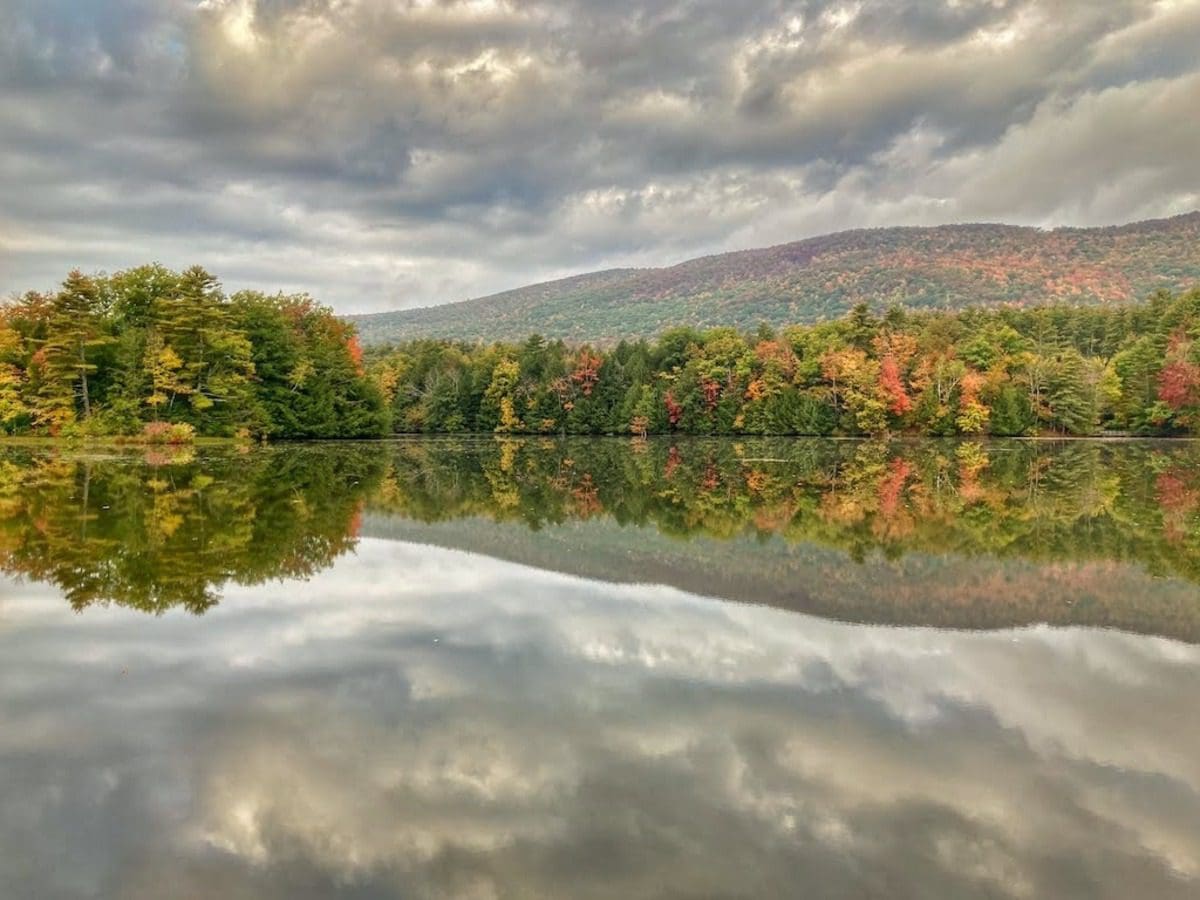 There's no better place to see all of Vermont's beautiful fall colors than in Bennington! This small town in the Green Mountains has miles of winding roads through fields, forests, and valleys. Alongside being a beautiful place to drive, Bennington is also great for kids to visit.
There are plenty of places to see the colors firsthand, such as The Blueberry House, featuring a large garden to pick your own berries. Bennington also showcases part of The Appalachian Trail for families to hike. Reach Harmon Hill in about 1.5 miles, passing through scenic meadows with great views. If a walk isn't your thing, there are also some great playgrounds, restaurants, and antique shops in Bennington. For a little taste of history, take a walking tour of Old Town Bennington, a historic village with preserved architectural wonders and a fascinating past.
When you're hungry, Bennington is also home to some fantastic historic diners, like Blue Benn Diner!
Need to book a room near Bennington? Look here on Hotels.com!
Manchester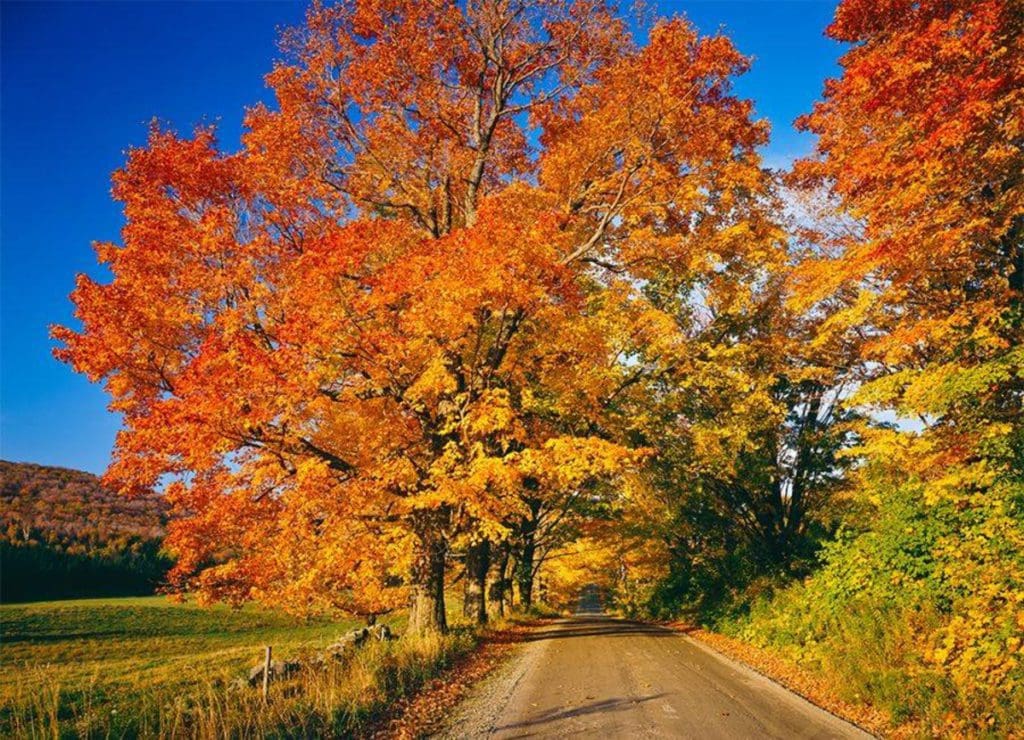 If you're looking to capture the brilliant blushing of autumn in Vermont, there's no better place than Manchester! This charming town is located in the Green Mountains and is surrounded by rolling hills and lush forests. It also provides plenty of trails and walking paths to take in the gorgeous autumn views as a family!
Walk along the Manchester Riverwalk as it winds through the heart of downtown. Open till late October, remember to look out for seasonal fall fruit at the Manchester Farmers Market every Thursday. If you want to continue exploring the city center, take the kids to Northshire Bookstore or grab a fancy meal at The Silver Fork. Or, walk up Bonnet Street to Dana Thompson Memorial Park, which also features a skateboarding park for all ages. You can also hike or bike the park's one-mile loop for a fun adventure – you can even take the extra 2 miles north along the historic Old Marble Rail trail.
Another great hiking destination near Manchester is Bromley Adventure Park, where kids can hike the trails or ride the thrilling alpine slide. Hildene, The Lincoln Family Home, a historical home turned museum, also has beautiful gardens, hiking trails, and a goat farm that kids will love. Manchester is also home to several kid-friendly events and festivals throughout the fall. Finally, there is plenty of places to go pumpkin picking, apple picking, and corn mazes in our area to celebrate the season.
Where to Stay in Manchester with Kids
There are plenty of places to stay in Manchester with kids. One family favorite is the Equinox Golf Resort & Spa. With a gorgeous location on an 18th-century property, it features amenities like an indoor pool, a spa, and even a golf course.
Shelburne
Shelburne is one of the most picturesque towns in Vermont, and during fall foliage season, it's a particularly magnificent place to visit. This charming town is located just minutes from the Canadian border in northern Vermont, making it an ideal spot for a family weekend getaway.
Shelburne and its surrounding forests are filled with charming Victorian homes that offer plenty of photo ops. You can also check out several local farms to purchase fresh produce and baked goods, like Shelburne Farms. Miles of walking trails provide panoramas of the forests, fields, and Lake Champlain. Kids will love the Children's Farmyard! Shelburne Bay Park is a wonderful place to go hiking with kids on the easy, 2.5-mile Shelburne Bay Loop! Families can also explore Shelburne's Main Street, visit the Flying Pig Bookstore, or check out the cool artifacts at the Shelburne Museum.
Shelburne also has dozens of events throughout the fall season to keep families entertained, like harvest festivals or pumpkin carving events.
The Tyler Place Family Resort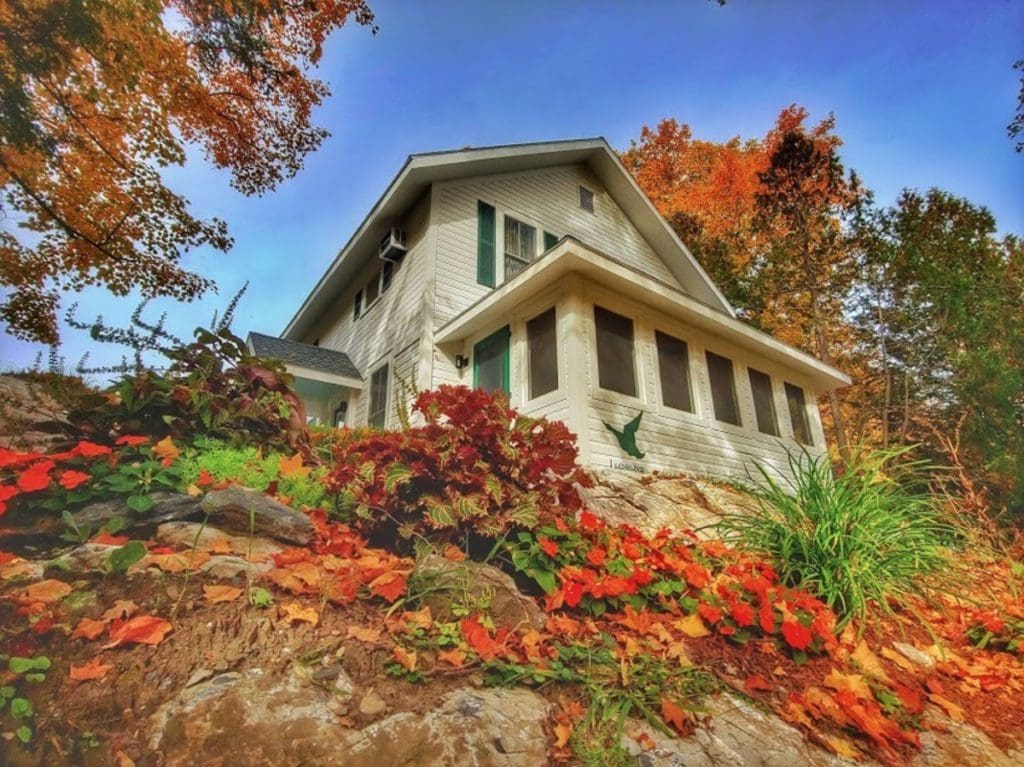 Families searching for an all-inclusive hotel option in Vermont will love The Tyler Place Family Resort. Situated on the shores of Lake Champlain, this all-season resort offers a variety of activities throughout the year. However, its location within Vermont's most gorgeous meadows and woodlands makes it especially stunning in the fall!
Go hiking or biking to see the amazing landscape or take a specialized fall foliage boat tour on nearby Lake Champlain. There are lots of kid-friendly amenities at the resort too, including an indoor heated swimming pool. Occasionally, there are Family Afternoons, with activities such as carnival games, live music, and more. You can also take a family farm tour or enjoy indoor activities such as arts & crafts classes. When parents want a break to visit the spa, fitness center, or nearby golf courses, kids' programming is available for various age groups. 
In terms of accommodations, families can choose between cozy cottages with multiple bedrooms and suites of varying sizes, most of which include a king bed and bunk beds for kids.
Smugglers' Notch Resort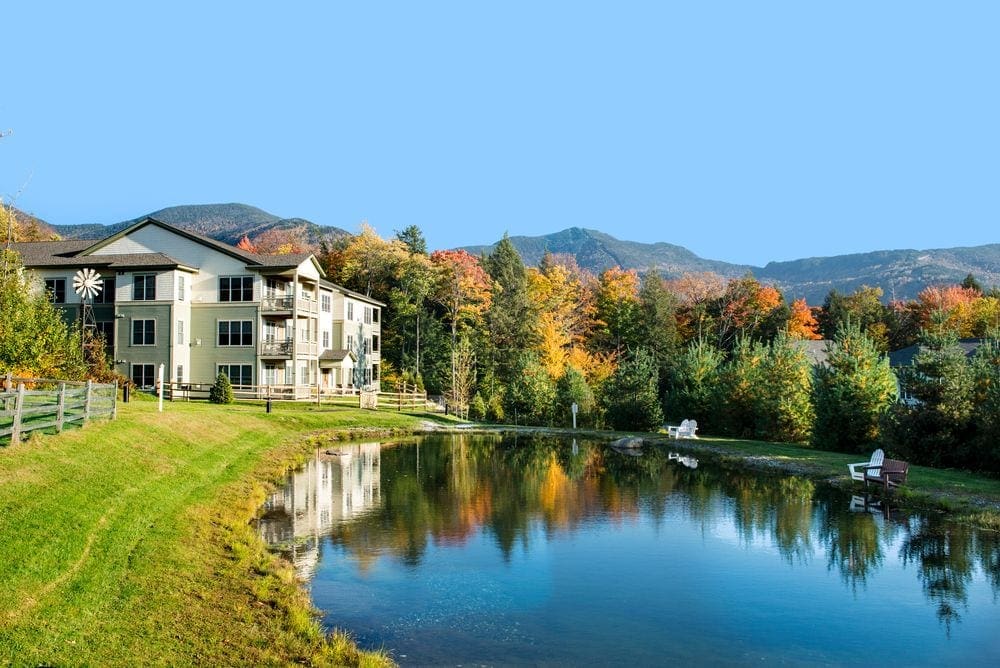 Traveling to Smugglers' Notch Resort in the fall is a must-do for kids and parents alike! Nestled in Vermont's Green Mountains, this kid-friendly hotel is surrounded by verdant forests and pristine nature. So, not only will you get to see some of the most beautiful fall foliage in Vermont, but you'll also enjoy some of the resort's activities too.
Hike one of the trails surrounding the property for incredible views. Or, rent a bike and go cruising through the mountain's dirt paths. Kids will especially love seeing the fall foliage on a thrilling ziplining adventure! The hotel also offers classic backyard games at the Smugglers' Notch Village Recreation Center or the indoor Funzone 2.0 Family Fun Complex. It features ping-pong, mini-golf, and other playground facilities. Plus, there's always something happening at Smugglers' Notch when it comes to fall festivals and family events.
Lodging includes luxury condominiums with en-suite kitchenettes and access to laundry facilities. They're all located in different spots throughout the resort, accessible via a short walk or shuttle ride.
For more suggestions on where to stay in Vermont with kids, check out our list of the 9 Best Vermont Hotels For Families!
Route 100
Hiking is one way to see the fall foliage in Vermont, but why not take a scenic drive too? One of the most famous byways in the state, Route 100, has you covered! Running through Vermont's south-central region, it offers almost 200 miles of beautiful views, from winding country roads to expansive open fields and cascading waterfalls.
Many families take the southern route past Braggs Farm (for fresh produce) or Cold Hollow Cider Mill (for a warm pick-me-up!). The idyllic stretch between Pittsfield and Ludlow features the Green Mountain Sugar House. Children will love sampling tasty treats before hitting the road again! Further south, Mount Snow offers a ride up the summit on a picturesque chairlift. The Skyline Drive, along Mount Equinox, is another incredible option to view the Green, White, and Adirondack Mountains simultaneously.
Want to travel in style for dinnertime? Take the Green Mountain Railroad from Burlington to Chester. At the end of the line, visit Green Mountain National Forest. Here, you'll fully appreciate the elegance of Vermont's changing autumn leaves!
See more beautiful views at one of The Best Fall Foliage Tours by Train, Boat, or Car in the Northeast for Families!
Lake Champlain
A truly astonishing vacation awaits your family on Lake Champlain! The natural beauty of this lake will amaze you with its brilliant hues – from bright yellow to fiery red – as the leaves fall into the water. To see these beautiful colors up close, families can go hiking, biking, horseback riding, or even take a boat ride on the lake.
Lake Champlain is also made up of various islands that families can visit. A little town called Alburgh is a popular option. It's near Alburgh Dunes State Park, which features hikes for all ages and a sandy beach. Though it may be too cold to swim, kids can appreciate the towering sand dunes. Regardless of which Lake Champlain destination you choose, you'll likely see little local farm stands everywhere selling pumpkins, squash, apples, and other seasonal goodies. Pick your own fruit or stop to indulge in a cider donut! 
Fall is a Time for Family and Fun!
We hope this Vermont article on 14 Perfect Fall Foliage Vacations For Families helps you plan an awesome trip to this New England state! From changing, crisp leaves to outdoor adventures and delicious sweet treats, there's no better season to treasure time together as a family. Enjoy Vermont with your kids! 
*This post may contain affiliate links that may earn us a small commission, at no additional cost to you. Affiliate links in no way inform the hotels, sights, products, or other recommendations included in our articles. All opinions and recommendations expressed here are compiled from submissions submitted by the generous members of our Families Who Love To Travel community.
READ MORE: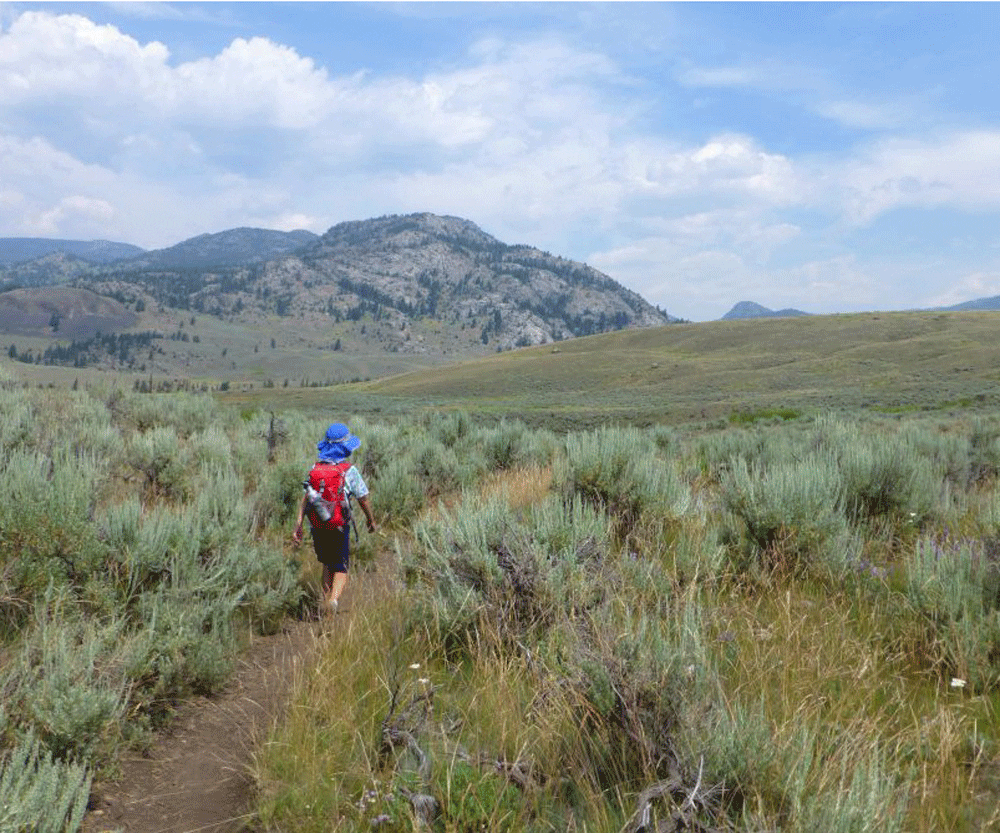 Everyone knows that Yellowstone National Park makes for a classic family vacation. Strolling the boardwalks...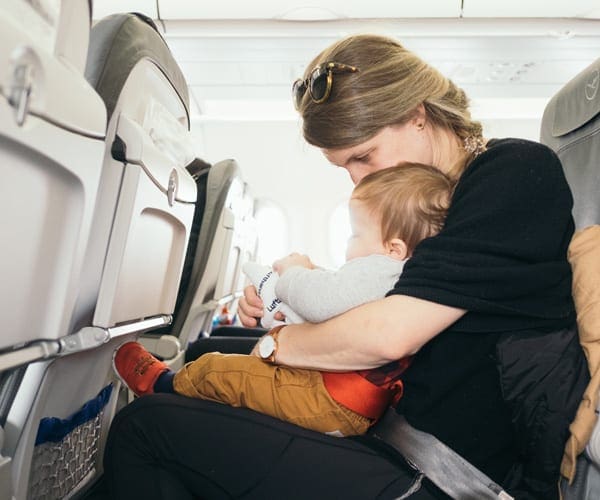 Families Who Love To Travel contributor Meghan Oaks provides her 10 best tips for your...