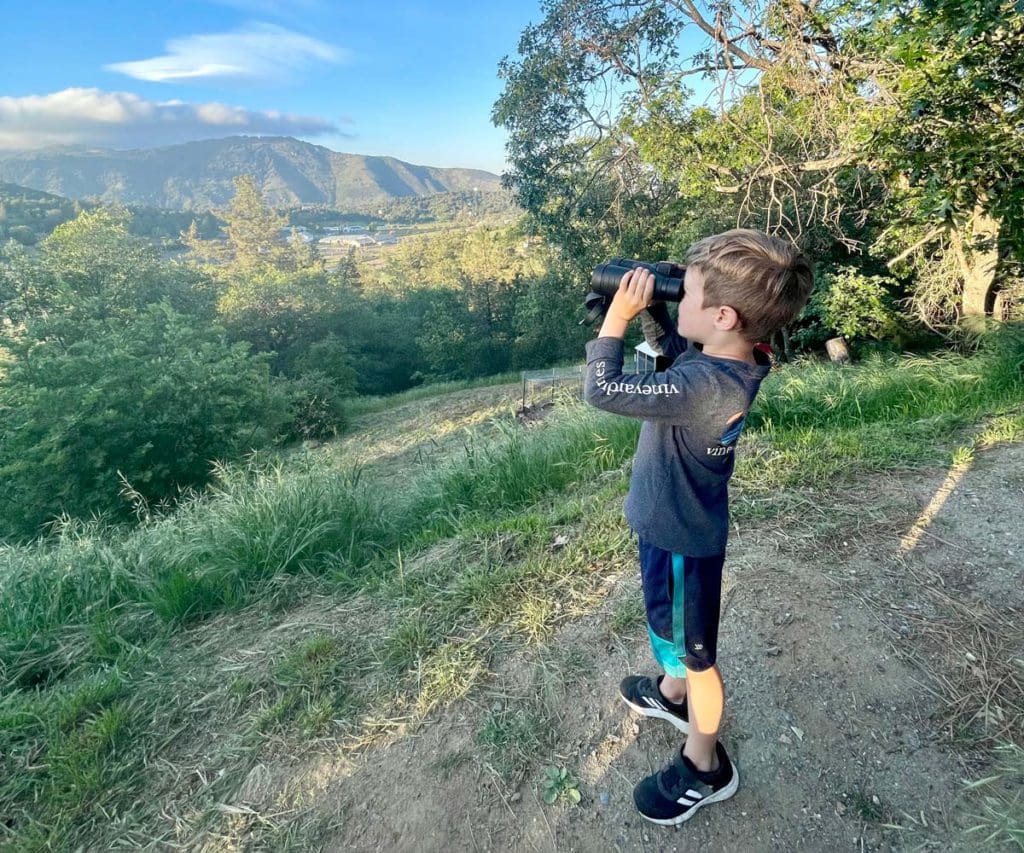 If you are looking for a quaint small-town getaway, visit Julian with kids! From gem-mining to camping, apple-picking and more, this California town offers visitors a charming mountain escape just an hour east of San Diego. Nestled in the beautiful Cuyamaca Mountains, it's the ideal way to escape the city and learn more about this gorgeous part of California. See where gold was discovered, shop idyllic stores on historic Main Street, taste Julian's famous apple pie, and hike and camp amid oaks and pines. So, if you're ready for an adventure, I put together this fantastic list of things to do in Julian with kids, the best season to visit Julian with kids, where to stay, and more information on how to plan a family vacation. Take a breath of fresh mountain air and join me for a Julian getaway!
Best Things to Do in Julian With Kids
If you're searching for things to do in Julian with kids, you won't be disappointed with the offerings! From animal adventures to family-friendly farms, parks, and more, keep reading to start planning your family vacation with these Julian things to do with kids!
Don't miss reading about these 6 Amazing Weekend Getaways Near San Diego For Families!
Learn About Animals at the California Wolf Center
Families with young animal lovers will certainly enjoy California Wolf Center when you visit Julian with kids. You'll need to plan ahead to visit San Diego County's only wolf conservation facility, but it's worth the effort. Learn about guided tours and wolf conservation during this highly educational and unique experience with your kids.
As one of the best things to do in Julian for families, you can choose between three tour options: Public Wolf Conservation and Behavioral Enrichment Tours, Private Tours, and Special Event Tours. Tours are one hour and by appointment. Can't make a tour fit into your schedule? You can also check out Julian Visitor Center and Nature Store for educational exhibits and wildlife-themed gifts.
Then, read: The Best 7-Day San Diego Itinerary with Kids
Search for Gems at Julian Mining Company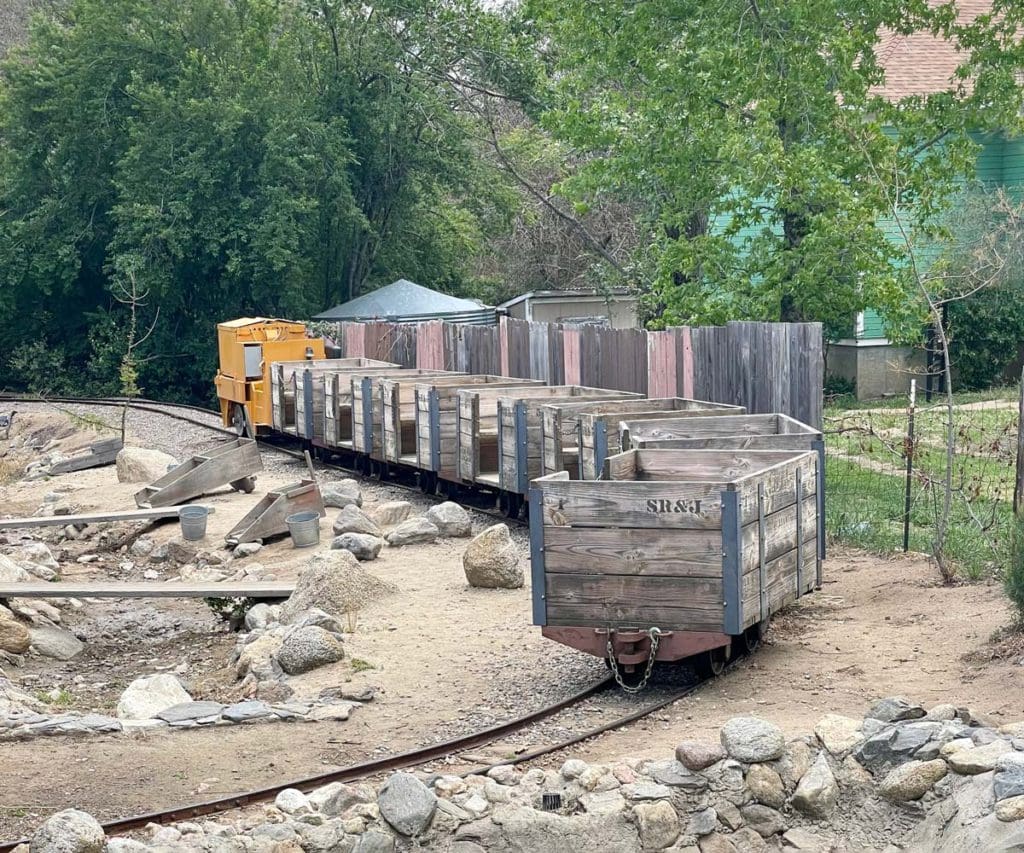 Enjoy a good old-fashioned day of gem mining at Julian Mining Company! At this fun and interactive educational center, kids can look for treasure, learn about life during the Gold Rush, and take about a gazillion fun photos. Our kids got a real kick out of sifting through the gemstone 'sluice' for vibrant, colorful gems! There are lots of other fun activities for kids of all ages, too. The Lil' mine train ride was a fun way for our toddler to see more of the grounds and the general store has a great selection of gifts and souvenirs. When you visit Julian with kids, you definitely don't want to miss this stop!
Book your family-friendly homestay in Julian with Vrbo here!
Enjoy the Great Outdoors at Fort Cross Adventures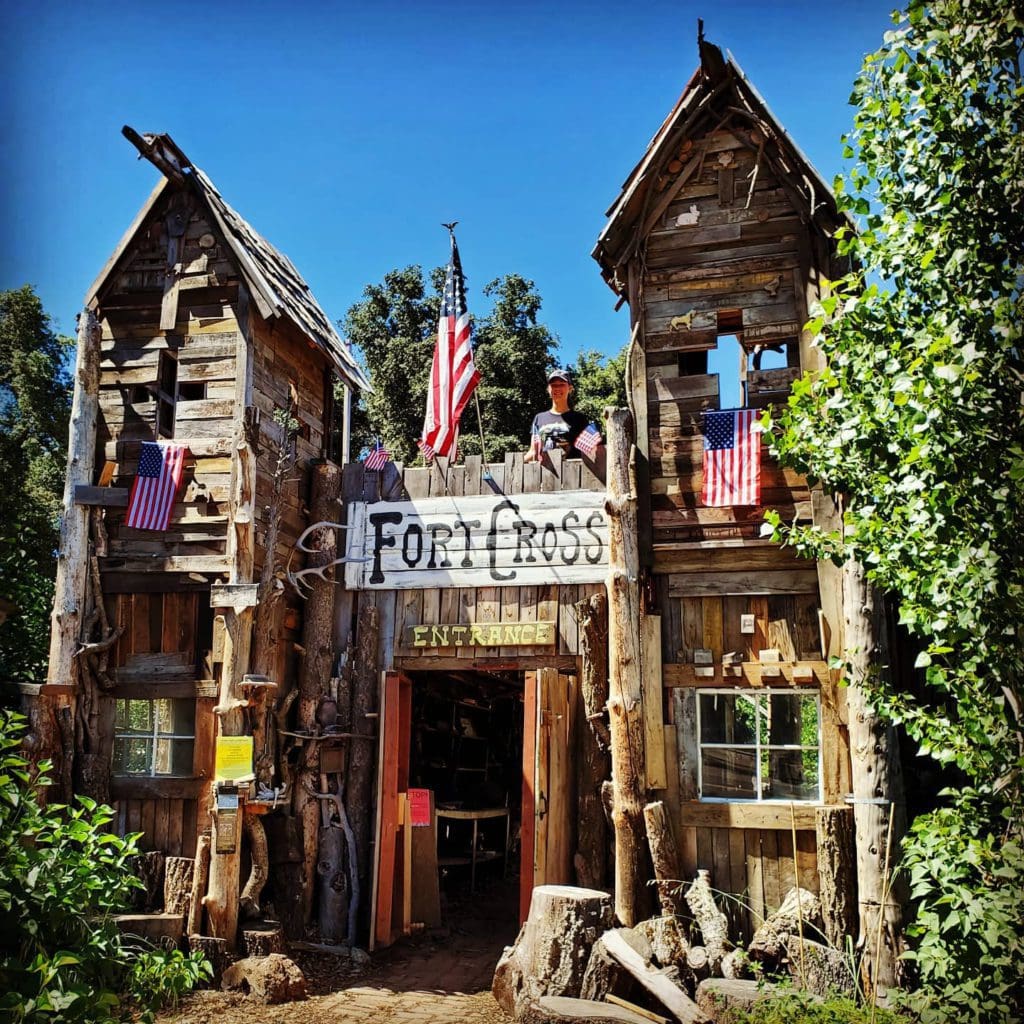 Expect reptiles, archery, and old-timey fun at Fort Cross Adventures! Centered around living history, this family farm features fun, hands-on programs involving music, art, survival skills, and more. On Saturdays and Sundays, kids can enjoy 2-hour guided tours, showcasing activities like archery, tomahawk throwing, a petting zoo, and more fun (reservations are required). Depending on when you visit, families can also experience a plethora of unique events including a Haunted Harvest, seasonal berry picking, and a lilac festival. This makes Fort Cross Adventures one of the best Julian things to do with kids year-round.
For season events, families will love the Autumn Jubilee, happening at the end of September through October weekends. During this event, families will enjoy hayrides, music & dancing, cider pressing, friendly farm animals, reptile interactions, crafts, candle dipping, archery, tomahawk throwing, slingshot gallery, treasure hunt, lilac maze, pumpkin patch, and more! Plus, the Holiday Hayride event happens the Saturday following Thanksgiving every year!
Spend the Afternoon at Julian Farm and Orchard
One of the best things to do in Julian with kids is to visit Julian Farm and Orchard. Located in the mountains of San Diego County, around an hour east of San Diego, this 25-acre farm includes sprawling apple orchards, animals, and unique seasonal adventures the whole family can enjoy. From tractor-pulled hayrides to axe throwing, picnic areas, hammocks, and an abundance of u-pick opportunities, there's something for everyone at Julian Farm and Orchard.
Families who visit Julian with kids in March and April can pick daffodils during. Or, U-Pick strawberries, raspberries, blackberries, and sunflowers during June, July, and August. There are also U-Pick apples and a Pumpkin Patch during September and October. Regardless of when you plan your trip, Julian Farm and Orchard is one of the best things to do in Julian for families.
Visiting San Diego with kids? Check out this Fantastic 1-Day Guide to SeaWorld San Diego with Kids!
Santa Ysabel Nature Center
Tucked into a grove of mature Engelmann oaks, and facing out to rolling grasslands, Santa Ysabel Nature Center showcases the beauty of the area, as well as the vegetation and wildlife that thrive on site. Inside the 6,000-square-foot LEED Gold and Zero Net Energy facility families will find an array of educational displays and interactive exhibits! They provide a great way to learn about the surrounding area together.
Then, a water refilling station and ranger offices are also located in the nature center – perfect stops before or after you explore outside. Outdoors, families have 20 miles of trails to meander, hike, and enjoy together! Additionally, families will find restrooms and a large community room with a kitchen on site. If needed, you can also speak with someone at the staffed information desk. Certainly, Santa Ysabel Nature Center is a perfect spot to take a breath and enjoy Julian in all its glory!
Explore William Heise County Park
Still wondering what to do in Julian with kids? Situated 4,200 feet above sea level in a forest of impressive pines and oaks, William Heise County Park is perfect for a day of exploring with your family. Located a bit south of Julian, this 929-acre park offers camping, scenic hiking, and a cute, themed playground that kids will enjoy. It's also one of the few San Diego County parks to get snowfall each year. We loved exploring the expansive grounds and checking out the cabins.
Visit a Family-Friendly Winery
While visiting wineries isn't typically on the top of our to-do list, Julian is home to several family-friendly wineries. These are perfect for a date night or a quick daytime visit with the kids. Volcan Mountain Winery is located at the base of Volcan Mountain, and about two miles from town. Surrounded by beautiful apple orchards, this enchanting winery is a lovely spot to add to your itinerary and the perfect place for an afternoon picnic.
Then, Blue Door Winery, just off Main Street, is situated in an old livery stable and surrounded by cute little shops. Step through their big blue barn doors and experience a glass of their famous sangria. Certainly, if you're looking for Julian things to do, add one or both to your list!
Escape the city to one of these 6 Amazing Weekend Getaways Near San Diego For Families!
Winter, Spring, Summer, or Fall, Julian Has it All
There's always a reason and a season to visit Julian with kids, and there is no shortage of activities to enjoy throughout the year. For us, and this is a hard one, apple picking in the fall will always be a favorite time to visit! If you're wondering about the best season to take a family vacation to Julian, keep reading to learn more, including some of the best things to do in Julian for families during each season.
Visiting Julian in the Summer with Kids
Although one of the best times to visit Julian with kids, summer is toasty! If you don't mind the warmer temps, the annual Fourth of July parade brings Julian residents, tourists, and parade enthusiasts from all over together to salute America. Summer break is the perfect opportunity to take advantage of cabins, trailer sites, individual tent sites, and camping areas at William Heise County Park and Lake Cuyamaca. Campers will love exploring the expansive grounds rich with wildlife and activity.
Visiting Julian in the Fall with Kids
As summer fades into fall, Julian boasts bountiful apple orchards, pumpkin patches, and an endless array of harvest fun. Plus, where else in Southern California can you marvel at bright, fiery leaves? Do note that a fall visit requires patience and planning and expect some serious crowds in September and October for apple season. With that in mind, nothing makes a better holiday card than a family adorned in their fall best amidst the sprawling apple orchards!
Our personal favorite is Volcan Valley Apple Farm. As one of the best things to do in Julian for families during the fall, there are plenty of exciting activities for all ages. Check their Facebook and Instagram for the latest on U-pick timing as weather and other variables impact when they open each year. As previously mentioned in this article, Julian Farm and Orchard is another great option when you visit Julian with kids during the fall.
Next, read Experience the Best of Fall in California with Kids
Visiting Julian in the Winter + Spring with Kids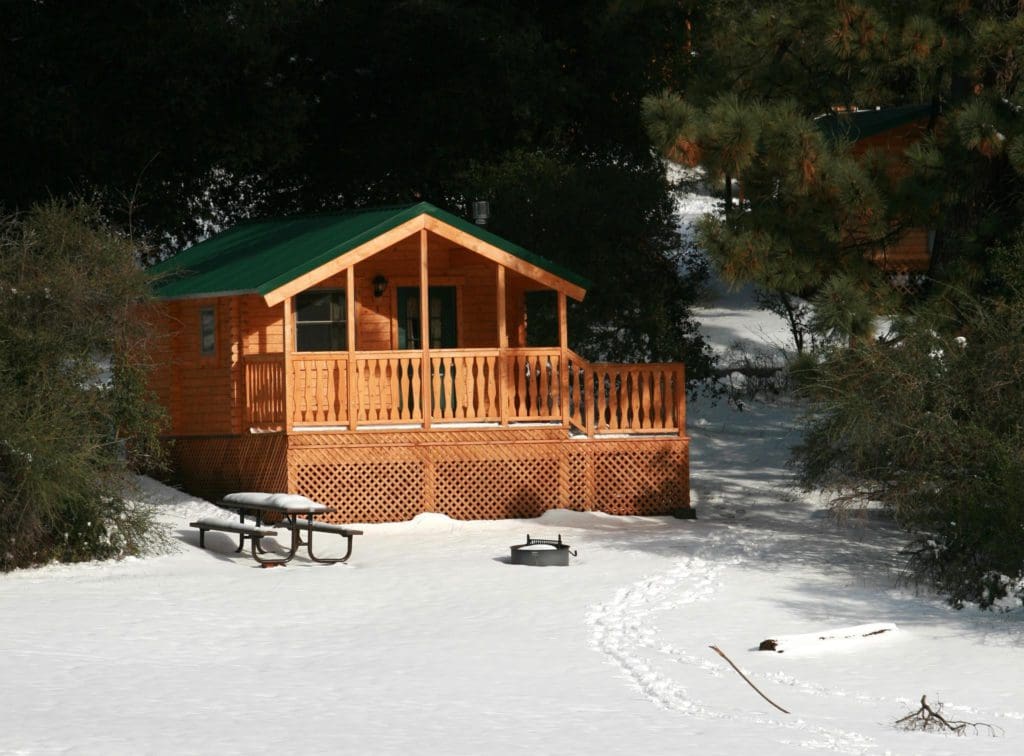 Julian gets most of its snow from January to March. While it may not be widely known as a sledding/snow-play destination, a winter drive through Julian is a great way to experience a somewhat rare Southern California winter wonderland. When looking for winter Julian things to do with kids, over to the town's community parks, such as William Heise County Park or Jess Martin County Park to see snow. Remember that Julian is a quiet mountain town — and largely residential, so be respectful and avoid private property.
Don't miss the Daffodil Show in March. The town hall is transformed into a haven for these stunning flowers! Then, for a few special weeks in April, fragrant lilacs are the stars of spring in Julian. Fort Cross's Lilac Festival and Spring Tours are a great way to enjoy them! In fact, Fort Cross has plenty to see and experience for families, making the lilac season a great time to visit and stay for more old-timey fun. Sips and Taste of Julian, Blues Bash, and the Wildflower Show also take place during the Spring.
Where to Eat in Julian for Families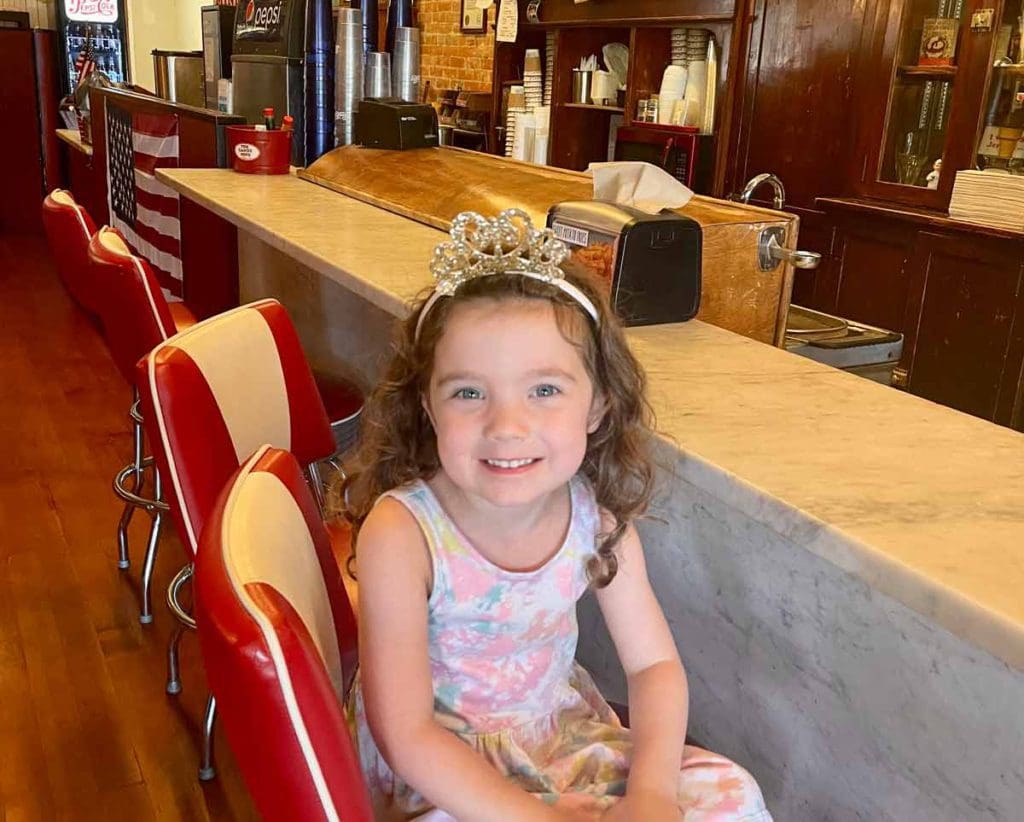 Now that you have explored some of the best things to do in Julian for families, you may be hungry and wondering about food. For a small town, Julian showcases a wide variety of delectable dining options. While reservations aren't widely accepted at some popular spots, most restaurants are located on Main Street, which offers opportunities to shop while you wait.
If you're wondering where to eat in Julian with kids, here are some fantastic family-friendly restaurants! 
Since 1972, Julian Cafe and Bakery has been known as the "home of Julian's famous apple pie." Expect long lines, especially for breakfast, but it is well worth the wait. While the pies are tempting, don't overlook the massive cinnamon rolls and griddle items. It's a must-stop when you visit Julian with kids.
Miners Diner is another great option when planning a family vacation to Julian. From the eclectic collection of signs to the train that circles the restaurant, it offers classic diner fun and an underground secret candy mine modeled after a real mine shaft. Don't miss the hand-mixed milkshakes, malts, ice cream, and specialty sodas!
Jeremy's on the Hill is Julian's premiere fine dining restaurant. Families will love the fresh, seasonal, organic options and kids' menu! Bonus, they take reservations!
Romano's Restaurant has been serving up delicious pies since 1982. It's surely a great, kid-friendly option for families who enjoy pizza. They offer vegetarian and gluten-free options and they deliver!
Julian Beer Co. specializes in handcrafted beers and casual dining, including pizza, BBQ, and small plates. With one of the larger locations on Main Street, there are events, games, and live music. This is a great place to stay, play, and enjoy a leisurely afternoon.
Don't miss the sweets! Stop by one of two Julian Pie Company locations as well as Mom's Pie House for some hot pie a la mode! We're also scary-obsessed with the cinnamon buns and macarons from Regulars Wanted. It's very important to save room for dessert as we have yet to experience a bad one in Julian!
Where to Stay in Julian with Kids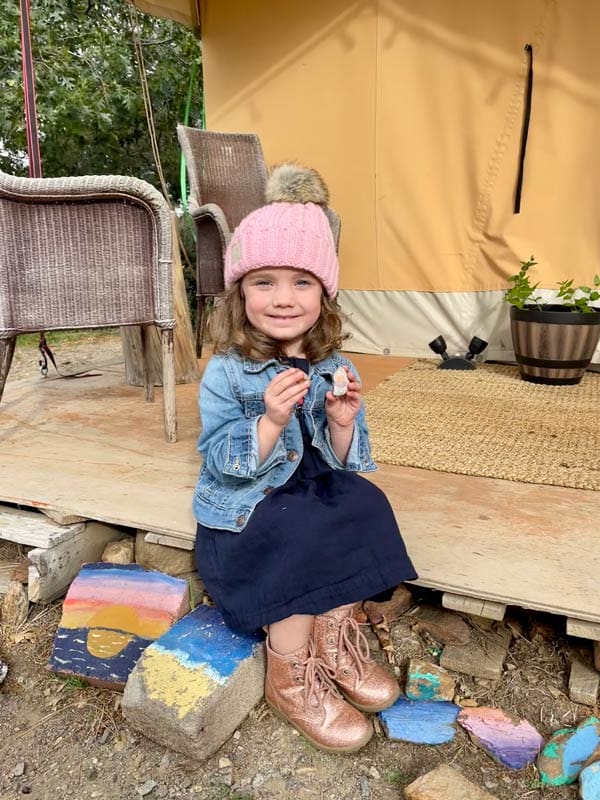 Now that you know what to do in Julian with kids and where to eat, it's time to talk about Julian hotels! Whether you are looking for a historic hotel on Main Street, a hidden cabin, a romantic B&B, or simply a place to pitch your tent, you will surely find it when you visit Julian with kids.
Here are some suggestions on where to stay in Julian with your kids! 
Julian Glamping offers families an off-the-grid camping experience. Here, the hosts are warm, and hospitable, and offer a truly unique adventure right in the heart of Julian and just steps from Main Street. This is a perfect camping adventure for the non-camper (i.e. me). The tent is equipped with real beds, a bathroom, and even a wood-burning stove.
Julian Gold Rush Hotel, a national historic landmark and one of the best Julian hotels for families, is a romantic and charming inn right on Main Street. The inn boasts 16 cute guest rooms and cottages all furnished with unique antiques and a sprinkle of romance. The prime location makes this property an excellent choice for families who appreciate the easy access and walkability.
Lake Cuyamaca offers the perfect backdrop for a family camping trip. At an elevation of 4,600 feet, it's located in an oak and pine forest and offers various cabin rentals and campgrounds. During their stay, families can enjoy fishing, hiking, boating, picnicking, and even some good old-fashioned birdwatching!
Headed to San Diego with kids? Stay at one of the Best Waterfront Hotels in San Diego for Families.
Are You Ready to Visit Julian with Kids?
We hope you liked this article featuring How to Plan a Family Visit to Julian, California with Kids: Things To Do, Restaurants, & More by our contributor Lisa McGuigan, aka Temecula Tots! With so much to do in the area, we know you won't be wondering what to do in Julian with kids for long! Wherever your Julian adventure takes you, we're sure it'll be a blast with your kids. Be sure to follow @temeculatots to discover more family-friendly fun in Julian and beyond!
*Unless otherwise noted, all images within this article belong to and are courtesy of Lisa McGuigan.
*Due to the COVID-19 pandemic, some of the attractions, accommodations, or things to do on this list may be closed. Please ensure availability before making your decision.
*This post may contain affiliate links that may earn us a small commission, at no additional cost to you. Affiliate links in no way inform the hotels, sights, products, or other recommendations included in our articles. All opinions and recommendations expressed here are that of the attributed author, Lisa McGuigan.
READ MORE: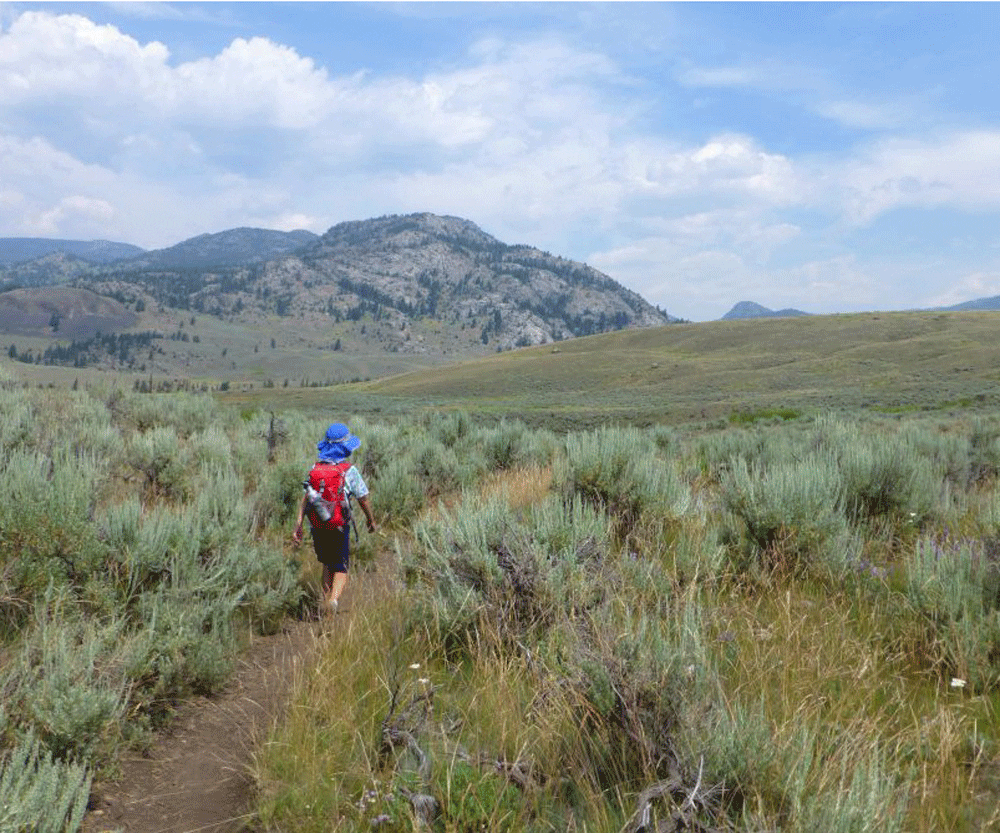 Everyone knows that Yellowstone National Park makes for a classic family vacation. Strolling the boardwalks...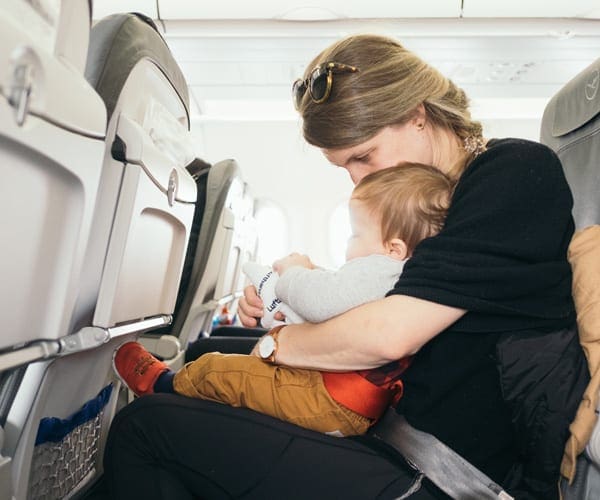 Families Who Love To Travel contributor Meghan Oaks provides her 10 best tips for your...