Parents searching for the perfect Washington, DC field trip itinerary for families with tweens and teens are in the right place! From the Lincoln Memorial to Old Town Alexandria, The United States' capital region features rich history and culture. Of course, this also makes it an extremely popular field trip destination for middle and high school students. But you don't have to wait for your child's school trip to visit Washington, DC and benefit from all the city has to offer. Here, we suggest the perfect DC field trip itinerary with your tweens and teens, as well as additional sights and seasonal activities to enjoy if you're able to extend your stay beyond the typical long weekend. We've even included where to stay in Washington DC with kids, so keep reading to learn more!
Day 1: Learn More about the United States' Early History
One of the best parts about visiting Washington DC as a family is how you can witness early United States history come alive throughout the city. Whether you're venturing to Virginia or staying within DC, here are our picks for a perfect Washington, DC field trip itinerary for families with tweens and teens.
RELATED ARTICLE: 12 Best Hotels in Washington, D.C. for Families
George Washington's Mount Vernon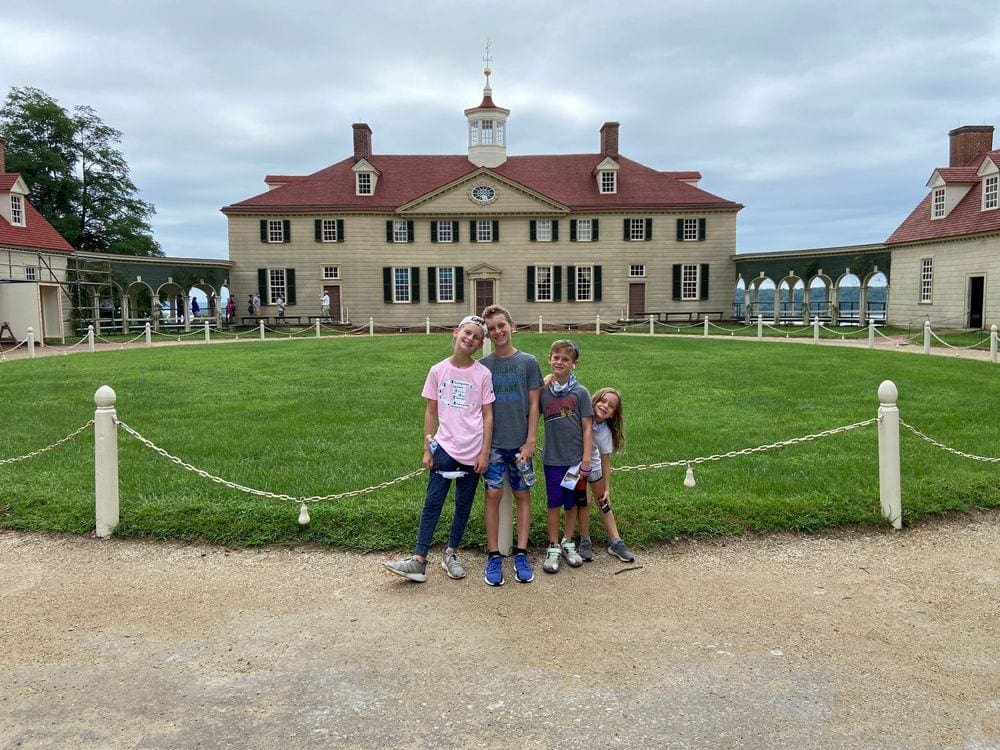 No trip to DC is complete without a visit to Mount Vernon. Located outside of DC in Fairfax County, Virginia, it's the home of the first U.S. president, George Washington. Of course, there's plenty of history for your tweens and teens to take in here! Tour the Mansion or visit George and Martha Washington's tomb to learn more about the property. You can also reflect at the slave memorial and stroll the grounds all the way to the Potomac River. If you want to invest a little more time, check out the daily program to see what specialty tours, character interactions, and classes at the Education Center are on offer.
Search here for a tour of Mount Vernon with Viator!
Old Town Alexandria
Grab a bite to eat in George Washington's adopted hometown – Alexandria, Virginia. With so many options across cuisines and budgets in Old Town, you won't have trouble finding a great meal. For example, check out Blackwall Hitch for waterfront dining. Enjoy French fare like crepes at Fontaine Bistro. Grab some pizza at RedRocks. Or if you don't need a place with a kids' menu, The Majestic will not disappoint. While you're there, check out some key historical sites. Take a self-guided walking tour to George Washington's townhome and the Providence Tall Ship reproduction.
Manassas National Battlefield Park
Round out your day taking in some of the historic Civil War sites around Manassas, Virginia. You can choose to start at Manassas Museum to get a lay of the land. Or, head straight to the battlefield where the first major land battle of the Civil War took place in 1861. There, you can explore the Henry Hill Visitor Center and join a park ranger on a historic walking tour. Or, watch a 45-minute film Manassas: End of Innocence. Are you a Civil Bar buff who wants to make a full day of it? There are local hikes and a driving tour to round out more time in the area!
Day 2: See Where Present-Day History is Made
If your kids want to see less of the past, you can also visit where present-day history is made. DC boasts famous destinations you can visit together like Union Station, the U.S. Capitol Building, and even the White House. All it takes is a little planning, so keep reading for our tips!
RELATED ARTICLE: Best Washington DC Museums For Kids By Age
U.S. Capitol Building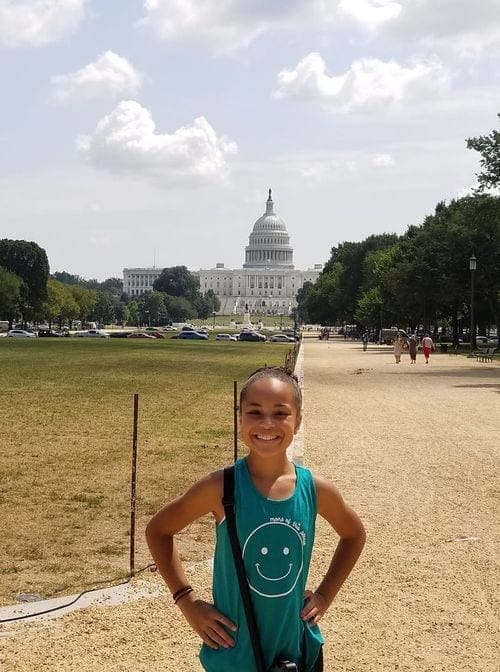 At the U.S. Capitol Building, families can see U.S. history being made; visit the Schedule a Tour page to make reservations up to 90 days in advance to tour the Capitol grounds. A 45-minute, guide-led tour takes visitors to the historic areas of the Capitol including the Crypt, the Rotunda, and Statuary Hall. You'll need separate passes to tour the Senate and House galleries, which can be obtained by asking your Member of Congress.
Book a Bus Tour of Washington DC here with Viator!
Union Station
Did you know Union Station dates back to 1907? Even with all its history, it's still an important place in Washington DC today. So, it's no surprise we've included it within our perfect Washington, DC field trip itinerary for families with tweens and teens! Stroll over to take in the grand main hall and grab something to eat. There are local favorite chains like Cava and Chop't, as well as a food court filled with national favorites. If you can, be sure to pass by the U.S. Supreme Court along the way.
The White House
With enough planning, it is possible to visit the White House. Self-guided tours are generally available Friday and Saturday (excluding federal holidays) on a first-come, first-served basis. Requests can be submitted up to three months (and no less than 21 days) in advance by contacting your Member of Congress. Note that no bags are permitted, and there are no on-site storage facilities. You can also visit the White House Visitor Center to see historical artifacts, photos, and a short film; tickets are not required and the center is open from Wednesday through Saturday with a few exceptions.
Browse Getyourguide.com for tours around the White House.
Day 3: Explore 19th and 20th Century History
Once you've gotten a glimpse at present-day DC history, it's time to travel back to the 19th and 20th-century. From the National Mall to the place where Abraham Lincoln was assassinated, DC truly has so much to take in. Keep reading for a perfect Washington, DC field trip itinerary for families with tweens and teens!
READ MORE: 9 Things To Do in Washington DC with Kids
National Mall Monuments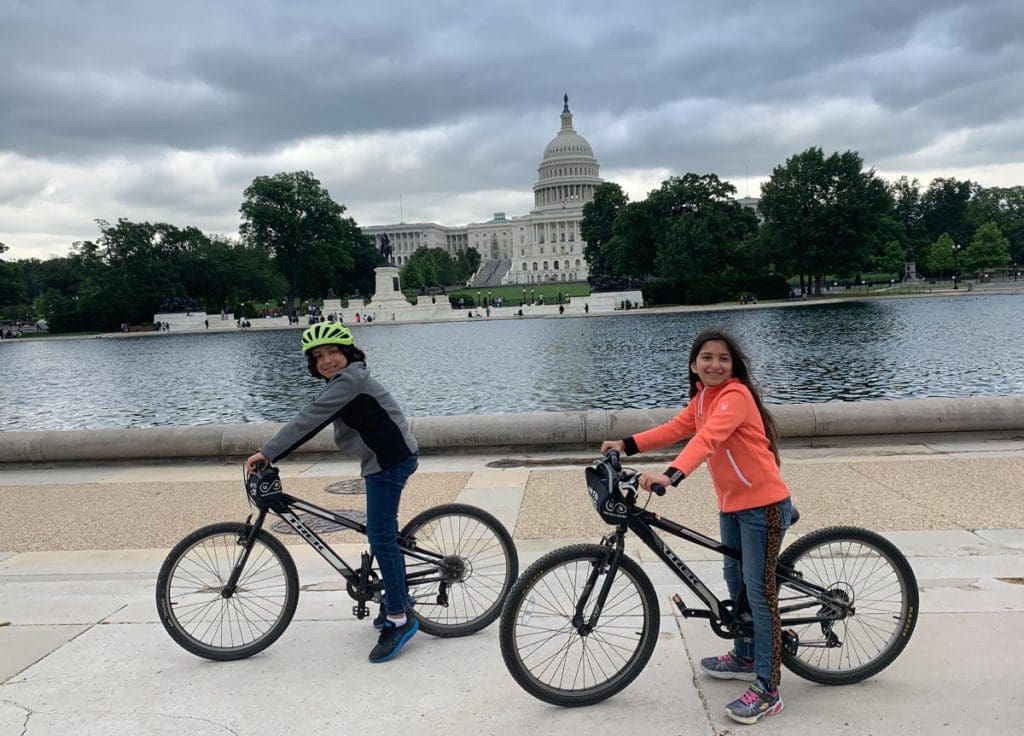 Many of the monuments on the National Mall are located between 17th and 23rd Streets, NW. Wear your walking shoes and stop by memorials honoring some of the most memorable events and individuals from the 19th and 20th centuries. These include the Franklin Delano Roosevelt Memorial, the Martin Luther King Jr. Memorial, the Abraham Lincoln Memorial, the Korean War Memorial, the Vietnam Veterans Memorial, and the World War II Memorial. Be sure to take a photo in front of the iconic Washington Monument, the world's tallest stone monument! If you're able, grab timed tickets to the top and view the Mall from a different perspective.
Reserve your Washington DC: Monuments by Moonlight Nighttime Trolley Tour here through Getyourguide.com!
Ford's Theatre
Learn about Abraham Lincoln's legacy at Ford's Theatre National Historic Site, the site of his assassination. While most known as a live-performance theater, there is also a museum to complement what children may be learning in school about Lincoln's life and role in American history. Families can also take a self-guided tour that offers unique and informative exhibits; they showcase the highlights of President Lincoln's presidency – from his swearing-in until the end of his life. Advance tickets are recommended, and the museum and theater are open daily. Grab lunch nearby at Jaleo, Matchbox, or Zaytinya.
Arlington National Cemetery
Visit hallowed grounds with a trip to Arlington National Cemetery. Located just outside of DC in Virginia, this is the final resting place for select Americans who have served the nation. Families are free to explore the grounds on their own to visit President John F. Kennedy's gravesite, the Tomb of the Unknown Soldier, U.S. Army Gen. John J. Pershing's gravesite, the U.S. Marine Corps War Memorial, and other notable memorials and gravesites. The changing of the guard at the Tomb of the Unknown Soldier occurs every 30 to 60 minutes. Arlington Tours also offers guided tour options. On your way back to your hotel, stop by the U.S. Marine Corps Memorial for great views of the city!
Reserve your Arlington National Cemetery Guided Walking Tour with Changing of the Guards with Tripadvisor here!
Day 4: Take in American Culture from Across Time
There are so many family-friendly museums in Washington, DC for kids of any age. Luckily, a lot of them are located along The National Mall, so you'll be able to hit a few in one day. Here, we suggest a few options to choose from that focus on U.S. history and culture!
National Museum of American History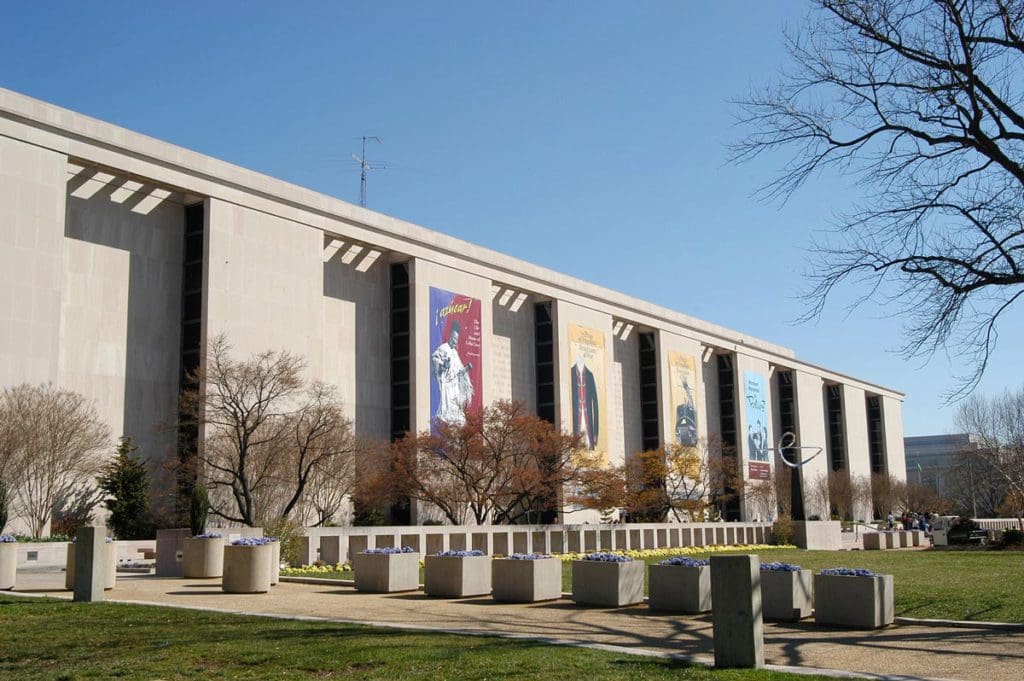 Families looking to infuse some pop culture into their Washington DC itinerary with teens and tweens can head to the Smithsonian National Museum of American History! Flanked by the National Mall, this popular DC museum attracts visitors of all ages, including those partaking in historical field trips. Play president behind the podium, learn about some of the country's greatest inventors, and take in chic gowns worn by America's First Ladies. You can also learn the history of the national anthem and soak in cultural icons like Dorothy's red slippers from The Wizard of Oz. Enhance your visit by tapping into the audio tours on your personal device.
Reserve your Washington DC "See the City" Guided Sightseeing Segway Tour here with Viator!
National Air & Space Museum
The Smithsonian National Air and Space Museum offers many exhibits about U.S. history as it relates to flight; from the Wright Brothers' first airplane adventure to the race to the moon and the exciting evolution of our universe. Families can experience aircraft large and small, interactive exhibits, and even get tickets for a space simulator. The number of aircraft on display varies, but families can benefit from recent renovations and at least eight exhibits on display. Grab some astronaut ice cream from the gift shop, and it makes quite the trip!
National Museum of African American History and Culture
The National Museum of African American History and Culture's exhibits showcase the Civil Rights movement, the diversity of African American communities across the United States, and African Americans' important cultural contributions to U.S. art, literature music, and more. As one of the best family-friendly museums in Washington DC, it gives families hours of compelling content to take in and experience. There's even an exhibit about the making of the museum itself, so kids will find something of interest. Want to prep your kids before you go or give them fun activities to complete? The website has learning resources to enhance your visit. You can enter most Smithsonian Museums for free, though you'll need timed-entry passes to visit this museum.
Book your DC At Dusk Guided Night Tour with Viator here!
National Museum of the American Indian
The Smithsonian National Museum of the American Indian provides families with a deeper look into the culture and lives of those indigenous to the United States. Ideal for tweens or teens, the museum provides a special look at the Algonquian people of the Chesapeake region, and the American Indians local to the mid-Atlantic region, alongside several rotating exhibits. Uncover the philosophies and worldviews, historical events, modern-day life, and historic leaders of American Indian communities. In addition to compelling exhibits, the museum also has a fantastic food court – Mitsitam Café – that highlights relevant cuisines from various U.S. regions.
Look here for alternative things to do and see in Washington DC with Fever Up, such as Van Gogh: The Immersive Experience!
Monuments by Moonlight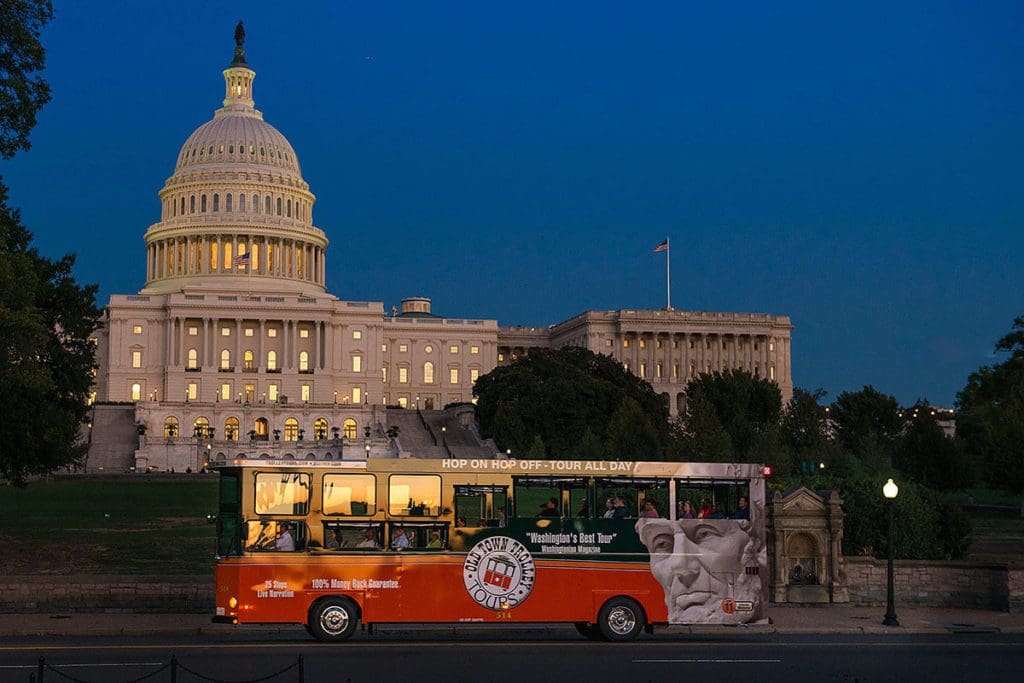 Give your legs a break from all that museum hopping and take a Monuments by Moonlight Night Tour. Lasting around two and a half hours, the journey throughout downtown DC and into Arlington provides an enchanting evening among the city lights. The trolley makes several stops to capture photos and take in the views after dark. Along the way, you'll pass the Iwo Jima Marine Corps Memorial, as well as the FDR, Lincoln, Vietnam Veterans, Korean War, and Martin Luther King, Jr. Memorials. It'll be a fun and educational experience for the entire family! Certainly, this is a fun addition to your Washington DC itinerary with teens and tweens.
RELATED: Amazing DC Field Trip Itinerary For Families With Elementary-Aged 
Seasonal Activities in Washington DC for Families
Customize your Washington, DC trip further with seasonal activities as time permits. If you visit in spring, the National Cherry Blossom Festival offers a street fair, parade, and kite festival while the cherry blossoms are in bloom. Summer brings the Smithsonian Folk Life Festival. From pumpkin patches to scenic hikes, we've also compiled our favorite fall activities in Washington, DC. During the holidays, there are unique offerings like displays at the White House and the U.S. Capitol and surrounding areas including National Harbor. And DC's sports teams offer a fun experience year-round, whether cheering the Washington Nationals, Washington Wizards or Mystics for basketball, the Washington Capitals and D.C. United or Washington Spirit for soccer.
RELATED ARTICLE: The Best Fall Activities Near Washington, D.C. for Families
Where to Stay in Washington DC with Kids
Wondering about the best hotels in DC for families? Kids will love the indoor pool at The Watergate Hotel while parents will appreciate the spa. Meanwhile, The Ritz-Carlton Washington DC offers a special welcome package for little ones, plus fun activities like a scavenger hunt. Families can also stay near famous attractions like The White House or the U.S. Capitol Building by booking a stay at the Hyatt Place Washington DC. Or, venture outside the city center to DuPont Circle and stay at The Darcy for a more contemporary feel. For more information on where to stay in DC with kids, check out our top picks for family-friendly hotels in Washington, DC. Each neighborhood offers something unique for families, with kid-friendly amenities like pools, kitchens, and space to spread out!
Explore District of Columbia Family-Friendly Rentals | Vrbo
Washington DC Interactive Map
Discover the best places to stay, restaurants, and local attractions in Washington DC, with our interactive map. You can filter by what you're looking for, so it's quick and easy to select which area you want to explore.
RELATED: 17 Best Dessert Spots In DC For Families
Enjoy Your DC Field Trip with Kids!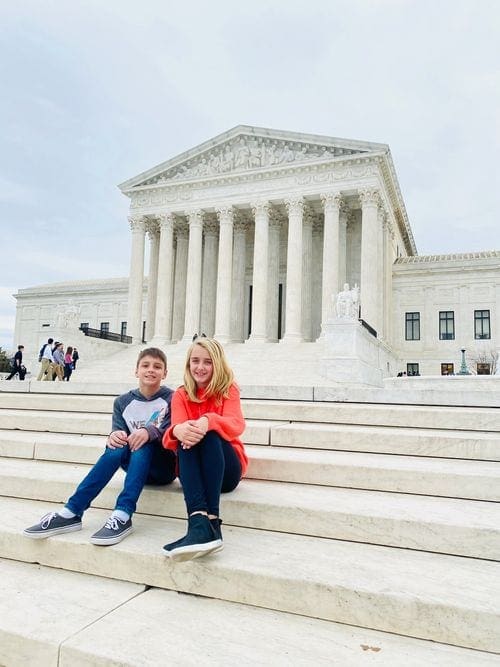 We hope you liked this Exciting Washington, DC Field Trip Itinerary For Families With Tweens and Teens! Whether you're visiting for the first time or want to plan an educational trip, this itinerary will help you to plan an amazing, family-friendly field trip to Washington, DC. Enjoy taking in U.S. history and culture over hundreds of years with your teens and tweens and witnessing history in the making!
*This post may contain affiliate links that may earn us a small commission at no additional cost to you. Affiliate links in no way inform the hotels, sights, products, or other recommendations included in our articles. All opinions and recommendations expressed here are compiled from submissions submitted by the generous members of our Families Who Love To Travel communityOI9 or are that of the atributed writer.
READ MORE: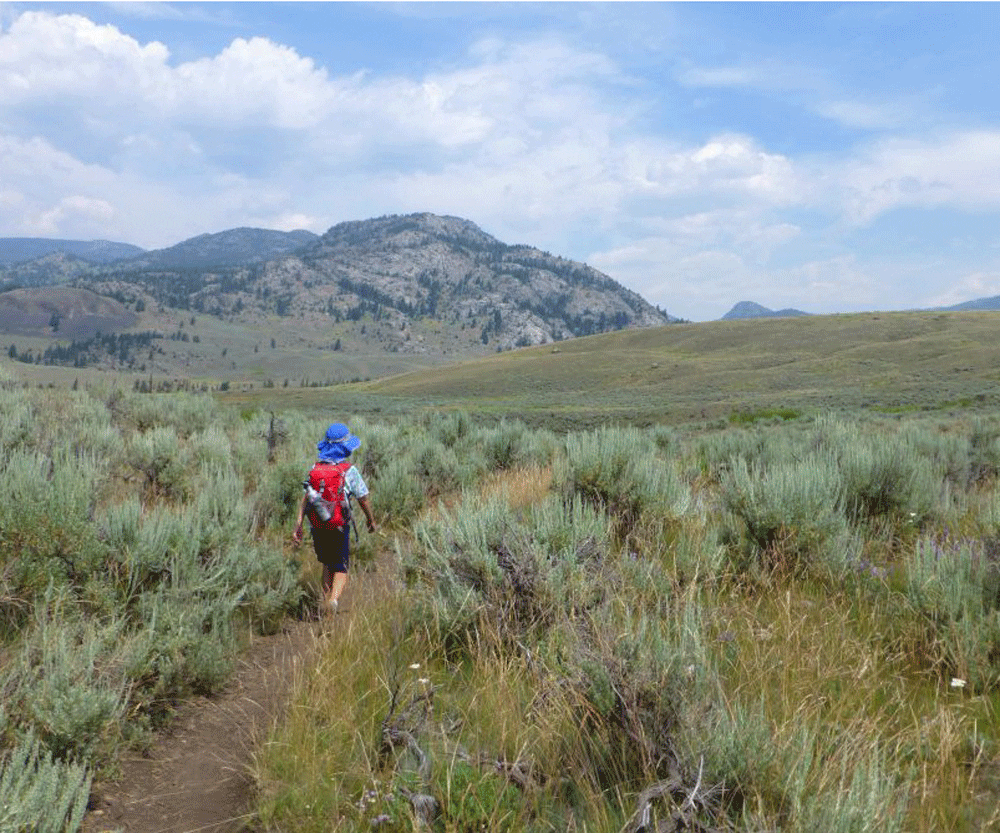 Everyone knows that Yellowstone National Park makes for a classic family vacation. Strolling the boardwalks...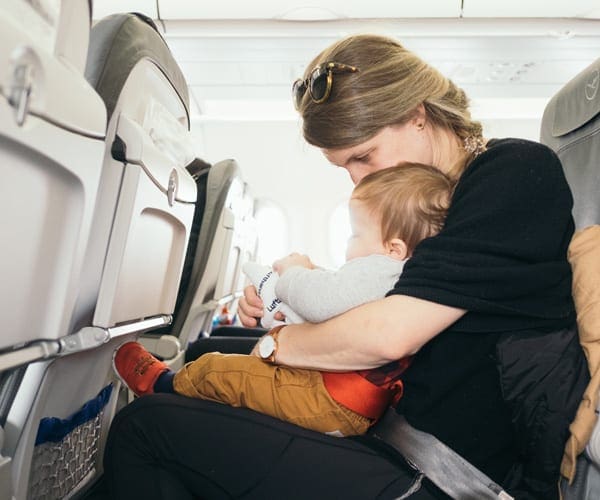 Families Who Love To Travel contributor Meghan Oaks provides her 10 best tips for your...