*This weekend getaway itinerary for families is based on a hosted visit with the City of Pittsfield. All ideas and opinions expressed are that of the writer, Gunjan Prakash. Find additional disclosure information at the bottom of this article.*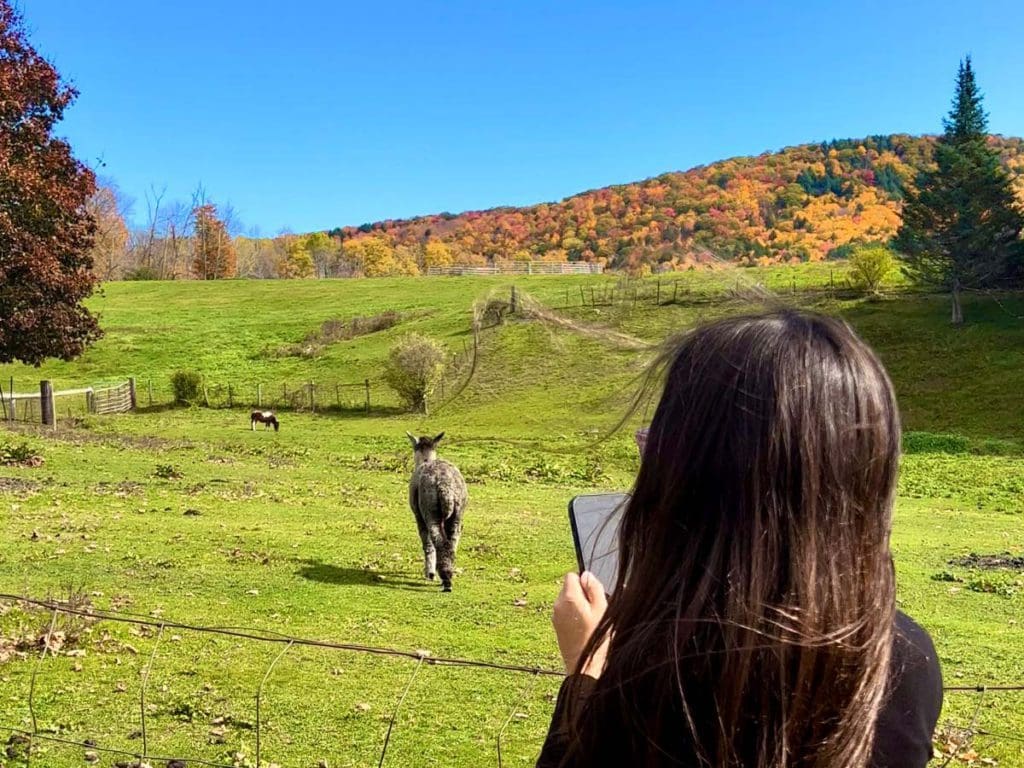 If you're looking for the perfect fall weekend getaway itinerary for families, look no further than Pittsfield, Massachusetts. Nestled in the heart of the Berkshires, Pittsfield is just a few hours from both Boston and New York City. Visit this quaint little town to experience everything autumn has to offer. The crisp autumn air and vibrant fall leaves are just two great perks, plus there are also plenty of things to do in Pittsfield with kids. From hiking through scenic state forests to enjoying delicious local cuisine, it's an unforgettable vacation for everyone! In this article, we'll explore where to go, what to eat, where to stay, and other insider tips so that you can plan your perfect fall getaway to Pittsfield for families. We've also included optional activities, plus winter and summer activities. Keep reading to learn more and plan your perfect weekend getaway itinerary for families to Pittsfield!
Day 1: Hotel Check-In, Explore Downtown, Dinner
Start your perfect weekend getaway for families by checking into one of Pittsfield's many family-friendly hotels. If you're looking for a lovely place to stay that's owned by locals, consider Hotel on North. Located in the heart of downtown Pittsfield on North Street, it's just steps away from all the shopping and dining the city has to offer. Plus, this kid-friendly hotel offers easy access to all of the Berkshires' best attractions. In fact, it's smack dab in the center of the Berkshires, which means you're never more than 30-40 minutes away from everything this diverse region showcases.
Spacious and comfortable, the stylish rooms and suites are also perfect for relaxing after exploring. There are rooms with double beds that are great for families, and some rooms also have a kitchenette and sofa bed.
One plus for kids at Hotel on North is the old-style machinery all over the property, like a paper-cutting machine, which they'll love. They'll also have a blast in the game room with a foosball table, table tennis, and many games. There's also a beautiful atrium you can enjoy playing board games with your family. Plus, the staff is very welcoming, and there are plenty of amenities to make your stay enjoyable! This is by far the nicest boutique hotel in Pittsfield.
Hotel on North is also a great place to stay during winter if you want to ski at the local mountain – or Jiminy Peak, one of the best ski resorts in Massachusetts for families. Hotel on North often gives Jiminy Peak passes in winter that is included with the stay. Be sure to ask before booking or during your stay if this is included. Another option to stay near Pittsfield is the Hilton Garden Inn Lenox.
Vrbo has many lodging options in Pittsfield! Look here for your home stay!
Dinner at District Kitchen & Bar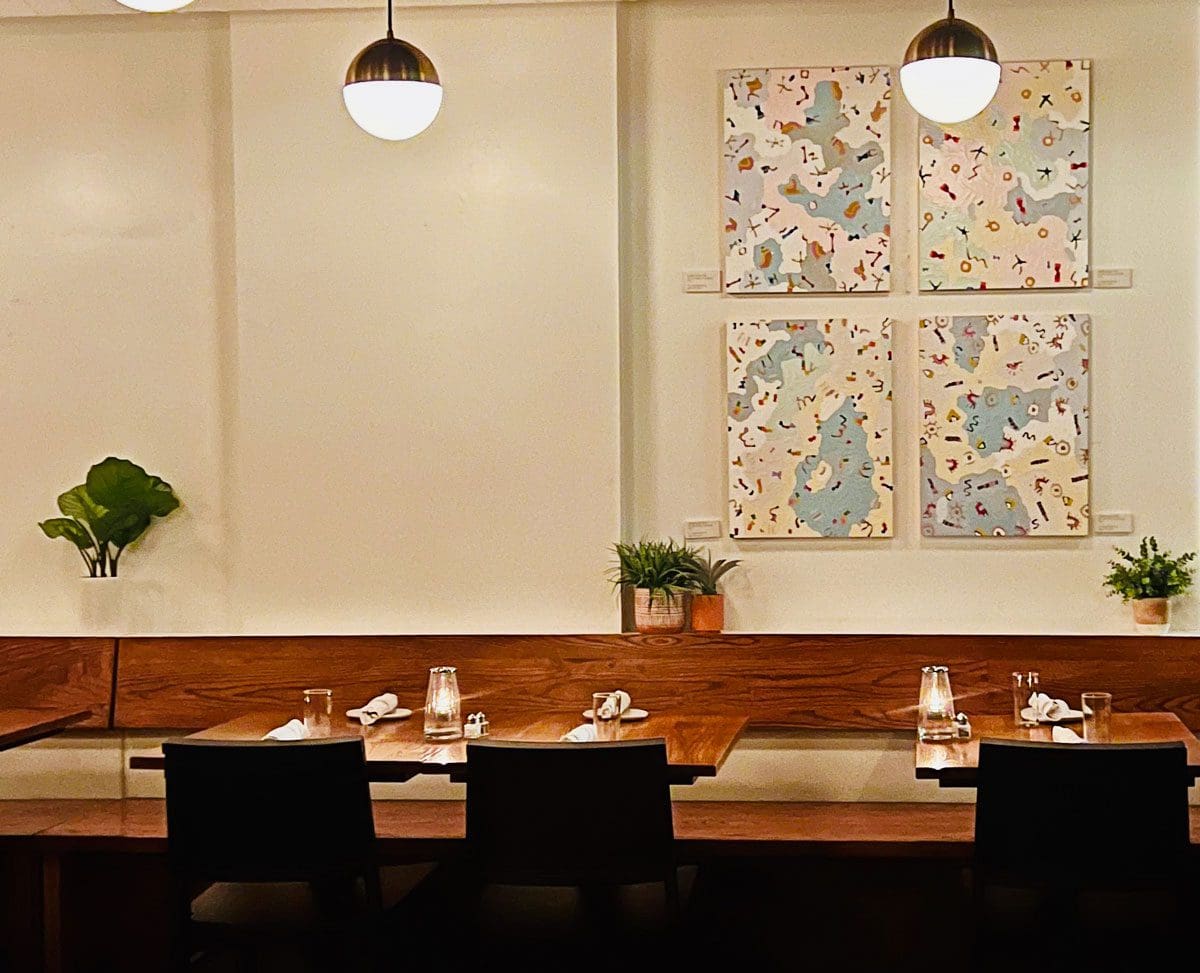 After you've settled in and are ready to explore a little, head out for a delicious dinner at one of the city's top-rated restaurants. For a tasty, family-friendly meal within walking distance of the hotel, visit District Kitchen & Bar. With something for everyone, this restaurant offers a variety of mouth-watering dishes, including starters, salads, pizzas, burgers, and entrees. And, if you're looking to pair your meal with a glass of wine or beer, there's an extensive list of both local and international options. So, whether you're in the mood for a light lunch make or relaxing dinner, try their cheese boards. There are also plenty of flatbreads, soups, and other wonderful foods.
Optional/Extra Time: Explore Downtown Pittsfield
If you have time, spend your first day getting your bearings around the town. Downtown Pittsfield is a great place to take your kids for a day or evening of exploring. There are plenty of things to see and do, and the whole family will enjoy spending time together in this charming town. Start with a walk around Park Square, where you'll find sculptures, fountains, and a variety of shops and restaurants. Families can also stroll down North Street, Pittsfield's pedestrian-friendly main street lined with shops, restaurants, and cafes. Kids will love looking in all the windows and finding something special to take home. And no visit to downtown Pittsfield would be complete without stopping by one of the many ice cream shops!
Day 2: Hiking, Driving Through the Pittsfield State Forest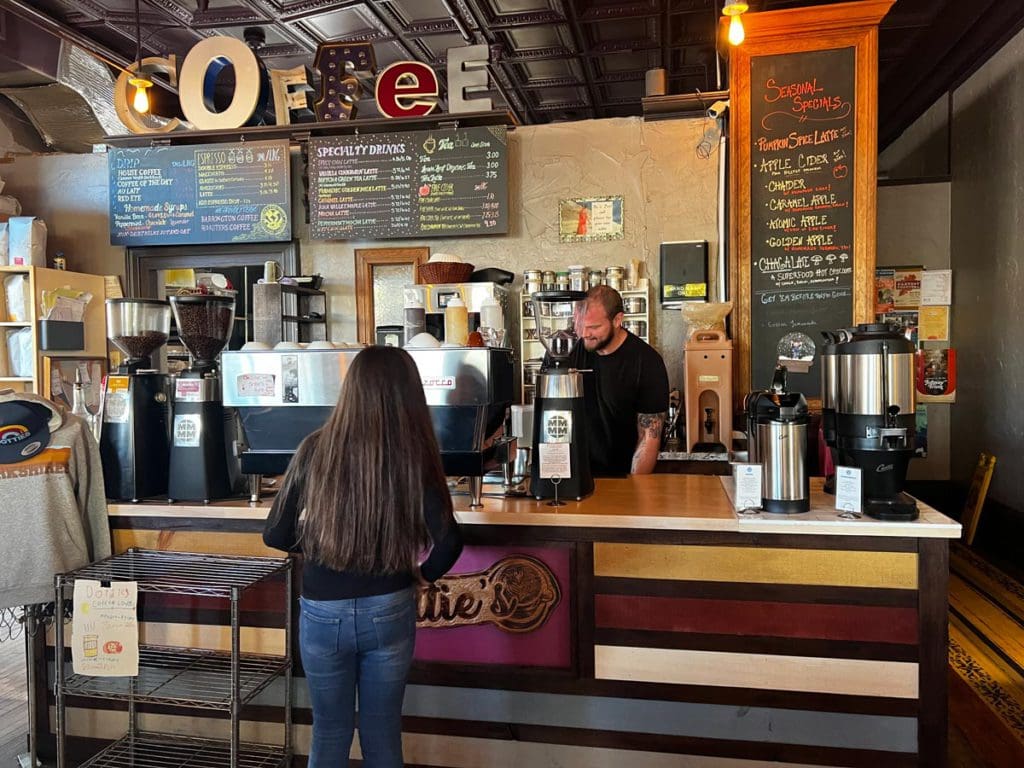 After a good night's rest, head to Dottie's Coffee Lounge for breakfast. Showcasing a distinctly New England atmosphere, this local favorite is famous for its delicious coffee, homemade pastries, and breakfast sandwiches to give you energy for a day of exploring. Then, in the summer or fall, hiking is an ideal way to enjoy the natural beauty of this area. There are plenty of trails in and around Pittsfield, so you can take in the autumn foliage while exercising.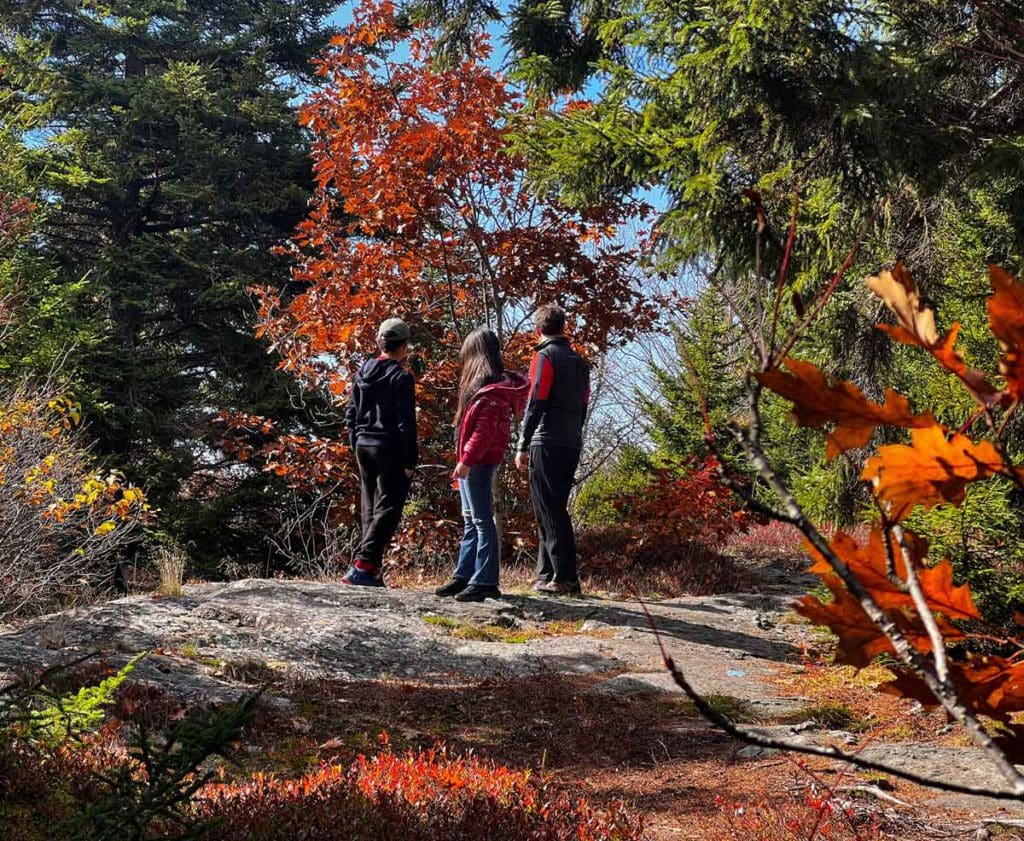 The Boulders Reserve is a great place to start your fall weekend getaway in Pittsfield with kids. Intersecting the Appalachian Trail, it's home to various hiking trails, including the Dalton Ave Trailhead. The trailhead offers access to several trails that wind through the woods and provide stunning views of the fall foliage.
Another great hiking opportunity for families is the 0.9-mile Rounds Rock Trail. This beautiful trail, located just outside town, offers stunning views of the Berkshires. Plus, it's relatively easy to hike for all ages. Afterward, visit the Mount Greylock State Reservation Visitor Center. For a mix of hiking and wildlife, families could also visit the Mass Audubon Canoe Meadows Wildlife Sanctuary, featuring a variety of nature trails.
Pro Tip: For more hiking tips, the BNRC Berkshire Trails app is a comprehensive guide to hiking trails in the area, including state forests, parks, and more. Be sure to take advantage of it on your weekend getaway itinerary for families in Pittsfield!
Rent a car with Hertz to explore Pittsfield!
Lunch at Marketplace Cafe
After your morning hike, head into town. Marketplace Cafe has got you covered whether you're looking for a quick bite or a leisurely lunch. Featuring a unique selection like seasonal cider chai, this casual eatery offers a variety of soups, sandwiches, and salads, all made with fresh, local ingredients. And don't forget to try one of their delicious homemade baked goods! They have a few other locations, including in Great Barrington, close to Ski Butternut.
Drive and Hike Pittsfield State Forest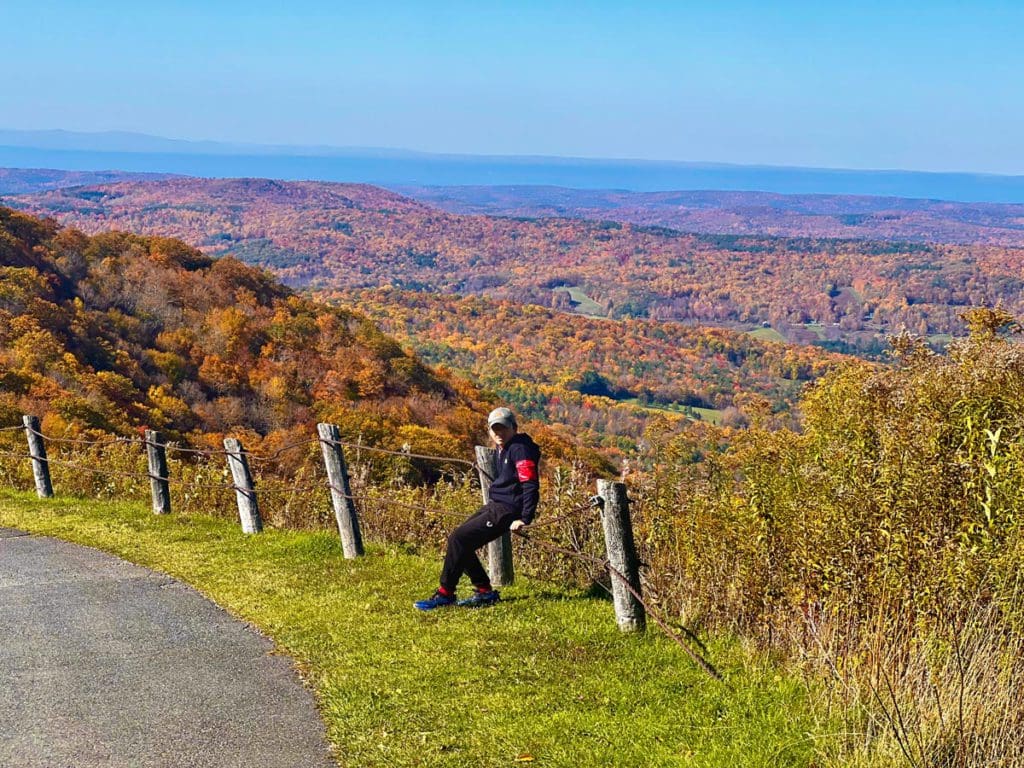 In the fall, the Pittsfield State Forest is ideal for an afternoon drive or hike. With over 10,000 scenic acres, families can witness the leaves changing colors when the air is crisp and cool. As you drive through, there are plenty of places to pull over and enjoy the views. Or, you can hike one of the many trails through the forest. Either way, you're sure to see some amazing scenery. For relaxing by the water or fishing, visit Berry Pond, one of the highest bodies of water in the state. There are also hiking trails nearby that offer stunning views of the surrounding countryside, including the 1.5-mile Berry Pond Trail.
Pittsfield State Forest is also a great place to visit with kids during the summer months. Firstly, drive through the park and stop to take pictures and enjoy the views. There are also multiple trails to go hiking, mountain biking, or ATV riding. To cool off, take a dip in one of the forest's many ponds or streams or head to the beach area, which has pristine white sand. Families can also have a picnic lunch at one of the many scenic spots. Keep an eye out for wildlife! Opposite Berry Pond, there are also numerous campsites where families can stay. Be sure to stick around for sunset views – they're spectacular in the summer!
Optional/Extra Time: Experience the Fall Festivities at a Local Farm
Fall is the perfect time to visit a local farm near Pittsfield! There are so many fun activities for families to enjoy, so you could add this option to the first day of your itinerary if you're feeling up to it or fit it in somewhere else.
One great option just a short drive from Pittsfield is the Ioka Valley Farm. From their famous corn maze to hayrides and pumpkin picking, every member of your family will have a blast. Take a Cow Train Ride around the farm yard, or try your best to win a free pumpkin at the Pumpkin Slingshot! There's even a family play area where kids under two and people over 60 can enter for free and ride a giant slide. And don't forget to stop by the farm store for some delicious apple cider and homemade pies!
For additional farm fun, families can also visit Brattle Farm. Outdoor fall activities include interactive story times and a chance to meet the farm's resident animals. Plus, a ton of sweet treats! Other great fall farms include Mountain View Farm, Whitney's Farm Market & Country Gardens, and Windy Hill Farm.
Click here to find the 13 Best Places To See Fall Foliage With Kids Within 3 Hrs Of NYC For Families!
Witch Slapped
Back in town, if you have extra time on your weekend getaway itinerary for families, one must-visit spot is Witch Slapped. This "spiritual supply store" offers fun and funky items! From toys to clothes to accessories, movies, and books, this store has something unique for every child – whether they're interested in witches, magic, or simply unique gifts. Plus, the witches at Witch Slapped are always happy to share their knowledge with young visitors, and they offer a variety of fun activities and workshops for kids. Little ones can learn how to make their own crystal ball, design spell jars, and so much more! There are also activities for adults, so be sure to consult the website calendar for more details and to make reservations. 
Dinner at Trattoria Rustica
No matter how you spend the second day of your weekend getaway in Pittsfield, take some time to relax and enjoy a delicious Italian dinner at Trattoria Rustica. This cozy and quaint Italian restaurant offers a menu of traditional favorites made with fresh, local ingredients, as well as some more unique dishes. From homemade bruschetta to mouth-watering spaghetti alla carbonara and tiramisu, the menu changes seasonally, so you can always enjoy something new and flavorful. And, of course, don't forget to pair your meal with a glass (or bottle) of wine from their extensive list. Buon Appetito!
Find deals in Pittsfield with Restaurant.com here!
For a sweet treat after dinner, visit Ayelada Frozen Yogurt. This frozen yogurt spot changes flavors seasonally and uses locally sourced ingredients. In fact, the milk comes from a local dairy farm and all the yogurt is made in-house, so you can guarantee you're getting something fresh. Families will find plenty of options for everyone, plus toppings such as fruit, candy, homemade baked goods, and cookie batter to enjoy. They even offer a vegan option! Make sure to check their daily flavors online, as well as a full list of flavors. The owner is very friendly and also owns the pizza restaurant called Crust next door, which is a must-try for families looking for more casual dining options in Pittsfield.
If you're looking for ice cream instead, check out King Kone – this cozy spot is a local favorite!
Day 3: Hancock Shaker Village
Get up bright and early on the third day of your perfect weekend getaway itinerary for families in Pittsfield, and head to breakfast at Otto's Kitchen & Comfort! This restaurant is a favorite among locals and visitors alike, serving up hearty breakfast dishes that will satisfy everyone in your group. Try the famous blueberry pancakes – they're some of the best you'll ever have!
Hancock Shaker Village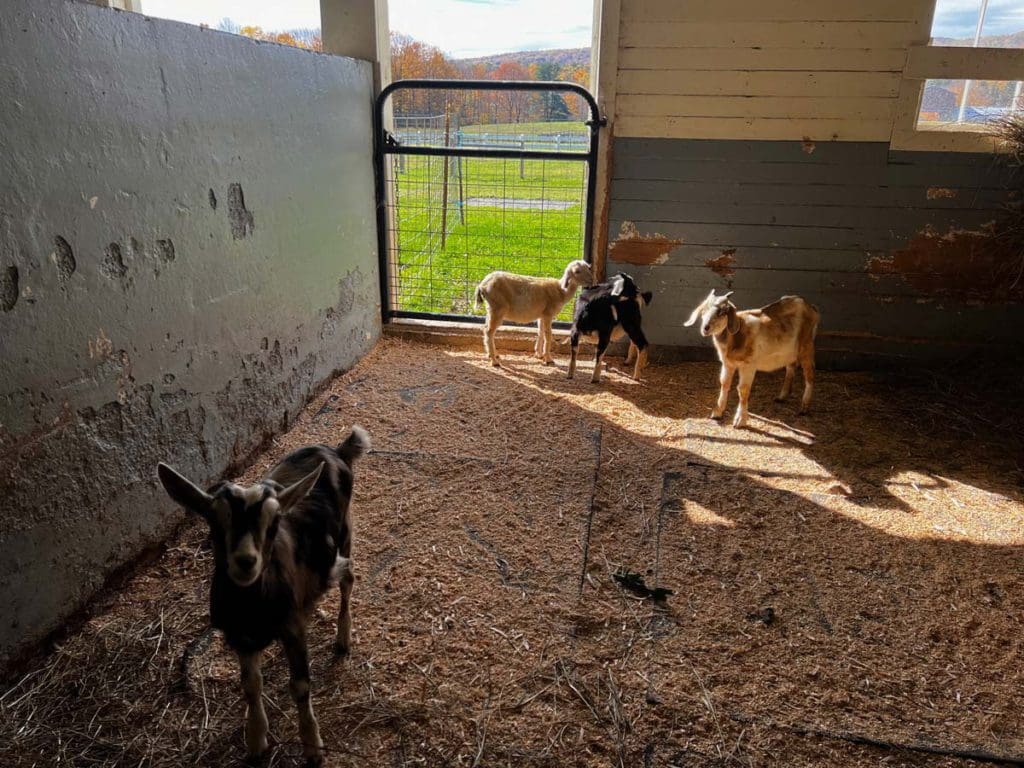 Then, make your way to the nearby Hancock Shaker Village to spend an afternoon exploring. This living history museum tells the story of the Shakers, a religious group who settled in the Berkshires in the 1780s. The village includes 20 original buildings, including a meetinghouse, a barn, a tannery, a school, and several homes. Visitors can see how the Shakers lived and worked and learn about their unique beliefs.
Start at the Visitor Center, where you can pick up a map, explore a small exhibit, and watch a short film about the Shakers. Then, explore the village on your own or take a guided tour. Don't miss the Round Stone Barn, a unique architectural marvel where the Shakers employed progressive agricultural practices. The complex also has a working farm with sheep, cows, and chickens, who roam freely and let kids pet them. There are also scenic gardens, arts & crafts, and a discovery zone for little ones. In the fall, the leaves on the trees turn red and gold, making Hancock Shaker Village even more beautiful. After exploring the village, relax in the picnic area or take a hike on one of the many trails to enjoy the view, like the Shaker Village Trail.
Kids will also love learning more about the Shaker way of life through interactive exhibits and demonstrations. Tours include subjects like an "introduction to the Shakers," a water turbine demonstration (a kid's favorite), traditional music and dance demonstrations, blacksmith or woodworking demonstrations, a medicinal herb tour, and so much more. When you arrive, pick up a copy of the available tours from reception and even an audio tour if you want more information. You could easily spend hours at this place, so make sure to save enough time to see everything!
Book your stay in Pittsfield here with Expedia!
Lunch or Early Dinner at the Berkshire Palate
Depending on how much time you spend at Shaker Village, you may have a chance to fit in an extra meal. We suggest the restaurant located just off the lobby of Hotel on North, Berkshire Palate. This farm-to-table restaurant features seasonal offerings inside a formal dining room, plus a relaxed lounge area. Whether you're looking for a quick bite to eat before hitting the road again or a leisurely meal to enjoy with your family, Berkshire Palate is sure to satisfy you. Be sure to try their signature roasted turkey sandwich, cheese plates, and yummy desserts – you won't be disappointed!
Winter Activity Ideas: Ski at a Local Mountain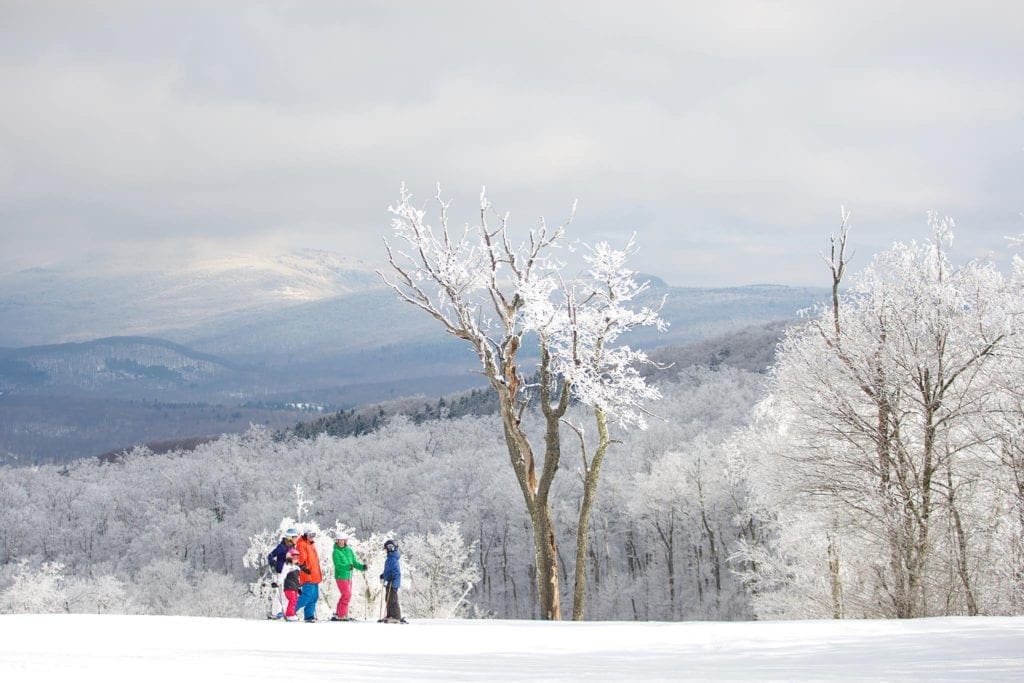 The Berkshires are a popular destination for skiers and snowboarders, and Pittsfield is no exception. There are several ski resorts within a short drive of the town, making it easy to get your winter fix. If you're looking for a quick getaway, check out Bousquet Mountain Ski Area, which is only 10 minutes from the town. Or, if you are looking for a bigger resort, check out Jiminy Peak. Keep reading for more information!
Plan a trip to one of the Best Ski Resorts With Snow Tubing Near NYC For Families!
Bousquet Mountain Ski Area
If you're looking for a small and cozy ski resort only 10 minutes from downtown Pittsfield, check out Bousquet Mountain Ski Area in the Berkshires. With 22 trails and 4 lifts, including a magic carpet lift for beginners, the mountain offers a variety of options for all levels of skiers and snowboarders. Plus, there's also a terrain park for those looking to add a little excitement to their day on the slopes!
Group skiing and snowboarding lessons are available at the Bousquet Ski School for ages 5 and up. Meanwhile, kids between the ages of 2 and 4 can take private lessons. After a long day on the slopes, you can warm up in Bousquet's cozy lodge with hot chocolate for kids or beer for adults. Or, if you're looking for something more adventurous, you can always go tubing at the nearby Berkshire East Mountain Resort.
Jiminy Peak Mountain Resort
Jiminy Peak Mountain Resort is the perfect place to take your family for a winter getaway! Nestled in Hancock, around a half hour from Pittsfield via car, this family-friendly mountain is famous for its amazing views and abundance of activities. Beginners and intermediate skiers can choose between 45 miles of well-groomed trails and six lifts. In addition to black diamond trails, there's a magic carpet lift and lots of green runs (including Chipmunk and Jiminy Cricket)!
First-time ski or snowboarding lessons are available for kids as young as four. There are also group lessons and private lessons. For repeat visitors, the resort also offers an extended KidsRule Ski Camp Program for little ones between four and fourteen years old. Night skiing is also available on the weekends for more advanced skiers.
For non-skiers, there's an epic mountain coaster, plus other winter sports such as snowshoeing or snowmobiling. Kids can also visit the base of the Aerial Adventure Park to find The Fire & FunZone or enroll in the on-site Cub's Den Playroom. 
Book a stay near Bousquet or Jiminy Peak with Hotels.com!
Rainy Day Activity Ideas: Visit a Museum or Theater 
Looking for something to do on a rainy day in Pittsfield, the Berkshires? Why not visit a museum or theater? If you find yourself with a free day during your visit to Pittsfield, there are plenty of cultural activities to keep you busy. Here are some favorite places to spend a weekend getaway itinerary for families in Pittsfield!
Berkshire Museum
When the weather outside is dreary, Berkshire Museum is the perfect rainy-day activity for families in Pittsfield! It's located in the heart of downtown Pittsfield, within walking distance of many restaurants, shops, and other attractions. From interactive displays on local history and culture to a hands-on science center, the fascinating exhibits are sure to please everyone in your family. Kids will love exploring the dinosaur exhibit, while adults can learn about the area's rich artistic tradition. ​​Plus, the museum's planetarium offers daily showings of educational films about space and astronomy – perfect for aspiring astronauts of all ages!
Colonial Theatre
Colonial Theatre is the perfect place to take your children on a rainy day in Pittsfield. This historic theater has entertained families for over 100 years and is a beloved community landmark. Today, it's known for its diverse programming, which includes everything from musicals and plays to stand-up comedy and film screenings. If you're looking for something a little more educational, the theatre also offers a variety of documentaries and educational films. It's ideal for spending an evening together during your weekend getaway itinerary for families in Pittsfield!
Keep reading to experience Vibrant Vermont: 14 Perfect Fall Foliage Vacations For Families!
Enjoy Your Weekend Getaway to Pittsfield with Kids!
We hope this article on A Perfect Weekend Getaway Itinerary For Families in Pittsfield, The Berkshires, MA helps you plan a fantastic trip to this New England state! From changing, crisp leaves to outdoor adventures and delicious sweet treats, there's no better season to treasure time together as a family. Enjoy Pittsfield with your kids!
*Unless otherwise noted all images within this article belong to and are courtesy of Gunjan Prakash.
*This post may contain affiliate links that may earn us a small commission, at no additional cost to you. Affiliate links in no way inform the hotels, sights, products, or other recommendations included in our articles. All opinions and recommendations expressed here are compiled from submissions submitted by the generous members of our Families Who Love To Travel community.
READ MORE: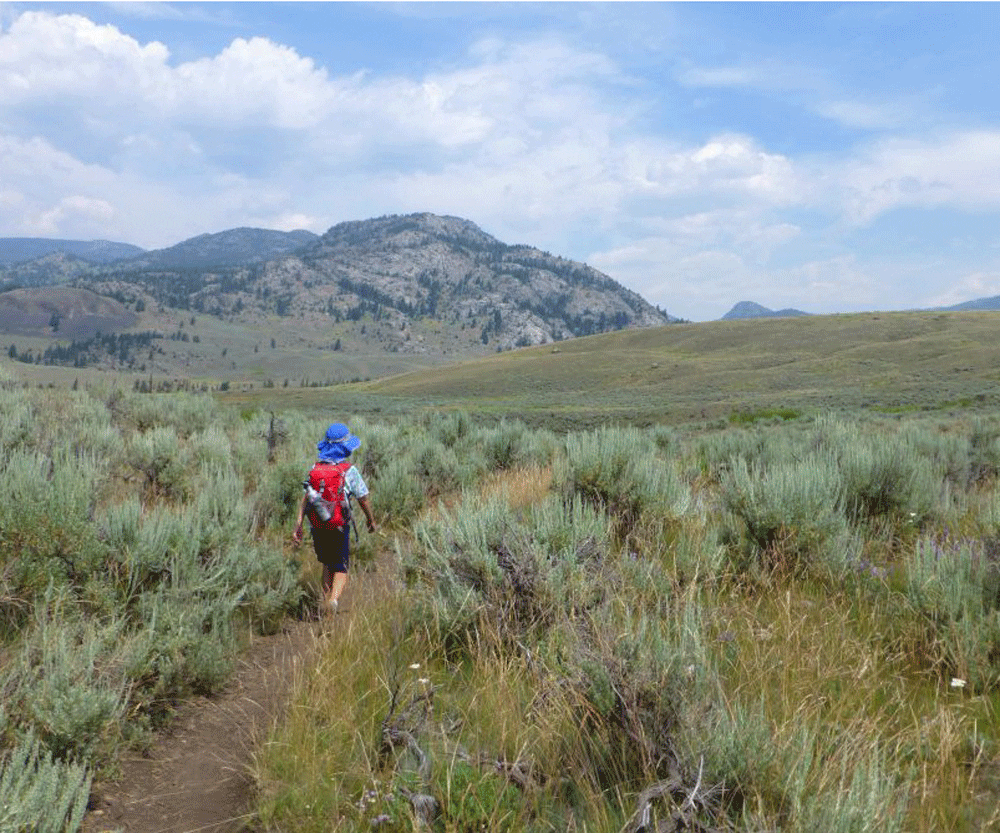 Everyone knows that Yellowstone National Park makes for a classic family vacation. Strolling the boardwalks...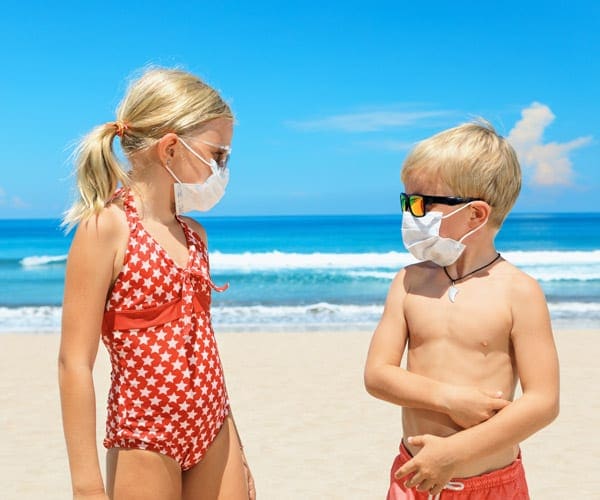 Coronavirus restrictions are now lifting across the country. We believe families need to make the...