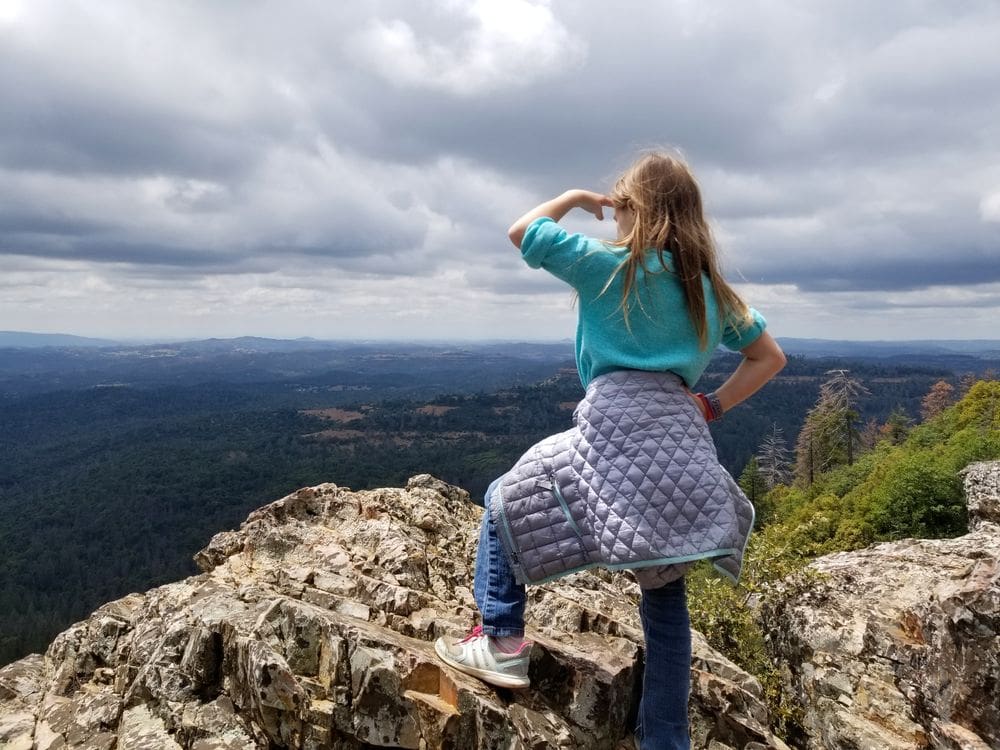 It's not uncommon for the family calendar to be full of sporting events, birthday parties, home projects, and a never-ending list of to-dos. However, sometimes that magical hole appears! Here, I've outlined 8 Fun-Filled Weekend Getaways from the Bay Area with Kids. Each location includes things to do, places to stay, and where to eat. This guide to Bay Area weekend getaways for families will make it easy to hop in the car and head out for an adventure with kids. Give one of these spots a try. You're sure to return home from your Northern California road trip with some incredible family memories!
Calistoga Region Weekend Getaway
Mud Baths & Wild Animals in the Wine Country
In the heart of the Napa wine country sits magical Calistoga. It's an ideal weekend getaway near San Francisco because it's only 1-1/2hr over the bridge. The most famous winery in the area is Castello di Amorosa, a medieval-style castle with a labyrinth of caves built into the hillside. Kids will be impressed by the Old Faithful Geyser of California which erupts regularly. While waiting for the magic moment, kids can explore the geology museum, play bocce ball, or pet farm animals. Afterward, visit an engineering relic from 1846 at Bale Grist Mill State Historic Park. The Oat Hill Mine Trailhead leaves from town and offers beautiful views. Finally, the only Petrified Forest in California is down the road and worth a quick stop.
However, the most exciting activity for kids in the Calistoga area is Safari West, also known as the Sonoma Serengeti. Open-air guided jeep tours take visitors through 400 acres with the chance to view over 800 animals. You'll see rhinos, giraffes, zebras, buffalos, and more! Since you won't want to leave, reserve a night in one of the tent cabins or stay for dinner. You kids will love waking up to the sounds of nature!
RELATED: 6 Exciting West Coast Safaris and Animal Parks for Families
Places to Stay & Eat in Calistoga with Kids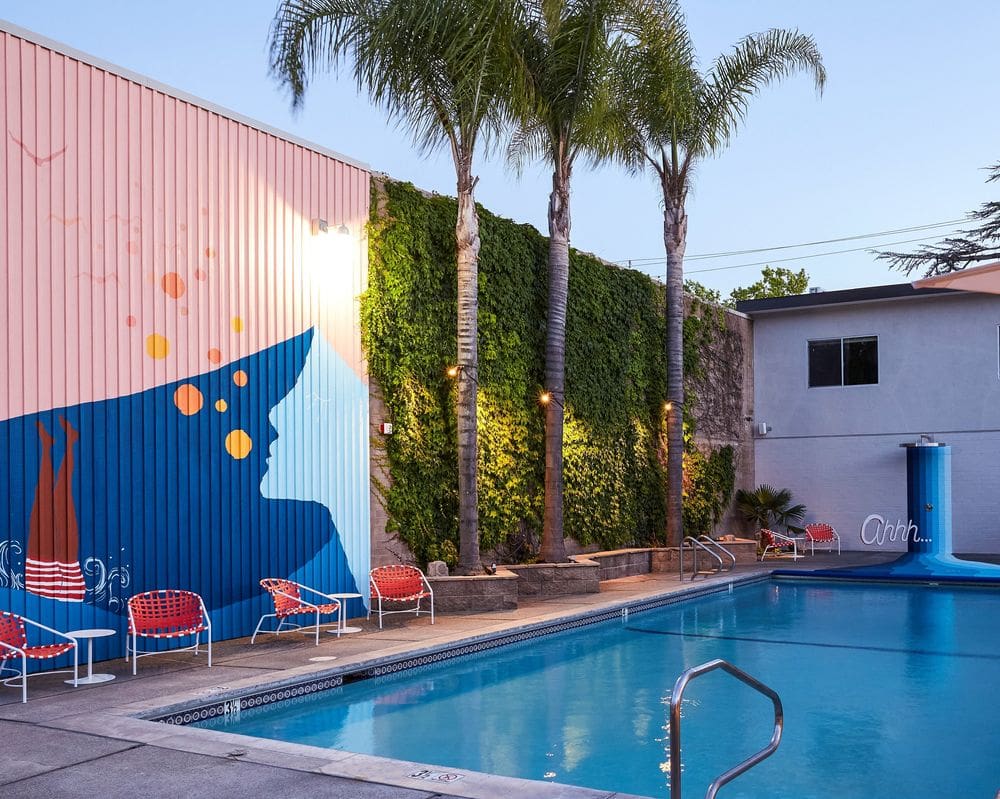 While staying in Calistoga, the iconic mud baths are a must. Dr. Wilkinson's Backyard Resort & Mineral Springs just renovated the entire property. Now guests can enjoy several pools, massages, mud baths, and mineral springs. Rooms with bunk beds make it an ideal choice for families on a Bay Area weekend getaway with kids. Also, the new restaurant, House of Better, is delicious and like a spa treatment for your taste buds. Other places to stay include Indian Springs Calistoga, Calistoga Spa Hot Springs, The Bungalows at Calistoga, and Gold Haven Hot Springs and Resort. Not surprisingly, it's also easy to find great restaurants. Moreover, you can enjoy all different types of fare from Amaro Italian Kitchen, Calistoga Thai, Buster's Southern Barbecue, Pacifico Mexican Restaurant, and Evangeline. Calistoga is often overshadowed by Napa, its famous neighbor, but it's definitely worth a visit as a fun family Bay Area weekend getaway.
The Best Winery Hotels in Calistoga, CA from $166 in 2021 on Expedia.com.
Sacramento with Kids
Outdoor Fun and History in the State Capital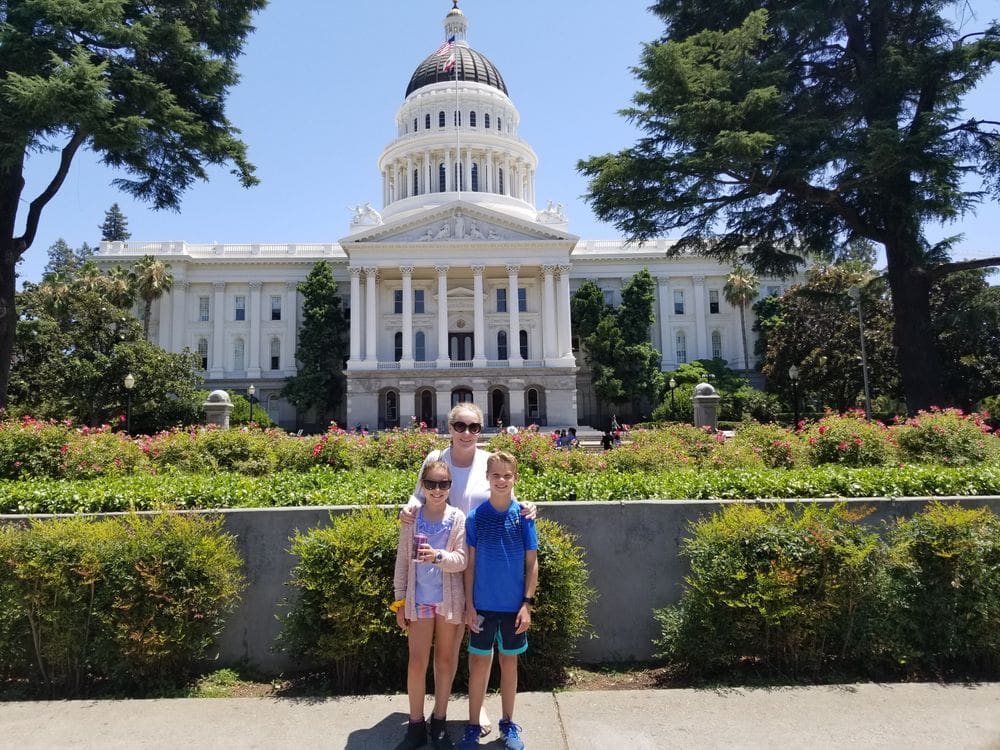 Sacramento is an easy weekend getaway with kids from the Bay Area. The city lies between two rivers which means there is a lot of outdoor fun around town. The Sac State Aquatic Center has watersport rentals on Lake Natoma. You can also float the American River on a raft with River Rat. Then, the American River Bike Trail hugs the river for 32 miles for those wanting exercise. Also, Uber Jump Bikes and Lime Scooters offer fun ways to cover a lot of ground around town. Thrill-seeking visitors will have a blast at Wake Island. Kids on a Bay Area weekend getaway can try wakeboarding on a wire (to get lots of air!), play on an inflatable obstacle course, and zip-line over the water. Additionally, there's Quarry Park, an adventure park built in an old rock quarry, and horseback riding along Folsom Lake with Boarding by the Lake.
As the State Capital, Sacramento should make the list of "Places to visit in California" for families. Your trip should include a free capitol building tour. Not to mention, a stop in Old Sacramento Waterfront, where you'll be transported to the Gold Rush era. Family-friendly Sacramento museums include California State Railroad Museum (take a train ride along the river), Sacramento History Museum (they offer a cool underground tour), California Museum, California Automobile Museum, and a self-guided tour of the regions first settlement, Sutter's Fort State Park. Nature lovers will appreciate the Effie Yeaw Nature Center, coupled with a walk along the American River. Obviously, the Sacramento region provides lots of fun things to do in Northern California with kids!
Places to Stay & Eat in Sacramento with Kids
The coolest place to stay in Sacramento is the Kimpton Sawyer Hotel. While it has an awesome rooftop swimming pool and bar, its best feature is that it's located in the heart of the downtown action. Other downtown hotels with outdoor pools include The Citizen Hotel, Hyatt Regency Sacramento, and Sheraton Grand Sacramento Hotel. Additionally, the Embassy Suites by Hilton Sacramento Riverfront Promenade sits right on the Sacramento River across from the Old Sacramento Waterfront.
Sacramento is California's "Farm to Fork" capital and specializes in outdoor dining. In the R Street Corridor, you'll find Iron Horse Tavern, Mas Taco Bar, and Beast and Bounty. Across from the Capitol, Cafeteria 15L is a casual spot with great bites. The area around Zocolo on 19th & Capital is a hot dining scene. For outdoor games and firepits, SacYard Community Tap House, and Drake's BARN are the places to go. Families on a road trip from the Bay Area who want fine dining will appreciate The Grange, Canon, and Ella. Needless to say, you won't go hungry in Sacramento!
16 Best Hotels in Sacramento. Hotels from $38/night – KAYAK
Arnold
Weekend Getaway Adventure in a Charming Mountain Town
Just 2-1/2 hours outside of the Bay Area is another world where life is simple and pine trees are plentiful. There are several small towns along Highway 4 but Arnold is a favorite amongst families. Firstly, make a reservation at Moaning Caverns Adventure Park to visit the largest cave chamber in California. Kids can also zip-line and rock climb. Nearby, is a 2-mile hike to the spectacular Natural Bridges with otherworldly caves you can swim through. The Arnold Rim Trail (with a stop at the Logging Museum) is another great hike. White Pines Lake and Lake Alpine are places to fish, float, and paddle. Don't miss the chance to see the giant sequoia trees at Calaveras Big Trees State Park. They're 250 ft tall and over 3,000 years old! As you drive along Highway 4 you'll see wineries, flea markets, and more so be sure to stop and explore.
Places to Stay & Eat in Arnold with Kids
Families on a Northern California mini-vacation to the Arnold area should look to VBRO for a wide selection of amazing cabins to rent. The communities of Blue Lake and Pine Brook offer guests amenities such as private lakes, pools, sports courts, BBQs, and programmed summer activities for kids. For a romantic stay, couples will enjoy the luxurious Courtwood Inn, a nearby Bed & Breakfast. Highway 4 is dotted with motel-like alpine lodges such as the Meadowmont Lodge so it's just a matter of finding one that works for your Bay Area family weekend getaway. Families can fuel up at Snowshoe Brewing Company, JJ's Dive Bar & Grill, or Bristol's Ranch House Cafe before heading out on adventures.
Find Arnold, CA Vacation Rentals: cabin rentals & more | Vrbo
Lake Tahoe Weekend with Kids
Northern California's Alpine Playground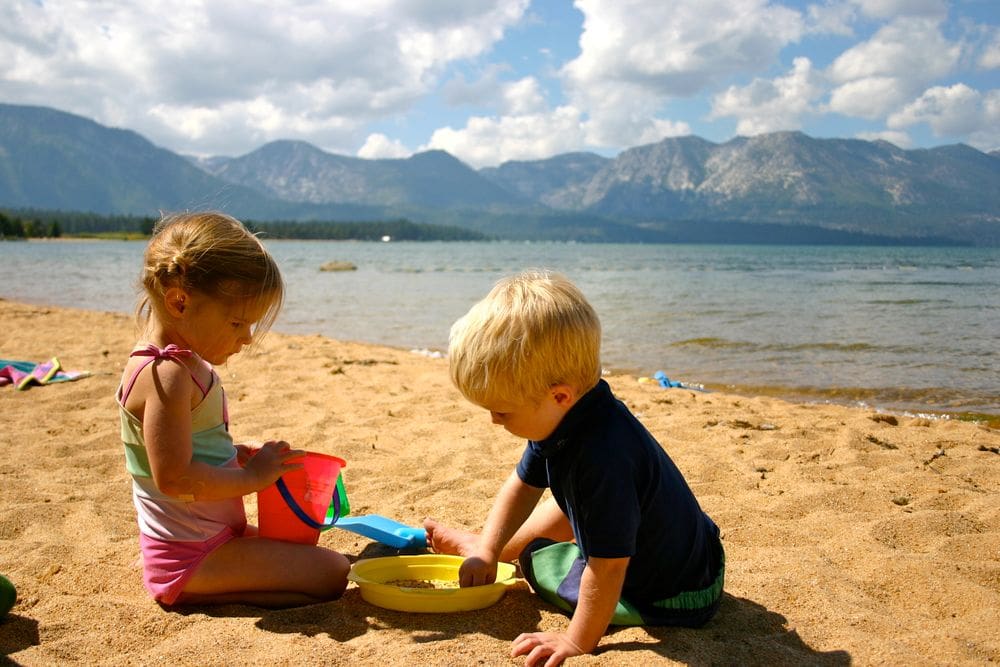 Every Northern California family vacation with kids should include North Lake Tahoe. Kids of all ages will love the many activities in this alpine playground. Firstly, float the Truckee River with Truckee River Raft Company. For beach fun, visit Sand Harbor State Park, which has the most incredible turquoise water. Hikers will enjoy the Five Lakes Trail. It has a steep elevation gain but the spectacular views are worth the climb. During your stay be sure to ride your bike along the scenic trail that wraps around the lake. Also, Piping Rock Horses give trail rides for those that prefer to sightsee on horseback. Adrenaline junkies can tackle bike jumps at the Truckee bike park or Woodward Tahoe. Additionally, for those wanting a different view try zip-lining through the trees with Tahoe Tree Top Adventure Parks. As you can see, there's so much to discover in Lake Tahoe with kids!
*Note, some of the activities mentioned here are seasonal. Please check availability before departure.
RELATED: Summer Activities in North Lake Tahoe Kids Will Love
Places to Stay in Lake Tahoe with Kids
North Lake Tahoe offers various accommodation options in Tahoe for families. Firstly, VRBO offers many cabins for Bay Area weekend getaways with kids in communities all around the lake. Tahoe Vista includes motels with a view, such as the Franciscan Lakeside Lodge, offering lakeside cabins and suites. Visitors choosing to anchor in Tahoe City will enjoy Granlibakken for its proximity to town and old-world feel. Also in Tahoe City, The Inn at Boatworks has renovated rooms and provides guests with complimentary bikes and paddleboards. Across the lake, in Incline Village, the Hyatt Regency Lake Tahoe Resort, Spa And Casino has rooms and cottages available at its waterfront resort. Guests can unwind at the spa or try for a winning hand in the casino. Adjacent is the Hyatt Residence Club Lake Tahoe, High Sierra Lodge, where visitors will find all the creature comforts of home.
The mountain resort communities of Northstar and Palisades Tahoe have a variety of accommodations ranging from private residences for rent to condos and five-star hotels. The Ritz-Carlton, Lake Tahoe is a spectacular property with mid-mountain views, a pool overlooking the ski runs, and all the amenities you'd expect. Surprisingly, guests can even arrive by gondola! Overall, you can't go wrong with any of the options available through Northstar Lodging, it just depends on what best suits your family. The Resort at Squaw Creek, a luxury resort, places you in the heart of Palisades Tahoe with easy access to bike trails, hiking, and all the activities in the Village. Lake Tahoe is the perfect escape and an awesome family getaway from the Bay Area!
Places to Eat in Lake Tahoe with Kids
After a full day of adventure in Tahoe, there's no doubt you'll be ready to eat! Here are some of the best restaurants in Lake Tahoe that offer views and outdoor dining: Hyatt Regency Lake Tahoe Resort, Spa and Casino makes the list with its floating Pier 111 Bar and the Lone Eagle Grille's fire pits and outdoor patio overlooking the lake. Next, Jason's Beachside Grille, in King's Beach, has a casual lakeside vibe. In Tahoe City, there's Jake's on the Lake and Za's Lakefront, both on the water. Bridgetender Tavern and Grill, with its rustic charm, is a local favorite and sits along the river. Other hot spots in Tahoe City, include Rosie's Cafe downtown, West Shore Market for picnic lunches, and breakfast at Fire Sign Cafe.
Top 50 South Lake Tahoe Vacation Rentals | Vrbo.com
Lodi
Wine Country for Kids
Lodi locals love their town and it's easy to see why. The combination of activities, wine tasting, and a darling downtown makes it a great location for a weekend trip from the Bay Area with kids. Start the day paddleboarding or kayaking. You can rent gear from Headwaters Kayak and cruise around Lodi Lake or up the Mokelumne River. Then, try wine tasting at a family-friendly Lodi winery. At Michael David Winery, m2wines, Oak Farm Vineyards, and Viaggio Winery you'll discover games like bocce ball, picnic spots, ponds, and beautiful grounds to explore. Also, kids on a family road trip from the Bay Area will love the downtown World of Wonders Science Museum. And, the Mud Mill will give them a chance to make souvenirs out of pottery. Lodi is only 1-1/2hrs from the city so it makes for a great family weekend getaway near San Francisco.
Places to Stay & Eat in Lodi
Wine & Roses provides guests with resort-like amenities, a spa, and an award-winning restaurant. Lush grounds on a Mediterranean-style estate will make families feel like they've truly escaped. Moreover, the hotel is just a mile from Lodi Lake and a beautiful nature trail. Hampton Inn & Suites Lodi, Holiday Inn Express Lodi, and Candlewood Suites Lodi are all fairly simple but the complimentary breakfasts make them great places to stay for a budget-friendly weekend getaway from the Bay Area with kids. Fiori's Butcher Shoppe is a local favorite for sandwiches and picnic supplies. If you're in town, don't miss the Farmer's Market that takes over downtown Lodi on Thursday nights. The pedestrian-friendly School Street is full of great places to eat such as The Brickhouse, The Dancing Fox, and the Lodi Beer Company. Finally, you can finish the day with a treat from Rocky Mountain Chocolate Factory!
15 Best Hotels in Lodi. Hotels from $80/night – KAYAK
Monterey Bay
Spectacular Marine Life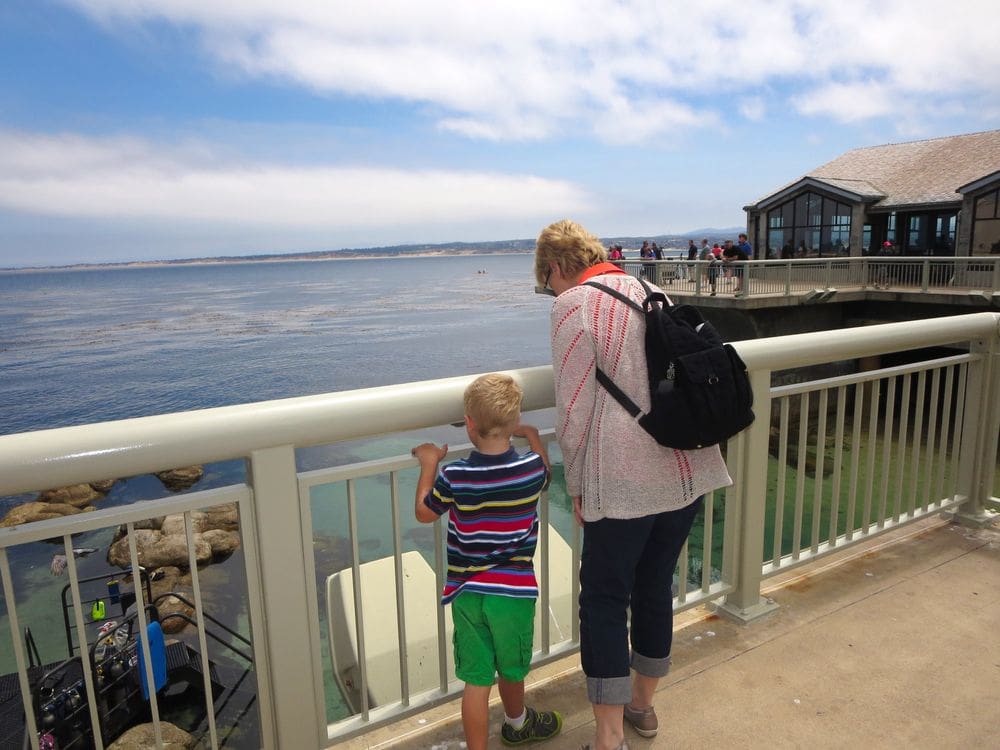 Obviously, Bay Area families are familiar with Monterey Bay as it's so close. However, if you haven't visited in a while it makes for an ideal family day trip in Northern California. Undoubtedly the biggest attraction is the Monterey Bay Aquarium. You can spend the entire day wandering through the 200 exhibits devoted to the diverse habitats of Monterey Bay. Another family-friendly activity in Monterey is the Dennis The Menace Playground. Kids will delight in huge slides and unique playground features. Cannery Row is the spot to pick up a souvenir or grab a bite to eat. Then, if you want to see those darling sea otters up close, head to Monterey Bay Kayaks for an unforgettable paddle. Another option for wildlife viewing is one of the many whale watching tours (pack warm clothes!). Visiting Monterey Bay is an easy and fun Bay Area weekend getaway with kids.
Places to Stay & Eat in Monterey

There are many places to stay in Monterey Bay for families. For a luxurious vacation, it's hard to beat The Sanctuary Beach Resort. With a private location on the beach, they have sunset campfires, hikes, and resort amenities, providing a perfect weekend escape. Next, the Portola Hotel & Spa puts you steps away from Fisherman's Wharf and Cannery Row. Other centrally located waterfront hotels include InterContinental The Clement Monterey, Monterey Plaza Hotel, and the budget-friendly Lover's Point Inn. Additionally, Hyatt Regency Monterey Hotel And Spa On Del Monte Golf Course offers fire pits, a golf course, and a spa for parents in need of some relaxation. For dining with a view head to Schooners Coastal Kitchen & Bar or The Fish Hopper. All in all, there are lots of kid-friendly places to stay and eat in Monterey for a family weekend getaway in Northern California.
Monterey, California Hotels from $92 – Hotel Deals | Travelocity
Coloma
White Water Rafting in Historical Gold Country
California was never the same after James Marshall discovered gold at Sutter's Mill in 1848. Coloma is an adventurous place to go near San Francisco and probably a spot you haven't explored. It's halfway between Sacramento and Lake Tahoe, making it a convenient family day trip or weekend getaway from the Bay Area. As soon as you arrive, head to Marshall Gold Discovery Park. A small museum and 20 historical buildings will transport you back in time. Then, cross the river for a quick hike to Dutch Creek Falls. Without a doubt, Coloma is famous for river rafting! With this in mind, bring a tube and float to Henningsen Lotus Park. Or, book a white water rafting trip and experience Coloma's famous class 3 and 4 rapids. There are endless ways to spend a day on the water on the South Fork of the American River.
Places to Stay & Eat in Coloma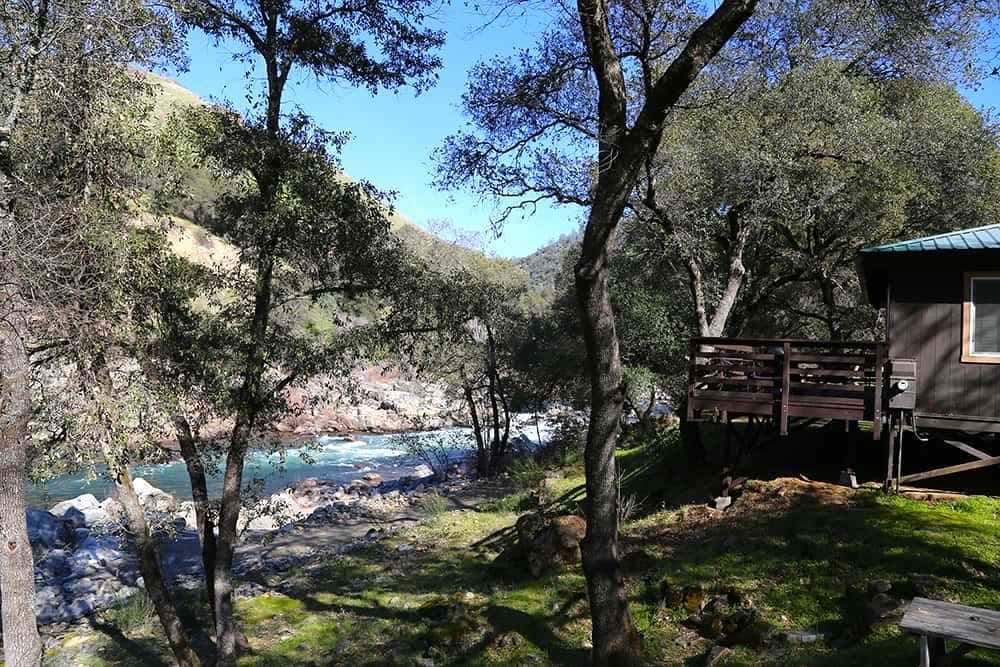 Cabins and campgrounds are plentiful in Coloma. Check out American River Resort, Coloma Resort, Ponderosa RV Resort, Coloma Cottages, and Camp Lotus. Each provides various accommodation options for a mini-vacation in Northern California with kids. Surprisingly, Coloma is also a great romantic getaway near the Bay Area. Villa Florentina is nestled in an acre of olive trees. Then, Bella Vista Bed & Breakfast Inn has outstanding views. Nearby, Eden Vale Inn & Spa is a luxurious retreat in the heart of adventure. When lunchtime arrives, The Argonaut Farm to Fork Cafe in Marshall Gold Discovery Park is a convenient place to pick up a bite. Finally, after your adventures are over meet the locals at Squally's – On The River for pizza and live music. Coloma delivers adventure and history, the perfect combination for a Bay Area weekend getaway with kids!
Marin Headlands
Stunning Views Just Over The Bridge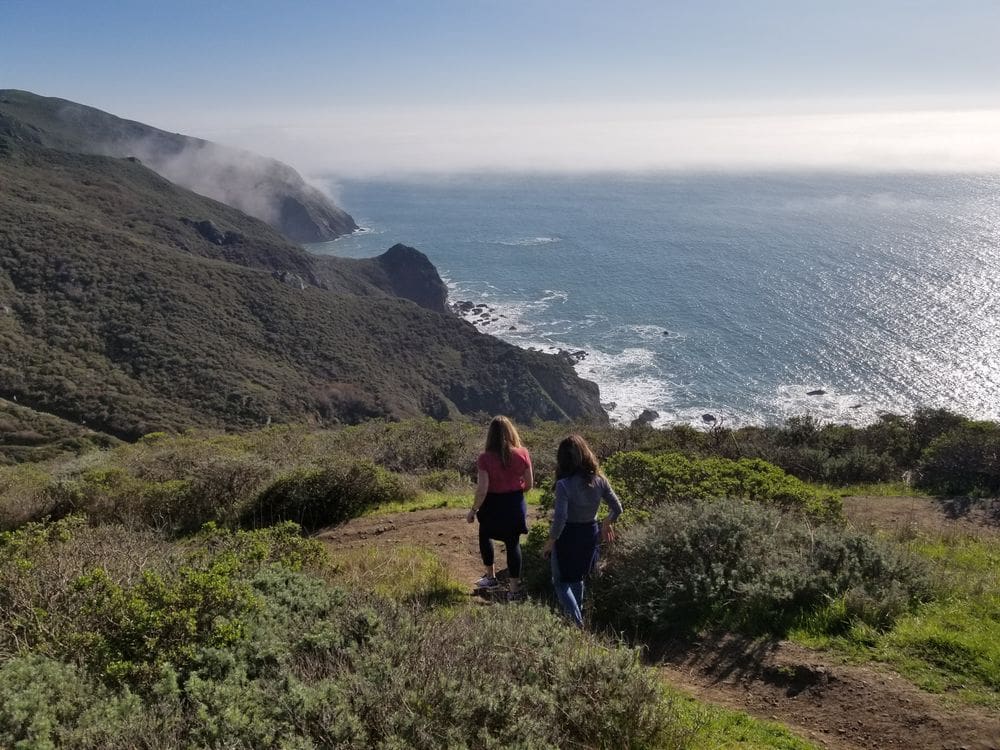 A stone's throw over the Golden Gate Bridge makes the Marin Headlands the closest spot to visit near the Bay Area. After you cross the bridge stop at one of the lookouts for incredible views of San Francisco. Next, follow the winding road to the Point Bonita Lighthouse. This beacon has been guarding the bay since 1855. Climb the hills to see WW11 bunkers, batteries, and ruins. Then, take your time driving Highway 1 through the hills. You'll feel a world away from the city on your day trip from the Bay Area with kids. Make a reservation to see the giant redwoods at Muir Woods and step into a prehistoric forest. Finally, head to Muir Beach. There's a kid-friendly trail that hugs the cliffs offering spectacular ocean views. A bonfire on the beach is the perfect way to end your Bay Area weekend getaway with kids.
Places to Stay & Eat in the Marin Headlands
The Marin Headlands are rugged and great for hiking, biking, and stunning vistas. Surprisingly, the only place to stay in the area is the romantic Pelican Inn. The unique property captures the spirit of a 16th century English Bed & Breakfast. Undoubtedly, it's perfect for a romantic getaway from San Francisco. And, it's also a popular picnic spot for travelers on their way to Muir Beach. When you head over the hills there are more family-friendly accommodations in Mill Valley. The Aqua Hotel Mill Valley with water views will impress. The Holiday Inn Express Mill Valley is a family-friendly place to stay near the Marin Headlands. Downtown Mill Valley has something for everyone. On your list to try should be Bungalow 44, and Gravity Tavern. If you're looking to escape city life the Marin Headlands will make you feel a world away!
Happy Travels!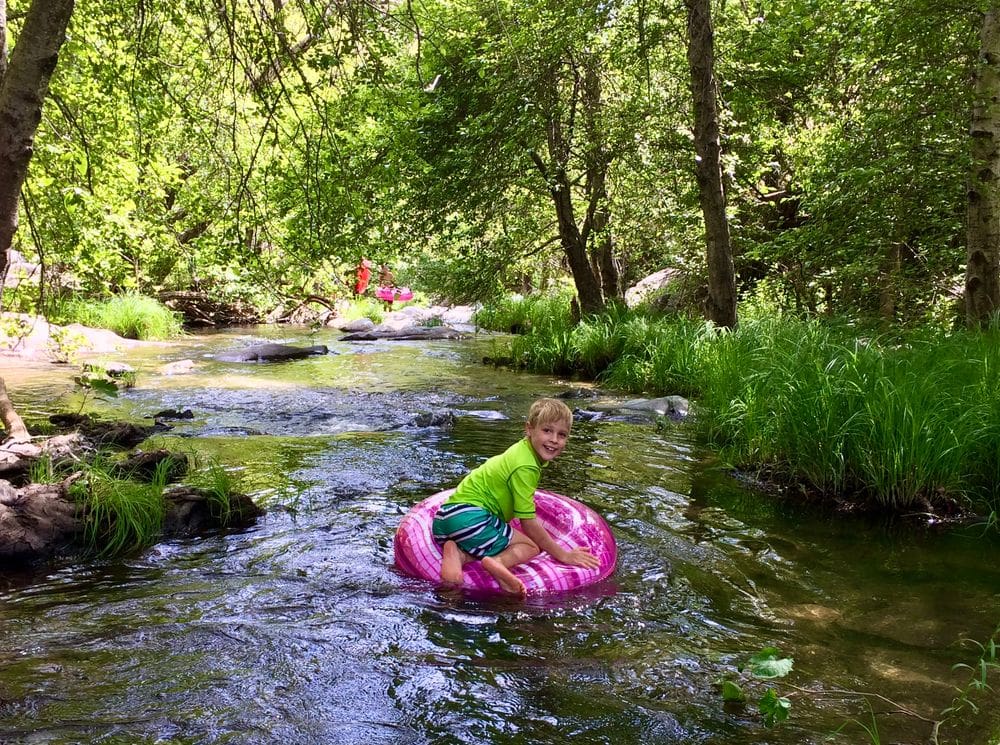 There are so many amazing places to visit in Northern California with kids. Within 3 hours of the Bay Area, families can explore the wine country, foothills, lakes, mountains, beaches, cities, and more! Certainly, this list of 8 Fun-Filled Weekend Getaways from the Bay Area with Kids will come in handy. I hope your family discovers something new and exciting while exploring together on your Bay Area weekend getaway!
Written by FLT Top Contributor, Emily Kapic. You can find more from Emily and her family's adventures on Instagram @Take5Travel!
*Unless otherwise noted, all images were taken by and are courtesy of Emily Kapic.
*Due to the COVID-19 pandemic, some of the attractions, hotels, and restaurants featured on this list may be temporarily closed or experiencing reduced services. Confirm availability online before visiting.
*This post may contain affiliate links that may earn us a small commission, at no additional cost to you. Affiliate links in no way inform the hotels, sights, products, or other recommendations included in our articles. All opinions and recommendations expressed here are compiled from submissions submitted by the generous members of our Families Who Love To Travel community.
READ NEXT: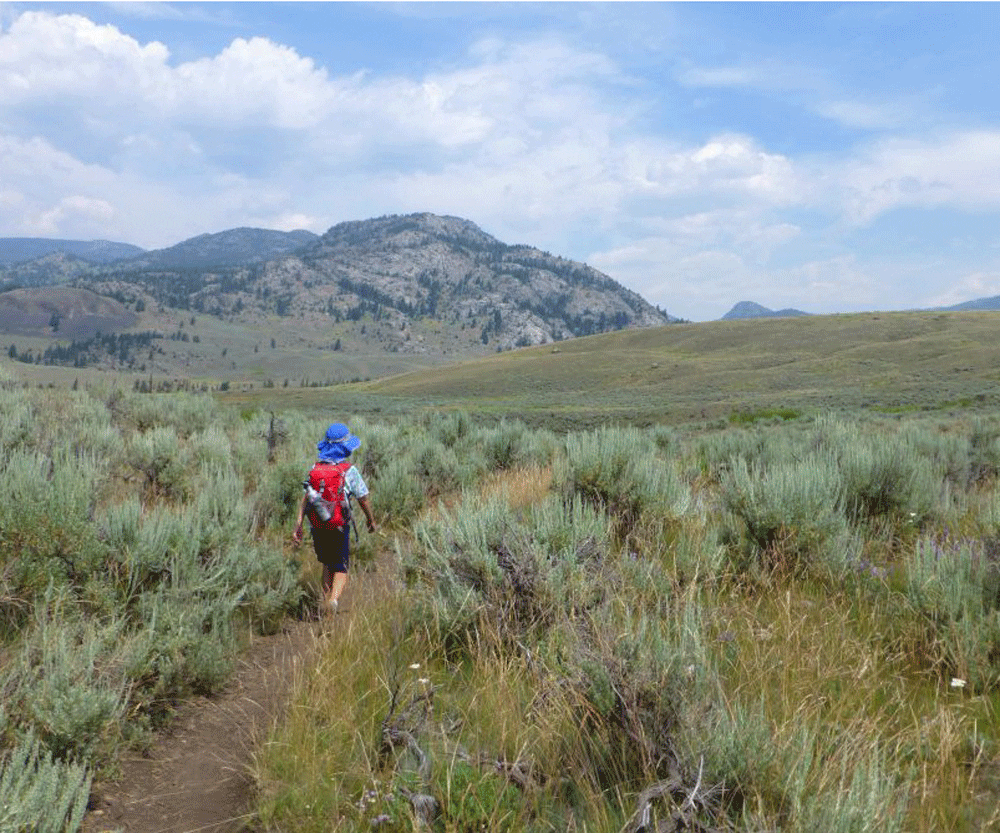 Everyone knows that Yellowstone National Park makes for a classic family vacation. Strolling the boardwalks...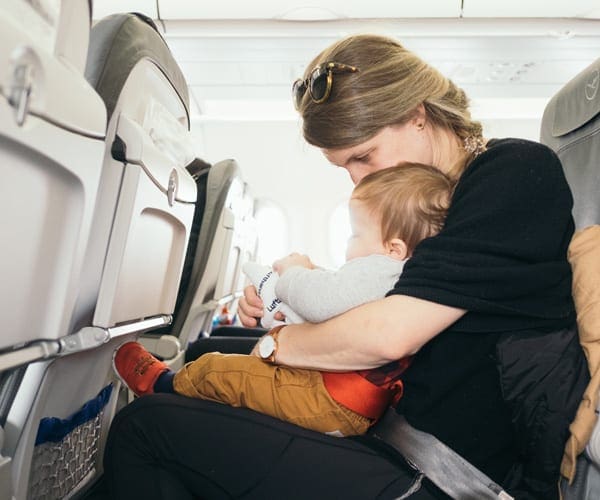 Families Who Love To Travel contributor Meghan Oaks provides her 10 best tips for your...