Ready to take one of these exciting weekend getaways near Boston for families? With its convenient Massachusetts location, this kid-friendly city makes the perfect home base for your next escape with kids. Relax on the beach, immerse yourself in nature with a hike, or dine on delicious seafood. Where you take your weekend getaway from Boston will ultimately depend on which type of vacation you're looking for, and how far you want to drive. Families who need a quick trip out of the city will love nearby destinations such as Ogunquit or Kennebunkport in Maine. Or, drive a little further for a secluded island escape on Nantucket or Martha's Vineyard. When you're ready to start planning your itinerary, we've rounded up 13 Amazing Weekend Getaways Near Boston For Families, all of which are under three hours away. Keep reading for our tips, including hotel suggestions!
Cape Cod, Massachusetts
A Beach Getaway for the Whole Family
Less than two hours away from the city, Cape Cod provides families with an epic getaway from Boston. Visit Provincetown, a popular island destination great for younger children. Families can start their Cape Cod experience by visiting the three lighthouses, Race Point Light, Wood End, and Long Point Lights. Kids will also love visiting Race Point Beach and Provincetown's Pilgrim Monument. Summertime also means whale watching, tours depart from MacMillan Wharf. Families can also explore Cape Cod by biking along the Rail Trail. For endless family fun, stop in Wellfleet Drive-In for a movie or Pirate's Cove (South Yarmouth) for mini-golf. Then, families can also travel from Chatham to Monomoy Island on one of the seal viewing cruises.
Older kids may appreciate The JFK Hyannis Museum in Hyannis. Afterward, treat yourself to a lobster roll at Sesuit Harbor Café in Dennis or a sweet treat at Sundae School Ice Cream, offering two locations in Dennis Port and Harwich Port. Seafood lovers can't miss the Chatham Pier Fish Market or Hangar B Eatery in the Chatham Airport (kids will love watching the planes!). If you have extra time, you can also take a day trip to Martha's Vineyard or Nantucket!
Where to Stay on Cape Cod with Kids
If you want options in Cape Cod to accommodate kids, we suggest Chatham Bars Inn for its upscale, secluded setting. Another great option is Wequassett Resort and Golf Club, known for its scenic oceanfront location and kids' program. Families also love the Ocean Edge Resort & Golf Club which features five pools, a private beach, and more kid-friendly amenities. 
Top 50 Cape Cod beach, beachfront vacation rentals | Vrbo.com
Watch Hill, Rhode Island
Luxury without the Hefty Price Tag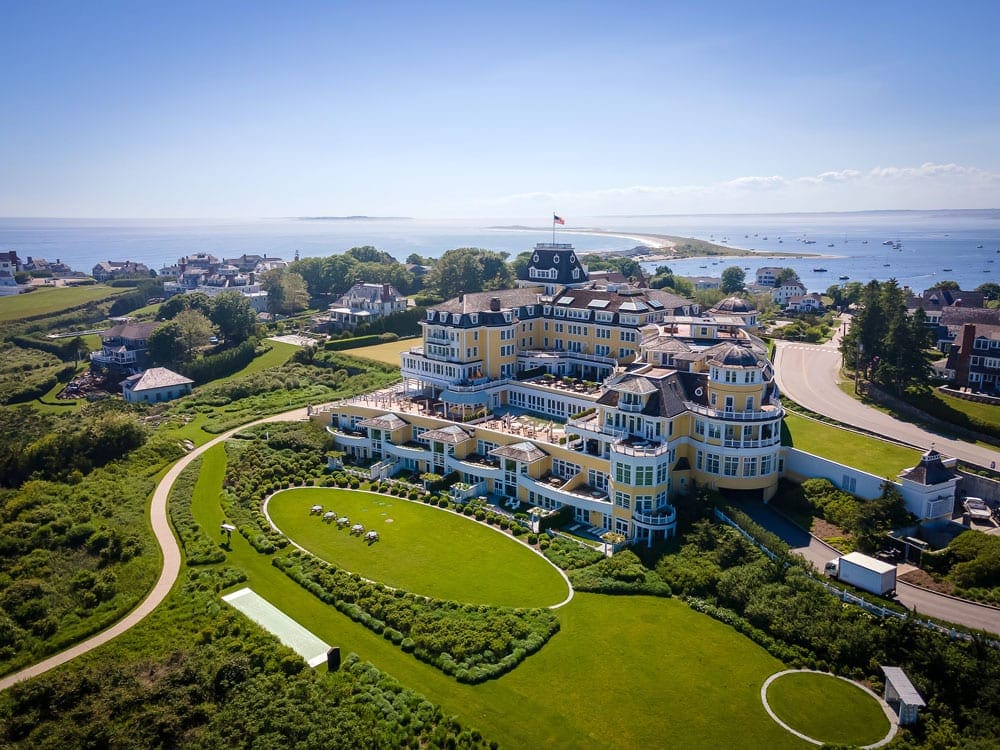 Your next trip to Watch Hill will definitely be one of the most exciting weekend getaways near Boston for families. Like Martha's Vineyard or Nantucket, this Rhode Island destination is a great place to take a family beach vacation. It's also only two hours away from Boston!
Kids will love playing in the sand at East Beach or Watch Hill Beach, both of which boast calm waters and a family-friendly ambiance. Families who really want to immerse themselves in nature can check out Napatree Point Conservation Area, with miles of shoreline ideal for bird watching or hiking. Of course, you can't miss the scenic Watch Hill Lighthouse and Museum, since it's one of the most iconic attractions in town! Afterward, take kids to nearby Westerly to ride the Flying Horse Carousel. Other things to do with kids in Watch Hill include browsing antique shops, art galleries, or restaurants. 
Where to Stay in Watch Hill with Kids
If you're looking for places to stay in Watch Hill with kids, we're sure there's an option to suit your family. Many of our FLT contributors love Ocean House, which is only an hour and a half away from Boston. This iconic hotel overlooks the water, featuring a private beachfront, multiple pools, and lots of family activities. It's an ideal location for a weekend away from Boston with kids.
Find Watch Hill Lighthouse Vacation Rentals on Vrbo
Newport, Rhode Island
History, Nature, and Seaside Adventures
Take your family vacation to Newport, one of the most exciting weekend getaways near Boston for families! With its gorgeous, Gilded Age mansions, scenic marina, and walkable wharves, this Rhode Island destination is two hours away from Boston.
Families with young children love visiting in the summer and enjoying Easton's Beach. (Get some of the best lobsters in town from the concession stand!) Kids will also love riding the vintage carousel. Afterward, get a glimpse of Newport's natural beauty by strolling the Cliff Walk, a 3.5-mile trail overlooking luxurious mansions along the Atlantic Ocean. Some kids may be interested in seeing one of these historic mansions up-close. We recommend touring one of many public options, like The Breakers or The Elms. Or, hop on a Newport Trolley for an educational tour of Newport. Treat kids with a trip to Newport Creamery or Newport Fudge once you finish! 
Where to Stay in Newport with Kids
Families interested in staying in Newport will find plenty of suitable options. We suggest Gurney's Newport Resort & Marina, which offers standard rooms and suites. Or, go even more low-key with Newport Marriott, providing ocean-view rooms, some of which include balconies. Then, Ocean House includes a private beachfront location and luxury amenities, making the hour drive from Newport worth it. Finally, The Vanderbilt, Auberge Resorts Collection is just minutes from the waterfront. 
Kennebunkport, Maine
Family Fun On The Water
Kennebunkport is certainly one of the most exciting weekend getaways near Boston for families! Famous for its beautiful beaches, this coastal town in southern Maine is an hour and forty-five minutes from Boston.
Start your weekend by driving or biking down Ocean Avenue, offering scenic views of the Atlantic Ocean. Families also flock to the soft white sand at Goose Rocks Beach. Lounge while enjoying a day of sun, swimming, and seashell hunting! (There's no lifeguard.) Mother's Beach has a fun playground for kids, with chances to spot fish and other marine life at low tide. For a more low-key experience, visit the sand-and-pebble Arundel Beach, also known as Colony Beach. Or, take a Kylie's Chance Tour to see the city's best sights, like on a lobster tour. Kids will appreciate Kennebunkport's streetcars at The Seashore Trolley Museum. End your day with a treat at Rococo Ice Cream!
Where to Stay in Kennebunkport with Kids
Wondering where to stay in Kennebunkport with kids? Try the Nonantum Resort, located on the riverfront just a short way from Dock Square. Dating back to 1914, The Colony Hotel sits on its own private beach, great for your family vacation in Kennebunkport.
RELATED: Best Places to Visit in Maine with Kids this Summer
Great Barrington, Massachusetts
A Quintessential Massachusetts Main Street
Great Barrington is a charming Massachusetts town only two and a half hours from Boston! Visit for a weekend to experience its cute Main Street, where you can stroll past cafes, restaurants, and quaint shops. Great Barrington also has accessible public beaches and swimming holes along the Green River, where families can kayak, paddleboard, etc.
Younger kids who like hiking will love strolling the flat path along the Housatonic River. BearTown State Forest also offers nearby trails and activities on Benedict Pond like swimming, boating, or fishing. In the mood for an adventure? Visit Catamount Aerial Park, featuring zip-lining and obstacle courses. Outside of Great Barrington in Lee, families can also hike the Appalachian Trail through October Mountain State Forest. If you're hungry, stop for wood-oven pizza at Baba Louie's. Afterward, satisfy your sweet tooth at Soco Creamery or head to Berkshire Mountain Bakery for fresh bread, pastries, and pizza. 
Where to Stay in Great Barrington with Kids
Families will find several charming accommodations in Great Barrington. Select from VRBO home-rentals, bed and breakfast options, and family-friendly inns. Firstly, The Wainwright Inn Bed & Breakfast is a great option for families in the Great Barrington. In fact, they feature two families suites, as well as The Carriage house, which includes 2 bedrooms and a kitchenette.
The Egremont Village Inn is another great option for families seeking a cozy, historic property. Finally, if you're seeking a mom's getaway or a romantic weekend away from Boston, consider Wheatleigh, Canyon Ranch Lenox, or Miraval Berkshires Resort & Spa.
FIND MORE of the Best Hotels for a Romantic, Kid-Free Getaway in the Northeast!
Litchfield, Connecticut
A Hidden Gem Nestled in the Hills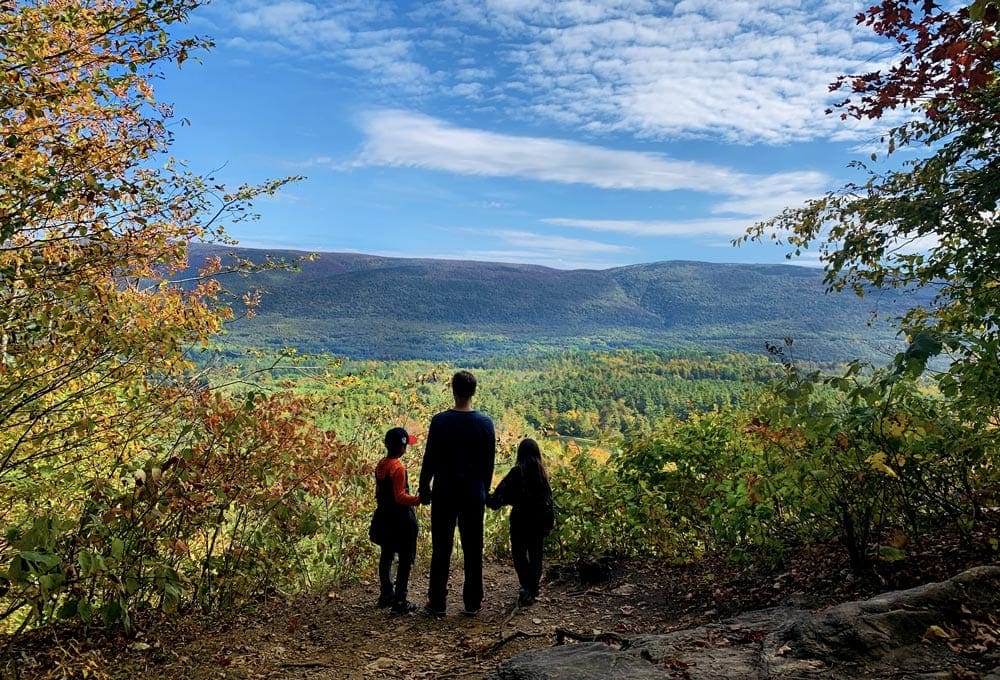 Head to Litchfield for a much-needed escape from the hustle and bustle. Since it's only two and a half hours from Boston, this charming Connecticut town offers families restaurants, antique shops, and outdoor activities.
In addition to a variety of boutiques to explore in town, kids will also enjoy visiting Litchfield's nearby farms! Say hi to the goats at March Farm, featuring berry-picking and an animal yard. For riding lessons, Litchfield also boasts various stables, like Lee's Riding Stable. Families who want to explore Connecticut's state parks will love Litchfield's location. Slightly outside of town, you'll find kid-friendly hikes, scenic views, and even swimming opportunities. Visit Black Rock State Park or Mt. Tom State Park. Afterward, kids can get a sugar rush at the nearby Winter Winds Farm to sample some sweet homemade maple syrup. Or, head to Peaches N' Cream for fresh homemade scoops sourced from Arethusa Farm.
Where to Stay in Litchfield with Kids
If you're searching for somewhere to stay in Litchfield with kids, we suggest Winvian Farm. Located in Morris, Connecticut, this selection of luxury cottages is perfect for families who want a cozy stay with all the comforts of home. Seasonal activities for kids include horseback riding or cooking classes, and parents will love the spa! Families should also consider renting a home-style option through VRBO for more space and room to play on your family weekend getaway from Boston!
Woodstock, Vermont
Animal Encounters for All Ages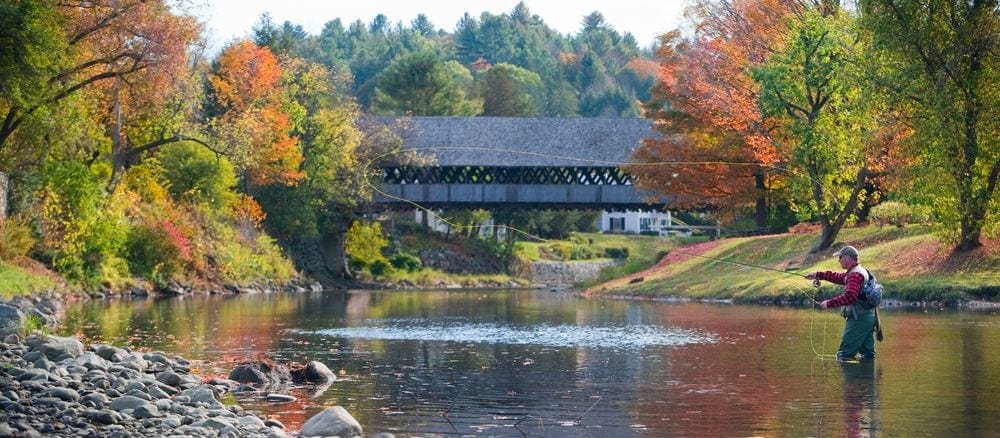 Make Woodstock one of your next weekend getaways from Boston, as it's one of the best places for families in Vermont! A little less than three hours away by car, it has a charming Woodstock Village with shops, restaurants, and cafes. It's also ideal for families who want to immerse themselves in nature.
Kids will love learning more about agriculture at Billings Farm & Museum, featuring interactive exhibits, adorable farm animals, and more fun surprises. (You'll also get a great history lesson!) Science enthusiasts can visit the Vermont Institute of Nature and Science to see raptors, songbirds, or walk through nature trails. For more hiking in Woodstock, visit Marsh-Billing Rockefeller National Park, Faulkner Park, or Quechee Gorge State Park. Or, cool off by taking a dip in nearby Silver Lake! Some kid-friendly restaurants in town or nearby include Worthy Kitchen, White Cottage Snack Bar, and Ramunto's Brick & Brew Pizza.
Where to Stay in Woodstock with Kids
If you're looking for somewhere to stay in Woodstock with kids, you've come to the right place. We recommend the Woodstock Inn and Resort, which has everything from outdoor pools to a golf course, spa, and tennis courts. Many families also choose to book Airbnb or VRBO homes in Woodstock or neighboring Barnard and Quechee. 
Mystic, Connecticut
Seaport, Seafood, and So Much More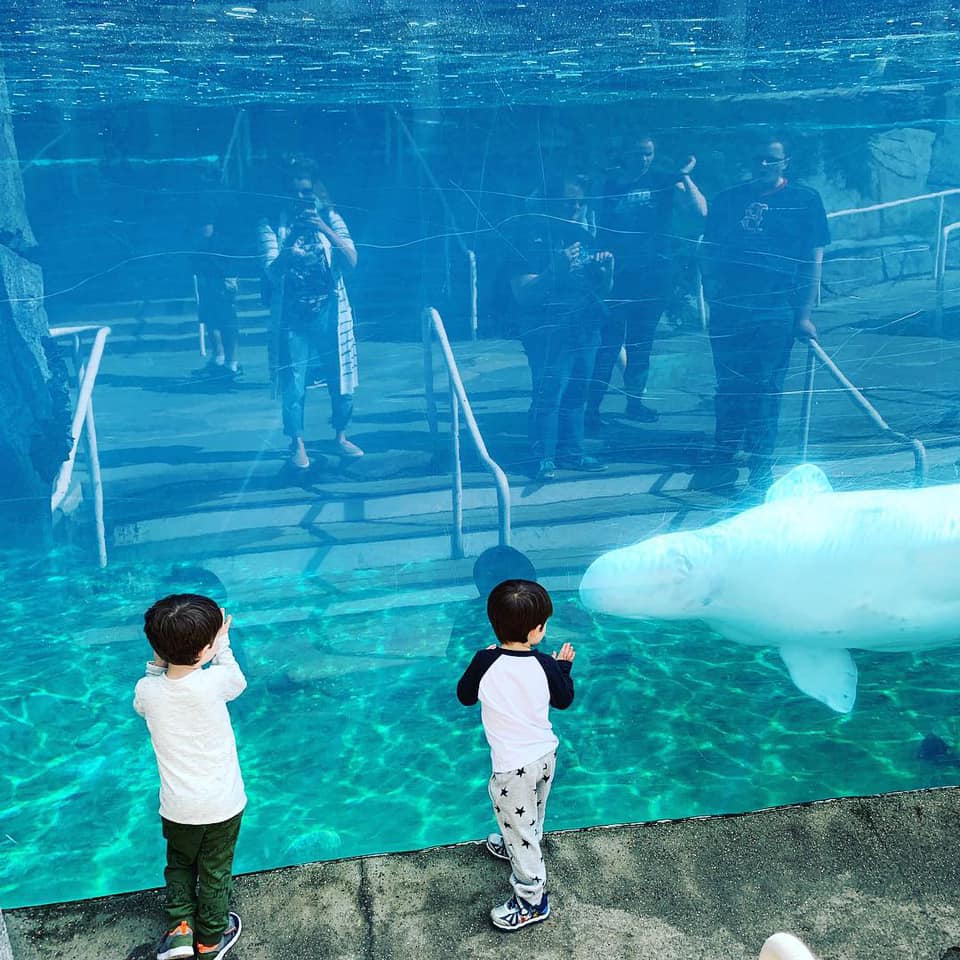 Make wonderful family memories in Mystic! Less than a two-hour drive from Boston, this walkable Connecticut town welcomes families to enjoy a wide range of outdoor and indoor adventures. During warmer weather, don't miss a chance to stroll the famous Mystic Seaport to get a feel for the town.
Kids will also love a visit to the Mystic Aquarium and the nearby Old Mistick Village. Eat ice cream, browse toy shops, and more fun! On a rainy day, families can challenge each other at the Niantic Children's Museum, showcasing hands-on exhibits and crafts. Younger children may prefer The Essex Train Museum, just twenty minutes outside of Mystic. When you're hungry, head to one of Mystic's many kid-friendly restaurants. Try Mystic Pizza for delicious pies, or The Sea Swirl if your kids are ambitious eaters. For parents, Engine Room or S&P Oyster Bar are great for drinks and dinner. 
Where to Stay in Mystic with Kids
Families looking for kid-friendly accommodations in Mystic will love the Inn at Mystic. Featuring several room types, including options with balconies and fireplaces, as well as on-site dining and ocean views. Then, The Whaler's Inn offers standard rooms and suites, on-site dining, and a boutique feel.
Find Rentals in Mystic, CT using Expedia- Book It All in One Place
Ogunquit, Maine
Small Town Appeal with Endless Entertainment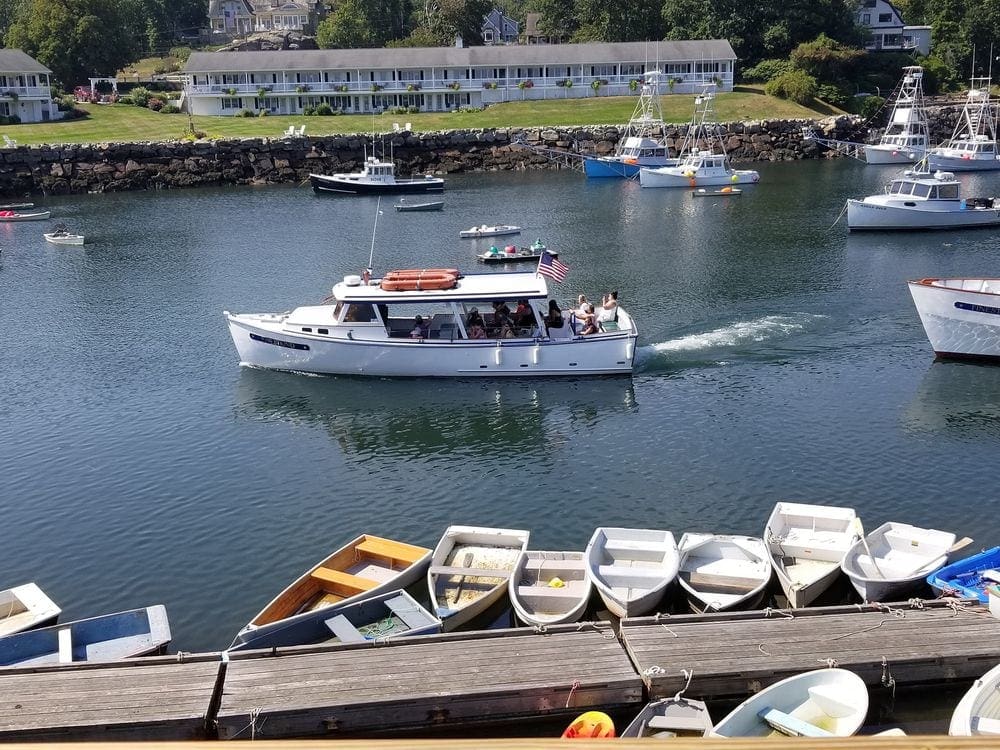 Families love Ogunquit, a quaint Maine town just an hour and twenty minutes from Boston! With sandy beaches, activities for all ages, and delicious dining, it's a fantastic place to take a quick weekend getaway during the summer.
Spend time lounging on the gorgeous Ogunquit Beach, which is lively, large, and clean. Parking is available nearby, and kids can rent gear from various vendors along the shore. Set to resume service soon, families can also hop on the Ogunquit Trolley to see the town. For more scenic views, save time to walk along the Marginal Way. This mile-long scenic cliff walk passes through incredible vistas, historic mansions, and private beaches. After a while, stop in Perkins Cove, a small fishing village. You can explore charming shops, restaurants, and cafes. Musically-inclined families will also love the Ogunquit Playhouse, which offers live performances and a Kids Theater Program. 
There are so many other things to do in Ogunquit with kids! If you have more time on your itinerary, consider visiting the Ogunquit Museum of American Art, taking a Finestkind Scenic Cruise, or heading to Footbridge Beach. We also suggest taking a day trip to nearby Cape Neddick.
Where to Stay in Ogunquit with Kids
If you need accommodations near Ogunquit, Maine, you're in luck! We recommend booking a room at the Beachmere Inn, a Cape-Cod-style hotel overlooking the ocean. While it's a little bit outside of Ogunquit, the Cliff House Maine in Cape Neddick is another great option. 
RELATED: 8 Best Maine Hotels For Families
White Mountains, New Hampshire
Make Mountainside Memories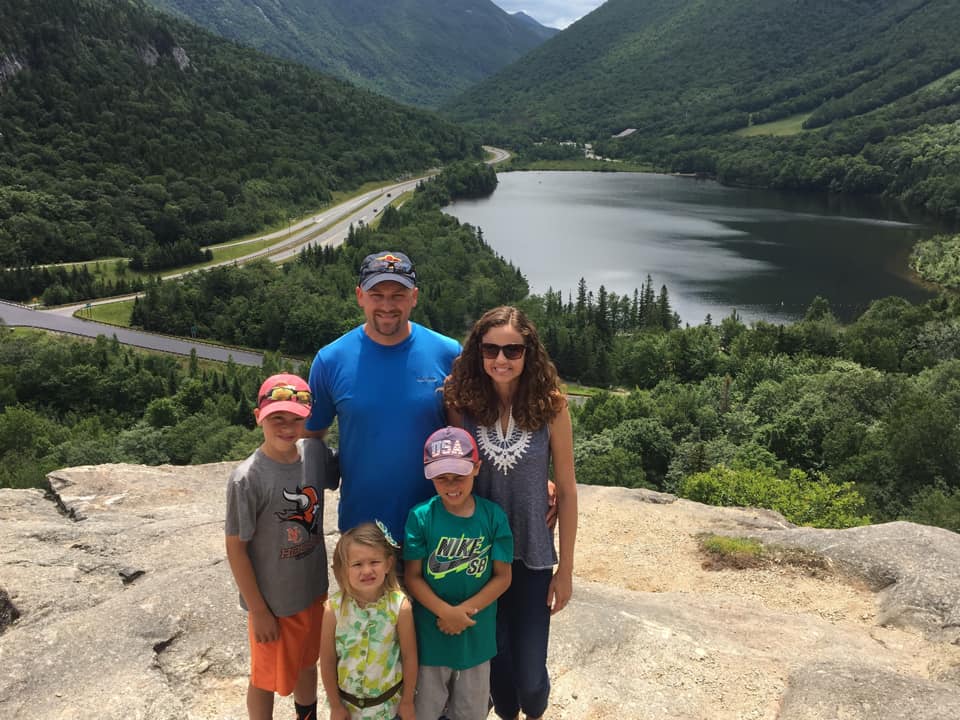 Spend your weekend getaway in New Hampshire's White Mountains, only two hours from Boston! Kids will love Whale's Tale Water Park, Santa's Village, or Story Land. To enjoy scenic views of Cannon Mountain, families can also visit Echo Lake's sandy beach. Accessible by reservation with facilities at the Lakeside General Store, you'll find opportunities to swim, pedal boat, kayak, and canoe. Or, hike through waterfalls, glacial pools, and moss-covered walls at Flume Gorge. Kids will also delight in visiting the Lost River Gorge & Boulder Caves, a one-mile trail with climbable boulders! White water rafting is also available through North Woods Rafting and Raft NH.
Don't forget to take a ride on New Hampshire's longest Skyride, the Loon Mountain Resort Gondola! At the mountain's base, enjoy zip-lining, rock climbing, hiking, and more. The Mt. Washington Cog Railway takes you to the highest summit on the East Coast! 
Where to Stay in the White Mountains with Kids
New Hampshire's White Mountains has plenty of family-friendly hotels. Located mountainside in Whitefield, book a stay at the upscale Mountain View Grand Resort and Spa. Families also love the Omni Mt. Washington Resort, featuring two golf courses, an indoor pool, and endless amenities. If you'd prefer to rough it in the rugged wilderness, rent a cabin inside White Mountain National Forest. Or, secure a tent at the Crawford Notch Campground.
Portland, Maine
A City Feel with Delicious Food and Quick Access to Charming Cape Elizabeth
Portland is definitely one of the most exciting weekend getaways near Boston for families! Located roughly two hours from Boston, come here for a laidback vacation with kids. Summer is a popular time to visit since you can take advantage of quintessential Portland activities such as a Maine Lobster Boat Tour. This fun excursion is available through vendors like Lucky Catch Cruises, Rocky Bottom Tours, and Casco Bay Custom Charters. Kids will learn more about Maine, see how lobster is caught, and even taste some for themselves! To fish, take a trip to nearby Cliff Island, accessible via the Casco Bay Island ferry from Portland's harbor. You can also head to Mackworth Island State Park, located in Falmouth adjacent to Portland. Enjoy kayaking on the water, plus plenty of kid-friendly trails. Shopping sprees are also possible thanks to the Freeport Outlets just north of the city.
A weekend in Portland means you also have quick access to charming Cape Elizabeth! Less than 20 minutes from one another, they make a great pair for a family-friendly weekend away near Boston. Visit one of the area's nicest beaches at Crescent Beach State Park, which has a nearby parking lot, bathroom facilities, and a mile-long shoreline. Cape Elizabeth also has a ton of lighthouses, like Two Lights Park and Cape Elizabeth Light. Don't leave without seeing at least one! Finally, head to the famous Fort Williams Park to see the Portland Head Light, Maine's oldest lighthouse!
Where to Stay in Portland with Kids
Portland has no shortage of places to stay with kids. For an upscale experience downtown, try the Portland Harbor Hotel, which has extra perks like valet parking and a shuttle. If you'd prefer to stay among nature, check out Wolf Cove Inn on the shores of Tripp Lake. From water sports to a fire pit, it has everything you need for an exciting family weekend getaway in Maine! Finally, Inn By The Sea in Cape Elizabeth is a fantastic option for families, offering seasonal activities and programs for kids and adults alike. 
Martha's Vineyard, Massachusetts
Fun in the Sun (& Sand)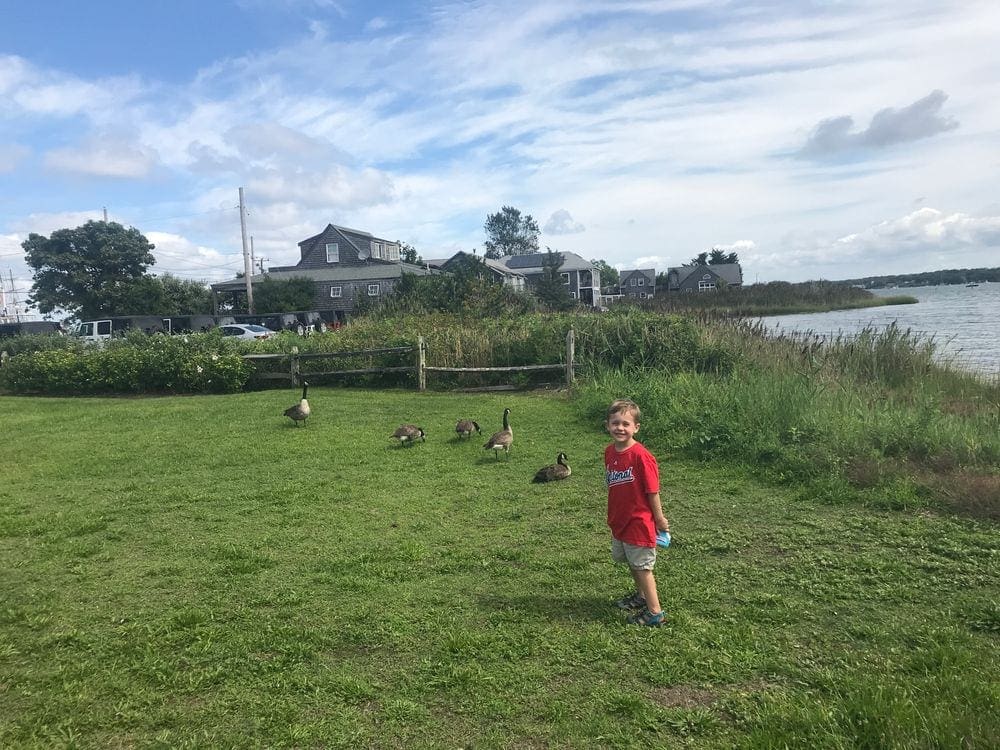 Martha's Vineyard provides one of the most perfect weekend getaways near Boston for families. With luxury hotels, seaside restaurants, and beautiful beaches less than three hours from the city, summer is the best time to visit. Kid-friendly beaches include South Beach in Katama, Fuller Street Beach in Edgartown, and Long Point Beach. Enjoy calm waves, clean shores, and chances to swim or build sandcastles!
Other things to do in Martha's Vineyard depend on where you're staying. Families in Edgartown can eat breakfast at an airport, visit the Felix Neck Wildlife Sanctuary, or grab sweets from Mad Martha's. In Oak Bluffs, visit the scenic Ocean Park, Oak Bluffs Marina, and Flying Horses, America's oldest carousel! Vineyard Haven is a must-stop for fudge at Murdick's. Or, appreciate the art in West Tisbury at the Field Gallery & Sculpture Garden. For a stunning sunset, hike to the Aquinnah Cliffs Overlook or Menemsha Hills Trail.
RELATED: Best Tips For A Magical Family Vacation On Martha's Vineyard
Where to Stay in Martha's Vineyard with Kids
Need somewhere to stay in Martha's Vineyard with kids? Most families choose a rental property from agencies like Martha's Vineyard Vacation Rentals and Sandpiper Rentals. For a hotel experience, the waterfront The Harborside Inn in Edgartown has seven "houses." Each offers accommodations, including some with patios and suites. Or, book a stay at the Harbor View Hotel, which has traditional rooms in the main historic building, alongside one-, two- and three-bedroom cottages.
In Oak Bluffs, consider Summercamp Hotel with fun décor, kid and pet-friendly rooms, and a game room. The Surfside Hotel has spacious suites, gear rentals, and a convenient location. For an oceanside resort, families love The Winnetu, which has both a hotel and homes for rent. 
Nantucket, Massachusetts
An Island Adventure Just a Ferry Ride Away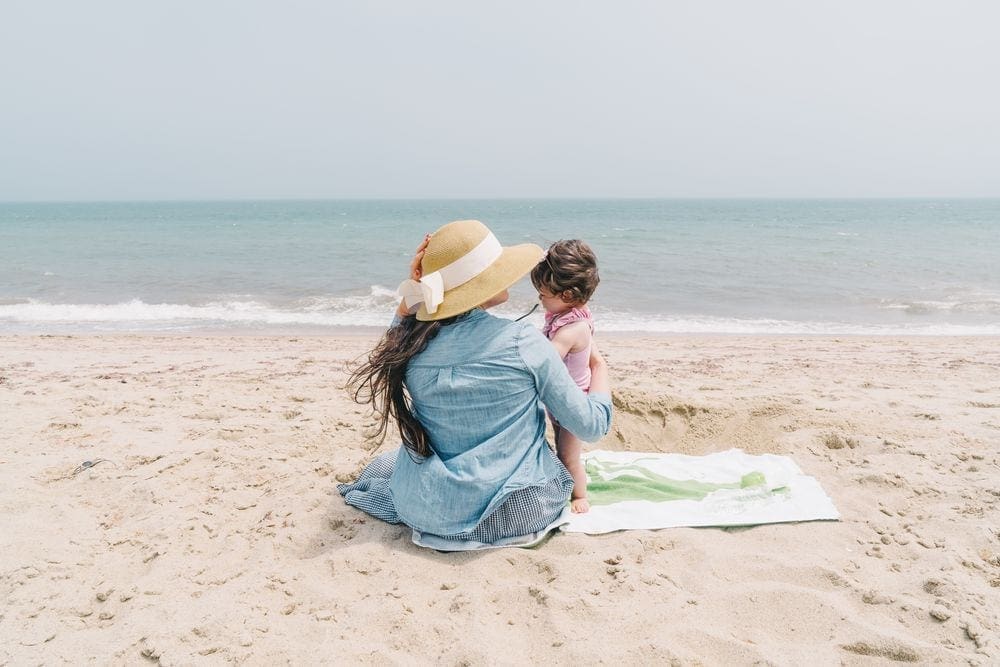 Nantucket is a family favorite for a good reason. As one of the most exciting weekend getaways near Boston for families, the overall journey takes around three hours including the ferry ride. Luckily, this tiny, secluded island off Cape Cod is easily accessible by bike, so you won't need a car. If you bring one, visit a drive-on beach, 40th Pole Beach, accessible with a permit. Or, head to Galley Beach or Surfside Beach. Conveniently located downtown, Children's Beach is also an option for no waves, plus a variety of shops, museums, and restaurants. Walk to Brant Point Lighthouse or rent a Jeep to reach the Coskata-Coatue Wildlife Refuge.
Other activities for kids include Critter Cruises, fishing, or visiting the Whaling Museum. Nantucket also boasts kid-friendly restaurants such as Brant Point Grill, Cru, Greydon House, and 167 Raw. Sayles Fish Market is a must for lobster rolls and clam chowder! 
Pro Tip: When visiting Nantucket with kids, remember to book your ferry ticket months in advance if you're planning on bringing a car. It can get crowded, and relatively expensive.
Where to Stay on Nantucket with Kids
Wondering where to stay on Nantucket with kids? Our FLT contributors recommend the White Elephant Nantucket, an upscale hotel overlooking Children's Beach in downtown Nantucket. There's also The Nantucket Hotel & Resort, a historic hotel located two blocks from Children's Beach. 
Happy Travels!
We hope you liked this list of 13 Amazing Weekend Getaways Near Boston For Families! Whether you're looking for something a quick drive away or really want to explore the East Coast as well, there are plenty of options to choose from. Enjoy your weekend getaway from Boston with your kids!
*This post may contain affiliate links that may also earn us a small commission, at no additional cost to you. Affiliate links in no way inform the hotels, sights, products, or other recommendations included in our articles. All opinions and recommendations expressed here are also compiled from submissions submitted by the generous members of our Families Who Love To Travel community.
READ NEXT: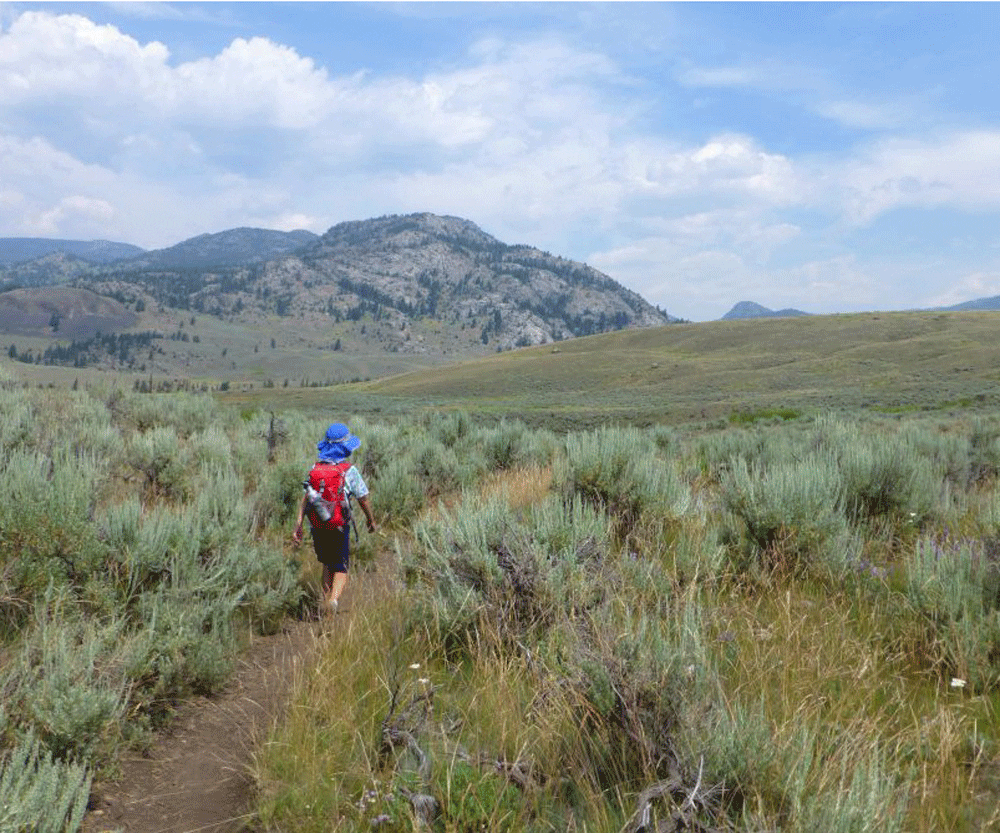 Everyone knows that Yellowstone National Park makes for a classic family vacation. Strolling the boardwalks...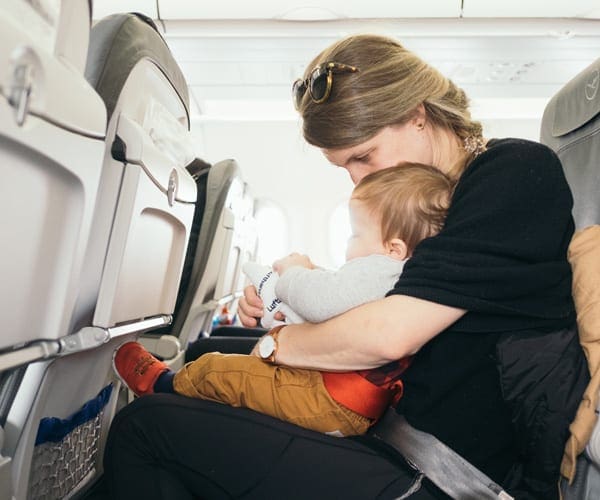 Families Who Love To Travel contributor Meghan Oaks provides her 10 best tips for your...