Nothing says relaxation quite like family lake vacations! From glimmering waters in the U.S, Canada, and Europe, you're probably wondering which lakeside destination best suits your family. Luckily, Families Love Travel has done the heavy lifting for you! Between water sports, winter sports, and sleeping in tiny, quaint, cabins overlooking gorgeous views, a family lake vacation is something every child should have the opportunity to experience! East Coast families can visit the best summer lakes to visit near NYC, all conveniently located under four hours away. Or, branch out even farther to visit other spectacular lakes in the United States, from Lake Superior to Lake Powell! Of course, should you wanna go abroad, New Zealand also offers some beautiful options, like Lake Wakatipu.
Not to worry, wintertime also boasts alternative family lake vacations! In fact, if your kids like skiing or winter sports, you're in luck. Most of the best U.S. lakes for families during the summer have cold-weather activities too! Visit Lake Tahoe's stunning shorelines for a luxurious stay at the famous Heavenly Mountain Resort. (And don't forget to take the gondola up the mountain for breathtaking panoramic views!) Whether you're taking an international family vacation to Switzerland or heading to Wisconsin's Lake Geneva, we've got you covered with everything you need to know.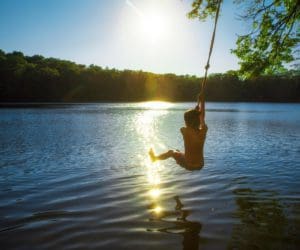 Summer is the perfect time for families to escape their busy lives and create unforgettable memories together – and what better way to do that than by renting a vacation home near one of New York State's picturesque lakes? From swimming and boating to hiking and fishing, there are endless activities for families with toddlers or teens alike. Explore the Adirondacks at Lake George or get in touch with history at Cayuga Lake as you tour nearby wineries and museums. In this article, we cover the best lakes in New York state for families, as well as some places to stay or areas to rent a vacation home. Keep reading to plan your next lakeside adventure!
Read More