A family vacation in Wyoming will be nothing short of an epic adventure! Appreciate the state's towering mountain ranges, gorgeous National Parks, and interesting Old West history when you visit on your next exciting getaway. Though it's a popular destination all year round, a lot of families love to vacation in Wyoming during the winter for its accessible skiing. One of the best places to do so is the Four Seasons Resort and Residences Jackson Hole, located in Teton Village. Ranked as one of the best ski-in/ski-out resorts in the United States, we highly recommend it. Enjoy convenience to the mountain, fantastic ski school, and other kid-friendly amenities! Nearby, you'll also find Jackson, Wyoming, one of the most charming American towns to visit with your kids. If your family wants to enjoy a fun December vacation in Wyoming, you could also visit the Grand Targhee Ski Resort in Alta. 
Wyoming is also a gateway to two of the most kid-friendly National Parks in the United States. Read our guide to Yellowstone National Park with kids for tips on the best trails for kids! Or, visit Wyoming's other famous park with our guide to Grand Tetons National Park with kids. For a longer trip, you could also combine a visit to multiple national parks. Stopping in Yellowstone and Grand Tetons National Park is a great summer vacation idea for families with extra time! With our sixteen-day National Park itinerary, you could also plan a more extended vacation. Visit multiple National Parks, including nearby destinations such as South Dakota, Montana, or Colorado. It's a great option for the summer, or even a nice spring break vacation idea with kids. If you're willing to brave the cold, however, you will find fewer crowds when you visit Yellowstone National Park during the winter.
LATEST ARTICLES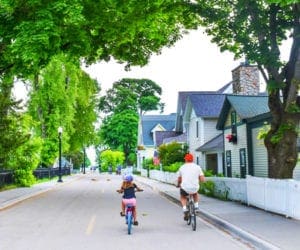 From Maine to California, we've compiled the perfect list of 16 Charming American Towns Worth Visiting With Kids! Between sandy beaches under swaying palm trees, historic tourist attractions, and downtowns evoking an old-world charm, these locations offer your family an enchanting escape. Keep reading to find out more!
Read More