A Spring Break family vacation is always a great idea! Whether you want to escape the cold for somewhere sunny or head to a faraway destination while the kids are off from school, March or April are ideal months to visit certain places. For example, some families may prefer vacationing in tropical places such as Florida or Maui during this time of year since it won't be as hot as the summer. On the other hand, popular cities such as Washington DC provide unique experiences in the spring, like the chance to see the scenic cherry blossoms. You can find more information on where to visit during spring break with kids on our list of 12 Warm Spring Break Destinations In The US. It has kid-friendly hotel suggestions and fantastic tips on visiting certain locations. You never know what fun surprises are in store during your Spring Break family vacation! 
Don't live within the United States or want to travel worldwide? Take your Spring Break family vacation somewhere else on our list of Spring Break Destinations Around The World! Relax on a beach in the Caribbean, whether you want to visit Puerto Rico or Mexico. Or, head to Cartagena for a mix of culture and lazy days! To experience a theatrical carnival, don't miss a visit to Venice. Kids can watch street performers put on masks and parade around the city! Other destinations such as Rome are also famous for their Easter celebrations. Hear the Pope say mass in the Vatican Square or eat a special meal at a local restaurant. Families who want to see the cherry blossoms can visit Tokyo or Taiwan to take it up a notch. Coincide your trip with the Lantern Festival and it'll be a memorable spring break family vacation for years to come!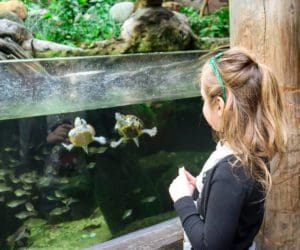 Tampa Bay is a vibrant destination for families in Central Florida, on the Gulf side. Not only does this beautiful city offer lovely waterfront views and dynamite food, but Tampa Bay also offers easy access to some of the best theme parks in the United States, including Busch Gardens® Tampa Bay. Its warm year-round weather and its perfect blend of thrilling and relaxing attractions also draw family travelers each year. From thrilling Tampa, Florida, attractions to quiet nights spent along the Tampa Bay Riverwalk, keep reading to discover all the best things to do during your visit to Tampa Bay with kids, including day trips from the city and where to stay!
Read More