Make your next family vacation in Maine! Famous for its lobster rolls, beautiful coastal landscapes, and historic lighthouses, this New England state welcomes families all year round. Winter is a great time to stay at one of the best Maine hotels for kids. Accommodations such as Cliff House Maine offer chances for cross-country skiing, snowshoeing, and more. Avid skiers will also find plenty of opportunities to go skiing in Maine with kids.  The Carrabassett Valley has a variety of beginner, intermediate, and advanced runs. Or, celebrate the holidays with an Annual Hat Parade in Kennebunkport, one of the most magical Christmas towns in the Northeast! Maine is also a wonderful place to visit in the fall. Kids will marvel at the colorful fall foliage, which you can appreciate during a train, boat, or car ride. Drive the famous Old Route One or experience a boat tour around Acadia National Park! 
With moderate temperatures, Maine is also a fantastic family vacation destination in the summer. Relax at one of the best beach resorts in the Northeast for families, like the Inn by the Sea in Cape Elizabeth or Smuggler's Cove Inn in East Boothbay. Maine is also perfect for adventurous activities like paddleboarding, kayaking, and whale watching. Families can enjoy all these things to do with kids in Bar Harbor, which is also a gateway to Acadia National Park. Other summer vacation ideas include taking a coastal Maine road trip. Travel from Ogunquit, which has one of the best beaches in the U.S., to Kennebunkport, Portland, Boothbay, and Camden. More places to visit in Maine during the summer include Wells or South Portland! Plus, visiting Maine isn't just for kids. Parents will also find some of the best hotels to take a romantic, child-free getaway, like the White Barn Inn & Spa.
LATEST ARTICLES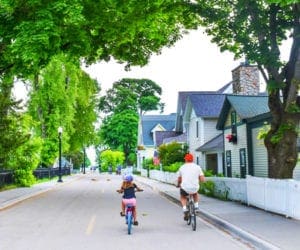 From Maine to California, we've compiled the perfect list of 16 Charming American Towns Worth Visiting With Kids! Between sandy beaches under swaying palm trees, historic tourist attractions, and downtowns evoking an old-world charm, these locations offer your family an enchanting escape. Keep reading to find out more!
Read More