There is nothing quite like the sights, sounds, and tastes of Bar Harbor, Maine. From the beauty of Acadia National Park to roaring ocean waves and mouthwatering lobster, Bar Harbor offers a thrilling location for a family vacation! Whether you want an active vacation in the great outdoors or a chance to relax on the beach, Bar Harbor offers some of the best kid-friendly activities in Maine! Outdoorsy families can fill their days with kayaking, whale watching, hiking, and climbing. From the picturesque views of Acadia National Park to Maine's iconic rocky coastline, you'll find no shortage of outdoor kid-friendly things to do in Bar Harbor. Then, families who prefer to take things slow can meander the charming downtown, search for the best lobster, and drive the Loop Road. One thing is certain, there is no shortage of fantastic things to do in Bar Harbor with kids!
Best Things to Do in Bar Harbor with Kids
If you are planning to visit or stay in Bar Harbor, here are the best things to do in Bar Harbor, Maine, with kids. From strolling along the historic downtown to whale watching, you can find exactly what you need to get the most out of your family vacation. After this section, you will find the best things to do in Acadia National Park with kids. We've organized them separately to help you plan your own adventures in Bar Harbor with kids! 
RELATED: Explore The United States On A Budget: 21 Affordable Summer Vacation Destinations With Kids
Embark on a Whale-Watching Adventure
If you have ocean-loving kids, getting on the water is a must. What better way to explore Bar Harbor than by water? In fact, one of the best things to do in Bar Harbor with kids is to embark on a whale-watching adventure. Bar Harbor Whale Watching Co. offers a variety of seasonal opportunities for families to see Maine's most iconic creatures. Not only can you search for whales, but they also offer tours to view the many nearby lighthouses and puffins.
Then, Robertson Sea Tours is a family-run tour company that can take your family on the adventure of a lifetime along Maine's rugged coastline. From pulling up lobster traps to searching for resident puffins, humpback whales, and Minke whales, your kids will adore riding the waves in search of creatures big and small. Robertson Sea Tours also offers private charters.
Pick Your Own Blueberries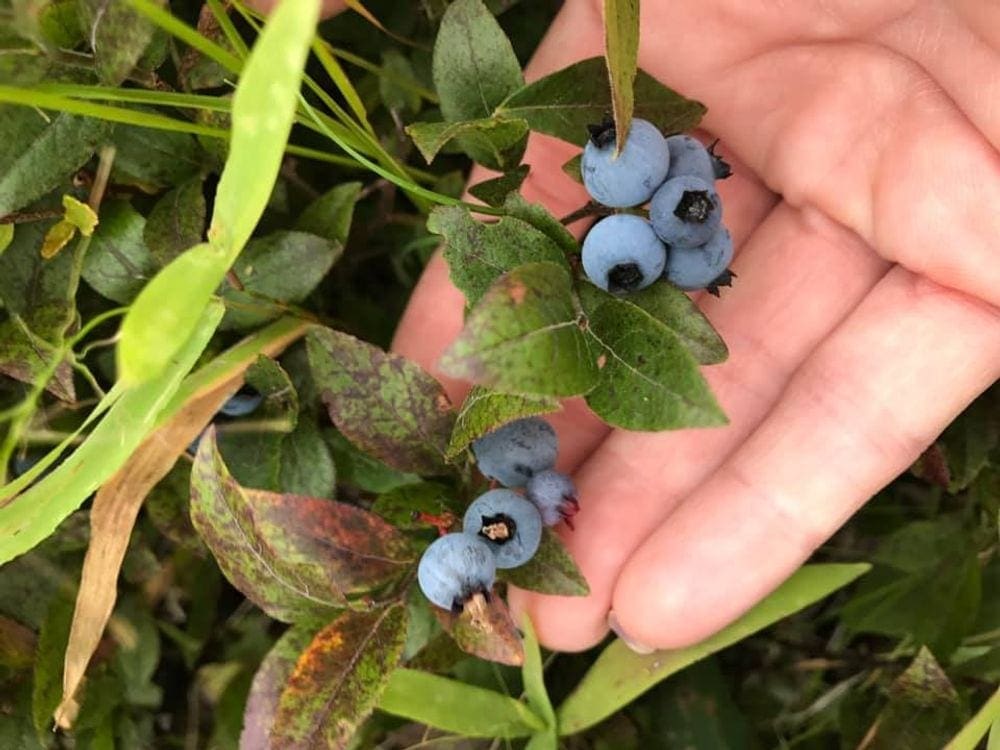 Maine is widely known for its scrumptious blueberries! While in Bar Harbor, you'll have the chance to taste a variety of blueberry-themed foods throughout your vacation at the many restaurants in town – including jams, pies, ice cream, and more! Additionally, your family can also find a local place to pick your own blueberries (seasonally available in July and August)!
Just 40 minutes from Bar Harbor, Hog Bay Berries allows families to pick their own blueberries. You can also find ready-made jams and pies on-site too! Grab some for the road to enjoy later. A little further afield, you'll find Beddington Ridge Farm. Less than 90 minutes from Bar Harbor, you can surround yourself with wild blueberries, fresh-cut flowers, and stunning views. This unique opportunity is certainly one of the best family-friendly things to do in Bar Harbor!
Pro Tip: Closer to Bar Harbor, you'll find plenty of locations to snag a few wild blueberries too. In fact, our families share that on Bar Island, you can walk across the tidal bar at low tide, follow the trail to the highest point and find wild blueberries growing right there at the overlook.
Wandering the Downtown Shops
Bar Harbor with kids isn't complete without meandering downtown and doing a bit of shopping. Kids will adore peeking in shops filled with Maine's famous gemstones, including the glittering watermelon tourmaline. Or, become familiar with the wares created by the local indigenous community, including woven sweetgrass baskets. Then, enjoy the plethora of art shops showcasing local artists. Find everything from seaside watercolors to more unique pieces featuring the Porcupine Islands, resident whales, and more.
Do your kids want to take home a souvenir to remember their time in Bar Harbor? Our families rank Little Village Gifts among the best. Head to Sherman's Maine Coast Book Shop Bar Harbor for a wonderful selection of literature to enjoy on vacation. On Sundays, stroll through Bar Harbor's Eden Farmers Market to support local farmers and artisans. Finally, Christmas aficionados will delight in finding their vacation Christmas ornament at The Christmas Vacation Shop.
Learn Local History at the George B. Dorr Museum of Natural History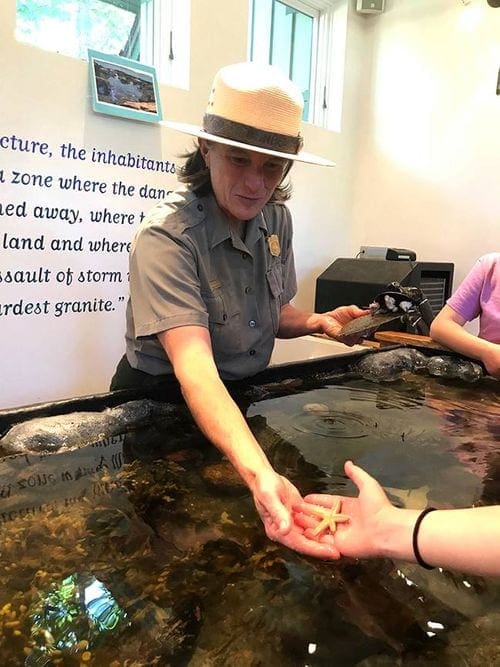 Families looking to escape the heat or rain can head to the George B. Dorr Museum of Natural History. As one of the best family-friendly things to do in Bar Harbor, kids and adults alike can learn about Maine's coastal wildlife using all five senses. With intentional experiential learning opportunities, the George B. Dorr Museum of Natural History encourages kids to explore through touch, smell, and sound!
For example, kids can stick their hands in the on-site touch tank as they learn about local ocean critters found in Frenchman Bay. Don't miss the Touch Tank Talk family program led by an experienced Acadia National Park ranger! Then, let kids explore the textures of baleen, fur, wings, and skulls through a hands-on experience. Finally, there is also an array of information on local ecology, as well as a few dioramas depicting Maine's coastal flora and fauna.
Pro Tip: The museum is free, making it one of the best free things to do in Bar Harbor with kids! However, a donation is encouraged.
Hunt for the Best Lobster Eating Experience
When you're ready to savor the local flavor, hunting for the best lobster experience has to top your Bar Harbor bucket list! Known for its fresh-off-the-boat lobster rolls, chowder, and more, Bar Harbor is an ideal place to try these iconic Maine foods. Firstly, locals swear by the 25-minute trek to Southwest Harbor to dine at Beal's Lobster Pier. Here, adults can munch on freshly caught lobster and mussels, while kids select from classic items or fresh-caught fish on the kid's menu.
Then, just 30 minutes from downtown, on the other side of Acadia National Park, check out Thurston's Lobster Pound. At this seasonal, family-run restaurant, you can feast on the day's catch from a dock hovering over the water. Or, try The Travelin Lobster, LLC, where the fishermen are the chefs serving mouthwatering lobster rolls and lobster dinners over the counter in a relaxed atmosphere. 
Embark on a Guided Sea Kayak or Paddle Board Adventure
One of the best things to do in Bar Harbor with kids happens on the water! If you want to explore by sea, consider hiring a Maine Guide through National Park Sea Kayak Tours. Experienced guides will plan the five to six-and-a-half-mile route depending on the weather. Plan to spend most of the morning or afternoon on the water. As you paddle, keep your eyes out for resident harbor seals, bald eagles, or osprey, among other Maine wildlife.
Coastal Kayaking Tours is another company that can get you on the water. Using tandem kayaks, they will guide your family on various adventures, including harbor tours, sunset tours, and multi-day paddles. Please note that age and height restrictions may apply. 
Paddleboarding is also available through Acadia Stand Up Paddle Boarding. Both guided tours and lessons are available to those new to the sport. Experienced families can also rent them on their own. Note that children as young as 9 can participate in lake tours, while ocean tours have a requirement of 12 years and older.
Take a Family-Friendly Boat Tour or Go Whitewater Rafting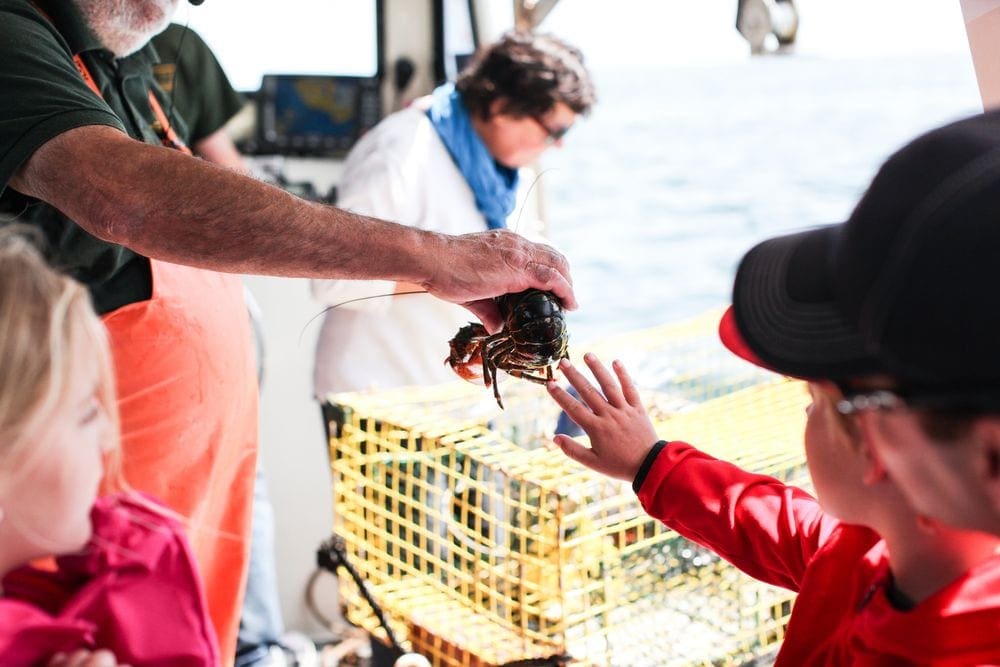 Looking for more on-the-water experiences to thrill your kids? Consider one of the many kid-friendly boat tours in Bar Harbor! Firstly, consider embarking on a Downeast-style lobster boat with Lulu Lobster Boat Ride. Kids will delight in learning how lobster traps are hauled, as they learn about the life of Maine's lobstermen. Wildlife tours are also available through Lulu Lobster Boat Ride and Acadian Boat Tours. As you sail, watch for harbor seals, Atlantic puffins, and other iconic wild animals that call Maine home.
Then, for a truly unique experience, consider Diver Ed's Dive-In Theatre. Glimpse sea life up close as you hold starfish, crabs, and other marine critters while learning about them and their habitats. No matter which boat tour you choose, your family won't be able to stop talking about these amazing adventures! Looking for something a bit more thrilling? Consider sailing or white water rafting while you're in town. Climb aboard a traditional Friendship Sloop with SAIL ACADIA. Enjoy calm waters and wildlife sightings as you sail along Maine's rugged coastline.
Then, just under two and a half hours from Bar Harbor, you can book a thrilling whitewater rafting experience with Northeast Whitewater. This rafting company can take you along mild or more thrilling rapids. In fact, they even offer a delicious grilled BBQ halfway through the whitewater rafting trip along the riverside. Additionally, Northeast Whitewater offers inland moose tours, kayaking, canoeing, and waterfall hikes. Further inland, Moxie Outdoor Adventures also offers exciting whitewater rafting opportunities along the Kennebec River.
Please note, some of these excursions may have age or height restrictions. Please verify with the company before booking.
Get 30% off your first box of any subscription to a new club with code FIRST30
Smell the Flowers at the Asticou Azalea Garden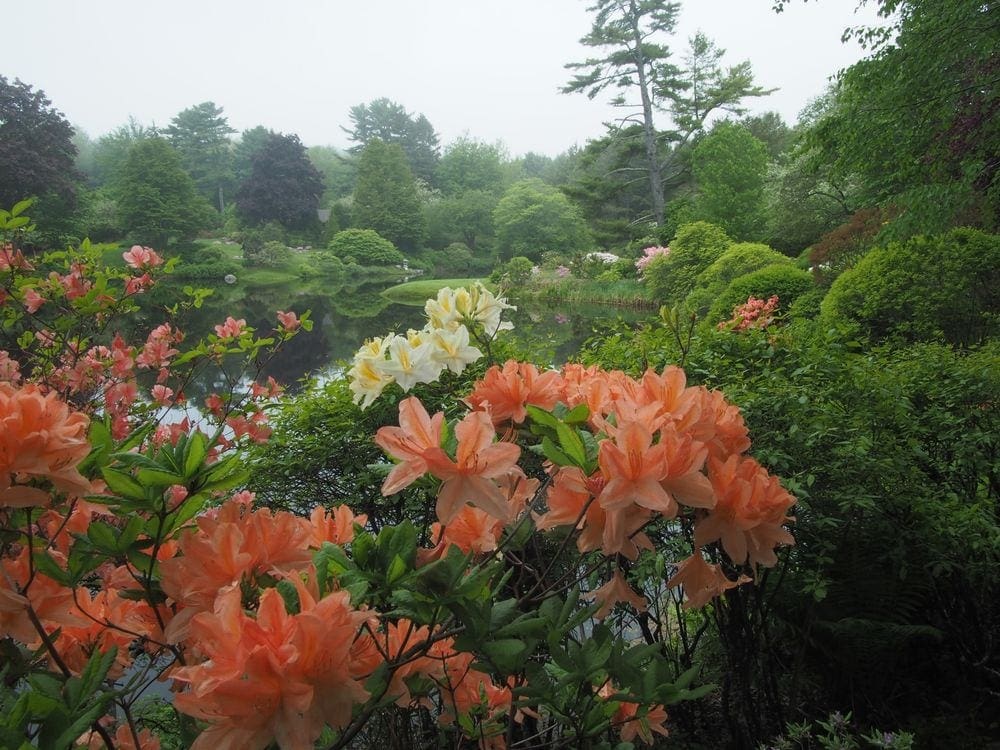 Just 15 minutes from Bar Harbor, families can spend a lovely afternoon milling around the Asticou Azalea Garden. As one of the best family-friendly things to do in Bar Harbor, the Asticou Azalea Garden will be a hit with all ages, including grandparents who have tagged along on the Bar Harbor family vacation.
Accessible and well-tended, the gardens are a stunning respite during the summer and fall seasons (open May to October). However, seeing the gardens while the azaleas are in bloom is breathtaking (late May through June). Then, autumn visitors are also in for a special treat, as the fall hues provide a vibrant background to family pictures. While meandering the gardens, enjoy their tranquil effect as you breathe in the enchanting floral aroma. Be sure to stick to the paths. Entrance is a suggested donation per person on the honor system.
Roam the Land & Garden Preserve
In addition to the Asticou Azalea Garden, the Land & Garden Preserve offers more things to do in Bar Harbor with kids! Here, you can also enjoy the Thuya Garden, the Abby Aldrich Rockefeller Garden, and Little Long Pond. At Little Long Pond, kids will delight in roaming the car-free and bike-free carriage roads, natural lands, and hiking trails. Let nature surround you as you connect and make memories together. The Land & Garden Preserve tends to be less crowded than other natural lands, so families with small kids can rest easy knowing their kids can roam a bit on easy paths.
Dogs are also welcome, with a few waste stations on-site. Additionally, pack your bathing suits, as swimming is permitted in four designated areas (watch for signs). Finally, there are three publicly available parking areas near the Land & Garden Preserve, including one at the main gates.
Please note, there are no public restrooms available on-site.
Explore Bar Island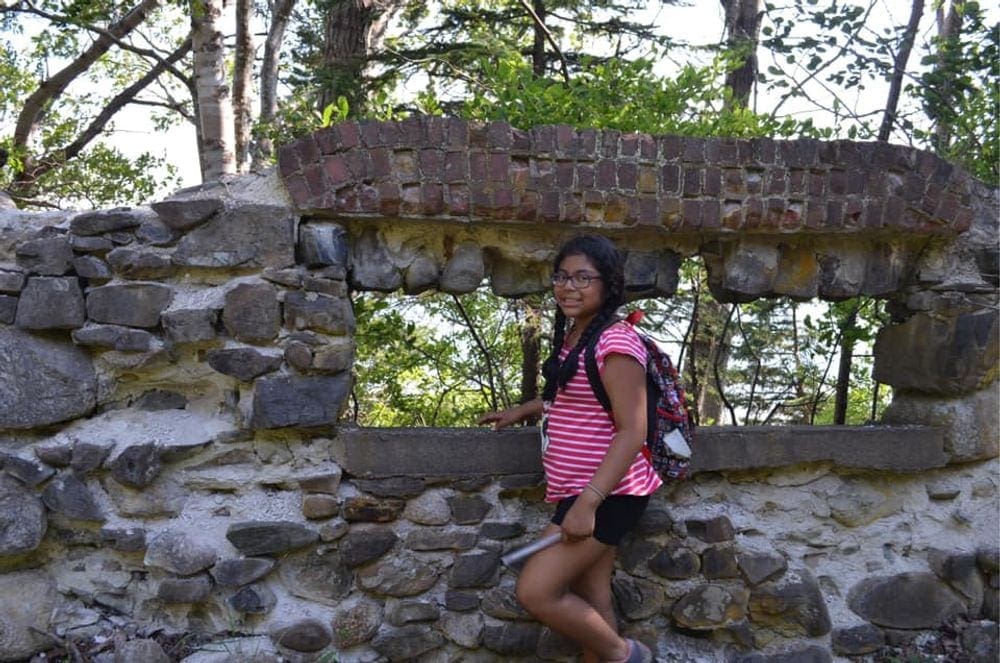 Next on our list of things to do in Bar Harbor with kids is exploring Bar Island. While it is technically in Acadia National Park, you'll access it from downtown Bar Harbor. As a natural tidal island across from Bar Harbor, Bar Island is a unique attraction for families to explore.
Uninhabited, Bar Island is a forested haven, dotted with pine and birch trees. Be sure to plan it correctly; the .5-mile landbridge to Bar Island is only accessible enduring low tide (and for about only 3 hours at a time). The soft floor of the landbridge may make it tricky for kids who are just learning to walk, so families with toddlers may want to consider using carriers to make the trek. Once on the island, families can meander the many walking trails to get gorgeous views of Bar Harbor and Frenchman Bay. 
Pro Tip: Watch the tide; if caught on the island, you'll need to wait on the island and hire a water taxi, which could cost about $100.00.
Best Things to Do Inside Acadia National Park with Kids
With so much to do in Acadia National Park with kids, you will likely spend most of your vacation within the park! From scenic hikes to munching on popovers at Jordan Pond House, there is a lot to love about this national park.
READ NEXT: The 4th-Grade National Park Pass: What You Need to Know
Drive Along Park Loop Road
If you're looking for relaxing things to do in Bar Harbor with kids, jump in the car and drive along the 27-mile Park Loop Road. Blast your favorite tunes and marvel at the stunning seascapes on your drive. Your family will adore this enchanting drive from rugged cliffs to crashing waves to picturesque views.
When you're ready to get out of the car, Park Loop Road has several places to pull over and park. Grab your camera too! This way, you can capture your family enjoying the many stunning views. Our families recommend planning carefully, as the road can get busy, especially on hot summer days. Autumn is also a wonderful time to enjoy this drive, as the fall colors add to the magic of the views! If you want to stretch your legs, there are many options for short scenic walks and hikes along the road too.
Pro Tip: Be sure to set aside a few hours to drive the full loop with ample time for stops. You may even want to pack a picnic lunch! Additionally, grab the audio tour about Park Loop Road on CD, available for purchase at Hulls Cove Visitor Center.
Adventure on Bikes
Interested in seeing Bar Harbor with kids from a unique perspective? Rent a set of wheels from Bar Harbor Bicycle Shop and spend the day adventuring by bicycle! One of the best things to do in Bar Harbor, Maine, there are several great places to bike with kids.
A family favorite, bike along the carriage roads in Acadia National Park. With over 45 miles of carriage roads, Acadia National Park offers a charming place for families to meander the nearby mountains and valleys. Paths are wide, making them ideal for families on the go (but be prepared for hills!). Then, just a few miles from Bar Harbor, families can also bike at the Schoodic Peninsula. Here, you'll find about 8 miles of hard-packed gravel biking trails. Expect fantastic seaside views along the route. Plus, lucky bikers may catch sight of seals in the coves along the way too!
Indulge in Popovers at Jordan Pond House
It's no secret that one of the best things to do in Bar Harbor with kids is dining on popovers at Jordan Pond House. Located inside Acadia National Park, it is a charming stop for a quick munch on popovers & jam, or a more filling meal, with a divine view of the nearby pond and mountains. Dine on delectable items like crab dip, lobster rolls, vegetable risotto, soups, chowders, and more.
Afterward, roam the nearby trails to make it a full morning or afternoon experience. Jordan Pond House is conveniently accessible through the FREE Island Explorer Bus, as well. Additionally, if you're biking along the carriage roads, you can make a stop for a bite during your day too! From the views to the tasty fare, it's no wonder dining at Jordan Pond House is one of the best kid-friendly things to do in Bar Harbor.
Pro Tip: If possible, make reservations because it can get quite busy. Plus, our families recommend the lobster stew, which comes with two popovers. This fantastic combination is sure to give you the ideal taste of Maine!
Take a Guided Rock Climb on the Otter Cliffs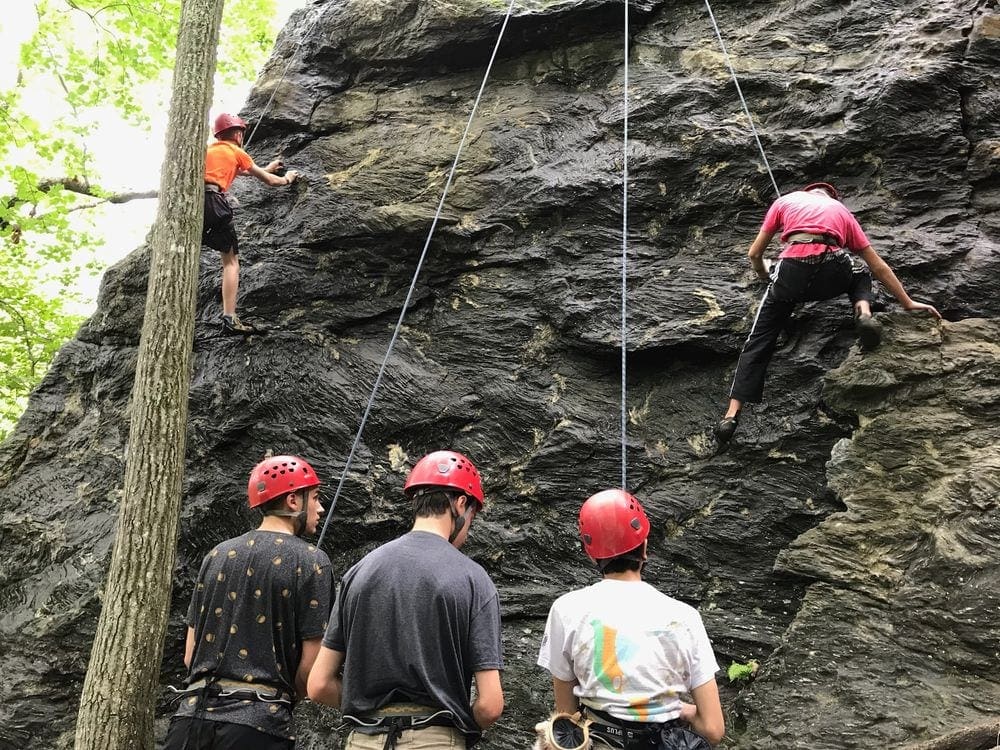 If you're looking for adventurous things to do in Bar Harbor with kids, consider a guided rock climbing tour along the Otter Cliffs. This stunning location in Acadia National Park reaches up to 110 feet, making it one of the highest coastal headlands in North America along the Atlantic Ocean. Here, you can toprope or rappel with sturdy steel anchors.
Those new to climbing will discover Otter Cliffs to be an ideal place to learn. Acadia Mountain Guides offers a variety of climbing tours, for any age and experience level. In fact, there is a special Family Rock Climbing in Acadia National Park package.
Additionally, Explore-Share offers a full-day rock climbing tour with an AMGA-certified mountain guide. On your climb, expect extraordinary views and a lot of fun! Non-climbers can enjoy the nearby hiking trails or simply relax in one of the most beautiful spots in Bar Harbor!
Go for a Swim
If you're visiting during the summer's heat, taking a dip at a local swimming hole is one of the best things to do in Bar Harbor with kids! Along the southern shore of Acadia National Park, find Echo Lake Beach. Here, you'll enjoy a sandy beach, alongside a roped-off swimming area. Families with littles will especially love that the waters are calm and relatively shallow.
Sand Beach is another great option with kids in tow. Located at the beginning of Park Loop Road's coastal section, parents adore the option to relax in the sand as kids play in the water. Stop at Sand Beach after hiking, as it's close to the trailheads for The Beehive, Great Head Trail, and Ocean Path. Both Echo Lake Beach and Sand Beach should have lifeguards on duty from 9:00 am to 5:00 pm each day (seasonally available June through Labor Day).
See the Thunder Hole in Action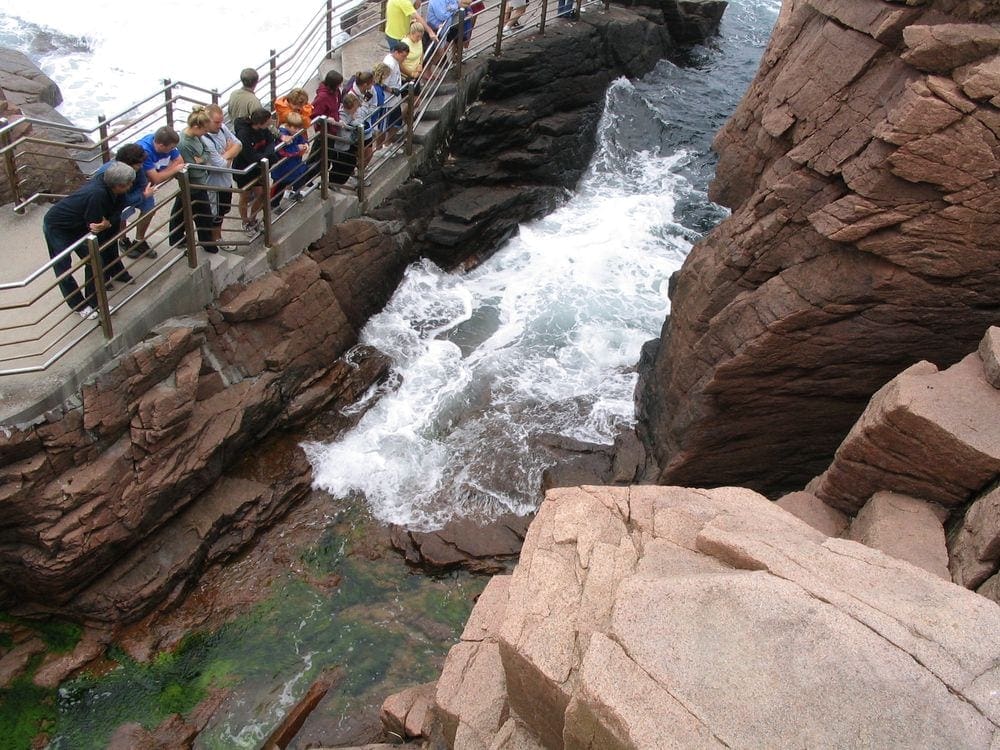 Add the Thunder Hole to your itinerary if you're looking for a fun kid-friendly activity in Bar Harbor. Located inside Acadia National Park, this iconic landmark provides the perfect backdrop to an afternoon of family fun. Munch on wild blueberries or packed sandwiches while you listen to waves crash with thunderous applause. Kids will delight in watching the eruption of seafoam as waves crash. One thing is certain, with each crashing wave, you'll hear your own wave of giggles erupts from your kids.
The nearby parking lot makes it easy to carry down your picnic basket and blanket. Let kids roam about while you unpack lunch for the family. During lunch, encourage them to use their five senses to get the full effect of picnicking by Thunder Hole. Afterward, wander down the stairs to the "splash zone", where kids can feel the water, as well as hear it!
Bass Harbor Head Lighthouse
Nestled along a cliff facing the ocean, Bass Harbor Head Lighthouse is one of the best family-friendly things to do in Bar Harbor. Built in the mid-1800s, this lighthouse is a gorgeous spot for family pictures and a quick hike. While you can't go inside the lighthouse, you can meander the paths around it, including one that descends a flight of stairs to the water. As you walk down to the shoreline, keep your eyes peeled, you may be lucky enough to see passing dolphins or ships. Along the water, search for starfish and other ocean creatures.
Active families can even partake in a bit of rock scrambling. While the rocks here can be a bit tricky, sure-footed kids and adults can take in the views from a unique perspective. Parking is free, and the grounds are open daily from 9:00 am to sunset. 
Pro Tip: You may want to pack extra clothes for curious kids who may get wet in the process!
Junior Ranger Program at Acadia National Park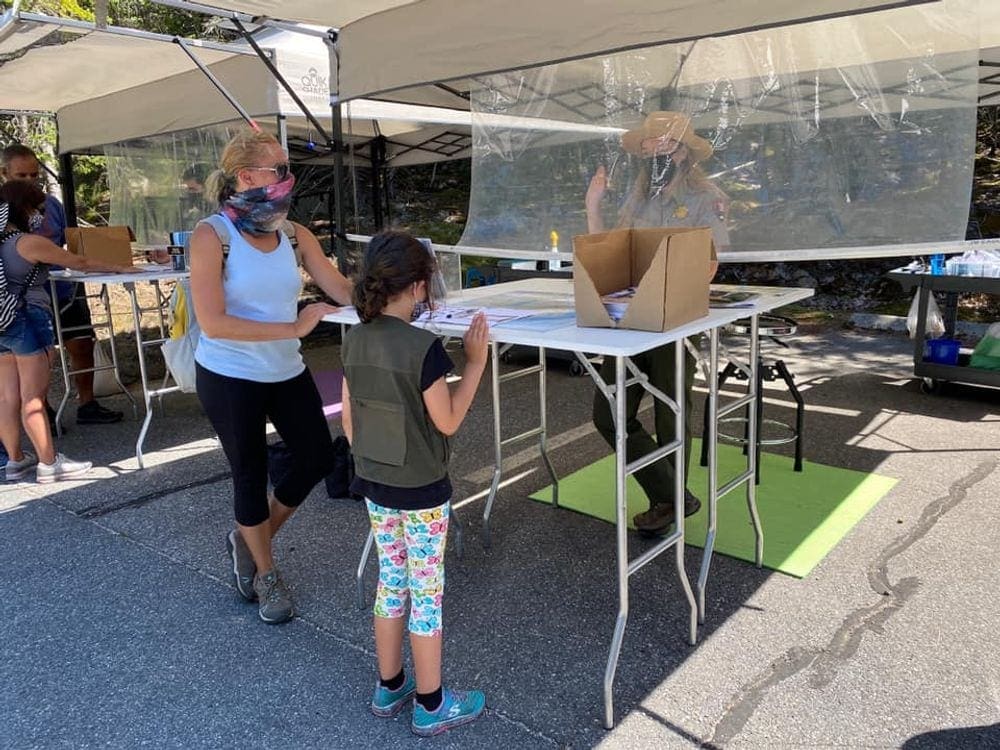 One of the best things to do in Acadia National Park is to participate in the Junior Ranger Program. In this program, kids can complete activities in a workbook that helps them learn about the park, as well as commit to caring for it. Not only can they learn about Acadia National Park and have fun while doing it, but they can also earn a special badge to commemorate the experience!
To earn their badge, kids will need to complete a few activities, as well as participate in a ranger-led discussion. Throughout the Junior Ranger Program, kids will learn about the plant and animal life within Acadia National Park. Additionally, they will gain a better understanding of its history and delicate ecosystem. The program is free and takes a few hours to complete. Acadia National Park with kids isn't complete without wearing their Junior Ranger badge with pride!
Customize your travel insurance coverage with optional coverages through Travel Guard.
Hike in Sight of Mountains, Valleys, and Ocean Views
You'll find no shortage of hiking trails in and around Bar Harbor! In fact, many families come here just for the opportunity to trek outdoors. Inside Acadia National Park, hike along Ocean Path Hike, offering unsurpassed scenic views. Then, Cadillac Summit Loop provides more great views, especially at sunset, for all skill levels. Head to the Bubble Rock Trail for one of the most well-known rock formations in Maine. Kids will marvel at the precarious boulder perched atop this trail. Beech Mountain Fire House is another great hike with kids, especially during the spring and summer when wildflowers are in full bloom. Reach the top, and you'll be treated to seeing the hike's namesake fire tower and views of Cadillac Mountain.
Families looking for more challenging hikes can consider the following two options. Firstly, The Beehive Trail is a family favorite amongst skilled hikers. While The Beehive Trail is not very long (about .2 miles), it is very steep and may require a bit of climbing to get to the top. The incredible views waiting at the top, however, make this trail worth the climb! Then, if you want to catch a glimpse of local wildlife, Champlain Mountain via Precipice Trail may be your best bet. Another challenging hike, it's ideal for those with teens or strong hikers. Less crowded than The Beehive Trail, Champlain Mountain via Precipice Trail offers continuous views of the harbor islands during the descent. 
Where to Eat in Bar Harbor with Kids
When exploring Bar Harbor with kids, you'll experience no shortage of enticing fare. We've already covered where to find the best lobster. Here are a few additional options to satisfy hungry travelers. When you need a crowd-pleaser, head to Blaze for pizza and burgers. Then, for breakfast, be sure to check out Jordan's Restaurant for home-style pancakes and the best of Maine's blueberries!
Need a quick breakfast or a great cuppa joe? Coffee Hound Coffee Co. has you covered! If you're planning a picnic, head to Downeast Deli and Boxed Lunch Co. for a great lunch to go, including wraps, salads, and sandwiches. Finally, be sure to end each day with a sweet treat from Mount Desert Island Ice Cream, featuring small-batch-made ice cream with real ingredients and a lot of care.
READ NEXT: 10 Maine Hotels for Families that Offer Fun for All Ages
Where to Stay in Bar Harbor with Kids
Looking for the best places to stay in Bar Harbor with kids? It can be tricky to find accommodations because it's a popular destination. As such, we recommend planning ahead. We asked our families to share their favorite family-friendly hotels in Bar Harbor, here are the top recommendations.
Firstly, Atlantic Oceanside Hotel & Event Center offers an oceanfront property just one mile from Acadia National Park. Then, West Street Hotel provides a boutique hotel experience, featuring standard rooms and suites. Centrally located in town, Bar Harbor Inn & Spa makes it easy to enjoy the historic downtown area, as well as charming ocean views.
Finally, our families also recommend Harborside Hotel, Spa & Marina, Balance Rock Inn, and Hutchins Cottages at Acadia when staying in Bar Harbor with kids. The Bar Harbor Grand Hotel, close to Ells Pier and the Cadillac Mountain entrance of Acadia National Park, is another great option.
Find Top Rentals in Bar Harbor, ME using Expedia – Less Stress, More Travel.
Find the Top 20 Bar Harbor waterfront vacation rentals on Vrbo
Happy Travels!
One thing is certain, families headed to Bar Harbor, Maine, are in for the family vacation of a lifetime! From the thrilling adventures of whale watching to the charming opportunity to go berry picking, you'll find seasonal delights, as well as year-round entertainment in Bar Harbor with kids. Time to pack your bags and discover the best of Bar Harbor and Acadia National Park. We hope this compiled list of things to do in Bar Harbor, Maine, including restaurants and accommodations, helps you fill your itinerary, and, more importantly, make a lifetime of memories together!
As always, this article on the Best Things to Do in Bar Harbor with Kids would not have been as helpful, informed, or family-friendly without the contributions and input from the amazing members of our Facebook group, Families Who Love To Travel!
*Due to COVID-19, some of the featured things to do in Bar Harbor with kids, restaurants, or accommodations on this list may be closed or experience reduced services. Please ensure availability before making your decision. 
*This post may contain affiliate links that may earn us a small commission, at no additional cost to you. Affiliate links in no way inform the hotels, sights, products, or other recommendations included in our articles. All opinions and recommendations expressed here are compiled from submissions submitted by the generous members of our Families Who Love To Travel community.
READ NEXT: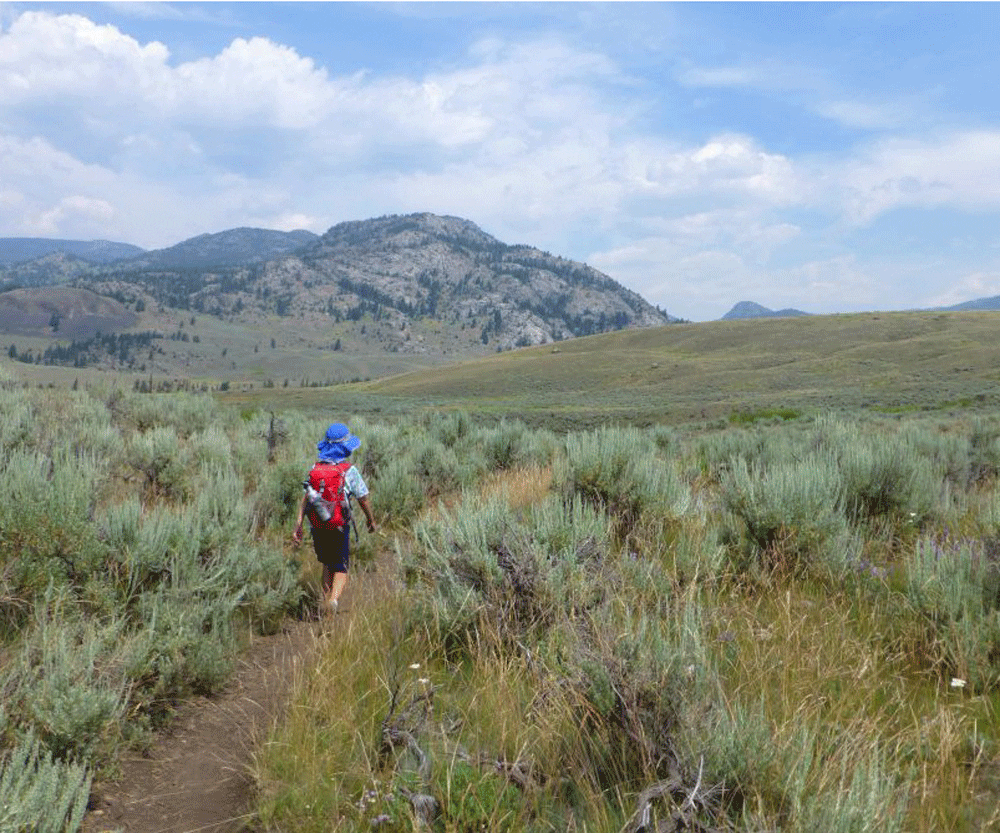 Everyone knows that Yellowstone National Park makes for a classic family vacation. Strolling the boardwalks...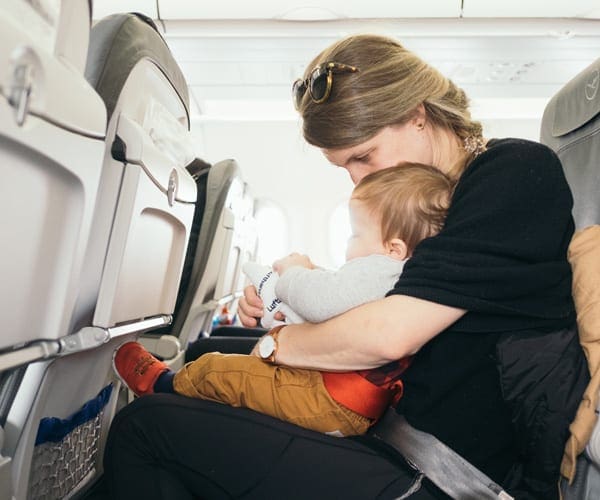 Families Who Love To Travel contributor Meghan Oaks provides her 10 best tips for your...