These best places to visit in France are more than just destinations – they form a vibrant tapestry of history, culture, and joie de vivre that will dazzle both kids and adults alike! With its stunning landmarks, delicious food, and endless attractions – it's no surprise why people keep coming back to this European country time and time again! Disneyland Paris and Normandy offer unique experiences that kids will cherish forever, while the Loire Valley provides an opportunity for families to learn about history and architecture. Meanwhile, cities like Lyon are perfect for foodies who want to explore local cuisine. We've included things to do, where to stay, and more tips for visiting France with kids to help you plan your itinerary. Keep reading to plan your next adventure to la belle France!
Paris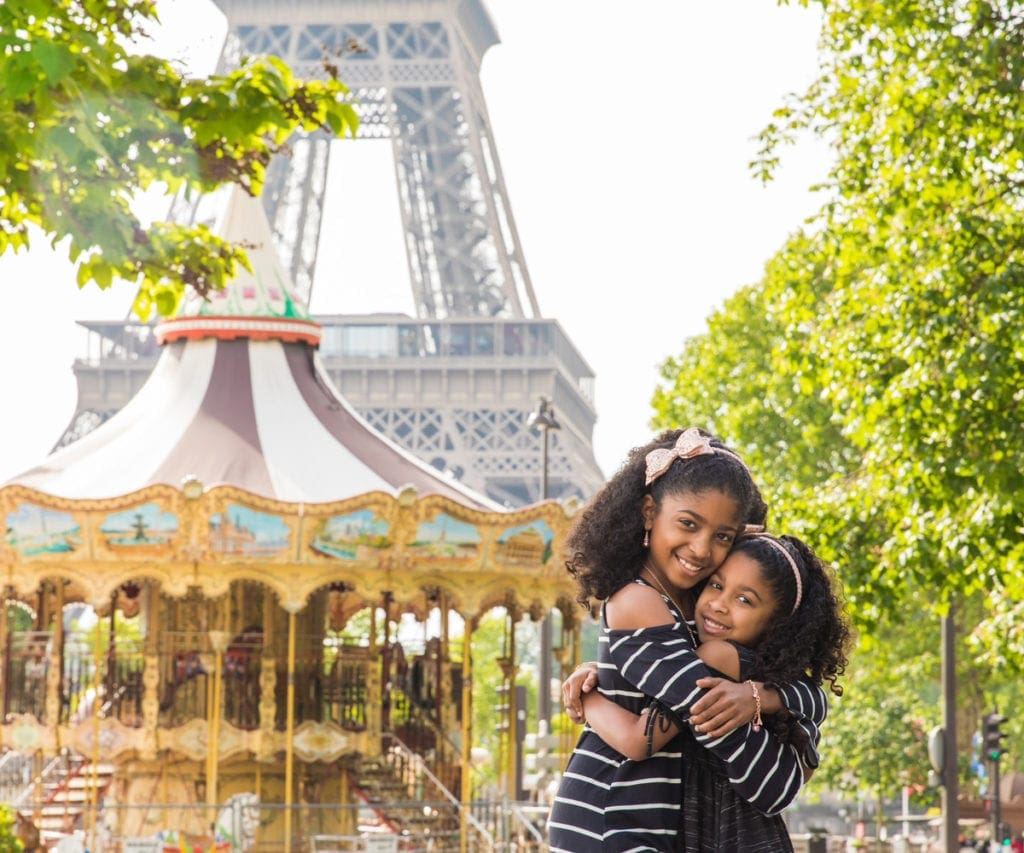 Regarding the best places to visit in France with kids, there's an obvious choice that stands out above all others – Paris! Bursting with history, culture, and endless adventures, this enchanting city offers a plethora of exciting and kid-friendly activities. Not to mention, iconic landmarks that will leave your little ones wide-eyed with wonder.
Of course, one of the most famous attractions here is the Eiffel Tower, which offers stunning views over the city. Families can opt for a guided tour or choose to climb up to one of its three observation decks on their own. For history buffs, there are plenty of museums in Paris worth exploring. Start at The Louvre Museum, which houses some of the world's most famous art pieces, including the Mona Lisa by Leonardo da Vinci.
Younger kids may prefer The Natural History Museum. Meanwhile, teens can visit The Paris Catacombs for a different look at local history! Paris also has plenty of scenic gardens where little ones can run around, while parents relax. To start, families love The Luxembourg Gardens, Parc de la Villette, and Jardin Tuileries. Families can also wander around charming neighborhoods like Montmartre, home to the famous Sacré-Cœur Basilica with its awe-inspiring architecture. 
No trip to Paris would be complete without indulging in French cuisine! From classic croissants and macarons at local patisseries to traditional French dishes at local restaurants – there's something delicious around every corner!
Visiting Paris with young kids? Check out these Fantastic Things To Do In Paris With Young Kids!
Disneyland Paris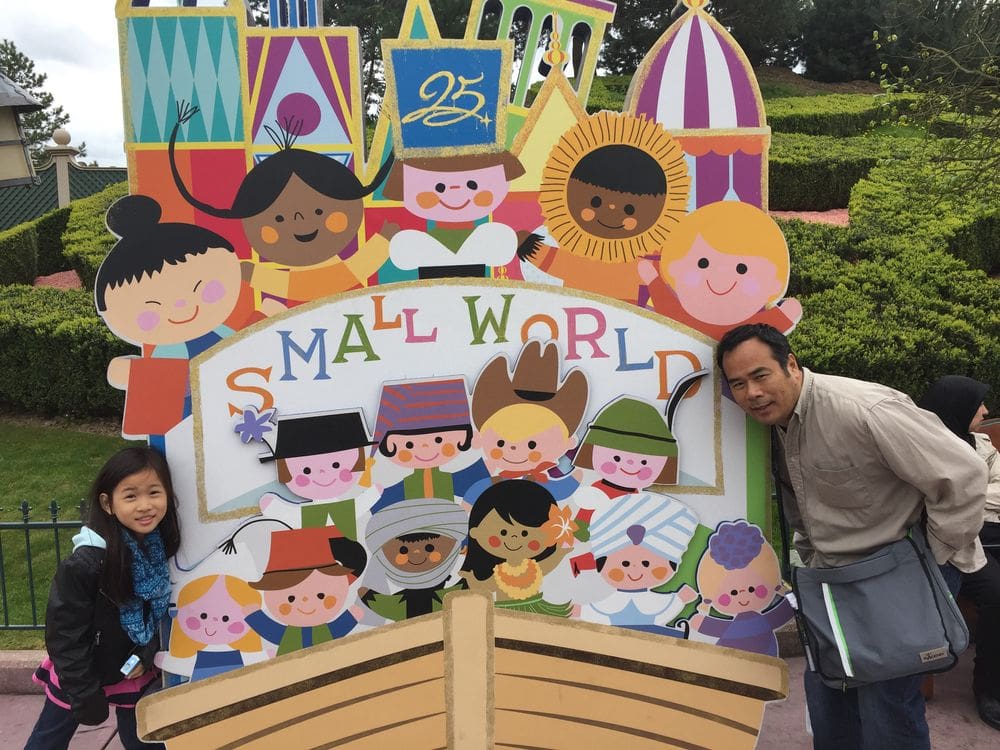 Families with extra time on their trip to Paris can also set aside a day to visit Disneyland Paris, a magical destination that both kids and adults will love! Accessible via the RER A train from Nation station, families can reach it in around 40 minutes from the city. Its unique blend of classic Disney characters, thrilling rides, and enchanting attractions is sure to appeal to kids of all ages!
For little ones, Fantasyland is the perfect place to explore with its whimsical rides based on beloved Disney stories like "Peter Pan" and "Alice in Wonderland". Older kids will enjoy the thrill rides in Adventureland and Discoveryland. Then, parents can relax at one of the many restaurants or cafes throughout the park. In addition to traditional theme park offerings, Disneyland Paris also features stunning shows like "Mickey and the Magician." At the shows, kids can watch their favorite characters come to life on stage. And don't miss out on meeting your favorite Disney characters during character meet-and-greets throughout the day!
Where to Stay in Paris with Kids
Wondering where to stay in Paris with young kids? We suggest staying at Hotel Le Royal Monceau – Raffles Paris if you want a convenient location steps away from the Champs-Elysees with views of the Arc de Triomphe. It has an indoor swimming pool for kids, plus a spa for parents. Opposite the Jardin Tuileries, we also suggest Le Meurice, which has a Kids' Club, an on-site pastry shop, and more amenities for families. Other family favorites include Le Bristol Paris, Hotel Brighton, and Four Seasons Hotel George V. Check out our list of the best hotels in Paris for families to learn more!
Roussillon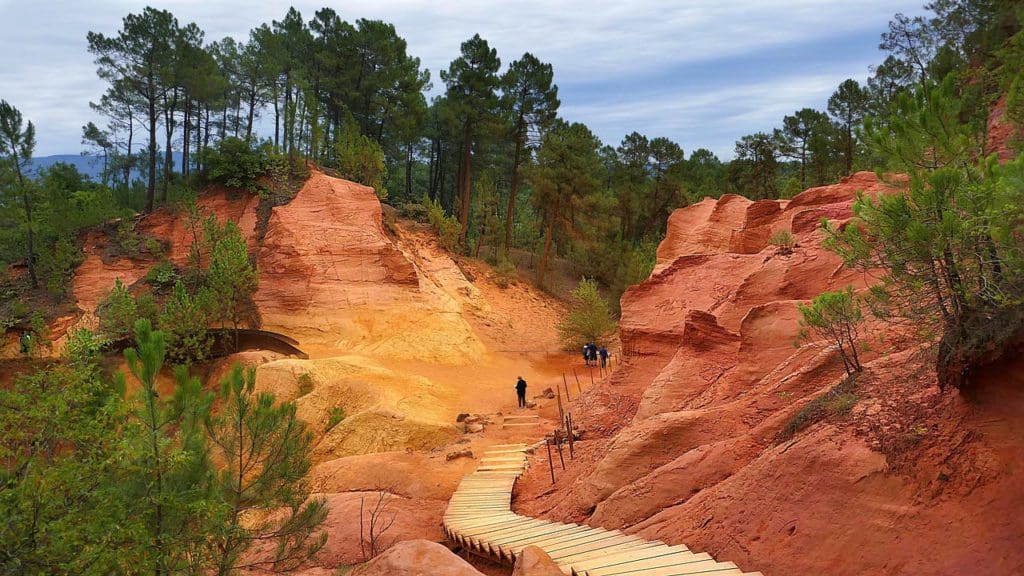 Photo Courtesy (L-R): Guy Dugas, Gunjan Prakash
Roussillon, known for its stunning red ochre cliffs, is ranked as one of the most beautiful villages in France, and it's not hard to see why! Situated in the Luberon Valley in the heart of Provence, the town is surrounded by stunning French countryside and features many activities to entertain everyone.
Roussillon is also home to many historical monuments and museums, like the Place de la Mairie, a picturesque town hall in the city center. On Thursdays, haggle for bargains in the village square at the market. If you take the time to explore on foot, there are also many different hues of deep red and yellow decorating the houses in Roussillon, along with brightly painted shutters. The top of the village overlooks the countryside, providing panoramas from Luberon Mountain to Mont Vaucluse. Visit the art galleries as you walk down and admire quality work by local artists. When you're hungry, several restaurants offer child-friendly menus and cliffside views. Get a Croque Madame at Chez Nino!
If you're looking for something active to do, pay a small fee to hike The Sentiers Des Ochres. It takes around an hour and circles the village, providing marvelous views of the red cliffs. Along the way, you'll read information about the geology, flora, and history of the ochre deposits in Luberon. This place is great for children, but don't wear good shoes – they'll be red when you leave! In addition to the open-air ochre quarries at Roussillon, there are a number of former open-air sites at Rustrel, 12 miles (20km) away. These sites offer endless different shades of ochre varying from blood red through orange, green to yellow.
Reserve your stay in Roussillon through Vrbo here!
The French Riviera
The French Riviera, also known as the Côte d'Azur, is a stunning destination on the Mediterranean coast of southeastern France. This region offers a glamorous and luxurious experience for families with kids of all ages, whether you love nature and adventure or want to see marine life up close at Marineland Antibes. Indulge yourself in gastronomic delights at renowned restaurants along with picturesque harbor views while enjoying fresh seafood. As one of the best places to visit in France with kids, the French Riviera truly has something special for everyone!
READ NEXT: 20 Charming Towns and Villages To Visit In The South of France With Kids This Summer
Nice
Photo Courtesy (Right Image Only): @Liviehudson
Nice is one of the most famous destinations on the French Riviera, well-known for its stunning beaches, lovely weather, and great food. From winding promenades like the Promenade des Anglais to elaborate fountains, there are plenty of activities and attractions that will keep kids happy. There are also many calm, pebble beaches bordering the promenade. Families typically like La Plage Publique de Beau Rivage, Ruhl Plage, Blue Beach, and Opera Plage.
On summer days, kids can also cool down in the water jets at ​​The Promenade du Paillon, a landscaped urban park. Of course, families should walk the cobblestone streets of the Old Town. Then, learn more about tenement housing, stop at the daily market, or grab homemade ice cream at Fenocchio. You can also make a big U around the city center on the famous Nice tramway! Finally, don't forget to visit a museum, like the Musée des Beaux-Arts.
Where to Stay in Nice with Kids
Nice has a ton of hotels that families will love! Book a room at Le Suites Massena overlooking Place Masséna for a laidback stay near the beach. Or, stay in an 18th-century building at Hotel Palais Saleya. It's near L'Opéra Public Beach, the flower market, and the train station. 
Marseille
When it comes to exploring the best places to visit in France with kids, Marseille undoubtedly tops the list! As one of the busiest port cities in France, it's known for its unique mix of culture and fantastic food – including seafood!
Stroll through the captivating streets of Le Vieux Port. Here, colorful fishing boats bob up and down on sparkling turquoise waters. For a taste of history intertwined with fun, head over to Fort Saint-Nicolas and Fort Saint-Jean – two majestic fortresses guarding the harbor entrance like silent sentinels. Plus, what better place to delve into a world brimming with cultural treasures than Musée des Civilisations de l'Europe et de la Méditerranée (MuCEM)? Families can also take a boat tour or hop on board Le Petit Train de Marseille. This charming miniature train takes you through the city!
Book your family's vacation home here through Vrbo!
St. Paul de Vence
St. Paul de Vence, a commune in France known for its artistic heritage and delightful attractions, is around an hour away from Nice and offers lots to do with kids. First, explore its enchanting Old Town to admire medieval architecture and discover art galleries and boutiques. Be sure to stop by Place De Gaulle, the town's main square, which has some cool sculptures and a playground. And, if you have time, stop inside St. Paul's main church, which is free to enter. A visit to the Fondation Maeght is also a must for families. This renowned art foundation showcases modern and contemporary art in a stunning setting. The surrounding area also offers plenty of chances for hiking and biking. Plus, every year, St. Paul also hosts a truffle festival!
Choose Plum Guide to reserve your next exceptional vacation home in St. Paul de Vence here!
Cassis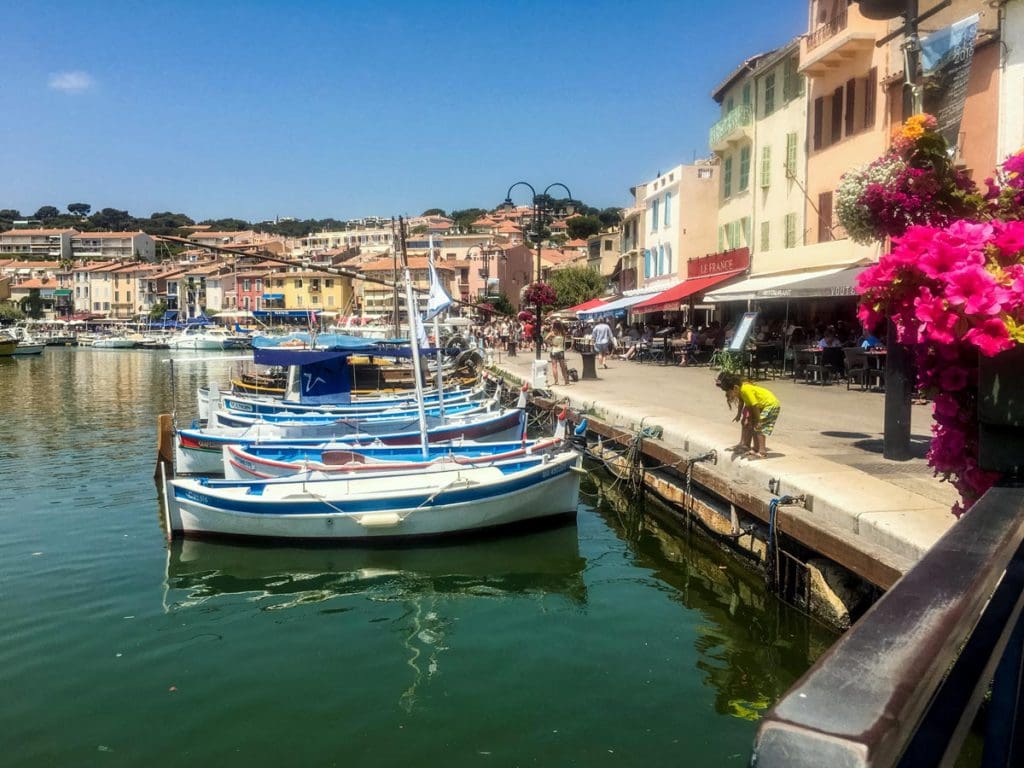 Cassis, a cute town located around 45 minutes east of Marseille by car, is a great place to visit with kids. This quaint fishing village features lots to do as a family, especially in the summer, when you can visit its beautiful beach, Plage de la Grande Mer. Little kids can swim in the calm waters while older teens go canoeing or windsurfing. The town also has several playgrounds, plus a few parks and gardens. To see Cassis in style, book a boat tour to explore the Calanques, or sea cliffs. Nearby, families will find several hiking trails, perfect for exploring the stunning scenery. Hike up to the Chateau de Cassis for amazing views over the town! Families can also explore the narrow streets of the Old Town and enjoy some delicious ice cream.
Enjoy a warm-weather getaway at these 17 Best Mild Weather European Destinations For A Family Summer Vacation!
Normandy
Normandy is a region in northern France known for its rich history and beautiful landscapes. From the famous D-Day beaches to charming, picturesque towns, this enchanting region is bursting with endless opportunities for exploration. It's undoubtedly one of the best places to visit in France with kids!
Mont Saint-Michel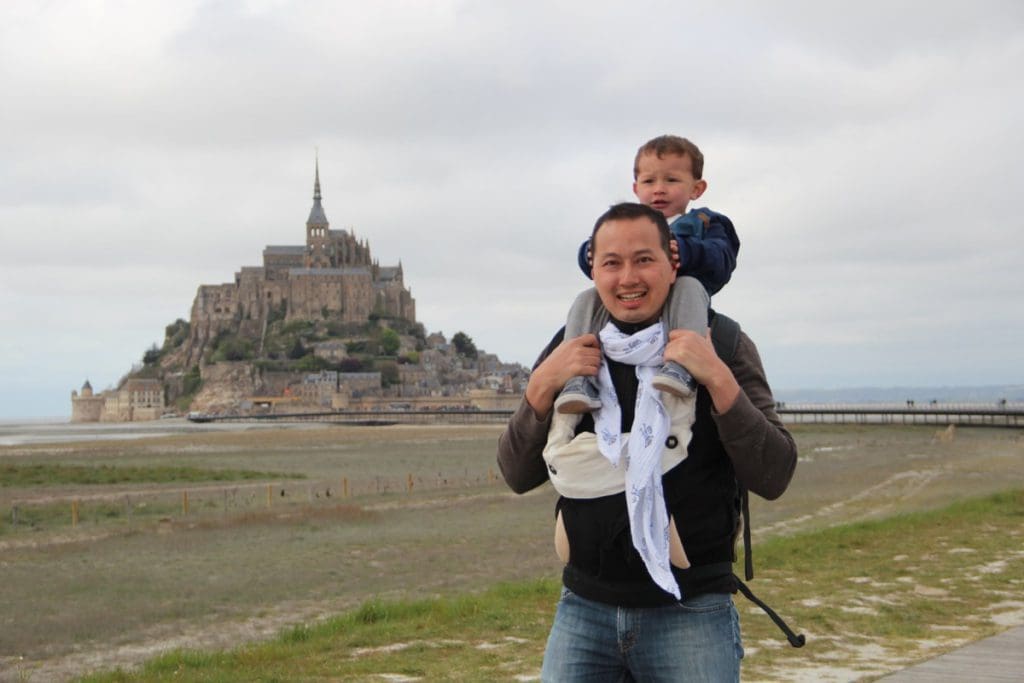 One of the top attractions in Normandy is Mont Saint-Michel, an impressive UNESCO World Heritage Site that sits on a rocky island off the coast. The abbey and surrounding medieval village are breathtaking and not to be missed. Families can visit the various museums, including The Historical Museum of Mont St. Michel, which houses a collection of artifacts from the local area, including items from the pre-historic period up to the present day. There's also a maritime museum and a Knight's residence.
Plus, if you have the chance, book a nighttime tour of Abbaye du Mont-Saint-Michel. You can explore the ancient buildings and courtyards, and learn about the history of this fascinating place!
Best D-Day Sites in Normandy for Families
Any history buff visiting Normandy can't miss a chance to see the region's various D-Day Sites, made famous in World War II. First, stop at the Omaha Beach Memorial Museum, which has exhibits on the D-Day landings. Kids can learn about the different types of equipment used by the soldiers, see maps of the battle plans, and read first-hand accounts from participants. Then, check out Omaha Beach Cemetary, the final resting place for over 9,000 American service members. The Visitor Center has a short film about the Battle of Normandy and exhibits about the soldiers buried there.
There are lots of small towns you can pass through or stay in while you visit Omaha Beach, including Colleville-Sur-Mer and nearby Bayeux, which has a Medieval feel to it.
Look for homestays in Normandy through Plum Guide now!
More Places to Visit in Normandy with Kids
If you're looking for something more relaxing, head out to one of Normandy's many charming seaside towns, such as Etretat, Honfleur, or Arromanches-Les-Bains. These picture-perfect towns, colorful houses, and quaint cafes make for great day trips or weekend getaways.
Families who love nature can also visit the famous Château de Falaise fortress or Parc Naturel Régional des Marais du Cotentin et du Bessin. Or, take kids to Parc Festyland for a break – this amusement park provides fun for all ages!
Normandy, one of the best places to visit in France with kids, is also home to some of the 10 Best Museums in France To Visit with Kids!
The Loire Valley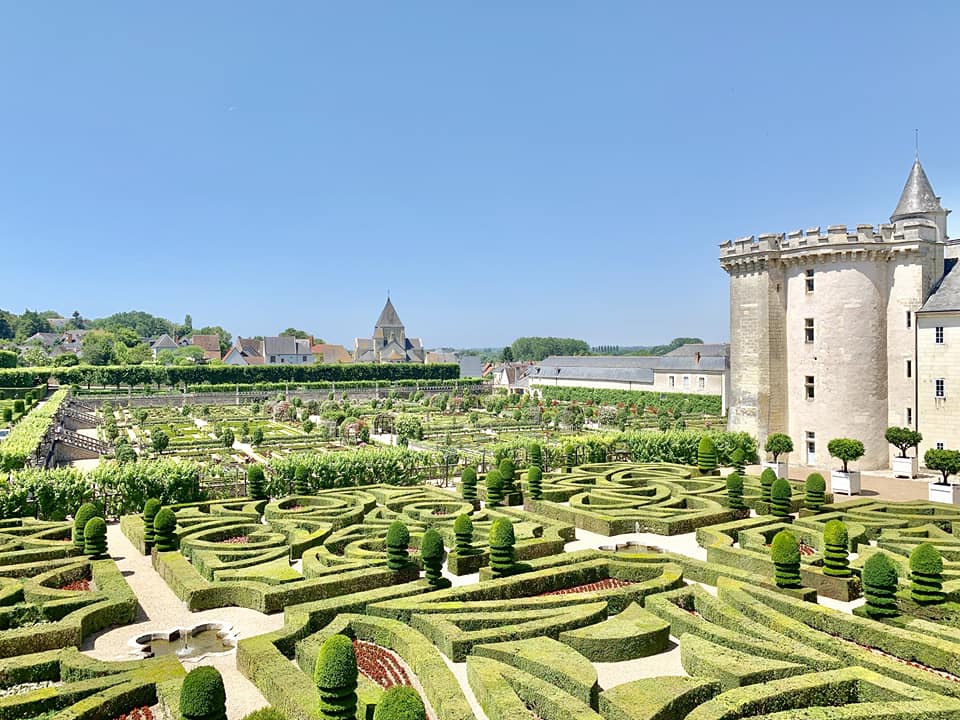 The Loire Valley, located in central France, is a favorite destination for families looking to explore the country's rich history and culture! This picturesque region is home to numerous chateaux (castles), quaint towns, and scenic countryside landscapes.
One of the main attractions of the Loire Valley is its array of stunning castles. These impressive structures were built during medieval times and showcase intricate architecture that visitors are sure to appreciate. Chateau de Chenonceau and Chateau de Chambord are two popular castles that should definitely be on your list. Kids will be fascinated by the double-helix staircase and the vast grounds with scenic gardens!
In addition to exploring castles, families can experience local life by cycling through charming villages or taking a leisurely boat ride. The region also boasts delightful cuisine, such as fresh seafood platters and exquisite wines from nearby vineyards. Don't miss a visit to the town of Nantes, home to the Les Machines de l'Île, a whimsical world filled with mechanical wonders inspired by Jules Verne's works. Here, giant robotic creatures roam freely, allowing children and adults alike to immerse themselves in pure fantasy!
For families with kids, there are several amusement parks in the area, like Futuroscope, which offers 3D/4D rides along with special effects simulations based on different themes giving an educational experience too! With so many things to do, no wonder this is one of the best places to visit in France with kids.
Lyon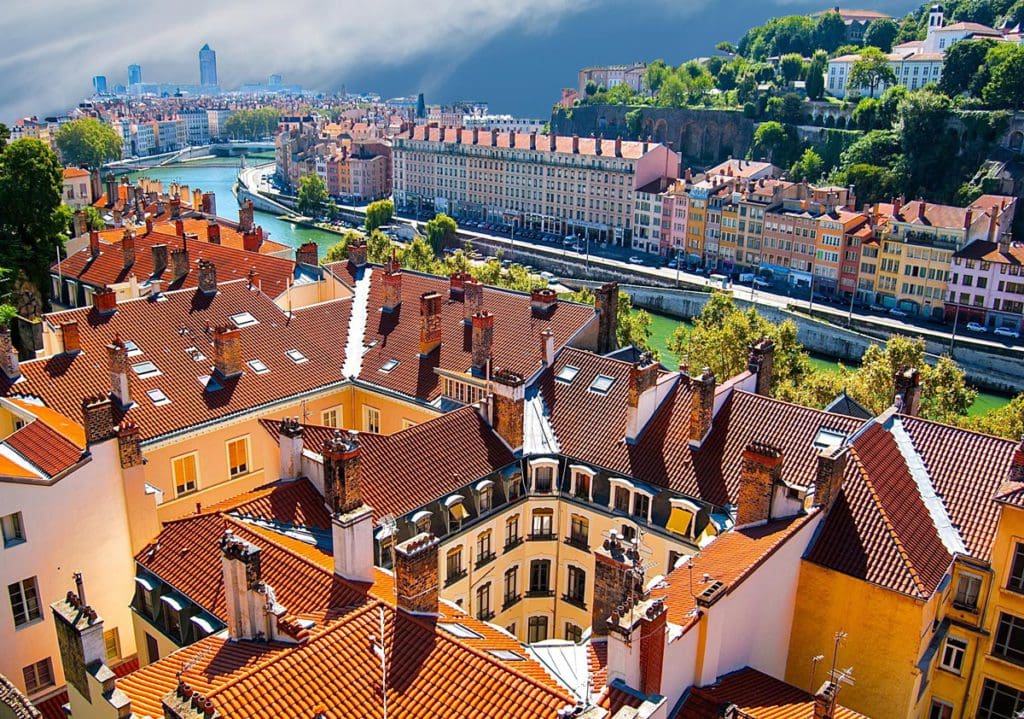 Lyon combines history, culture, and endless fun for kids! As one of the best places to visit in France with kids, this city in central eastern France boasts a vibrant cultural scene and dates back thousands of years to the Roman Empire. Plus, there are many attractions outside the city, like Mini World Lyon, the biggest miniature park in France!
Start your journey by exploring Vieux Lyon, the old town with charming cobblestone streets and stunning Renaissance architecture. Wander through colorful traboules with your children as they discover secret passageways dating back centuries. As their curiosity builds, take them on a boat ride along the Saône River, where they can marvel at picturesque bridges and soak up breathtaking cityscape views. At Parc de la Tête d'Or, little ones can run wild among beautiful flowers and trees or take a boat ride on its charming lake. For animal enthusiasts, the park's zoo features exotic species worldwide.
Then, Musee Miniature et Cinema is worth adding to your itinerary as well. Here, you can find miniature models used in films, including Harry Potter movies! Additionally, visit Basilique Notre-Dame de Fourviere, situated on top of a hill, which provides panoramic views of Lyon. And let's not forget about the food! Introduce them to traditional Lyonnaise dishes like quenelles or saucissons briochés at Les Halles de Lyon Paul Bocuse, a famous food market bursting with flavors aplenty.
Book your homestay in Lyon through Vrbo!
Happy Travels!
Photo Courtesy (L-R): Veen Huffnagle, Chessie Crane, James Olsen
We hope you liked this list of the Best Places to Visit in France with Kids! From Disneyland Paris to the sunny beaches of the French Riviera, France is a family-friendly destination that caters to every family's needs. Whether you're traveling with toddlers or teens, there will always be something for everyone in this beautiful country!
*This post may contain affiliate links that may earn us a small commission, at no additional cost to you. Affiliate links in no way inform the hotels, sights, products, or other recommendations included in our articles. All opinions and recommendations expressed here are compiled from submissions submitted by the generous members of our Families Who Love To Travel community.
READ MORE: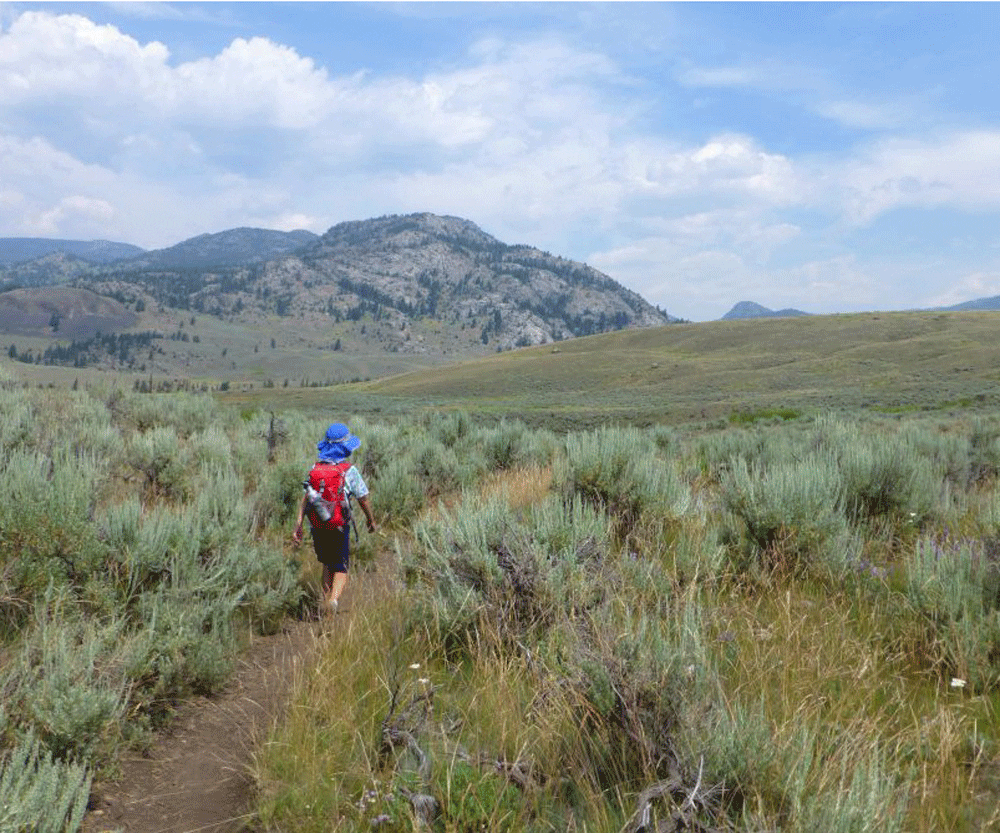 Everyone knows that Yellowstone National Park makes for a classic family vacation. Strolling the boardwalks...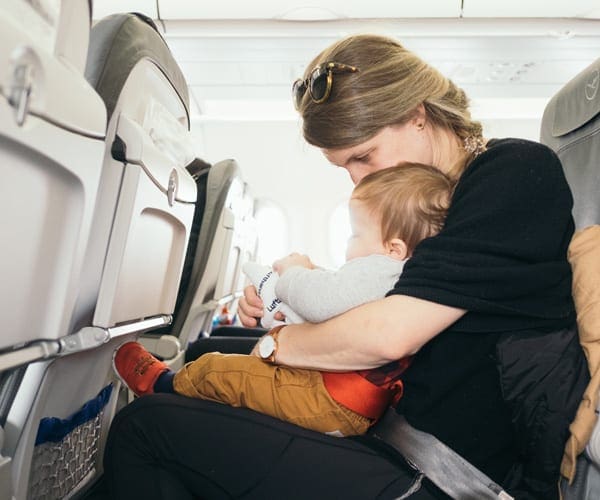 Families Who Love To Travel contributor Meghan Oaks provides her 10 best tips for your...