Expect outdoor adventures, educational opportunities, and more family fun on your next vacation to South Dakota! This expansive Midwestern state is home to some of the most dramatic backdrops in the country. Imagine lush prairies that empty into popular destinations like the incredible Black Hills National Forest. Plus, its wide open landscapes, abundance of agriculture, and historical past make it a great place to take an off-the-beaten-path trip. Luckily, there are also plenty of Black Hills attractions for kids of all ages to enjoy! Camp out near Mount Rushmore and tell your kids about America's past before visiting. Or, appreciate the grasslands, prairies, and colorful rock formations at Custer State Park. During the summer, families can also head to Custer State Park visit Sylvan Lake, one of the best lakes in the Midwest for families. Since the state is sparsely populated, it's also great for a COVID-safe RV vacation. 
Outdoorsy families will particularly love a visit to one of South Dakota's National Parks. Known for its jetting rock formations, you could easily tackle Badlands National Park on a five-day itinerary with your family. Or, you could incorporate Badlands into a bigger, multi-stop National Park itinerary. Nearby spots such as Wyoming, Colorado, or Montana are easily accessible via car if you're willing to make the drive. You could also book a stay at a dude ranch in Montana as a fun summer vacation idea for your kids. Families who live in the Midwest can also take a Midwest road trip with kids to towns such as Mitchell or Deadwood. Kids will love experiencing quintessential South Dakota destinations such as The Corn Palace. Here, they can explore unique corn-themed murals, architecture, and more. No matter where your family spends its vacation in South Dakota, we're sure it'll be a memorable one!
LATEST ARTICLES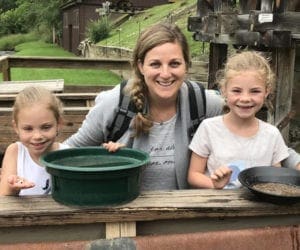 The Black Hills are a perfect place to vacation with kids! Trips here have also become a true American tradition due to nearby Mount Rushmore, an iconic monument atop many family's vacation bucket lists. To help you plan, this article includes my recommendations for the best Black Hills vacation attractions for kids!
Read More