Family Road Trip Itinerary for the Black Hills, South Dakota
The Black Hills are a perfect place to vacation with kids! Family road trips to this South Dakota mountain range provide wide-open spaces, child-friendly attractions, and endless outdoor adventures. Vacations here have also become a true American tradition due to nearby Mount Rushmore, an iconic monument atop many family's vacation bucket lists. Especially ideal when kids are young, make great memories in the car or camper and discover new places along the route. Random pit stops, family road trip games, and travel snacks make this educational road trip extra special! Once you arrive, families will delight in the unparalleled opportunities, from camping under the stars to hiking in Custer State Park. However, while many families know Mount Rushmore is a must-see in South Dakota, others wonder what else The Black Hills offers. To help you plan, this article includes my recommendations for the best Black Hills vacation attractions for kids!
Camping Near Mount Rushmore
When planning for a Black Hills vacation with kids, consider camping near Mount Rushmore instead of booking a typical accommodation. Here, you can find numerous campsites and cabins in the National Parks throughout the Black Hills. Plus, you can also find family-friendly places outside the parks, such as Rafter J Bar Ranch or Mount Rushmore KOA. Additionally, you can use road trip planning apps for camping and RVs to help plan your route or find a place to stay to best suit your family needs! Here are a few of my favorite suggestions.
Stay at Rafter J Bar Ranch
When camping near Mount Rushmore, families should surely consider staying at Rafter J Bar Ranch. There, kids can enjoy a rustic, spacious, and shaded setting in cabins or campsites, while parents appreciate quiet hours starting at 10 pm. Plus, the ranch also has a heated pool and hot tub, which is a great way to wind down after your day of sightseeing. Kids can play at the nearby playground too, another great feature to help keep kids entertained. The ranch is also conveniently located near Crazy Horse, Mount Rushmore, Needles Highway, and Custer State Park. (All of which should top your Black Hills vacation attractions with kids!) Additionally, Sheridan Lake, Iron Mountain Lake, and Pactola Lake are all less than 20 minutes from Rafter J Bar Ranch. It is a perfect home base for exploring the Black Hills as a family!
Stay at Palmer Gulch KOA
Mount Rushmore KOA, Palmer Gulch KOA, is another great option to consider when looking for camping near Mount Rushmore! Palmer Gulch KOA offers numerous unique amenities that make it extra special for kids, for example, a swimming pool, waterslide, and climbing wall provide great entertainment. Many of the kid's activities here also allow parents opportunities to relax by the fire while little ones have fun when camping near Mount Rushmore. As a plus, this location offers many exciting hiking and mountain biking options too. Nearby the KOA is Sunday Gulch Fishing pond. (Remember a fishing license is required to fish any body of water in South Dakota.) Finally, families can find the George S. Mickelson Trail near Palmer Gulch KOA and adjacent to Rafter J Bar Ranch. This provides easy access to hiking and biking near all your favorite Black Hills vacation attractions for kids!
Things to Do Near Mount Rushmore
A family road trip through the Black Hills of South Dakota is always full of history, sightseeing, and fun attractions for kids. When visiting this area as a family, the main attraction is definitely Mount Rushmore. However, there are so many Black Hills vacation attractions for kids beyond Mount Rushmore! From Bear Country USA to Custer State Park, you will observe an array of wildlife through beautiful landscapes. Then, receive a rich history lesson at the Mammoth Site and Crazy Horse Memorial. Search for waterfalls in Spearfish Canyon or rent a boat on Pactola Lake. Or, simply sit back and watch the flames flicker as you sit beneath the vast stars at the end of the day. There is something for everyone as you explore the things to do near Mount Rushmore. Not sure where to start? Here are a few of my favorites to make your planning a breeze!
Explore Nature
As you spend time in the Black Hills with kids, you will see grassland prairies, hills and forests, and many colorful rock formations. Challenge your kids to a nature scavenger hunt! On a Black Hills vacation kids will be mesmerized by the wildlife sightings in the area, alongside opportunities to explore the caves. Families can also go hiking, fishing, boating, and embark on other outdoor adventures here. There is such a rich natural history in the surrounding National and State Parks, as well as the monuments, sites, and memorials throughout the Black Hills. No matter what outdoor activities your family enjoys, you're sure to find ample opportunities within South Dakota!
Spend a Day at Custer State Park
A road trip through Custer State Park is a must on your list of things to do near Mount Rushmore! Encompassing almost 71,000 acres, this stunning natural preserve welcomes adventurers of all kinds. To start, spend the day searching for wildlife native to the Black Hills, appreciating Mount Rushmore in the distance. Then, turn creature sightseeing into a fun game to play with the kids in the car! Families will be enthralled by any of the 3 scenic drives in Custer State Park. One option, the Needles Highway, passes Sylvan Lake, which is a great place for a cool-off swim or a hike. Let kids splash about the water while investigating cool rocks! Next, Iron Mountain Road has 3 tunnels that frame Mount Rushmore in the distance. Finally, Wildlife Loop Road also winds through the areas where you are most likely to find herds of bison or other spectacular wildlife.
Discover Beautiful National Parks
Don't forget to include Wind Cave National Park and Badlands National Park on your itinerary! Each is within 1.5 hours of Mount Rushmore and well worth the extra drive. (Plus, if kids started the Junior Ranger Program at Mount Rushmore, they can continue at both!) Budding geologists will enjoy the Geology Driving Tour at Wind Cave National Park while dinosaur enthusiasts will love hiking the Fossil Exhibit Trail in Badlands National Park. Or, drive Sage Creek Rim Road or Loop Road to see many of the Badland formations and wildlife, gaining insights from exhibits along the way. Aspiring bird watchers can also plan the best place to see bird species at Wind Cave National Park or even join a guided bird walk. Be sure to check the tour times and hours of operation before departing for your travels. This way, you can plan ahead and schedule your vacation accordingly!
Experience Jewel Cave
Jewel Cave is another must-visit with kids when in The Black Hills! As the third-longest cave in the world, it's declared a U.S. National Monument, containing over 200 miles of passages with colorful formations. Kids will be awestruck by all these vibrant tunnels while taking a guided tour to explain how they came about. Pass through sparkling calcite crystals, tight crawlspaces, and other amazing wonders while spotting native plants and wildlife. Due to construction on the Jewel Cave, though, ranger-led tours are only offered during certain times of year. Be sure to plan ahead of time regardless of when you visit! Check the website for tour availability as most tours sell out by mid-morning.
Learn Local History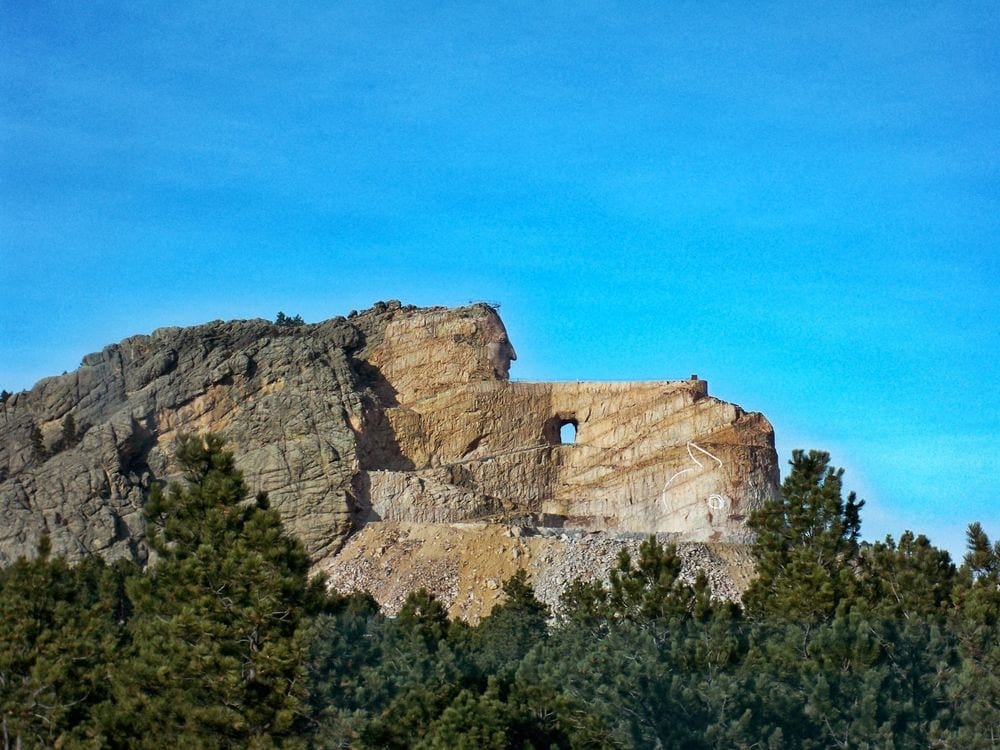 Learning local history is the best part of visiting South Dakota's Black Hills! Next on your vacation with kids, be sure to take in some local history along the way. There are two major sites near Mount Rushmore where families can engage in deep learning about the local history of the Black Hills, for example. Here are two must-visit attractions!
Crazy Horse Memorial
Crazy Horse Memorial is a must-see stop on your Black Hills vacation with kids. Paying homage to South Dakota's indigenous population, its mission is to "protect and preserve the culture, tradition, and living heritage of the North American Indians." Teach kids an alternative side to history by visiting this grand carving memorializing Lakota leader Crazy Horse, worth reviewing time and time again just to see changes in its construction. As chief Henry Standing Bear once said, "My fellow chiefs and I would like the white man to know that the red man has great heroes also." Now, families can do so through guided tours of the property and the on-site museums, which help bring history to life alongside live demonstrations on-site by Native Americans. Children will love roaming about and discovering new facts. Additionally, families will also marvel at the memorial after dark during the Laser Light Show!
Mammoth Site
Take a step back in time by visiting Mammoth Site! Located 1-hour south of Mount Rushmore, this active excavation site the largest concentration of Colombian mammoths in the world. On your next family road trip, then, drive to Hot Springs, South Dakota to check out this unique Black Hills vacation attraction for kids! Children will learn everything they've ever wondered about mammoths as this is active, indoor dig site where families can uncover facts about mammoths and their relatives. Want to know more about the Ice Age? Take a self-guided tour on your mobile phone to explore at your own pace alone or with other groups. Those with a keener interest can even enroll in the Junior Palentolist Program! Kids will be truly mesmerized by these massive creatures. Mammoth Site is also dog-friendly as long as you keep your four-legged friend on a leash!
Don't Miss South Dakota's Unique Family Attractions
Finally, there are many unique family-centered things to do near Mount Rushmore! Road trips are extra special when history is mixed in with unique family attractions. First, Bear Country USA and Reptile Gardens can fulfill your family's need to see bears and reptiles. This is a great stop if you haven't seen enough wildlife in the forests and prairies of the Black Hills. Next, Big Thunder Gold Mine, located in Keystone, South Dakota, provides ample hands-on learning experiences to bring you back to the Gold Rush days! This exciting opportunity will amaze your little ones as they dig in and search for gold.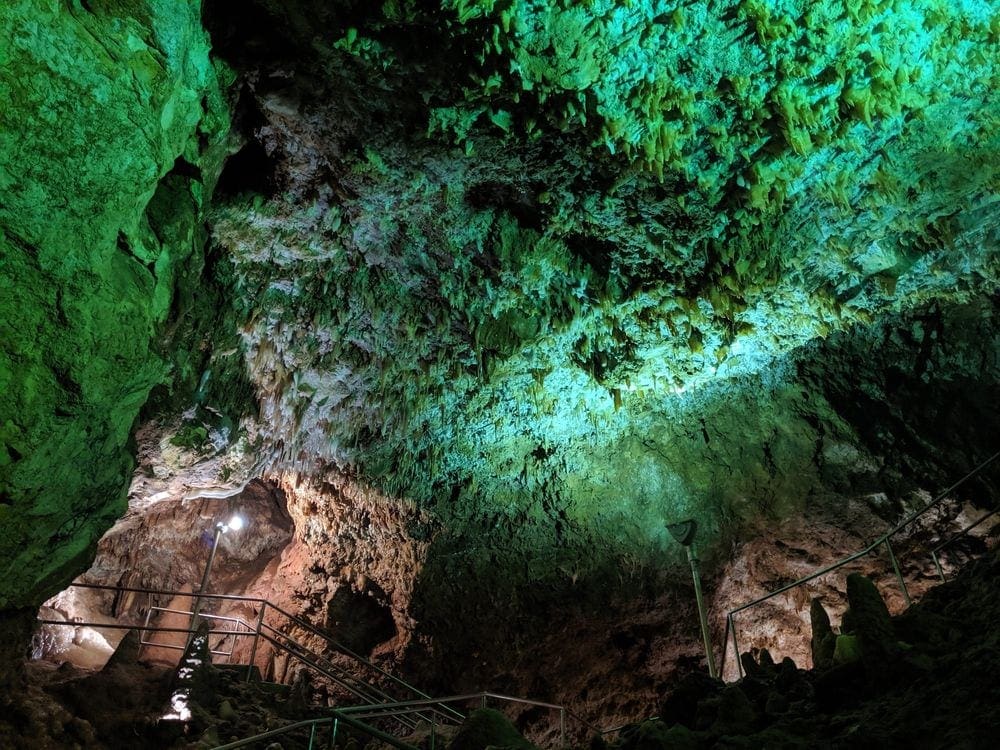 Don't also miss Rush Mountain Adventure Park, which offers Rushmore Cave tours and an adventure park featuring adrenaline-pumping ziplines and coasters. It's a great stop for those with older kids or teens! For the train lovers, take a ride on the 1880 Train. Or, families who want additional outdoor adventures can rent a boat, kayak, or paddleboard at Pactola Marina. Pactola is another location perfectly situated for family camping. One final adventure in South Dakota may lead you on a waterfall hunt through Spearfish Canyon. Here, you can search for Bridal Veil Falls, Roughlock Falls, and Spearfish Falls via the scenic byway. No matter what you choose, South Dakota offers an undeniable amount of exciting Black Hills vacation attraction for kids!
Happy Travels to South Dakota!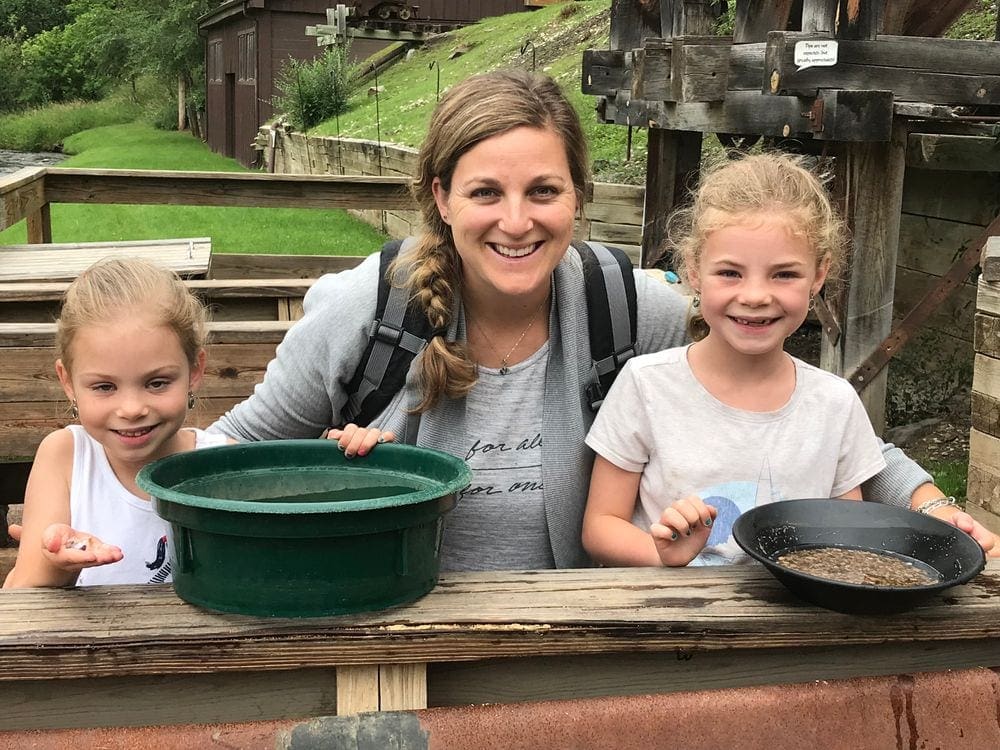 We hope you have a fantastic Black Hills vacation with kids! South Dakota truly offers something for everyone, whether family camping at Rafter J Bar Ranch or Palmer Gulch KOA, families can enjoy starry nights in an incredible atmosphere. History buffs and nature enthusiasts will love every minute exploring Crazy Horse Memorial and Custer State Park. Of course, each family member can also find something to include in the family road trip after looking at the many things to do near Mount Rushmore. Happy trails as you embark on your own family adventure to the Black Hills!
Want to see more from Michelle? Find her on Instagram @adventuretolearn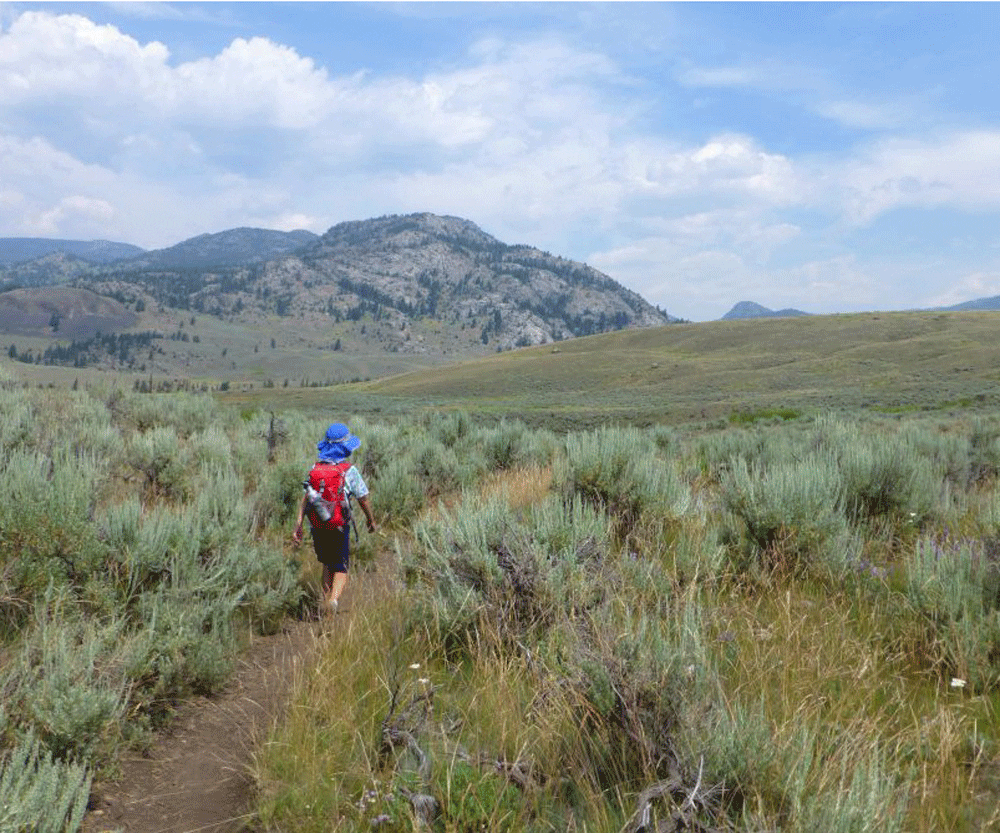 Everyone knows that Yellowstone National Park makes for a classic family vacation. Strolling the boardwalks...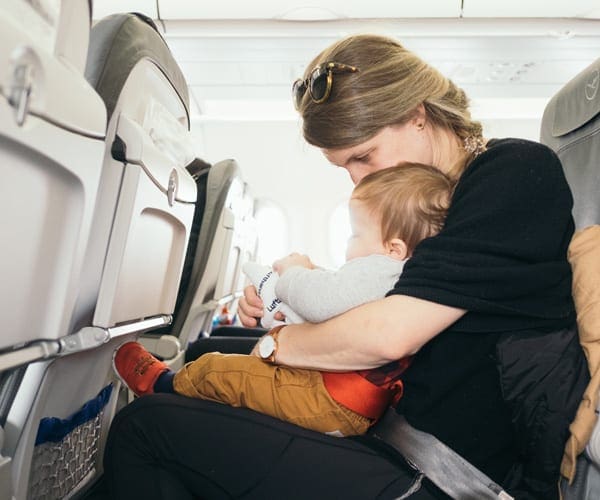 Families Who Love To Travel contributor Meghan Oaks provides her 10 best tips for your...