A family vacation in Illinois will be interesting for all ages! With major metropolises and outdoor adventures in nature, travelers will find plenty of adventures to suit their tastes. If you'd prefer to stay in a major city, Chicago is a great option, with plenty of hotels for families. Of course, Chicago also has a lot of things to do with kids, whether you want to visit a museum, the zoo, or an aquarium. Speaking of zoos, there are two near Chicago ranked as some of the best zoos in the Midwest for families! And, don't forget about visiting Chicago during the holiday season, since it's one of the most magical Christmas towns for families! Families who want a weekend getaway from Chicago will also find plenty of options in the surrounding areas. Try a smaller town in Illinois, or branch out to nearby states. Michigan, Wisconsin, and Indiana await!
If you want a family vacation in Illinois outside of Chicago, there are a plethora of options to choose from. For a quirky, off-the-beaten-path vacation, visit Galena, Illinois, which we consider one of the most charming American towns to visit with kids. But if you're more of the active type, your family can also visit Starved Rock State Park, located along the Illinois River. After all, i's one of the best Midwest state parks for families! In case your family is in the mood for a lakeside retreat, you'll also find some of the best Midwest lakes for families in Illinois. Take a trip to Kinkaid Lake in Southern Illinois or Evergreen Lake in Central Illinois! Should you want to take a Midwest road trip with kids, Illinois also makes a perfect home base. Visit Grafton, Illinois, to enjoy outdoor adventures at the confluence of the Mississippi and Illinois Rivers!
LATEST ARTICLES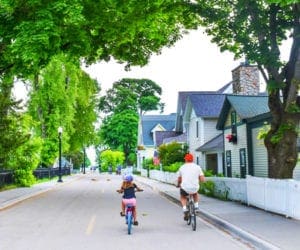 From Maine to California, we've compiled the perfect list of 16 Charming American Towns Worth Visiting With Kids! Between sandy beaches under swaying palm trees, historic tourist attractions, and downtowns evoking an old-world charm, these locations offer your family an enchanting escape. Keep reading to find out more!
Read More