Summer is a magical time to vacation for families. Kids are out of school, the weather is beautiful, and there is ample time to take a summer vacation with kids. Plus, you can go anywhere in the world to make memories together! No matter where you're looking to go on your summer vacation with kids, we have ideas for you.
Consider seaside locations like Cape Cod or the coast of Maine. Not only do they offer plenty of activities for families, but you'll be able to dine on fresh seafood like lobster. Or, try a lake escape with kids! We have you covered with ideas from Lake Tahoe to lakes near NYC. In fact, there are lakes across the United States that offer beautiful locations for a summer vacation with kids. Kids will love splashing in the water, boating, and staying in cozy cabins. Then, head to the mountains! Colorado is chock-full of summer fun for families. No matter where you want to go, embrace summer with a family vacation to make a lifetime of memories!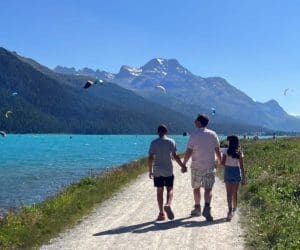 Crafting a St. Moritz itinerary tailored to kids ensures your little ones will have unforgettable memories while embracing the splendor of this enchanting destination! Nestled in the heart of the Swiss Alps, this glamorous resort town offers breathtaking views, pristine landscapes, and plenty of outdoor activities that will keep your little ones entertained throughout their stay.  This 4-day St. Moritz itinerary with Kids promises a delightful blend of experiences for kids of all ages – toddlers to teenagers. Climb to Heidi's hut, cruise across picturesque lakes, hike magnificent glaciers, and wander charming villages. Not only will these experiences broaden horizons but also encourage creativity and foster greater cultural understanding among young minds – making it an educational journey too! Keep reading to learn more!
Read More