Family Outdoor Adventures
Take an exciting family adventure for your next vacation with kids! From the United States to Oceania, the great outdoors beckons countless getaways to immerse in nature, spot wildlife, or relax among picturesque panoramas! Of course, some of the best family vacation destinations also involve encouraging kids to tackle the unfamiliar. Gain a greater perspective on how vast our world truly is! Start small with a kid-friendly hike, whether through trails in Denver, California, or other states on the East Coast. Or, conquer city after city through a family RV vacation, also a perfect bonding trip for little ones! Learn everything you'll need to know about family RVing for beginners before you set off on your next adventure vacation.
Or, visit some of the best U.S. national parks for kids also encounter endless opportunities to hike, swim, and bring the entire family together in unexpected ways! Choose between Acadia in Maine, one of the best East Coast National Parks, and Yosemite, Yellowstone, and Zion on the West Coast. (And you still have plenty more options for your next family outdoor activities!) Visit a local kid-friendly state park to minimize your travel time, for example. Searching for longer family adventure vacation ideas? Take a family camping trip for a well-needed breath of fresh air and some time to disconnect from the bustle. Or, if that's not your style, consider going glamping with kids. It's a higher-end, more comfortable alternative to pitching a tent in the wilderness. No matter where you choose to visit, you'll have the time of your life on your next family adventure vacation!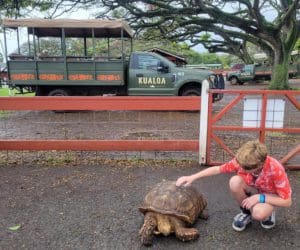 Kualoa Ranch & Private Nature Reserve is one of the top tourist attractions on O'ahu to visit with kids! Kualoa Ranch invites families to come and enjoy the incredible beauty of the Mo'okapuohaloa mountains. There is something for everyone to enjoy here. Read our comprehensive guide to plan your trip!
Read More