​​If you're looking for an adventure for families that will get everyone's heart pumping and adrenaline flowing, try biking through Amsterdam! With stunning scenery and countless sights to see, it's no wonder why so many people choose biking as their preferred mode of transportation in Amsterdam. But before you hit the road, it's important to know all the tips and tricks that will keep you safe while still allowing you to have fun. As an ex-pat who has lived in Amsterdam for the last 15 years, there are a few things I've learned along the way when it comes to navigating the city's biking culture with kids. So buckle up (or helmet up!) and get ready for a thrilling experience filled with culture, history, and excitement!
Biking Culture in the Netherlands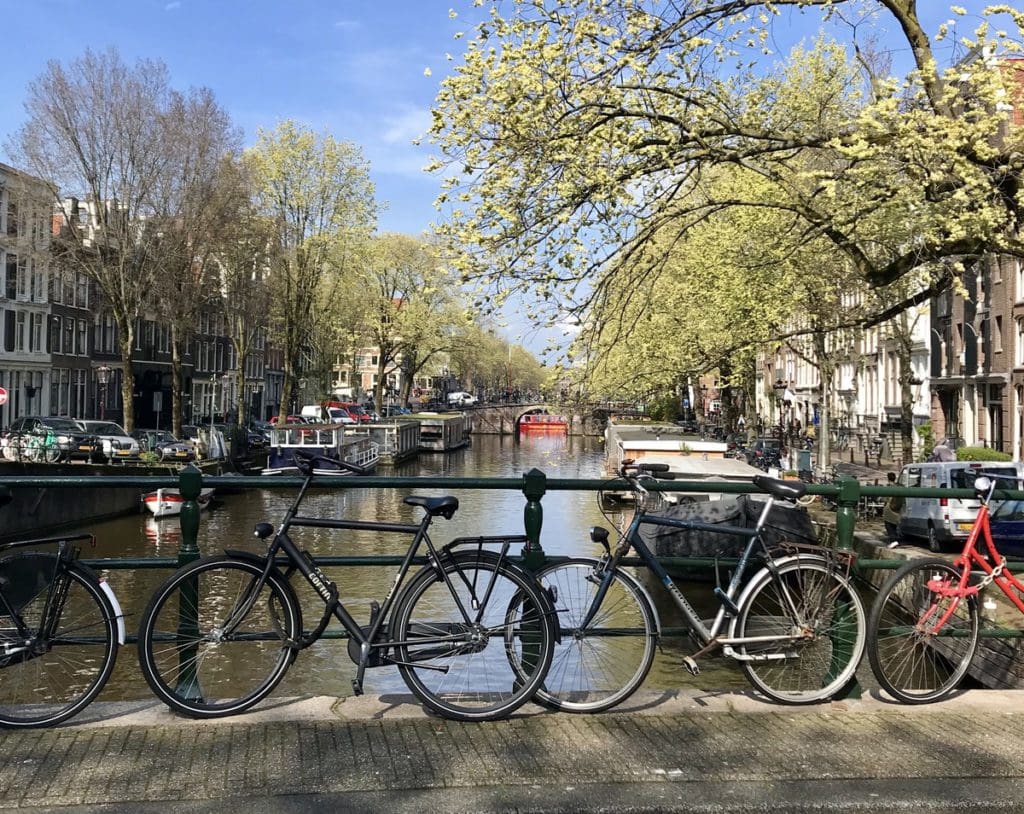 Riding a bike in the Netherlands is like breathing or eating to the Dutch. It's something automatic. They don't think about it — they just do. It's part of the rhythm of life. It's normal to see a man biking along the cobblestones of the Prinsengracht to a meeting completely decked out in a bright blue suit. Or an older man carrying his wife side-saddle on his bike rack to the Albert Hijn. The Dutch will even effortlessly balance a carry-on suitcase to Central Station and catch a train to the airport! So if you're looking for a typical and authentic Dutch experience while visiting the Netherlands with your kids, definitely consider biking!
Click here to Discover Dutch Culture and History: 11 Best Places To Visit In The Netherlands (Holland) With Kids!
Why Bike Around Amsterdam with Kids?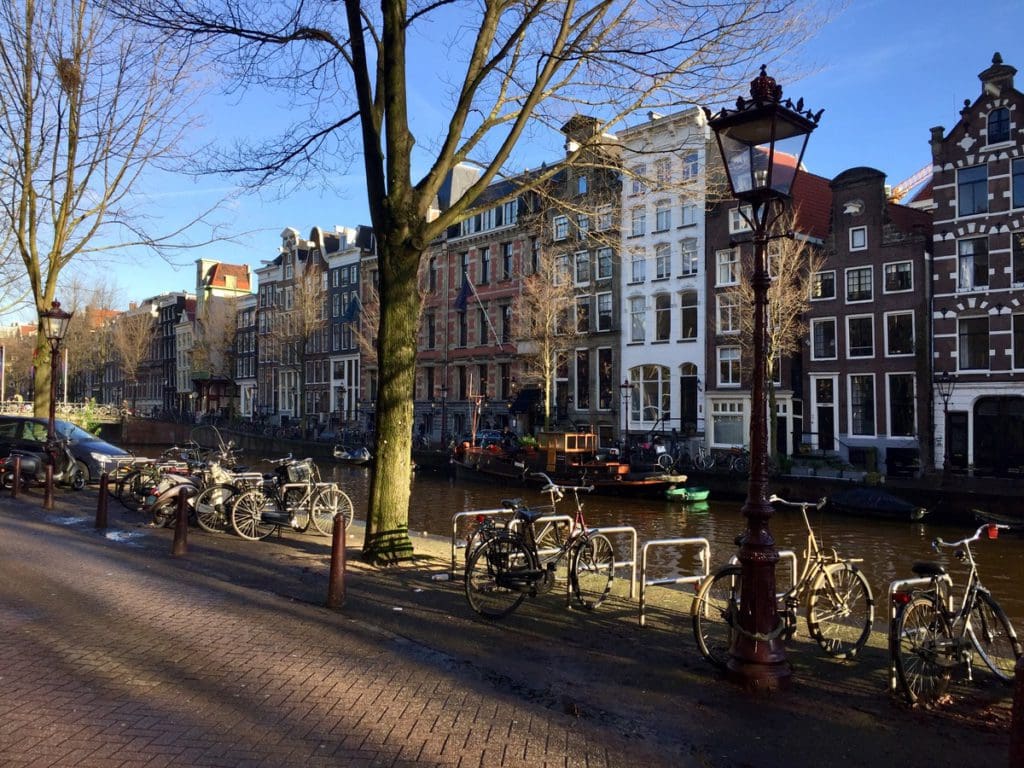 Are you tired of the same mundane family activities on vacation? Not only is biking around Amsterdam a typical Dutch activity, but it's also an exhilarating way to explore the city from a new perspective. Plus, it's a great exercise for both you and your kids! Imagine weaving through picturesque neighborhoods with vibrant pop-up shops and charming cafes buzzing by. You can even stop at one of the many parks dotted throughout your journey to have a picnic or stroll amongst nature. And let's not forget about how much fun your children will have as they soak up every inch of this mesmerizing destination. From their tiny legs pedaling away to pointing out stunning architecture along the canal routes, there sure won't be any dull moments during this bike ride!
Is Biking in Amsterdam Safe for Kids?
If you're planning a trip to the Netherlands with kids, you may be wondering: is biking In Amsterdam safe for kids? The answer is an unequivocal yes, especially when you're armed with the knowledge this guide provides. The ubiquity of the bike in daily life, along with the corresponding laws that support a biking-first lifestyle, means that biking in the Netherlands is safe.
Even in a city as big as Amsterdam. With its numerous bike rental services, stunningly picturesque routes, and easy-to-follow directions, exploring Amsterdam on two wheels has never been easier or more exhilarating for families. Many streets have segregated bike paths, so cyclists are totally protected from cars. Furthermore, the laws give all bikers the right of way, so cars are always looking out for them – legally, the car will be responsible if there's an issue.
Reserve your Bike Tour in Amsterdam here with GetYourGuide!
Best Dutch Bikes for Families
Wondering about the best Dutch bikes for families? Dutch bikes are a charming version of a beach cruiser with handlebars splayed out, a bell with a satisfying ding, and often an integrated light that is powered when the bike is in motion. Traditional Dutch bikes look like a relic from the 1940s. Many new models retain that traditional character.
Popular with young families are the Bakfiets, which look like a narrow wooden box has been attached to the front of the bike. You might find 3-4 children, including a baby going to the supermarket, park, or school. Helmets are not popular in the Netherlands, possibly because of their relative safety. However, I suggest always getting a helmet while renting a bike as a tourist.
RELATED: What To Pack For A European Vacation With Toddlers
Where to Rent Bikes in Amsterdam with Kids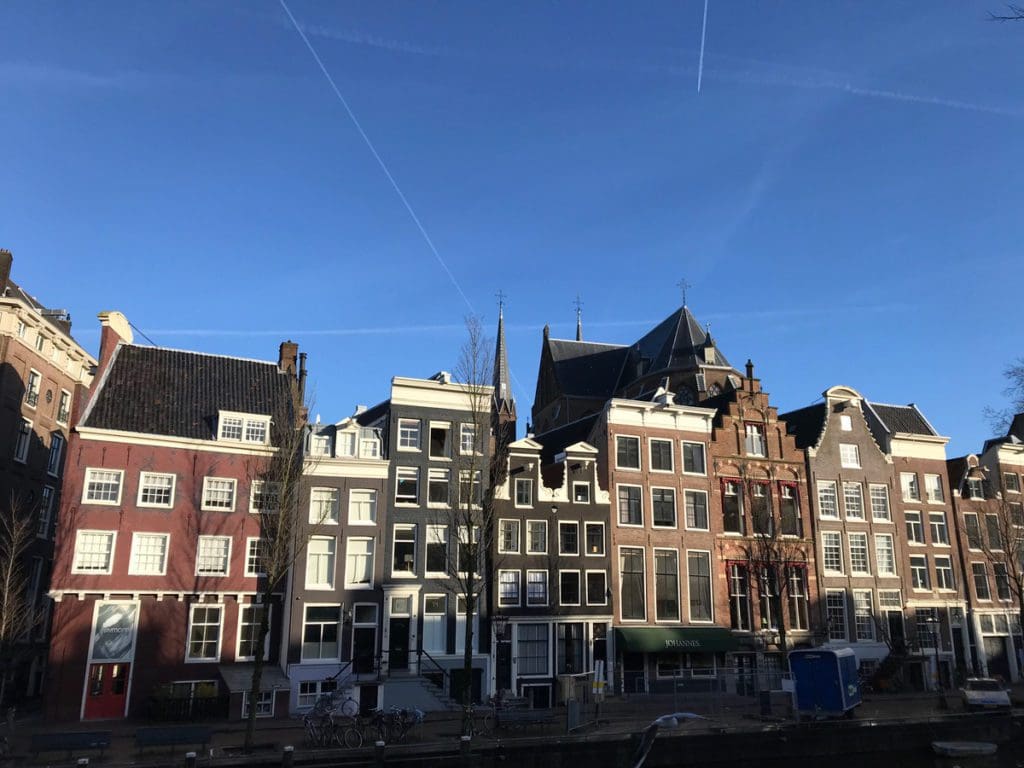 As a bustling city with an extensive network of picturesque bike paths, Amsterdam is the ideal destination to explore on two wheels with your family. But knowing where to rent bikes can seem overwhelming when there are so many options available in the Dutch capital. Thankfully, I have some great options, whether you're looking for child seats, cargo bikes, tandems, or other bikes for families. Most bike places also offer free maps and often can recommend local routes.
With locations all over the city, MacBike is one of the most popular rental companies in town.
Rent a Bike Amsterdam also offers family-friendly bikes that come equipped with baskets perfect for carrying snacks, drinks, or even small children if necessary!
And don't forget to check out Mike's Bike Tours and Rentals! This company specializes in guided bike tours that will take you through some of Amsterdam's most beautiful neighborhoods, parks, and sights while keeping safety a top priority – perfect for families who want an expert guide leading them through unfamiliar areas.
Reserve your bike in Amsterdam here through GetYourGuide!
Best Amsterdam Bike Rides for Beginners
Amsterdam is known for its bike-friendly culture, but with so many options to choose from, it can be overwhelming for beginners. That's why we've compiled a guide to the best Amsterdam bike rides for families. Keep reading to find out more!
READ NEXT: 10 Best Places to Travel with Kids in Europe
Vondelpark Bike Loop
The Vondelpark Bike Loop is a must-try for beginners, offering scenic views that will leave you breathless and wanting more. Families can rent bikes from the MacBike location at Leidseplein at Overtoom 45. Then, two blocks south, you'll find Vondelpark and its wide bike paths. It's car-free, so it's a safe way to get used to the bike for the whole family. It's also the Central Park of Amsterdam and worth a visit.
While in the Vondelpark, stop for tea or a sandwich at the Proeflokaal't Blauwe Theehuis. It has a large round café with indoor and outdoor seating that kids will love! Or, finish near the Eastern gate at Park Zuid for a beer. With classic columns, it looks like a former museum or library. Now it's a relaxed restaurant with a sprawling outdoor terrace that flows into the park.
Another good park ride while getting your bearings is Westerpark. Stop near the Westergasterrein for snacks!
Amstel Canal Down and Back
Families biking in Amsterdam, get ready for an exciting adventure! One of the best bike rides for beginners is none other than the Amstel Canal. Yes, the canal Amstel beer is named after. Pedaling down and back, you'll see some of the most picturesque views that this city has to offer. And, there will be plenty of opportunities to stop at charming cafes or local shops to grab refreshments while taking in the surrounding beauty at a leisurely pace.
There is nothing more Dutch than stopping for a klein biertje (a small half pint) on a terrace along a canal. I would also recommend stopping for some bitterballen at Café Restaurant De Ysbreeker. Plus, one of the most authentic bakeries in the city, Hartogg Volkoren, is along this route. Visit for the most delicious loaves of seeded sunflower bread!
Ultimate Sightseeing Bike Loop of Amsterdam
Grab your helmets and embark on the ultimate sightseeing bike loop! From Central Station, head west on Prins Hendrikkade, taking in all the bustling activity along one of Amsterdam's busiest streets. Then, take a left on Singel, a right on Brouwersgracht, and a left on Prinsengracht, passing Noordermarkt. Along the way, you'll pass The Pancake Bakery, The Tulip Museum, and the Anne Frank Huis, alongside neighborhoods such as Jordaan and De 9 Straatjes.
Then, take a right at Leidseplein, head over the bridge, and take a left on the S100 to the Rijksmuseum. You could even loop around Museumplein, where you can stop at the Van Gogh Museum. From the Rijksmuseum, you can cross Museumbrug to Spiegelgracht and take a right on Prinsengracht, a left on Vijzelstraat, and a left on Singel back to Central Station.
Book the Anne Frank Guided Walking Tour through Amsterdam's Jewish Quarter with Tripadvisor here!
Best Bike Trips for Families near Amsterdam
Not only is biking the best way to see Amsterdam, but it's also the best way to see the Netherlands! With bike paths in every direction, it's easy to explore surrounding areas exclusively by bike. If you want to expand your biking experience, check out these best bike trips for families near Amsterdam!
Zandvoort
Hop on your bikes and head to the picturesque town of Zandvoort, a beach enclave with restaurants and beach bars around 38 km west of Amsterdam. It's a long ride and obviously better suited if you have teens or athletic kids, but there are lots of places to stop along the way. Bike west, following signs to Haarlem, which is a quaint, lovely town. It's almost like a mini-Amsterdam!
Once in Haarlem, take a break from cycling and enjoy some local cuisine or visit one of its many charming museums before getting back on your bikes towards Zandvoort. From there, follow paths to Aerdenhout, towards Zandvoort. There's a train station, so you can bike out for the day and take the train back to Amsterdam Central Station with your bike on the train.
Here's a detailed bike route from Amsterdam to Zandvoort.
Utrecht
Looking for a long and exciting bike ride to try with your family? Why not try biking from Amsterdam to Utrecht? It's a thrilling journey that will allow you and your loved ones to soak up the beautiful scenery the Netherlands has to offer. You'll witness picturesque landscapes, charming towns, and many windmills along the way. Families biking in Amsterdam can stop at any time to enjoy a coffee or lunch break, as there are plenty of quaint cafes and restaurants on the route. With well-maintained cycle paths, it is safe for all ages, so bring along everyone.
Plus, once you reach Utrecht, you can explore attractions like Dom Tower, the Centraal Museum, Spoorwegmuseum, and Máximapark. Then, take the train back to Central Station in Amsterdam!
Here's a detailed bike trip from Amsterdam to Utrecht.
Texel
If you're looking for an exciting way to spend your vacation with families biking in Amsterdam, hop on a train to Den Helder and take the ferry over to Texel. The island's flat terrain and scenic cycling routes make it a perfect destination for both beginner and seasoned cyclists. Rent one near the boat terminal and discover the hidden nooks, pristine beaches, and cute villages. This nature reserve not only provides breathtaking vistas but also invites visitors to engage with its unique flora and fauna species like seals, rabbits, or even rare birds such as spoonbills! For more outdoor things to do in Texel, visit their website.
Tips for Families Biking in Amsterdam and Beyond with Kids
Before families set off on their biking adventure in Amsterdam and beyond, there are a few tips to keep in mind first,
While biking is very safe in the Netherlands, most people are not out for recreational rides. The Dutch will be moving at speed to a destination. Stay in the parks until your whole family is able to control their bikes and bike at a normal pace for the bike lanes.
You must lock your bike. There are stacks of bikes everywhere, but they do get stolen. Don't be lulled into thinking that everything is very safe for your rental bike, even though Amsterdam is a relatively safe city.
Also, there are many canals with working draw bridges that will hold up morning commutes. Expect delays.
READ NEXT: Best Hacks & Products For Sleeping On Long International Flights With Kids
Happy Travels!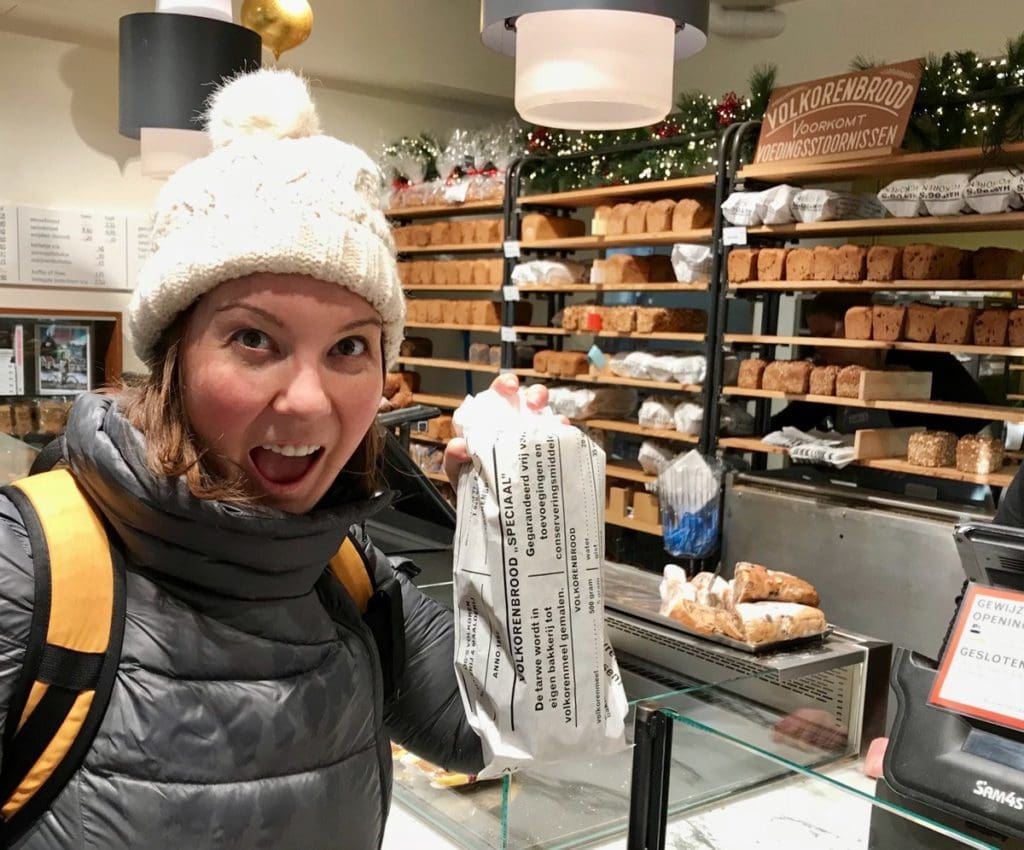 We hope you liked this Guide For Families Biking In Amsterdam: Rentals and Rides by our contributor Lisa Lucas! Whether you're a seasoned pro or just starting out, Amsterdam is a great place to be. Enjoy your biking adventure!
About the Author: Lisa Lucas is an American ex-pat who has traveled to 30+ countries and has lived in London and Amsterdam for the last 15 years. She writes a blog called The Distance with travel tips, including Five Mistakes You Shouldn't Make When Travelling With Your Family to Europe. 
*Unless otherwise noted, all images within this article belong to and are courtesy of Lisa Lucas.
*This post may contain affiliate links that may earn us a small commission, at no additional cost to you. Affiliate links in no way inform the hotels, sights, products, or other recommendations included in our articles. All opinions and recommendations expressed here are compiled from submissions submitted by the generous members of our Families Who Love To Travel community.
READ MORE: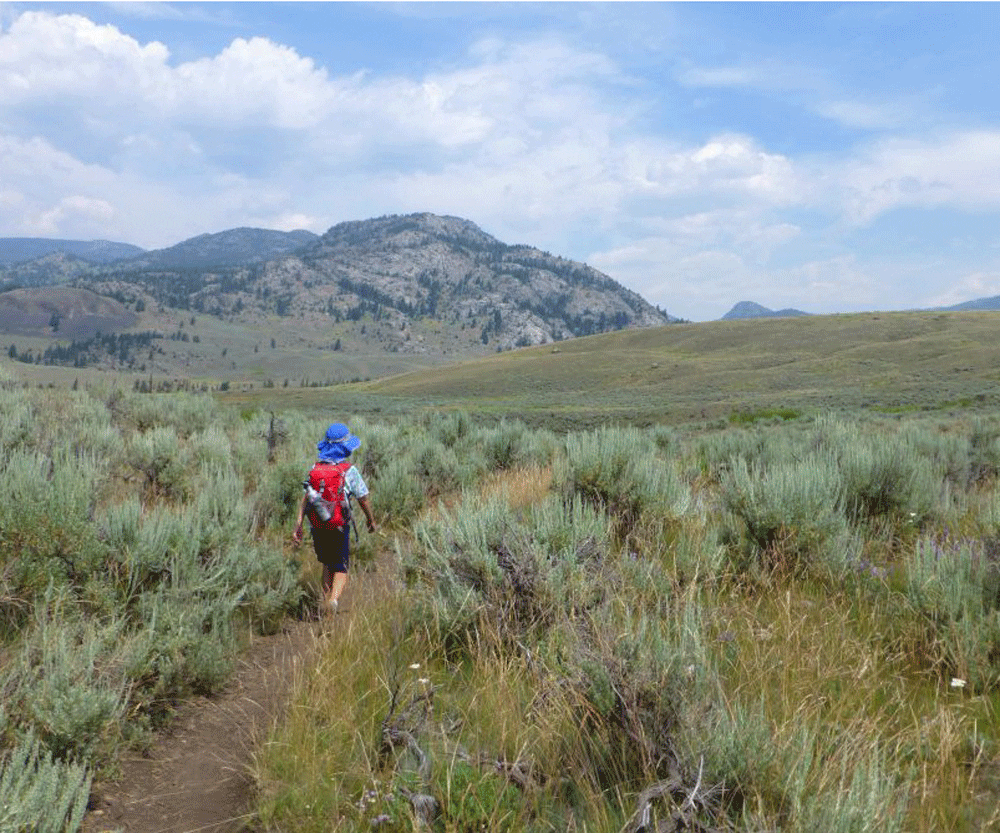 Everyone knows that Yellowstone National Park makes for a classic family vacation. Strolling the boardwalks...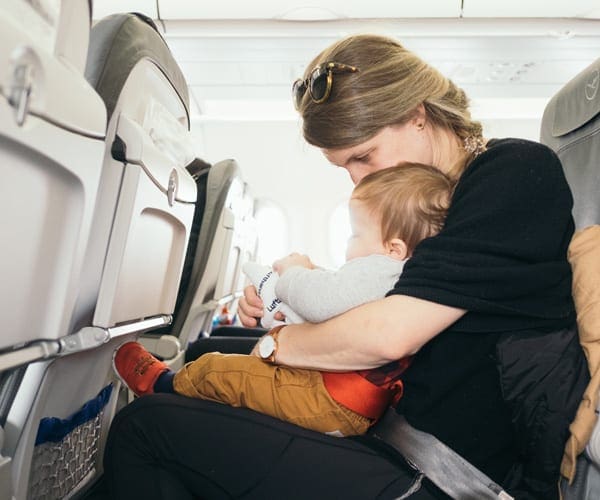 Families Who Love To Travel contributor Meghan Oaks provides her 10 best tips for your...