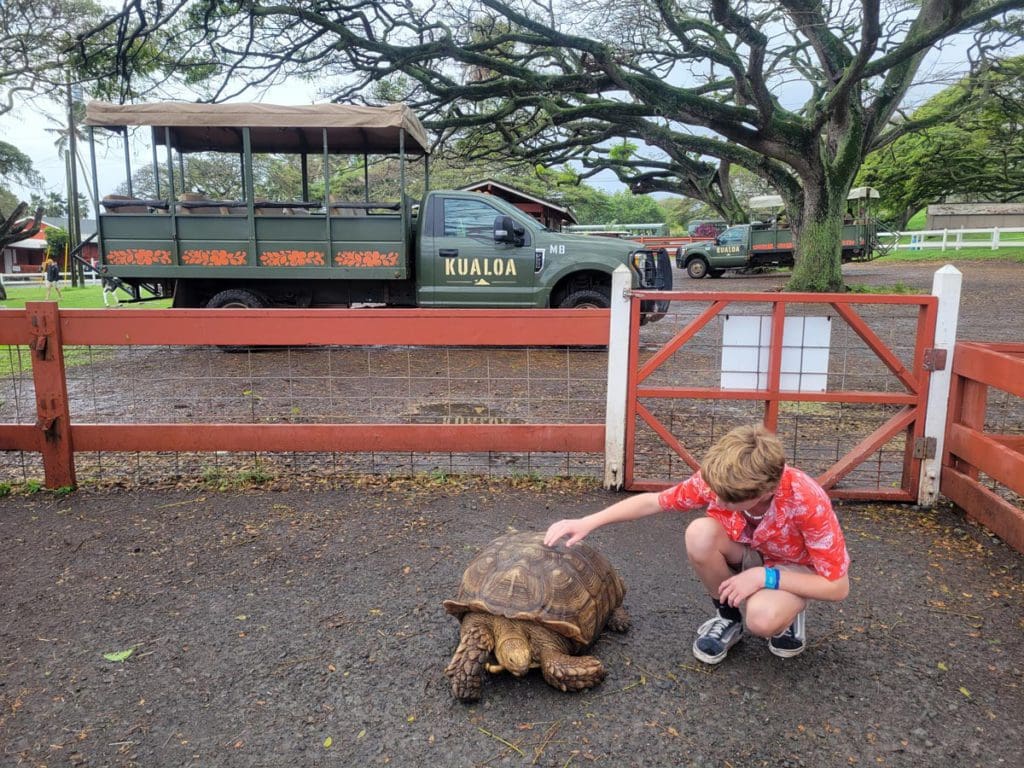 Kualoa Ranch & Private Nature Reserve is one of the top tourist attractions on O'ahu to visit with kids! Known as the Jurassic Valley, its lush peaks and valleys have been featured in more than 200 TV shows and movies. While the private nature reserve is still used as a scenic backdrop for films, it's also been a working cattle ranch since 1850. Luckily, Kualoa Ranch invites families to come and enjoy the incredible beauty of the Mo'okapuohaloa mountains. There is something for everyone to enjoy at Kualoa Ranch! So, whether you zip line through the Ka'a'awa Valley or take the Hollywood Movie Sites Tour you'll agree that a day at Kualoa Ranch is one of the best things to do in O'ahu with kids!
Below is everything you need to know for a day at Kualoa Ranch based on our family experience. And, you'll find a guide to the best tours for kids at Kualoa Ranch!
Getting to Kualoa Ranch
Kualoa Ranch & Private Nature Reserve is approximately 45 minutes from Waikiki Beach, on the opposite side of the island. Traveling by car is ideal, and the drive is spectacular. Families will cross over the Koʻolau Mountain Range and descend to the town of Kaneohe before driving along the ocean to reach the Jurassic Valley. Travel in the opposite direction, and it will take around an hour to reach the town of Haleiwa on the North Shore. However, plan for an extra 30+ minutes. Cars move slowly along the 2-lane road, and there tends to always be construction or traffic somewhere along the way.
Kualoa Ranch offers transportation for select tours. When booking on Kualoa's website, if a tour is compatible, look for the option to add on transportation. Several public buses travel by Kualoa Ranch, and although the ride only costs $3 it can be slow going.
READ NEXT: 27 Awesome Things To Do In Oahu When You Visit With Kids
How to Pack for a Day at Kualoa Ranch with Kids
Given the remote location of Kualoa Ranch, it's essential to pack properly for your day of adventure. Consider the activities of interest and plan the most extreme tours towards the end of your visit. For example, take the Jungle Expedition Tour before zipping around the ranch on a UTV or electric mountain bike. Be sure to pack a change of clothes and shoes, too! Since O'ahu is a tropical island, it's recommended that you always travel with raingear just in case the skies decide to open up.
Use Tripadvisor to book your Jungle Expedition Tour or UTV Raptor Tour here!
What to Expect When You Arrive
As the world's most famous private nature reserve, Kualoa Ranch has been welcoming visitors for years. The ranch features ample parking and easy access for all levels of mobility. If arriving for a tour, I strongly recommend to arrive over an hour early. Tours are often sold out, and if guests check in late it's difficult (if not impossible) to reschedule for the same day.
After checking in, visitors can shop, check out the museum, or grab a snack. There is plenty to do at the ranch while waiting for your adventure to begin. Remember to arrive early so you don't miss out!
Dining and Shopping at Kualoa Ranch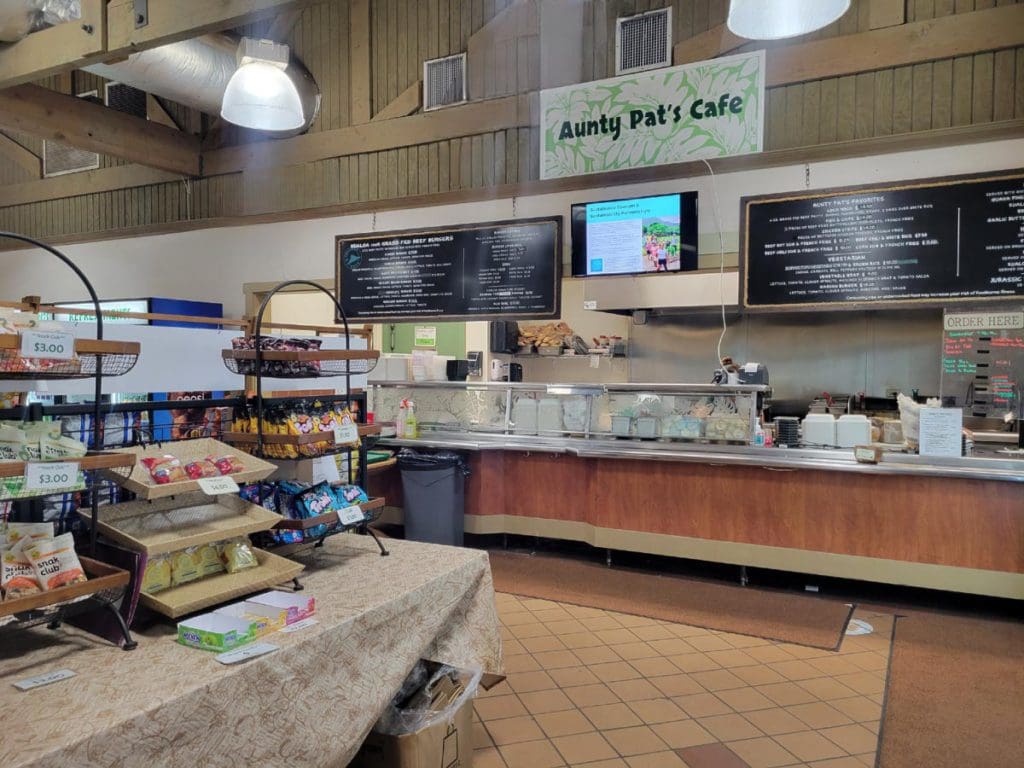 Upon arriving at Kualoa Ranch, guests enter into the Visitor Center. Inside, there's an extensive gift shop with souvenirs to commemorate your amazing day. It's also the location of Aunty Pat's Cafe, a great spot to order some Hawaiian-style food and relax before or after a tour. The on-site restaurant makes it easy for families visiting O'ahu with kids to order lunch and purchase snacks.
Best Activities + Tours for Families at Kualoa Ranch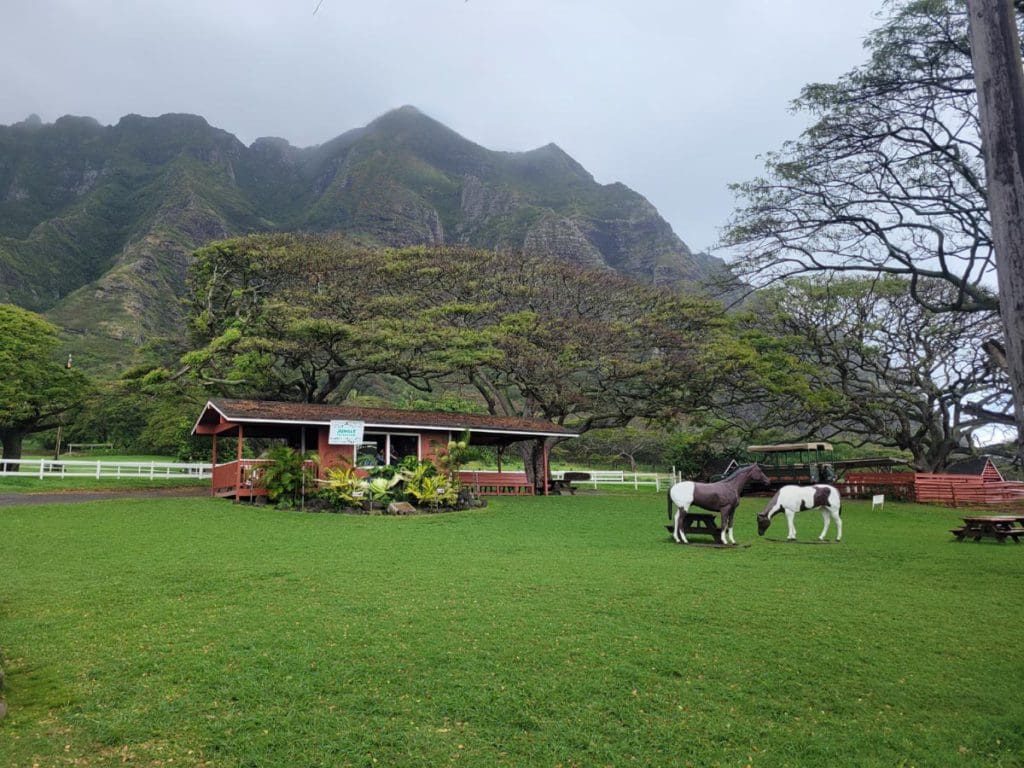 Everyone is welcome to visit Kualoa Ranch, even those without tour reservations. So, be sure and pop in if driving around the island! First, check out the museum to learn about the history of the ranch. Next, peruse the wall of fame, a list of all the movies and TV shows filmed at Kualoa Ranch. The memorable landscape is seen in movies such as Jurassic Park, Kong, Windtalkers, 50 First Dates, Lost, and more!
Then, stop by the Kids Farm Animal Exhibit where little ones can pet furry friends. They can also see horses get ready for their trail rides at the barn. Be sure to also take a tour! I've outlined some of the best options for families by age in the next sections. Finally, the Gift Shop, Restaurant, and Kualoa Grown Farmer's Market are spots to eat and shop before or after a tour or while exploring the grounds.
Kualoa Ranch Tours That Kids Will Love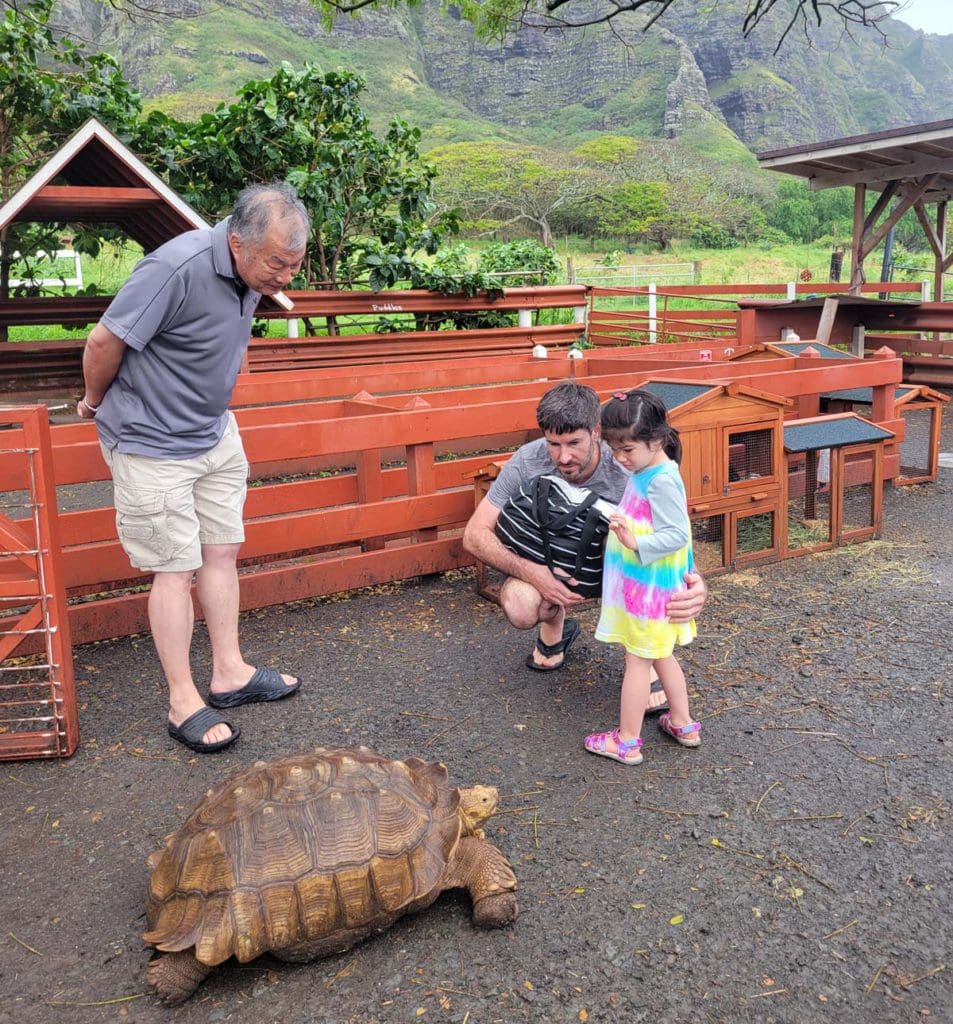 The best part about Kualoa Ranch is the variety of tours offered for all ages. Kids at Kualoa Ranch (10yr +) will love exploring on the Horseback Walking Tour. Alternatively, on the Jungle Expedition Tour (3yr+) and Hollywood Movie Sites Tour (infant+), you'll travel into the scenic valley. Both of these are excellent tours for families in O'ahu with babies or young children. Then, the Ocean Voyage Adventure (infant+) will give kids an even more spectacular view of the Mo'okapuohaloa mountains from the water. Families will board a catamaran and cross an 800-year-old fishpond out to a "Secret Island," where the cruise will begin. Turtles can be spotted in Kaneohe Bay so keep your eyes open to spot one munching on sea grass or gliding through the water! With several tours geared towards young children, Kualoa Ranch is one of the best activities for families with kids in O'ahu.
Best Kualoa Ranch Tours for Teens
Teenagers can be hard to please, but that won't be the case at Kualoa Ranch! Thrill seekers can fly on the Jurassic Valley Zipline on 7 tandem lines ranging from 300 ft to a quarter of a mile long. The views are unbeatable! Then, the UTV Raptor Adventure Tour is Kualoa Ranch's most popular tour, and it's not hard to see why. It's packed with 2 hours of UTV riding on dirt roads, over streams, and through the valley. Passengers can be as young as 5, but drivers need to be 21+, and each UTV fits 2-6 guests, perfect for a family! For those who want to do their own peddling (well, sort of), hop on one of the two Electric Mountain Bike Tours (10yr+). With so many exciting things to do at Kualoa Ranch with kids, you might have to book two tours!
Best Kualoa Ranch Tours for the Whole Family
Since there are so many amazing experiences at Kualoa Ranch, consider booking multiple tours on the same day to make the most of your visit. The "Best of Kualoa" Total Experience Package combines three tours into one full day. You'll drive through the locations of some famous movies on the Hollywood Movie Sites Tour. Then, explore streams and climb bumpy hills on the Jungle Expedition, visit farmlands, and learn about sustainability efforts on the Kualoa Grown Tour. Another option is to reserve one of the popular tours in the valley, such as the Jurassic Valley Zipline, UTV Raptor Adventure Tour, or Horseback Walking Tour, and also book the Secret Island. That way, you can explore both the lush valley and the magnificent beach – the perfect way to spend the day in O'ahu with kids!
All About Kualoa Ranch's Secret Island for Families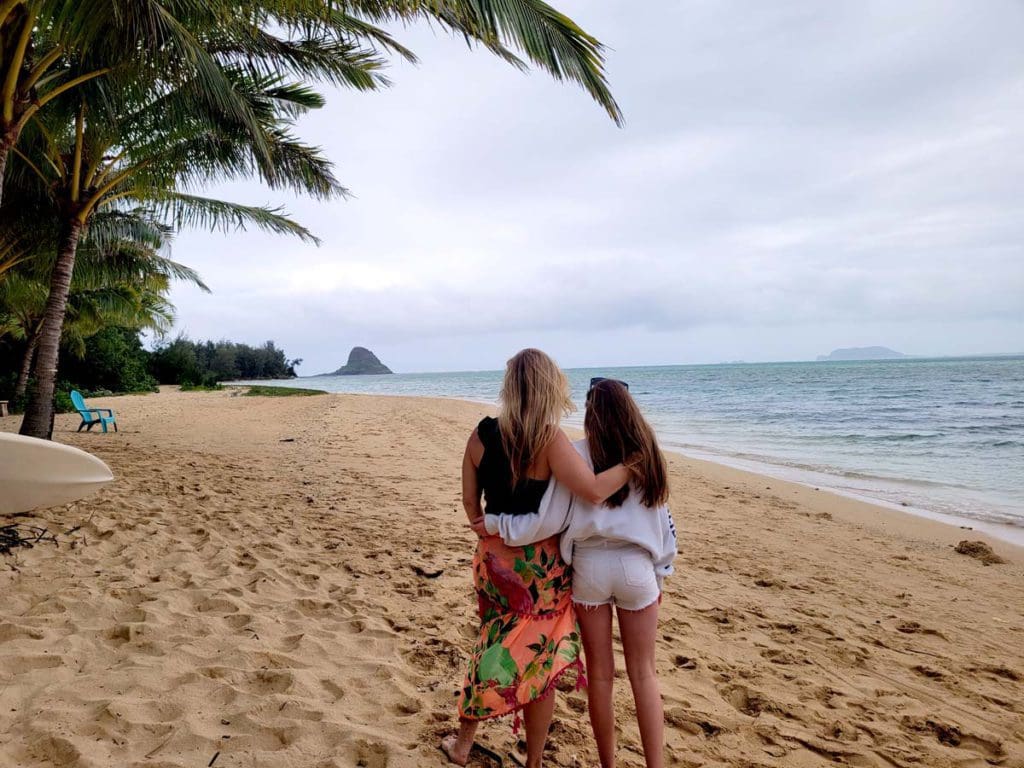 One of the best things to do at Kualoa Ranch is to visit the Secret Island. All ages are welcome to spend a morning or an afternoon playing in the water or relaxing on Kualoa Ranch's secluded beach. After arriving via a catamaran guests will have exclusive access to kayaks, paddle boards, horseshoes, badminton, corn hole, volleyball, hammocks, and lawn chairs. Guides will also take visitors out on a glass bottom boat searching for turtles. You can also paddle out in a canoe to a nearby sandbar for some incredible photos. A trip to the Secret Island is less than the cost to rent similar water toys on other beaches, making it the best value of any tour in O'ahu. A visit to Kualoa Ranch's Secret Island should be at the top of the list for families looking for things to do with kids in O'ahu!
Wondering which Hawaiian island is right for you? Read this article on Choosing The Perfect Hawaiian Island For Your Family Vacation With Kids!
Where to Stay on O'ahu with Kids
Looking for somewhere to stay On O'ahu with kids? Families who want the Disney experience will love the one-, two-, and three-bedroom accommodations at Aulani, A Disney Resort & Spa. This hotel also offers multiple on-site pools and tons of activities for kids. There's also The Kahala Hotel & Resort, which gives kids access to a white sand beach and the chance to see dolphins! Hilton Hawaiian Village Waikiki Beach Resort has a beautiful beachfront property, plus the chance to choose from multiple accommodations on-site. Other great hotels in O'ahu for families include Turtle Bay Resort and The Ritz-Carlton Residences, Waikiki Beach.
Plan your next Hawaiian getaway to one of these 20 Best Hotels In Hawaii For A Family Vacation!
Happy Travels!
There is so much to see and do at Kualoa Ranch! There's a reason why Kualoa Ranch continues to be ranked as one of the best things to do in O'ahu, Hawaii with kids. Your family will be in awe of the mountains that seem to touch the sky and the ocean that extends forever. Come and see for yourself why Kualoa Ranch is a special place – you won't be disappointed!
*Unless otherwise noted, all images within this article belong to and are courtesy of Emily Kapic.
*This post may contain affiliate links that may earn us a small commission, at no additional cost to you. Affiliate links in no way inform the hotels, sights, products, or other recommendations included in our articles. All opinions and recommendations expressed here are those of the attributed author, Emily Kapic.
READ MORE: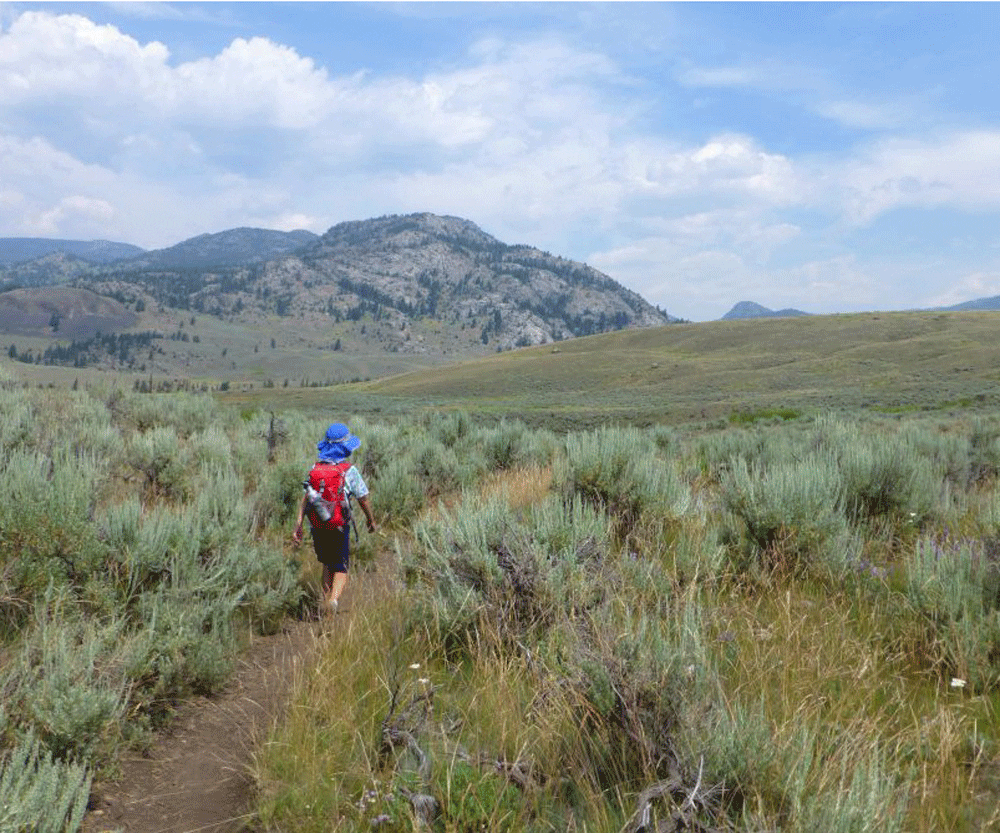 Everyone knows that Yellowstone National Park makes for a classic family vacation. Strolling the boardwalks...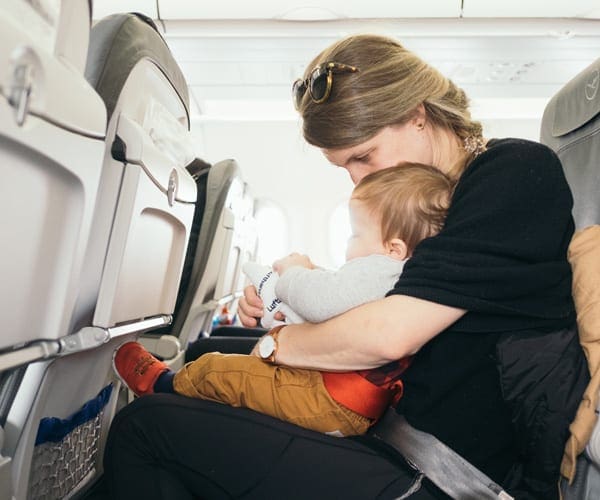 Families Who Love To Travel contributor Meghan Oaks provides her 10 best tips for your...