Some families might be surprised to discover there are plenty of things to do in Paris with toddlers. Though this cosmopolitan city is famed for its sophistication, history, and vibrant arts scene, that doesn't mean families with toddlers won't find ways to keep entertained. Whether you want to spend a day relaxing, visit a kid-friendly museum, or enjoy some famous Paris attractions, you can do it all in the City of Light! Of course, Paris is a big city, and it might be confusing to plan an itinerary. That's why we've divided this list into different categories to help you choose, from the best parks and outdoor green spaces to historical sights, museums, and more. So, if you have Paris on your bucket list, don't miss this helpful list of Best Things To Do In Paris With Young Kids. Keep reading for our parent-approved suggestions!
Best Museums in Paris for Young Kids
Do your little ones love visiting museums? You're in luck! Paris has some of the best museums for young kids, so keep reading for our favorites!
Consider the 4-day Paris Museum Pass here available at Viator!
Explore the Louvre Museum
Exploring the Louvre Museum is surely one of the best things to do in Paris with young kids. Since it's one of the city's most famous attractions, expect crowds at this museum in the 1st Arrondissement, especially if it's a weekend. Though a sprawling art museum may not seem like the best choice for younger children, there are plenty of ways to make your visit fun if you're kids are interested in art.
For example, you can turn your visit into a fun treasure hunt to sharpen your children's observational skills while they learn about art. Local companies such as Paris Muse offer this service, providing families with an in-depth tour of the museum. But, you can also DIY the experience with free PDFs. Either way, it's a great way to spot classic paintings such as Mona Lisa, and you can guarantee kids won't get bored!
​​Buy your tickets now to visit Louvre Museum and guarantee a worry-free family vacation!
Book your Louvre Museum Skip the Line Access Guided Tour with Venus de Milo & Mona Lisa from Viator HERE!
Learn Something New at the Natural History Museum
The Natural History Museum is another one of the best things to do in Paris with toddlers. Overlooking the River Seine's left bank, many travelers consider this four-story building an architectural marvel. It's also a great place to learn about the prehistoric era with your children. Plus, it's a fantastic rainy-day activity.
Famed for its dinosaurs, precious stones, and giant crystals, this giant museum is broken up into individual sections with separate entrance fees. Watch as kids gasp at the decadent fossils and ancient displays of rhinos, monkeys, and other exotic animals. All lead toward the outside garden, which is a nice place to let little ones play. There's also a separate children's area with a few hands-on activities, but you'll have to pay extra. A few things to remember when visiting The Natural History Museum: there's no air conditioner, and all signage is in French.
Immerse Yourself in Art at L'Atelier des Lumières
If your little ones are art lovers, you may love a visit to L'Atelier des Lumières! Filled with interactive video, sound, and other mixed-media installations, this experimental art center showcases a variety of permanent and rotating exhibitions. It's also perfect for visiting Paris with young children due to its bright lights, fun optical illusions, and other wacky kinds of art. As a plus, the gallery also has activities for children, including various games or sheets they can fill out during their visit. Not only is it a good chance to learn more about contemporary art, but it's a truly unique activity in Paris. Kids under five get free admission!
Take in the sights when visiting Paris with a toddler. Book your Big Bus Paris tour here!
Wander Off-the-Beaten-Path to the Pavillons of Bercy – Museum of Fairground Arts
A trip to the Museum of Fairground Arts is a treat for all ages. Located in the 12th Arrondissement, in the lively Bercy neighborhood, discover an off-the-beaten-path side of Paris at this unique, family-friendly museum. With antique carousels, curiosity cabinets, and more fairground attractions, it offers an unparalleled look into France's Belle Epoque funfairs. Kids can see old merry-go-rounds, amusement park rides from the 1900s, and more vintage artifacts reminiscent of an old circus. A few of the carousels are even available to ride!
Reservations are required to visit since it's only accessible by tour. Guided Tours are available through the museum and recommended for children five years and older. Keep in mind they're in French, and you'll be given an English handout to understand them. Even if you don't find the tour fascinating, it's still worth it to gain entry into the museum when visiting Paris with young children.
Get a Taste for French Sweets at Choco-Story Paris – Musée du Chocolat
Chocolate lovers can't miss Choco-Story Paris – Musée du Chocolat! Learn all about chocolate production at this small specialty museum in Petites Écuries, since it's one of the best things to do in Paris with young children! Stop by the front desk before your visit to grab an activity packet for kids to fill out, including treasure hunts and other fun games.
Then, start your tour by learning more about the history of chocolate through the interactive exhibits. Little ones can also marvel at how chocolate is made during a live demonstration, scheduled every day. Next, be sure to save time for a special chocolate tasting, where you'll be able to sample some treats yourself. Plus, families can also create their own chocolate thanks to fun workshops! Kids who are really interested in learning more about chocolate can even take an educational tour designed specifically for them.
Then, be sure to add one or two of the 9 Amazing Places For Pastries And Desserts In Paris For Families to your itinerary!
Best Gardens/Parks in Paris for Young Kids
Gardens and parks are quintessentially Parisian experiences, so we definitely recommend visiting at least one or two during your vacation. Here are some of the best for young kids! If you're wondering what to do in Paris with young children, be sure to fill some of your days at these stunning locations.
Roam Around the Luxembourg Gardens
The Luxembourg Gardens are an oasis amidst the city's busy 6th Arrondissement. Otherwise known as the Jardin Du Luxembourg, this popular attraction is ideal for visiting on a sunny day. No wonder it's one of the best things to do in Paris with young kids! Families can roam around and enjoy the view as they explore various paths and zig-zagging trails. Or, pack a picnic and relax with a book.
Some of the best green areas surround the grand Medici Fountain, which is also a great photo spot! The Luxembourg Gardens also have a few other points of interest, like a replica Statue of Liberty, and a collection of sculptures that surround the main pond. During the summer, the Luxembourg Gardens also offer a variety of family-centric programming and activities. Kids can play with toy boats and even ride a pony! Surely, a must when visiting Paris with a toddler!
Spend a Day Among Nature at Jardin de Plantes
If you want to spend a day among nature in Paris's busy city center, visit Jardin Des Plantes. Located on the Seine River, this historic botanical garden has enough to keep your whole family entertained! Explore a vast collection of plants and pretty flowers when you explore, most of which rotate depending on the season. It's a great place to enjoy an afternoon stroll, or even pack a picnic lunch.
Kids will delight in spotting wildlife such as birds or insects too. Keep an eye out for a few small playgrounds for children scattered around the main area. Surrounding the gardens, you'll also find a small zoo with a variety of exhibits, which you can enter for an additional fee. Greenhouses, which also require another ticket, are available to explore as well. Nearby museums such as The Natural History Museum also make it a great two-for-one stop.
Relax for the Afternoon at Parc de la Villette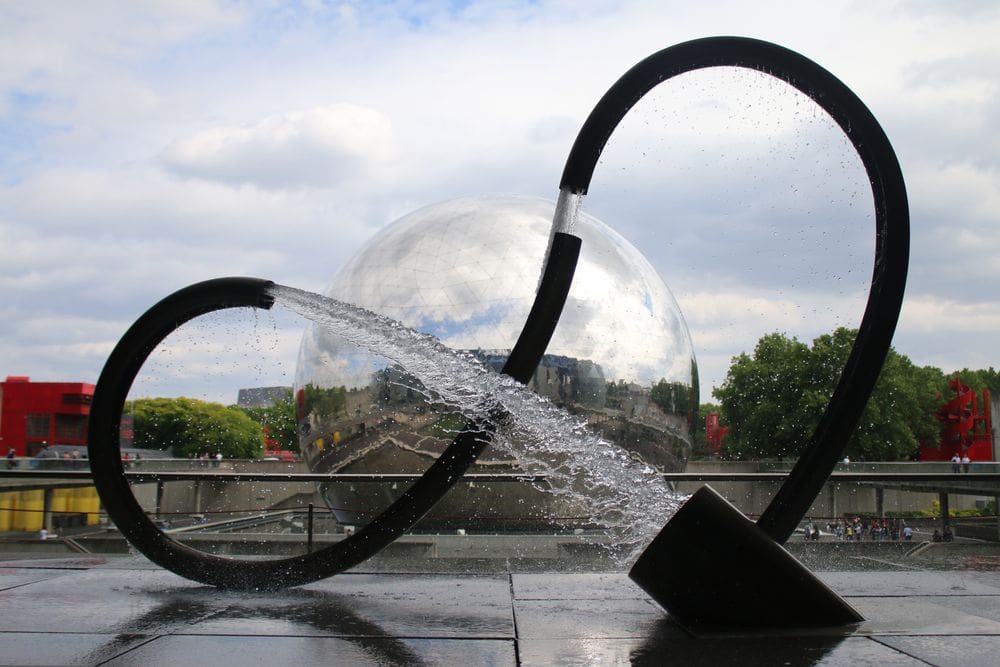 Parc de la Ville is a one-stop shop for family fun when visiting Paris with a toddler. Often showcasing concerts, festivals, and other large-scale events, this massive green space is also a favorite among locals and tourists alike for a casual afternoon. During warmer weather, you'll find lots of families sprawled out on the grass enjoying the sun and cool river breeze.
Since it's located in northeast Paris, however, it's a little out of the way from most other attractions. We only suggest it if you're already nearby. If you do have extra time, kids will love exploring the park and spotting its cool architectural sculptures. In addition to multiple playground areas, families can visit the on-site City of Science & Industry Museum, ride the carousel, or even go boating. Remember it can get crowded here on the weekends, and there isn't much to eat outside of nearby fast food stands.
Stroll Around Jardin des Tuileries
A stroll through the Jardin des Tuileries is definitely one of the best things to do in Paris with young kids! Located between the Louvre Museum and Place de la Concorde, this serene garden is ideal for a quick break between sights. Appreciate the sculptures, people-watch from a bench, or take a seat by one of the ponds. You'll also find huge patches of beautiful flowers in this quintessential Parisian garden.
Plus, two coffee shops for families to enjoy. Kids may be entertained by the street performers here, since there's always something new and interesting. If you're visiting Paris with young children from June to August, you can also enjoy Fête des Tuileries in the gardens. This traditional funfair showcases carnival games, amusement rides, and more fun for kids of all ages! Little ones will love the trampoline, giant slide, and fairground sweets. Try the candy floss!
Say Hi to Animals at the Paris Zoological Park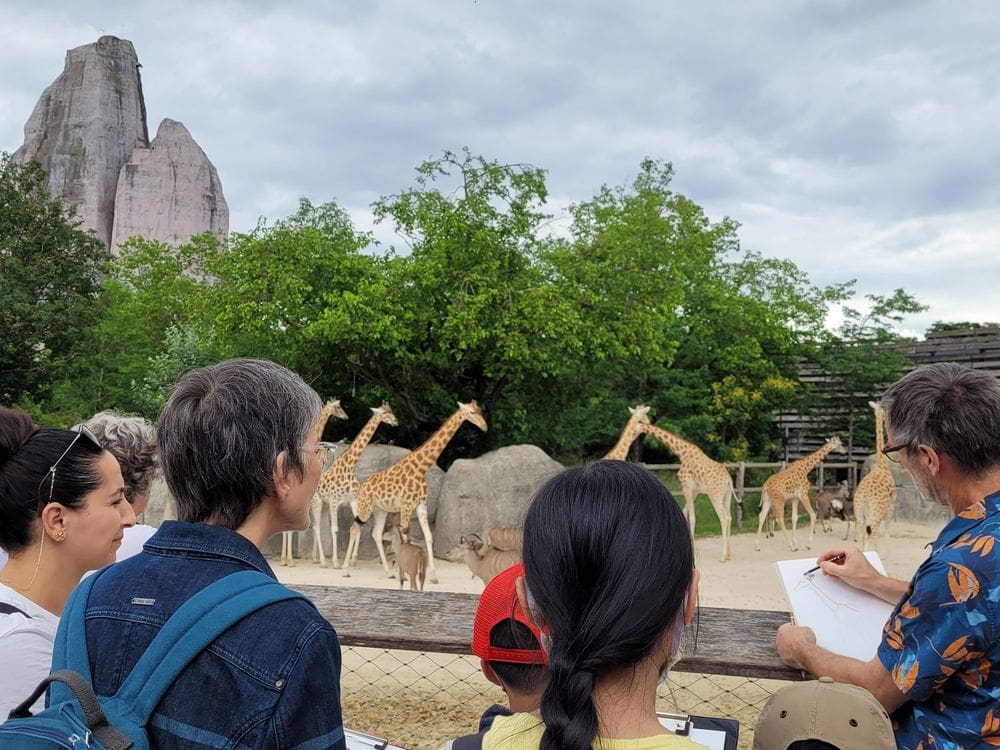 Get to know local wildlife at the Paris Zoological Park! Though it's located a bit out of the way in the 12th Arrondissement, it's still worth a visit if you're looking for things to do in Paris with toddlers. Here, you'll find a natural oasis tucked far away from the hustle and bustle of central Paris. Kids will love seeing the wide variety of animals here, from jaguars to lions, rhinos, frogs, and more. What's even better is that after a recent refurbishment, these animals are now housed in recreations of their natural habitat.
Grab a map from the front desk before your visit so you can get around easier. Families can walk through the Rainforest Dome, then check out the Africa, Europe, and Australia sections. We recommend buying tickets ahead of time. Finally, come prepared with snacks, sunscreen, water, or anything else you may need.
Purchase your Paris Zoological Park tickets here before you leave for your next family trip!
Best Historical Sights in Paris for Young Kids
Paris is full of history and culture! Why not take some time to explore it when visiting Paris with young children? From the Eiffel Tower to the underground Catacombs, it'll be a hit with your whole family! Keep reading for some of our favorite things to do in Paris with young children.
See the Eiffel Tower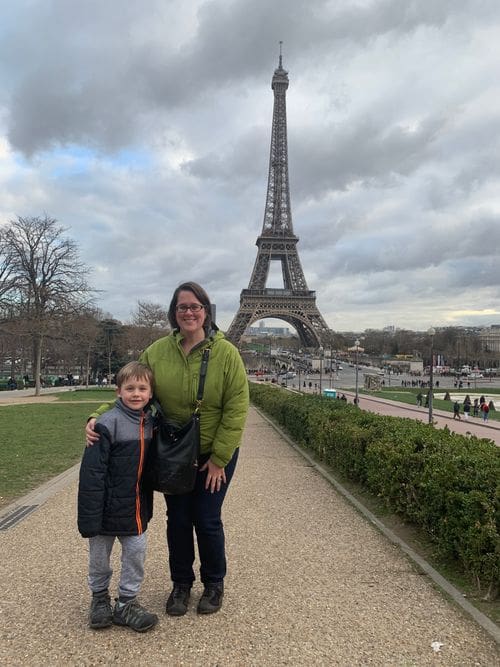 Visiting Paris with young children is incomplete without seeing the Eiffel Tower! Located on the Champ de Mars in the 7th Arrondissement, this iconic landmark is symbolic of the city and its chic charm. No wonder it draws tourists from all over the world! You can purchase tickets online if you want to climb to the top for a birds-eye view. Or, choose to see its magical beauty from other spots in Paris.
By day, families should head to Place du Trocadero, a public square and green area that provides a spectacular view of the tower. Paris is the city of lights, so you'd be remiss not to revisit in the evening! Starting every hour at sunset, the tower twinkles with flashing lights for five minutes, a truly amazing sight! Get a great view from Place du Trocadero, Pont de la Concorde, or along the Seine.
Buy your Eiffel Tower tickets now before it's too late!
Ride the Carousel of The Eiffel Tower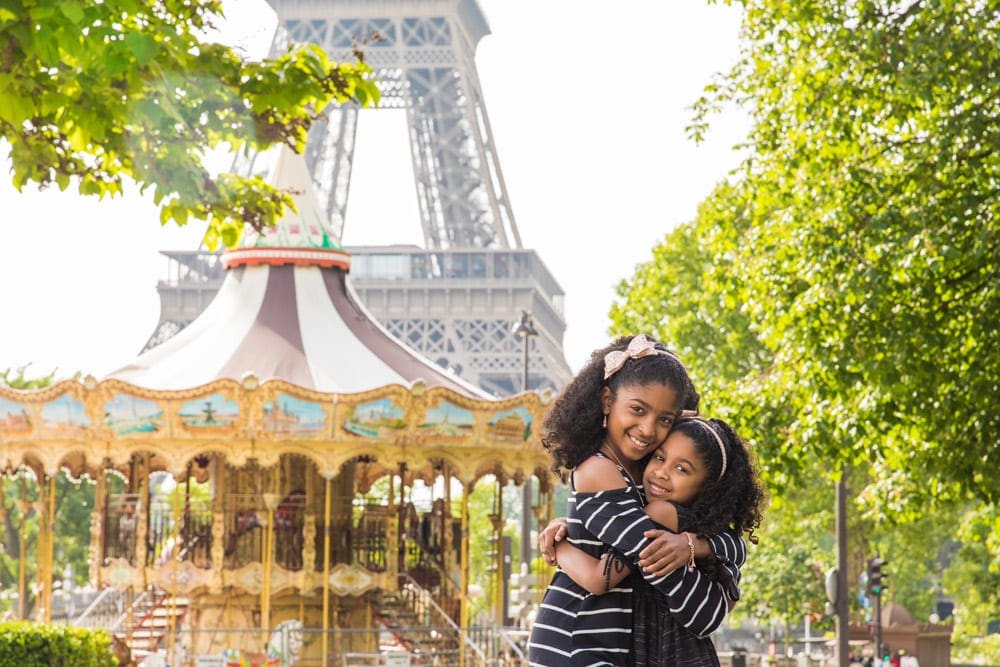 Get a great view of the Eiffel Tower from a vintage carousel! Located on Quai Branly along the River Seine, this popular attraction, otherwise known as Carousel XI, is simply a must when visiting Paris with young kids. Buy tickets from the adjacent booth to ride during the day for a perfect photo backdrop. Or, take a spin at night under the Eiffel Tower's twinkling lights. (Remember it can get crowded regardless of which time of day you visit.)
Kids can choose from two levels of horses, carriages, and other fun rides, and tickets are cheap enough for the whole family to enjoy. If you visit during the spring, you'll also find this beautiful area littered with tons of gorgeous cherry blossoms. After your ride, stop by a nearby concession stand and treat yourself to typical Parisian street food. Choose from cotton candy, crepes, or macarons!
Navigate the Underground Catacombs
The Paris Catacombs are undoubtedly one of the most unique things to do in Paris with young children. Located in the 14th Arrondissement, this historical site is accessible via 100-step descent underground. Navigate through labyrinthine passageways filled with skulls, bones, and other relics of Paris's past during your visit here. Though it may not be best for sensitive young kids, most little ones will find this giant collection extremely fascinating.
The Catacombs directly offers various tours to get to know the site better, including plenty of kid-friendly options with a narrator. However, since they're currently suspended, you could also try companies such as Viator or other local providers in Paris. If you're not going with a licensed outfitter, we highly recommend purchasing an audio tour to navigate the Catacombs. Otherwise, you'll just be wandering around without much context, since most plaques are in French.
Pro Tip: Due to COVID-19, families must purchase tickets to the Catacombs before visiting. Options are timed and limited.
Marvel at Montmartre's Sinking House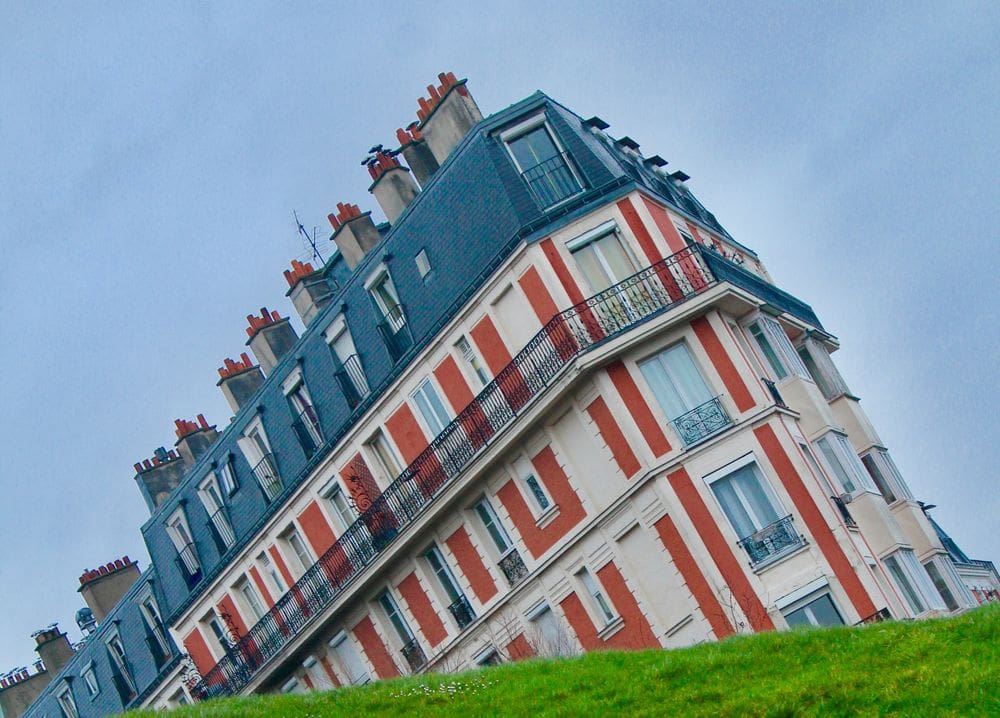 Searching for a free attraction in Paris to entertain young kids? Head to Montmartre's Sinking House! Located right next to Sacre-Coeur, it's a fun add-on to whatever sightseeing you'll be enjoying in that area. All you have to do to reach this funky optical illusion is climb up (or take the funicular) to Sacre-Coeur, then turn to your right side. Keep in mind that the house isn't actually sinking, but just appears that way from its position behind the grass.
For the best photo opportunity, turn your camera slightly to capture the landscape on a slant. Thanks to the house's hilltop location, your family snapshot will look like you're sinking into the grass! Kids will love this quick, entertaining, and unique activity. Though you can visit any time of day, expect crowds during peak hours. We suggest going at sunrise or sunset for a spectacular view all to yourself.
Enjoy a Sunny Day at Domaine National du Palais-Royal
Enjoy a warm sunny day with your family at Domaine National du Palais-Royal! Once a palace for the royal family of France, this tourist attraction now houses a restored building, beautiful gardens, and shops to explore. Take your children here for a much-needed respite during your Paris adventures! Since it's tucked within the 1st Arrondissement, it usually has fewer crowds than nearby attractions like the Louvre.
Little ones will love running free through the intricate colonnades, playing with the sculptures, and people-watching. Don't forget to snap a picture of them climbing on top of the black-and-white columns! Parents can appreciate the view, and then take a look around the shops once the e kids are done exploring. In addition to being a scenic, one-of-a-kind place to catch your breath and relax, it's also free! No wonder this is one of the best things to do in Paris with toddlers.
Best Ways to Sightsee in Paris with Young Kids
Still wondering what to do in Paris with young children? Sightseeing with young kids in Paris doesn't need to be hard! If you want to combine your trips with some of the best attractions in the city, keep reading for our tips!
Traverse Paris with a Bike Tour
A bike tour is the most convenient way to see Paris with kids. Not only will you cover a ton of ground in a short time, but you'll get some exercise too! Various local companies in Paris offer this service, such as a Fat Tire Bike Tour. Departing from the Dupleix Metro Station, you'll see all the iconic sights: The Eiffel Tower, The Louvre, Napoleon's Tomb, and more. Kids who can ride a bike or baby carriers are more than welcome!
Other bike tours in Paris for families include Blue Fox Travel Bike Tours, which offers different options like Paris Highlights, Paris Secrets, and even a special Family Race. Collect golden coins from each stop and challenge one another to see who wins the most medals! Bike About Tours, Boutique Bike Tours, and Paris Bike Tours are also good options. Or, you could search on Viator.
Embark on a Seine Boat Cruise
Families will find some of the most famous sights in Paris along the Seine River. Not only does this body of water divide the city in half, but it's also an excellent viewpoint for a boat tour. See some of the city's best attractions all in one shot, with the added benefit of an experienced guide! Book a boat cruise with local companies like Les Bateaux Mouches, Bateaux Parisiens, and Vedettes de Paris for the best experience. Kids will love sailing past the Musée D'Orsay, The Eiffel Tower, or Notre Dame.
Most vessels depart from near the Eiffel Tower several times a day, have both top and bottom views, and offer the option for a lunch or dinner cruise, as well. Seeing the city by boat gives a completely different perspective, and an entertaining tour guide keeps kids interested. Combine your ticket and enjoy a delicious meal in the process! Buy your tickets now to avoid standing in line for the Seine River Cruise by Bateaux Mouches.
Best Day Trips from Paris with Young Kids
If you have extra time when visiting Paris with a toddler, we highly recommend taking a day trip with young kids. Here are two places families love!
Visit Disneyland Paris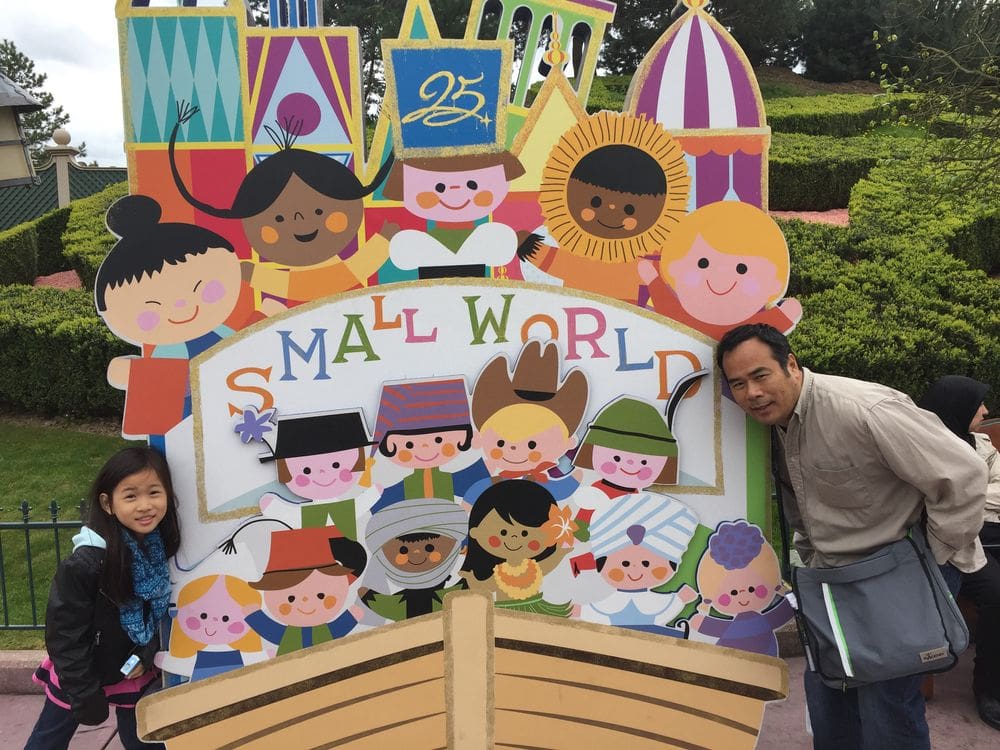 Disneyland Paris is a must if you have extra time. It's definitely one of the best things to do in Paris with young kids! Located approximately one hour from Paris by train or car, it comprises two separate theme parks: Disneyland Park and Walt Disney Studios Park. Entrances for both can be combined, meaning families should carve out at least a day in their itinerary!
Visit like a seasoned pro and pack some food to beat all the expensive vendors, and you'll have more time to explore. Though it's impossible to tackle everything here, a few highlights are the nightly light show, the Pirates of the Caribbean ride, and the daily character parade. Don't expect the same magic as the Disney Parks in the U.S, as the equipment here is dated. But it's still worth the trip if you're a Disney fan. Secure your tickets beforehand!
Go on a Day Trip to Versailles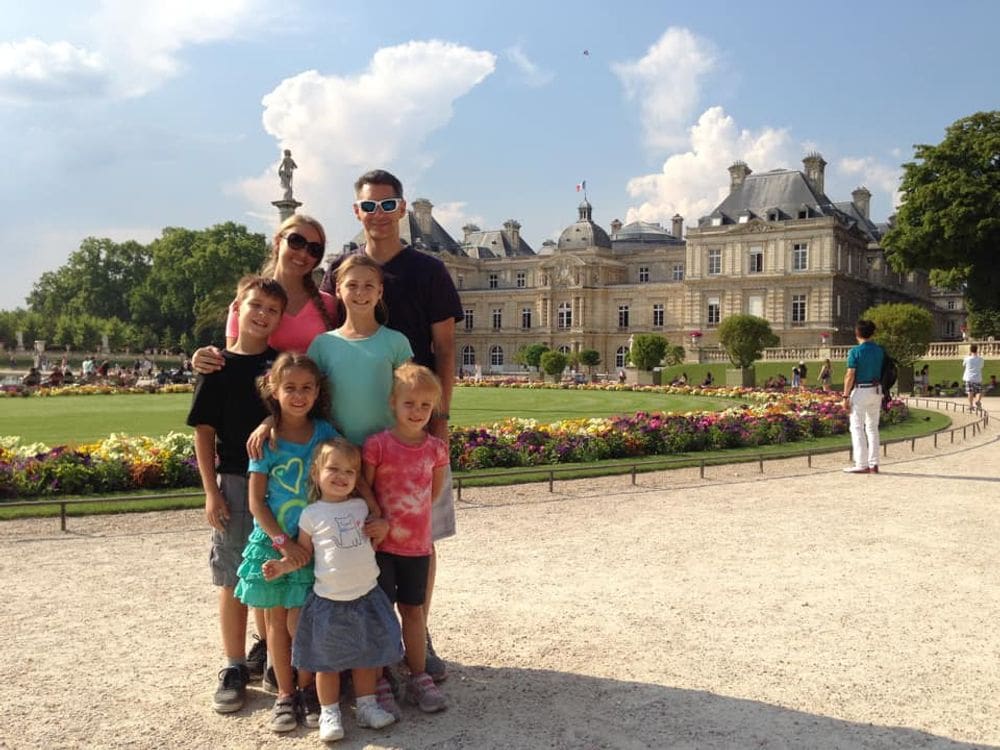 Taking a day trip to Versailles is one of the best things to do near Paris with a toddler. If you have some extra time during your vacation, we highly recommend carving time in your itinerary for this. Families can either drive or take the local metro to this nearby French town, which houses the marvelous Palace of Versailles.
From Marie Antoinette's animal farm to miles of lush gardens and a huge, once-residential palace, there is no way kids will be bored here! In fact, you'll find there's probably way too much for just one day of sightseeing. Tour the palace's grand halls decorated with lavish furniture, learn how the royals once lived, and then take some time to explore the gardens. Neatly manicured and lined with sculptures, there's so much room for children to roam free, as well as a ton of photo opportunities!
Reserve your Versailles Palace & Gardens Skip-the-line Guided Tour with Viator Here!
Best Indoor/ Rainy Day Activities in Paris for Young Kids
If it's too hot, rainy, or you simply want to stay indoors, Paris has plenty of places for that too. Here are our favorite indoor things to do in Paris with a toddler!
Watch a Show Featuring Les Guignols (Marionette Puppets)
Want to entertain little kids on a rainy day in Paris? Take them to watch Les Guignols! French for marionette puppets, you can find these famous and fun performances in many locations throughout Paris. So, if you're children enjoy the theater or any type of musical performance, they'll love this action-packed show.
Visit Marionnettes du Champ de Mars, Théâtre des Marionnettes du Jardin du Luxembourg, or Marionnettes du Parc Montsouris. With various times and dates for showings, these theaters date back to the early 20th century, adding a historic feel to the visit. Be sure to tell kids they're about to witness one of the oldest Parisian pastimes! However, no matter what theater you choose, they'll certainly be entertained from start to finish of this quintessentially Parisian show. Special effects, singing, and slapstick humor often accompany a medley of adorable puppets!
Take a French Cooking and Pastry Class
Why just buy pastries, when your budding little chef can learn how to make them as well? France is known for its delicious cuisine, and now Paris has several cooking schools that offer pastry and cooking classes for kids! It's a fantastic way to get familiar with the local cuisine during your trip, plus an awesome bonding opportunity for your family. Book a session with either Cook'n with Class, Cooking Baz'Art, or Le Cordon Bleu.
You'll learn all the culinary secrets, from baking to braising and so much more! Each company offers different options, whether you want to learn to make French bread, macarons, or even sauce. Kids will particularly love the french desserts workshop at Cook'n With Class, however, as it focuses specifically on pastries. Many cooking schools are located quite close to Sacre Coeur, so explore Montmartre while you're at it, too!
Book your Paris Cooking Class: Learn How to Make Macarons here with Viator!
Indulge in a Delicious Dessert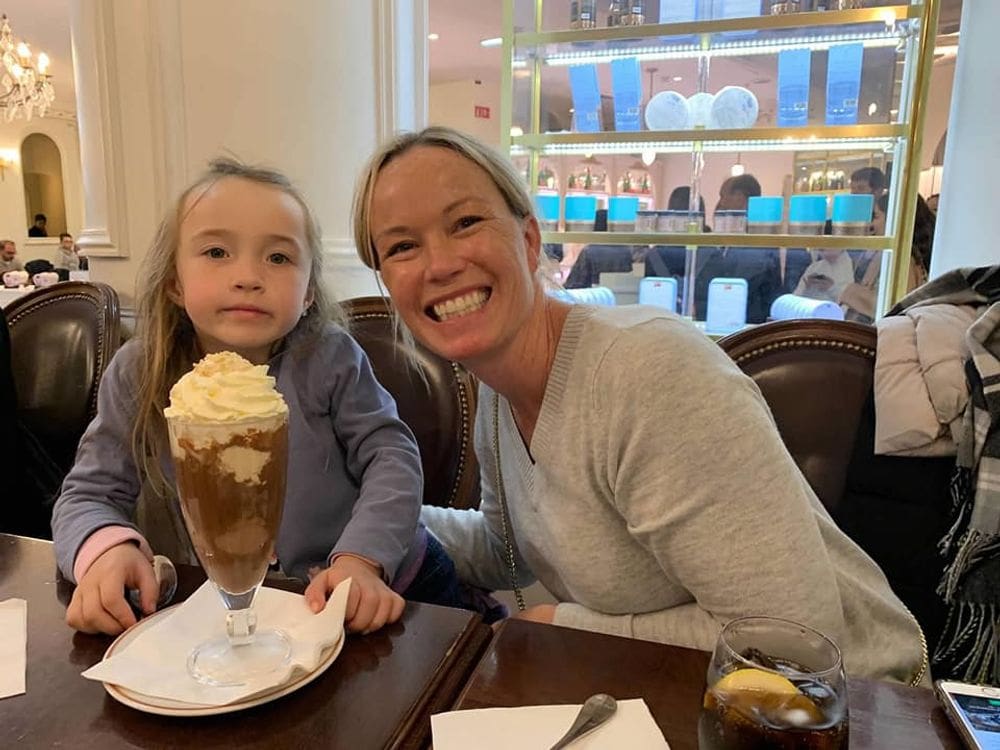 What could be better than enjoying a delicious dessert after a long day of sightseeing in Paris? Families won't have to go far to find some of the best spots in the city! To taste some of the best ice cream around, head to Berthillon on the Isle of Saint Louis. Here, families can overlook the Seine River while snacking on unique flavors such as white chocolate, mocha, or even chocolate whisky for parents.
Of course, a stop in Paris would be incomplete without some macarons, which you can try at Ladurée, Carette, or Pierre Hermé. Families who love all things meringue can't miss Aux Merveilleux de Fred, which has multiple locations throughout the city. For a fancier, sit-down dessert experience right outside the Jardin Tuileries, head to Angelina Paris for hot chocolate and pastries. It's also the perfect place for a fancy brunch with your family!
Reserve this Paris Secret Food Tour: Taste of Montmartre with a Private Tour Option from Viator!
Where To Stay In Paris With Young Kids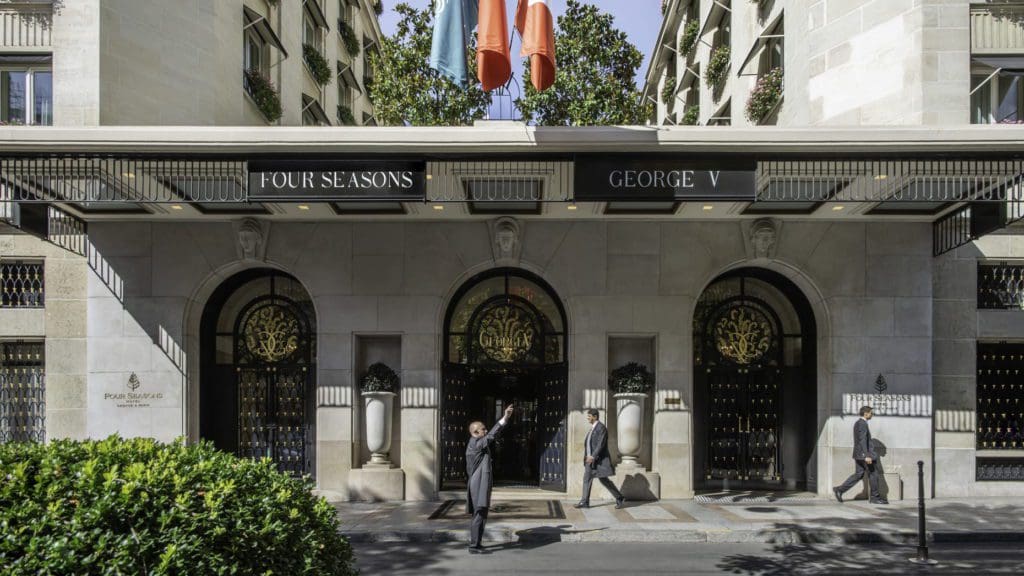 Wondering where to stay in Paris with young kids? Luckily, this cosmopolitan city has a ton of options! We suggest staying at Hotel Le Royal Monceau – Raffles Paris if you want a convenient location just steps away from the Champs-Elysees with views of the Arc de Triomphe. It has an indoor swimming pool for kids, plus a spa for parents. Opposite the Jardin Tuileries, we also suggest Le Meurice, which has a kids' club, an on-site pastry shop, and more amenities for families.
Other family favorites include Le Bristol Paris, Hotel Brighton, and Four Seasons Hotel George V. Finally, don't miss learning about Where To Stay In Paris: 12 Best Arrondissements & Why Families Love Them.
RELATED: Best Paris Hotels for Families with Pools or Kids' Programs
Interactive Map of Paris
Discover the best places to stay, restaurants, and local attractions with our interactive map. You can filter by what you're looking for, so it's quick and easy to select which area you want to explore.
Happy Travels!
We hope you liked this list of Best Things To Do In Paris With Young Kids! Whether you're interested in museums, and history, or simply enjoying the sights and sounds of Paris, we're sure you'll find plenty to keep entertained. Enjoy Paris with your kids!
*Due to the COVID-19 pandemic, some of the attractions, accommodations, or things to do on this list may be closed. Please ensure availability before making your decision.
The Best Paris Tours and Excursions in 2023 
*This post may contain affiliate links that may earn us a small commission, at no additional cost to you. Affiliate links in no way inform the hotels, sights, products, or other recommendations included in our articles. All opinions and recommendations expressed here are compiled from submissions submitted by the generous members of our Families Who Love To Travel community.
READ NEXT: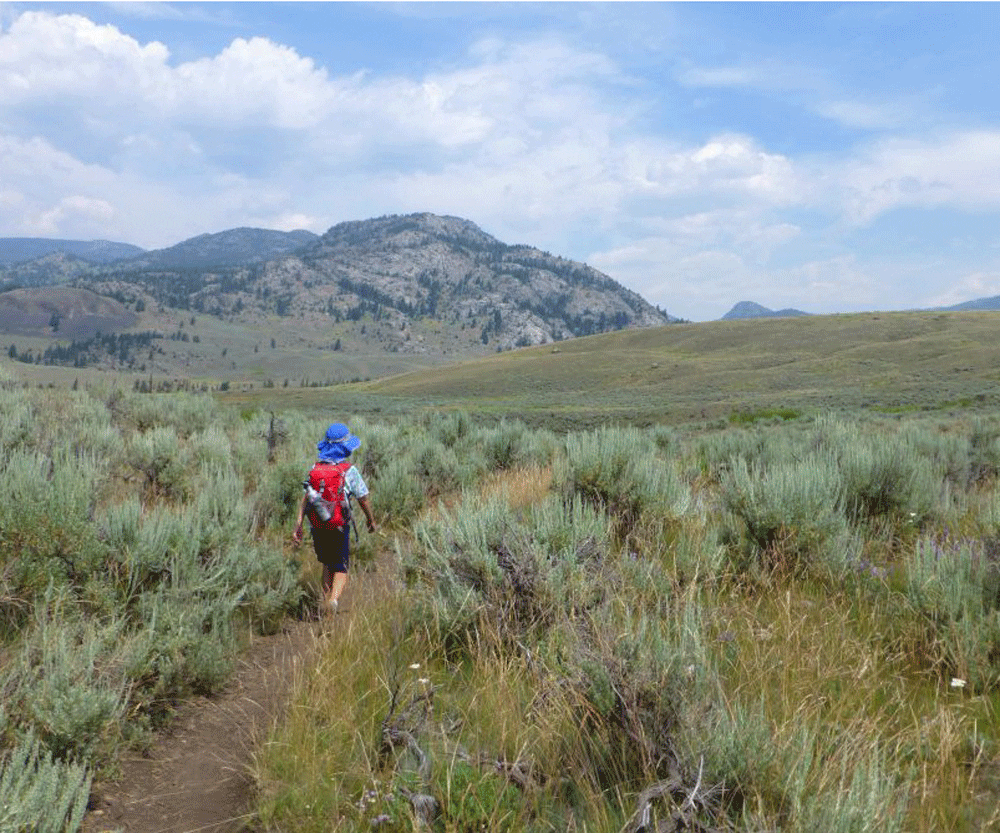 Everyone knows that Yellowstone National Park makes for a classic family vacation. Strolling the boardwalks...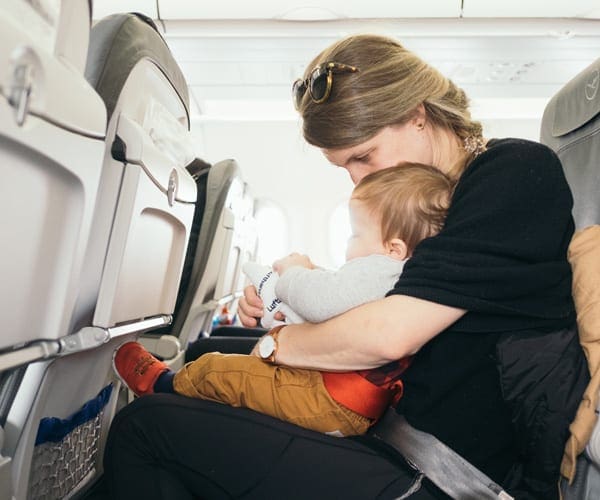 Families Who Love To Travel contributor Meghan Oaks provides her 10 best tips for your...