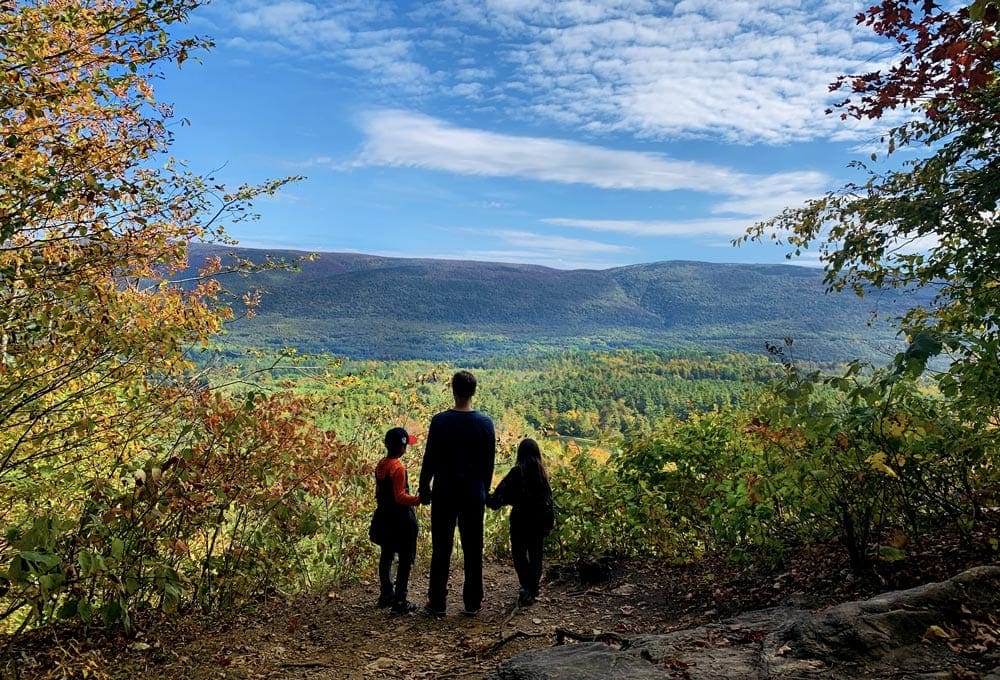 Leave behind the bustling cityscape and embark on an enchanting journey to one of the best cute towns to visit near NYC with kids! From charming seaside towns like Newport to adorable Main Streets in Nyack, these charming destinations are perfect for a memorable introduction to the wonders beyond the Big Apple. Stroll down picturesque streets lined with colorful houses, quaint cafes, and unique shops that will ignite your child's imagination. And when the day turns into twilight, watch as these adorable towns transform into wonderlands illuminated by twinkling lights and offer delightful evening entertainment such as outdoor movies or lively street performances. If you want to start planning your next escape from the city, we've put together some quick weekend getaways from NYC for families, plus day trips too. Keep reading to plan your next adventure!
Best Cute Towns to Visit Less than 3 Hours from NYC with Kids
From Great Barrington, which will charm you with its idyllic Victorian architecture and abundant natural beauty, to Nyack, a hidden gem nestled on the banks of the Hudson River, we've rounded up the best cute towns to visit near NYC with kids. Each promises a delightful experience filled with charm, history, and plenty of family-friendly activities. Keep reading to learn more!
Nyack, NY
Families looking for a low-key getaway near the Big Apple will love Nyack! Tucked away along the majestic Hudson River, this hidden gem is one of the best cute towns to visit near NYC with kids – only an hour away!
Start your day off by strolling down Main Street, admiring the beautifully restored Victorian houses that adorn the streets and letting their colorful facades capture your attention. As you make your way through town, browse some boutiques, and be sure to stop at The Runcible Spoon Bakery for a delicious treat. Their freshly-baked cookies are simply irresistible!
For some outdoor fun, head to Memorial Park, which features lush greenery perfect for a picnic, a kids' playground, and a skate park! If your family craves more adventure, take a scenic hike at Hook Mountain State Park. Or, rent bicycles from Rockland Bicycles in Spring Valley and embark on a leisurely ride along the picturesque riverfront trail.
As evening approaches, don't miss out on experiencing some world-class cuisine at one of Nyack's nearby family-friendly restaurants, such as Harper's Restaurant & Bar in Dobbs Ferry – their mouthwatering fish tacos will leave both young and old satisfied!
Easy Day Trips from Nyack for Families
There are plenty of quick day trips from NYC that families can enjoy from Nyack! Start your journey by exploring the prestigious Lyndhurst Mansion in neighboring Tarrytown. Kids will be amazed by the grandeur of this opulent estate as they stroll through its magnificent rooms and picturesque gardens.
Next on our list is Historic Huguenot Street in New Paltz, where you can step back in time and learn about the area's rich history. Finally, make your way to Olana State Historic Site located in the breathtaking Hudson Valley. Set atop a hill overlooking sweeping landscapes, this majestic castle-like mansion will enchant children with its unique architecture and stunning panoramic views!
Look for a homestay in Nyack through Vrbo for a weekend away from NYC!
Litchfield, CT
Litchfield effortlessly blends small-town charm with family-friendly attractions! As one of the best weekend trips from NYC with kids, its darling town center is popular with locals due to its family-friendly restaurants, antique shops, and natural agriculture. Plus, it's around 2 and a half hours from NYC!
As you explore its historic streets lined with beautifully preserved colonial houses and vibrant boutique shops, your little ones will be captivated by the town's whimsical atmosphere. Stroll through Main Street hand-in-hand, stopping at quaint ice cream parlors serving up irresistible frozen treats or marveling at colorful street art adorning bakery walls.
In addition to various boutiques to explore, kids can enjoy Litchfield's nearby farms! Animal enthusiasts will love the goats at March Farm, featuring berry-picking and an animal yard. If you're searching for riding lessons, Litchfield also boasts various horse stables. Afterward, satisfy your sugar cravings at the nearby Winter Winds Farm to sample sweet homemade maple syrup. Or, head to Peaches N' Cream, which serves fresh homemade scoops from the nearby Arethusa Farm.
Easy Day Trips from Litchfield for Families
Litchfield also puts you within driving distance of more of the best cute towns to visit near NYC with kids! Stroll through scenic nature trails at Kent Falls to see a picture-perfect waterfall. Visiting during July or August? You're also in luck! Check out the Goshen Country Fair for carnival events, the unique Goshen Stampede, and an annual hot air balloon festival!
Action Wildlife is also a kid-friendly sanctuary park filled with exotic animals, perfect for younger children. Consider escaping to Lake Waramaug for a more extended getaway, a stunning state park to rent canoes, picnic, or camp. Kids can also ride a vintage roller coaster at Lake Compounce, the oldest amusement park in the country! With so much to offer, no wonder this is a family favorite for quick weekend getaways from NYC with kids.
Where to Stay Near Litchfield with Kids
Looking for somewhere to stay near Litchfield with kids? Splurge on accommodations at the Winvian Farm, which even features special themed rooms like "Treehouse" or "Helicopter."
RELATED: 13 Best Places To See Fall Foliage With Kids Within 3 Hrs Of NYC For Families
Cold Spring, NY
If you're on the lookout for the best cute towns to visit near NYC with kids, look no further than Cold Spring, NY! Nestled cozily along the picturesque banks of the Hudson River, around an hour and a half from NYC, this enchanting little gem is a perfect escape from the hustle and bustle of city life.
Once a center for the American Civil War, it's now a picturesque town near Bear Mountain, Storm King, and the West Point Museum. Nature meets creativity on Main Street, with various boutiques and restaurants. Le Bouchon is also a family favorite for its inventive kid's menu. Afterward, treat yourself to some dessert from Moo Moo's Creamery! Split Rock Books, an indie bookstore, also hosts occasional story readings for little ones.
Or, soak up the Hudson River's splendor at Dockside Park, overlooking Storm King Mountain. Younger kids will especially love a trip to Cold Spring Tiny Tots Park, while older children try hiking nearby Breakneck Ridge Mountain!
Whether you're looking for day trips from NYC or weekend getaways with kids, check out our Ultimate Guide To Family Resorts Near NYC For A Summer Getaway!
Easy Day Trips from Cold Spring for Families
Cold Spring is one of the best cute towns to visit near NYC with kids for a reason! Foodie families will definitely want to make a trip to New Paltz, renowned for its world-class restaurants. Among the best family-friendly restaurants in town is A Tavola Trattoria, a rustic farm-to-table restaurant showcasing some of Italy's best regional cuisine.
Parents with younger children shouldn't hesitate to visit Rocking Horse Ranch, a dynamic complex featuring horseback riding, hot springs, exotic wildlife exhibits, and more. Woodbury, another New York town, also showcases premier shopping outlets if you're more into searching for discount designer brands. The actual town of Woodbury also has incredible landscape panoramas if you visit Trail View State Park!
Reserve your stay in Cold Spring with Vrbo here!
Rhinebeck, NY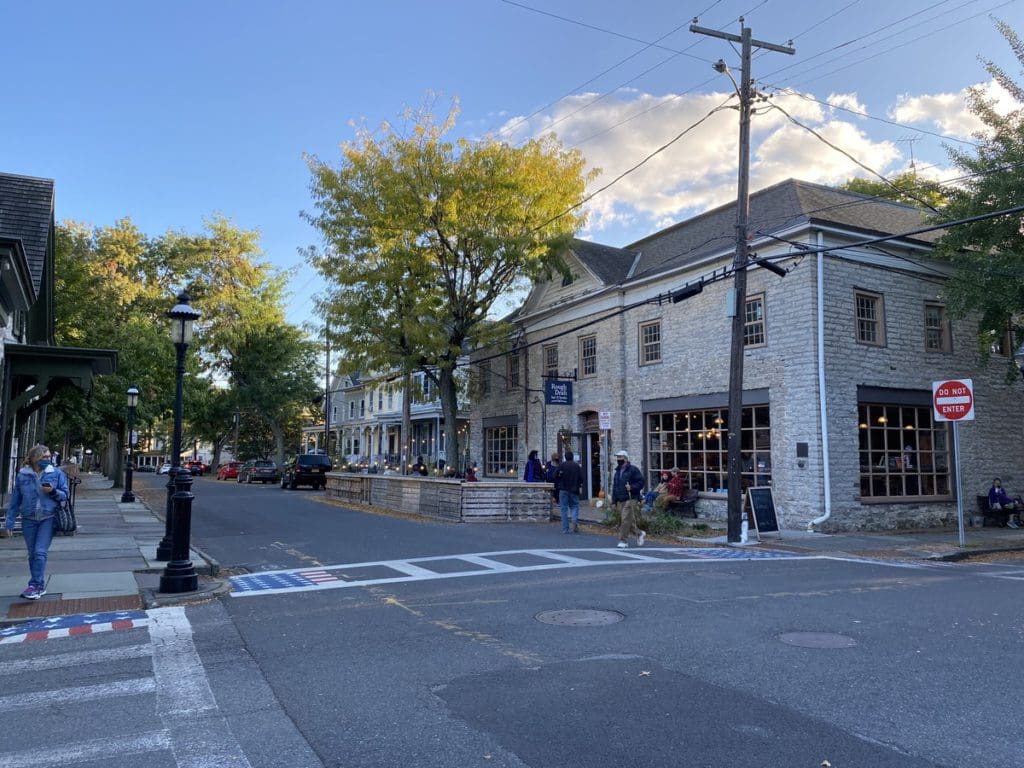 Rhinebeck, New York, is an absolute gem waiting to be discovered! Around two hours from NYC, this enchanting village is nestled in the heart of Dutchess County and is easily accessible by Amtrak. Plus, its charming streets lined with historic buildings and quaint shops make it feel like a storybook come to life!
Travel back in time at the Hyde Park Drive-In, an old-timey movie theater fifteen minutes from Rhinebeck. Or, pick your own fresh fruit at Greig Farm, featuring blueberry picking and goat feeding. Plus, parents can have a treat at Alison Vineyard right next door!
Also, venture toward Ferncliff Forest Park for non-strenuous hiking (Burger Hill is perfect for beginners!). Don't miss the Rhinebeck Aerodrome, with air shows to entertain every age. When you're hungry, there are plenty of family-friendly restaurants in town, like The Matchbox Cafe. Lastly, end your day at the legendary candy store Samuel's Sweet Shoppe!
Easy Day Trips from Rhinebeck for Families
For more cute towns to visit with kids near NYC, the Upper Hudson Valley has plenty near Rhinebeck! Take a day trip to Poughkeepsie or Hudson, a historic town turned recently trendy haven. Future firefighters can visit the Hudson Firefighter Museum!
In Poughkeepsie, younger children will love the Mid-Hudson Children's Museum, perfect for budding minds. Combine this with The Walkway Over The Hudson for an amazing view of the valley! Or, try the Hudson Highlands Nature Museum, where kids can hunt for bugs, explore natural playgrounds, and more!
Older kids may also fancy a trip to South Salem to visit its Wolf Conservation Center. Afterward, curb your sweet tooth with a visit to a local institution, Daddy's Donuts & Bake Shop!
Woodstock, NY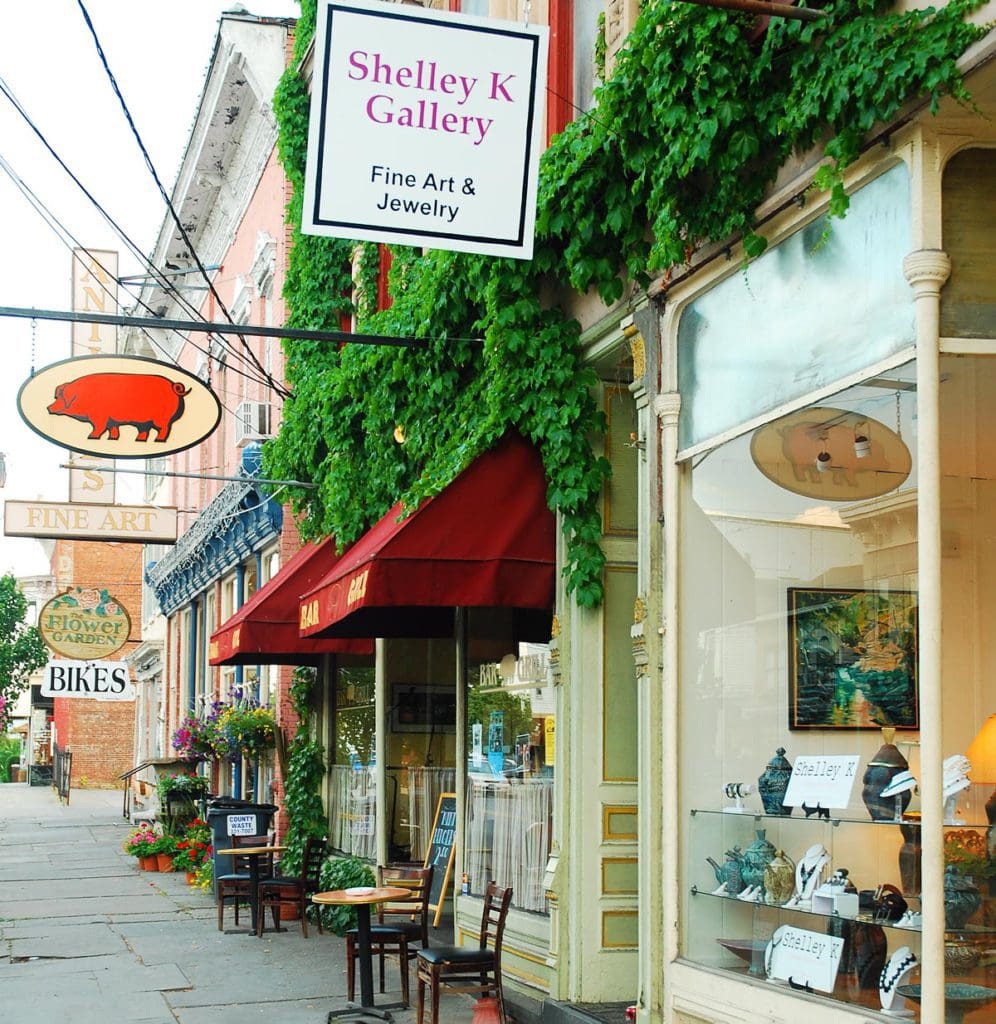 If you're seeking an awe-inspiring escape from the bustling city life of NYC, look no further than Woodstock, New York. Nestled in the heart of Hudson Valley, around 2 and a half hours from NYC, this enchanting town boasts a vibrant arts scene that will ignite their imaginations. Plus, it's also a great escape if you love nature and farm-to-table cuisine.
In Woodstock's Town Center, stroll quaint boutiques, ice cream shops, and restaurants. On some Sundays, residents even gather for a drum circle turned dance party. If you're looking for a place to stay overnight, families adore Woodstock Inn and Resort.
To experience Woodstock's scenery, head to Woodstock Waterfall Park, a stroller-friendly trail overlooking a cascading waterfall. Other popular trails include Overlook Mountain and Ashokan Reservoir, providing dramatic views of the Catskill Mountains. When you're hungry, Woodstock Village is also a great place to stop for dinner! Oriole 9 boasts a healthy kids' menu and pressed coffee for parents, and Catskill Mountain Pizza has pies fresh from the oven!
Easy Day Trips from Woodstock for Families
Woodstock's location in The Catskills also puts you near some other best cute towns to visit near NYC with kids! Don't miss the long route to the iconic Saugerties Lighthouse, crossing through the town's best nature trails. Or, teach kids more about rescued animals at the Catskill Animal Sanctuary, which houses goats, horses, and chickens. Art lovers may also want to visit the nearby Opus 40, an outdoor sculpture park and an open-air museum!
In nearby Windham, another one of the best overnight trips from NYC for families, get active by hitting the Windham Adventure Park, a ski and summer destination for all ages. For a more relaxing vacation, Phoenicia, a sleepy town along the Catskill Mountains, may be your answer. Stroll the town center, take an easy hike, or a more daring plunge tubing down Esopus Creek. Finally, Tannersville, a small village community within Catskill State Park, also boasts family fun at Rip Van Winkle Lake!
Stay the weekend in Woodstock and book a homestay through Vrbo here!
New Hope, PA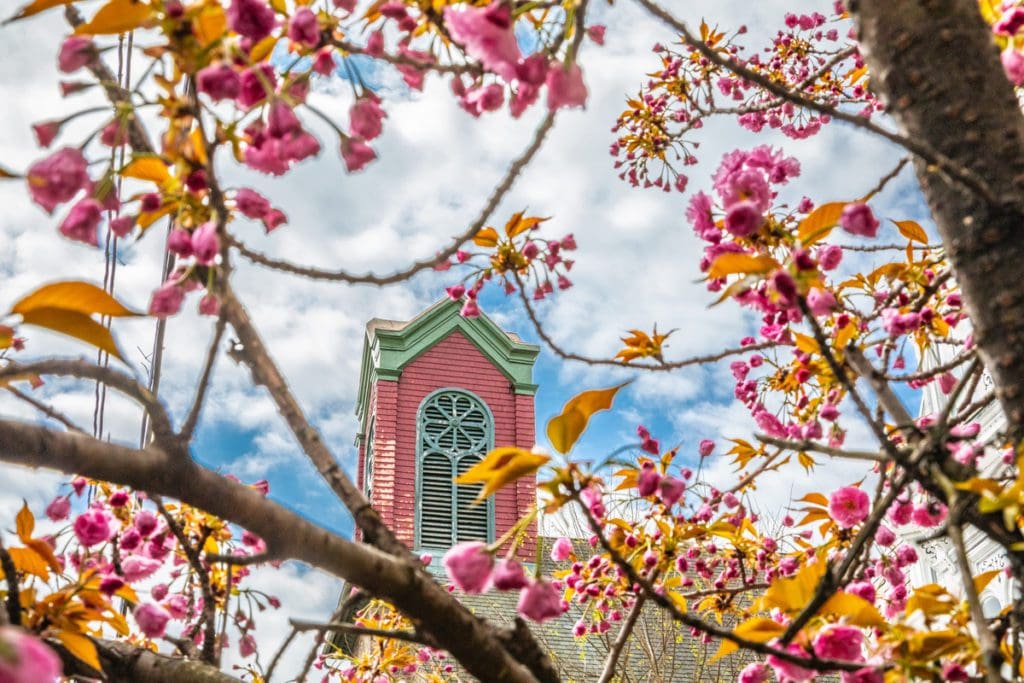 New Hope is Bucks' County Pennsylvania's shining jewel! Unhurried and unassuming, it's one of the best cute towns to visit near NYC with kids. Less than 3 hours away, it's also filled with quaint boutiques – like the once East Village staple Love Saves the Day – seasonal-focused eateries, such as The Landing Restaurant, and forget-all-your-troubles B&Bs galore.
Between hopping from one interesting activity to the next, get back to nature, which is far and wide in New Hope! Rent a bike to cruise down the Delaware Canal Towpath and take the opportunity to make it a historic visit, too. Up the road from Washington Crossing Historic Park, tell kids all about The Delaware River and the role it played in the American Revolution!
Easy Day Trips from New Hope for Families
Use New Hope as a starting point to explore more weekend trips from NYC! Little ones will probably love The Bucks County Children's Museum, where immersive installations fill each room with a new scientific theory. Or, try the Bucks County Playhouse, where you can see theatrical productions with arts education and community programs. Music Mountain Theater is also a great children's theater to visit with kids.
At the Howell Living History Farm, enjoy a fantastic educational visit, as it doubles as an agricultural museum too. Then, the whole family will have a fun time exploring Peddler's Village, a colonial-style settlement that boasts cute shops and occasional events. Of course, to see a bigger city, Philadelphia is also within driving distance of New Hope!
Where to Stay in New Hope with Kids
If you're looking for somewhere to stay in New Hope with kids, we have several recommendations for you! The area has a number of lovely bed and breakfasts to consider, including The Inn at Bowman's Hill, 1870 Wedgwood Inn of New Hope, Fox and Hound Bed & Breakfast, Ghost Light Inn, and Logan Inn.
Mystic, CT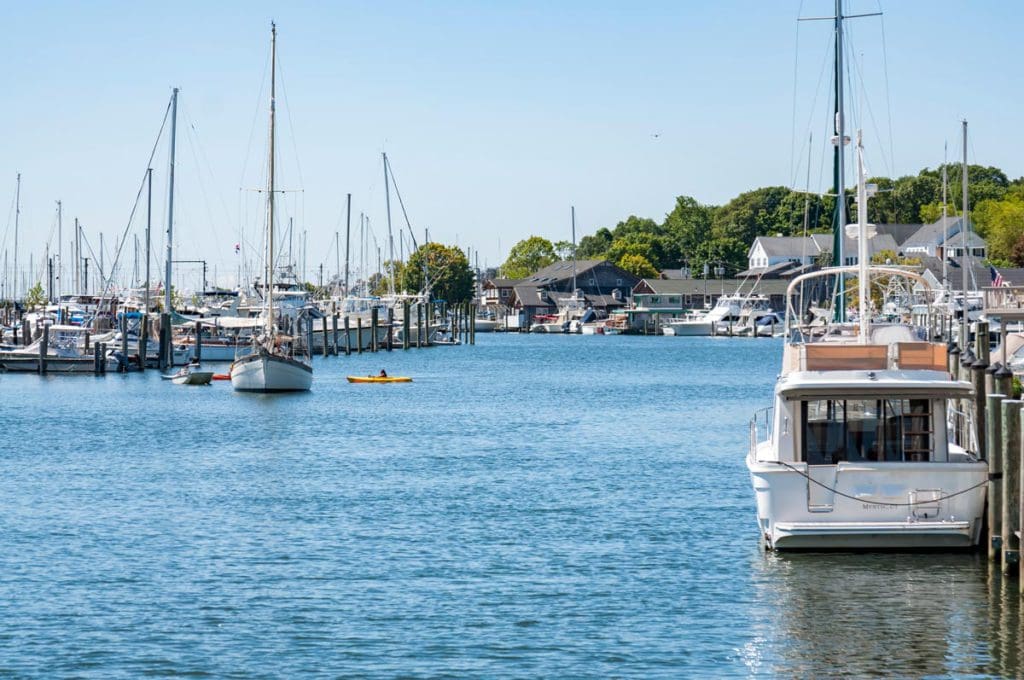 Mystic is a whimsical hamlet that will transport you to another world entirely! Nestled along the picturesque shores of Long Island Sound, this hidden gem is undoubtedly one of the best cute towns to visit near NYC with kids. And, it's only around 3 hours from the city!
Stroll by shops and ships in the famous Mystic Seaport on a warm day. Kids will appreciate the Mystic Aquarium, and eating ice cream or browsing toy shops at Olde Mystic Village. If the weather is right, Mystic also has family-friendly beaches, from Williams Beach Park to Esker Point Beach. Families can also book a boat tour through Mystic River Cruises, Argia Mystic Cruises, and Mystic Express to cruise down the Connecticut River.
For an indoor activity, visit the Children's Museum of Southeastern Connecticut in Niantic. The Essex Train Museum is also a hit with younger children, twenty minutes outside of Mystic. Don't forget about dinner at Mystic Pizza and dessert from Mystic Candy Shop!
Looking for more cute towns to visit with kids near NYC? Check out these Best Things To Do In Mystic With Kids This Summer!
Easy Day Trips from Mystic for Families
Visiting Mystic also puts you close to other adorable family weekend getaways near New York City! Escape to a seaside oasis to nearby Rhode Island beaches with just a short drive.
Or, consider taking a trip to Norwalk in Connecticut, where you can also spend your summer days lounging at the kid-friendly Calf Pasture Beach for a non-resident fee. Or, get some exercise in Westport at Compo Beach Skatepark! Then, Glen Keen Farm, located a few miles away, is also a good option for a family bonding trip to greener pastures. For something in closer proximity to Mystic, you could also visit Mohegan Sun, a premier dining, shopping, and entertainment complex.
Where to Stay in Mystic with Kids
One of the best places to stay in Mystic with kids is the Mystic Marriott Hotel & Spa, located downtown with an indoor pool for kids. The Whaler's Inn is another family-friendly option, an inn-style boutique hotel located across multiple Victorian buildings. For private cottage rentals, check out Harbor View Landing. A lot of families visiting Mystic also opt to book on Airbnb or Vrbo.
Great Barrington, MA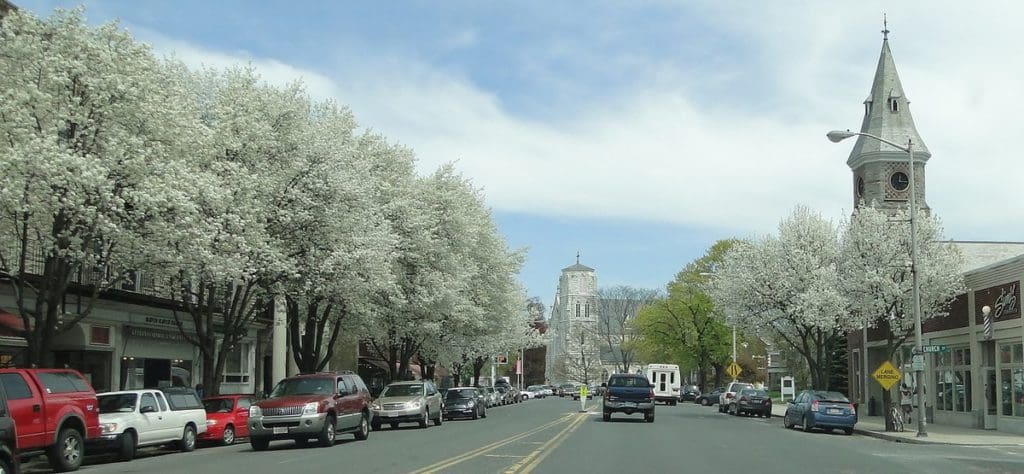 Great Barrington is definitely one of the best cute towns to visit near NYC with kids! Nestled in the picturesque Berkshire Mountains, this vibrant town is bursting with excitement and adventure for families. And it's less than 3 hours from NYC! 
Stroll past restaurants, cute cafes, and quaint shops when you visit its downtown Main Street. Stop in town for some wood-oven pizza at Baba Louie's while you're at it! Then, satisfy your sweet tooth at Soco Ice Cream, one of the best dessert places in town. Great Barrington also has accessible public beaches and swimming holes along the Green River, with opportunities to kayak, paddleboard, etc. For a flat hike with younger kids, head to Housatonic to stroll right along the river.
Beartown State Forest also offers various trails and activities on Benedict Pond, like swimming, boating, or fishing. Adventurers will also race to Catamount Aerial Park, featuring zip-lining and obstacle courses (just south of Great Barrington in Egremont). In Lee, hike the Appalachian Trail through October Mountain State Forest. In addition to summer activities, Great Barrington is also great to visit for winter skiing. No wonder this is one of the best weekend getaways with kids from NYC!
Easy Day Trips from Great Barrington for Families
Great Barrington also puts you near other quick weekend getaways from NYC for families. Take a day trip to Westfield to visit the Amelia Park Children's Museum or Stanley Park. In North Adams, older kids can visit the art museum MASS MoCA. Drive through the historic Hoosac Tunnel!
During the summer, Jiminy Peak Mountain Resort showcases ways to stay cool, including a Mountain Adventure Park! In Stockbridge, tour the pristine estate and gardens at Naumkeag, featuring views overlooking Monument Mountain.
Or, visit the Edith Wharton Mansion in Lenox, once home to a famous American author. By the Connecticut border, you can also visit Bish Bash Falls in Mount Washington State Park, one of the tallest waterfalls in Massachusetts!
Use Vrbo to book a stay in Great Barrington here!
Best Cute Towns to Visit 3-5 Hours from NYC with Kids
Are you tired of New York City and looking to escape with your little ones for a weekend getaway? For an extended vacation, check out this captivating list of the best cute towns to visit near NYC with kids that will fill your heart with joy. Just a few hours away from the city, these charming destinations offer an exciting escape from the hustle and bustle. Keep reading to learn more!
RELATED: 15 Best Places To Visit During Labor Day Weekend With Your Family From NYC
Skaneateles, NY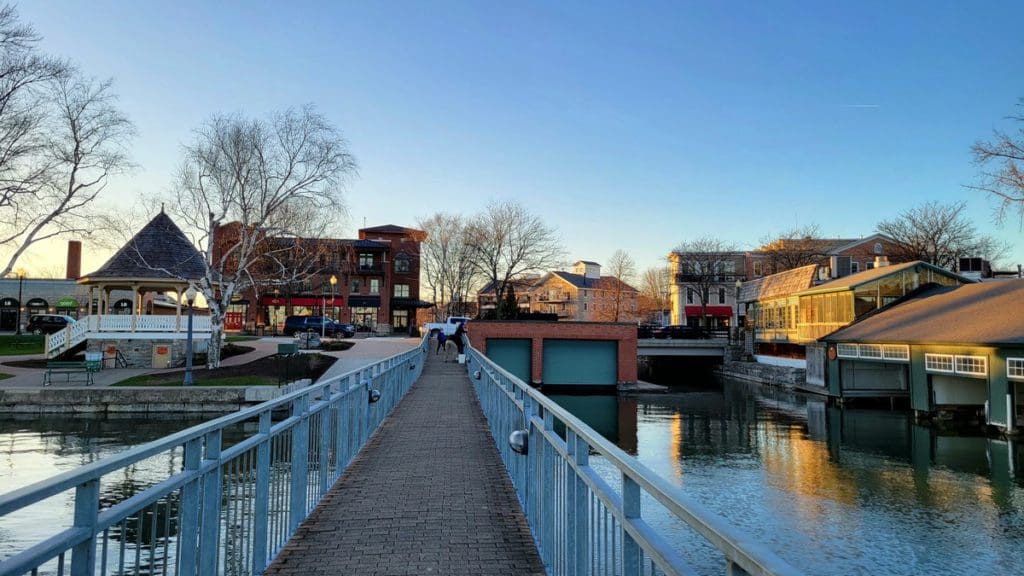 Skaneateles boasts stunning lake views and picturesque landscapes the whole family will love! Nestled in the heart of Finger Lakes country, this hidden gem offers an unforgettable experience for families seeking outdoor adventures and small-town charm. It's also around 4 and a half hours from NYC, making it an excellent choice in terms of family weekend getaways.
The town's picturesque Main Street is lined with enchanting boutiques and local artisans' shops where little ones can indulge their creative side or find unique treasures to take back home. As you stroll along this idyllic street, don't forget to stop by Doug's Fish Fry for some mouthwatering seafood delicacies that even picky eaters will relish.
But what really sets Skaneateles apart are its pristine lakeshores – perfect for a day filled with splashes and laughter under the warm sun. You can access the lake from places like Clift Park, but you'll have to pay an extra fee to swim. If you want to kayak or canoe, head to the town of Scott's Family Park, which features a boat launch.
For a touch of history blended into all these extraordinary experiences, hop aboard one of Mid-Lakes Navigation Co.'s iconic sightseeing cruises around Skaneateles Lake. With a rich history woven into every corner of this captivating town, curious minds will be enticed by visits to historical landmarks such as the Skaneateles Historical Society, housed in a former Creamery.
Easy Day Trips from Skaneateles for Families
Looking for easy day trips from Skaneateles to take with your kids? For the outdoorsy types, there are numerous state parks within an hour of the town, including Chittenango Falls State Park, Taughannock Falls State Park, and Fair Haven Beach State Park. In terms of educational enrichment tailored just for kids, Ward W.O'Hara Agricultural Museum provides an engaging glimpse into farming life, complete with interactive exhibits showcasing farm machinery.
Use Vrbo to reserve a stay in Skaneateles here!
Newport, RI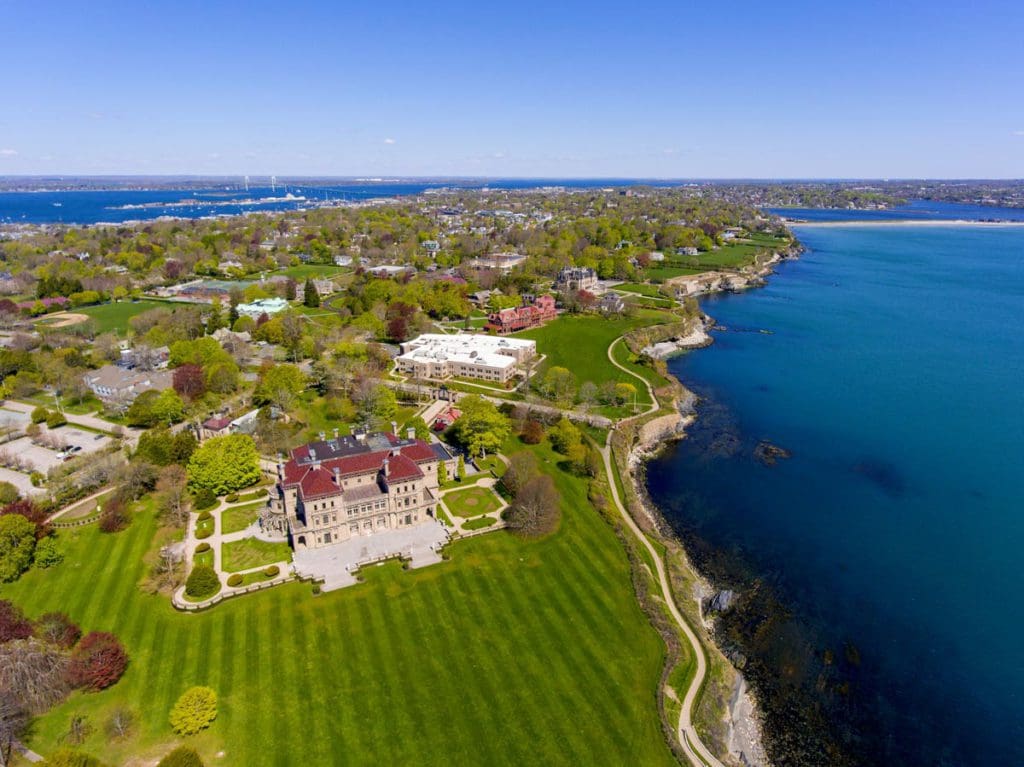 From stunning ocean views to picturesque architecture, Newport is surely one of the best weekend trips from NYC! Around 3 hours away from the city, this vibrant coastal gem offers an exciting and enchanting escape from the city buzz.
If you visit when it's warm, you can spend the way relaxing on Easton's Beach. (Get some of the best lobsters in town from the concession stand!) Kids will also love riding the vintage carousel. For adventure-seeking families, embark on a thrilling sailing excursion across the sparkling waters of Narragansett Bay.
Or, explore the rugged Cliff Walk, a 3.5-mile trail overlooking luxurious mansions along the Atlantic Ocean. Some kids may be interested in seeing one of these historic mansions up close. We recommend touring one of many public options, like The Breakers or The Elms. Or, hop on a Newport Trolley for an educational tour of Newport. Treat kids to a trip to Newport Creamery or Newport Fudge once you finish!
Here are 16 Fantastic East Coast Summer Destinations Families Will Love!
Easy Day Trips from Newport for Families
If you're looking for somewhere to spend the day near Newport, check out Fort Adams State Park, with its majestic views over Narragansett Bay. It provides ample space for family picnics and unforgettable moments amidst nature's embrace. There's also Roger Williams State Park in nearby Providence. You could also take a day trip to nearby places such as Cape Cod or Boston.
RELATED: 13 Amazing Weekend Getaways Near Boston For Families
Where to Stay in Newport with Kids
Families interested in staying in Newport will find plenty of suitable options. We suggest the low-key Newport Marriott, which provides ocean-view rooms, some of which include balconies. Then, Ocean House includes a beachfront location. Finally, The Vanderbilt, Auberge Resorts Collection is just minutes from the waterfront.
Saratoga Springs, NY
Saratoga Springs is a summer destination for all ages! Famed for its summer horse racing season, the town is also known for its amazing restaurants, walkable center, and quaint antique shops. Plus, as one of the best quick weekend getaways from NYC with kids, it's only a little over 3 hours from NYC!
Stroll down Broadway, the main street adorned with quaint shops and cozy cafes perfect for indulging in delicious treats. The stunning Victorian architecture adds a whimsical touch to the surroundings while exuding an air of elegance that transports you to a bygone era. Every August, Saratoga Race Course also holds the "Travers Stakes," the most popular day of the Saratoga summer racing meet. For more family fun, drive to a local stable, like Old Friends at Cabin Creek. Then, learn more about the city and its racing history at The National Museum of Racing and Hall of Fame. Nearby, you'll also find the Saratoga Automobile Museum, which is home to vintage race cars sure to impress your kids!
Or, spend a day relaxing in Congress Park – there's plenty of green space and even a carousel. Either way, remember to stop by Mrs. London's Bakery for sweet pastries, fire bread, and lavishly decorated cakes!
Pro Tip: Keep in mind hotel prices are usually higher than average from July through September.
Easy Day Trips from Saratoga Springs for Families
Saratoga Springs is also famous for its namesake mineral baths and stunning natural scenery. Definitely save some time to visit Saratoga Spa State Park – this massive protected area encloses natural springs, two golf courses, and nature trails. If you plan to stay overnight, consider glamping at a treehouse nestled up in the canopies; surely a fun experience for kids!
Or, visit John Boyd Thacher State Park near Albany, which offers easy hiking trails and panoramic views of the Green Mountains. At the Howe Caverns, explore fantastic rock formations, take a boat ride in an underground river, or even visit a zip-lining adventure park!
Parents who want some alone time can also take a drive to Ballston Spa, a small town nearby comprising hundreds of rare antique stores. Nearby Lake George or Lake Placid also makes a great day trip with the entire family! These are surely some of the best cute towns to visit near NYC with kids.
RELATED: 14 Best Lakes For A Family Vacation (Less Than 4 Hours From NYC!)
Happy Travels!
Photo Courtesy: Jasmine Borron, Gunjan Prakash, Shannon Broadbent
We hope you liked our list featuring the 11 Best Cute Towns To Visit Near NYC With Kids! From Connecticut to Massachusetts, no matter where you choose to travel, your kids will have a great time on these fantastic overnight trips from NYC for families. Enjoy these cute towns to visit with kids near NYC!
*This post may contain affiliate links that may earn us a small commission, at no additional cost to you. Affiliate links in no way inform the hotels, sights, products, or other recommendations included in our articles. All opinions and recommendations expressed here are compiled from submissions submitted by the generous members of our Families Who Love To Travel community.
READ MORE: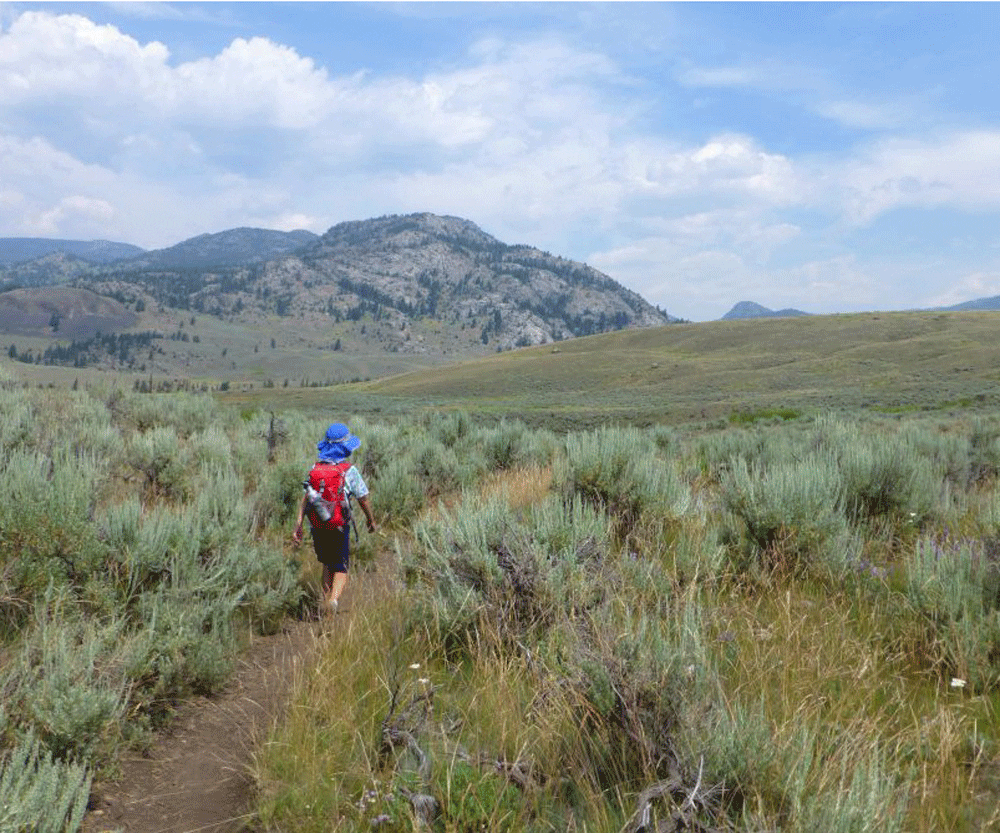 Everyone knows that Yellowstone National Park makes for a classic family vacation. Strolling the boardwalks...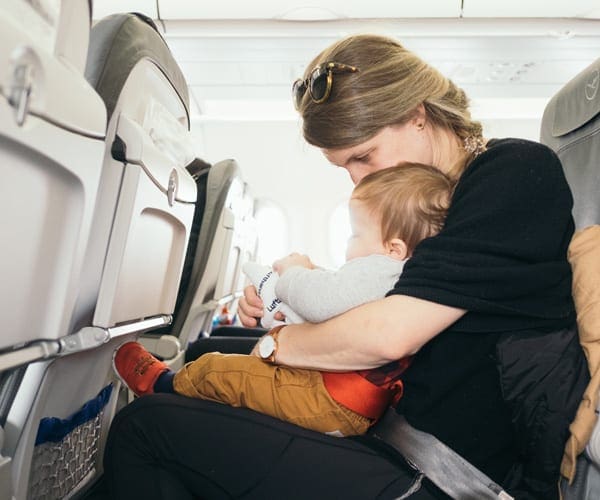 Families Who Love To Travel contributor Meghan Oaks provides her 10 best tips for your...