New Year's Eve in New York City may be an extraordinary experience for some, but there are lots of other fun places to ring in the New Year with kids! If you're seeking a change of scenery and want to explore beyond the city lights, check out these incredible vacations just a short distance away from NYC. Relax at the Mohonk Mountain House in New Paltz, for example. Or, take kids on an educational visit to Washington, DC. A big bonus is that lots of these destinations offer kid-friendly New Year's Eve events that let kids enjoy the holiday while still making their bedtimes! Whether you want to surprise them with character appearances at Hershey Park or a vacation to Baltimore, these destinations are surely fantastic places to ring in the New Year near NYC with kids. Keep reading to plan your next New Year adventure!
Best Places within 3 Hours of NYC to Ring in the New Year with Kids
Families looking to take a short trip outside of the city will love these best places to ring in the New Year only 3 hours away from NYC! Whether you want to stay close to home in New Jersey or venture a little further to places like the Pocono Mountains, there are lots of options for families who want to start the year off together. Keep reading to learn more!
RELATED: Best Destinations To Celebrate New Year's Around The World With Kids
Mohonk Mountain House, NY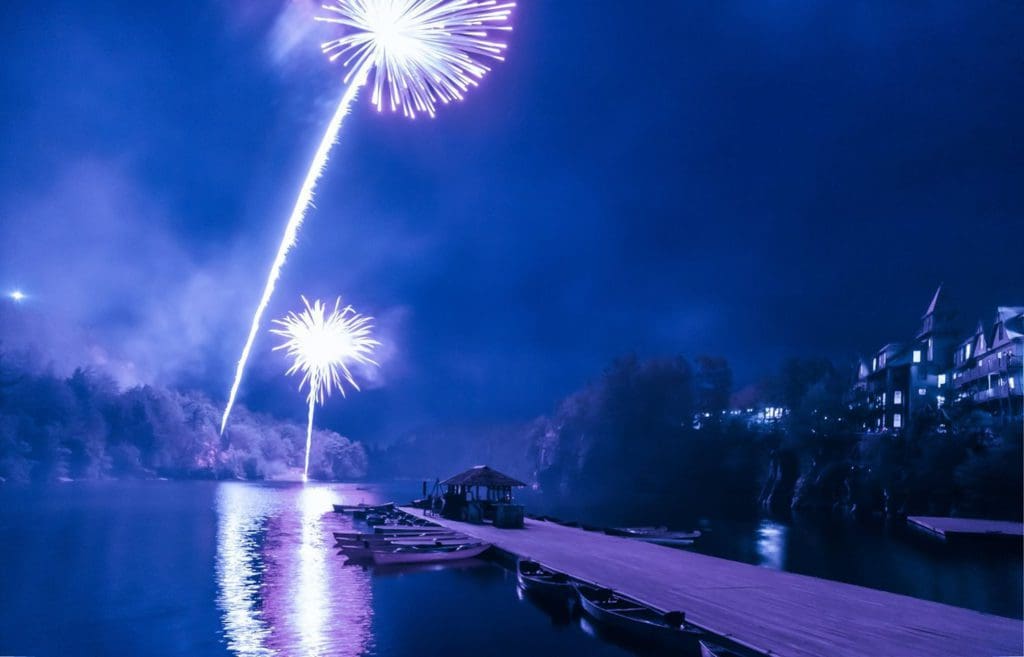 Mohonk Mountain House is one of the best places near NYC to ring in the New Year with your family! Set against a backdrop of cliffs and forests, this historic Victorian castle resort offers an array of activities that will keep both adults and kids entertained throughout their stay. Plus, it's only 2 and a half hours away from NYC!
New Year's Eve at Mohonk Mountain House is always a memorable occasion, from the live music to the photo booth and fireworks! Families can also appreciate the resort's property teeming with Christmas trees, elaborate wreaths, and plenty of holiday cheer. When kids want to relax, there's an indoor heated pool. Some other winter activities include hiking through the snow, ice skating, snow tubing, or skiing. There's also cross-country skiing and snowshoeing for the more adventurous families!
Finally, the Mohonk Kids' Club offers seasonal activities for kids between 2 and 12. Or, the Mohonk Teen Program for teens between 13 and 17. Parents can enjoy The Spa at Mohonk Mountain House and the on-site fitness center. No wonder our families consider this a great spot to celebrate the New Year with kids!
The Poconos, PA

When finding the best places near NYC to ring in the New Year with your kids, few places can compare to the Pocono Mountains. Located in northeastern Pennsylvania, this winter wonderland attracts families in the winter with its abundant snowfall and exciting slopes. And, it's only 2 hours from NYC!
Skiing enthusiasts can hit the slopes at popular resorts like Camelback Mountain Resort, Jack Frost Big Boulder, or Shawnee Mountain Ski Area, all offering varying trails for beginners and advanced skiers alike. Plus, many resorts in the area offer fantastic family-friendly activities on New Year's Eve, such as holiday-themed parties, live entertainment, and fireworks. Additionally, other hotels like the Skytop Lodge showcase ice skating and more family fun.
The Poconos is also known for its indoor waterparks, such as Kalahari Resorts & Conventions or Great Wolf Lodge Pocono Mountains. These sprawling resorts feature thrilling water slides, lazy rivers, wave pools, and even toddler areas for children of all ages!
Bethlehem, PA
Photo Courtesy: Jeff Auger via ArtsQuest
Looking for the best places near NYC to ring in the new year with your kids? Look no further than Bethlehem, Pennsylvania! Around a two-hour drive from NYC, this charming town offers plenty of activities to make your family's New Year's celebration memorable.
At SteelStacks, families can ice skate on the outdoor rink while enjoying views of towering blast furnaces illuminated by twinkling lights. Plus, on December 30th and 31st, check out the annual PEEPSFEST at SteelStacks. Kids will love watching the giant, 400-pound peep descend from the sky; plus it happens at 5:30 p.m. on both days, so they won't be tired! SteelStacks is also home to other great things to do with kids, like the National Museum of Industrial History. Bethlehem also hosts a yearly Christkindlmarkt where you can browse artisan crafts and tasty food.
Another must-visit spot is The Crayola Experience in nearby Easton. This interactive museum is dedicated to all things crayon-related and offers some alternative activities for families visiting Bethelem with kids.
Here are the best places To Celebrate New Year's Around The World With Kids!
Jersey Shore, NJ
The Jersey Shore isn't just a summer getaway; it's also one of the best places near NYC to ring in the New Year with kids! From Perth Amboy in the north to Cape May in the south, this large stretch of beach towns spans the Atlantic Ocean and is around 2-3 hours from NYC in the car.
Every New Year's Eve, Hammonton hosts a NYE Bash and Blueberry Drop, featuring live music, fireworks, and the world's biggest blueberry ball drop. Families can also stroll the boardwalk in Atlantic City to take in the bustling atmosphere and enjoy the NYE fireworks, which usually start at around 9 p.m. Seaside Heights also hosts a First Night Celebration starting at noon, concluding with fireworks at 5 p.m. There are also family-friendly activities such as face painting, caricaturists, and character appearances.
If your kids love outdoor adventures, head over to Cheesequake State Park, where they can enjoy sledding during the colder months. Plus, Jenkinson's Aquarium in Point Pleasant Beach provides a unique opportunity for children to learn about marine life while staying warm indoors. Or, visit Asbury Park, where older children will appreciate exploring the Silverball Museum Arcade.
Look for hotels on the Jersey Shore through the Families Love Travel booking site! Sign up is free!
Hershey Park, PA
Photo Courtesy: Hershey Park
Head to Hershey Park this New Year's Eve for an incredible experience with your kids! Around 3 hours from NYC, this iconic amusement park transforms into a winter wonderland during the festive season, offering a range of activities and attractions for both children and adults alike.
On New Year's Eve, The Hershey Story Museum features a variety of hands-on activities for kids, including a Little Elves Workshop, where they can decorate ornaments. Hershey Park's Christmas Candylane is also open on New Year's Eve from noon through 4 p.m., featuring 5 million twinkling lights, special holiday rides, and sweet treats like hot chocolate. Not to mention, the chance to meet all nine of Santa's reindeer! Included in your ticket to Candylane is a visit to ZooAmerica North American Wildlife Park, which will also be decorated for the season. Hershey's Chocolate World also hosts an annual New Year's Eve bash with DJs, family-friendly activities, and appearances from Hershey Characters. Families can also hop in the car and marvel at the elaborate light displays at Hershey's Sweet Lights.
And if your kids can stay awake or you have older teens, downtown Hershey also hosts a New Year's Eve celebration with food, music, and kid-friendly activities starting at 8 p.m. From 7 p.m. through midnight, families can also celebrate at The Hotel Hershey. It showcases a dinner and dessert buffet plus family-friendly entertainment like a magic show, dance party, karaoke, mini-golf, and more.
Philadelphia, PA
Philadelphia is, without a doubt, one of the best places near NYC to ring in the New Year with kids, especially when traveling with kids! Only 2 hours from NYC, this historic city showcases a variety of family-friendly experiences that are sure to make for an unforgettable celebration.
One of Philadelphia's most kid-friendly museums, the Please Touch Museum, hosts a Countdown2Noon on New Year's Day. It includes performances, activities, and a noon ball drop! Starting at 5 p.m., families can also enjoy activities, crafts, and music in Franklin Square. There's also a square drop from Squareburger at 6 p.m. Plus, an annual fireworks display illuminates Philadelphia along the Delaware River at 6 p.m. and midnight, so kids don't have to miss their bedtimes! Find the best spots at the Race Street Pier and the Great Plaza at Penn's Landing.
Kids can also ice skate at Blue Cross RiverRink, which has good views of the fireworks, too. Every year on New Year's Eve, The Betsy Ross House celebrates Betsy's Birthday Bash with a fun day of stories, crafts, and tons of cake.
Where to Stay in Philadelphia with Kids
Philadelphia has plenty of places to stay with kids! Families love The Sonesta Philadelphia because it has the largest heated outdoor pool in the city. Meanwhile, the Four Seasons Philadelphia has the highest pool – on the 57th floor. In the Old City, stay at the conveniently located Wyndham Philadelphia Historic District. A bit further from downtown, consider the Chestnut Hill Hotel, in a great neighborhood for shopping and dining. Check out our list of where to stay in Philadelphia with kids for more options!
Baltimore, MA
Baltimore is one of the best places from NYC to ring in the New Year with your kids! Also known as "Charm City," it's packed with museums, restaurants, and historical attractions while still exuding a small-town vibe. And, it's only 3 hours and 15 minutes away from NYC!
Take in magical views of the Baltimore Harbor as you ice skate at the Inner Harbor Ice Skating Rink. To stay warm indoors, families can visit the Port Discovery Children's Museum, which boasts interactive exhibits and hands-on experiences that encourage your children's curiosity and imagination. Or, spot dolphins, sharks, jellyfish, and other marine life at the National Aquarium.
On New Year's Eve, kick off the celebration at the Inner Harbor, where an annual fireworks show lights up the sky at midnight. Nearby Hagerstown also hosts a family-friendly New Year's Eve celebration downtown in collaboration with Krumpe's Donut. You can expect a kids' zone, live music, free donuts to the first 5,000 people, and a giant donut drop at 7 p.m., followed by a fireworks display!
Compare rates on hotels in Baltimore through the Families Love Travel booking site here!
Best Places within 5 Hours of NYC to Ring in the New Year with Kids
Families looking for a longer getaway will adore these fun places to ring in the New Year within 5 hours of NYC! No matter how you want to celebrate, there are lots of options for families who want to start the year off together. Keep reading to learn more about the best places near NYC to ring in the New Year with kids.
To plan your next Christmas getaway, check out these Best Places For A White Christmas In The United States For Families!
Washington DC
Looking for the best places near NYC to ring in the New Year with your kids? Look no further than the vibrant city of Washington, DC! With its rich history and endless attractions, this bustling capital offers a memorable experience for families seeking a fun-filled celebration. And it's only 4 hours from NYC (depending on traffic)! 
New Year's Eve is a fantastic time to appreciate DC's Christmas decorations before the season ends. While the National Christmas Tree lighting in President's Park is November 30, the site is open December 2, 2023 – January 1, 2024. Then, don't miss the U.S. Capitol Tree and CityCenterDC's jaw-dropping 75-foot-tall version!
The Smithsonian National Zoo also hosts an annual Zoolights up until December 30th, featuring dozens of glowing LED animals! Public ice-skating rinks are available across DC, too, like the National Gallery of Art, Washington Harbour, The Wharf, and Canal Park at Capitol Riverfront. Then, George Washington's Mount Vernon also hosts various holiday events throughout December. Don't forget to see DC's most famous landmarks on the National Mall, like the Washington Monument, Lincoln Memorial, and Vietnam Veterans Memorial. 
Washington DC also boasts lots of kid-friendly museums with free admission that families can visit during the holiday season, from the National Museum of American History to the National Postal Museum.
Looking for more affordable things to do in Washington DC with kids? Click here!
Where to Stay in DC with Kids
Washington DC is home to an array of family-friendly accommodations, most of which are very affordable. For a budget-friendly home and apartment rental, check out our Airbnb, Vrbo, and our recommendations for the best neighborhoods to stay in while in DC. Or, for more mid-range hotel suggestions, check out our list of kid-friendly hotels in DC.
Washington DC is also one of the best budget-friendly Christmas destinations to visit with kids!
Okemo Mountain Resort, VT
Families who want to ring in the New Year with kids on the slopes will love Okemo Mountain Resort! A part of the Epic Pass Program, this kid-friendly mountain located near Ludlow is around 5 hours from NYC. It's also a great mountain for first-timers too, as it offers a selection of beginner trails (around 32%).
Holiday events throughout December, like Après Afternoons every Saturday, make Okemo a great place for families. On New Year's Eve, the resort also hosts a firework celebration with live music and food early in the night (from 5 p.m. to 8 p.m.) so kids won't have to stay awake late. Plus, Okemo Ski School is ideal for adults and kids, offering morning and afternoon group lessons for skiers as young as five years old. Kids ages seven to fourteen can enroll in the Mountain Explorers program for skiing and snowboarding. You can even use the Magic Carpet for free with an adult ticket purchase!
When you want to enjoy time together off the slopes, try snow tubing at the Okemo Snow Tubing Park. Or, go skating at the Okemo Ice House, located at Jackson Gore, with skate rentals on-site. Finally, dog sledding, snowshoeing, and the Timber Ripper Mountain Coaster will also keep little ones entertained.
Where to Stay near Okemo Mountain Resort with Kids
Okemo provides families with multiple accommodation options. Families enjoy the famous Jackson Gore Inn, which spans three massive buildings at the mountain's base. There's also the Mountain Lodge at Okemo. Keep in mind most hotels on Okemo are considered a luxury. For something budget-friendly, try staying off-mountain at The Pointe at Castle Hill.
Boston, MA
If you're looking to break away from the city hustle and bustle of NYC with your kids this New Year's, consider visiting Boston. Known for its rich history and vibrant atmosphere, it offers plenty of exciting activities suitable for families. Plus, it's only a little over 4 hours from NYC via car.
Bundle up, head out, and see why Boston is one of the best places near NYC to ring in the New Year! First Night in Boston offers families a full day of New Year's activities. Performances, from puppet shows to ballet to rock bands and more, are free. There are two times for fireworks – one at 7 p.m. over Boston Common and one at midnight over Copley Square – to ensure families with kids of all ages get to enjoy a good pyrotechnic display.
If you need more things to do in Boston with kids, you can explore the iconic Freedom Trail, including landmarks like Paul Revere's House and the USS Constitution Museum. Or, check out the Boston Children's Museum to stimulate your children's imaginations in an interactive environment. No wonder this is one of the best places near NYC to ring in the New Year with kids!
Where to Stay in Boston With Kids
If you're looking for the best hotels in Boston for families, we have a few suggestions. In the Back Bay, you could book a room at the Fairmont Hotel Copley Plaza, The Four Seasons Hotel Boston, or the Westin Copley Place. In downtown Boston, stay at the Omni Parker House Hotel or the Kimpton Nine Zero Hotel. Families who want to stay by the water will love the Boston Marriott Long Wharf. For more information on Boston hotels, check out our list of the Best Hotels In Boston For Families!
Finger Lakes, Canandaigua, NY
One of the best places near NYC to ring in the New Year is the picturesque Finger Lakes region, specifically Canandaigua, New York. Around 5 and a half hours from NYC, this region offers a myriad of family-friendly activities to make your New Year's celebration one to remember.
Families can ice skate on New Year's Eve at the Greater Canandaigua Civic Center and Geneva's Recreation Complex. Plus, The Granger Homestead in Canandaigua showcases lots of sparkling, decorated Christmas trees, and New Year's Eve is your last chance to see them. For more fun, The Roseland Family Fun Center offers New Year's Eve packages, including an Atomic Bowl Laser and Light Show, food, party favors, and a ginger ale (or champagne for parents) toast. Try unique winter sports like skiing or snowboarding at Bristol Mountain Resort, or ice fishing at one of the many beautiful lakes throughout the area. Bristol Mountain usually hosts an annual New Year's celebration, too, featuring live music, food, and fireworks!
Happy New Year!
We hope you liked this list of the Best Places Near NYC to Ring in the New Year with Kids! From Vermont to Baltimore, there are lots of ways to celebrate the holiday together with your kids. Happy New Year, and enjoy your travels!
*This post may contain affiliate links that may earn us a small commission, at no additional cost to you. Affiliate links in no way inform the hotels, sights, products, or other recommendations included in our articles. All opinions and recommendations expressed here are compiled from submissions submitted by the generous members of our Families Who Love To Travel community.
READ MORE: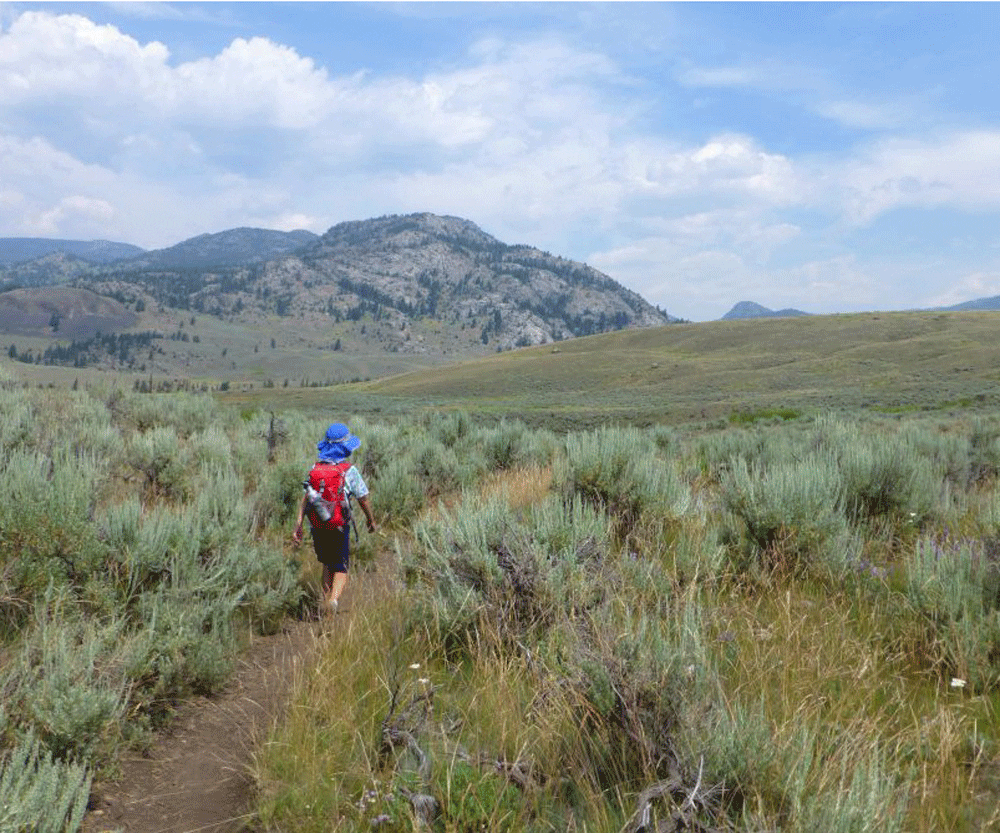 Everyone knows that Yellowstone National Park makes for a classic family vacation. Strolling the boardwalks...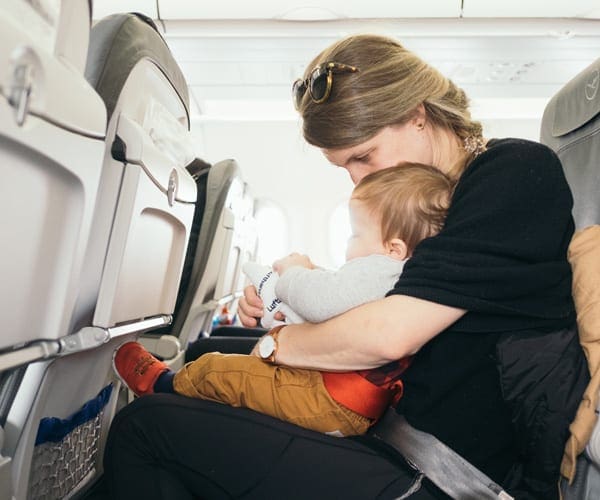 Families Who Love To Travel contributor Meghan Oaks provides her 10 best tips for your...