Say aloha to your next family vacation in Hawaii! Known for its beautiful beaches, rugged mountain landscapes, and vibrant local culture, this U.S. state comprises multiple islands in the Pacific Ocean. It's also a perfect destination for families who want to travel to a tropical paradise without ever leaving the country. Of course, Hawaii's amazing warm weather means you can visit during any time of year, whether you're searching for a spring break destination or summer vacation ideas. Spend your days lounging on a pristine beach while kids play, swim, or build sandcastles. Destinations such as Maui boast some of the best beaches in Hawaii, like Kapalua Bay. You'll also find plenty of things to do in Maui with kids, including exciting helicopter tours, authentic local luaus, or scuba diving. We also recommend families drive the Road To Hana with kids, which you can do in a full or half-day. 

If you need family-friendly accommodations in Maui, you also won't have a hard time finding all-inclusive resorts, boutique hotels, and everything in between. In Oahu, don't forget to visit Lanikai Beach for its incredible mountain views. Adventurous families can also zipline, hike, or go mountain biking. If your kids are interested in seeing Hawaii's colorful marine life, head to Hanauma Bay State Park. Here, families can spend the day at the beach, where they'll get to experience one of Hawaii's best snorkeling spots for kids. If you're traveling with little kids, Hawaii is also a great place for you. We suggest visiting Kauai with younger children, since there's also plenty to do with toddlers and babies. Visit Sprouting Horn Park, take a sailing expedition on the Na Pali Coast, or treat yourself to some shaved ice. You never know what vacation adventures await when you visit Hawaii as a family!  
LATEST ARTICLES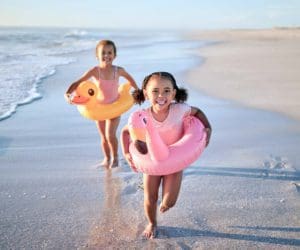 Families looking to escape the cold will love these warm places to visit in December with kids! Whether you're traveling abroad or domestically, many families look forward to booking a warm-weather getaway during the December school break, especially those of us already dealing with snow! Soak up the sun on Caribbean islands such as Aruba, Turks & Caicos, or Puerto Rico, where warmth, good food, and family fun are abundant. Or, enjoy a mix of history, culture, and beach days on your December vacation when you visit spots like Cartagena or Costa Rica. Keep reading to find out more options!
Read More