Make your family vacation in Massachusetts a memorable one. Known for its American history, charming towns, and picturesque landscapes, it's one of the most popular places in New England to visit with kids. Boston is also ranked one of the best places to vacation with kids. Luckily, there are plenty of things to do in Boston with kids, even stretching to Cambridge! Kid-friendly accommodations, like the best hotels in Boston for families, are also available to help you plan a stay. Destinations such as Cape Cod, Nantucket, or Martha's Vineyard are great summer vacation ideas for families. You could also spend your family vacation at a Massachusetts beach resort, such as the Wequasset Resort and Golf Club. Nearby, you'll find some of the most beautiful beaches in the United States. If you'd prefer a lake, visit one of the best lake resorts in the Northeast for families in Massachusetts instead. 
Massachusetts also has cute towns to visit all year long. These kid-friendy destinations are perfect adventures for seasons such as fall or winter. Don't miss the beautiful autumn colors in The Berkshires, one of the best places to see the fall foliage with kids near NYC. Popular spots such as Salem also showcase the fall foliage by car, train, or boat. Winter means opportunities to ski, so luckily Massachusetts houses the best ski resorts near NYC for families. Head to Jiminy Peak Mountain Resort, Ski Butternut, or Catamount Mountain Resort for family fun on and off the slopes! When the holiday season rolls around, families can also experience the magic in Massachusetts. With ice skating rinks, light festivals, and more, enjoy the best Christmas towns to visit in the Northeast with kids.  Craving a vacation without kids? Lenox is great for a kids-free, romantic weekend or a mom's spa getaway.  
LATEST ARTICLES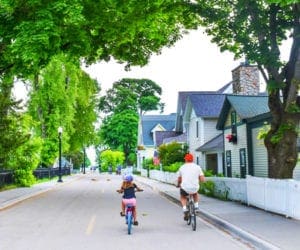 From Maine to California, we've compiled the perfect list of 16 Charming American Towns Worth Visiting With Kids! Between sandy beaches under swaying palm trees, historic tourist attractions, and downtowns evoking an old-world charm, these locations offer your family an enchanting escape. Keep reading to find out more!
Read More