Families can embark on their next epic winter escape by visiting these ski resorts near NYC, all of which are under three hours away! Whether you downhill ski, snowboard, or tube, these ski resorts offer everything you need for some winter fun. In the Poconos, you can spend long days skiing and nights splashing at indoor water parks. Then, in Thunder Ridge Ski Area, families will find gentle, kid-friendly slopes accessible via the Metro-North's Harlem Line. No matter where you choose, each of these options will provide a welcome escape from the hustle and bustle of the city and some fun things to do with your kids! Keep reading to find out the Best Ski Resorts Near NYC For Families – All Under 3 Hours!
Best Ski Resorts in New York for Families
From Catamount Mountain Resort to Thunder Ridge, New York has ski resorts for all skill levels. Whether you're looking for multi-lane tubing, a ski school with friendly instructors, or numerous chair lifts, families won't have to travel far for winter fun. Here are a few of our favorite ski resorts to visit in New York with kids!
Discover 12 Ways To Plan A Family Ski Trip On A Budget!
Mount Peter
51 Old Mt Peter Rd, Warwick, NY 10990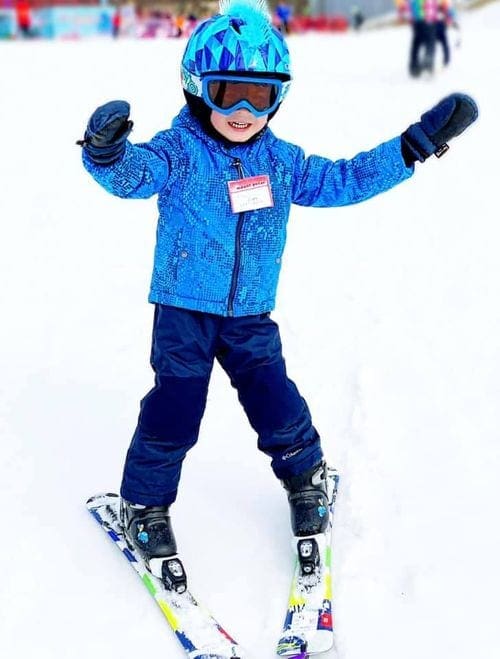 In the heart of the beautiful Hudson Valley, Mount Peter is a short 1-hour drive from NYC. Local parents will love that Mount Peter is the oldest operating New York ski resort, as well as one of the few remaining family-operated ski areas in America! Tickets are discounted for kids four and under when accompanying an adult during the week.
Hosting 18 well-groomed trails and 1 terrain trail, Mount Peter offers free beginner lessons on weekends and holidays, making it one of the best ski resorts near NYC for beginners or small children. Additionally, 3 chair lifts and 2 carpet lifts can transport you to the summit.
Nonskiers are also satisfied with thrilling multi-lane tubing, including the Little Tikes Tubing area. The tubing area is equipped with a carpet lift, so you can easily trek the Little Tikes Tubing on foot.
Finally, nearby lodging includes everything from charming B&Bs to big-name hotels, like the Courtyard Middletown Goshen, which offers a ski and stay package.
What Our Families Say
"Mount Peter is probably the closest and easiest place to go for kids to get ski lessons from NYC (only an hour drive), and one of the few that lets kids start at a young age. Kids as young as 3 are able to do affordable group ski lessons. The bunny hill is perfect for toddlers and young kids to learn and practice. They also have a great tubing hill (my son's favorite part)."

– Tram Dao
This Summer, Discover the 6 Best Kid-Friendly Hikes in the Hudson Valley!
Thunder Ridge Ski Area
137 Birch Hill Rd, Patterson, NY 12563
Next on our list of the best ski resorts near NYC for families is the Thunder Ridge Ski Area. Located just north of NYC, it is a short 1-hour drive from NYC, or you can catch the free shuttle from the Patterson train station. As the closest ski resort to NYC, it is also accessible via the Metro-North's Harlem Line.
Families with little ones learning to ski will love Thunder Ridge due to its proximity to the city, as well as its gentle, kid-friendly slopes. Not to mention, Thunder Ridge offers a great ski school. Sign up for group lessons, private lessons, or half-day programs for children. Plus, families looking for a local multi-week kid's program can find one here too! Thunder Ridge offers a six-week program for beginners, as well as advanced skiers. Furthermore, families will discover 22 well-groomed trails, 3 chairlifts, and 4 magic carpets on-site. 
Windham Mountain
 19 Resort Dr, Windham, NY 12496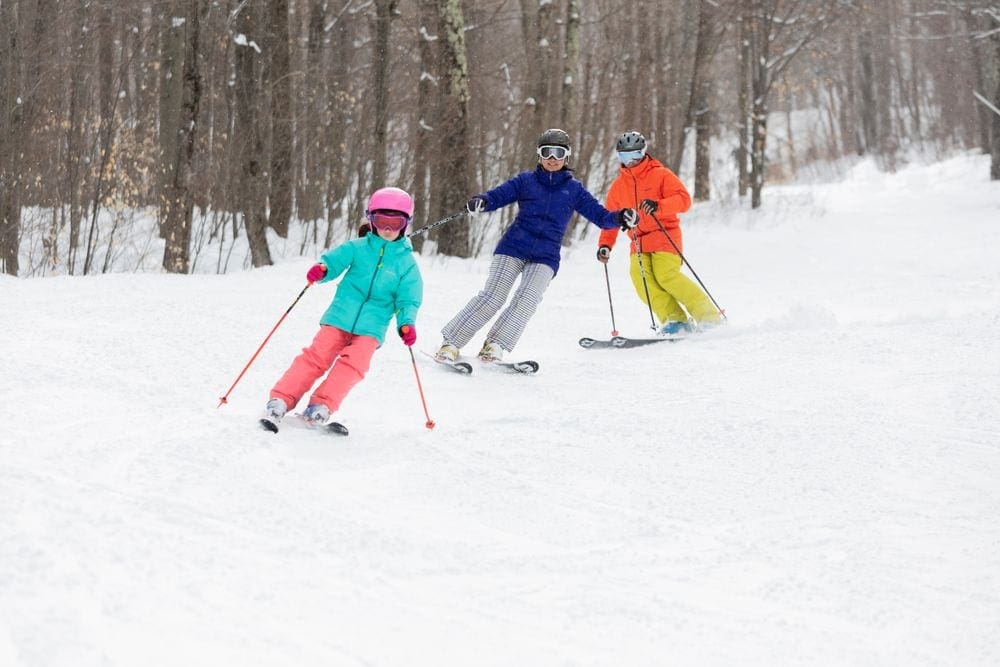 Popular among local families, Windham Mountain offers easy terrain for beginners, as well as advanced runs. An easy 2-hour drive from NYC and a 1-hour drive from Albany, Windham Mountain is one of the most accessible New York ski resorts!
Skiers will delight in 285 skiable acres sporting 54 trails over two peaks. Additionally, there are 6 terrain parks and 11 chair lifts on site. Group lessons are available for kids, starting at age 7. Children between 3 and 6 years old can receive private lessons.
Nonskiers can embark on a guided snowshoe hike on Windham Mountain. Then, several on-mountain dining options are available for families, too. And, for kids who like fondue, try Chalet Fondue in town!
Finally, find a host of nearby hotels, condos, and rentals, many of which offer ski and stay packages.
Find Hudson Valley's Finest homes on PlumGuide.com.
Belleayre Mountain
181 Galli Curci Rd, Highmount, NY 12441
If you're skiing on a budget, Belleayre Mountain is an excellent option for your family! Home to some of the best skiing in the Catskills, Belleayre Mountain offers families over 170 acres of well-groomed skiing, including 50 trails, 2 parks, and 8 chair lifts.
No matter your ability, you'll find skiing and snowboarding trails that meet your needs, including challenging steep runs, exhilarating bumps, and gentle, kid-friendly trails. Belleayre Mountain also offers fun, informative lessons (both group and private lessons for kids between 4 and 12) with kid-friendly instructors. The mountain also offers childcare through the Tiger Den Nursery.
Additionally, cross-country skiing and snowshoeing are available. On-site dining includes affordable options to keep families energized for full days on the slopes.
Though there are no accommodations on this state-run mountain, you'll find charming towns and quaint villages offering family-friendly lodging and amenities nearby.
Look for places to stay near Belleayre with Hotels.com here!
What Our Families Say
"We were introduced to Belleayre and the surrounding area by my daughter's friend and had a perfect little getaway for New Years! We got in late and ate at Peekamoose which we highly recommend for families! Stayed at a bed and breakfast, woke up early the next morning and headed to Belleayre. We have 4 daughters who are all somewhat new to skiing, but they LOVE it. The staff was helpful, it was easy to use their bussing system that takes you to and from the different lodges. My youngest who was 3, stayed in their child care center. It was safe, clean and well organized."

– Julianne Fabbi Parmenter
Catamount Mountain Resort
78 Catamount Rd, Hillsdale, NY 12529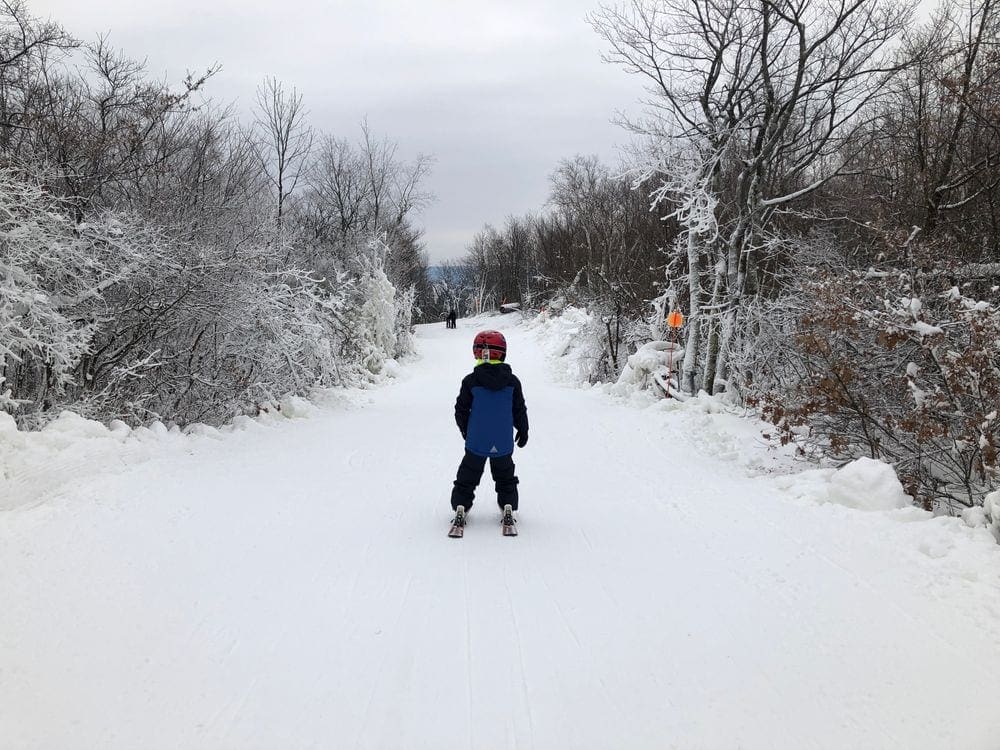 Located on the border of New York and Massachusetts, Catamount Mountain Resort offers families the perfect weekend getaway. While the beginner area is smaller than other New York ski resorts, there's still a lot to love about Catamount Mountain Resort!
In fact, Catamount Mountain Resort offers some of the most thrilling ski and snowboarding trails in the Berkshires! From gentle, kid-friendly runs to steep advanced trails, you'll find 42 well-groomed options. As one of the best ski resorts near NYC for families, you'll be treated to picturesque mountain views, diverse and well-manicured trails, and full-service rental options. Furthermore, families can find expert instructors offering lessons for all levels, whether kids are new to skiing or looking to perfect their craft. This includes the Mountain Cat program, which offers group lessons for kids between 3 and 13.
Plus, there are activities for nonskiers, like snow tubing. Ski and ride packages are also available for kids 10 and up. No wonder Catamount is a popular weekend getaway for families near NYC!
On-mountain, you'll find newly renovated lodges, ideal for family visitors. Nearby, Great Barrington also offers numerous great restaurants and lodging options.
Look for a perfect homestay near Catamount with Vrbo!
Best Ski Resorts in Massachusetts for Families
Massachusetts is next on our list of Best Ski Resorts Under 3 Hours From NYC! Families will find some of the best ski resorts on the East Coast throughout the state, ranging from beginner trails to steep runs. Here are a few of the best ski resorts in Massachusetts for families!
Here is Your Family's Guide To Skiing In Stowe With Kids!
Jiminy Peak Mountain Resort
37 Corey Rd, Hancock, MA 01237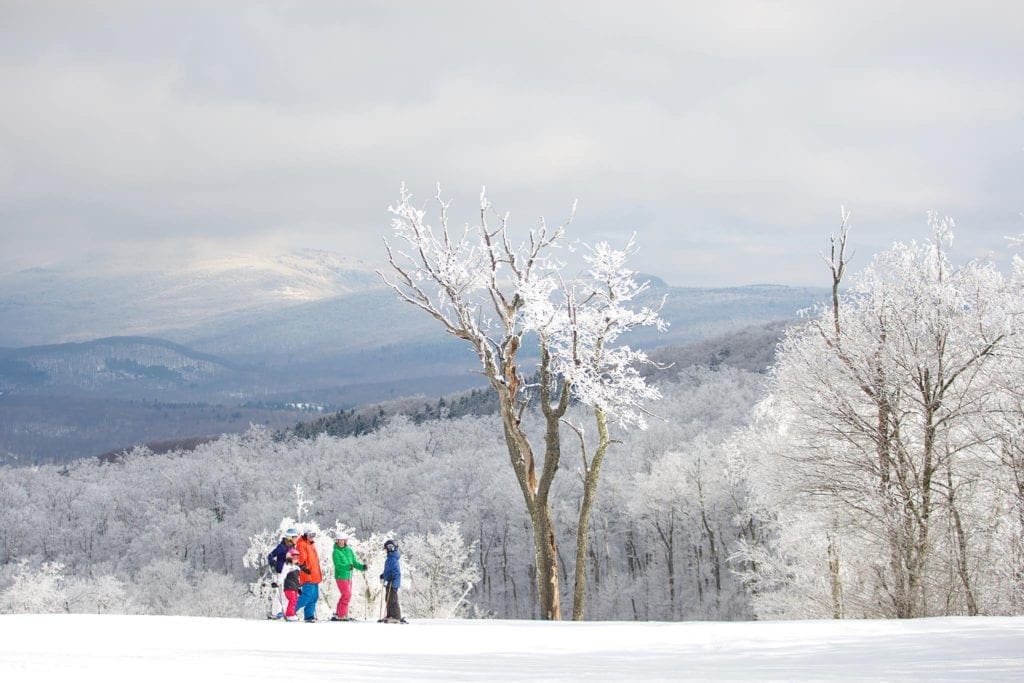 One of the best ski resorts in Massachusetts for families, Jiminy Peak Mountain Resort is centrally located between NYC and Albany. It's also close to Boston and Springfield, MA.
Jiminy Peak Mountain Resort offers an expansive beginner's area with a chairlift for those learning to ski and snowboard, as well as ski-in, and ski-out accommodations. Skiers will also find expert lessons here, no matter their skill level. Kid-friendly skiing and snowboard lessons at Jiminy Peak Mountain Resort create a fun and educational experience that's sure to enhance their skills and love for the slopes. The KidsRule Mountain Camp provides group lessons for kids between 4 and 14, with a special program for kids between 3 and 5.
Other fun activities for nonskiers include snowshoeing and even the Mountain Coaster, where kids 9 and over can soar down the mountain and have a blast!
After the day's events, enjoy a meal at Christiansen's Tavern, where you can dine on scrumptious food that will energize you for the afternoon slopes.
Explore Hotels.com for places to stay near Jiminy Peak!
Ski Butternut
380 State Rd, Great Barrington, MA 01230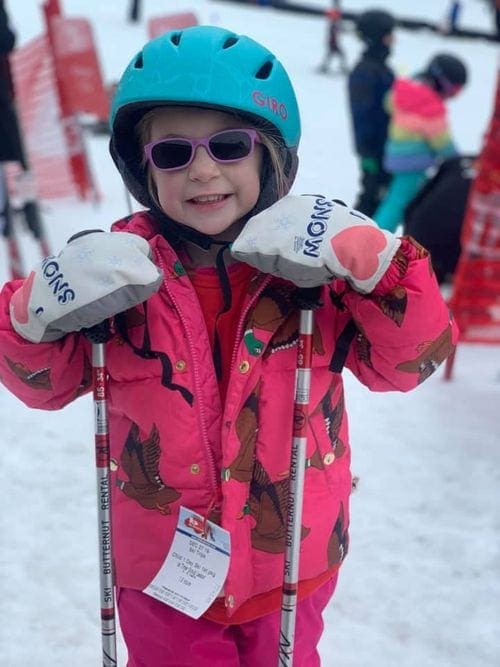 With an enormous area for kids and several beginner slopes, Ski Butternut is indeed one of the best ski resorts in Massachusetts for kids. In fact, there's even a chair lift in the beginner's area! Here, trained staff ensure children get into the chair lift safely before making their ascent. Plus, Ample kid's programming makes Ski Butternut ideal for families. Private and group lessons are also available for kids between 4 and 13.
For nonskiers, tubing is another option at Ski Butternut, including 11 exhilarating trails.
Families will also find on-site dining, which means more time on the trails, and less time worrying about planning meals. Finally, due to its location, you can also enjoy the town of Great Barrington, Massachusetts, and get the full Berkshires experience!
Look here for family-friendly homestays near Ski Butternut with Vrbo!
What Our Families Say
"We love skiing at Butternut because it's a great family ski resort that is not too far from home. We also appreciate the various ski programs they offer for our kids and have found their instructors to be readily available for private lessons – even without much notice."

– Joanna Diakos Kordalis
Best Ski Resorts in Pennsylvania for Families
Head to Pennsylvania for your next family ski vacation! Families who love traveling from NYC to this neighboring state do so for the fantastic views and abundance of kid-friendly activities all in one place, including a water park! Keep reading to see our favorite ski resorts in Pennsylvania for families. 
Find all of your Pennsylvania options by reading about the 8 Best Places to Ski in Pennsylvania With Kids This Winter For An Epic Family Vacation.
Blue Mountain Resort, PA
1660 Blue Mountain Dr, Palmerton, PA 18071
Located in the Poconos of Pennsylvania, Blue Mountain Resort offers 40 ski trails and 16 chair lifts. Nestled along Kittatinny Ridge, Blue Mountain Resort is also part of the far-reaching Appalachian Mountains, offering a scenic backdrop to your day on the slopes.
New skiers, young and old, can also find knowledgeable instructors and lessons for their first time (or two!). This includes private lessons and lessons for adaptive skiing. Nearby families should also consider registering for one of the Youth Programs (ages 4-14, all abilities), offered for a single day or several weeks, depending on your needs. Youth programs provide safe and fun learning environments for kids to develop a love of the outdoors and winter sports.
Additionally, Blue Mountain Resort offers a stunning tubing hill, perfect for nonskiers.
Families will also love staying at one of the nearby indoor water parks, like the Great Wolf Lodge or Kalahari.
What Our Families Say
"Winter means temperatures cold enough for blowing snow and Blue Mountain is good at that! Despite their intentions, Blue Mountain is not a resort quite yet, in the sense that you can stay overnight on the property…but they do have great skiing, boarding, and tubing! I was taught to ski there as a child, and have taught my own children…to ski at Blue. We really enjoy our times on the snow, and the great food in the lodges. The kids especially like the 6 person lift so they can hang out together for more time. The lessons are really well done and the rental process is pretty streamlined…They have a great variety of levels of skiing, perfect for NuBs and the more advanced among us. Overall Blue Mountain Resort is a great option for those who don't have time or resources to travel to New England for the real snow!"

– Meg Bull
Shawnee Mountain Ski Area
401 Hollow Rd, East Stroudsburg, PA 18301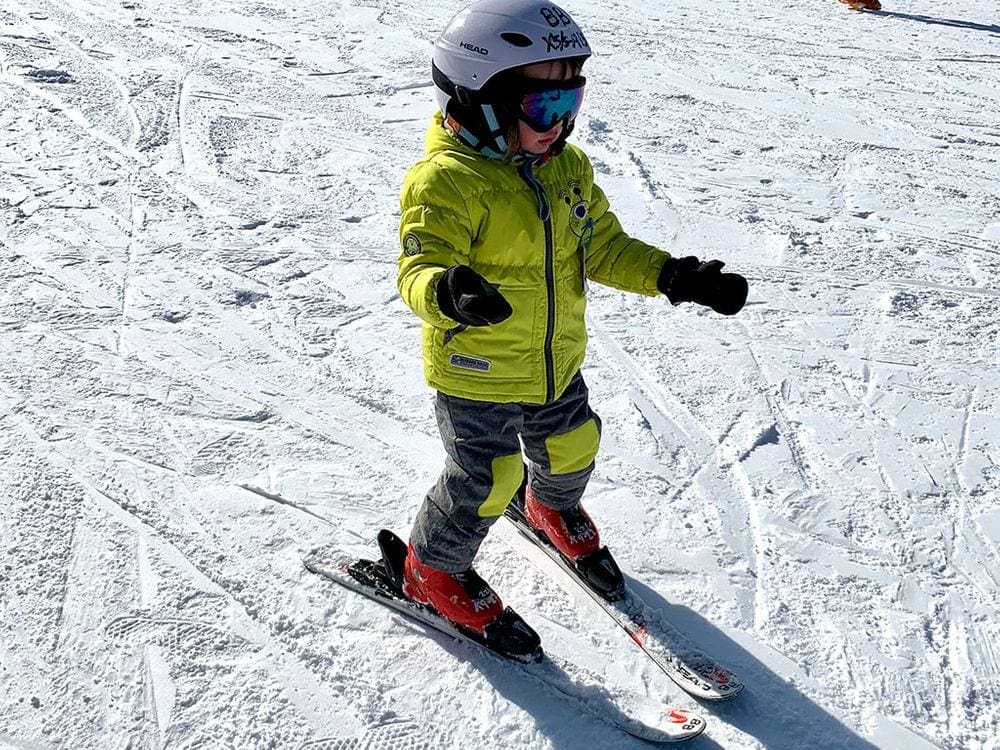 Whether you are looking for skiing, snowboarding, or snow tubing, you'll find some of the best trails at Shawnee Mountain Ski Area! Its location in the Poconos makes it an easy trip from New York City, Northern New Jersey, and Philadelphia.
Boasting 23 mountain trails, 2 terrain parks, and a robust snow tubing run, Shawnee Mountain is also one of the best ski resorts near NYC for families. The snow tubing area has 6 thrilling chutes for single and tandem (adult and child) riders. Skiing group lessons are available for ages six and up, and snowboarding for ages seven and up. Private lessons cater to kids ages six and up. Families with new skiers or snowboarders can also invest in a beginner's package for a season of lessons by knowledgeable instructors. Adaptive lessons are also available on-site by special arrangement.
Families can find accommodations nearby, including hotels and condos, with many offering ski & stay packages.
Camelback Resort
301 Resort Dr, Tannersville, PA 18372
Families are in for a treat at Camelback Resort. Not only can you find some of the best skiing near NYC for families, but those staying on-site can also indulge in their indoor water park!
Skiers and snowboarders will discover over 35 well-groomed trails and more than a dozen lifts. Kids four and up can also take group lessons at the Camelback Ski School, either for a half-day beginner lesson or a ninety-minute session. There are also early-bird private lessons, an Adaptive Skiing program, and family lessons. Teens older than thirteen have their own separate class options.
Then, they also have the largest snow tubing park in the U.S. In fact, nonskiers can choose from 40 chutes all day and all night. After dark, tubing lanes light up for the Galactic snow tubing experience. Kids will delight in this unique night-time activity!
Families with avid skiers will love their on-mountain ski-in and ski-out restaurants. No matter what you're looking for in a winter getaway with kids, you can splash and ski your way through one of the best ski resorts near NYC for families!
Book your stay at the Camelback Lodge & Aquatopia Indoor Waterpark here!
What Our Families Say
"Camelback is such a great family-friendly resort. From the water park to ice-cream sundae bars and an arcade, Camelback is more than just a ski resort. There were a variety of slopes offered for both beginners and experts alike as well as access to a ski-in/ski-out. The on-site nursery made it easy to drop the baby off while the rest of the family skied. A weekend wasn't long enough."

– Cierrah Allabaugh
Research the perfect stay near Camelback here through Hotels.com!
Best Ski Resorts in New Jersey for Families
Last but not least on our list of best ski resorts near NYC is New Jersey! Featuring diverse areas located within a short drive, families won't have a hard time finding options for all ages here. The following are two of our favorites! 
Use The Ultimate Ski Trip Packing List For Families This Winter to prepare for your trip.
Mountain Creek
200 NJ-94, Vernon Township, NJ 07462
Independently owned and operated, Mountain Creek is a short drive from NYC and offers an array of terrain suitable for all skill levels.
Spread across 4 mountain peaks with 8 lifts, Mountain Creek offers many options for skiers and snowboarders, including 3 dedicated terrain parks. The terrain parks span 2 peaks with diverse parks, including small and large options for all ability levels. Additionally, the terrain park features ride-on progression boxes, large street-style rails, and 50 ft. jumps! Adrenaline-seekers will definitely find the exhilarating trails they desire here. Lessons are available for all children (starting at age 4) and skill levels.
Then, those looking for snow tubing will discover one of the largest tubing areas in the region. Covering five acres, the snow tubing area offers chutes for single riders, ages 5 and up. Plus, magic carpet lifts mean steep trekking won't keep you from your next run!
What Our Families Say
"We love it because it's a quick drive for us. They have seasons pass which is free for kids under 6 with a paying adult. They have an amazing ski school, lodging, and dining onsite as well. Plenty of Ski in ski out options are available."

– Swati Sinha
Big SNOW American Dream
1 American Dream Wy, East Rutherford, NJ 07073
Families can find everything they need for a day in the indoor snow at Big SNOW American Dream! Here, a Snow Day package even includes coats, snow pants, and helmets, as well as skis or a board – perfect for families who aren't ready to invest in winter gear and equipment! With your Snow Day package, you will also receive access to the Terrain Based Learning areas and knowledgeable instructors. Packages that include lessons for kids 5 and up, as well as gear and equipment, make Big SNOW American Dream one of the best ski resorts near NYC for beginners. Families who have the proper gear and equipment can easily access the indoor runs through a Slope Access ticket.
Nonskiers will also find a ton of other activities on-site, including a DreamWorks-themed indoor waterpark, Nickelodeon Universe, options for mini-golf, and ice skating. Don't worry about weather conditions here, endless family fun is already inside!
Happy Skiing!
We hope you are able to hit the slopes at one of the Best Ski Resorts For Families Under 3 Hours From NYC! From Blue Mountain Resort to Catamount Ski Resort, families will love treating their kids to a day of skiing, snowboarding, or tubing. Whether you are looking for a quick day trip near NYC or a weekend getaway as a family, we know you'll find perfect runs, as well as create life-long memories together. Your local winter wonderland awaits!
A special thank you to the Families Love Travel Facebook community for helping compile this list of the Best Ski Resorts For Families Under 3 Hours From NYC! As always, this article would not have been as insightful without their collective travel wisdom. Join the Facebook community and the Instagram community (@families.love.travel) to connect with other families who love the unique experiences travel has to offer.
*Due to the COVID-19 pandemic, some of the attractions, accommodations, or things to do on this list may be closed. Please ensure availability before making your decision. 
*This post may contain affiliate links that may earn us a small commission, at no additional cost to you. Affiliate links in no way inform the hotels, sights, products, or other recommendations included in our articles. All opinions and recommendations expressed here are compiled from submissions submitted by the generous members of our Families Who Love To Travel community.
READ MORE: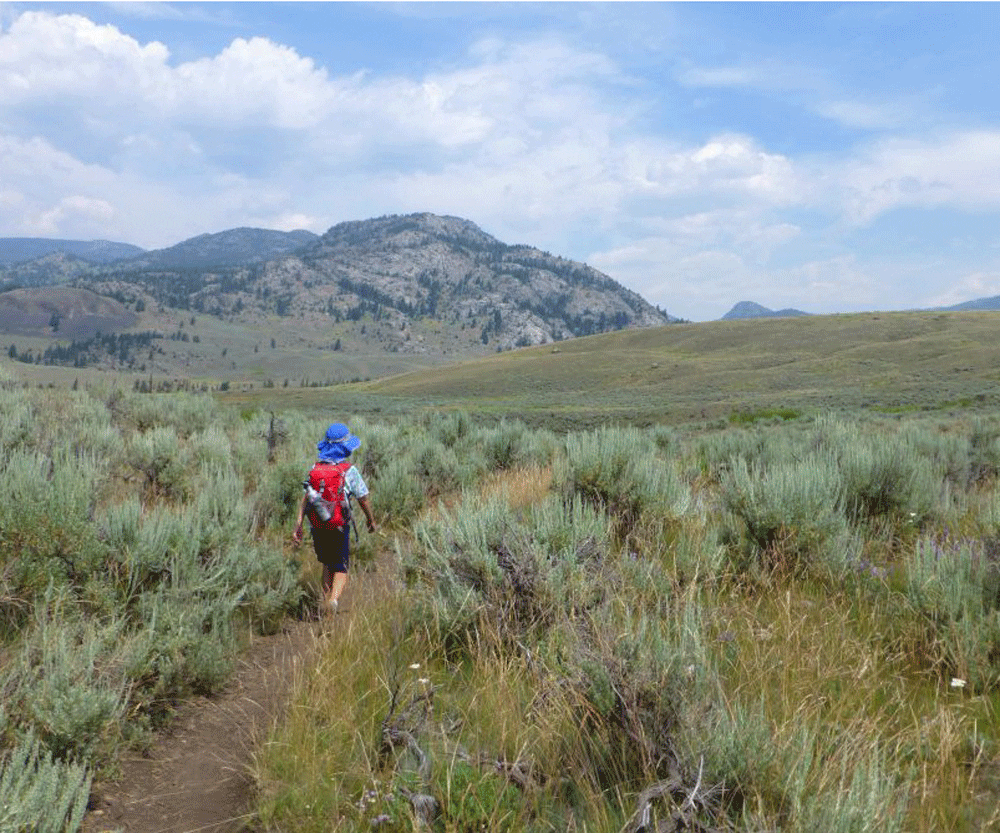 Everyone knows that Yellowstone National Park makes for a classic family vacation. Strolling the boardwalks...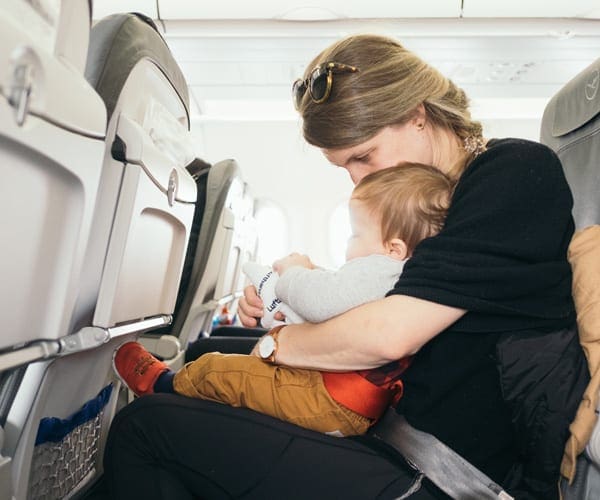 Families Who Love To Travel contributor Meghan Oaks provides her 10 best tips for your...